Soylent Squared Review (2020) | The Best Complete Bar?
Quick Links
Soylent has been coming strong with new additions in the last 6 months. First, it was Soylent Bridge, their 180kcal high protein RTD meal. Now, following the trend to offer small meals, they present Soylent Squared; the smallest fully complete meal. A bar or a square with all the nutrients that you need.
Let's find out all there is to it, in this Soylent Squared Review.
Flavours: Chocolate Brownie, Salted Caramel, and Citrus Berry.
Ingredients: Soy protein isolate, corn syrup, canola oil, glycerin, soluble corn fibre, whole oat flour, isomaltulose, alkalized cocoa powder, maltodextrin, modified food starch, natural and artificial flavour, tricalcium phosphate, salt, filtered water, magnesium phosphate, soy lecithin, potassium chloride, dipotassium phosphate, choline chloride, bacillus coagulans GBI-30 6068, mono and diglyceride, mixed tocopherol, ascorbic acid, sucralose, niacinamide, Dl-alpha-tocopherylacetate, zinc oxide, ferrous fumarate, manganese sulfate, copper gluconate, d-calcium pantothenate, thiamine mononitrate, pyridoxine hydrochloride, riboflavin, vitamin A palmitate, folic acid, potassium iodide, chromium chloride, phytonadione, sodium selenite, sodium molybdate, biotin, vitamin D2, vitamin B12.
Overall Feeling: Happy, but Confused
I am glad that Soylent has finally come back to producing bars, after their previous failed attempt. Despite this, I cannot call Soylent Square a meal replacement bar. Truly, it is just a snack. A complete snack that is.
While this might satisfy some, for me it is a weird move. Soylent Squared looks like a product delivered by Slimfast (or any other diet shake manufacturer); as opposed to being a product from the first meal replacement company.
Besides, size comes to a cost. Smaller items tend to be often more expensive relatively. This is also the case for Soylent Squared. Together with Soylent Bridge this is the most expensive item per calorie in their repertoire. 100kcal will cost you $1. You would need $20 to survive eating them. It only costs $10 with Powder, and $16 with Drink.
All in all, I am happy to see them producing bars, I just wish they had made them bigger and better. Not the best meal replacement bar available in the US, sadly.
What I like
1. Soylent is back producing bars. The American market is lacking in this department and filled with European imports. It is good to have a US made alternative.
2. Smallest complete meal in the market. While technically you can always customize the powder to have less or more; this is the first easy meal that is so small. Even if it is not my style, it might be what more sedentary people are looking for.
3. True to the Soylent brand. Soy based, vegan and with a similar nutritional values to the other Soylent products. If you are an avid Soylent user, you will find no surprises here.
4. 3 flavours to start with. In the Soylent Bridge launch, I was disappointed that they only released one flavour. I like the fact that they have been more adventurous and offered 3 for Soylent Squared. Plus, they should all be significantly different between each other.
What I dislike
1. The size. This is a snack and I was fully hoping for a solid meal from Soylent.
2. It is too expensive. I understand that it is not meant to be consumed regularly or as your main source of food, but the price is excessive. None of the ingredients are that different to the others and they are relatively cheap to obtain. While they are other costs, it feels that the consumer is paying an unnecessary premium.
3. Nutrition and ingredients. Perhaps, this is a little bit of a personal bias, but having your second top ingredient to be corn syrup does not scream healthy. Most of the ingredients are highly processed lower tier nutrient sources.
Energy
% of Energy from Each Macronutrient
Carbs 44%
Protein 19%
Fats 37%
Soylent products tend to be high in fats and low in carbohydrates. Soylent Squared is no exception, with relatively low amount of energy coming from carbohydrates, 44%.
However, it is higher in carbohydrate % than the rest of the Soylent products:
Soylent Powder: 38C/19P/43F.
Soylent Drink and Cafe: 35C/19P/46F.
Soylent Bridge: 21C/32P/47F.
Fats
Per bar:
Total fats: 4.5g, 6% of DV.
Saturated fats: 0g, 0% of DV.*
Monounsaturated fats (MUFA): ?.
Polyunsaturated fats (PUFA): ?.
Omega-3 (ALA): ?.
Omega-6: ?.
This is where the first surprises arise. Apparently, Soylent Squared has 0g of saturated fats per bar. However, this is due to the fact that the amount is lower than 0.5g for which reason they can state in that is 0. In fact, when looking at 2 bars, the nutritional label shows 1g of saturated fat ( real value is probably below 1g).
This little anecdote aside, Soylent has disclosed little information for the moment. The main fat source is canola oil. Other ingredients, such as, whole oat flour do also partially contribute.
Fatty Acid Composition of Canola oil.

| | | |
| --- | --- | --- |
| Fatty Acid | Family | % of Total |
| Oleic acid | o-9 | 61% |
| Linoleic acid | o-6 | 21% |
| Alpha-linoleic acid | o-3 | 11% |
| Saturated fatty acid | | 7% |
| Palmitic acid | | 4% |
| Others | | <3% |
While this composition certainly is useful as a reference, it does not mean that it is the exact fatty acid composition of Soylent Squared. On the plus side, we can expect that there is some omega-3 in the bars.
Carbs
Per bar:
Total carbs: 12g, 4% of DV.
Sugars: 2g, 7.0% of DV.
Fibers: 5g, 9% of DV.
The carbs in Soylent Squared come from corn syrup, whole oat flour, isomaltulose and maltodextrin. None of these ingredients can be called a "top quality" carbohydrate. They are all highly processed and fastly metabolized (except isomaltulose).
The other issue is that the added sugar (isomaltulose and corn syrup) is a little high.
As a positive note, the bars contain plenty of fiber, which should help intestinal movements and satiety.
Protein
Per bar:
Most of the protein (if not all) comes from soy protein isolate, the protein source of choice from Soylent. In fact, it is the primary ingredient of the bars.
5g per 100 kcal would equal to 100g/day, which is a good amount for people who are sedentary or mildly active.

Micronutrients
One of the main appeals of Soylent Squared is that is a "complete" 100kcal meal; therefore, it contains all the essential vitamins and minerals. Each bar will provide you with 6% of your daily needs.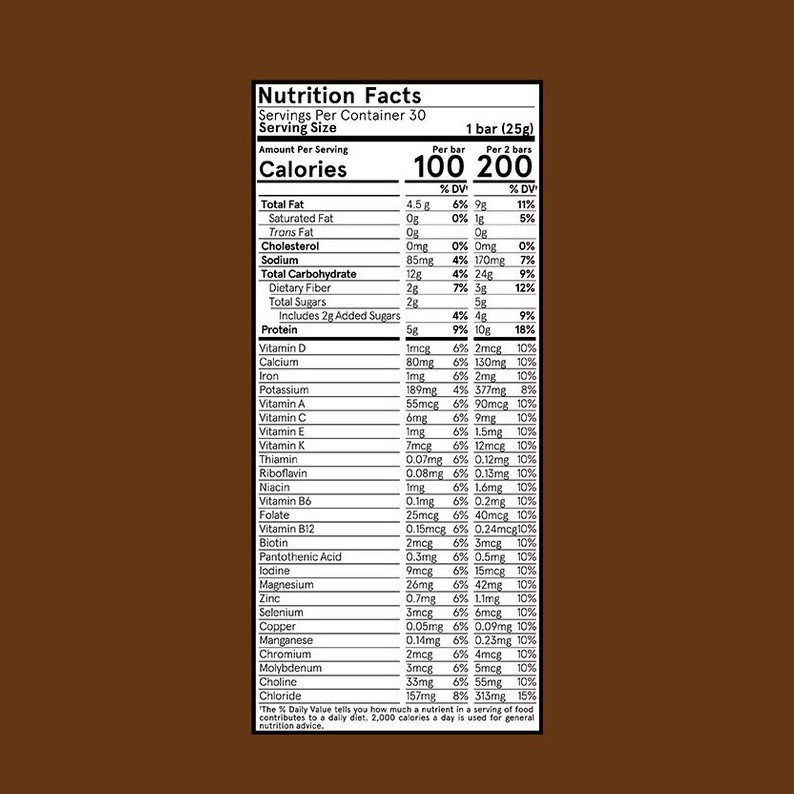 How does Soylent Squared taste?
Unfortunately, I have been unable to get my hands on them. However, I will take u/acebrain2003's excellent reddit post as guideline.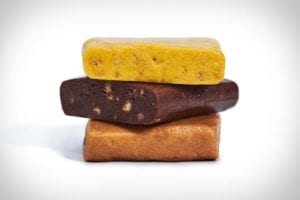 Chocolate Brownie
The chocolate option seems to have the least unsurprising flavour. It is different to other Soylent chocolate flavoured products, and more like brownies.
The texture is chewiest and stiff of all of them, making it the hardest to consume.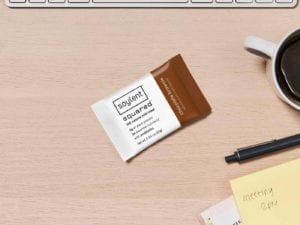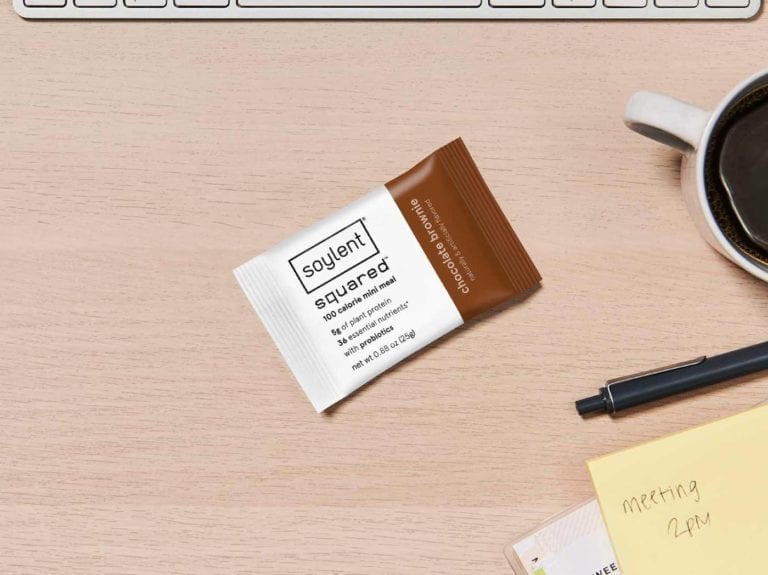 Citrus Berry
This flavour is the most inspiring and exciting according to Acebrain. In his opinion, it is the sweetest bar and has fruity taste to it. Furthermore, it is the least rigid of all Soylent Squared.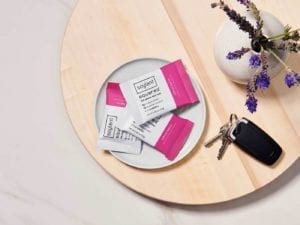 Salted Caramel
Most importantly, this is the flavour that reminds him the most of the original Soylent Bars. Perhaps, this is not useful to the new users, but it might be an important factor for the Soylent veterans.
Regarding the taste, the caramel flavour is the overpowering factor, which remind him of "chewy caramel/butterscotch candies".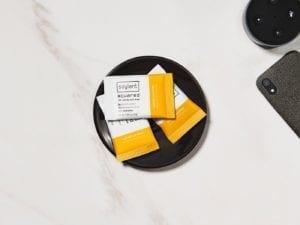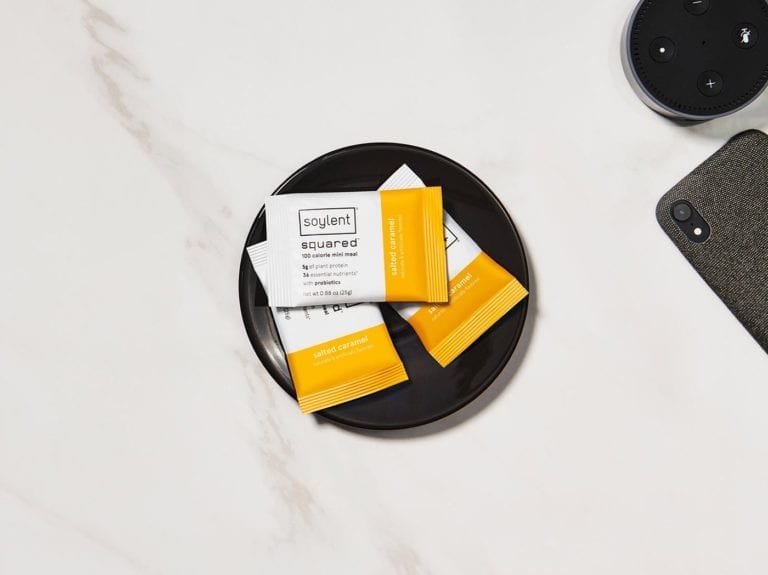 The meal replacement bar market in the US is a little weaker than EU. Moreover, the bars that are available, often come from European manufacturers:
Twennybar from Jimmyjoy. Shipped from the US.
GO Bar from Queal. Shipped from EU.
Twennybars are the other main meal replacement bars available in the US. While Jimmijoy manufactures them in Europe, they are stocked in a US warehouse; which make the brand one of the best Soylent alternatives.
| | | |
| --- | --- | --- |
|   | Soylent | Twennybar |
| From | USA | NED |
| Ships to | USA & UK | World |
| $/400kcal | $$$ | $$ |
| C/P/F | 38/19/43 | 38/20/42 |
| Allergen | Soy | Soy, Gluten, Milk |
| kCal/meal | 100 | 358 |
| Serv/day | 20 | 5 |
| Suitable | Vegan | Vegetarian |
| Flavours | 3 | 2 |
| Products | 4 | 4 |
| Subscription | 5% | 15% |
Flavours Available:
Soylent Squared: Chocolate Brownie, Citrus Berry and Salted Caramel.
Twennybar: Vanilla and Chocolate.
Price:
Jimmyjoy's Twennybar is a better bang for the buck. However, because Soylent Squared comes in smaller servings, it is cheaper per bar:

| | | |
| --- | --- | --- |
| Price ($) | Soylent Squared | Twennybar |
| per meal | 1.00 | 2.75 |
| per 400kcal | 4.00 | 2.86 |
| per meal (with subs) | 0.95 | 2.34 |
| per 400 (with subs) | 3.80 | 2.42 |
| per kcal | 0.010 | 0.007 |
Nutrition
| | | | | |
| --- | --- | --- | --- | --- |
| per serving | Soylent Squared | DV (%) | Twennybar | DV (%) |
| Energy (C/P/F) | 44/19/37 | – | 47/20/33 | – |
| Energy (kCal) | 100 | 5 | 387 | 9 |
| Fats (g) | 4.5 | 6 | 14.0 | 20 |
| Saturated (g) | 0 | 0 | 7.6 | 38 |
| Trans fat (g) | 0.0 | – | 0.0 | – |
| Cholesterol (mg) | 0.0 | 0 | 0.0 | 0 |
| Carbs (g) | 12 | 4 | 10.0 | 4 |
| Sugars (g) | 2.0 | – | 3.0 | – |
| Added Sugars (g) | 2.0 | 4 | 2.0 | 4 |
| Fiber (g) | 2.0 | 7 | 3.0 | 11 |
| Protein (g) | 5 | 9 | 15 | 30 |
| Sodium (g) | 0.09 | 4 | 0.23 | 11 |
The exact nutritional values of the bars might vary with the flavour. For instance, Twennybar vanilla has less saturated fats than Twennybar chocolate.
Which One Should I Buy?
Soylent Squared
Looking for a small snack instead of a "meal".
Already a Soylent customer.
You are trying to lose weight..
Twennybar
Want the best bang for your buck.
Looking for a bigger size bars.
---
This is a little bit of an odd comparison, since getting the GO bars requires a bigger commitment due to the fact that they are shipped from the EU and Queal charges a flat fee of $25.
| | | |
| --- | --- | --- |
|   | Soylent Squared | Queal GO bar |
| From | USA | NED |
| Ships to | USA & UK | EU & US |
| $/400kcal | $$$$ | $$ |
| C/P/F | 44/19/37 | 24/24/52 |
| Allergen | Soy | Soy, Nuts*, Milk* |
| kCal/meal | 100 | 354* |
| Serv/day | 20 | 8 |
| Suitable | Vegan | Vegan* |
| Flavours | 3 | 2 |
| Products | 4 | 5 |
| Subscription | 5% | 15% |
Flavours available:
Soylent Squared: Chocolate Brownie, Citrus Berry and Salted Caramel.
Queal GO bar: Nuts & Seasalt, and Dark Chocolate.
Price:
Similarly to the previous case, each Soylent bar is cheaper, but GO bars contain more calories which makes them a better deal.
While the pricing of both GO bars is the same (€2.5 or $2.79), Dark Chocolate has more calories (385kcal) than Nuts & Seasalt (354kcal).
Nutrition
| | | | | |
| --- | --- | --- | --- | --- |
| per serving | Soylent Squared | DV (%) | GO bar | DV (%) |
| Energy (C/P/F) | 44/19/37 | – | 40/33/27 | – |
| Energy (kCal) | 100 | 5 | 385 | 9 |
| Fats (g) | 4.5 | 6 | 11.7 | 27 |
| Saturated (g) | 0 | 0 | 5.0 | 27 |
| Trans fat (g) | 0.0 | – | 0.0 | – |
| Cholesterol (mg) | 0.0 | 0 | 0.0 | 0 |
| Carbs (g) | 12 | 4 | 38.4 | 15 |
| Sugars (g) | 2.0 | – | 3.6 | – |
| Added Sugars (g) | 2.0 | 4 | 3.6 | 7 |
| Fiber (g) | 2.0 | 7 | 4.1 | 14 |
| Protein (g) | 5 | 9 | 32.4 | 30 |
| Sodium (g) | 0.09 | 4 | – | – |
GO bar based on Dark Chocolate. Nuts & Seasalt has a different nutritional composition. To see the exact details read the GO bar review.
Another important point is that Nuts&Seasalt is vegan (only vitamin D3 has an indirect animal origin); whereas Dark Chocolate GO bar uses milk protein.
If we compare the two vegan bars, besides the obvious size difference, Queal GO has overall the better ingredients. These include peanuts and cashew nuts, so care if you are allergic. I state that they use better ingredients mostly due to the fact that they have less ultra processed ingredients.
GO Nuts & Seasalt is lower in carbs and higher in fats (due to all the nuts) than Soylent Squared. The main issue with the bar is that salt content is fairly high (which can also be noticed in the taste).
Which One Should I Buy?
Soylent Squared
Looking for a small snack instead of a "meal".
Delivery from US.
Queal GO Bar
Desperate to find a good meal replacement bar.
Looking for a bigger size bars.
Already buying more stuff from Queal.
While I love Queal, I can hardly recommend buying just the GO bars, since they will have to be shipped from EU and you will have to add an extra $25 to the order for the shipping.
---
Soylent Squared Extra Info
Soylent Squared is currently available to purchase in the US using the Soylent website. Furthermore, you will be able to purchase more items like Soylent Powder, Soylent Drink or Soylent Cafe to have a full complete meals experience.
Packaging
Currently, you can purchase Soylent Squared in two manners:
On boxes of 30 squares for $30 (or $28.5 with subscription).
Soylent Bundles. You can purchase your Soylent Drink or Cafe of choice with a box of Soylent Squared for a discount. I think this is the better option for those who already buy from the American company.
With this in mind, there are two problems with Soylent Squared packaging. Firstly, the fact that each meal is individually wrapped creates an excessive waste. Secondly, from a purchasing or trialing standpoint, having to buy 30 of the same flavour makes the initial buy harder.
Pricing
Soylent has never been the cheapest meal replacement manufacturer. However, both the Drink and the Powder are reasonably priced for the market.
When comparing to them, Soylent Squared feels pricy. None of the ingredients is new or particularly expensive; but each meal will cost you $1. That is $4 for a 400kcal meal, whereas you can get Soylent Drink for $3.25 and Soylent Powder below $2.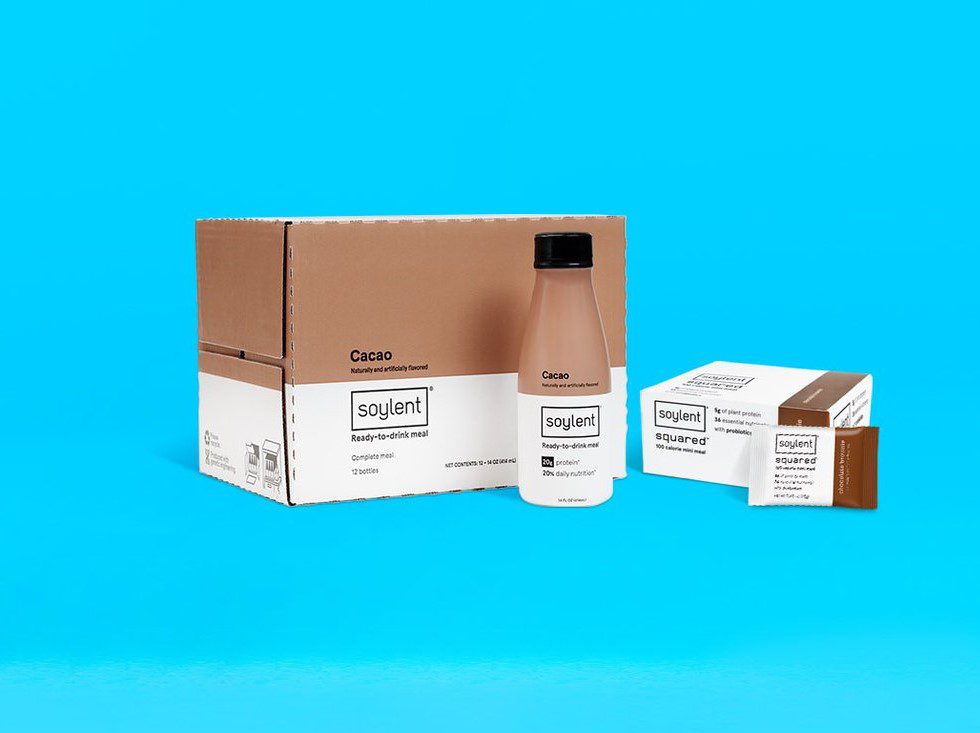 Even if you are subscribed, you will only get 5% OFF, which is not that much. Besides, you can purchase them using bundles, but the price difference is minimal at best.
If we compare it to other bars in the market (see comparisons above) or other snack options, Soylent Squared will always be more expensive.

Can I live only eating Soylent Squared?
While the nutritional input should be complete, I would strongly recommend against doing it. Not only due to the commitment and the economic cost, but also because long term effects of consuming solely Soylent Squared have not been researched.
Many of the ingredients are highly processed and they could be lacking nutrients that we do not know of yet.


Can I lose weight with Soylent Squared?
Soylent Squared can help you with you weight loss diet when combining with a balanced diet and moderate calorie restriction. The small nature of the meal can help you prevent unwanted snacking.


Is Soylent Squared gluten-free?
While it does not contain any added gluten, Soylent states that it has not been certified to be so and that it does not meet the criteria of the Celiac Support Association.


Is Soylent Squared lactose-free?
Yes, Soylent Squared is lactose-free.


Will Soylent Squared fill me up?
Even though it does contain ingredients that will help you feeling full (fiber and fat), it is only a 100kcal meal. Therefore, if you are trying to replace your normal meals, it might not be enough.


How many Soylent Squared can I have a day?
I would not recommend having more than 20% of your diet from it. This is about 4 bars. However, I mean this as a guideline and not a strict rule.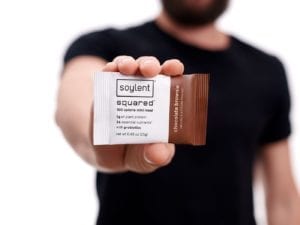 Soylent Squared Review: Verdict
Soylent Squared is a meal aimed to those who tend to be really snacky and are looking to replace it with something healthy. It can be also useful for those who are looking to lose some weight.
As a meal replacement, it falls a little short due to its small size; it cannot replace a meal. The comeback of Soylent to bars is welcome, but I hope to see a bigger and better option in the future. Thus, due to the price and the size, I would struggle to recommend Soylent Squared.
Other Soylent Products
Soylent Squared
$1/100kcal bar
Pros
100kcal complete snacks, ideal for those in a diet
3 different flavours to choose from
Can buy them in variety packs
Easy to eat them on the go
Cons
Very expensive when compared to other Soylent products
Nutritionally weak
100kcal is not enough to replace a meal for most