Live It Up Super Greens Review | The Best Budget Green Powder?
The most well-known green superfood powders, like AG-1, are extremely expensive for most of us. So, it's there a budget alternative that provides with similar amount of goodness for a more affordable price tag? In this Live It Up review, formerly Enso Super Greens, we will have a look at one of such contenders.
One of the main attractions of Live It Up super greens powder is the high levels of spirulina and chlorella, which are both highly nutritious algae with many health advantages.
These two superfoods are especially beneficial for the immune system, with research showing chlorella can reduce cholesterol.
Although the vitamin content of the powder is not the best, it is far from being bad.
It is still among the top 5 greens in terms of overall health benefits, although other products like Super Green Tonik and Athletic Greens bring more benefits.
Apart from spirulina and chlorella, the blend contains over twenty superfoods like dandelion root, wheatgrass, monk fruit, peppermint, moringa leaf, and broccoli. The ingredient list shows which superfoods have the highest amounts in each serving, with ginger root being the lowest.
Live It Up Greens Powder is one of the tastier powders (although it has a subtle flavor) and provides good value for the price, even if it doesn't have the most comprehensive health benefits. Additionally, it is made from an organic blend and does not have any artificial sweeteners.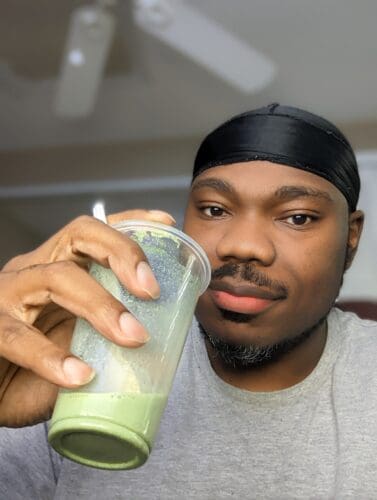 Key Takeaways
Enso Superfoods is now Super Greens by Live It Up
Live It UP SuperGreens contains over 20 organic superfood ingredients, digestive enzymes, and 5 billion CFUs probiotics.
It has a mint taste, that works well with milk/shakes, less so with water.
The product undergoes rigorous testing to ensure cleanliness, safety, and absence of contamination.
Have a proprietary blend, but no filler ingredients
Great budget option
For full transparency in the ingredient list, check our top green powder.
---
Live It Up Super Greens Review at a Glance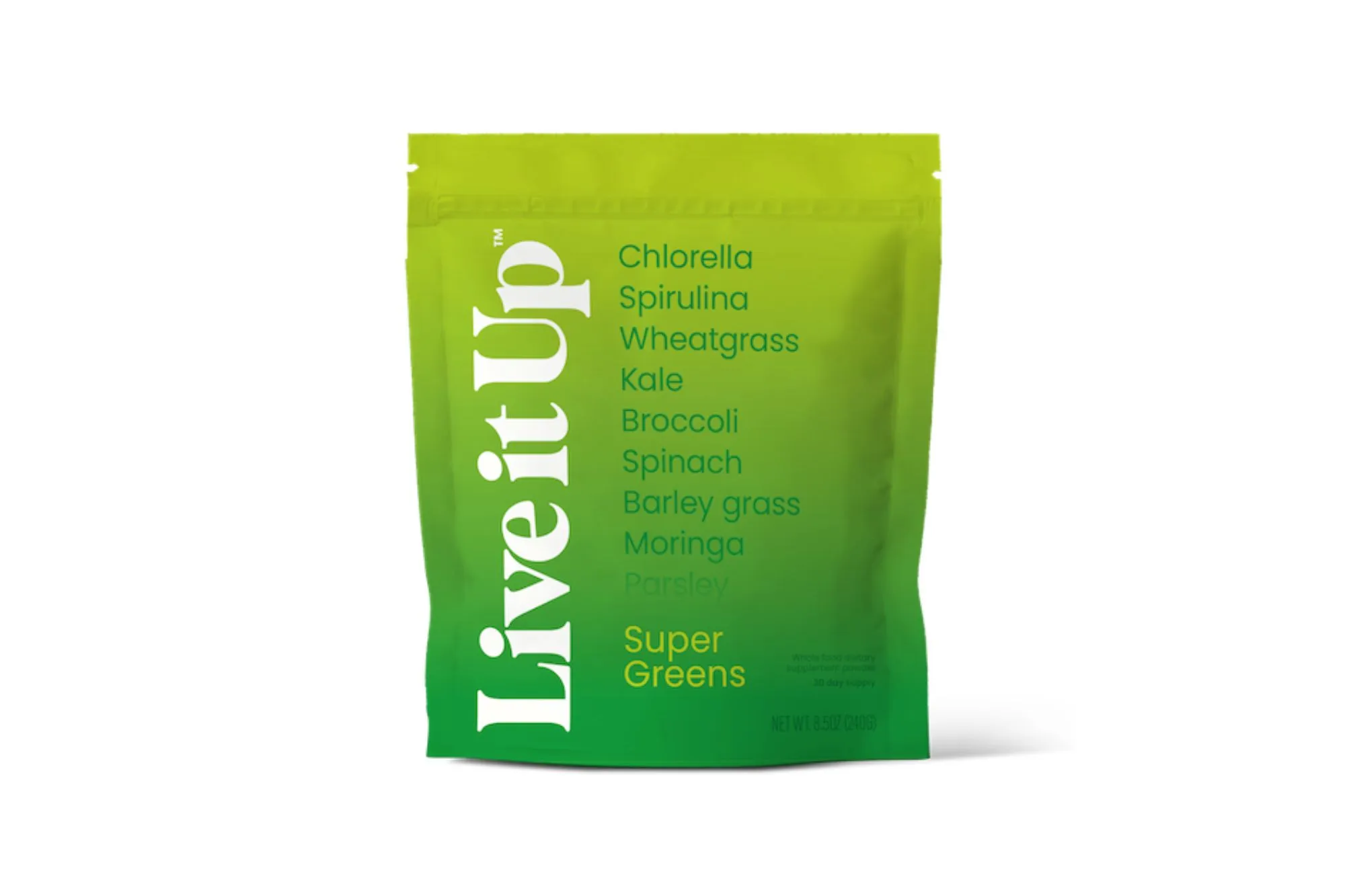 Pros
Spirulina and Chlorella main ingredients
Affordable
Great taste
Fully organic
Dairy free probiotics
Cons
Proprietary blend
Not the most complete in terms of health benefits
Could mix better
---
Live It Up Super Greens Ingredients
Key Takeaway: Live It Up is a fully organic greens powder without any additives (not even a sweetener or silica), so one of the cleanest on the market. The ingredients are behind proprietary blends, but at least spirulina and chlorella are the main ones. However, other ingredients like digestive enzymes, peppermint, Dandelion root come short.
The greens blend in Live It Up is fully USDA certified organic, third party tested, free of added sugars, gluten, and caffeine. Live It Up Greens are also free of sweeteners or any silica powders, which makes them truly natural.
So in that regard, Live It Up offers you one of the cleanest green superfood blends in the market.
Sadly, however, the exact quantities for each ingredient are hidden behind a proprietary blend. This means that some might be underdosed.
On the plus side, the two main ingredients are spirulina and chlorella, which are among the most effective greens you can take. Furthermore, studies have shown that they have synergistic health benefits.
In case you cannot see the Live It Up Super Greens ingredients list below:
Enso Super Greens Powder Blend, 8g
Enzyme Complex, 78mg
Probiotic Blend, 5B CFU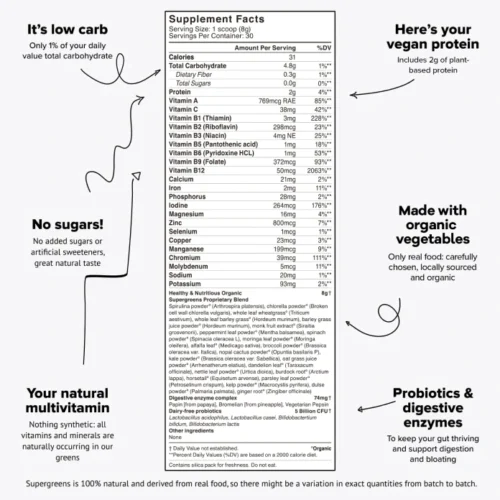 Healthy & Nutritious Super Greens Proprietary Blend 8g
Spirulina, Chlorella, Wheatgrass, Barley Grass, Monk Fruit, Peppermint, Spinach, Moringa Leaf, Alfalfa Leaf, Broccoli, Cactus, Kale, Oat Grass, Dandelion powder, Nettle Leaf, Burdock Root, Horsetail, Parsley Leaf Powder, Kelp Powder, Dulce Powder, Ginger Root.
As stated previously, Spirulina and Chlorella can have positive immune and anti-inflammatory effects when taken in doses of over 2000mg.
Meanwhile, Peppermint Leaf appears to be largely ineffective unless in large doses, while Dandelion Powder can be beneficial as a diuretic and for liver health even in small amounts.
Lastly, Nopal Cactus Powder is the only other ingredient in the ideal range, and it has been known to regulate blood sugar levels, protect nerve cells, and even improve prostate health when taken as a minimum of 500mg.
Spirulina & Chlorella: Blue-Green Algae and Seaweed
Live It Up SuperGreens incorporates two types of blue-green algae: spirulina and cracked wall chlorella. These algae are rich in nutrients and have been linked to various health benefits, including potential blood pressure and blood sugar regulation.
The inclusion of dulse and kelp seaweeds further enhances the nutritional profile of Enso SuperGreens, as these seaweeds are excellent sources of iodine, which supports thyroid function.
Vegetables and Nutritional Grasses
Live It Up SuperGreens includes a variety of vegetables, leafy greens, and nutritional grasses.
Broccoli, spinach, kale powder, dandelion powder, parsley leaf, and peppermint leaf are just a few examples of the vegetable ingredients in this greens powder.
These greens provide a wide range of vitamins, minerals, and antioxidants necessary for overall health.
Wheat and Barley Grass contain some amino acids and minerals to aid in building bones and teeth, releasing energy from food, and maintaining pH balance; however, they are not the ideal ingredients for a greens powder.
Probiotics, 5B CFU
Probiotics are beneficial live bacteria that support digestive health and boost the immune system.
Live It Up Super Greens includes 5 billion CFUs of dairy-free probiotics, providing a significant dose that surpasses many other brands.
The presence of probiotics in this greens powder promotes a healthy gut environment and may contribute to improved digestion and overall well-being.
Digestive Enzymes, 78mg
Live It Up Super Greens incorporates three plant-based digestive enzymes: papain from papaya, bromelain from pineapple, and vegetable pepsin.
These enzymes aid in the digestion and absorption of nutrients, potentially alleviating symptoms such as bloating and gas.
Research suggests that bromelain may also have anti-inflammatory properties and provide relief for individuals with joint pain, but this is in doses higher than 100mg. So, the 78mg in Enso might not be enough.
Vitamins and Minerals
Live It Up SuperGreens contains a wide array of vitamins and minerals derived naturally from the superfood ingredients. While the exact amounts of each micronutrient are not disclosed due to the proprietary blend, Live It Up Super Greens provides at least 22 essential vitamins and minerals per serving. These include vitamins A, C, B1, B2, niacin, B6, folate, B12, as well as minerals iodine and chromium.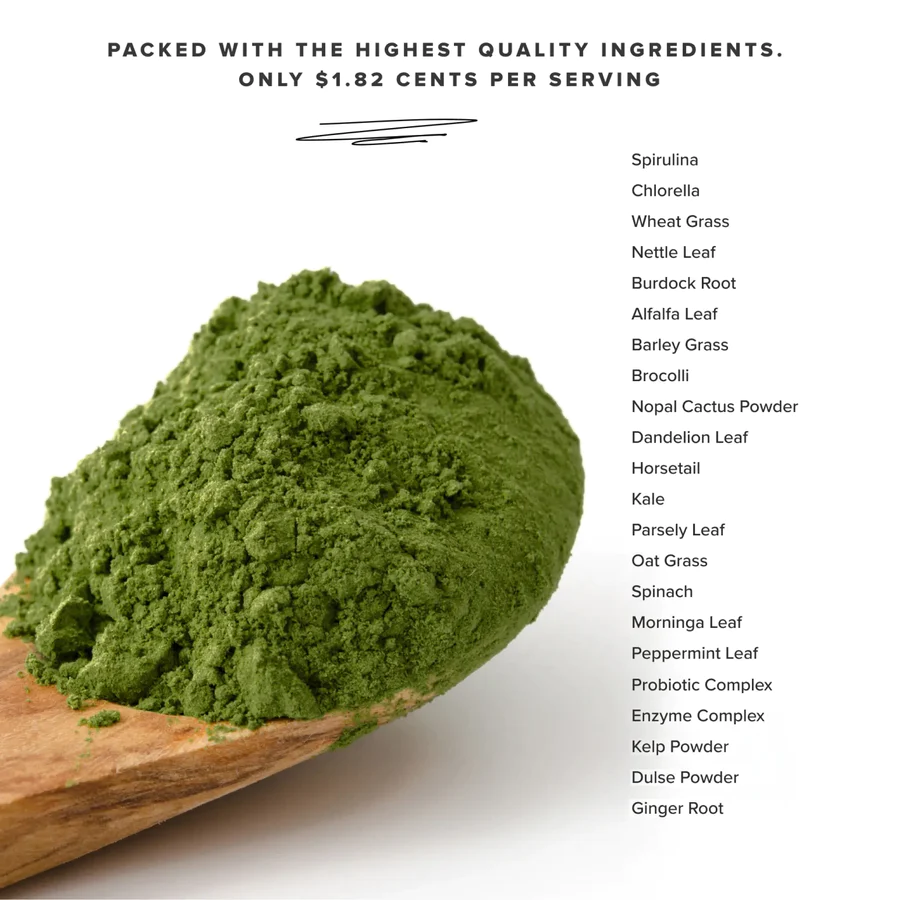 Live It Up Super Greens Health Benefits Reviewed
From their site, Live It Up SuperGreens claims to benefit you in the following ways:
Weight loss
Immunity boost
Help you with digestion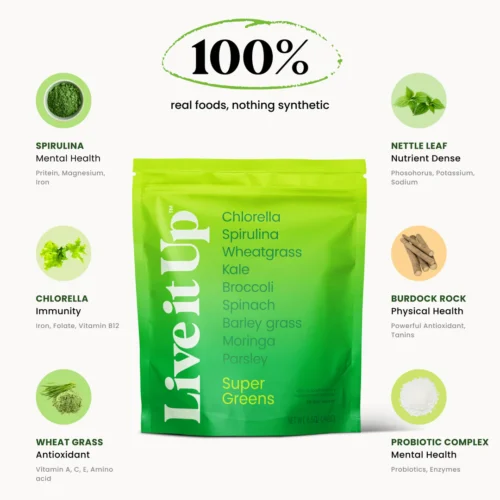 Live It Up & Weight Loss
First and foremost, green powders are not the most efficient supplements for weight loss.
For that, a fat burner, a diet plan, or a weight loss meal replacement shake will be better.
Almost none of the green powders will accelerate your weight loss. Some studies have linked chlorella with increased energy levels and aerobic performance, but this hardly translates to weight loss.
Thus, the weight loss benefits in Live It Up are indirect benefits at best.
Delivers Antioxidants and Essential Nutrients
Live It Up SuperGreens serves as a concentrated source of antioxidants, vitamins, minerals, and other essential nutrients.
By incorporating this greens powder into their daily routine, individuals may bridge the nutritional gap in their diet.
Antioxidants are critical as they reduce the amount of free radicals in our bodies, reducing inflammation, helping our immune system and even reducing the risk of chronic diseases.
May Boost Energy Levels
Many consumers report increased energy levels after incorporating Live It Up Super Greens into their routine. This could be attributed to the product's comprehensive blend of vitamins, minerals, and antioxidants, which play a role in reducing fatigue and promoting better recovery.
For instance, the vitamin B complex is highly tied to cellular energy production and storage. Thus, if you are lacking in these nutrients, you might perceive a boost to your energy levels.
May Improve Digestion and Gut Health
Another area where you might see benefits is digestion. Live It Up Super Greens supports optimal digestion and gut health through the inclusion of probiotics and digestive enzymes.
Probiotics help maintain a healthy gut microbiome, while digestive enzymes aid in the breakdown and absorption of nutrients. The presence of peppermint and ginger root in Live It Up Super Greens further supports digestive health, potentially alleviating symptoms of bloating and discomfort.
That said, as discussed above, critical ingredients like bromelain are not in high enough dosages, thus the effects might be minimized.
Live It Up Side Effects
Despite the numerous potential benefits of Live It Up Super Greens, there are some potential side effects to consider.
While most greens powders are safe for the general population, some greens might cause side effects like nausea, or diahrrea.
Live It Up Super Greens Taste Review
Unless the flavor is steered in a specific direction, many of these powders are kinda the same. Some are tea like, some have a fruity taste, and others add mint leaves.
Mixed with Water
As you can see, it comes with healthy scoop. Smells very herby with mint undertones. Shaking it up had the drink very frothy at the top, more than others I've tried.
Taste wise, the mint is very pronounced, so if you aren't a mint fan…give this a pass. It was ok I guess, didn't taste bad, and I could get it down but only about 90% of it. It got super gritty near the bottom and too hard to get down the last couple swallows.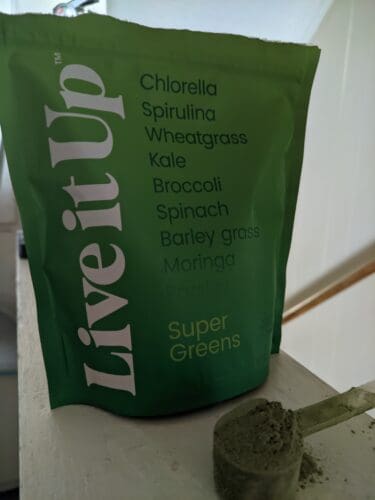 Mixed with Milk
Since mint is the lead flavor, I figured just like with Organifi, it would be better more like a shake.
Despite it looking like something a toddler made, that theory turned out to be true, even though I was lazy and only combines a teaspoon with around 8oz of regular cow's milk.
That was far better than with just water, and I wouldn't dare try it with any kind of juice. Unfortunately, the gritty texture was still an issue. Maybe blending would help, but whether shaken or stirred, expect this at the end.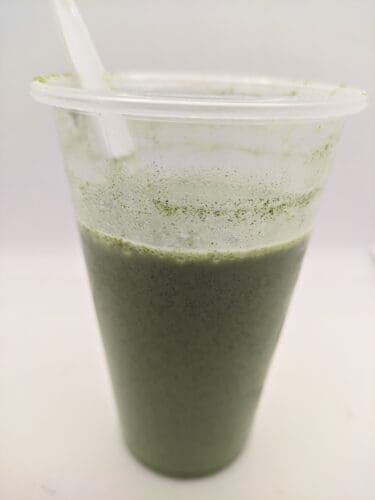 About Live It Up

Growing up in Brazil, Haim has always had a strong connection with nature and nutrition. Access to fresh food was so easy that he took it for granted. When he moved to New York, he started to become part of the vast majority that don't eat enough fruits and vegetables on a daily basis.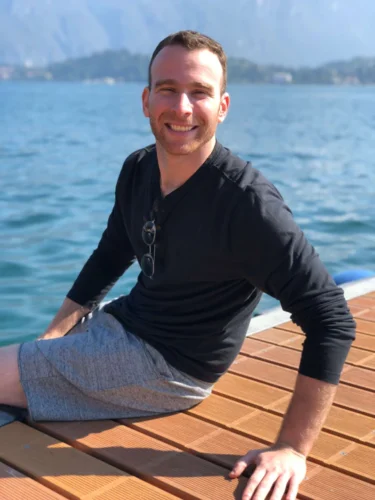 That's why he decided to leverage his personal story, as well as professional background – with entrepreneurial experiences at MIT, Amazon and early-stage startups – to create Live it Up and make sure eating healthy becomes as easy as it is in his home country.
Pricing & Shipping
Super Greens is only offered through Live It Up. Single orders are per bag, 30 servings at $2 per serving. If you subscribe you can get the product shipped monthly and enjoy a discount of 33% off of 30 servings and 42% off of 60 servings!
Product
Single Order
Price
Subscription Price
One Bag (30 servings)
$59.99 ($2)
$39.99 ($1.33) – 33% off
Two Bags (60 servings)
$119.98 ($2)
$69.99 ($1.16) – 42% off
Priced in USD. Per serving price in ($)
Live It Up ships with UPS, USPS, and DHL.
Standard shipping (3 to 7 days) is currently free for all orders. Express shipping (2 days) is provided at $9.99. Shipping is also available to the United Kingdom for USD $14.99. 
User Reviews
Live It Up, formerly Enso SuperGreens, has garnered positive feedback from customers who have incorporated it into their daily routines. With an average rating of 4.9 stars on the Live It Up Superfoods website and Verified Reviews, customers have praised the health benefits, taste, and texture of this greens powder.
Great alternative to AG-1

I've been on Enso Supergreens for about 4 months and I feel great. It's hard to say "I feel good/better because of this supplement", just like it would be hard to say "I feel better because I eat Kimchi and broccoli every day". However, I trust the ingredients, I like the taste, my "systems" (unmetionable) seem to be more regular than ever and I honestly feel great. Because of this mix….? Not sure, but it's definitely not hurting and I "believe" it's helping me live a healthier life.

Daniel
Great Product

I've been on the hunt for a greens powder for a while and came across this on a forum rating this #1. I haven't tried any other powders but the price is what really pushed me towards this one. Affordable to subscribe to and does what it says. I've felt more energized and focused and my gut feels regulated! The taste threw me off at first with the mint so I was mixing it with apple juice but after a few weeks I had adjusted to it and drink it with water. It's not the best tasting stuff but i don't mind it either. I slam it and go about my day feeling like I've made a good choice for my self.

Nick
Honestly surprised by the results

I researched "super green powder" and chose Enso because it listed all of the ingredients and most of its competitors did not. The taste is nice, and I like mixing it with almond milk. I wasn't sure if it would help with my issues, but surprise, it did. No more acid reflux symptoms. Regularity is no longer a problem. No coffee withdrawal headaches. Now I drink coffee when I want it and not because I need it. The jury is still out about my energy level, but I hope to stop taking a low-dose antidepressant in the near future.

Diane
Amazon Live It Up SuperGreens Reviews
Unfortunately, Live It Up, formerly Enso, is not available on Amazon therefore there are no customer reviews, either.
Live It Up Super green Review Reddit
As far as the social platform is concerned, most users seem to enjoy Live It Up Greens. Many redditors have switched from AG-1 to Live It Up due to the price and don't notice the downgrade.
Is Live It Up Super Greens Worth It?
Ultimately, this is a very personal choice.
However, if you are lacking vegetables and leafy greens in your diet, Live It Up Greens is a good way to supplement it. This way, you will get a boost to your vitamin and mineral intake, as well as phytonutrients that will rejuvenize your body.
Who Should Not Buy Live It Up Super Greens?
Don't want to expend extra in their health – don't have the budget for it
People with very specific medication that might interfere
Individuals already consuming a balanced diet with vegetables and multivitamins
Super Greens FAQ
What are superfoods?
Superfoods refer to foods with high density of nutrients – maximum nutritional benefits for minimal calories.


How long are your products good to consume?
Our products are good to consume up to 12 months after the manufactured date. Since we use all-natural vitamins & herbs they will naturally begin to break down over time after that. We also recommend keeping your product in a cool, dry place and to avoid direct sunlight.


Why is my container not filled to the top?
Each blend has been formulated by weight not by volume, so products may have a different amount based on visual reference, but each formulation has the correct amount of servings stated on the packaging. Our products are always sealed. If you have any concerns that your package may not have been sealed upon receiving, please contact our team via the help center.


What is your Return/Refund Policy?
Our Return & Exchange Policy extends to all first-time purchases for 30 consecutive days from the day on which the first-time purchase product was delivered to you according to the tracking information from the carrier that was used for shipment.  

---
Verdict – Live It Up Super Greens Review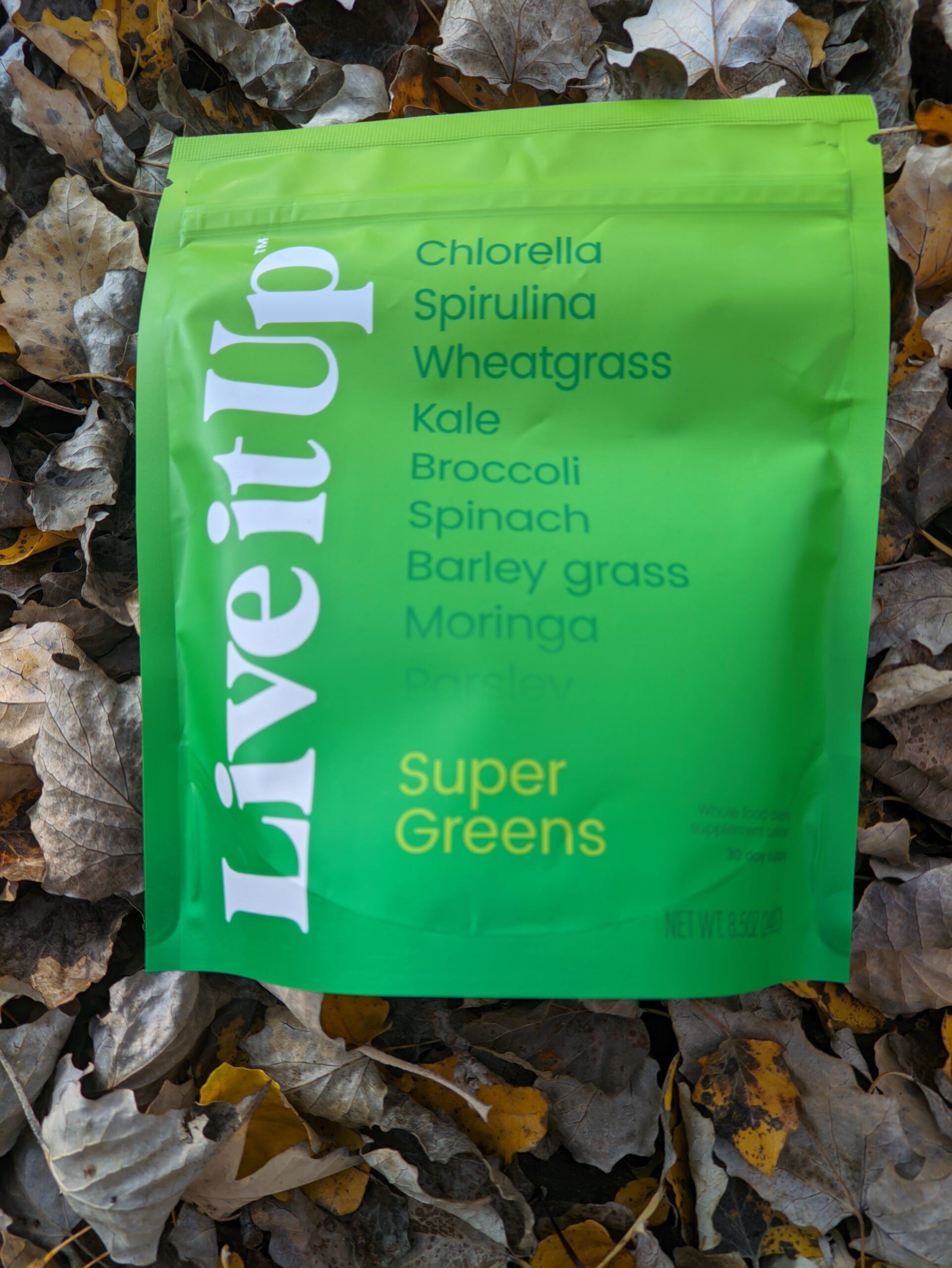 In conclusion, Ensō Supergreens is a top-notch super greens product, with a few noteworthy characteristics such as abundant organic spirulina and chlorella, a budget-friendly price point, and mixability.
Moreover, the powder is USDA certified organic and does not contain any artificial ingredients, such as sweeteners, flavorings, or colorings.
I didn't mind the taste, but some that reviewed the product did. While mint tastes better than the fall leaves, its not going to appeal to the widest audience. Also the texture won't win it any awards. Again, all greens I've tried are kinda gritty, but the bottom of this was like quick sand. Using milk or a mixing with a shake largely helped this.
Where they win is by offering killer subscription discounts. The 60 servings at 42% off is a strong point that you won't find elsewhere. I also like that you get an actual bag with a sizeable scoop. Some of these products such small sizes, and no way can that be enough….just something you'll go through quickly.
That said Live It Up Super greens powder is a great value option and is much better than not taking any greens supplement if you do not consume adequate green vegetables. However, it is not the most complete greens supplement and not everybody will enjoy the taste.
Bottom line – Super Greens by Live It Up is solid IF you want a solid greens for an affordable price.