FoodSpring Shape Shake Review | Diet Shakes Worth Buying?
Welcome to this FoodSpring Shape Shake review, I will tell you about how pretty does not always equal to good.
Many Hollywood movies tell us to look beyond what our eyes can see, and that the real beauty is in the inside. No matter how much you want to believe, that's the story with Foodspring meal replacement shakes.
Shape Shake by FoodSpring are weight loss oriented meal replacement shakes that promise to provide you with all essential nutrients in a 200kcal drink. This includes 26g of protein, and 24 vitamins and minerals in a drink you can prepare in less than a minute.
All that it's true, and the packaging is so pretty. But when FoodSpring Shape Shake faces reality, and encounters your mouth, that's where it fails. It honestly delivers an extremely disappointing tasting experience, that the best meal replacement shakes don't.
In fact, if you are looking for a weight loss shake, you are better off buying Diet Extreme by Protein Works, with more flavors, a more filling formula, and a much better taste.
However, in this Shape Shake review, I will dive in deep into the nutritional aspect, the price, and the customer service of FoodSpring, to ultimately decide if this is a meal replacement shake you should consider.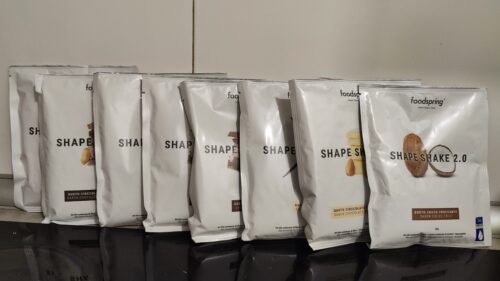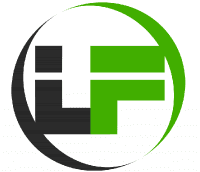 Key takeaways:
Foodspring is a German nutrition and functional food company.
Shape Shake 2.0 is their diet meal replacement shake.
The taste and texture of the shakes is rather bad.
They don't keep you full for long.
Shape Shake is available in Europe and UK.
I would recommend looking at the best diet shakes instead.
---
FoodSpring Shape Shake Review at a Glance
Flavors: Chocolate, Coconut, Chocolate Peanut Butter, White Chocolate & Almond, Vanilla, Cookies & Cream, Strawberry, and Pistachio.
---
Opinion
Unfortunately, most weight loss meal replacement shakes that I've tried have been extremely disappointing (with few exceptions like Instant Knockout, and Diet Extreme).
I've tested the likes of Exante, Phen Q, IdealShape, SlimFast, Herbalife… and many more. They are more similar than what they make you believe. They offer extremely low calorie shakes (100-200kcal), filled with artificial ingredients, flavorings and sweeteners, and almost always lack one if not more nutrients.
Furthermore, despite their goal of helping you lose weight, they fail at keeping you full for longer than an hour, which completely defeats their purpose.
So what is Shape Shake like?
The Highs
1. Great packaging, and fast delivery. Especially within the UK.
2. Tons of flavors to choose from, and good starter pack.
3. Plant-based, and whey-based formulas to choose from.
4. Available in Europe – online.
The Lows
1. Horrendous taste. Some flavors tasted chemical.
2. Thin texture, watery.
3. Doesn't mix well. 15% is pretty much industry standard, their 10% is a bit low.
4. Expensive.
5. Doesn't keep you full.
Nutritional Breakdown
FoodSpring Shape Shake is not the healthiest meal replacement shake you can find, nor it is one focused on providing you nutrients from real food ingredients.
From the nutritional aspect, it looks more like a fortified protein shake with all the essential vitamins and minerals included. They do offer, however, a plant-based and a milk-based meal replacement shake, thus you can choose the one you like better.
That said, the plant-based formula is higher in carbs and lower in protein content.
FoodSpring Shape Shake Nutrition Overview
| | |
| --- | --- |
| Kcal/meal | 211 |
| Macros (C/P/F) | 38/43/19 |
| Vegan | Yes* |
| Keto | No |
| Features | |
| Non-GMO | Yes |
| Organic | No |
| Includes Probiotics | No |
| Artificial Sweeteners | Yes |
| Synthetic Additives | Yes |
| Contains All Micronutrients | Yes |
| Controversial Ingredients | |
Carbohydrates
Based on 202kcal serving from whey:
Total Carbs: 12g, 4% of RI.
Sugars: 1.5g, 2% of RI
Fiber: 12g.
Regarding the carbohydrate content, Shape Shake is pretty low. It contains some from oat flour, which is a good source of complex carbs.
However, what's more remarkable is the insanely high fiber content. With 12g per 200kcal, this is the highest we've seen in any meal shake. Even though fiber is essential to keep a healthy gut microbiome, if you are not used to such high amounts of fiber you might feel more loose than usual.
Protein
Based on 202kcal serving from whey:
Total Protein: 23g, 41% of RI
Source(s): Whey protein isolated or pea protein, chickpea protein.
As with many other weight loss meal replacement shakes, Shape Shake is high in protein and fiber.
The protein in the whey version comes from whey protein isolate, the highest quality of protein. It is easily absorbable and has all the essential amino acids.
If you choose the vegan Shape Shake, pea and chickpea are the protein sources. These are not as good as whey protein, but considering how much protein there is per serving, it should be good enough.
Fats
Based on 202kcal serving from whey:
Total Fats: 4.1g, 7% of RI.
Saturated Fats: 1.0g, 5% of RI.
All things consider, Shape Shake is quite low in fats. In fact, it does not have a good source of omega-3 fatty acids.
Despite having some lineseed flour that could contain some ALA, the ALA is not easily converted into DHA and EPA. Therefore, you might need to look for omega-3 supplements if you don't consume enough through your diet.
Micronutrients
On the plus side, Foodspring's Shape Shake is quite rich in both vitamins and minerals. Each serving contains 36% of all vitamins, including D3, and over 20% of most minerals.
Allergens
Shape Shake can contain milk.
Taste Test
Once again, this is the make or break. And unfortunately for Shape Shake, it's break.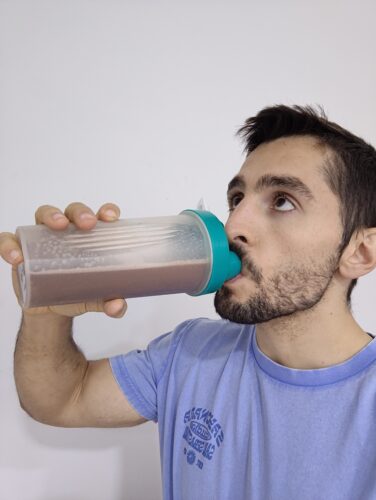 This is another disappointing weight loss shake that suffers from many of the same issues that other popular brands like PhenQ do:
Watery shakes. I recommend mixing with 300ml, or wait a little bit before consumption.
Unsatisfying texture. The excess of fiber does not blend with the water, and you can notice them while drinking. It's not pleasant.
Chemical taste.
Overly artificial and sweet.
Shape Shake Taste Test Review
I would love to rank the flavors from best to worst, but the reality is that the taster pack has been extremely disappointing.
As mentioned above, most of them have a weird chemical taste to them that makes them hard to drink. The worst, to my disappointment, was White Chocolate & Almonds. It was atrocious.
Vanilla was the best of all the shakes, but as it can be seen in the images, the texture is not great.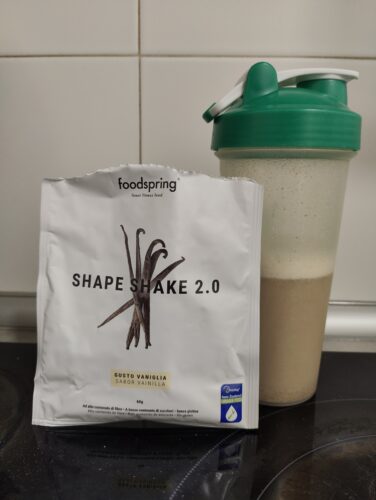 Chocolate was down right bad, and the rest of the flavors are not even worth commenting on.
Honestly, seeing the best tasting meal replacement shakes and how many delicious options there are in the market, my recommendation is to skip Foodspring Shape Shake.
If you are looking for a tasty diet shake, buy Diet Extreme instead.
About FoodSpring

Foodspring is a German company founded in 2013. They claim to be a premium fitness food and nutrition company, and sell many supplements from protein powders, to meal replacements and even peanut butter.
Other FoodSpring Products
Despite our dislike towards their meal replacement shakes, FoodSpring offers many more products including protein powders, bars, pre-workouts, essential amino acids, spreads… In fact, not all their products are as bad as the meal replacements.
Among some of their most noteworthy products is PUMP, their caffeine free product that we selected as best pre-workout for women.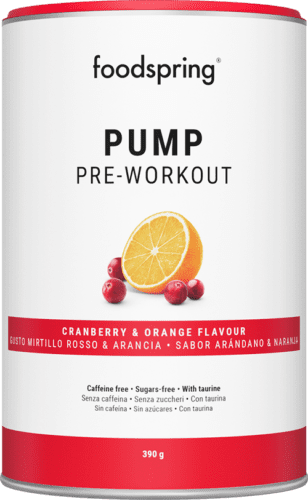 Foodspring's protein powder's have also been very well received by the critics, but we haven't had time to review them. That said, they do offer a good array of options including micellar caseing, vegan clear protein, clear whey protein, and the standard whey protein (their best rated product).
Pricing
Regarding the pricing of Shape Shake, it's worth noting that this product is only available in Europe and in the UK. Nonetheless, the vegan version is not available at the time of this review in the UK.
These are the prices for Europe:
1 tub (30 servings), €34.99 or €1.17 per serving
Unfortunately, there are no subscription or bulk discounts, even though the base price is quite reasonable.
The vegan version is also the same price.
Shipping
Furthermore, you can get free shipping within Europe in orders above €60.
Is Shape Shake Worth It?
Despite the appealing price point, I don't think Foodspring Shape Shake is worth it. That is because the taste of the shakes is appalling, and even though it's high in fiber and protein, it's not very effective at keeping you full.
Having tried multiple weight loss meal replacement shakes, I do believe that there are few better options including Instant Knockout and Diet Extreme that will be a better bang for your buck.
Foodspring Shape Shake Customer Reviews
It's very telling when even the customer reviews in your own website are not overwhelmingly positive. In this instance, customer Shape Shake reviews on their site give 4.1/5 stars in 2155 reviews.
When we compare that to competitors like Diet Extreme, which has 98% in 878 reviews, the discrepancy is clear. However, it's always worth considering that website reviews can be tinkered with.
Amazon Shape Shake Reviews
In this case, there are also Amazon reviews of Shape Shake. Similarly to the website reviews, they are not very positive with 4/5 stars in 86 reviews.
I received the item on the expected date on its I have no comments it's very good
But I would like to talk about the taste! I don't really like this Strawberry-flavored Shape Shake because it doesn't taste like strawberry at all

1-star.

Shape Shake vs
If you are interested in a meal replacement shake for weight loss, I strongly recommend looking at my best diet shakes piece.
In this case, I will compare Shape Shake to two of the best shakes for weight loss: Diet Extreme and Instant Knockout.
Comparison Overview
Category
Shape Shake
Diet Extreme
Instant Knockout
serving price
€1.16
€1.47
€4.72
kcal/serving
211
207
400
Macros (C/P/F)
38/43/19
36/46/18
36/35/29
Flavors
9
16
1
Protein (g)
25
24
35
Sugar (g)
1.6
0
3
Fiber (g)
10
2
6.4
Fats (g)
1
4.5
13
Carbs (g)
11
18
35
Vegan
N*
N*
Y
Certified
Organic
N
N
N
Micronutrient
21
21
21
Artificial Sweeteners
Y
Y
Y
Synthetic Additives
Y
Y
Y
GMO?
N
N
N
Protein Source
Milk
Milk
Pea protein
Availability
EU, UK
EU, UK, US
World
The Results
Looking at the numbers, Foodspring's Shape Shake looks like an attractive offer, whereas Instant Knockout might seem a little too expensive at first.
However, when we further analyze the three, Shape Shake ends up being the worst of them three. Firstly, it's the worst tasting of them all, and the one that doesn't mix at all. Even though having different flavor options is nice, it doesn't matter if they are all bad.
In this regard, Diet Extreme is the clear winner. These are delicious shakes, I love Digestive Biscuit (insanely good), and there's plenty to choose from. For Instant Knockout, even if there is only one flavor, the Vanilla is godlike.
When it comes to the price, I think that Diet Extreme is the best value for money. Instant Knockout is better for men that are looking to keep their lean mass on, as it is designed for MMA athletes to for their aggressive cuts.
Shape Shake FAQ
Is Shape Shake gluten free?
No, Shape Shake is not gluten free.

Can I buy the vegan version in the UK?
Currently the vegan version is not available in the UK.


Is Shape Shake good for weight loss?
No. Even if on paper it looks good, it fails to keep you full and you will be hungry short after. Plus, because it doesn't taste very good, you will start skipping it.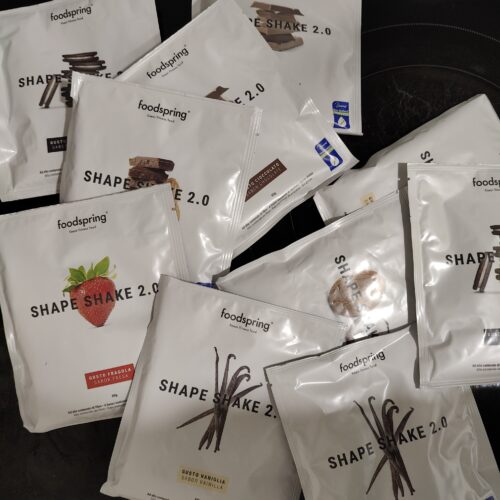 ---
Verdict – Shape Shake Review, Another Disappointing Diet Shake
Once again, I cannot avoid but finishing this Shape Shake review disappointed. It is not the worst diet shake I've ever tried, but it's not far from.
Having read some user reviews, the taste and the texture are definitely an issue Foodspring needs to fix.
Nutritionally, Shape Shake shakes are not much different from Exante or PhenQ, but they should be effective to help you with weight loss. When I tested them, they were not as effective as promised suppressing my appetite, but it might be different for other users.
Ultimately, that's why I prefer to recommend Diet Extreme instead. It's a similar price point or a little bit more when bought in bulk, has more flavors available, and they are much better tasting. As icing on top of the cake, they are much more filling.