Ehrmann Foodie Review | You Cannot Die without Trying Them
This Ehrmann Foodie review started with a flight and an airport supermarket.
After few days of having fun, partying, and eating way too much I was on my way back home from Germany. That's when I decided to check out the airport supermarket for that one last binge before diving into the daily "clean boring food" routine.
At the supermarket, I saw YFood, a well-known German brand that has always had the best ready to drink meal replacement shakes. To the side, I saw the Ehrmann Foodie Chocolate, in a cute little bottle. It peaked my curiosity and I grabbed a bottle.
30g of protein per bottle
400kcal
Milk based formula, but lactose free
This was the old YFood formula! Bingo!
Now they had me, as the old YFood Chocolate was a magnificent godsent nectar. So, I didn't buy any. Instead, I went for one last hurrah and bought cheese breadsticks.
However, a couple months later, my German friend told me he had found the best chocolate RTD, and that it was like the old YFood – I feel sorry if you didn't try it. Immediately, I knew he was talking about Ehrmann Foodie.
So, I got a starter pack – my friend actually brought it from Germany- and I got to fix that mistake I did in the airport.
First sip of the chocolate… Yes. Hell, yes. I was in heaven.
So now, back to this Ehrmann Foodie review and why you must try this RTD before you die, even though they only sell it in Germany.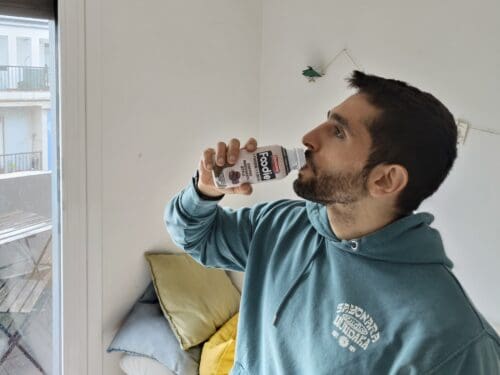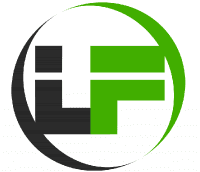 Need to break out? Here are LatestFuels quick takeaways:
Ehrmann Foodie are ready to drink meal replacement shakes based on milk and with 30g of protein.
Their Chocolate shake is the best RTD I've tried.
Some of the other flavors leave a lot to desire.
Only available in Germany (retail and online).
Taster pack is worth trying.
---
Ehrmann Foodie Review at a Glance
Flavors: Vanilla, Vanilla Blueberry, Coffee Macchiato Style, Chocolicious, and Pistachio.
---
Opinion
Most of the ready to drink meal replacement shakes have a plant-based formula nowadays. It's hard to find a milk-based option that it's not YFood.
That said, I still consider YFood the king of RTDs which their wide range of option, and on average delicious drinks. Forget about the Berry, though.
So having a real alternative to YFood is great. Even if the formula is pretty similar, there are still subtle differences like the price and flavor options. Somehow, the taste is also different, and Ehrmann Foodie offers a better tasting shake in some of the flavors.
The Highs
1. Best Chocolate RTD EVER. Godsent.
2. Readily available in stores in Germany.
3. 30g of protein. Highest amount of protein for any RTD.
4. Lactose-free, gluten free.
5. Contains all essential vitamins and minerals.
6. Great fun flavor options.
The Lows
1. Not the healthiest RTD.
2. Taste is pretty sweet.
3. Only available in Germany.
4. Vanilla Blueberry is dreadful.
Nutritional Breakdown
Usually, ready-to-drink meal replacement shakes are not as healthy as the powder-based meal shakes. They tend to be lower in greens, probiotics, phytonutrients and adaptogens.
That said, RTDs will still provide you with all the essential nutrients your body needs. This is the case for Ehrmann Foodie shakes, which will provide you with over 400kcal, 30g of milk-based protein, fiber, fats, and all the essential vitamins and minerals.
It's worth noting that despite being a milk-based product, Foodie is a lactose free meal replacement shake. It does not contain gluten either.
From a nutritional standpoint, Foodie is not going to be your healthiest option, as 75% of it is milk – thus it will be high in naturally occurring sugars and fats. However, it will be a fun drink better than your average takeaway or breakfast option.
Foodie Nutrition Overview
| | |
| --- | --- |
| Kcal/meal | 426 |
| Macros (C/P/F) | 28/28/44 |
| Vegan | No |
| Keto | No |
| Features | Gluten Free, Dairy Free |
| Non-GMO | Yes |
| Organic | No |
| Includes Probiotics | No |
| Artificial Sweeteners | Yes |
| Synthetic Additives | No |
| Contains All Micronutrients | Yes |
| Controversial Ingredients | Ace K |
Carbohydrates
Based on 426kcal serving:
Total Carbs: 26g, 10% of RI.
Sugars: 18g, 20% of RI
Fiber: 7.2g.
Overall, Foodie is quite low in carbohydrates, despite having 18g of sugar. This is naturally occurring sugar from milk, lactose, and not added sugar.
As mentioned earlier, 75% of the drink is milk, thus this is not surprising to see. Definitely, it's not ideal, and those who are looking for a low-sugar meal replacement shake should look elsewhere.
That said, it can be a great drink to use before your workout or in the morning to fuel your body.
Besides, milk it also includes some maltodextrin, which is also a carbohydrate with high GI, and oat fiber.
Protein
Per 436kcal serving:
Total Protein: 30g, 60% of DV
Source(s): Whey protein isolated
Arguably, the high protein content of this drink is the star of the show. It contains 30g of protein from milk and milk protein, which are complete protein of slow absorption.
Furthermore, current scientific understanding shows that milk protein could have further positive health benefits, like anticarcinogenic activities, antihypertensive properties, and immune system modulation.
Fats
Per 426kcal serving:
Total Fats: 21g, 30% of RI.
Saturated Fats: 5.2g, 26% of RI.
The other heavy lifter in this formulation are fats. There's no denying that Foodie is quite high on fats with 30% of your daily recommended intake, and 26% recommended intake of saturated fats.
And part of this does not come from milk, as they use the low fat milk. Instead, they add rapeseed and sunflower oil.
Rapeseed oil is there partially to add omega-3 fatty acids, but ALA is not easily converted into DHA and EPA, and thus is a subpar omega-3 source. It is safe to assume that Foodie is not a good source of omega-3 fatty acids, which play key roles in many metabolic processes.
Foodie will not safe you from supplementing omega-3 in your diet or from having to consume omega-3 rich foods like salmon.
Micronutrients
In Foodie's RTDs you will find at least 25% of your recommended intakes for all 25 vitamins and minerals.
Furthermore, most of them will be in even higher quantities, which makes Foodie a great way to boost your vitamin and mineral intake.
Allergens
Foodie meal drinks contain milk.
Taste Test
Now, onto the main course.
This was the most thrilling and fun tasting session I had in a long time. As mentioned in the introduction, I used to love the old YFood RTDs. The new ones are still great, but the spark is gone missing.
So when my friend described the chocolate as the Old YFood, I was beyond excited.
| Flavors | Rating |
| --- | --- |
| Chocolicious | S++ |
| Vanilla | A |
| Pistachio Style | A |
| Coffee Macchiato | A |
| Vanilla Blueberry | D |
CHOCOLICIOUSSSS
If I had to drink one RTD for the rest of my life, this would be it.
It's a fantastic milkshake-like, chocolate drink that is on the sweet end, without being sickening.
Without a doubt the best flavor of them all, and even if I would recommend buying the taster pack, the one that most will end up sticking with.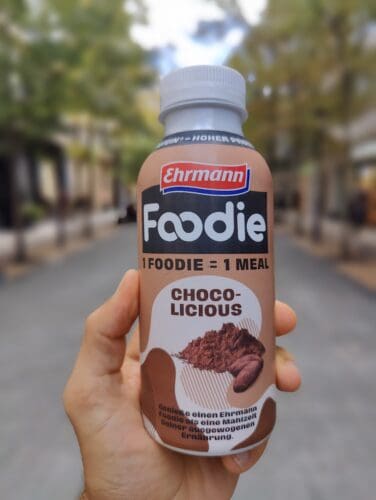 Foodie Vanilla Taste Test
Not much to say about this flavor besides the fact that it's a nice sweet Vanilla. It's a milky vanilla, reminiscent of custard.
That said, I don't think that this is particularly better than any of the other competitors.
Foodie Pistachio
On the other hand, this was a welcome surprise. It smell strongly of pistachio, and the flavor was well achieved.
I didn't think it was fantastic, and certainly loved the chocolate better, but it can be a good flavor to have sparingly.
Foodie Vanilla Blueberry Taste Test
This is a very unique RTD flavor that caught me by surprise. Unfortunately, it wasn't a nice surprise. It tasted chemical artificial, and it is the worst by far. Do not buy.
Coffee Macchiato Style Foodie Taste Test
Once again, I'm not usually the biggest advocate of coffee flavors. For once, I think that most of them are too artificial, and secondly, I love coffee too much.
Nevertheless, I must say that this is a nice milky, sweet coffee RTD. Perhaps a little sweet, particularly if you don't take your coffee with much milk or sugar.
The Truth that I Haven't Told You, Yet
So, it's clear that I loved Foodie's RTDs when it comes to taste.
The Foodie Taster Pack is a roller coaster that everyone should enjoy.
That said, just like in a roller coaster, the flavors are very pronounce and a little on the sweet side. They are incredible as a one off, or non-regular consumption, just like that sweet dessert you treat yourself to.
However, for the daily use, I found Foodie to be too sweet and artificial. I was also trying Mana Drink RTDs at the same time, and I knew once I finished both, I would keep drinking Mana. Not because I thought it was tastier, but because their Original flavor is just incredible and does not get boring.
About Kaged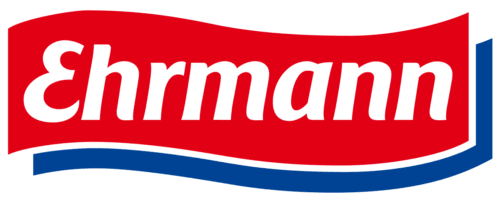 Ehrman is a dairy and dairy product manufacturer from Germany that has been active since 1920. In that regard, this is not your small meal replacement company, but rather a industry giant tipping its toes in a new segment.
It is, however, a family run business, that is currently on the third generation, with Christian Ehrmann as their new CEO.
Pricing
Ehrman meal replacement shakes are available in German retail stores like Rewe or online – only in Germany, too.
The best way to start with Foodie is by purchasing their starter pack that contains all 5 flavors for €17.45 (€3.49/bottle).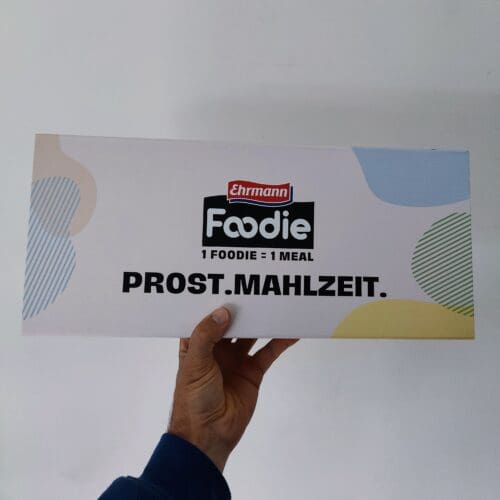 However, if you want one flavor, you can buy them in 6 packs for €20.94.
Unlike with many other meal replacement products, including direct competitors like YFood or Mana or Huel RTD, Ehrmann does not offer any bulk or subscription discounts. This is a big disadvantage, because the shop already is quite hidden and hard to find.
Ease to buy and buyer incentives are very common among meal replacement companies.
Shipping
Ehrmann only ships within Germany. You get free shipping in all orders above €25.
Ehrmann Foodie Customer Reviews
This is a fairly new product with very few online reviews. Ehrmann's site does not collect reviews, so it's hard to find any customer reviews.
That said, the German youtuber u/FoodSchau has a great video. Most of the comments are extremely positive and praised the flavor, as we did
Ehrmann Foodie vs
Throughout this Ehrmann Foodie review, I've unveiled some of its biggest competitors. These are YFood RTD, Huel RTD, Mana, and Saturo.
Ever since I first tried them, I've hold the YFood RTDs in very high regard, and considered them the best ready to drink meal replacement shakes in Europe.
Huel RTD has improved vastly since the first time I tried them, with the v2.0 being a real upgrade, and a solid YFood alternative for vegans.
On the other hand, Mana Drink is the product that often gets forgotten, but it is the most praised among long term meal replacement users. This plant-based product does not only offer great nutrition, but it's the one that you will never get tired of.
Comparison Overview
Category
Foodie
YFood
Huel RTD
Mana Drink
serving price
€3.49
€2.79
€4.72
€3.74
kcal/serving
426
500
400
330
Macros (C/P/F)
28/28/44
31/28/41
38/31/31
35/21/44
Flavors
5
3
8
5
Protein (g)
30
28
20
17
Sugar (g)
18
0
4
6.5
Fiber (g)
7.2
2
6.4
4.4
Fats (g)
21
4.5
18
16
Carbs (g)
26
18
35
28
Vegan
N
N
Y
Y
Certified
Organic
N
N
N
N
Micronutrient
21
21
21
21
Artificial Sweeteners
Y
Y
N
Y
Synthetic Additives
Y
Y
Y
Y
GMO?
N
N
N
N
Protein Source
Milk
Milk
Pea protein
soy, pea, oat, brown rice, pumpkin seed, chlorella
Availability
DE
EU, UK
World
World
The Results
The fight for the best ready to drink meal replacement shake is quite exciting, particularly in Europe.
As mentioned, YFood is still my favorite, particularly for non-vegan shakes. The Foodie Chocolate is godsent, and it would be the best tasting meal replacement shake out of all of them. However, the rest of the flavors are not as good, and YFood has some great hits, like the Coconut flavor.
Another point in the YFood vs Foodie comparison is the price. YFood has a much cheaper starting point, and it even has subscription discounts that make each meal €1 cheaper! None of the others can compare.
The vegan YFood offering is good, but nowhere as good as Huel's or Mana's. If you want an RTD without artificial sweeteners, then Huel v2.0 is your pick.
However, Mana has undeniable quality. Even if it's the most expensive one, and nutritionally the one I like the least (sugars and lower in protein), the Original is a classic I keep coming back to. Definitely worth considering.
Foodie FAQ
Can I buy Foodie in the UK?
No Foodie is only available in Germany.

Is Foodie gluten-free?
Yes, Ehrmann Foodie is gluten free and lactose free.


Is Foodie healthy? Can I replace meals with it?
Yes, Foodie is a healthy alternative to most takeaway meals and breakfast options. It's also a great pre or post-workout high protein meal.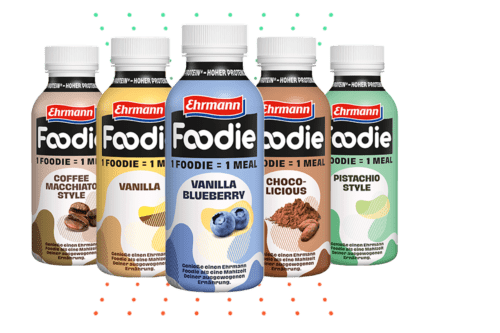 ---
Verdict – Ehrmann Foodie Review, One Hit Wonder
Coming to the conclusion of this Ehrmann Foodie review, I must admit that it exceeded my expectations.
This taster pack was a roller coaster of emotions that for the first time in a while made me excited about trying new products.
The outcome was some incredibly high highs, and some very low lows. Just like a roller coaster should be.
Regarding the positives:
The Chocolate flavor is a must try for everyone
High in protein, high in vitamins and minerals
Complete
I've said it multiple times, but the Chocolate Foodie is the best tasting RTD I've tried.
This brings me to the negatives, as the Vanilla Blueberry was undrinkable. This disparity between flavors was shocking, but made me enjoy the taster even more.
Similarly, while I do love the high protein nutritional profile, there's no denying that this product relies a little too heavily on milk. Therefore, it's high in sugars and saturated fats, and it's not a good source of omega-3 fatty acids. Not the healthiest meal replacement shake to have it on a daily base.
In fact, the flavor might get sickening if you consume it regularly.
At that brings me to the conclusion, that Foodie is an EXCELLENT treat (Chocolate), but a rather average daily use RTD meal replacement shake.
Personally, I would opt for a powder like Rootana Real Food, but if you are looking for an RTD, I would recommend Mana (vegan) or YFood (cheaper).