Saturo Review | Is This the European Soylent?
Soy based RTDs in multiple flavours to enjoy balanced meals on the go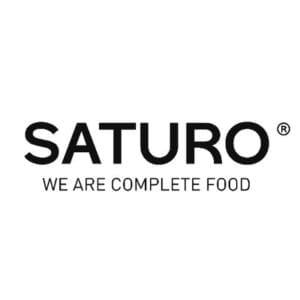 Saturo is a brand focused in soy-based RTDs. They offer a wide array of flavours and actually taste decently, if you do not mind the soy. They also sell a cocoa bar, which is fairly competent. However, the most significant feature of Saturo is its similarity with Soylent. Nutritionally, price-wise and as a business model. So, is the EU Soylent better than the NA Soylent?

Saturo is an interesting brand, due to its focus on RTD products. I have enjoyed the taste and the choice. However, I am not so keen on the nutritional profile, too rich in fats and with subpar omega-3/6 ratio. I would like to see more variations of their RTD produts. Saturo is in a good spot right now, but with the incoming competition (Huel, Jimmyjoy and Soylent all coming with their RTDs), I think it needs to step up to survive.
What We like
Two size RTDs satisfying different needs.


Flavour range, limited editions and taste.
Cocoa bar is decent.
Competent price, especially with subscription.
Available in shops and Amazon.
Product range and flavour variety is the first thing I want to praise Saturo for. Not only because they offer their product in two convenient sizes, but also because they boast up to 8 flavours. The limited editions are exciting and something to be looking forward to. Plus, the taste is good usually.
The Cocoa bar is not a perfect meal replacement. However, it is the ideal solution for a quick discrete snack or sport accessory. It has the minerals and vitamins you need, unlike others, and can give you the quick energy you need.
At first glance prices might seem high, but with the 10% subscription the value for the product becomes really competent. RTDs tend to be more expensive, but Saturo is not that much more expensive than other vegan meal replacements considering the extra convenience.
All about easiness and convenience seems to be Saturo's motto. I say so, because you can buy them in Amazon and certain EU stores. They will have to work on the latter, but it is a good business model.
What We dislike
Similarities with Soylent.
Omega-3/6 ratio.
Fiber content.
Overall nutrition.
Cocoa bar saturated content.
Let's start with the taster pack. I LOVE taster bundles, they provide the customer with the easiest way to access the company's products. However, Saturo's pack is simply too big. In normal circumstances it requires a commitment of €90, which not knowing whether you will like it, it is way too expensive. They have now launched a medium size Taster Pack 12 drinks plus two bars for €45, which is a much better option to start with Saturo. I do not think it currently appears in their menu.
Another thing I did not like too much were the similarities with Soylent. It makes the brand appear weaker in personality. While, I can spot the differences, I feel that currently are too similar. Actually, I think Saturo has some of the same nutritional flaws that Soylent does. They both need to evolve to adapt to the market.
Lastly, while I said the cocoa bar was OK, I did not say it was great. Creating a good meal replacement bar seems to be very challenging. In the case of  Saturo's bar, it is too high in saturated fats. Plus, you would not be able to realistically live off them, which is something I expect a great bar will allow you to do.
Improvements
Other nutritional variations.
Improved recipe.
Availability in EU shops.
In my opinion, Saturo has the groundwork but also needs to do a lot of progress to do. They need to evolve their shake to make it more balanced. The cocoa bar also needs more iterations to be a good meal replacement bar.
Following with evolving, it would be interesting to see nutritionally different offers from Saturo. I know that most companies stick to their philosophy, but I think Saturo can develop an edge if they are able to cater for more people.
Talking about more people, it would be great if Saturo could expand its availability in European supermarkets. This, however, might be a hard nut to crack, since different countries and supermarket chains make it harder to happen, than in the US.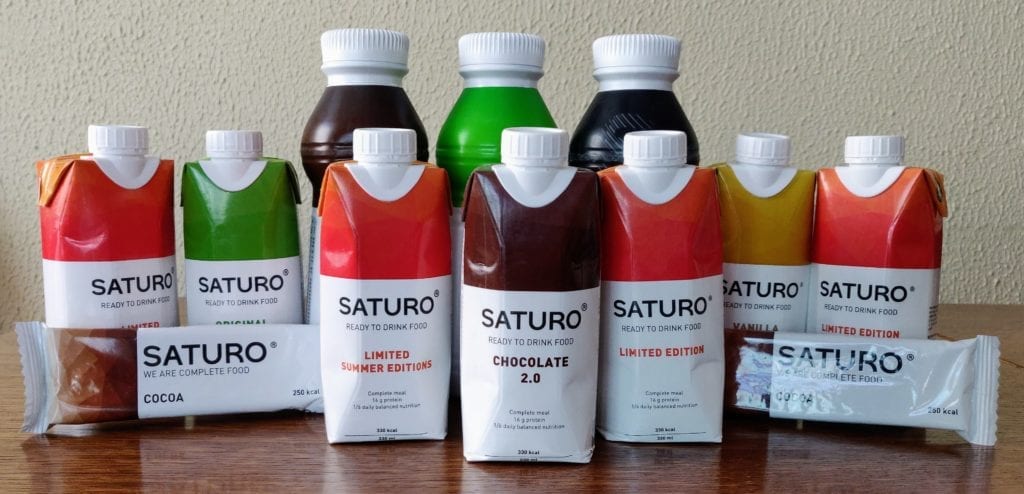 My first RTD reviewing in this pages. It must be said, the difference in smoothness and texture is undeniable. The ready-to-drink shakes are, in my opinion, superior (or different) and could be a defining factor for many people.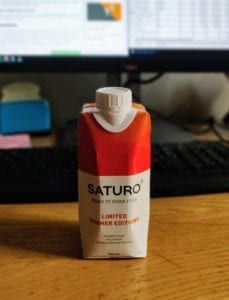 Overall: 9.0 (31.5/35)
Taste: 4.5/5.
The average Saturo shake was really good. Instead of the oaty background, Saturo has a milky, soy taste that it is most noticeable in Saturo Original and Saturo Chai. Each flavour has its own characteristic and taste good. I do not think most people will have any complaints.
Flavour Fidelity: 4.5/5.
Saturo's flavours, I am unsure if it is because it is pre-mixed, where very clear and distinctive. Yes, the same soy-milk taste will be on the mix in all the shakes (except perhaps the chocolate one), but at the end of the day, you could tell all of them apart.
Aftertaste: 4/5.
There was some minor milky aftertaste, often sweet.
Texture: 5/5.
The shakes are much smoother than your average powder based shakes. Great drink to enjoy.

Consistency: 5/5.
Saturo shakes had a similar cosistency to full fat milk, although sometimes they seemed a little watered.
Easiness to drink: 4.5/5.
The smaller Saturos are extremely easy to drink. 330ml was almost drikable in one go. The bigger bottles took longer.
Hunger Quenching: 4/5.
I drank the 330ml (330kcal) Saturo's for most of it. While it is true that usually kept me going throughout the morning, I would say they are OK for 2-3h. If you are going to have a larger gap between meals, I would recommend going for the 500ml bottles.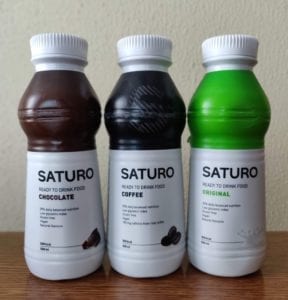 What Saturo tastes the best?
Overall, I thought the Limited Edition Saturo's were the best tasting. However, Saturo Chocolate and Saturo Coffee were great, 500ml bottle. The Vanilla and Original flavours I found to be a little weak, lacking personality. Particularly the second, which is almost like drinking soy milk. I would recommend adding a flavouring to it.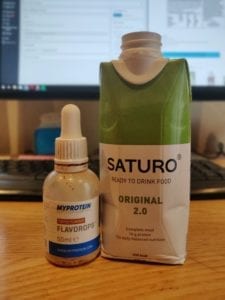 Hazelnut (A*): Sweet milky at the start with a great nutty finish.
Chocolate (A*): Particularly the 500ml bottle, which seemed thicker and more chocolaty than the 330ml counterpart.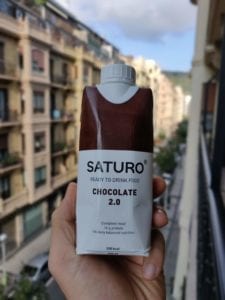 Coffee (A*): The 330ml was really strong, bitter, closer to black coffee than the 500ml which was milkier, milder in bitterness, but with an awesome coffee taste. Great shake.
Coconut (A): I guess this is how coconut milk tastes like. Very milky with a faint of coconut in the background. It could be a little bit stronger.
Strawberry (B): This one starts with a mild strawberry flavour (like in the strawberry shakes), follows with a milky flavour and leaves you with a strawberry aftertaste. Weird, but nice.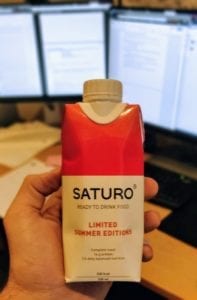 Chai (B): Honestly, I do not know how Chai is meant to taste like, but it was fairly neutral and flavourless. It was close to the original Saturo, but nicer.
Vanilla (C): I found it too neutral and mild for my taste. It was really similar to Original and Chai.
Original (C): I think it is the worst flavour of the line-up because I would struggle drinking all 500ml of this. While the Coffee and Chocolate were awesome, the Original would be a task. I strongly recommend to flavour it with coffee or any other artificial flavour of your liking.
A*  Stand-out/Favourite
A    Very Good
B   Good
C   Nothing special (not bad, just average)
What about the Cocoa bar? How does the Cocoa bar taste?
I found Saturo Cocoa bar to be delicious. Among the best tasting meal replacement bars, that I have had, slightly above the Queal GO bar. I wish it was bigger and had more protein though.
The outside is shinny and glazed. When you bite it, you realize it is chewy, but the inner part has solid bits that make it crunchy. This makes the bar both chewy and crunchy, which I really enjoyed. Flavour-wise, it has a mild cocoa taste at the start, but in the end it tastes like walnut. I was really pleased.
What PRODUCTS does Saturo offer?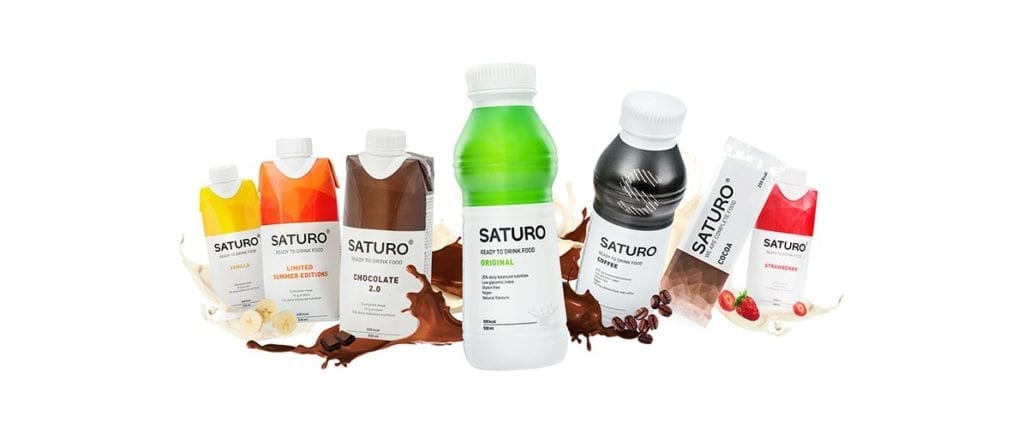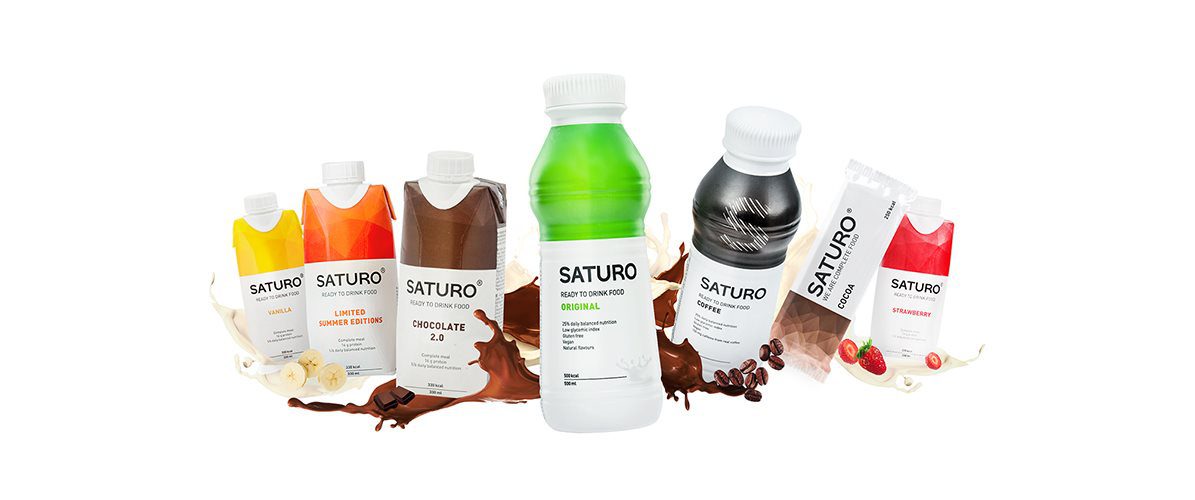 Saturo offer 4 different products: a ready-to-drink version in 330ml and 500ml bottles; a cocoa bar and a brand new meal replacement powder. The RTD are Saturo's main backbone. Even though, nutritionally are the same, the flavours vary slightly between the two sizes. The cocoa bar is a small 250kcal bar with vitamins and minerals added. The powder meal replacement could even be considered as two different products, as one is vegan and one is not (has whey protein instead of plant-based protein mix).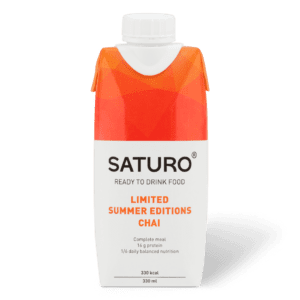 Saturo RTD 330ml
Meal Replacement
Ready-to-drink
330kcal/meal
20P/35C/45F % of Energy from
8g of sugars/1.4g of Saturated Fats per serving
Starts at €2.25
Soy and Gluten
---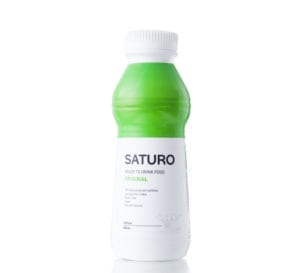 Saturo RTD 500ml
Meal Replacement
Ready-to-drink
500kcal/meal
20P/35C/45F % of Energy from
12g of sugars/2.2g of Saturated Fats per serving
Starts at €2.99
Soy and Gluten
---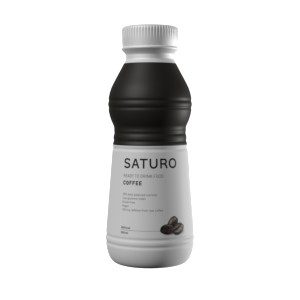 Saturo RTD Coffee
Meal Replacement
Ready-to-drink
500kcal/meal
20P/35C/45F % of Energy from
19g of sugars/2.3g of Saturated Fats per serving
Starts at €3.29
Soy, Gluten & Caffeine
---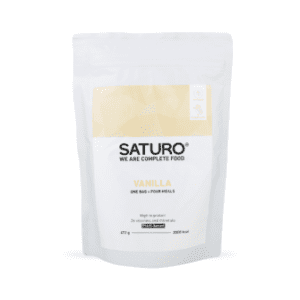 Meal Replacement
Powder
500kcal/meal
18P/48C/34F % of Energy from
16.4g of sugars/2g of Saturated Fats per serving
Price without subscription: €1.71/400kcal
Gluten, soy, milk*
---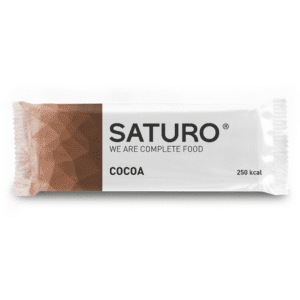 Saturo Cocoa Bar
Meal Replacement
Bar
250kcal/meal
23P/44C/33F % of Energy from
1.6g of added sugars/2.7g of Saturated Fats per serving
Starts at €2.5
Gluten, Egg*, Dairy*, Nuts*, Sulphites*
---
Brief Saturo RTD Review
I will put both the 330ml and 500ml under the same umbrella, because they are the same product. It is true that there are more flavours in the 330ml iteration: Original, Chocolate, Strawberry, Vanilla, Coconut*, Chai* and Hazelnut* (*indicates limited edition flavours).
In the 500ml bottle you will only get the Original, Chocolate and Coffee (unique to Saturo 500ml). Both. Chai and Coffee contain caffeine, being the "breakfast" options for Saturo consumers.

Another difference between buying the 330ml version or the 500ml version is the price. Buying 500ml bottles is obviously more expensive to buying a 330ml bottle. However, if we take into account €/kcal, then the bigger bottle is the better deal (330 is €0.75/100kcal, while 500ml is €0.59/100kcal).
One thing that strikes me from Saturo ready-to-drink products is their nutritional profile; more specifically, how high their fat content is. 44% of the daily energy income is derived from fats in Saturo. This number is higher than the higher boundaries given in the European, American, Australian and WHO guidelines. Very similar to what Soylent does (biggest american RTD manufacturer).
Despite all thise criticism, I do think that Saturo has some of the best RTDs in Europe, particularly when it comes to taste and flavour options.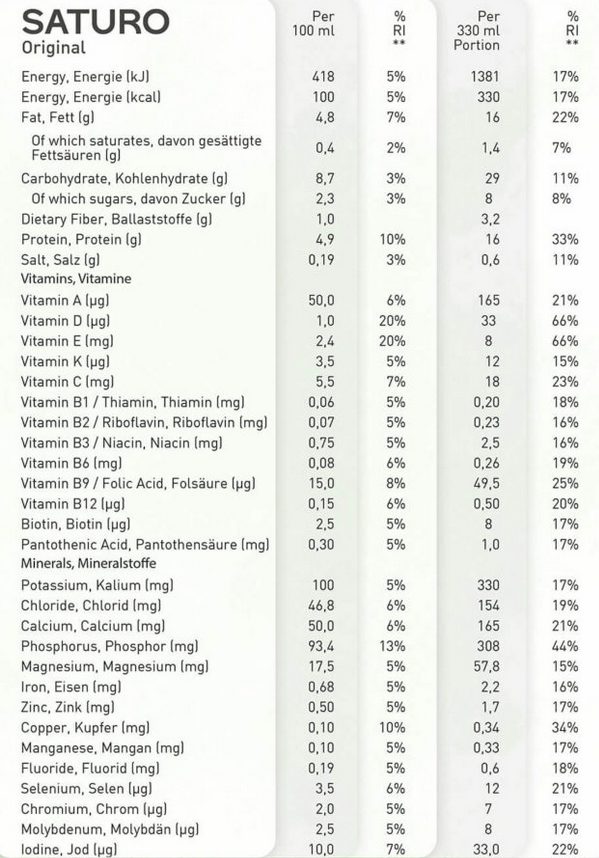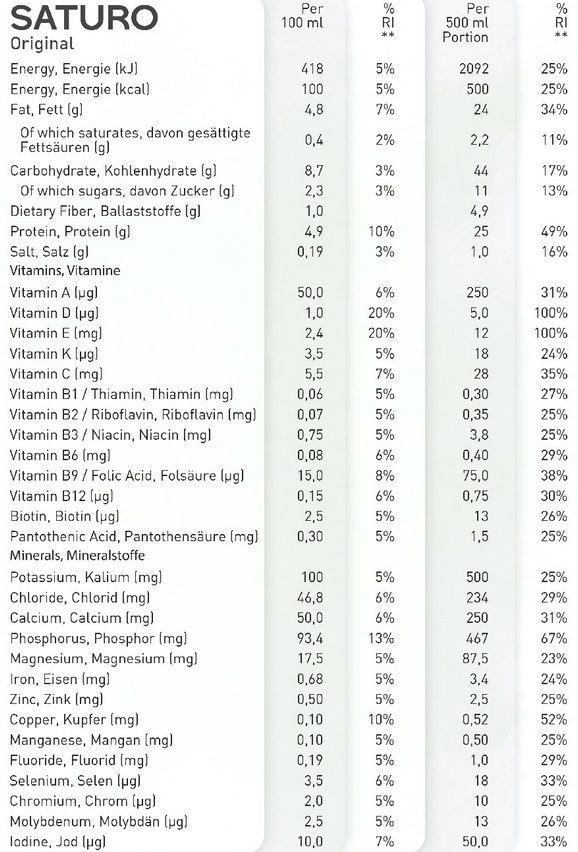 Taster bundles are usually a great way to get started with any product. Saturo's taster bundle includes 32 bottles of 330ml in Vanilla, Strawberry, Chocolate and Original flavours (8 each). While, I always push to buy this type of bundles, I am split on this occasion. I feel like it is too much of a commitment for a beginner or somebody who wants to get started with your product. It is currently about €80 with a sale of €10 off. Perhaps, adding the discount we have of €10 OFF in your first order might be worth it.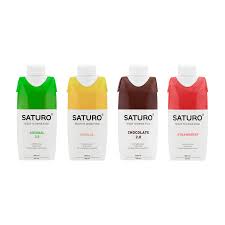 Nevertheless, they have recently introduce the Small Taster Pack for €45. This includes 12 Saturo drinks and 2 cocoa bars. Plus, you will get a taste of all their flavours! This is the best way to start with Saturo.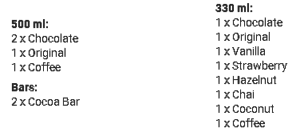 Brief Saturo Powder Review
Saturo has enter the powder meal replacement market strongly, offering 2 different versions right of the bat: a whey protein based one (vegetarian) and a plant protein based one (vegan). They offer both in two different flavours; Vanilla and Chocolate. I must say that I am impressed with the choice of releasing both at the same time.
Each meal provides with 500kcal and has a macronutrient distribution of 48C/18P/34F; which is very similar to the RTD's energy split. In fact, there are some variations between the flavours and the type of protein that offer some more protein (25g instead of 22g) in favour of fats. Overall, the profile keeps being high fat low carb.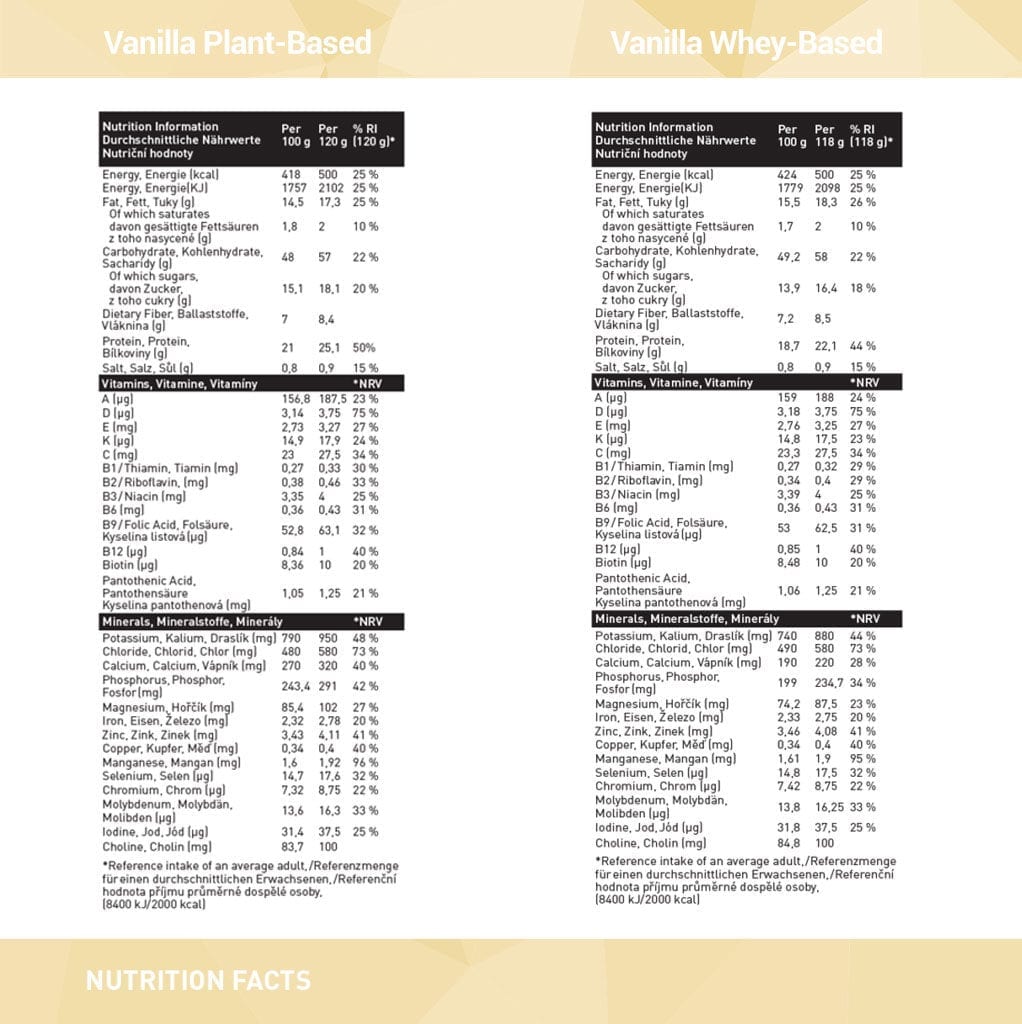 All ingredients are non-GMO, and the main ingredients are the following: oats, maltodextrin, milk protein (only in whey based), isomaltulose, maltodextrin, soy flour, sunflower oil and linseed oil. In the case of the plant based, the milk protein is replaced by a pea and rice protein blend.


Cocoa Bar
The cocoa bar is actually a good meal replacement bar. It does not only bring macronutrients, but also micronutrients, thanks to the mineral mix. This means that in theory, unlike some of its competitors (Megabite), you should be able to survive off it.
I would not recommend it, since it is fairly high in saturated fats (25% of RI per serving) – and you would have to spend €20 a day! This is a common issue with meal replacement bars and that is why I recommend only having them when the commodity is necessary or sparingly.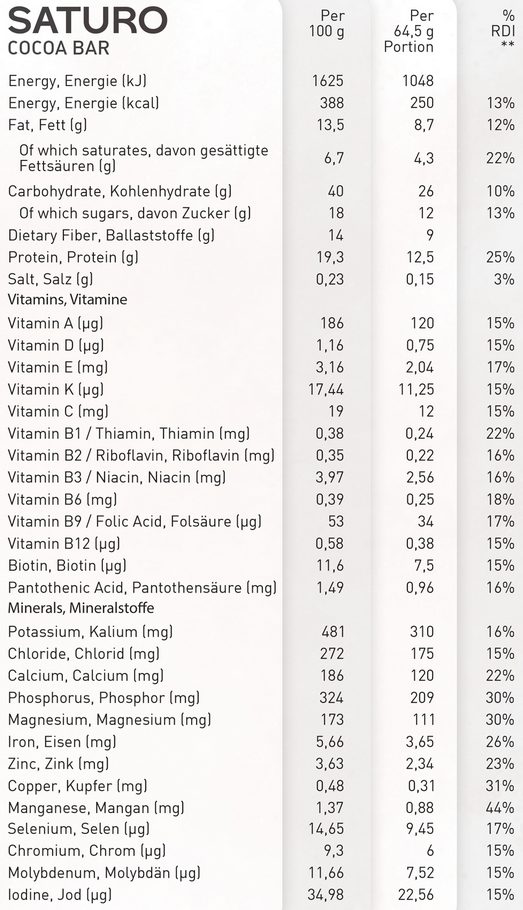 I have previously compared Saturo to Soylent and that is because both are really high in fat content. Saturo's energy split is 20P/35C/44F, which means is below the guidelines in carbs and above in fats. I am unaware of the reason to which this is the case. If you are concerned, I must reassure you that you should have no problem with consuming Saturo, while if you implement a full Saturo diet your body might take a bit to get used to.
Following a very European trend, Saturo RTD shakes are vegan and GMO-free. European brands seem to be more against using GMO ingredients than the american counterparts. On top of that, Saturo is also lactose-free and gluten-free.

Energy
Saturo's 330ml must be one of the meal replacement shakes that offers the least energy in Europe, with only 330kcal per serving. I would say this might be a bit short for any person trying to substitute a full meal in a 2,000kcal diet. You would have to drink 6 bottles during the day. For that reason mainly, I would use the smaller bottle for snacks, pre-/post-workout drinks and similar.
The 500ml version has 500kcal per serving, which is more fitting as a full meal. With 4 servings of 500kcal, you would achieve all the macronutrients and micronutrients you need a day.
Fats
In the 500ml bottle:
Total Fats: 24g. 34.3% of the DRI.
Saturated Fats: 2.2g. 11% of DRI.
Omega-3: 0.6g.
Omega-6: 4.4g.
Fats are the main energy source in Saturo. The main fat sources are high oleic sunflower oil and canola oil.
The first is rich in monounsaturated fats, mostly oleic acid (omega-9) and linoleic acid (omega-6). Sunflower oil is also usually really rich in omega-6 fatty acids in comparison with omega-3 fatty acids (up to 70/1). That is why Saturo adds the canola oil, which is rich in omega-3.
The ideal omega-3/6 ratio is said to be around 1/1 to 1/3. Saturo's is 1/7. I am skeptical to recommend more omega-3 fats, since you will be already taking a lot of fats; but certainly I would have expected better balanced fats.
Ironically, this is something I commented on the Soylent Drink review, to which the similarities just keep increasing.
Carbs
Only 35% of the caloric intake comes from carbohydrates, which is less than the recommended lower limit of 45% (ESFA).
Total Carbs: 44g (16.9% of RI).
Added Sugars: 11g (12.2% of UL).
Fiber: 4.9g (24.5% of RI).
Not only the total amount of carbohydrate is low, but also the amount of complex carbohydrates. This is because the main source is maltodextrin and isomaltulose. A very common paring in Soylent alternatives.
Maltodextrin, even if it is a polysaccharide, is really easily digestible and quickly converts into glucose (which causes maltodextrin to have a high GI). On the other hand, isomatulose is a disaccharide made of glucose and fructose that actually is slower to be digested. This means it has a low GI.
Either way, overall, the blood glucose response of Saturo should be low, due to the fat and protein content.
Some of you might have noticed that Saturo does not contain oats. Now, this is very very rare. Oats are used in almost every meal replacement because their versatility. Perhaps, because of that the amount of fiber in Saturo is in the lower end. 4 meals will just be under the recommended intake for fiber. In fact, is even too low, if you follow the guidelines from the American Heart  Association Eating Plan, who suggest 25-30g per day (20g in Saturo).
Protein
Regarding to protein content Saturo is neither the highest in the market. With 25g for each 500ml bottle, you will get 100g of protein a day.
The main and apparently only source of protein in Saturo is soy protein isolate. Soy protein contains all the essential amino acids required by the body and has a protein digestibility score of 0.92 (egg white being the absolute with 1.00). In short, soy is very widely regarded almost parallel to the animal sourced protein, such as, casein, whey or albumin.
While there were concerns about the effect of consuming soy protein could have in testosteron levels and increasing estrogen levels, those concerns were debunked and no correlations has been found.
Micronutrients
Saturo shakes will give you the necessary vitamins and minerals. In most cases you will get over 100%. However, Vitamin K, Vitamin B2, Vitamin B3, Pahtothenic Acid, Biotin, Zinc, Manganese, Chromium and Molybdenum will just barely reach 100%.
I mention it, in case you have any deficiency and you require extra supplementation.
Allergens
Because Saturo shakes do not contain oats, soy is the only allergen present in the ready-to-drink products. However, for the cocoa bar oats are part of the recipie so the allergens are Gluten, Egg, Nuts, Dairy and Sulphates (the last four due to be manufactured in a factory that also uses those ingredients).
More about nutrition
If you want to know more about nutrition check our Resources page or go to the Saturo website. However, they lack of a proper nutritional section explaining the ingredients in detail.
Nutrition Summary
Mixed feelings because it has a high fat content, but it is low omega-3. With 25g of protein per 500kcal, most people will find enough, although it will not satisfy athletes or people looking to build mass. It is also low in complex carbs and has barely enough fiber, less than what I would like. However, it covers all the micronutrients you will need in a day. I think the recipie can be improved.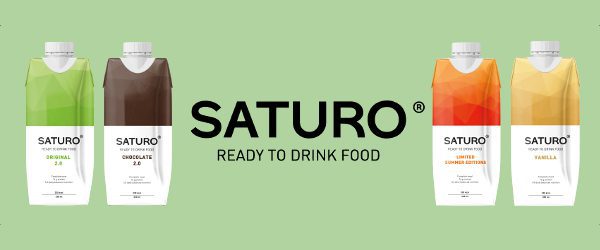 Saturo is an Austrian meal replacement company born in Wien in a collaboration between Joerg Hauke and Hannes Feistenauer (co-founders of Saturo). Created in 2017 it has successfully entered the European market taking advantage of the lack of ready-to-drink products. Copying Soylent's success in US soil (my own opinion here) they tried to launch a very similar product in the EU aiming for the convenience of RTD vs the powdered versions (stronghold of the big European brands, like Huel or Jimmyjoy)
Saturo's packaging
One of the issues of the RTD products is that they produce more waste, generally, than the powder versions. It is a lesser evil, since ready-to-drink meal replacements still produce less waste than usual meals. On the plus side, they are made with recyclable materials.
Ecological worries aside, it is true that Saturo is really handy. I like having the option to choose between 330kcal and 500kcal, and I feel that adjusts very well to the reality where sometimes you need a snack and sometimes a "bigger" meal.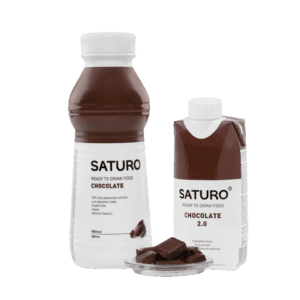 One issue with RTD products is storage. Imagine buying the taster pack. Now you need room for 32 Saturo bottles. Not ideal for the European flats. I know I would struggle fitting them in mine.
Saturo Powder
Saturo's powder version comes in bags of 4 servings of 500kcal (a daily dose). Personally, I think this one-day bags are not very useful, because they are not big enough to save much space, but they are not small enough to carry them around at ease. However, when comparing to the RTD, they are much more ecological and practical to store at home.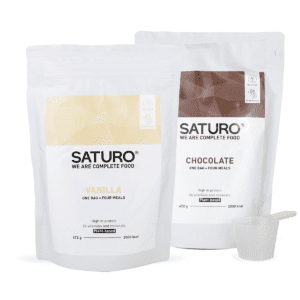 Shell life
Saturo shakes have a estimated shell life of 6 months at room temperature (unopened). Once open, it is recommended to consume within 24h and to keep it in the fridge during that period.
Shipping and Return Policy
Saturo currently only ships within the EU. Orders above €50 will include free shipping, and anything below will cost you €5 to ship. Honestly, better to buy up to €50 and get the free shipping. Deliveries should arrive within 2-5 days for most Europe.
Oh, wait do you live in Norway or Switzerland? I am sorry to tell you that you will need to pay €25 and €10 respectively for your shipping. No matter the size of the order. However, let me clarify something. This is due to customs and importing costs being higher than the rest of the European country (since they are out of the EU).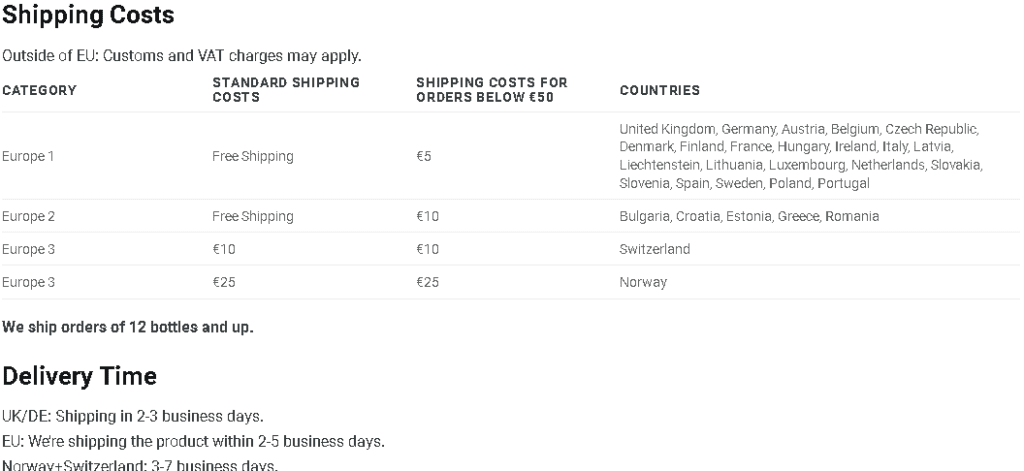 Subscription
The subscription program offered by Saturo is a 30 day subscription with 10% discount. Actually, a fairly good discount. You can stop it at any time by accessing the tab in your account. In fact, your account overview is really complete and allows you to manage anything you would need.

How do I get started with Saturo?
Honestly, it has never been easier. However, if you are a beginner and you would like to make sure you are doing it right check the how to start with meal replacement guide. But here is a summary for Saturo:
Learn a little about nutrition. Get to know how many calories you need a day. You can use apps like MyFitnessPal.
Purchase Saturo in your nearby shop (Austria and Germany only) or make use of our €10 OFF voucher. Normally, I would say go for the Taster Pack, but I think it will be too big of a commitment. Buy the flavour(s) you are most likely to like and the size you think you need.
Take the RTD shake with you and consume it when it suits you the most. Start with 1 a day since your body may not be used to the ingredients or the nutritional balance.

Track your calories to ensure you are not overeating or not eating enough.
Und das ist es.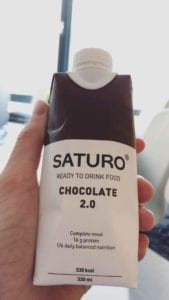 Things you might also want to consider:
You can also buy Saturo from Amazon.
If you are new to meal replacements and calorie tracking I would advise weighting yourself weekly to make sure you are not changing weight dramatically.
Our Deals section might have discounts that will suit you.
Stop taking it if you see adverse effects.
How to buy Saturo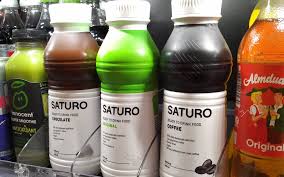 Oh, the majority of you do not live near a shop that sells Saturo? Neither do I.
Go to Saturo website, choose from 330ml, 500ml, the cocoa bar, the taster pack or the newly released powder versions.
Go to the product that you want to buy and choose the amount of bottles you want from each. They come in packs of 6 and you need to order at least 12. With the powder you will have to order them in groups of 4 (at least 8).

Choose how many bottles you need. You have a lot of options. I wonder how many bottles you can order at once…

Add to cart and repeat. You can always access the cart from the top right. When you are ready, go to the cart and proceed to checkout. Apply code LATESTFUELS for 10% discount!

808 bottles… Whoops!

Pay (yes, unfortunately it is not free). You can choose from many ways of paying, including, Amazon Pay and Bitcoin.
1- Saturo 330ml or 500ml RTD, which one is for me?
In short terms, you would use the smaller version if you are looking to lose weight, you are having it as a post-workout/exercise snack or you need something between meals. 330kcal are a bit short for most meals unless paired with something else.
The 500ml will suit to replace your breakfast, lunch or dinner if you are at work, travelling or simply too tired to cook. It would also be a very good way to add an extra meal for those looking to put on weight.
2- Can I get it in the US?
No and yes. You can only buy certain flavours and in 330kcal format. However, there is Soylent Drink and Soylent Cafe in the US, which is very very similar to Saturo (or technically the other way around). You can also find other great low-carb shakes in the US.
3- Is it suitable for diabetics?
I assume the GI of Saturo is fairly low, even if it contains maltodextrin (due to fat content and isomaltulose, actually used in diabetic products). However, I would not recommend consuming before consulting Saturo or your doctor.
4- Where is it manufactured?
The ready to drink shakes are manufactured in Austria, whereas the cocoa bar is made in the UK.
5- How does it taste?
Saturo has a clear soy taste, much like Mana and Soylent. However, the flavours seemed stronger and more defined than Mana's. If you are not a fan of soy based products, try YFood.
7- When can I take Saturo?
The RTD can replace any meal, as long as you take into account the amount of calories you are consuming. In fact, you should have enough nutrients by solely consuming Saturo shakes.
The cocoa bar is something I would take more sporadically, due to its high saturated fat content. A snack between meals or around sports. You could take a couple, perhaps, as a main meal, but it would be suboptimal.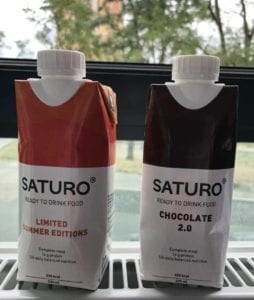 8- Why choose Saturo RTD over other powder meal replacements?
Simple answer is convenience. You can take it almost anywhere, including to work, hiking or travelling. You can also easily pack it without having to worry of taking a shaker or spilling anything in your bag. On top of that, you do not need to make "a mess" preparing your shake. It is a lot more discrete.
If you are looking at budget, I would suggest you to buy a powder meal replacement.
9- Saturo RTD vs Saturo Powder?
Both are different products with slightly different nutritional profiles. The Saturo RTD is going to be smoother, but pricier than the Powder. On the other hand, Saturo Powder is available with plant based protein blend or whey protein, while Saturo RTD is only available with soy protein isolate.
If you do not care about the nutritional differences, the Powder is going to be cheaper, the RTD is going to be more convenient and smoother. The choice will depend on what you value most.
Saturo vs other meal replacements
Other competitors worth mentioning include, YFood, Shake2day, Sated and Mana.
Saturo vs Soylent– Saturo. Saturo in the EU, Soylent in the US (at least now)
Soylent is clearly the inspiration point and father of Saturo. Is the child better than the father?
Soylent Drink
Soylent Drink could be considered one of the founders for all ready-to-drink complete foods. The US shake is based in soy protein isolate, a mix of maltodextrin and isomaltulose, and sunflower oil. It also comes with 500mg of omega-3 per serving and 25% of all your daily micros.
Soylent Cafe
Soylent Cafe is nutritionally identical to Soylent Drink but has 30mg of caffeine and some L-theanine to boost your focus.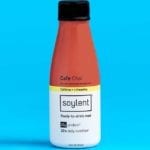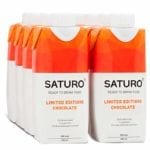 | | | |
| --- | --- | --- |
| | Soylent | Saturo |
| From | USA | AUT |
| Ships to | USA & UK | EU & US* |
| $/400kcal | $$$ | $$$ |
| C/P/F | 38/19/43 | 36/20/44 |
| Allergen | Soy | Soy |
| kCal/meal | 400 | 330 |
| Serv/day | 5 | 6 |
| Suitable | Vegan | Vegan |
| Flavours | 5 | 2 |
| Products | 3 | 4 |
| Subscription | 5% | 10% |
Label:
Price per 400kcal without subscription:
$– Below $1.5 $1.5 = €1.3 = £1.15
$$– $1.5 to $3 $3 = €2.6 = £2.3
$$$– $3 to $5 $5 = €4.3 = £3.85
$$$$– over $5
Price, product range and flavours: Winner Saturo
Saturo and Soylent sell at very similar pricepoints, while one in the EU and one in the US.Saturo offers one RTD in two sizes and a meal replacement bar; plus now Saturo Powder. Soylent, on the other hand, sells one caffeinated RTD, one standard version and a powder iteration.
The tipping point comes with the choice of flavours. Saturo has up to 8 different flavours to Soylents 4. I also find them tastier, but that is completely subjective.
Soylent Flavours:
Soylent Drink
Cacao
Strawberry
Original
Vanilla
Soylent Cafe
Chai
Cafe Mocha
Cafe Vanilla
Saturo Flavours:
330ml
Chocolate
Original
Strawberry
Vanilla
Coffee
Chai
Coconut
Hazelnut
500ml
Original
Chocolate
Coffee
Nutrition: Saturo
| | | | | |
| --- | --- | --- | --- | --- |
| per serving | Soylent Drink | DV (%) | Saturo | DV (%) |
| Energy (C/P/F) | 35/20/45 | – | 35/20/44 | – |
| Energy (kCal) | 400 | 20 | 330 | 16.6 |
| Fats (g) | 21 | 32 | 16.0 | 21 |
| Saturated (g) | 2.0 | 10 | 2.0 | 10 |
| Monounsaturated (g) | 15 | – | 12.0 | – |
| Polyunsaturated (g) | 3.5 | – | 2.5 | – |
| Trans fat (g) | 0.0 | – | 0.0 | – |
| Cholesterol (mg) | 0.0 | 0 | 0.0 | 0 |
| Carbs (g) | 37 | 13 | 29.0 | 10 |
| Sugars (g) | 9.0 | – | 8.0 | – |
| Added Sugars (g) | 9.0 | 18 | 8.0 | 16 |
| Fiber (g) | 3.0 | 12 | 4.0 | 16 |
| Soluble fiber (g) | – | – | 1.0 | – |
| Protein (g) | 20 | 40 | 16 | 33 |
| Salt (g) | 0.3 | 13 | 0.25 | 11 |
The 330ml bottle is the only one serving in the US. In Europe there is the 500ml bottle, too.
There is honestly not much to discuss. Soylent has a 35C/20P/45F split to Saturo's 35C/20P/44F. Both use soy protein isolate as main source of protein and high oleic sunflower oil as their main fat source. I feel that both lack in omega-3 and have too much omega-6. Both use isomaltulose and maltodextrin.
The one thing Saturo has more is fiber. I find Soylent to be excessively short in this regard, taking into consideration the multiple benefits fiber has.
Brand image, Customer Service, Availability, Shipping: Soylent
Soylent is King in the US (arguably not for long), especially in the RTD market. They have a huge corporation behind, a massive community and a deal with 7-Eleven that allows them to distribute their product throughout multiple stores in the US. It is also available in Walmart, Costco, Kruger and Target among others.
Saturo is a mini-soylent or a wannabe in that regard. They do not have the European RTD market under control, and I do not think they ever will, they are fairly unknown and lack the community forums that other brands have. On the plus side, they are available in some stores and Amazon, just like Soylent.
In the US, Saturo only offers 8×330 packs in Amazon. In the future, you should be able to buy in both Amazon and Saturo US page.
Saturo vs Huel – Winner Huel
Huel is the main EU brand. King of the old world. This is comparing Saturo RTD with Huel Powder. For an RTD vs RTD comparison check the Huel RTD review.
| | | |
| --- | --- | --- |
| | Huel | Saturo |
| From | UK | AUS |
| Ships to | World | EU |
| $/400kcal | $$ | $$ |
| C/P/F | 38/31/31 | 35/20/44 |
| Allergen | Gluten* | Soy |
| kCal/meal | 500 | 500 |
| Serv/day | 4 | 4 |
| Suitable | Vegan | Vegan |
| Flavours | 5* | 8 |
| Products | 3 | 3 |
Label:
Price per 400kcal without subscription:
$– Below $1.5 $1.5 = €1.3 = £1.15
$$- $1.5 to $3 $3 = €2.6 = £2.3
$$$– $3 to $5 $5 = €4.3 = £3.85
$$$$– over $5
Price, product range and flavours: Winner Huel
Huel's product range is a little more varied than Saturo's. They offer few powder products, a meal replacement bar and a granola based breakfast option. They are also in development for a RTD product that will be a huge threat to Saturo. Their flavour range is OK, only superior to Saturo if you include the flavouring pouches.
Nutrition: Huel
Huel's nutritional balance is increadibly strong. You only need to go to their nutrition pages to see the in-depth explanations behind all the choices.
Furthermore, I am a bigger fan of Huel's protein blend consisting of pea protein and rice protein, which they compliment each other very well for a very solid amino acid profile. Plus, I feel that the energy split between macros is more suitable for most people.
Huel also includes more fiber, which many will find benefitial.
Brand image, Customer Service, Availability, Shipping: Huel
Almost no one can compete in this area against Huel. They have grown to have a huge infrastructure; a very good brand imaged based on quality products; and very strong community.
One thing Saturo is doing better perhaps is its availabilty in shops, but I have a feeling Huel will catch up soon, especially with the launch of their RTD.
Saturo vs Plenny Drink – Draw, Saturo is the better product
| | | |
| --- | --- | --- |
| | Jimmyjoy | Saturo |
| From | NED | AUS |
| Ships to | World | EU |
| $/400kcal | $$ | $$ |
| C/P/F | 54/13/33 | 35/20/44 |
| Allergen | Soy, Gluten | Soy |
| kCal/meal | 400 | 500 |
| Serv/day | 5 | 4 |
| Suitable | Vegan | Vegan |
| Flavours | 1 | 8 |
| Products | 5 | 3 |
Label:
Price per 400kcal without subscription:
$– Below $1.5 $1.5 = €1.3 = £1.15
$$- $1.5 to $3 $3 = €2.6 = £2.3
$$$– $3 to $5 $5 = €4.3 = £3.85
$$$$– over $5
Price, product range and flavours: Winner Jimmyjoy
Plenny Drink is Jimmyjoy's recently launched RTD. It is the move that big brands have been waiting for in Europe and finally it is happening. I would expect the price to be lower than Saturo but in the pre-orders each costs €2.5, which about what 400kcal of Saturo costs.
Jimmyjoy as a brand has a bigger array of products and flavours. They have various powder meal replacements (all based in the Plenny Shake) and a bar (Plennybar). Saturo cannot compete with Jimmyjoys variety, although, 1 on 1 its products may be better.
Nutrition: Saturo
Plenny Drinnk, like Saturo, is a vegan product, but contains oats and relies on carbohydrates as main energy source. Both use soy as main source of protein. Saturo's products are more mature and come in more flavours though. Saturo RTDs also have 1.5 times more protein than Plenny Drink.
Because of the flavour variety, taste and higher protein content I think Saturo's products are better.
Brand image, Customer Service, Availability, Shipping: Jimmyjoy
Jimmyjoy is another brand that has time on its favour. Having been around for a while they have built a strong brand. They deliver "worldwide" and have very good customer support.
Saturo cannot compete just yet.
Who is Saturo for?
Saturo ready-to-drink products are ideal for those looking to for convenience. They are not the cheapest, although not expensive, and perhaps not the most nutritionally well rounded; but the shakes will suit most people on a 2,000kcal diet.
Does it taste good?
Saturo's strength, compared to other soy based RTD products, might be the taste. The chocolate flavour, when comparing to Mana, it was stronger and more likeable for example. However, you will still be able to taste the soy.
Will I get all the nutrients I need?
All Saturo products will offer you complete nutrition. While the Cocoa bar is not ideal (I definitely not recommend it) to replace all your meals; the RTD product would be suitable. It would be a high fat low carb diet with fair amount of protein.
I want to buy it. How much will it cost me?
You can get a 330ml Saturo for as low as €2 with the 10% off from the subscription (€2.25 otherwise) and the 500ml for €2.6 with the subscription (€2.99, if not). Also, these are the prices for the Original version, which is cheaper than the flavoured ones.
Wait a moment, is it perfect?
Disappointingly no. Saturo RTDs are not disappointing, actually the taste and flavour options are better than some of the competitors (Mana, Soylent), but I have not found many reasons to like their nutritional choices. Yes, this product is good for the price and the convenience factor, but it will not blow your mind.
Verdict
Saturo is an interesting brand that unfortunately takes too much from Soylent. If you are a fan of Soylent you will like it. Strong points for Saturo include the two sizes, the flavours, the taste and the opportunity to buy a cocoa bar. However, this was not good enough in my opinion to overcome its similarities with Soylent. This is, being high in fats but with subpar omega-3/6 ratio and having low fiber content. Buy if you are looking for a convenient vegan RTD. Keep looking if you want a more well rounded product.
Saturo deals and discount codes
I will update this section fairly regularly, however, you should always double check in the Deals section.
– 10% off  if you buy using the link above or type the code LATESTFUELS. You can actually get a really good price per meal then.
– There is a 12% discount in their huge taster pack. In theory, if you stack this deal with the discount above you could get 32 330ml in four different flavours for €69!
Pros
Good price for ready to drink shakes, as well as nice variety of flavours.
Available in 500ml and 330ml bottles.
Good taste accross the range.
Cons
Nutritionally not the strongest meal replacement.
Only selected flavours in 500ml format.
Low fiber content.