Saturo Powder 2.0 Review | Not as Good as 1.0
Saturo breaks into the powder complete foods with strong products.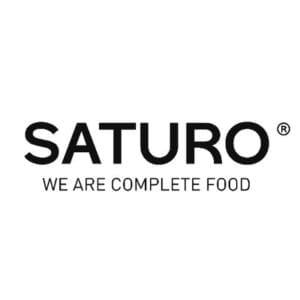 Saturo is an Austrian brand that previously specialized in ready-to-drink meal replacements or RTDs. Following Soylent's example in the US, Saturo offered soy based meals high in fats and low in carbohydrates. They bet in convenience over pricing and favour the RTD format. In a surprising move, when the market has started favouring this format (release of Plenny Drink, Huel bringing his own RTD soon) Saturo has released a 2 powder meal replacements. A mad move or a stroke of genius? Let's find out on this Saturo Powder review.
From:
Ships to:

EU

Price:

£| From €1/400kcal

Kcal/meal:

500

Servings/day:

4

Type:

Powder

Allergens:

Soy, Dairy*
Flavours: Vanilla and Chocolate.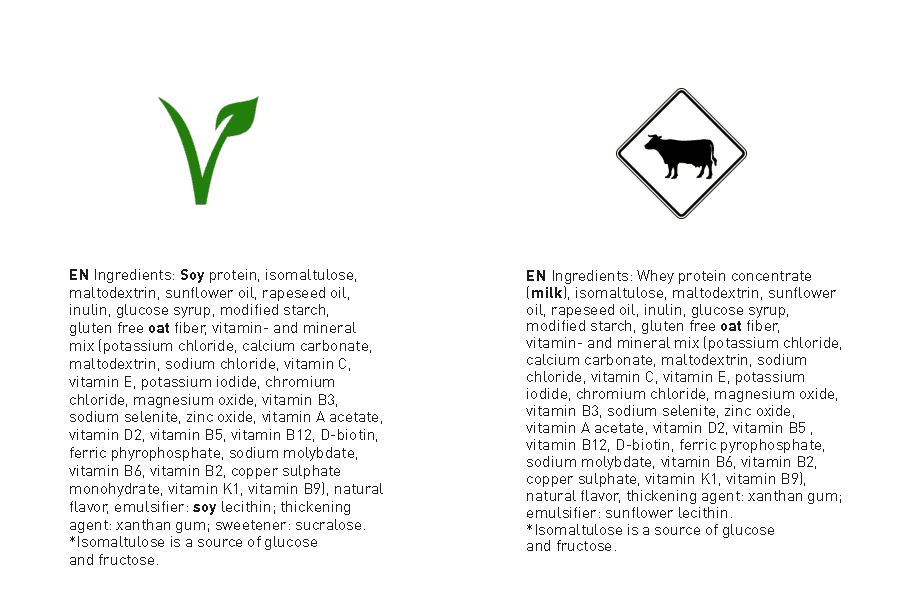 Macronutrients per serving (g)
Protein(g)
Carbs(g)
Fiber(g)
Fats(g)
% of Energy from each macronutrient
Carbs 48%
Prot 18%
Fats 34%
% of Recommended Intake per serving
RI based on 2,000kcal
RI based on 2,500kcal
Saturo has made what it seems a bet against the house, certainly against the market trends by releasing Saturo Powder. They are doing the reverse of what giants like Jimmyjoy and Huel are doing. However, I think this is a key move for Saturo to become a referent in the European market and win the hearts of the most hardcore meal replacement users, as well as, offering a more affordable and environmental friendly Saturo.
What We like
Vegan and non-vegan versions.
Cheaper, more environmentally friendly than the Saturo RTD.
Opportunity to consume Saturo differently.
Bigger bags.
First of, I like the simple fact that even Saturo Powder exists. I would have expected Saturo to fully focus on their RTD range. I really really like the fact that have taken a step back and develop a powder version of their product that opens multiple doors to Saturo users.
Not only it is a cheaper and more environmentally friendly choice, but it also enables the ability of customization. So if the user wants to make a Saturo smoothie they can (take the vanilla add one chopped banana, some frozen berries and blend it all together).
Finally, I cannot stress enough how grateful I am that they have offer both a vegan option and a non-vegan option from the start. Most companies are shifting towards using plant-based proteins (e.g. Jimmyjoy) and the option for the user to have the choice is really great.
What We dislike
Iron deficiency + other micronutrients.
Removal of oatmeal in favour of more maltodextin+isomaltulose.
I must remark that this is the first iteration of the powder; thus, many aspects are not fully ironed out. For instance, I find it odd that they only offer 10% of the daily recommended dose of iron. This is even less than the 20% (already low) provided by the first iteration.
Following with nutrition, Saturo has decided to remove oats in Saturo Powder 2.0; in order to make it gluten free. While the idea is wholesome, this means that it has more maltodextrin and isomaltulose (12g more "sugar" per serving).
Improvements
Increased adaptation in the Saturo network.
More powder versions.
Availability in the US.
Micronutrients reaching 25%.
First and foremost, I cannot wait until Saturo Powder is fully integrated. What does this mean? It means that it is available in a starter pack format, there is subscription option available and that the 8 pouches restriction is lifted. Perhaps, it will also mean that it will be available in the US, since I do not expect it to be available yet.
On the nutritional side, I would like so all the micronutrients will reach at least 25% per serving. Once asking, I cannot deny that I am looking forward to the possible new iterations (sport, caffeinated) and flavours that Saturo might come with.
Saturo offers high fat, low carb products. Their RTD are vegan and soy based, however, the powder products are available in vegan and non-vegan version (whey protein). Furthermore, the main source of protein is not soy, but a rice and pea protein blend; a change that I welcome. All the  ingredients are non-GMO, too.
Something worth noticing before diving deeper into analysing the nutritional values of Saturo Powder is that they are different depending the type (vegan or non-vegan) and the flavour as displayed at the end of the section.
Energy
Each Saturo powder serving offers 500kcal with most of the calories coming from carbohydrates (48%). However, this is in the lower end for the recommended intake of calories from carbohydrates (45-65% according to ESFA). On the contrary, 34% of the energy comes from fats; which is in the higher end of the recommended range (20-35%). It is noteworthy, that this number might change 1-3% depending the variety that you choose.
This energy distribution is reminiscent of the Saturo RTDs and the Soylent products (which Saturo was initially based on). While this products might seem high in fat, they are quite popular in the market (Kuik, YFood, Jakefood, Nutberg…).
Carbs
Per serving (based on chocolate):
Total Carbs: 58.8g, 22.6% of RI.
Sugars: 28.1g, 33.2% of RI.
Fiber: 5.4g, 27% of RI.
The main sources of carbohydrate in Saturo Powder are maltodextrin and isomaltulose. A pair of ingredients that is becoming increasingly popular; at the detriment of oats, possibly because of flavour and texture issues (most recently Queal making the switch).
Why use these two together? Maltodextrin is a complex carbohydrate that is rapidly digested into glucose, and hence has a big impact in blood glucose levels (GI of 85). On the contrary, isomaltulose is classified as a sugar, but it is broken down slowly by the body, with a glycemic index of 32. Therefore, even if the sugar content in the nutritional label is high, the impact on blood glucose levels is not. Saturo's GI is probably around 40, basing on the similarities with Soylent Powder, which GI is ~40.
Personally, I am a bigger fan of oats as main carbohydrate source, but they had the drawback of leaving a very oaty taste in the shakes (and often being less smooth). Saturo uses gluten free oats and inulin as a source of fiber in Saturo Powder v2.0.
Fats
Per serving:
Total Fats: 17.5g, 25.1% of RI.
Saturated Fats: 2.5g, 12.5% of RI.
Fats are an important source of energy in the all Saturo products. The main ingredients are sunflower oil and linseed oil. Similarly to the RTD Saturo shakes, I expect it to be high oleic sunflower oil, which is rich in oleic acid (omega-9) and linoleic acid (omega-6).
Linseed oil, on the other hand, is rich in omega-3 fatty acids, and thus, helps balancing the omega-3/6 ratio; which tends to be too omega-6 heavy in Western diets. Keeping a ratio closer to 1/1-1/4 is beneficial for overall health and decreased risk of cardiovascular diseases.
Protein
Finally, to the most interesting part of the nutritional aspect.
Interesting why? Because, unlike 90% of the brands in the industry and choosing between a vegan protein source and a dairy based protein source Saturo has made the effort to offer both. Bravo!
Personally, as I do not follow a vegan diet, I tend to favour whey protein. Whey protein is considered the golden standard, due to the well rounded amino acid profile (rich in leucine and lysine); increased muscle synthesis protein stimuli (making it the ideal source to gain lean muscle mass) and positive effects in muculoskeletal structure in the elderly. Particularly when compared to soy protein.
Regarding the pea and rice protein blend offered in the vegan version, I find this to be one of the best solutions. Pea protein is a great protein source of all essential amino acids (EAA), but falls short in methoinine. Amino acid, which rice protein is rich on. Brands like the European giant Huel use a similar blend.
Saturo 2.0 has more protein
As per quantity, Saturo Powder 2.0 offers 25g of protein per 500kcal serving (as opposed to 22g), which would equate to a total of 100g a day. This is within the EU and US recommended 0.8kg per kg of bodyweight rule.
Recent studies have argued that the recommendation should be higher, particularly if you are an active individual (look for 1.6 to 2.2g per kg of bodyweight). It has even been suggested, that high protein diets will help you lose weight and decrease muscle atrophy.
Nevertheless, for sedentary people with no interest on gaining muscle mass Saturo powder should provide with enough protein.
Micronutrients- Not all you need
In theory, each Saturo Powder serving should provide you with 25% of the recommended intake for all vitamins and minerals. Even though this is true for most (and many being well above 25%); there are some that do not reach that threshold.
Most noticeably, each serving only provides with 10% of iron. As someone who has had low iron levels before, I cannot stress the importance of having enough in your diet. I would strongly recommend consuming iron rich products together with Saturo.
Other micronutrients that do not quite reach the 25% mark are:
Vitamin K: 7.4mg, 10%.
Vitamin B1: 0.1mg, 10%.
Pantothenic Acid: 1.25mg, 21%.
Magnesium: 65.0mg, 17%.
Manganese: 0.1mg, 6%.
Molybdenum: 0.2 micrograms, 5%.
Chromium: 8.75 micrograms, 22%.
Nutrition in short
So for all of you that this section is too long and boring:
Saturo Powder 2.0 servings offer 500kcal with a 48C/18/34F energy split (which varies slightly with the product flavour and type).
58g of carbohydrates, 28.1g of sugars (isomaltulose) and 5.4g of fiber come from maltodextrin, isomaltulose and gluten free oats.
High oleic sunflower and lineseed oil are the main fat sources. Fat content is quite high, but saturated fats are very low.
There are two versions; one with whey protein and the other one with rice- and pea-protein blend. I personally prefer whey protein, but both are really good sources. With 25g of protein per serving, this will suit anybody which is not overly active or looking to gain muscle mass.
Saturo's powder meal is slightly short in iron (10% of RI per serving) and other micronutrients.
Saturo Powder 2.0 is a step backward nutritionally.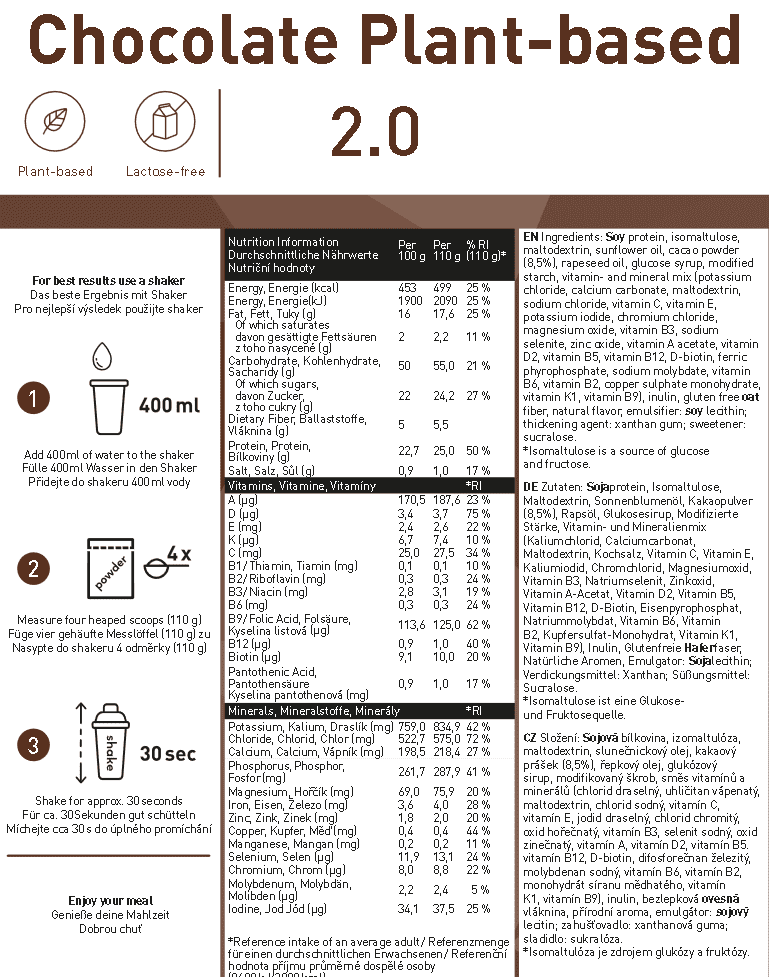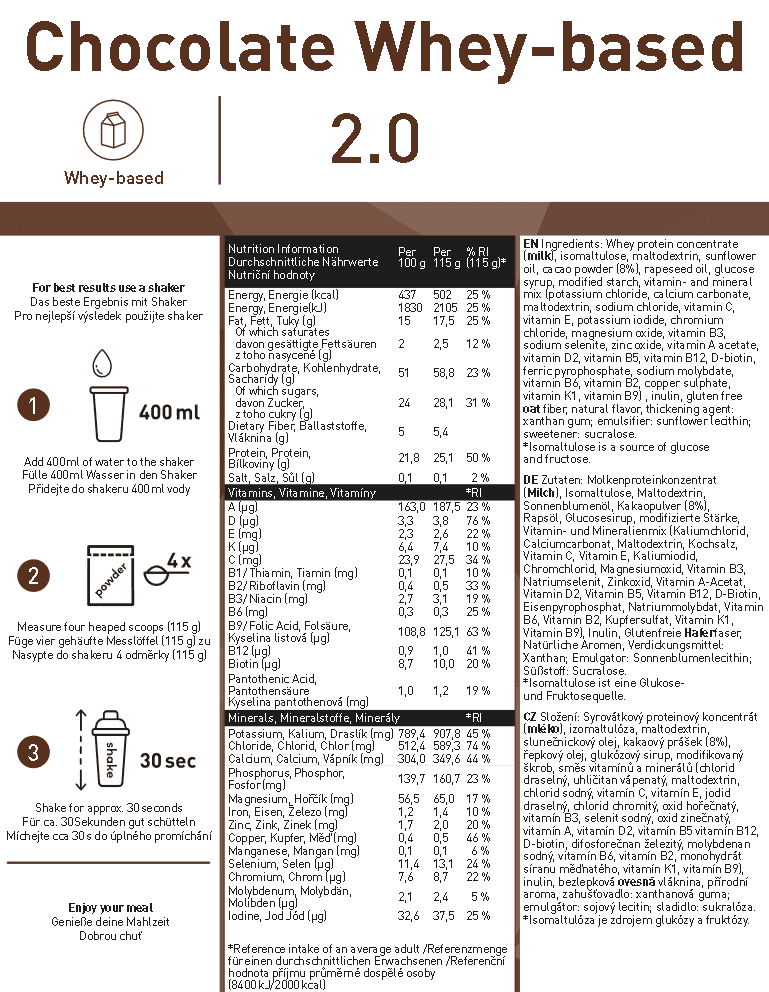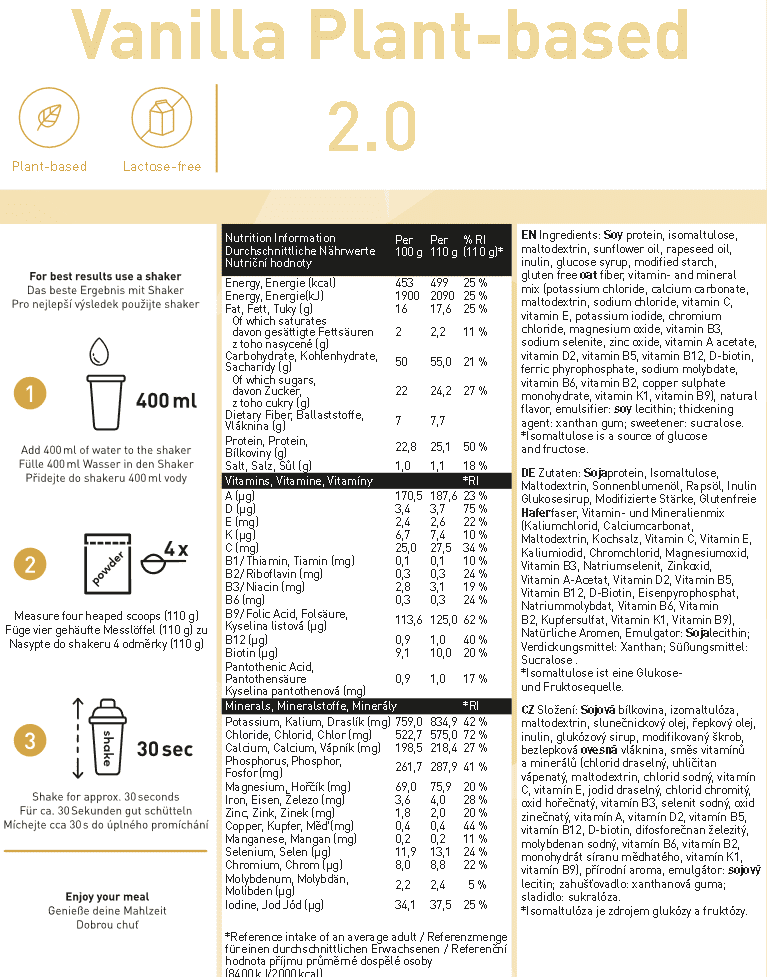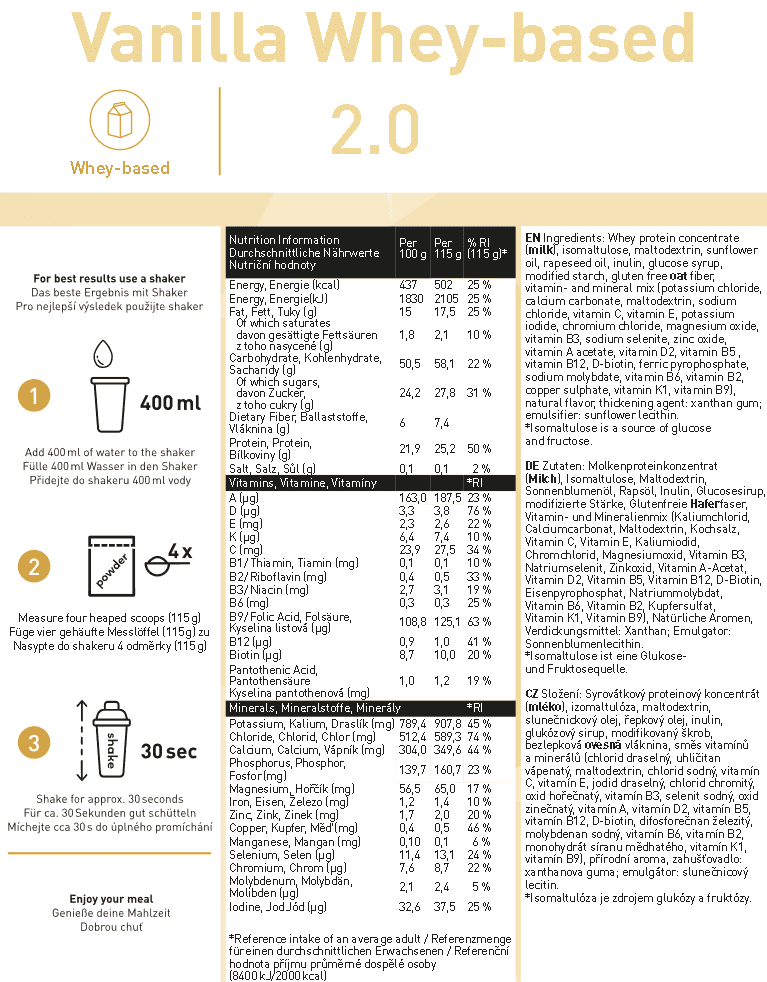 Saturo Powder is sold in bags of 13 servings of 500kcal (2,000kcal) that provide you with all you need for a day. Currently, due to logistical rthe minimum order is 2 pouches (I have tried ordering 1 pouch with RTD and is not possible), which is €35.64! 
At this moment Saturo offers subscription powder meals that will allow you to save 10%. With this discount, Saturo Powder is the cheapest meal replacement powder you can buy in Europe.
On the plus side, ordering 2 bags will qualify you for free shipping within Europe. Unfortunately, this item is only available in Europe and I do not expect to be launched in the US until later on (Q1 of 2019). In fact, Saturo US only offers Vanilla and Chocolate RTDs (330ml) via Amazon.
Saturo Powder vs the competition
I will not lie; the powder meal replacement market in Europe is quite tough at the moment. There is certainly space for Saturo, but it will not be as easy to acquire a piece of the pie as it was with their RTDs (where there was little competition). As it can be seen in the Ultimate Meal Replacement List there are more than 33 brands offering powder products (more than one a most of them. Furthermore, Saturo Powder is not organic or just made with whole foods or keto, so it does not fall under a less crowded sub-niche.
Brands that will have to go toe-to-toe against include Huel, Jimmyjoy, Queal, Runtime, Shake2day, Mana, Vitaline, Satislent, Lently, Jakefood… to mention just a few.
Saturo Powder vs Queal
General Information
The Queal Steady line-up offers standard (700kcal), light (600kcal), Athletic (766kcal) and Vegan (700kcal) options. Queal Steady offers a great amount of flavour options, particularly sweet variations which taste great.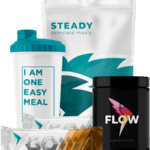 | | | |
| --- | --- | --- |
| | Queal | Saturo |
| From | NED | AUT |
| Ships to | World | EU&US |
| €/400kcal | 1.33 | 1.71 |
| Allergen | Soy, Gluten, Dairy* | Soy, Dairy* |
| Suitable | Vegan | Vegan |
| Flavours | 8+ | 2 |
| Subscription | 7% | None |
Nutritional Information
| | | | | |
| --- | --- | --- | --- | --- |
| per serving | Saturo (Plant) | RI (%) | Standard | RI (%) |
| Energy (C/P/F) | 48/18/34 | – | 46/20/34 | – |
| Energy (kCal) | 500 | 25 | 700 | 35 |
| Fats (g) | 17.6 | 25 | 24.3 | 34.7 |
| Saturated (g) | 2.5 | 12.5 | 3.0 | 15 |
| Carbs (g) | 55.0 | 21 | 80.4 | 30.9 |
| Sugars (g) | 24.4 | 27 | 25.3 | 28.1 |
| Fiber (g) | 5.5 | 27.5 | 11.7 | 58.5 |
| Protein (g) | 25 | 50 | 35.2 | 70.4 |
| Salt (g) | 0.9 | 15 | 1.2 | 20 |
Queal does not offer free shipping, but they do offer discounts with bulk purchases (besides the subscription discount) and discounts to the shipping costs, too. The Athletic version is higher in calories, but also higher in protein with 27% of the energy coming from it. All Queal products use whey protein except the vegan version, which uses pea protein (has very similar macronutrient distribution to Saturo Powder).
Saturo Powder vs Plenny Shake
General Information
Plenny Shake is the king of budget meal replacements offering by Jimmyjoy. There are multiple iterations, including a caffeinated versions and a sport version, all which are the cheapest in the market. Good taste, OK nutrition and nice range of flavours to choose from.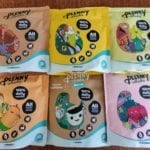 | | | |
| --- | --- | --- |
| | Jimmyjoy | Saturo |
| From | NED | AUT |
| Ships to | World | EU&US |
| €/400kcal | 1.22 | 1.71 |
| Allergen | Soy, Gluten | Soy, Gluten |
| Suitable | Vegan | Vegan |
| Flavours | 6 | 2 |
| Subscription | 15% | None |
Nutritional Information
| | | | | |
| --- | --- | --- | --- | --- |
| per serving | Saturo (Plant) | RI (%) | Plenny Shake | RI (%) |
| Energy (C/P/F) | 48/18/34 | – | 55/15/30 | – |
| Energy (kCal) | 500 | 25 | 400 | 20 |
| Fats (g) | 17.5 | 25 | 13.0 | 19 |
| Saturated (g) | 2.5 | 12.5 | 2.1 | 10 |
| Carbs (g) | 55.0 | 21 | 53.0 | 16.9 |
| Sugars (g) | 24.4 | 27 | 5.8 | 6 |
| Fiber (g) | 5.5 | 27.5 | 7.2 | 21 |
| Protein (g) | 25 | 50 | 15 | 29 |
| Salt (g) | 0.9 | 15 | 0.41 | 8 |
Saturo minimal order is €68.48, but it offers free shipping in orders above €50. On the other hand, Jimmyjoy only offers free shipping in orders above €100 (if not it will cost you around €5-10). Plenny Shakes are very low in protein except the Active version, which offers 34g per 500kcal.
Saturo Powder vs Saturo Powder v2.0
When Saturo Powder was first released, I was very pleasantly surprised. It was a competent product for a first launch: it came in two very standard but popular flavours; you could choose between the dairy free shake or non-vegan; and it was nutritionally fairly well rounded up.
Saturo Powder 2.0 is supposed to be a step forward in developing a great powder product. Instead, it is a step backwards; particularly in the nutrition area.
The Positive Changes:
Bigger bags with more meals.
Gluten-free.
Slightly more protein per serving.
First of, I think going for a bigger bag is the right thing to do. For once, it is more environmentally friendly. Secondly, the powder will most likely be consumed at home, where bigger bags are more practical (storage and usage). If someone wants Saturo to have on the go, they have the bars and the RTDs.
All variants now have 25g of protein, as opposed to 22g. This is a significant change, since it means you will get 12g more of protein during the day.
It comes with even less allergens, as the oats have been removed in favour of more isomaltulose and maltodextrin.
The negative changes:
Less fiber per serving.
Less vitamin and minerals, more below the RI.
More sugar (isomaltulose).
Starting with the removal of oatmeal, I must say this is a bit of personal preference. I prefer oats to mix of maltodextrin and isomaltulose. Even more, when Saturo RTDs are done with the latter; thus, reducing the options for nutritionally different Saturos. If they wanted gluten free, they could have opted for gluten free oats. This swap has been done to either: lower the production cost; or change the texture and flavour of the shake.
Now, for me the lowering of fiber content is more significant. In the chocolate variation, they have lower the fiber content from 8.5g to 5.5g (47% to 27% of RI). Most people benefit from higher fiber shakes in order regulate their flow.
Nevertheless, the most striking issue is the lowering of many micronutrients. There are more micronutrients that do not reach the recommended intake per serving:
Vitamin K: 7.4mg, 10%.
Vitamin B1: 0.1mg, 10%.
Pantothenic Acid: 1.25mg, 21%.
Iron (whey based): 1.4mg, 10% (before 20%).
Magnesium: 65.0mg, 17%.
Manganese: 0.1mg, 6%.
Molybdenum: 0.2 micrograms, 5%.
Chromium: 8.75 micrograms, 22%.
This is an issue that I would expect to have improved upon in the 2.0 version, not gotten worse.
For Chocolate:
| | | | | |
| --- | --- | --- | --- | --- |
| per serving | 2.0 (Plant) | RI (%) | 1.0 (Plant) | RI (%) |
| Energy (C/P/F) | 48/18/34 | – | 48/18/34 | – |
| Energy (kCal) | 500 | 25 | 500 | 25 |
| Fats (g) | 17.6 | 25 | 18.3 | 26 |
| Saturated (g) | 2.5 | 12.5 | 2.0 | 10 |
| Carbs (g) | 55.0 | 21 | 58 | 22 |
| Sugars (g) | 24.4 | 27 | 16.4 | 18 |
| Fiber (g) | 5.5 | 27.5 | 8.5 | 42.5 |
| Protein (g) | 25 | 50 | 22.1 | 44 |
| Salt (g) | 0.9 | 15 | 0.9 | 15 |
Also in the Chocolate version:
| | | | | |
| --- | --- | --- | --- | --- |
| per serving |  2.0 (Whey) | RI (%) | 1.0 (Whey) | RI (%) |
| Energy (C/P/F) | 48/18/34 | – | 48/18/34 | – |
| Energy (kCal) | 500 | 25 | 500 | 25 |
| Fats (g) | 17.5 | 25 | 17.3 | 25 |
| Saturated (g) | 2.5 | 12.5 | 2.0 | 10 |
| Carbs (g) | 58.8 | 22.6 | 57 | 22 |
| Sugars (g) | 28.1 | 31 | 18.1 | 20 |
| Fiber (g) | 5.4 | 27 | 8.4 | 42.5 |
| Protein (g) | 25 | 50 | 25 | 50 |
| Salt (g) | 0.1 | 2 | 0.9 | 15 |
Who is Saturo Powder for?
The easy answer would be saying that it is for anyone who enjoys Saturo products, but do not need the convenience of an RTD. However, Saturo Powder is fairly different in to its brother products, particularly on the protein source. This might affect the flavour and the shake will definitely not have the smooth industrial blend texture that Saturo RTDs offer.
Saturo powder, instead, will fit almost anybody who is not looking for a protein heavy meal and wants to substitute one of their meals (or more) in a more affordable way.
Does it taste good?
I have yet to taste the powders, but Saturo RTDs are pretty good tasting. My assumption is that the powder will be more oaty and that with the whey version you will have a more milky flavour, too. I do not, however, expect that the flavour will disappoint anybody.
Will I get all the nutrients I need?
In terms of macronutrients certainly. It will be a bit heavy on the fat side (34% of the energy), and lower on the carbohydrate side and the protein side. If you are a person who is highly active, I would strongly recommend to supplement your diet with extra protein. Regarding micronutrients, Saturo powder does come with a slight deficiency of iron (20% per serving), that I hope they improve in the next generations.
I want to buy it. How much will it cost me?
The minimum order is 2 pouches with 26 meals of 500kcal that will cost you €35.64! Each meal will cost you, €1, making it the cheapest shake available together with Powdermatter.
You are telling me that it is perfect?
No, it is not perfect, but Saturo Powder is a pretty interesting product. For once, the fact that is available in both vegan and non-vegan versions right of the bat is very unique; plus, both options being calorically the same and nutritionally very similar is very remarkable, too. If Saturo Powder can solve some nutritional issues, gets the opportunity to be purchased with a subscription and expands the flavour options, it will be a very tough opponent to beat.
Verdict
Saturo has surprised as all by releasing a powder product when everyone is looking at RTDs. It is true that powder is still the most liked version by hardcore fans, and I truly welcome the effort to please them, as well as releasing a more environmentally friendly alternative. If you were a fan of Saturo, because of its nutrition, now you have an even better version at an affordable price. Definitely worth checking out and keeping an eye for the future.