Saturo Powder Review | 5.0 Is A Huge Improvement
Saturo breaks into the powder complete foods with strong products.
This is the Saturo Powder review, in which I'll analyze the latest iteration of Saturo's powder based meal replacement.
For those who don't know, Saturo is an Austrian brand that previously specialized in ready-to-drink meal replacements or RTDs. Following Soylent's example in the US, Saturo offered soy based meals high in fats and low in carbohydrates. They bet in convenience over pricing and favour the RTD format.
However, in a surprising move, they launched an incredibly affordable powder a couple of years ago. Each Saturo Powder meal costed €1! That said, the Austrian brand believed they could do better in terms of quality and taste.
The 5.0 version of Saturo Powder is their best yet, according to them. A lot of work and time has gone into it, and therefore I'm incredibly excited to discover what it has to offer!
Saturo Powder Review at a Glance
From:
Ships to:

EU

Price:

From €2/400kcal

Kcal/meal:

400

Servings/day:

4

Type:

Powder

Allergens:

Dairy*

User Reviews:

Very Positive
Flavours: Chocolate, Vanilla, Strawberry, Banana, Cappuccino and Nature.
Opinion
This is the 5th iteration of the Saturo Powder, and the brand has come a long way since they launched their first version.
With this iteration, they've really given their best and tried to offer a healthier and tastier meal. Personally, I believe that they've achieved their goal, and Saturo Powder should be considered by anyone looking for a good meal replacement.
Unfortunately, this comes with a price increase, and some changes in texture that might alienate people that were fond of the old version.
What I Like
1. Great improvements all around when compared to the previous version.
2. Nutritionally very solid.
3. Powder available in both vegan friendly and whey based version. Very few companies offer the same formula for both groups.
4. Clean, natural and enjoyable taste. Flavours are not very strong, but they feel healthy, and tasty.
5. Incredibly filling. Thanks to the big volume of the shakes (600ml), Saturo shakes do well keeping you full.
6. 6 flavours in both variations.
7. Good for active people, 30g of protein per serving.
What I Dislike
1. Whey version is considerably more expensive. It's due to ingredient cost, but this makes hard to recommend the whey based powder.
2. Some of the flavours are a little too weak. Due to opting for natural flavours, some shakes come across as "empty", weak and flavourless. Even the chocolate, which I enjoyed, I wish had stronger taste.
3. Whey shakes are not as tasty, as the vegan ones.
4. More expensive than previous shakes.
5. No easy way to try out all flavours.
Improvements
1. Increase flavour.
2. Add tasters, single serving bags.
Nutritional Breakdown
When it comes to their Ready to Drink products, Saturo offers high fat and low carb meal replacements. They are also vegan and contain soy.
Nevertheless, when it comes to the powder, they use a complete different set of ingredients (no maltodextrin or isomaltulose, for instance) and offer both plant-based and whey based options.
As a matter of fact, I believe that Saturo Powder is much healthier than the RTD for long term use; and without a doubt one of the healthiest meal replacements you can have.
Saturo Powder Nutrition Overview
| | |
| --- | --- |
| Kcal/meal | 400 |
| Macros (C/P/F) | 40/30/30 |
| Vegan | Yes* |
| Keto | No |
| Features | Soy Free, Nut Free, High Fiber |
| Non-GMO | Yes |
| Organic | No |
| Includes Probiotics | Yes |
| Artificial Sweeteners | Yes |
| Synthetic Additives | Yes |
| Contains All Micronutrients | Yes |
| Controversial Ingredients | None |
Some values vary.
Vegan: Oats, pea protein, flaxseed, brown rice protein, potato starch, sunflower oil powder, medium chain triglycerides (coconut), acacia fibre, vitamins and mineral mix, emulsifier: sunflower lecithin, probiotic: Bacillus Coagulans, stabiliser: xantham gum.
Whey based: Oats, whey protein concentrate, flaxseed, gluten free oat fibre, potato starch, sunflower oil powder, medium chain triglycerides (coconut), acacia fibre, vitamins and mineral mix, emulsifier: sunflower lecithin, probiotic: Bacillus Coagulans, stabiliser: xantham gum.
Carbs
Per serving (based on vegan):
Total Carbs: 39g, 15% of RI.
Sugars: 1.4g, 2% of RI.
Fiber: 7.3g, 37% of RI.
Looking back at the old formula there are two noticeable (and positive changes):
No maltodextrin + isomaltulose. Instead, the new Saturo powder uses oats, which I believe to be nutritionally better well rounded. This also decreases the amount of sugars to 1.4g/serving from about 20g per meal.
Less carbs overall. This is not a positive change, but just a change. However, the total carb count has been lowered slightly, and only 40% of the energy comes from carbohydrates now.
Besides, I also like the addition of some extra fibre. These changes might have affected the texture in a negative way (more fibrous, gritty), but they have given the shakes a nutritional boost.
Fats
Per serving (based on the vegan shake):
Total Fats: 13g, 18% of RI.
Saturated Fats: 2.7g, 14% of RI.
Fats are an important source of energy in the all Saturo products. The main ingredients are sunflower oil and flaxseed oil. Similarly to the RTD Saturo shakes, I expect it to be high oleic sunflower oil, which is rich in oleic acid (omega-9) and linoleic acid (omega-6).
Flaxseed oil, on the other hand, is rich in omega-3 fatty acids, and thus, helps balancing the omega-3/6 ratio; which tends to be too omega-6 heavy in Western diets. Keeping a ratio closer to 1/1-1/4 is beneficial for overall health and decreased risk of cardiovascular diseases.
One trend I dislike in the current industry is the addition of MCTs. While this might have some health benefits, I don't think they are necessary.
Protein
Per serving:
Vegan
Total Protein: 30g, 60% of RI.
Source: pea and rice protein.
Whey Based
Total Protein: 30g, 60% of RI.
Source: whey protein concentrate
Another aspect in which the v5.0 has changed is in the amount of protein. Saturo now offers a whooping 30g of protein per 400kcal in both versions. This is a significant increase and follows the current trends of the meal replacement industry. Thus, now it's better suited for active people.
But which one should you choose; the vegan or whey version? Which one is healthier, better?
Personally, as I do not follow a vegan diet, I usually favour whey protein. Whey protein is considered the golden standard, due to the well rounded amino acid profile (rich in leucine and lysine); increased muscle synthesis protein stimuli (making it the ideal source to gain lean muscle mass) and positive effects in muculoskeletal structure in the elderly. Particularly when compared to soy protein.
However, the vegan version is almost as good when it comes to nutrition. The pea and rice protein blend is one of the best vegan solutions. Pea protein is a great protein source of all essential amino acids (EAA), but falls short in methoinine. Amino acid, which rice protein is rich on. Brands like the European giant Huel use a similar blend.
Tl;dr: It doesn't matter. I believe that the vegan one tastes better so I would make my choice based on that.
Micronutrients
Finally, it's great to see that they've fixed some of the shortcomings they had with micronutrients in the previous shakes. Some key vitamins (K and B1) and minerals (iron, manganese) did not reach the expected quantities previously.
Plus, you will also get some probiotics from Bacillus Coagullans.
Saturo Shakes Tasting Test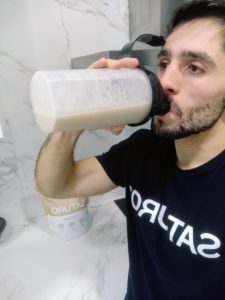 Unfortunately, I did not have the chance to try out the previous iterations of Saturo's powder meal replacement. They were, however, kind enough to send me samples of both whey and plant-based versions of the v5.0.
In summary, I must say that I was very pleased with most flavours, even though I wish some of them were a little stronger. In fact, I loved the volume of the shakes (~600ml per 400kcal), they were big but didn't feel watery. This made me enjoy the shake for longer and also kept me full.
| | |
| --- | --- |
| Best flavour | Vegan Vanilla |
| Taste | Nice, clean and oaty. The vegan shakes are tastier in my opinion, because the whey ones can feel a little lacking in flavour. |
| Texture | Despite the huge volume of the shakes, both versions are quite thick in consistency. |
| Easy to Mix | Mixes well, but you will get some lumps in some of the shakes. |
| Satiety | Great. It might be due to the big volume of the meal, but these Saturo shakes do great keeping you full. |
| Easy to Clean | Shaker is cleaned easily. |
| Afterthoughts | I like the fact that there's no strong artificial flavour. All shakes feel nice to drink, even though I wish some of them had stronger flavouring. They are quite easy to digest and go down well. I did not feel any ill effects afterwards. |
Saturo Powder Vegan vs Whey Taste
Like it has happen with other meal replacements, I found the plant-based version to be better. It mostly comes down to texture and consistency.
The plant-based formula is naturally thicker, and blends into a really nice consistency. It also benefits from not having a milky background taste, enabling the natural flavours to pop off more.
On the other hand, the whey version feels watered down or empty. It's hard to describe, but it's as if they added too much emulsifier to thicken the blend to a similar level off that of the vegan one. In doing so, they've diluted the flavour and sometimes it feels like you are drinking thick water.
Does Saturo Powder Taste Good?
Overall, I would say that Saturo powder shakes are really easy to drink and quite enjoyable.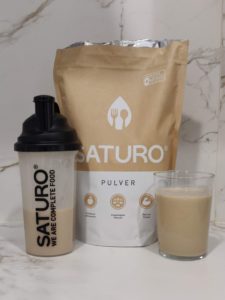 My favourites are vegan Vanilla, and Chocolate. The first is excellent and highly recommended. The latter is great too, but I wish it had a stronger, darker chocolate flavour.
Cappuccino and Banana are pretty good, too. I only had the chance to try out the whey-based berry, and I thought it was a little weak, although very natural tasting (not that artificial strawberry flavour).
When it comes to the Unflavoured version, I would only recommend this to: a) people who dislike flavourings and sweetness; b) those who are looking to add their own (and for that Vanilla works great). It's a great Unflavoured, with clean, natural, oaty taste and 0 weirdness.
Saturo Powder Ranks
Vanilla. S tier.
Chocolate. A tier.
Cappuccino. A tier.
Banana. B tier.
Berry. C tier.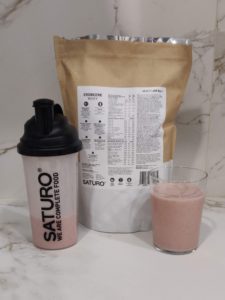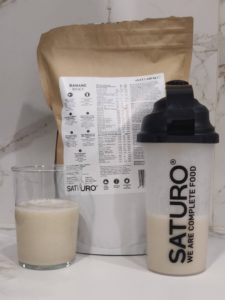 More about Saturo Powder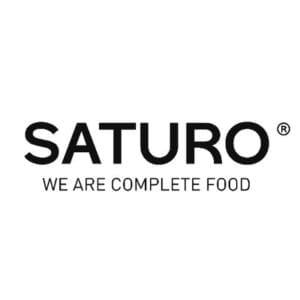 Saturo is an Austrian meal replacement manufacturer. They started by specializing in ready to drink complete foods; and as they grew they added bars and a powder-based meal option.
I have covered the company in more detail in the Saturo RTD review, if you want to check that out.
Saturo Powder Pricing & Packaging
Truth be told, we all know that the pricing of an item can be the deal maker or breaker. In fact, Saturo used to have the cheapest meal replacement in the market, but they have strived away from that in order to offer a higher quality (nutrition-wise and taste-wise) product.
Currently, Saturo powders sit in the middle of the pack when it comes to price. The Austrian brand offers a 10% discount for subscription, but no bulk discount, as for now:
1 bag (14 meals) without subscription will cost you –> €2.00/400kcal, €27.99 in total.
1 bag with subscription will be –> €1.80/400kcal, €25.19 in total.
It is worth noting, nonetheless, that they whey version is more expensive:
1 bag (14 meals) without subscription will cost you –> €2.50/400kcal, €34.99 in total.
1 bag with subscription will be –> €2.20/400kcal, €31.49 in total.
Why Is the Whey Version More Expensive?
This all comes down to ingredient cost, unfortunately. Right now, whey protein has gotten more expensive than plant-based alternatives. Therefore, using large quantities of whey will significantly increase the price of the meal.
Packaging
As mentioned above, Saturo powder comes in 14 meal bags (1.4kg/bag). They have a slick look and a velcro like zip for easy opening. However, this will mean that the bags should be kept horizontal once opened – to avoid damaging the zip.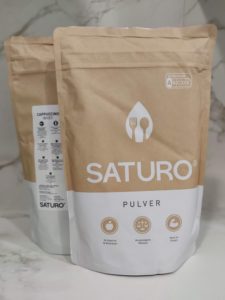 Saturo Powder vs
I will not lie; the powder meal replacement market in Europe is quite tough at the moment.
In particular, there are a few brands that are currently offering high protein meals with a similar macronutrient split to what Saturo powder does. That said, I do believe they offer enough variety to make a case for using Saturo shakes.
Similar shakes to Saturo powder include Huel Original, Supersonic or Complete 360 Meal.
Saturo Powder vs
| | | | | |
| --- | --- | --- | --- | --- |
| Category | Saturo | Supersonic | Huel | C360 |
| serving price (€) | 2.00 | 2.27 | 2.12 | 1.39 |
| Macros (C/P/F) | 40/30/30 | 37/38/25 | 40/30/30 | 45/30/25 |
| kcal/serving | 400 | 400 | 400 | 400 |
| Packaging | 14 meals | 15 meals | 15 meals | 5, 20, 40 meals |
| Protein (g) | 30 | 38 | 30 | 30 |
| Sugar (g) | 1 | 3 | 1 | 1 |
| Fiber (g) | 8 | 8 | 7 | 10 |
| Fats (g) | 13 | 11 | 13 | 11 |
| Vegan | Y* | Y | Y | Y |
| Organic | N | N | N | N |
| Micronutrients | 26 | 26 | 26 | 26 |
| Artificial Sweeteners | Y | N | Y | Y |
| Synthetic Additives | Y | Y | Y | Y |
| GMO | N | N | N | N |
| Protein Source | Pea/Rice | Pea/Pumpkin/ Rice/Hemp | Pea/Rice | Pea/ Rice/Hemp |
Prices shown are the most expensive options
Looking at the table above, it must be said that both Complete 360 Meal and Saturo offer whey and plant-based versions of their powders. However, the first is more strongly flavoured (artificially) and it's usually much sweeter. Thus, I think it's better for those looking for strong flavours.
Huel and Supersonic, on the other hand, are weaker when it comes to flavourings. Huel has a similar flavour to Saturo, but feels more artificial. Supersonic feels quite clean too, but does not blend as well, and has an odd background taste.
Looking at different options, Plenny Shake offers a more affordable alternative. The ingredient and macro profile will be different, though.
Saturo Powder FAQ
Is Saturo powder gluten-free?
No, Saturo powder might contain gluten.


Why is the Vegan Saturo cheaper than the Whey version?
It's because whey protein concentrate is more expensive than pea/brown rice protein.


Is Saturo Powder v5.0 better than v3.0?
Yes, I think it has improve in all aspects: nutrition, taste and texture, most noticeably.


Which one is better, the vegan Saturo or the whey one?
Honestly, due to the price differences I would opt for the vegan version. Not only is significantly cheaper, but I also believe that it's the best tasting one.


Does Saturo ship to the US?
No, Saturo does currently not ship to the USA.


---
Verdict – Saturo Powder Review
Taking everything I've learned during this Saturo Powder review, I must say that I'm very impressed with the evolution of this product.
Due to the nutritional changes and improvements in taste, I believe that Saturo Powder is now a strong contender for anyone looking for a healthy meal. In fact, with the new macros, Saturo Powder is now a very interesting Huel alternative.
Personally, I welcome the addition of oats, and removal of isomaltulose and maltodextrin. Plus, I a big fan of higher protein meals; and with 30g per serving, Saturo is ideal for any active person.
However, this has come at the cost of higher base price. Saturo Powder is no longer the cheapest shake around, and this might make some sad.
That said, I believe that there have been noticeable improvements, and the current clean taste of shakes is quite pleasant.
All in all, you might not find anything revolutionary in Saturo, but it now offers a healthier, better rounded complete meal that I can happily recommend to anyone.
Saturo Powder
From €2/400kcal
Pros
Really well rounded product
Good taste, solid nutrition and reasonable price
Available in plant-based or whey based
6 flavours for both versions
30g protein, 1g of sugar, high in fibre
Cons
Taste can be a little weak in certain flavours
Whey based is more expensive
Vegan shakes are tastier than whey-based ones
No taster pack