Supersonic Review | Bringing Innovation and Top Quality Nutrition to the Table
This is the Supersonic Food review, a look into a brand new meal replacement brand that offers great quality shakes.
In fact, Supersonic shakes are based on natural plant-based ingredients, contain no artificial sweeteners and contain all the essential fatty acids (including omega-3 from acid bioesters).
I shall discuss more in the nutrition section, but Supersonic is "Future Food today"; and as such they have a couple of very interesting ingredients providing top-notch nutrition. This includes algae, yeast and few unusual plants.
Besides the complete food option, Supersonic also offers nootropic coffee, an isotonic drink and a calming cacao. All health, brain, mood oriented products that improve your day-to-day.
Interesting, isn't it? So let's find out everything there's is to know in this Supersonic review.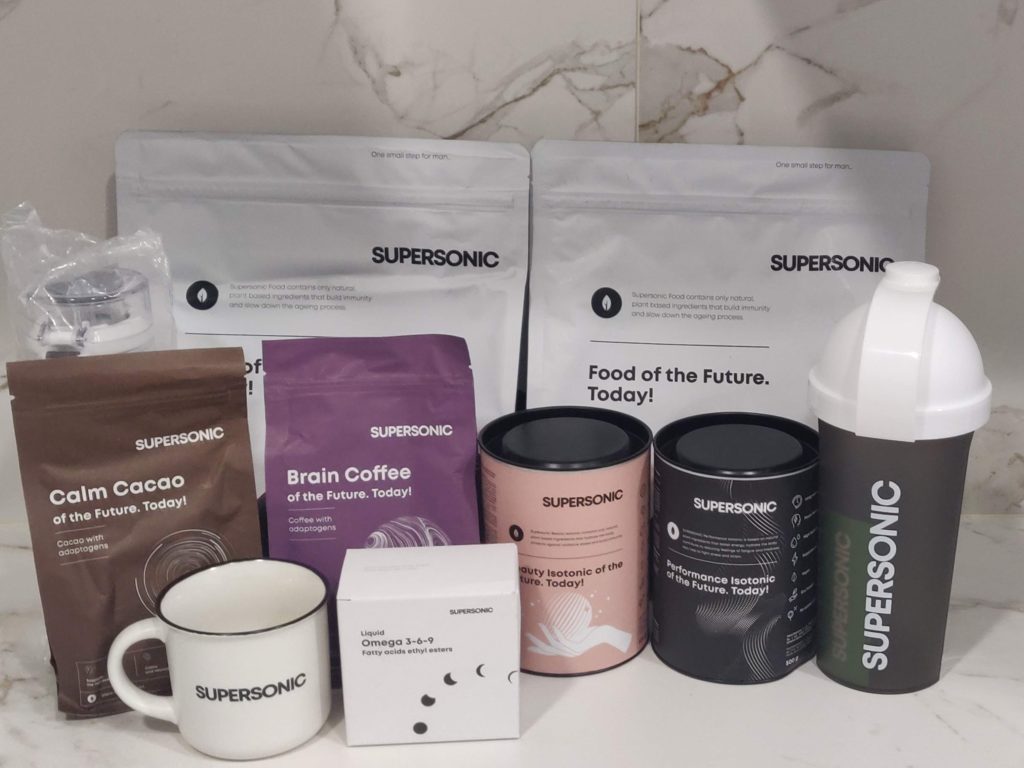 ---
Supersonic Review at a Glance
Flavours: Banana-Chocolate, Strawberry, Coconut, Peanut Butter, Salty Caramel, Vanilla, and Belgian Chocolate. Some of these might be limited editions.
---
Opinion
Taking everything into consideration, this Supersonic review has been a very enlightening experience. This European brand offers a pretty good meal replacement, high in protein, fully plant-based and with some novel ingredients.
"Future Food. Today" is their slogan, and they seem to actually care about it. They introduce few novel ingredients, and deliver the omega-3 in liquid format, which is extremely rare nowadays.
So in paper, I should love it. However, I feel like the taste of the shakes is a little bit of a letdown. It's quite raw, natural (and I appreciate that), but it has a weird aftertaste the flavours cannot mask. I think that this makes it a non-beginner friendly shake.
Besides, the rest of nutritional supplements, are actually quite interesting and rightly prices.
What I like
1. Great emphasis on nutrition and actual innovation. This is significant, meaningful innovation and not pseudo-scientific ingredients. Consequently, they have a nutritionally superb meal replacement.
2. Omega-3, -6, -9 bioester liquid. This might be one of the most balanced and well put fatty acid compositions. The fact that are in liquid form adds to the absorption and nutritional quality.
3. Multiple flavours to choose from. Currently 7 different options.
4. Free of major allergens.
5. Filling. It does great keeping you full for a while.
6. Great starter pack to try out all the flavours easily.
7. Brain Coffee was very effective as a nootropic, and enhancing focus.
What I dislike
1. Taste. Simply I found the flavours a little odd. Not awful, but definitely unique.
2. Texture is a bit gritty. Personally, I don't mind it, but this shakes are quite fibrous, when it comes to texture
3. Not available in the UK – soon to be fixed.  
Improvements
1. It would be good to see an improvement on the taste.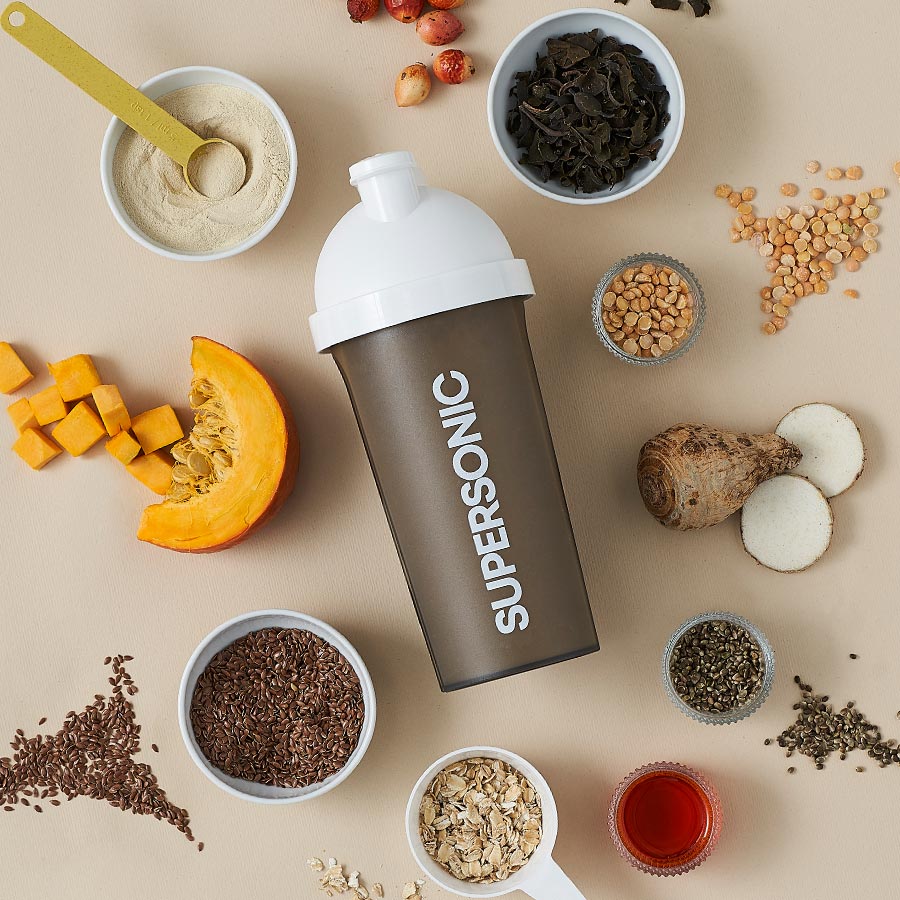 Nutritional Breakdown
"Food of the Future. Today!" is Supersonic's slogan. Their meal replacement shakes are vegan, gluten-free, lactose-free, non-GMO and complete.
However, that doesn't make them unique. What makes Supersonic shakes unique is the use of some key ingredients that are not common in the meal replacement world, such as: bioesters of omega-3,6,9 fatty acids from hemp, algae and maca root among others.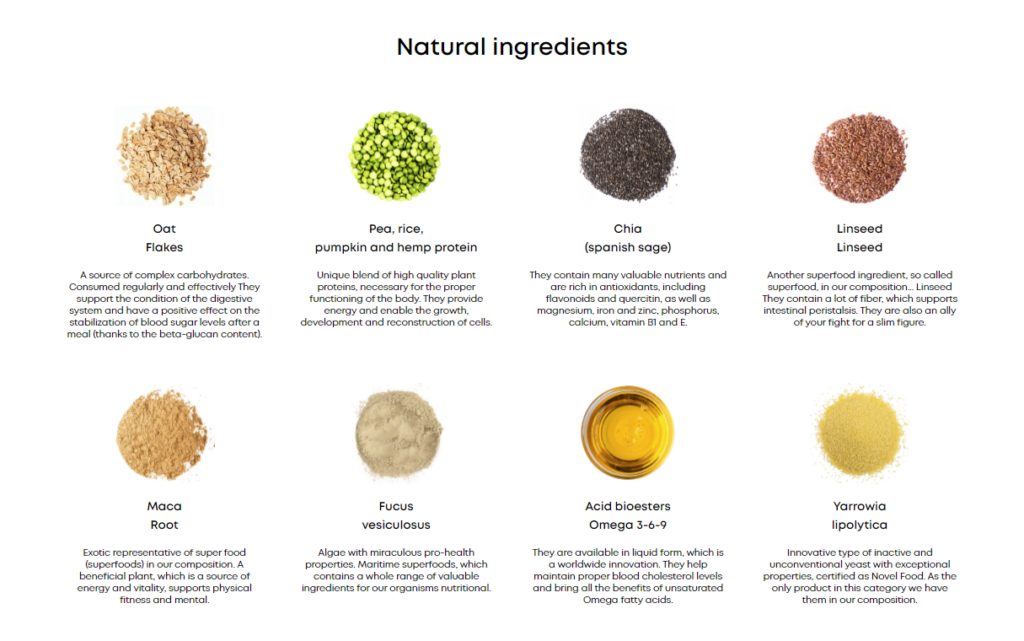 Furthermore, it must be said that Supersonic shakes score "A" (highest grade) in the Nutriscore scale (grading mechanism to assess nutritional value of food).
Supersonic Nutrition Overview
| | |
| --- | --- |
| Kcal/meal | 400 |
| Macros (C/P/F) | 37/38/25 |
| Vegan | Yes |
| Keto | No |
| Features | Soy Free, Nut Free, High Fiber |
| Non-GMO | Yes |
| Organic | No |
| Includes Probiotics | No |
| Artificial Sweeteners | No |
| Synthetic Additives | Yes |
| Contains All Micronutrients | Yes |
| Controversial Ingredients | None |
Some values vary.
protein (pea, rice, pumpkin, hemp), oatmeal, Yarrowia lipolytica inactive yeast, Low-fat cocoa, Ground Flaxseed (Linum usitatissimum), Chia Seeds (Salvia hispanica), Maca Root (Lepidium meyenii), potassium citrate, natural chocolate flavour, sweetener (xylitol), coconut sugar (Gula java), calcium citrate, emulsifier (xanthan gum), Bladder Wrack (Fucus vesiculosus), sweetener (steviol glycosides), rosehip extract (Rosa canina) standardised to 70% vitamin C, niacin (nicotinamide), pantothenic acid (calcium D-pantothenate), vitamin B6 (pyridoxine hydrochloride), vitamin B12 (methylcobalamin), thiamine (thiamine mononitrate), riboflavin, folic acid.
SUPERSONIC Liquid: bioesters of omega 3,6,9 fatty acids (from flax and hemp), vitamin E (D-alpha-tocopherol), vitamin A (beta-carotene), lycopene, vitamin K (menaquinone-7), vitamin D (cholecalciferol).
Carbohydrates
Based on 395kcal serving:
Total Carbs: 29g, 11% of RI.
Sugars: 3.2g, 4% of RI.
Fiber: 7.5g, 30% of RI.
Overall, it must be said that Supersonic drinks are quite low in carbohydrates, albeit high in fibre.
The main carb source is oatmeal, a staple in the complete food market. It's a great source of complete carbohydrates, fibre, protein and some micronutrients (like iron). It's a great way to provide with quality carbs that will not spike your blood sugar.
Protein
Per 395kcal serving:
Total Protein: 38g, 76% of RI.
Source: pea, rice, pumpkin and hemp protein.
As a vegan meal replacement powder, Supersonic shakes have a varied array of protein sources. Pea and rice are often use together, because they are complementary. This is, they complement each others weak amino acids, making both a complete protein source.
On the other hand, hemp is not as common, but it's not due to lack of quality. In fact, hemp protein is an excellent source: complete, easy to digest, and rich in micronutrients.
Besides, there's no denying that Supersonic drinks are one of the highest in total protein content per meal. At 38g/serving, it's close to Huel Black!
Fats
Per 395kcal serving:
Total Fats: 11g, 16% of DV.
Saturated Fats: 2.2g, 11% of DV.
Omega-3s, 3.6g.
Omega-6s: 4.0g.
One of the most interesting aspects of Supersonic Food meal replacements is their fat content.
For once, I love their transparency. All the fatty acid content is stated clearly on the nutrition label.
Secondly, they have a great omega-3 to omega-6 ratio; and good quantities of both.
Thirdly, they use a novel approach to provide you with quality fats: in liquid form. Since the early Soylent days I have not seen fats provided in liquid form (arguably, better); besides, in some keto shakes.
Bioesters are in liquid form due to the fact that this form is best absorbed and least processed. We do not add any oils to Food powder, as this would mean processing the fat and reduced digestibility. In addition, vitamins A, D, E, K are only fat-soluble. Our fats are in the form of bioesters, which ensures their highest absorption and prolonged release in the body.
It adds an extra step in the preparation, but it ensures an slight enhancement in nutrition.
Micronutrients
One other aspect in which Supersonic shakes excel is the micronutrient content per meal. While usually you would expect 20% of the daily recommended in a 400kcal shake, Supersonic includes 50% or more of many vitamins and minerals:
Vitamin D – 300% of RI
Vitamin A – 125% of RI
Vitamin E – 100% of RI
Vitamin B6 – 66% of RI
Phosphorus – 91% of RI
Magnesium – 57% of RI
Molybdenum – 66% of RI
and more
Other Ingredients
It would perhaps be unfair not to mention other unique ingredients Supersonic shakes offer:
Yarrowia lipolytica inactive yeast. This yeast contains prebiotics and antioxidants (like coenzyme Q10, alpha-ketogluterate, and beta-glucans). It's also a source of protein, B-vitamins and more. All in all, it's a superfood incredibly rich in nutrients and it's has been recognized by the European Food and Safety Agency as a novel food.
Bladder wrack (algae). This is another ingredient incredibly rich in nutrients. In this case, it contains multiple phytonutrients, and it might have anti-inflammatory and anti-cancer properties.
Allergens
As far as allergens is concerned, Supersonic shakes are free of most major allergens.
Taste Test
So what are my thoughts on the taste of Supersonic meal replacements?
| | |
| --- | --- |
| Best flavour | Belgium Chocolate |
| Taste | I was expecting more, but the shakes are a mixture of multiple flavours with a weird alkaline aftertaste. |
| Texture | As you would expect from a natural oat based drink, it's quite fibrous (bits), even though it doesn't clump and mixes well. |
| Satiety | It keeps you full fairly well. One shake was enough for 3-4h. |
| Easy to Clean | You will get fibre in the walls of the shaker that will require you to scrap. |
| Afterthoughts | I have not tried all flavours, but I'm pretty sure the oat based will be noticeable in most flavours. They also seem to have a complex mix of odd flavours and a somewhat weird aftertaste. This might was more noticeable in the coconut flavour. |
The truth is that I wanted to like Supersonic shakes more. I love their ingredients, the macros are interesting, and the flavour options are very exciting, too.
And despite all this, I did not enjoy the shakes much. Don't get me wrong, they are not awful, and out of the two flavours one was 8/10, but the other was a 5-6/10. It's just that I wished they were tastier.
However, it must be said that I did not have the chance to try all flavours.
Belgium Chocolate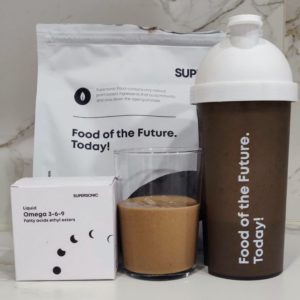 Without a doubt this was the better of the two. The main reason for this is that it was able to mask the weird background flavour more.
The chocolate flavour was quite well achieved, rather dark and rich. Nonetheless, you will still be able to taste the oats and the other ingredients.
Coconut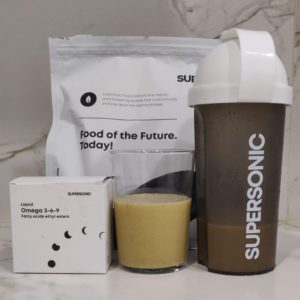 In theory, I love coconut flavoured shakes. In reality, however, I am aware that they cause some issues. In particular when you use real coconut flakes, you add more fibrous texture that does not blend well with water.
Besides that, Coconut is not great masking flavours, and I felt that it added some weird alkaline touch to the shake. This made it rather awkward to drink.
I do think that there are people who will like this shake, though. It tastes clean and natural.
Coffee and Cacao Taste
Besides the meal replacements, Supersonic also offers more nutritional products. Two of my favourites are the nootropic infused Coffee and Cacao. I'll discuss them more below, but they are great to improve your mental health and awareness.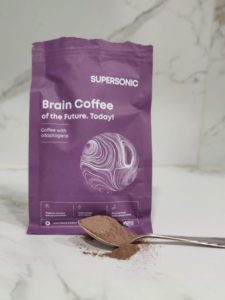 Brain Coffee is an OK instant coffee. It has an odd aftertaste (end flavour), but otherwise is mostly what you could expect from instant coffee. I wouldn't drink this solely for the flavour.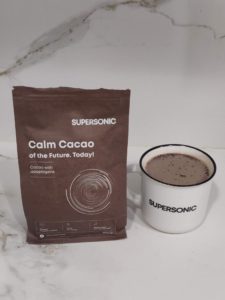 On the other hand, Calm Cacao is actually a really tasty drink. You will need to heat the milk (water) a fair bit, but you will get a strong cacao flavoured drink. Mixing might be an issue, and as you can observe, even after thorough mixing I had some lumps left.
More about Supersonic

The Supersonic Story
There are very few companies as razor focused on scientific nutrition and innovating as Supersonic. The only one that comes to mind might be Mana. Nonetheless, it's great to see a company that truly believes on innovation and finding the best nutrition possible without fear of using new ingredients.
This can be seen in ingredients like hemp, bladder wrack, Yarrowia lipolytica… for example. Many companies are too afraid to introduce new components and alienate their customers. Supersonic shows them that they are scientifically backed, and introduces them to their shakes.
Besides, they look for sustainability. They do so by choosing European ingredients and produce only plant-based products.
Mission
SUPERSONIC wants to be the world's first choice for conscious and active people, providing easy and fast to prepare efficient plant-based foods and beverages to make customers healthier and more productive.
Packaging, Pricing & Shipping
As far as packaging is concerned, Supersonic only offers 15 meal bags (1.5kg). With this, you will get the bioester liquid in a separate pouch. Albeit, this is not ideal from a waste standpoint, you will still produce significantly less waste than usual.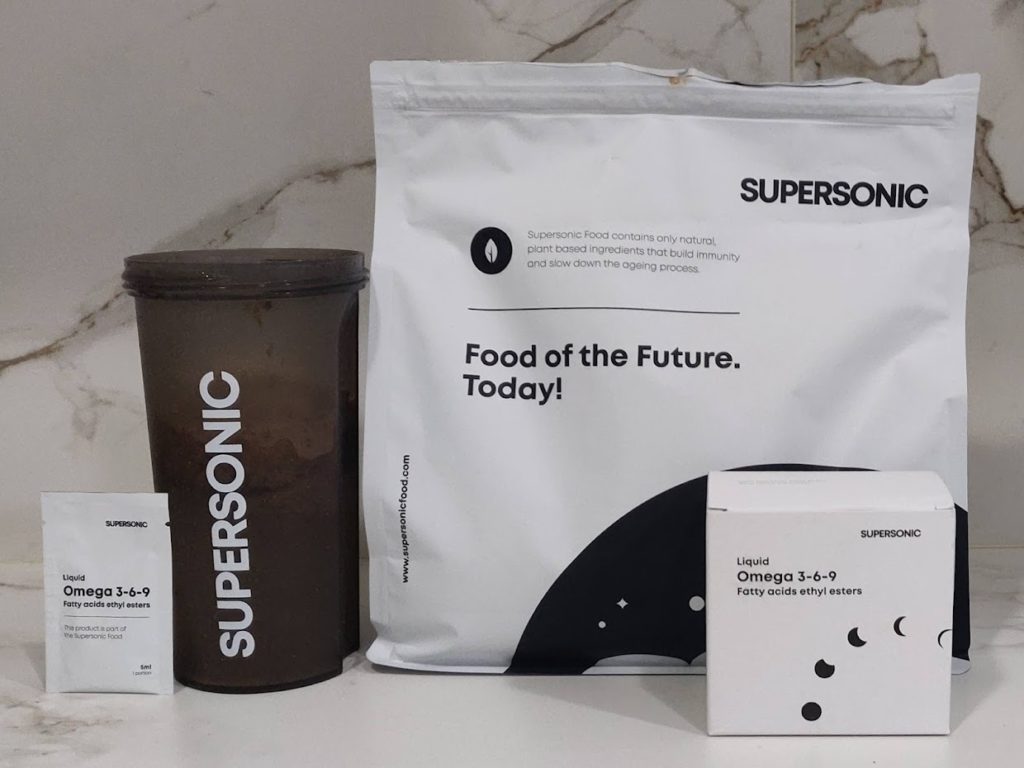 Pricing
When it comes to pricing, every company claims to be an affordable solution. However, this is rarely true.
Currently, Supersonic shakes are not the cheapest meal shakes out there, but they aren't the most expensive ones either. You can use bulk discount and/or 9% subscription discount to make your meals cheaper.
2 bags (30 meals) without subscription: €2.27/400kcal meal, €68 in total
2 bags (30 meals) with subscription: €2.07/400kcal meal, €62 in total
4 bags (90 meals) without subscription: €2.13/400kcal meal, €128 in total
4 bags (90 meals) with subscription: €1.95/400kcal meal, €117 in total
If you buy in bulk, you can lower it to €1.8/400kcal which puts it close to Huel, Powdermatter, Complete360 meal and many more competitors.
Shipping
Right now, Supersonic is only available in Europe. This does not include the UK (check the best meal replacement shakes in the UK), although it will soon be.
Shipping to Germany, Austria, Poland, Belgium and Netherlands is free in orders above €40. For other European countries there's a flat fee of €5.
In my experience, the delivery was fast and smooth. It's handled by DPD.
Other Supersonic Products
Unfortunately, I have not spoken about some of the other products Supersonic offers, yet. That said, they have a few very interesting food supplements that might interest you.
Supersonic Isotonic Drink
Function: Provide you with electrolytes, and nootropics
2 different formulas; one focused on beauty support, and the other in boosting performance
No artificial sweeteners or flavours
Price: €35/30servings
LF thoughts: I tried the isotonic adaptogen drink and definitely helped me concentrate. The lack of caffeine reduces the effectiveness in certain aspects. I wish it mixed slightly better too.
Recommended: Situational.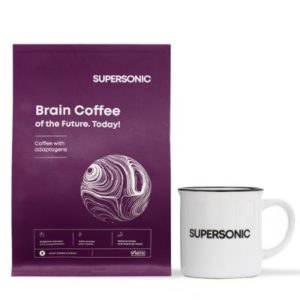 Supersonic Brain Coffee
Function: Boost your performance and/or calm you down
2 different formulas; one for extra mental boost, and the other to help you reduce stress
No artificial sweeteners or flavours
Price: €13/15 servings
LF thoughts: I'm used to boosters, and high caffeine content; but after having the brain coffee I was very focused and energetic. The instant one does not mix perfectly, and I wish I had the grounded one instead. Mostly for performance, not for taste.
Recommended: Yes.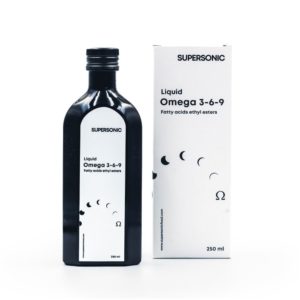 Supersonic Omega-3,6,9 Mix
Function: Enhance your essential fatty acid intake
Omega-3s are often lacking on our diets, so this offers a great support.
Also includes omega-6 and -9 fatty acids in the right balance
Price: €22/50servings
LF thoughts: This is the supplement that many might discard fastest, but the one that could benefit you the most. Omega-3 fatty acids are essential, and if you don't consume fish, you are likely deficient.
Recommended: Yes.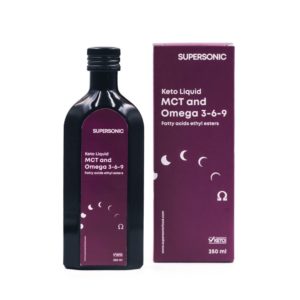 Supersonic Omegas + MCT
Function: Provide you with quality fatty acids
Adding MCTs causes the inclusion of fast energy, and can accelerate digestion
Good for keto diet followers
Price: €19/50 servings
LF thoughts: Personally, I'm not a big advocate and user of MCT oils. While the effectiveness and importance of omega-3 fatty acids is proven, science around MCTs is a little weaker. I consider this a situational addition, in particular if you are doing a keto diet. Otherwise, it's just extra calories.
Recommended: No.
Supersonic vs
In this comparison, I will have a look to how Supersonic fares vs some of the most popular meal replacements and one of my favourites.
Besides me mentioning only a couple of options, I would like to remind you that if you live in Europe you have dozens of complete food options available to you.
Head to Head
| | | | |
| --- | --- | --- | --- |
| Category | Supersonic | Huel | C360 |
| serving price (€) | 2.27 | 2.12 | 1.39 |
| Macros (C/P/F) | 37/38/25 | 40/30/30 | 45/30/25 |
| kcal/serving | 400 | 400 | 400 |
| Packaging | 15 meals | 15 meals | 5, 20, 40 meals |
| Protein (g) | 38 | 30 | 30 |
| Sugar (g) | 3 | 1 | 1 |
| Fiber (g) | 8 | 7 | 10 |
| Fats (g) | 11 | 13 | 11 |
| Vegan | Y | Y | Y |
| Organic | N | N | N |
| Micronutrients | 26 | 26 | 26 |
| Artificial Sweeteners | N | Y | Y |
| Synthetic Additives | Y | Y | Y |
| GMO | N | N | N |
| Protein Source | Pea/Pumpkin/ Rice/Hemp | Pea/Rice | Pea/ Rice/Hemp |
Prices shown are the most expensive options
At a glance, Complete 360 is the most affordable of them all, but you need to consider that the other 2 also have options to make the price/meal even lower. Furthermore, Supersonic takes a more natural approach and includes more ingredients than C360, which can affect the price.
All three are among the best vegan shakes you can buy from a nutritional standpoint. That said, I much prefer the flavour of the other 2 when comparing to Supersonic. The Polish company does have incredible nutritional output, though.
Finally, it's also worth mentioning that both C360 and Huel are available in the UK, while Supersonic only sells in Europe.
Supersonic FAQ
Do the Bioesters come with the powder?
Yes, when you order the powder you will also get a pack of bioester liquid to add to the shake.


Can I only eat Supersonic food?
Yes, in theory it contains all the essential nutrients your body needs. However, I would not recommend going 100% in shakes.


What is nutriscore A?
Nutriscore is used to rank the nutritional value of food. This system was created by the French health ministry and it's now present in all European food. A is the highest rank you can get.


Is Supersonic made from organic ingredients?
No. However, all ingredients are GMO-free, and plant based.


What is Yarrowia Lipolytica?
It's a novel food (natural yeast) with antioxidant, prebiotic effects and positive nutritional output.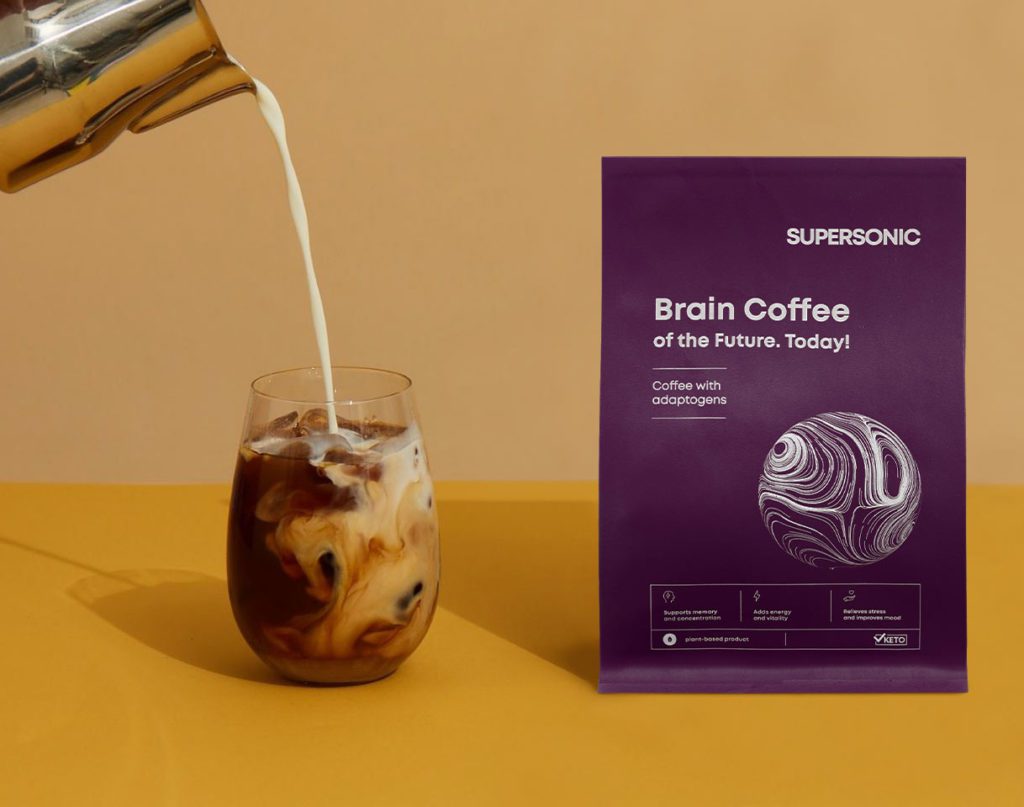 ---
Verdict – Supersonic Review
Taking everything I've learnt during this Supersonic review, I must admit that I'm positively impressed.
As far as the Supersonic meal replacements go, I think that they are somewhat affordable and nutritionally exceptional. However, the taste and texture of the shakes was a little bit of a letdown. In fact, they might not very beginner friendly due to the odd undertone.
I believe that they are more suited for those looking to optimize their nutritional intake and want nutrition first, taste second. Their use of novel ingredients, quality omega-3 fatty acids, and best delivery methods is something I am extremely grateful for.
Besides, I really enjoyed some of the extras that they offer; the adaptogen coffee in particular. Even though, it's not the tastiest coffee I've ever had, it surely provided a bigger mental boost (focus and energy) than normal coffee. Something to consider if you are looking for nootropics.
All in all, this European meal replacement company is one worth considering, if taste is not the one aspect you care off the most.
Supersonic
From €1.80/400kcal
Pros
Innovative nutrition bringing you a very healthy shake
Great omega-3/6/9 content
Multiple flavours to choose from
Plant based, soy free, gluten free
I love Brain Coffee and the other supplements
Cons
Acquired taste; odd aftertaste
Shakes are fibrous - unique texture
No whey-based version available
Not easiest to like for beginners