Abnormal Review – Personalized Complete Nutrition is The Next Big Thing
This is the Abnormal meal replacement review; the only brand in the world that offers truly personalized nutritional shakes.
But what does this mean exactly? Well, you will be asked a series of question (age, weight, gender, activity levels, dietary preference etc) that will be used to determine the ideal macros and nutrients for you. Thus, you will be able to get a tailored complete meal that you can prepare and eat in less than 5 minutes.
Simply, you'll have mix the powder with water in a shaker and consume a fully fledged meal with carbs, protein, healthy fats, plus all the vitamins and minerals.
Sounds awesome doesn't it? But, are abnormal shakes better than the best meal replacements out there? Does the personalized nutrition truly make a difference in your mood and performance? And, do abnormal shakes taste good?
All these questions and more will be answered in today's Abnormal review.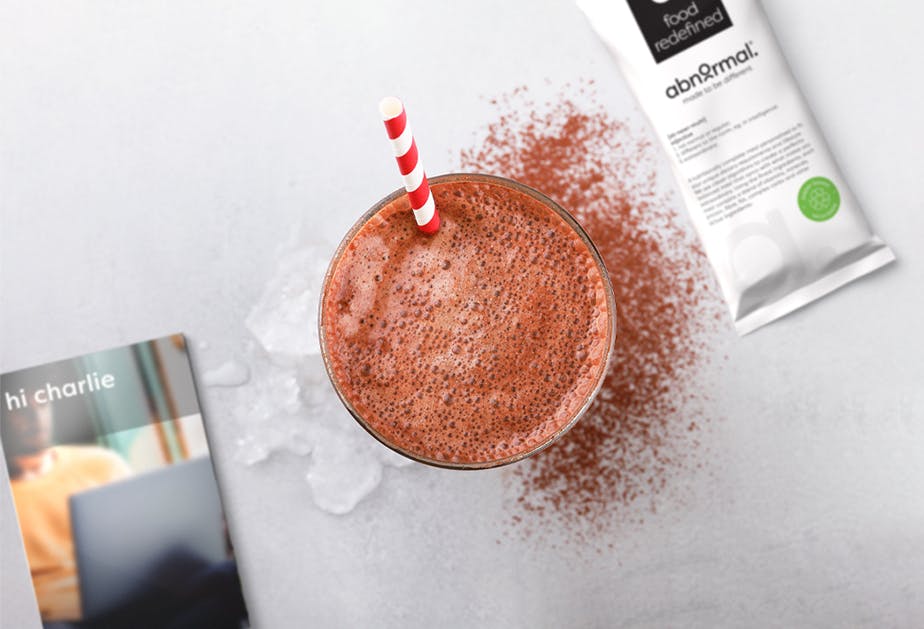 Abnormal Review at a Glance
Flavours: Banana Milkshake, Chocolate Swirl, Strawberry Sundae, and Vanilla Cream.
Opinion
Honestly, I rarely feel so opinionated and so divided. Nonetheless, after this Abnormal review, I am in love, but I hate Abnormal shakes, too. Allow me to explain.
On the positives, I think that personalized nutrition is a fantastic idea. One that I have often thought about (if I were to open my own company). In fact, Abnormal makes it easy for those who are new to nutrition or don't have the time to plan around it.
The shakes that you get from Abnormal are nutritionally solid, and quite enyojable overall. Plus they can easily be adjusted to your personal needs (
However, as it stands now, the product feels half finished. For once, there are few key customization areas missing: subscription frequency, meals per subscription, calories per meal (day), etc.
Secondly, I feel that they should provide more support towards the nutritional input for the rest of the day. Thirdly, the interface is hard to navigate and rather opaque. I found it hard to find certain key info.
So would I recommend Abnormal? Yes, if you are looking to replace one meal a day; and you want the best for that meal. It's a great way to improve your lifestyle.
What I like
1.Personalized Nutrition works. You won't find anything like it. Easy, convenient tailored meals to improve your nutritional intake. Abnormal shakes deliver this.
2. Adapts to your dietary requirements. Consequently, you will be able to have the shake that you need. Gluten-free? Done. Soy-free? Done. Vegan and gluten-free? Also, possible. Whey-based and high in protein? Yes.
3. Great for newcomers and those who don't want to think about nutrition. Abnormal does the thinking for you. You will get 30 meals each month, you just need to prep and enjoy them.
4. Good taste and able to choose each flavour that you want. Overall the taste of the shakes is fairly good. Plus, you will be able to choose which flavours you want.
5. Meaningful extra ingredients, depending your needs.
6. Paper based single pouches are very convenient. And environmentally friendly.
7. Free taster when using the code FREE.
What I dislike
1. Lacks flexibility. I'm a little appaled by the lack of flexibility in meal sizes, subscription options (size, frequency) etc. For instance, if you want more than 30 meals, you will have to manually move your subscription forward.
2. Meals can be too small. The maximum meal seems to be 350kcal. For many, it won't be enough.
3. Website is mobile friendly and with good info; but it's currently frustrating to navigate. 
4. No option for alternative diets (like Keto) or choosing the macros you want.
5. Even if it doesn't contain an allergen, it will still be handled in a factory that uses those allergens.
Improvements
1. Increase subscription options: 3,4,5 week delivery frequency; or the amount of meals per delivery. 
2. Integrate with other apps to truly offer a personalized service. 

Nutritional Breakdown
As mentioned in the introduction of this abnormal review, the company focuses on providing personalised nutrition. Therefore, the macro split, exact ingredients and calories per meal will change depending your needs.
For instance, you can ask for a gluten free shake or a vegan shake; while other user can ask for higher calorie shakes. This is why analyzing Abnormals' nutritional output like I usually do, is nearly impossible.
Personalized Nutrition
Furthermore, they will include special ingredients or tweak the quantities depending your answers. For instance:
If you don't take enough sunlight, they will boost your vitamin D intake.
If you have constipation or bloating issues, they will increase the fibre in your shakes.
When you aiming to gain muscle mass, abnormal will include more protein, etc.
In my case, I got extra fibre, extra protein; but also 250mg of glucosamine and cherry extract for joint health, and probiotics and a digestive enzyme complex to help with digestion.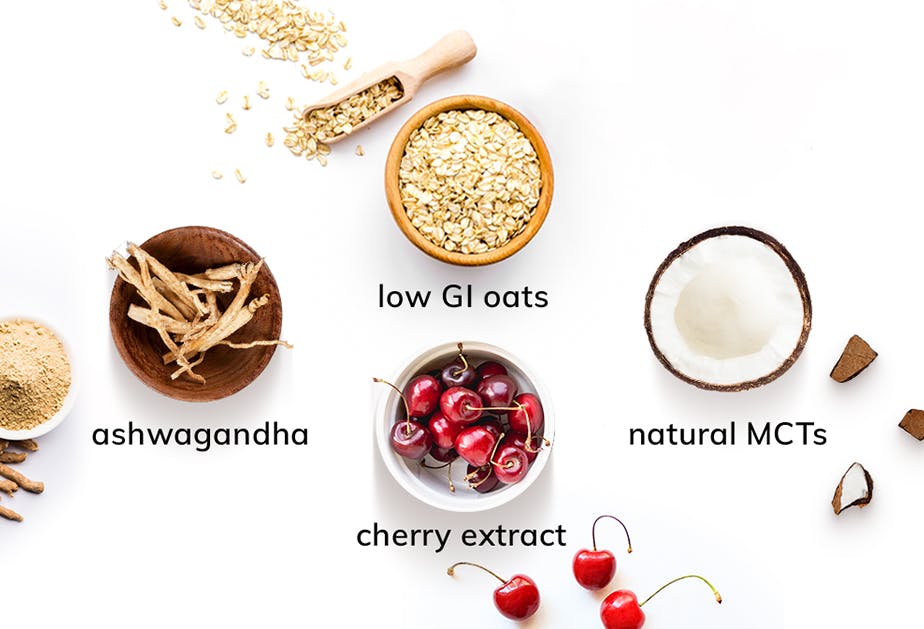 Example of Abnormal Nutritional Output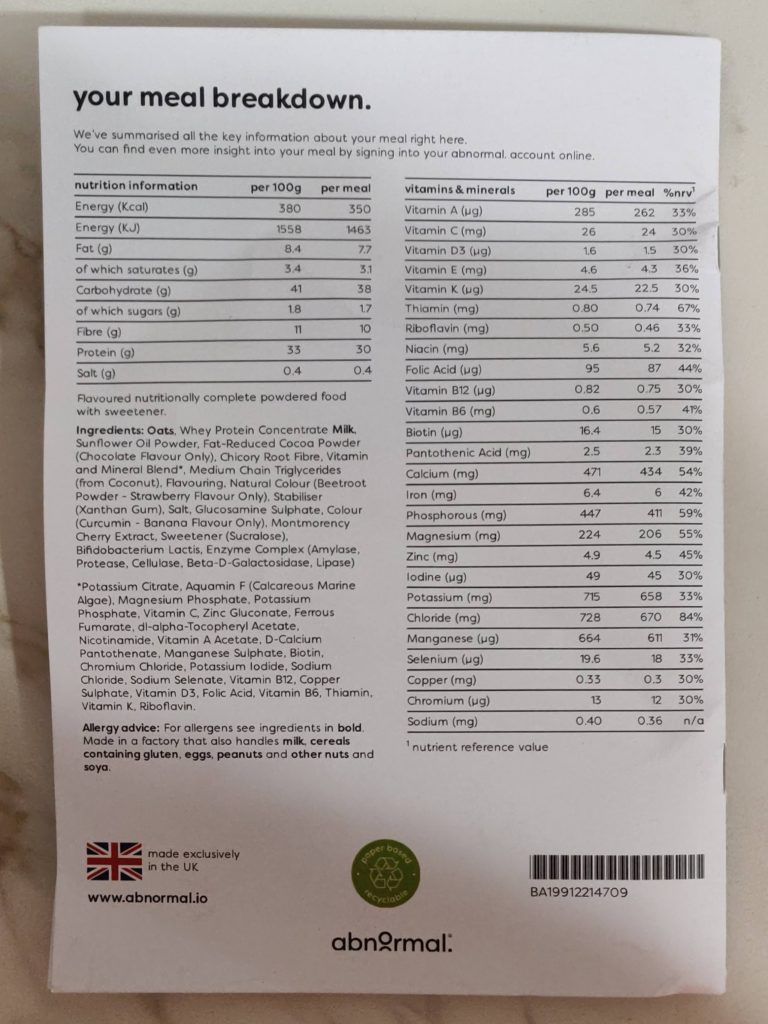 In case the image isn't clear; here's the breakdown:
| | per meal (92g) | % of RI |
| --- | --- | --- |
| Macro (C/P/F) | 46/34/20 | – |
| Energy (kcal/meal) | 350 | 18 |
| Carbs | 38 | 15 |
| of which sugars | 2 | 2 |
| Fats | 11 | 16 |
| of which saturated | 3.1 | 16 |
| Protein | 30 | 60 |
| Fibre | 10 | 50 |
| Salt | 0.4 | 7 |
These values will change according your dietary preferences.
So why does my meal look like that.
High in protein to support my activity levels.
High in fibre and with digestive enzymes to help with digestion.
Low in sugars and salt so that I don't exceed recommended intakes.
350kcal meals to reach 2,500kcal daily goal.
With extra vitamins and minerals, because I don't eat enough fruits.
Protein from grass fed whey concentrate, because I did not ask for a plant-based formula.
All in all, I was quite happy with the breakdown and the ingredient choices. the one thing I was a little surprised by was the amount of saturated fats, which felt a touch too high (because they added MCTs).
Also, it's surprising not to see any real omega-3 source. Where is it?
Which Ingredients Does Abnormal Use?
Based on my digging here's a list of ingredients that you might find in abnormal:
| | Category | Appears if |
| --- | --- | --- |
| Oats (gluten free) | Carbs | All the time |
| Whey protein concentrate | Protein | Dairy-based meals |
| Soy protein isolate | Protein | Vegan meals |
| Pea protein isolate | Protein | Vegan meal + Soy allergy |
| MCTs | Fats | If you feel tired |
| Sunflower oil powder | Fats | All the time |
| Enzyme complex | Protein* | If you have digestion issues |
| Ashwagandha | Phytonutrient | If you regularly feel tired/stressed |
| Glucosamine | Amino acid | Joint care |
| Cherry extract | Phytonutrient | Joint care |
| Manganese (extra) | Mineral | Joint Care |
| Calcium (extra) | Mineral | Bone support |
| Vitamin K (extra) | Vitamin | Bone support |
| Selenium (extra) | Mineral | Bone support |
| Vitamin Bs | Vitamin | If you feel tired |
| Coenzyme q10 | Catalyst | If you feel tired |
| Panax ginseg | Phytonutrient | If you feel stressed |
Besides these, the amount of vitamins, salt, calories and macros might also be regulated according to your preferences.
Downsides of Personalized Nutrition
However, this brings me back to some drawbacks or cons of using Abnormal's personalized complete meal shakes.
1. No Meal Seems to Be Bigger than 350kcal
Simply, this is not enough for many people.
Thus, my biggest issue currently is that the meals are rather small. Even if you max out on exercise that you perform (which should mean you need more calories), the meals don't get bigger than 350kcal.
For a sporty person 350kcal will be a snack. For instance, an active 25-30yo could easily consume upwards of 3,000kcal. Thus, you would need at least 9 abnormal meals a day, which makes it less affordable and convenient.
2. No Direct Control Over the Ingredients
On a lesser note, the fact that you have no direct control over the ingredients they use annoys me a little. For most, this will be added convenience and a luxury that are quite happy with.
On the contrary, I would like to see my options or the effect my choices have when I'm making them, rather than after.
3. No Organic, Oat-Free or Artificial Sweetener Free Meals
For those looking something quite particular, you might not find it here.
Abnormal Shakes Tasting Test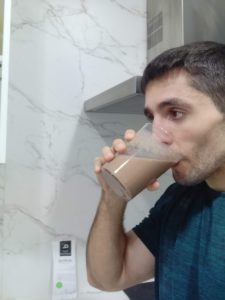 As far as the taste is concerned, Abnormal meal drinks do fairly well. I will not say that they are mind-blowingly good, or the best shakes I've ever tasted; but they are good enough.
On a basic note, they all have the say oaty background flavour, with strong sweet and fairly artificial flavours. None of them are awful, but if you don't have a sweet tooth you might struggle.
In my experience, there's usually some variation in taste and texture whether you drink a plant-based shake or a whey based shake. The first are likely to be thinner and have a milky taste. The latter can be thicker, and if they contain soy, it will be noticeable.
| | |
| --- | --- |
| Best flavour | Chocolate Swirl |
| Taste | Oaty, sweet and a little artificial. Most shakes are quite pleasant to drink, and remind me of milkshakes. |
| Texture | They whey based ones were a little watery, and have some lumps (fibre and small powder balls). |
| Easy to Mix | Mixes okay, but I got some powder clumps. I would recommend using a blender when possible. |
| Satiety | Good. My 350kcal meals kept me full for about 3h, which is what I expected. |
| Easy to Clean | The fiber gets stuck on the walls of the shaker, so it requires scrubbing a litte. |
| Afterthoughts | There's no weird aftertaste, after consuming the Abnormal shakes, and overall I felt pretty good. I didn't have any digestion issues, bloating or gas, which is also a positive. I felt pretty energized, and happy with my meal. Perhaps a little hungry to start with, since they were smaller than I would've liked. |
Ranking the Abnormal Flavours
Considering that their parent company (The Protein Works) offers tons of flavours, I hope that they increase the amount of options available. That said, they should do some work on improving the current ones first.
1. Vanilla Creme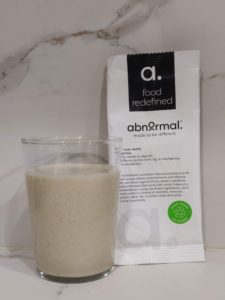 Surprisingly, I found Vanilla to be the best of the 4. It's not often when I like the boring old vanilla flavour the most, but I think it's the most well rounded of them all.
In fact, I quite enjoyed the oaty, creamy (noticeable), sweet vanilla. It was very pleasant, and rather enjoyable. None of that strong fake vanilla that ruins many shakes.
2. Chocolate Swirl
It's worth noting that I have a chocolate bias. Even then, I think this is just the second best flavour. Perhaps, some might enjoy it more than the Vanilla, because it is slighlty more thrilling.
However, I found it to be a little mild. It's a more milky chocolate that gets somewhat overpowered by the oats.
3. Banana Milkshake
If the other two were 8-9/10, this is a 6 out of 10. In my opinion, there's a big drop-off between the top two and the bottom two.
Banana Sundae was quite artificial, and overpoweringly sweet. It was OK, but not one that I would keep buying.
4. Strawberry Sundae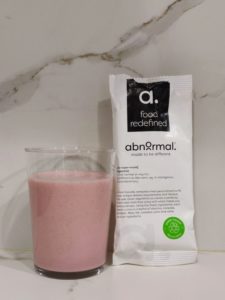 Without a doubt, this was the worst of them all. It could partially be because personal bias, but I found it extremely sweet and artificial. It kind of reminded me of Yazoo Strawberry, but with a stronger flavouring (while still noticing the oats).
Take this with a grain of salt, since I hate strawberry flavoured milkshakes since I had a negative experience in the past. However, I believe that currently it's too overwhelming.
More about Abnormal
Abnormal is a UK based company, born from the giant TheProteinWorks (they have some our favourite shakes). However, it takes nutrition more seriously, and tries to provide something the rest of the market doesn't: flexible meal replacements.
At the time of writing this Abnormal review, the are one year old (founded in 2020) and they seem to mostly focus in UK clients.
Abnormal's Mission
According to their website; their mission is to help you reduce food waste by providing sustainable healthy alternatives.
Besides that, their real focus is to provide with personalized complete nutrition. While at first it might sound like a nice PR slogan, the UK based company does try their best to provide it.
Despite my initial doubts on their system and how successful they would be implementing, I have been fairly impressed with what I experienced
Personalized Nutrition in 3 Easy Steps
So how do you get your tailored complete meals.
1. Take the Questionnaire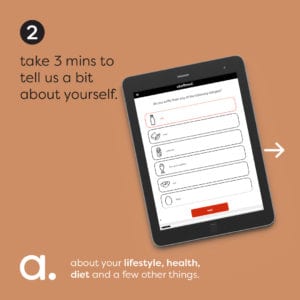 Before you do anything, Abnormal asks you to fill in this questionnaire. I'm not going to lie, it felt intrusive, long and few questions seemed unnecessary.
I was expecting Abnormal to ask for my age, activity levels, dietary preferences and similar questions; which are necessary to calculate caloric needs etc. However, some feel extremely specific ("do you smoke" or "how often do you throw food away", for instance.
Either way, it works, since the recommendations you get after feeling the questionnaire are mostly spot on.
2. Make Use of the Free Trial with the Code FREE
After filling in the questionnaire, you'll have the option to learn about your diet, but also to get a sample package (before you jump into subscription). I would recommend doing this and using the code FREE, so that you only have to pay for shipping (about £5).
When choosing the meals, you will have the option to state how many of each flavour you want.
3. Enjoy your subscription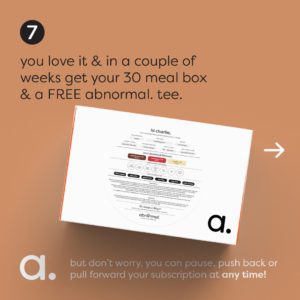 If you are happy with the meals that they have sent you, you will have the option to subscribe. With this, you will regularly (you choose the intervals) receive a package from Abnormal with all the complete meals that you require.
At any time, you can fill in the questionnaire again to reshuffle your preferences, and hence changing the nutritional output of your meals.
My Issues with Abnormal's Personalized Meals
So far I have stated the positive. However, Abnormal's method of subscription and personalized complete meals comes with few drawbacks.
No direct input, no way to change your meals. For anyone who is more into nutrition, abnormal might be a little frustrating. The algorithm is a little opaque, and you just need to trust that it will fit your needs. If you are looking to manually select ingredients, quantities and tailor macros to your needs, Abnormal won't be able to do that. Instead, it's great for newbies and those who don't have time to think about it; since it does it for you.
Dashboard is unclear and website is hard to navigate. I think that the dashboard on the website is still a little unclear. It's has come a long way since they first launched it, but the information is hard to come by. Standard stuff like finding the nutrition label for your meal is hidden behind multiple menus.
Information is unclear and hard to find. Similarly, or consequently, you will struggle to find the reasons why you have certain ingredients. Do you want to know why you have glucosamine in your meals? Or what oats do? Or why you have the protein source that you do? Good luck finding it.
Packaging Is on Point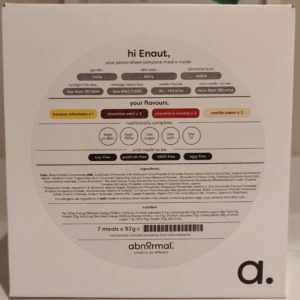 Instead, a lot of this information is delivered to you in your first order. The pamphlet and the information on the box is clear and straight to the point. Gorgeous, full of simple explanations and all the details you would require are there.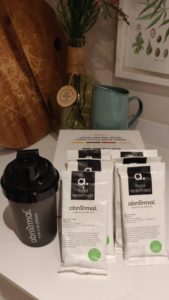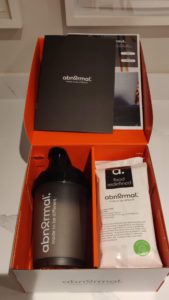 As mentioned above, I truly enjoyed the informational pamphlet that's included with the starter pack.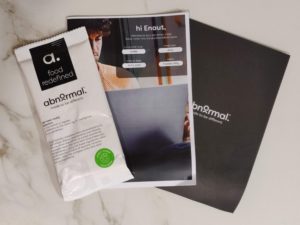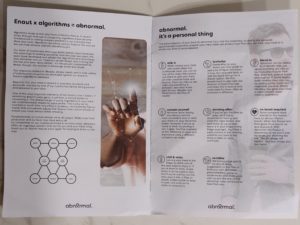 Furthermore, it's worth stating that meals are delivered in single-serving bags. These bags are made with paper and are easily recyclable. In fact, you should be careful handling them, as they weaken when they get wet.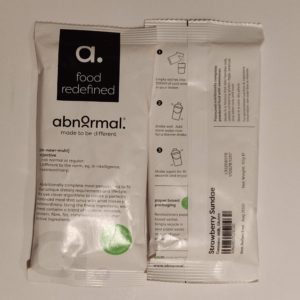 Pricing & Shipping
So far, all might be good and dandy. However, most of you will be interested on knowing the price of abnormal meal shakes. How expensive are abnormal shakes?
After the free trial, you will be put on a subscription. This is, you won't have to go to the site and order manually, but instead, you will get your meals delivered at the intervals that you prefer.
In my case, this cost £59 for 30 meals, or £2/meal. This is sent in a monthly basis.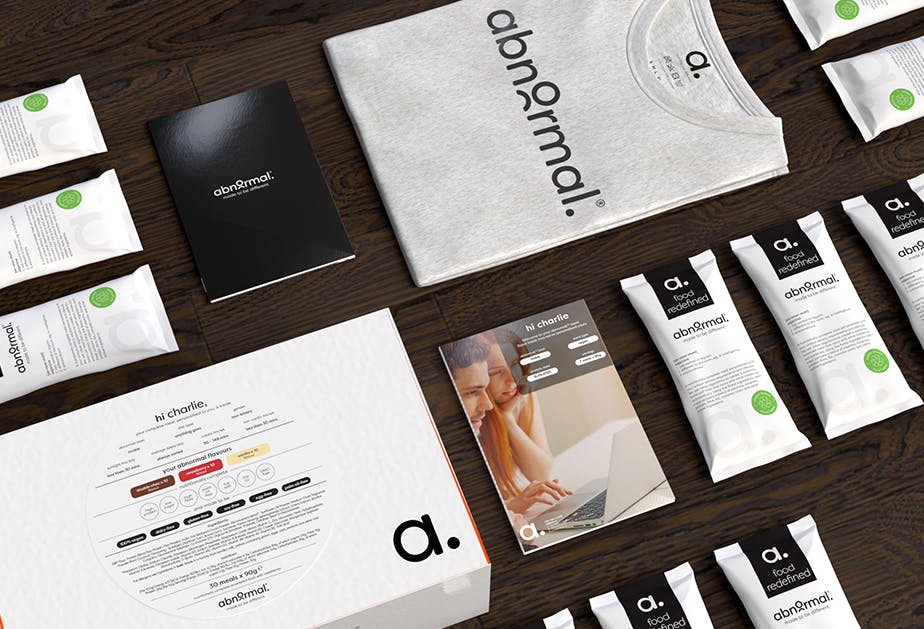 However, I was not able to increase or decrease the intervals or the quantity of my meals.
For any frequent user, this is a big problem. And personally, I found it restraining and annoying.
Otherwise, £2/meal is a fairly good price for personalized nutrition. Big brands like Huel start at £1.86/400kcal meal, but also offer bigger discounts. Therefore, you will pay a premium for the personalization, but it's not that big of a premium, in my opinion.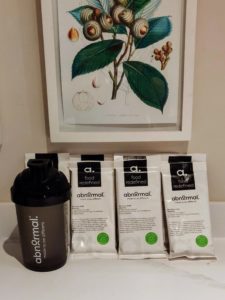 Abnormal shakes vs
Regarding how abnormal compares to the best meal replacement shakes in the UK, I will be doing an in-depth comparison soon.
However, it's worth saying that they offer a truly unique service that is unprecedented in the complete food industry. The personalization of meals is a premium service ideal for beginners that no one else does. Thus, it requires less knowledge and effort to get started.
For now here is a quick head to head with some of the best meal replacement shakes:
Head to Head
| | | | |
| --- | --- | --- | --- |
| Category | Abnormal | Huel | C360 |
| serving price (£) | 2.00 | 1.68 | 1.39 |
| Macros (C/P/F) | 46/34/20* | 40/30/30 | 45/30/25 |
| kcal/serving | 350 | 400 | 400 |
| Packaging | 1meal | 15 meals | 5, 20, 40 meals |
| Protein (g) | 30 | 30 | 30 |
| Sugar (g) | 2 | 1 | 1 |
| Fiber (g) | 10 | 7 | 10 |
| Fats (g) | 11 | 13 | 11 |
| Vegan | N* | Y | Y |
| Organic | N | N | N |
| Micronutrients | 26 | 26 | 26 |
| Artificial Sweeteners | Y | Y | Y |
| Synthetic Additives | Y | Y | Y |
| GMO | N | N | N |
| Protein Source | Whey | Pea/Rice | Pea/ Rice/Hemp |
Prices shown are the most expensive options. *I opted for a dairy based meal; but I could've chosen a fully plant-based one. Similarly, the macros were adapted to my needs.
As mentioned, the exact nutritional profile of abnormal shakes will depend on your dietary needs. However, they will not use organic ingredients, and neither they will have any GMO.
On the contrary, all Huel shakes are plant-based, and you will be able to choose between few different products, namely: Hot & Savoury, Black (powder), Ready to Drink, and Bars. All in all they offer nutritionally oriented products with good array of flavours, but OK taste.
Another option is Complete 360 Meal and Diet Meal Extreme by TheProteinWorks. These are offer in vegan and whey based versions, and they excel in taste. In particular, Diet Meal Extreme, which offers over 13 flavours, many of which I love.
Abnormal FAQ
Are Abnormal meal replacement shakes organic?
No, currently there's no option to ask for organic ingredients


Is Abnormal vegan?
Yes, there is an option to choose vegan-friendly shakes.


Can I use Abnormal shakes to lose weight?
Yes. Even though, Abnormal does not brand itself as a weight loss shake, it can help you achieve those weight goals.


How often does Abnormal subscription arrive?
Every month you will get a box with 30 meals.


Can I delay a subscription?
Yes, you can easily delay, move forward or cancel your subscription in your Abnormal dashboard.


Is it easy to change the meals that are delivered to me?
Very easy. You can fill in the questionnaire again, which will recalculate what are your nutritional needs. Then, in the next subscription your new formula will be delivered to you.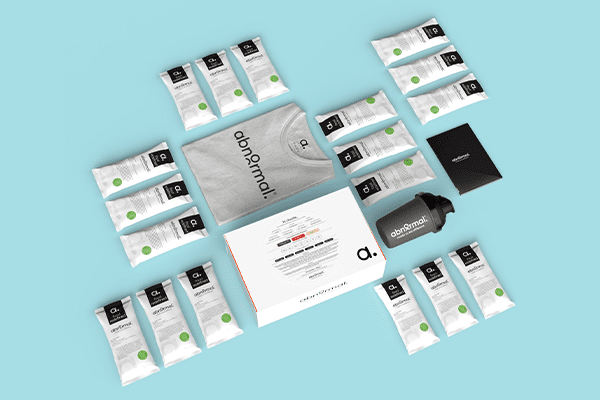 ---
Verdict – Abnormal Meal Replacement Review
Coming to the end of this Abnormal complete food review, I have mixed feelings.
In one instance, there's no denying that Abnormal's personalized nutrition is unique, exclusive and superb for many users. I believe that this is the right approach heading towards the future, and it can greatly benefit anyone's diet.
However, I feel that the execution is incomplete. There are few kinks around the edges that as heavy meal replacement user are really annoying. Plus, I also believe that things like the subscription system need to be ironed out, even for beginners.
So, who's Abnormal for?
After giving some thought to what I've learned during this Abnormal review, I think that Abnormal shakes are ideal to those who want to replace 1 meal a day. They can easily replace any meal with a healthy shake that has been tailored to their needs and boost their nutritional intake.
As such, Abnormal can offer a lifestyle change to those looking to get healthier eating habits in 2022.
Abnormal Complete Meals
£2/meal
Pros
You can choose what's in your meals
Great for those who don't know much about nutrition
Shakes have good taste and you can choose the flavours you like best
Convenient single serving pouches
You can change your meals at any time
Cons
Subscription lacks flexibility
350kcal is the biggest meal - which could be small
Website can be frustrating to navigate (on PC)
You can only buy in subscription