Why Powdermatters' Is a Top 2 Meal Replacement Bar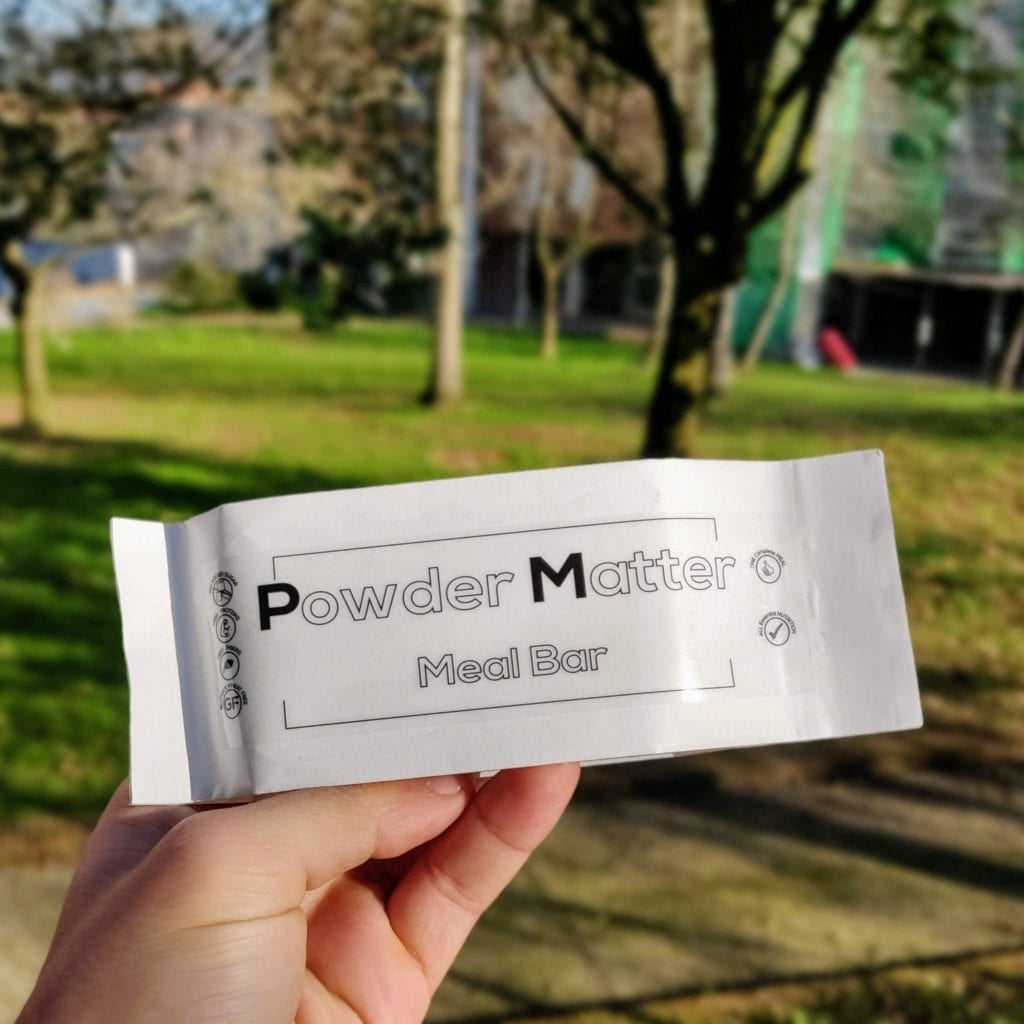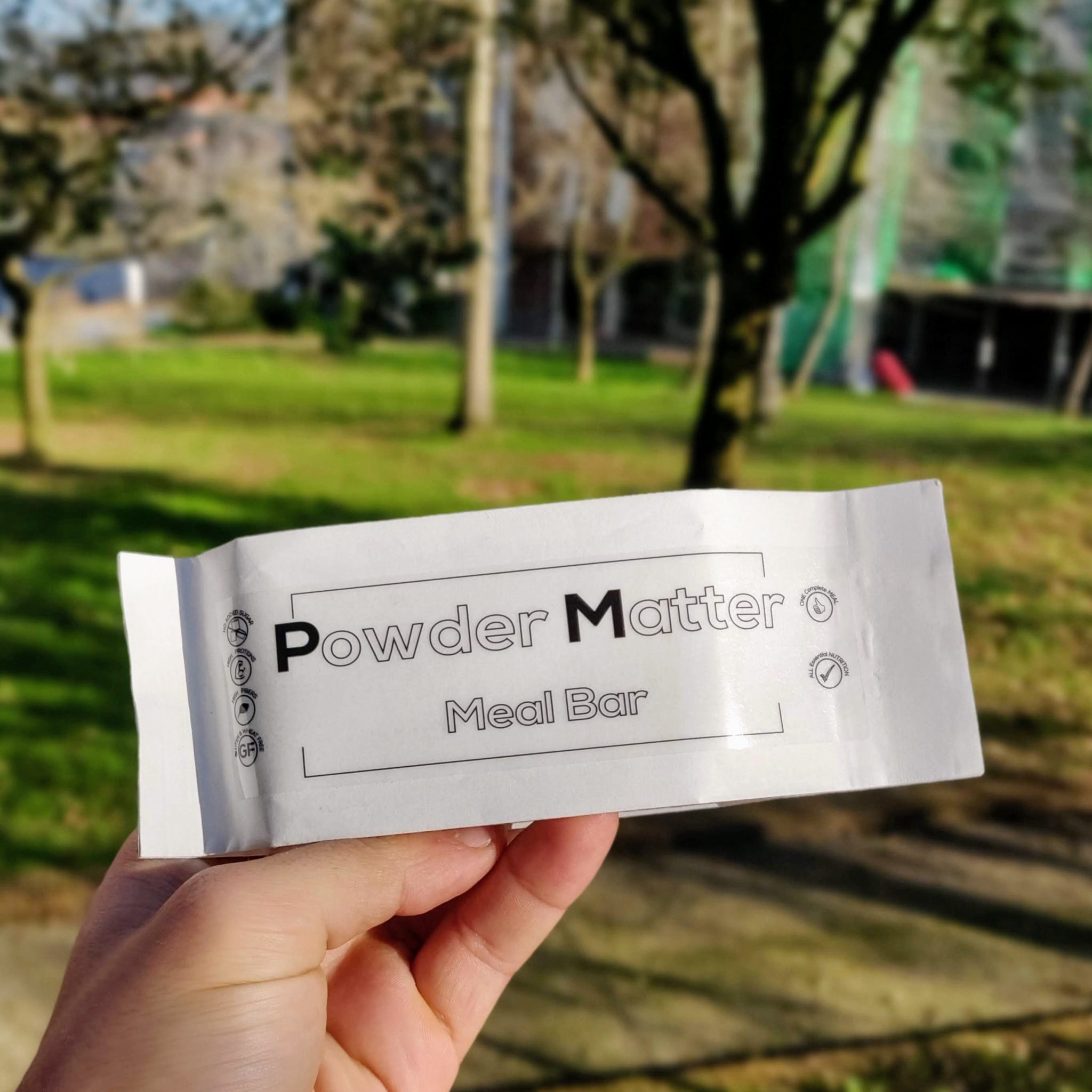 Powdermatter is one of the best meal replacement manufacturers. They offer high quality products at a very affordable price tag. The powders are in many of my top meal replacements lists. So when I was asked to beta test the bars, I was very excited by the prospect. From the get go I was surprised by the quality. I couldn't wait to let the world know about these delicious bars. They are finally here and I'm happy to write this Powdermatter bar review, candidates to be the best meal bars.
In the introduction, I've emphasized the excitement that reviewing these bars was for me. I helped Powdematter by providing some feedback on the beta-phase of production; but I must say that I thought the bars were great from the start. Now, I'm once again mesmerized by the quality of the product and the taste of these bars. Simply put, I would eat them everyday if I had an infinite stack of them at my office. Highly recommended.
What I like
1. High quality ingredients. There are no added sugars, very little synthetic ingredients, no maltodextrin or agave syrup and no sucralose. Only the soy protein and the vitamin mix is highly processed.
2. Complex and naturally tasting. The lack of artificial sweeteners and flavourings give the bars a very natural taste, often lacking in bars. Due to the multiple ingredients in the bars, they have a very complex taste that keeps changing and keeps you engaged.
3. Vegan and whey based formula. I am a big advocate for variety and I like to see both options in products, usually.
4.Price and format. Starting with the format, I love the fact that the bars provide you with 400kcal, and are not snacks. However, you can always enjoy them as snacks using the squares as guideline (50kcal). Pricewise, I think that the bars offer a great bang for the buck. They might not be the cheapest, but have no competition when it comes to quality.
5.Satiety. This bars are filling and they do a great job at keeping you full for a few hours
What I dislike
1. Sugars. All is not possible, and when you rely heavily on fruits (dates in this case) you will get many naturally occurring sugars. Due to that, all bars have high amounts of sugar.
2. Bags can be hard to open. I wish there was an easy way to rip of the sealing.
3. Plant-based bar could be a little better. In my opinion, this was the weakest of the three bars. Despite enjoying the nuts mix, I thought it was a little dry and duller than the others.
Improvements
1. More flavours. I would like to see some more different flavours. The 3 bars can feel a little too similar (due to them sharing much of the recipe).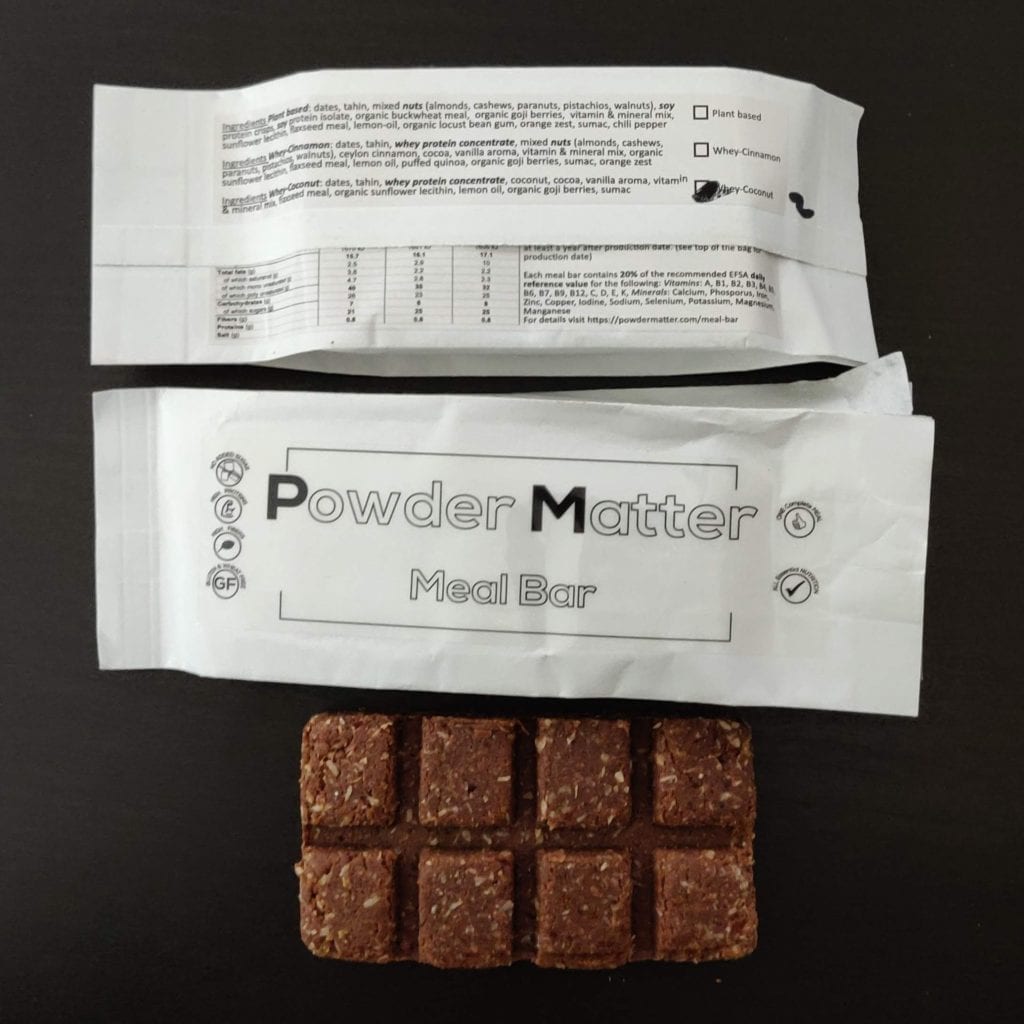 Powdermatter bars are some of the best tasting meal replacement bars, without a doubt. Furthermore, I truly enjoyed the texture: moist and plenty to chew on, really feels like having a meal. In fact, I would say that they are the most satiating bars that I have tried.
Whey Coconut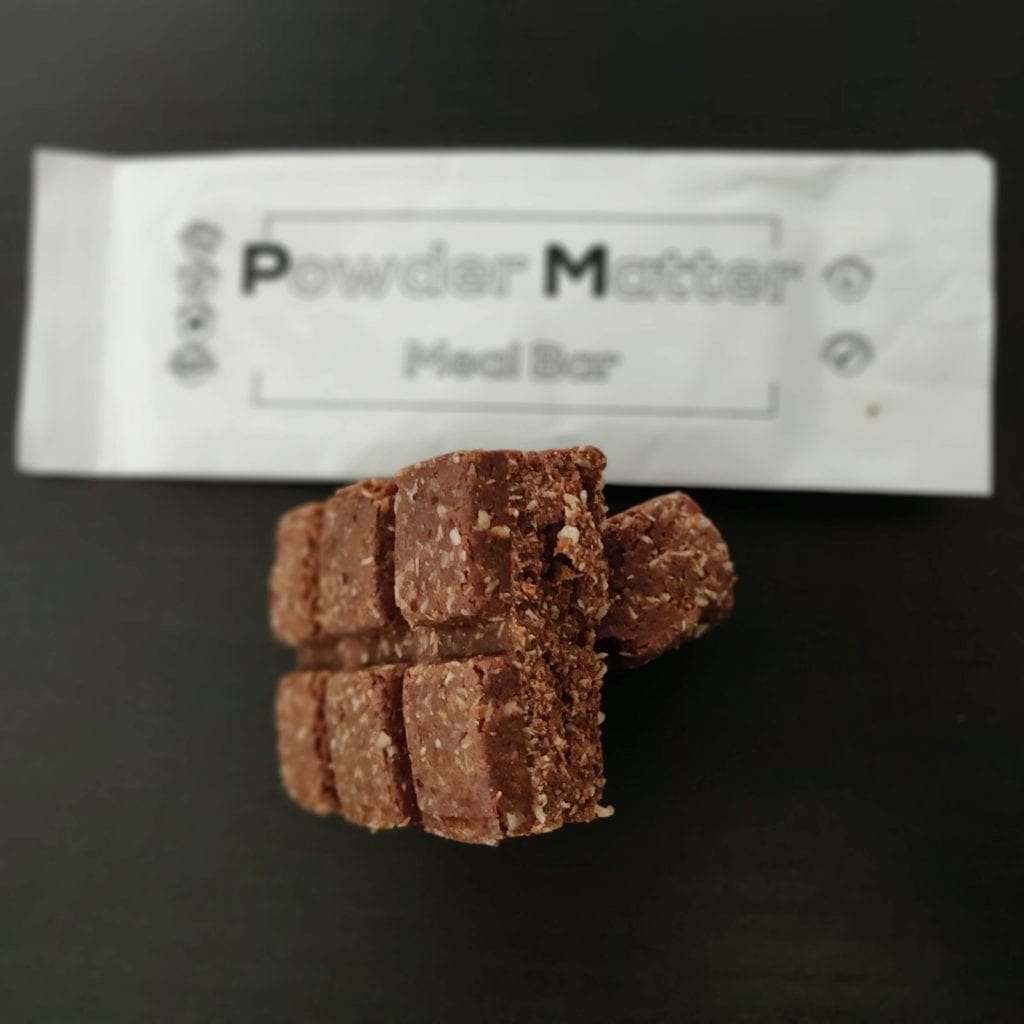 Whey Coconut is the mildest of all the iterations. For once, it is slightly drier. However, the taste is also less fruity and more like coconut milk. The whey is the most noticeable here and it gives a nice neutral flavour. I think this is the bar that is easiest to like, better for those who are not the biggest advocates of goji and zesty flavours.
Whey Cinnamon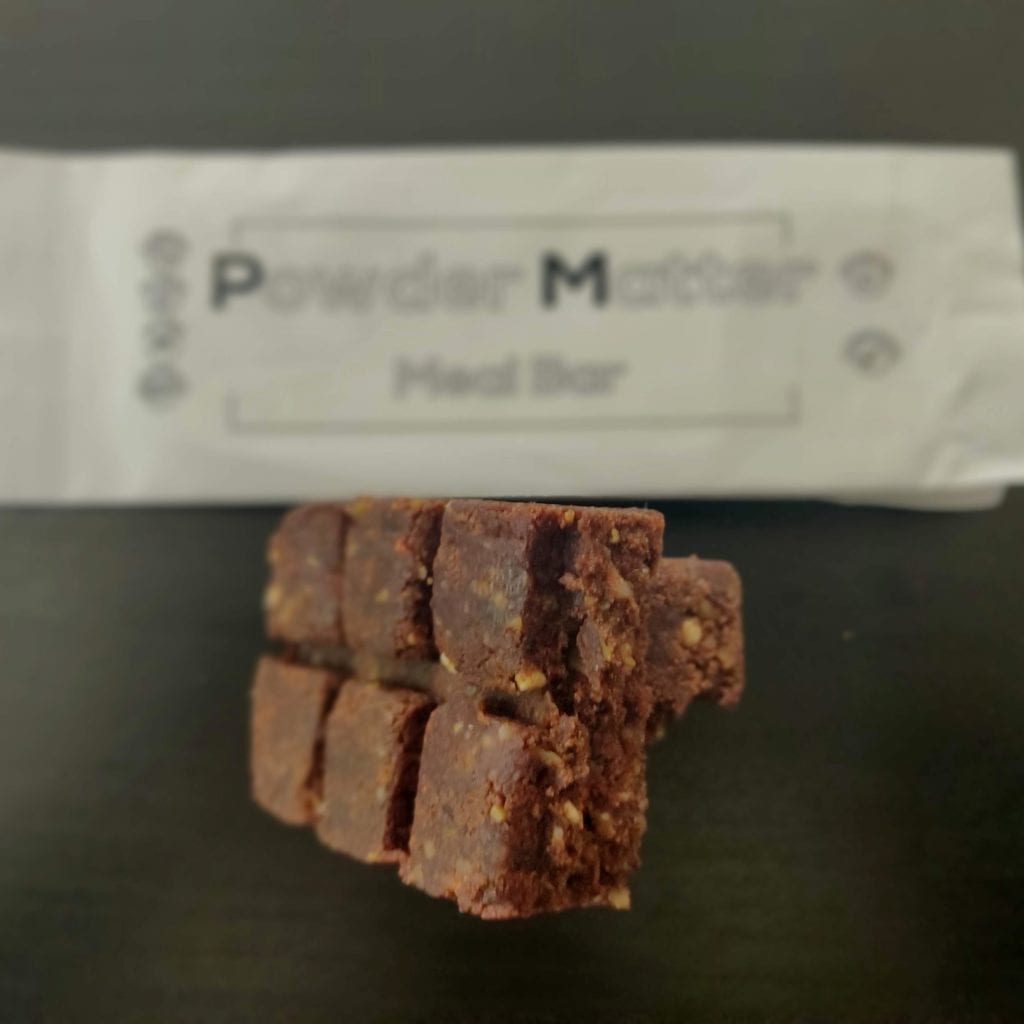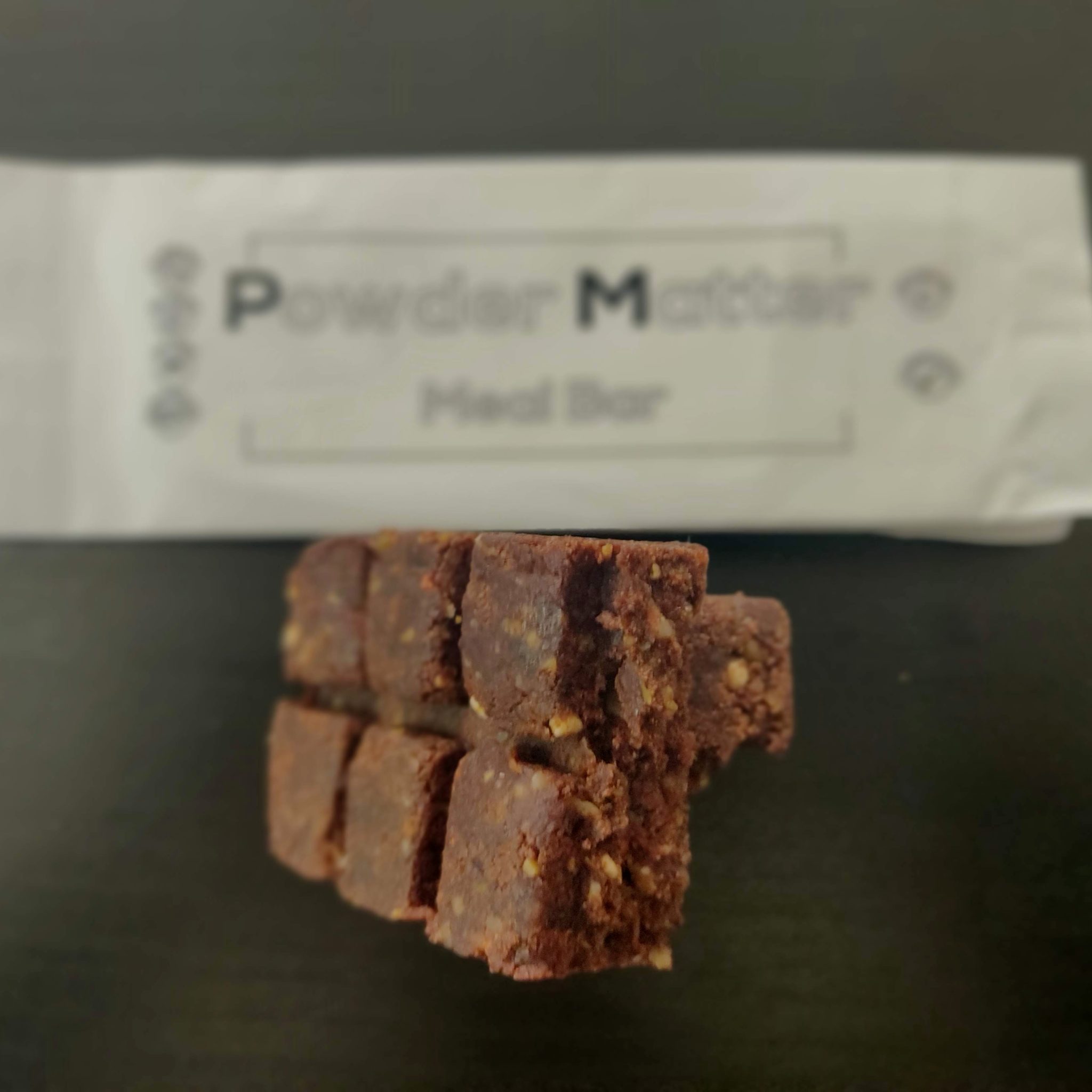 These are lovely bars, with great texture and taste. What I like the most about them is the complex flavour profile. Unlike many of the other bars, which resemble flavourless bricks with flavouring, there is a plethora of flavours in Powdermatter bars. A complex matrix of fruity and zesty flavours with more milky undertones from the whey.
Plant Based
Last but not least, we have the plant based recipe. There is one thing that makes these stand out: the almonds. It is fairly similar to Whey Cinnamon, with plenty of goji and fruity undertones; but the crunchiness of the almonds gives it a unique touch. Otherwise, the bar is soft and chewy, just like the rest of them.
In fairness, I think this is the weakest link of the three. It is somewhat drier and lacks the punch that the other two bars do.
Powdermatter Bar Nutrition
At first, Powdermatter will be offering 3 different bars; 2 of which will be whey based, and one will be plant based (vegan bar). While the ingredient list is mostly similar, and so it is the macronutrient split, there are some differences:

| % of Energy from | Plant Based | Whey-Cinnamon | Whey-Coconut |
| --- | --- | --- | --- |
| Carbs | 44 | 39 | 37 |
| Protein | 21 | 25 | 25 |
| Fats | 35 | 36 | 38 |
Ingredients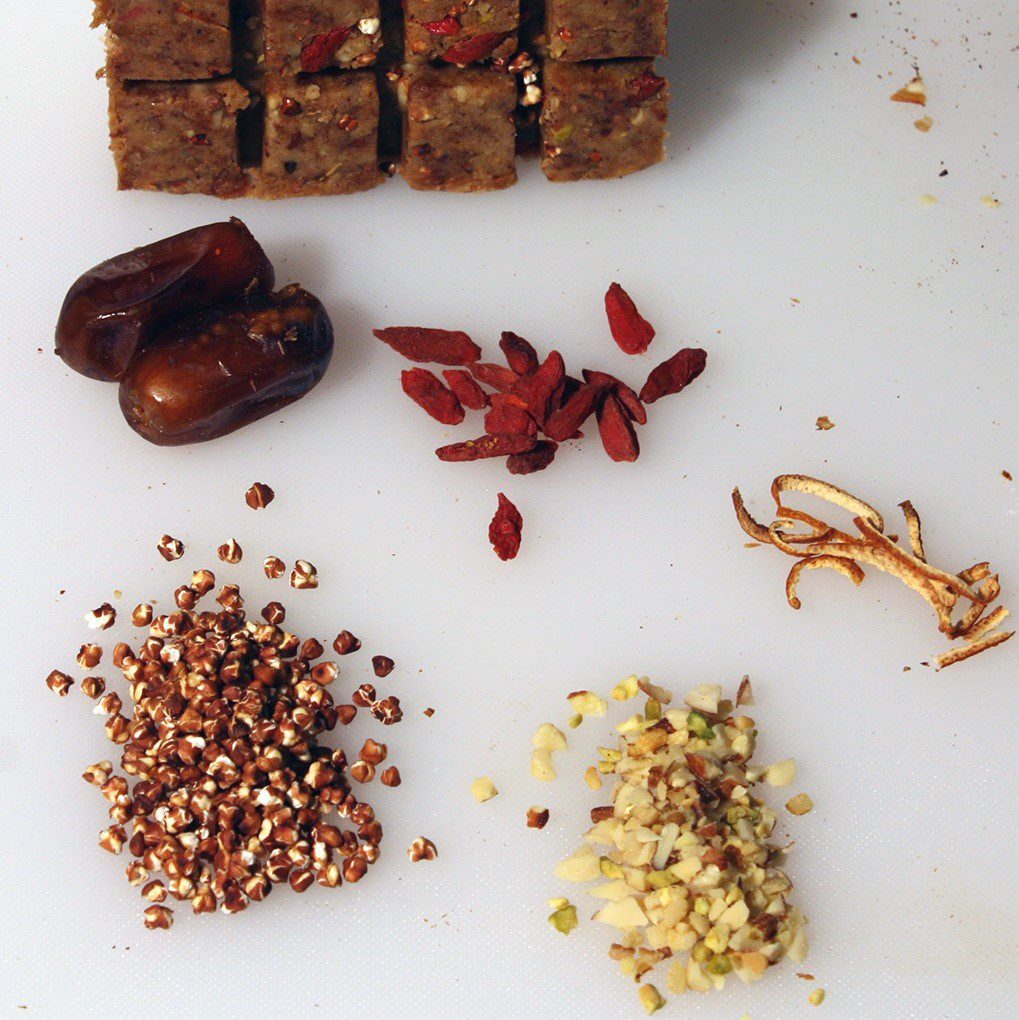 Ingredients (Plant Based): Dates, tahin, mixed nuts (almond, cashews, pistachios, walnuts), soy protein crisps, soy protein isolate, organic buckwheat meal, organic goji berries, vitamin & mineral mix, sunflower lecithin, flaxseed meal, lemon-oil, organic locust bean gum, orange zest, sumac, and chili peppers.
Ingredients (Whey-Cinnamon): Dates, tahin, whey protein concentrate, mixed nuts (almonds, cashews, Brazil nuts, pistachios, walnuts), ceylon cinnamon, cocoa, vanilla aroma, vitamin & mineral mix, organic sunflower lecithin, flaxseed meal, lemon oil, puffed quinoa, organic goji berries, sumac, and orange zest.
Ingredients (Whey-Coconut): Dates, tahin, whey protein concentrate, coconut, cocoa, vanilla aroma, vitamin & mineral mix, organic sunflower lecithin, flaxseed meal, lemon oil, puffed quinoa, organic goji berries, and sumac.
Carbohydrates
Based on Whey Cinnamon:
Total: 35g, 13.5% of RI.
Sugars: 23g, 46% of RI.
Fibers: 6g, 30% of RI.
All three bars have a relatively low total carbohydrate content (lowest being on the coconut based bar) and high sugar content. This high sugar content is perhaps nutritionally the biggest "weakness" of the bars.
Naturally Occurring Sugars: the Good and the Bad
Without a doubt this can be a deal breaker for many. However, it is worth considering that the bars have no added sugars; this is, they are all naturally occurring, mostly on dates (fructose).
Because Powdermatter Bars don't have poly-alcohol sugars, however, it does mean that they do not have any laxative effects that other bars might have. Another positive aspect is that the bars do not contain any artificial sweeteners.
Regarding fructose, the main concern with this sugar is often when paired with high calorie diets and its existence as added sugar in many foods that shouldn't contain any. It might also cause some issues for people that have absorption issues (FODMAP).
Protein
All three bars provide you with over 21g of protein per bar. Not an insignificant amount, and great considering the quality of sources. Soy and whey are two of the best protein sources, regarding absorption and completeness.
Personally, I'm a bigger fan of whey based products, due to the flavour and proven health benefits; but soy is a high quality protein too (unless you have an allergy).
Fats
All three bars will provide you with all the essential fatty acids that your body requires. This includes omega-3 fatty acids that we often lack in our diets (from flaxseed).
The plant-based and whey cinnamon formula take some of the fats from the nuts mix (cashews, almonds, paranuts, pistachio, walnuts). On the other hand, the coconut based bars contain fatty acids from this fruit.
High Saturated Fats in Whey Coconut
Just like any product that uses real coconut, it will be bound to have high saturated fatty acid content. In this case, each bar has up to 10g; which is half of the daily recommended. While some of these will be medium chain triglycerides, which have some health benefits; high saturated fat diet paired with an unbalanced diet can lead to problems with cholesterol and other cardiovascular issues.
Allergens
The whey based bars contain whey and nuts; whereas the plant based option has nuts and soy as allergens.
With the addition of YFood bars and the new Huel bars, the competition for meal replacement bars has become tougher in Europe. Still, Feed. has some of the best tasting bars and it's a standard to compare any other bar to. Here are some of the competition Powdermatter Bar will have to face
Queal Go vs Powdermatter Bar.
TwennyBars vs Powdermatter Bars.
Feed. Bars vs Powdermatter Bars.
The newly revamped Queal GO bars are great bars. The Nuts&Apricot was a nice surprise and surely will be the favourite of many.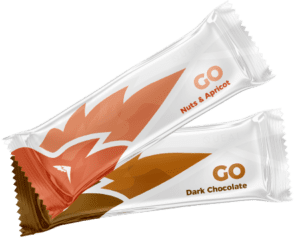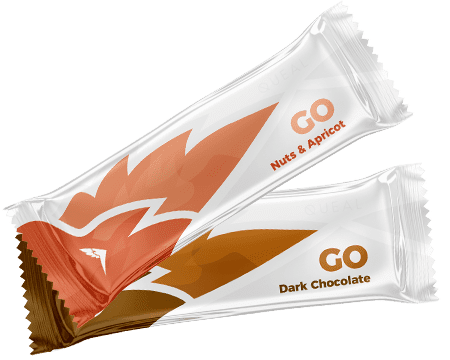 Flavours
Powdermatter Bars: Plant-Based, Whey-Cinnamon, and Whey-Coconut
Queal GO Bars: Dark Chocolate and Nuts & Apricot.
Price
Price

Powdermatter Bar

Queal GO

EU (€)
per 400 (expensive)
3.5
3.00
per 400 (cheapest)
3.0
2.55
Taste
Both Queal GO bars are quite different from each other. Dark Chocolate is the more sweet and protein bar like; whereas Nuts&Apricot is a nut snack bar.
On this regard, Powdermatter offers a richer more complex bar, with a very spiced up profile. It's bigger, and more satiating than the Queal bars; and while I love the taste, it is more peculiar.
Nutrition
| | | | | |
| --- | --- | --- | --- | --- |
| per serving | Powdermatter Bar (Plant) | RI (%) | Queal GO Nuts | RI (%) |
| Energy (C/P/F) | 44/21/35 | – | 35/18/47 | – |
| Energy (kCal) | 399 | 20 | 207 | 10 |
| Fats (g) | 15.7 | 22 | 10.8 | 1.5 |
| Saturated (g) | 2.5 | 13 | 1.5 | 8 |
| Carbs (g) | 40 | 15 | 16 | 6 |
| Sugars (g) | 26 | 52 | 7.3 | 8 |
| Fiber (g) | 7.0 | 35 | 5.1 | 26 |
| Protein (g) | 21.0 | 42 | 9.4 | 19 |
| Salt (g) | 0.8 | 13 | 0.2 | 3 |
There are significant differences in the macronutrients between Dark Chocolate and Nuts&Apricot bars in Queal. Please check the nutrition label first.
What Should I Buy?
I would recommend the Queal bars for those who are looking for snacks, despite the fact that Powdermatter bars can be split in two to achieve the same effect. They are slightly cheaper as well, and perhaps easier to like for those who don't like spices.
However, in my experience I enjoyed the Powdermatter bars more. The complex flavour profile is very pleasant and the ingredients are more natural; which I enjoy more.
---
Jimmyjoy's Twennybars are one of the longest standing meal replacement bars. Their success is simple: good taste and price.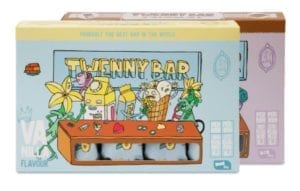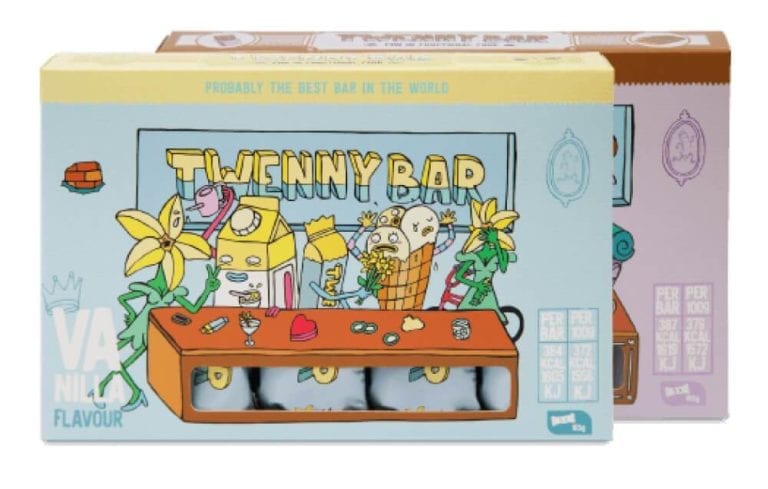 Flavours
Powdermatter Bars: Plant-Based, Whey-Cinnamon, and Whey-Coconut
TwennyBars: Chocolate and Vanilla.
Price
Price

YFood Bar

Twennybar

EU (€)
per 400 (expensive)
3.5
2.34
per 400 (cheapest)
3.0
1.99
Taste
Both Twennybars are quite tasty. However, in my opinion the vitamins and minerals are too noticeable, particularly in the chocolate flavoured bar. The consistency of the bars is more compact that Powdermatters too, which is a little crumblier.
I personally favour the more complex flavour profile of Powdermatter bars, but if you are not fond of spices I would recommend sticking with Twennybars.
Nutrition
| | | | | |
| --- | --- | --- | --- | --- |
| per serving | Powedermatter Bar | RI (%) | Twennybar | RI (%) |
| Energy (C/P/F) | 44/21/35 | – | 47/20/33 | – |
| Energy (kCal) | 400 | 20 | 385 | 19 |
| Fats (g) | 15.7 | 22 | 15 | 21 |
| Saturated (g) | 2.5 | 13 | 4.0 | 20 |
| Carbs (g) | 40.0 | 15 | 46.0 | 18 |
| Sugars (g) | 26 | 52 | 5.4 | 6 |
| Fiber (g) | 7.0 | 35 | 9.3 | 47 |
| Protein (g) | 21.0 | 42 | 20 | 41 |
| Salt (g) | 0.8 | 13 | 1.2 | 20 |
What Should I Buy?
If you want simple flavours, then Twennybars will be your choice. Even more if you are looking for the most affordable option. However, if you are looking for a vegan bar, or you find the old vanilla and chocolate too boring; Powdermatter bars are the ones. I also enjoy the more natural ingredient list of Powdermatter more.
---
I think that Feed. Bars are the best tasting bars in the market. It is not only me, but an opinion that is widely spread among the enthusiasts. Feed.'s bars are the ones to beat. Despite Feed. having a Light range for bars (which taste great too), I will only compare them to the original range.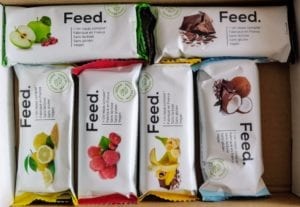 Flavours
Powdermatter Bars: Whey Cinnamon, Whey Coconut and Plant Based.
Feed. Bars: Chocolate, Coconut, Banana & Chocolate, Lemon & Amaranth, Red Berries, and Apple & Cranberries.
Price
Price

Powdermatter Bar

Feed Bars

EU (€)
per 400 (expensive)
3.5
3.50
per 400 (cheapest)
3.0
2.8
Taste
One of the strengths of Feed.'s bars is not only the taste but the variety. All 6 flavours have a distinctive taste; and slightly different texture. Nevertheless, most of them are very enjoyable, Coconut, Chocolate and Lemon&Amaranth being the best, in my opinion.
I would still say that those three are somewhat tastier than Powdermatter bars.
Texture wise, both brands do a great job offering some of the most satisfying bars to eat.
Nutrition
| | | | | |
| --- | --- | --- | --- | --- |
| per serving | Powdermatter Bar | RI (%) | Feed. Bar | RI (%) |
| Energy (C/P/F) | 44/21/35 | – | 49/20/31 | – |
| Energy (kCal) | 399 | 20 | 400 | 20 |
| Fats (g) | 15.7 | 22 | 14.2 | 20 |
| Saturated (g) | 2.5 | 13 | 2.3 | 11 |
| Carbs (g) | 40.0 | 15 | 45.3 | 17 |
| Sugars (g) | 26 | 29 | 21.7 | 24 |
| Fiber (g) | 7.0 | 35 | 8.4 | 42 |
| Protein (g) | 21.0 | 42 | 20 | 40 |
| Salt (g) | 0.8 | 13 | 0.5 | 8 |
Both bars are gluten-free, lactose-free and vegan. However, I think nutritionally Powdermatter takes the edge, with less processed ingredients, better sugars and more balanced nutrition.
What Should I Buy?
If you are looking for flavour variety and taste, then I would recommend going for Feed. Otherwise, I think you will find Powdermatter Bars to be better fitted for you.
---
Other Bars and Alternatives
If you are looking for something different, such as fully organic bars, I would recommend you looking the best bar selection.
More About Powdermatter Bars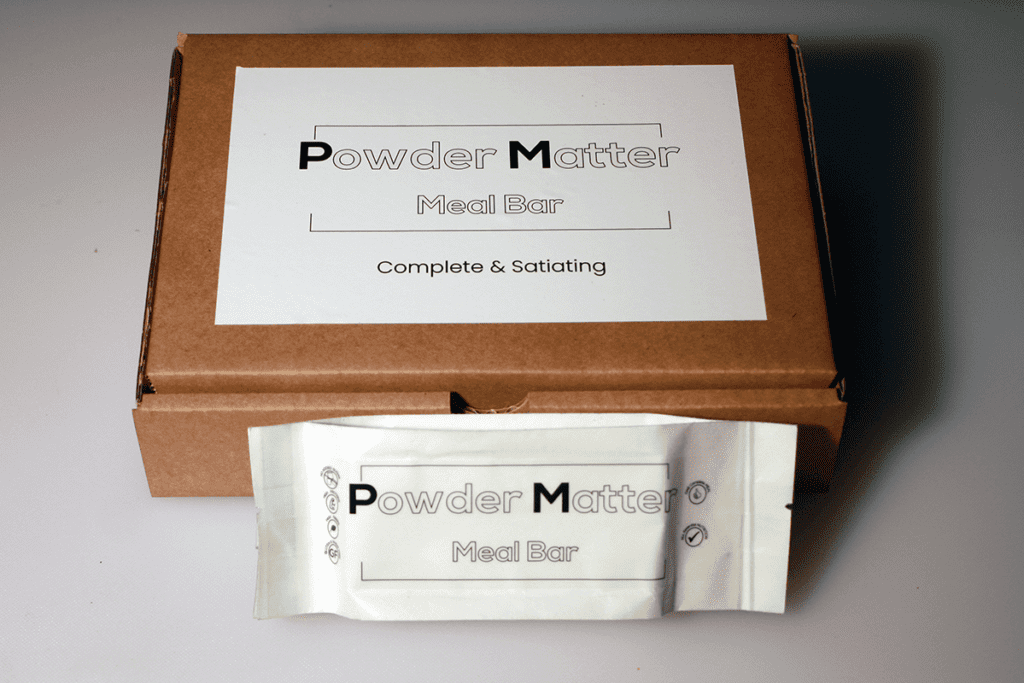 Something that perhaps is not so clear on the site is the packaging and the whole pricing scheme of the bars. Let's try to shed some light on that.
Minimum order is 3 bars if you are only buying bars.
After 6 bars you will get a discount and each bar will cost you €3.2. These will come in the boxes shown above.
The maximum discount is €3/bar which is achieved when ordering 30 bars (5 boxes of 6 bars).
You can order the quantities for each flavour individually (you order per bar).
You can order 1 bar only when ordering other Powdermatter products.
I would honestly recommend trying out at least one of each (unless you have dietary restrictions); since all three offer something different (taste wise).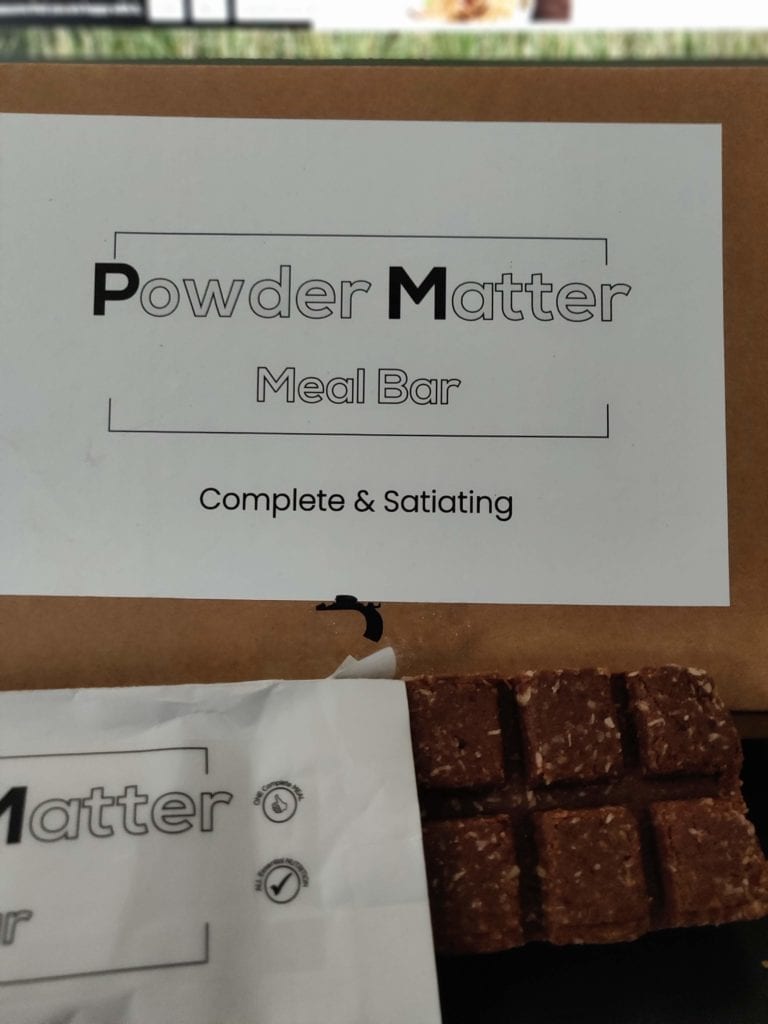 Shipping & Shelf Life
Regarding the shipping, I would recommend you checking Powdermatter's page on the matter. The prices depend on the country and the weight of the order. You will be able to order the bars from both Europe and the US, but while in the first you will be able to get free shipping, in the second you won't.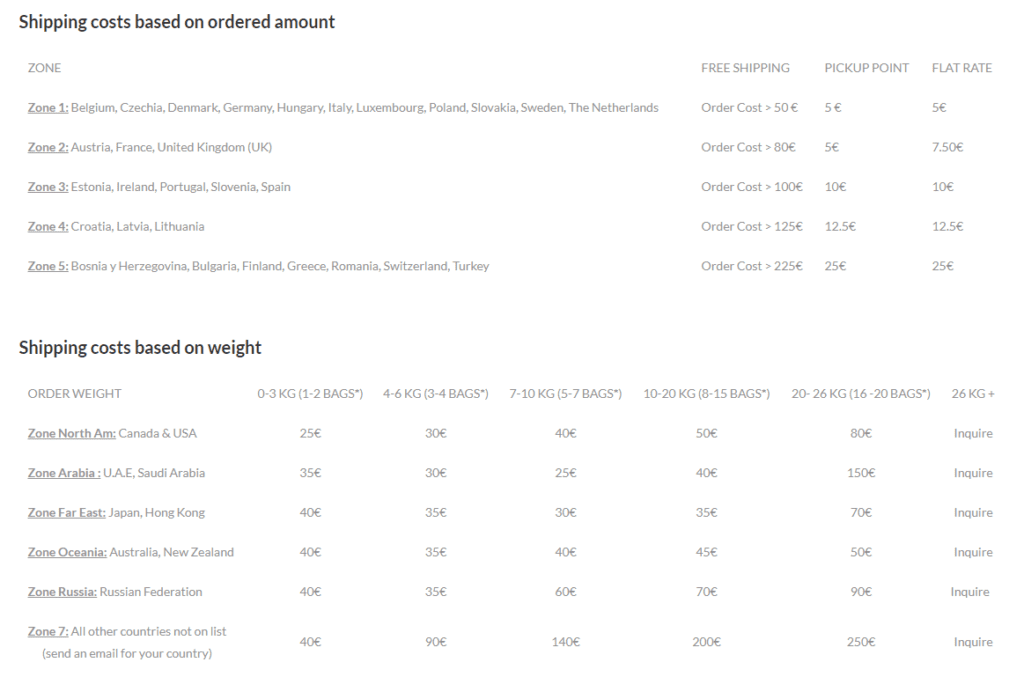 Regarding the shelf life of the bars, they should be good for 9-12 months when stored in a cool dry place. The texture might be drier, but the taste will still be good; as well as the nutrients.
Are Powdermatter Bars vegan?
Only one of them is vegan: the plant-based recipe.


Are Powdermatter Bars gluten-free?
Yes, all bars are gluten-free.


Can I only consume Powdermatter Bars?
Despite lacking some of the ingredients that cause laxative effects, and being safe to consume as sole source; I would advise against it. The bars have high level of sugars.


I'm lactose intolerant. Can I have Powdermatter Bars?
Yes, you can consume the plant based formula.


Is Powdermatter available in the US?
Yes, you can purchase from the US, however, there is a shipping fee according to the weight of the order. Please check the shipping information at Powdermatter.com.


Where are the Powdermatter Bars produced?
The bars are produced in the Netherlands.


Are Powdermatter bars organic?
They are not fully organic, but they contain organic ingredients, such as puffed buckwheat and goji berries. They are without artificial sweeteners and added sugars, though.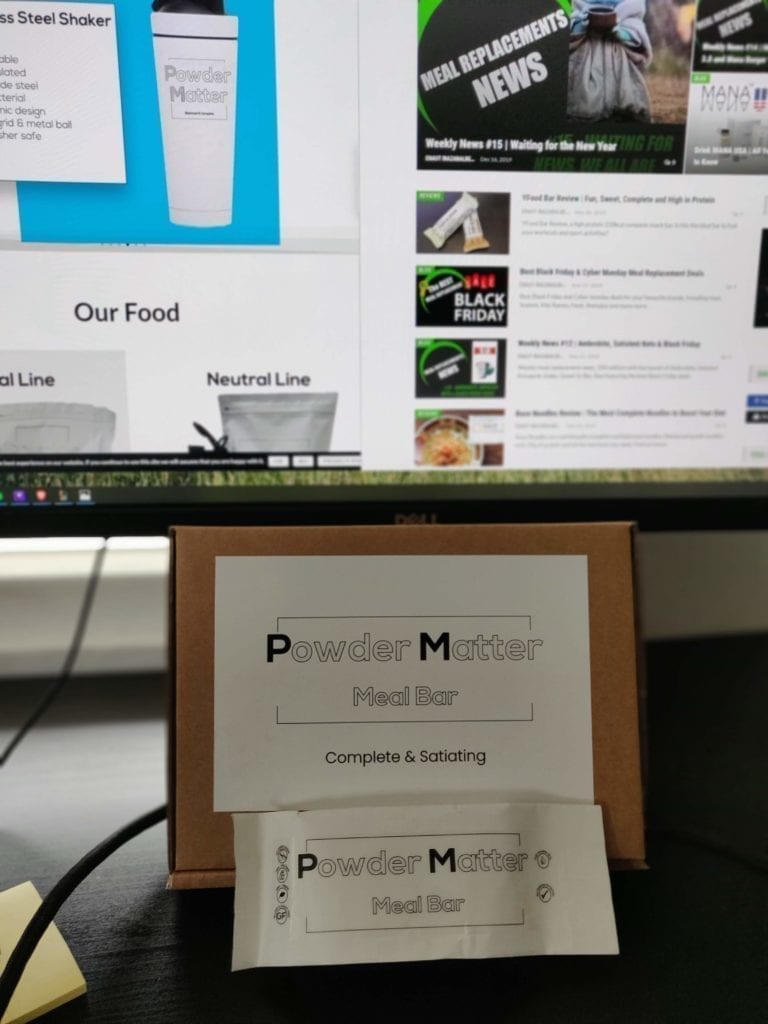 ---
Verdict
Honestly, I think these are some top 2 meal replacement bars in the market. It is the perfect storm between a complex and enjoyable taste, good quality ingredients, very satisfying feeling afterwards and above average nutrition.
This last point is perhaps the weakest, simply due to the high amount of sugars. However, when developing a bar you have a choice to make: sugars or artificial sweeteners, Powdermatter bar has neither added sugars or sweeteners, but it has dates, which are naturally high in fructose.
Thus, I can see that being a problem for some. However, the rest of the nutrition is very good; and you can either opt for a vegan bar or a whey based one. Personally, I enjoyed the whey-based ones more.
Besides, I think the bars are rightly priced. They are not the cheapest, nor can compete with powder based products; but it is understandable for the ingredients and the format.
This is a highly recommended product, one that I would enjoy myself everyday if I had an infinite amount of.
Powdermatter Bar
From €3.0
Pros
Vegan and non-vegan bars available.
Very natural, complex and exotic taste.
High quality ingredients with very few processed.
Gluten-free, sucralose free, no added sugars.
Cons
High sugar content (from dates).
High saturated content on Whey Coconut
Bars can feel similar.