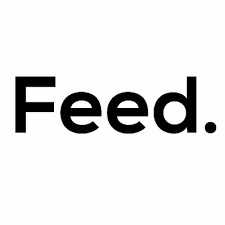 Vegan, gluten-free, lactose-free, non-gmo, locally produced… they are buzzwords common in the European meal replacement market. However, Feed. takes this approach to another level and even offers an organic range certified by independent labs. All of this, while offering an unmatched product (RTDs, powders, bars) and flavour variety with clear French culinary influence. This is an in-depth Feed. review on why they have some of the best tasting meal replacement shakes in Europe.
[better-reviews]
In all honesty, Feed. is one of the best brands to buy from. They have the biggest variety, some of the best tasting meal replacement products and an excellent delivery. It feels like a premium experience, that is worth every penny.
What I like
1. The best array of products. It is simple, Feed. has the best range of product of any meal replacement company. This makes being a customer of Feed. exciting. Looking for a bar? You got it. Looking for Organic? That, too. Looking for RTD? Of course.
2. Best flavours (and the most variety). Simply put, Feed. has some of the best tasting shakes and bars in the industry. Great flavours, great texture and packed with good nutrition.
3. Savoury flavours. They taste great, they are an awesome break from the sweet shakes and are very unique in the market. Some of my favourites.
4. Nutritionally different products. Another strong point is that they have goal oriented (Sports, Light) shakes, as well as, shakes that fit different diets (low carb, organic).
5. Professional aura. Some brands feel cheap or do not look good. Feed. has an aura of quality and professionalism; that makes the whole experience more enjoyable. The packaging feels good, the shaker is top quality and every detail seems to be important.
6. Multiple packaging options. Often brands need to make compromises on offering individual pouches, or bigger bags. Not Feed.; they offer both. Individual or small bags for those looking for convenience and bigger ones for those who care about the budget.
What I dislike
1. Powder in the bottle. This system, while it works in theory, seems wasteful and it does not mix very well (you will always have lumps).
2. Feed. Light system and pricing. While for the rest of the products, I believe the pricing is fair and mostly affordable; Feed. Light is too expensive (per calorie). I think this is due to the horrible buying system (while cool); that artificially increases the price.
3. Feed. Sports Green Vegetable. Simply avoid this flavour, it is terrible (very unusual).
4. No subscription option. As a customer, I like to have the ability to subscribe to the brand to get regular orders without having to worry. Not having this option, it is a nuisance and also limits my opportunities to earn rewards.
Improvements
1. Change the purchasing for Feed. Light.
2. Website navigation. While it has improved a lot, it is still a little overwhelming for the new customer.
3. Option to subscribe.
How does Feed. Taste Like?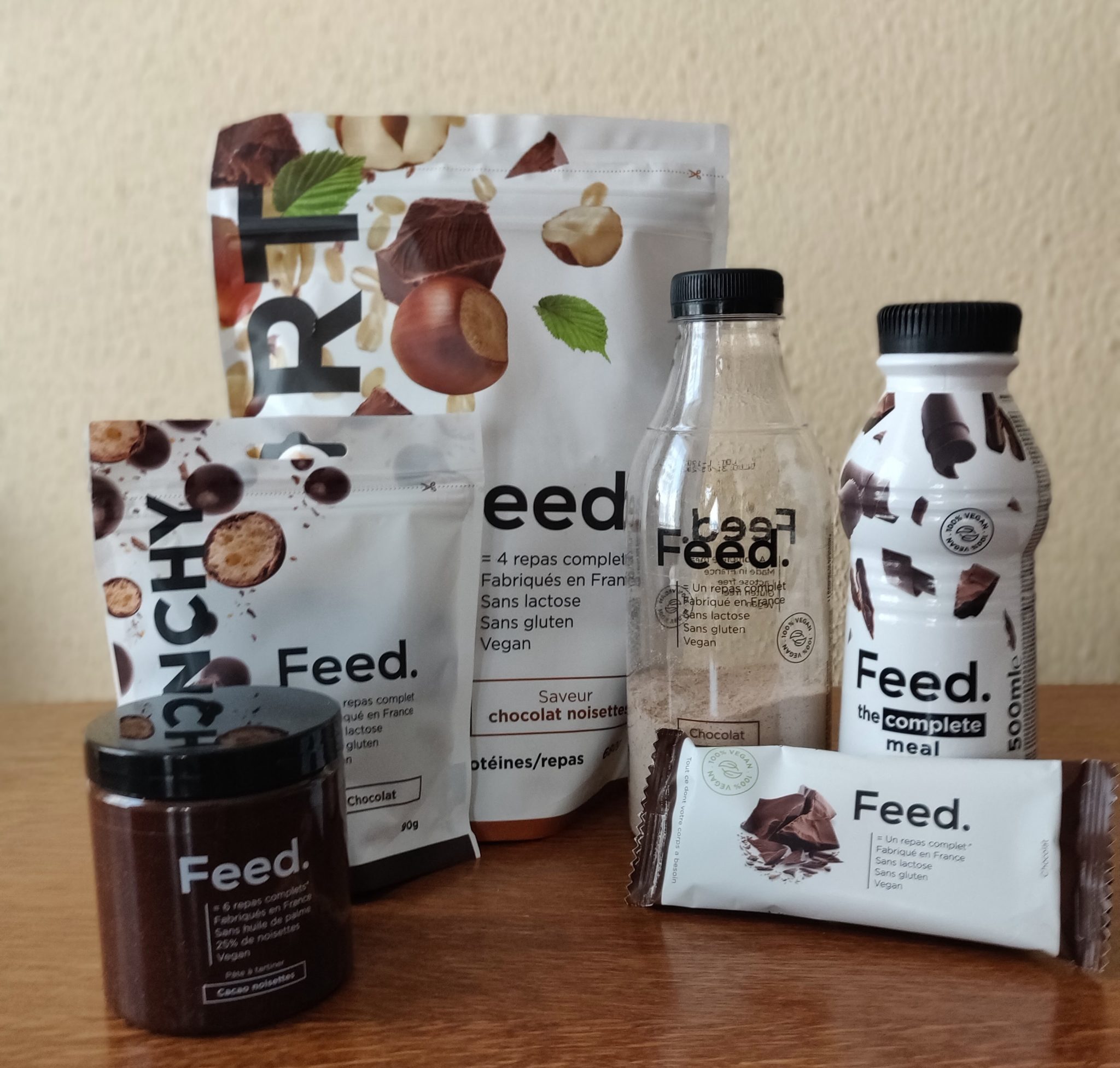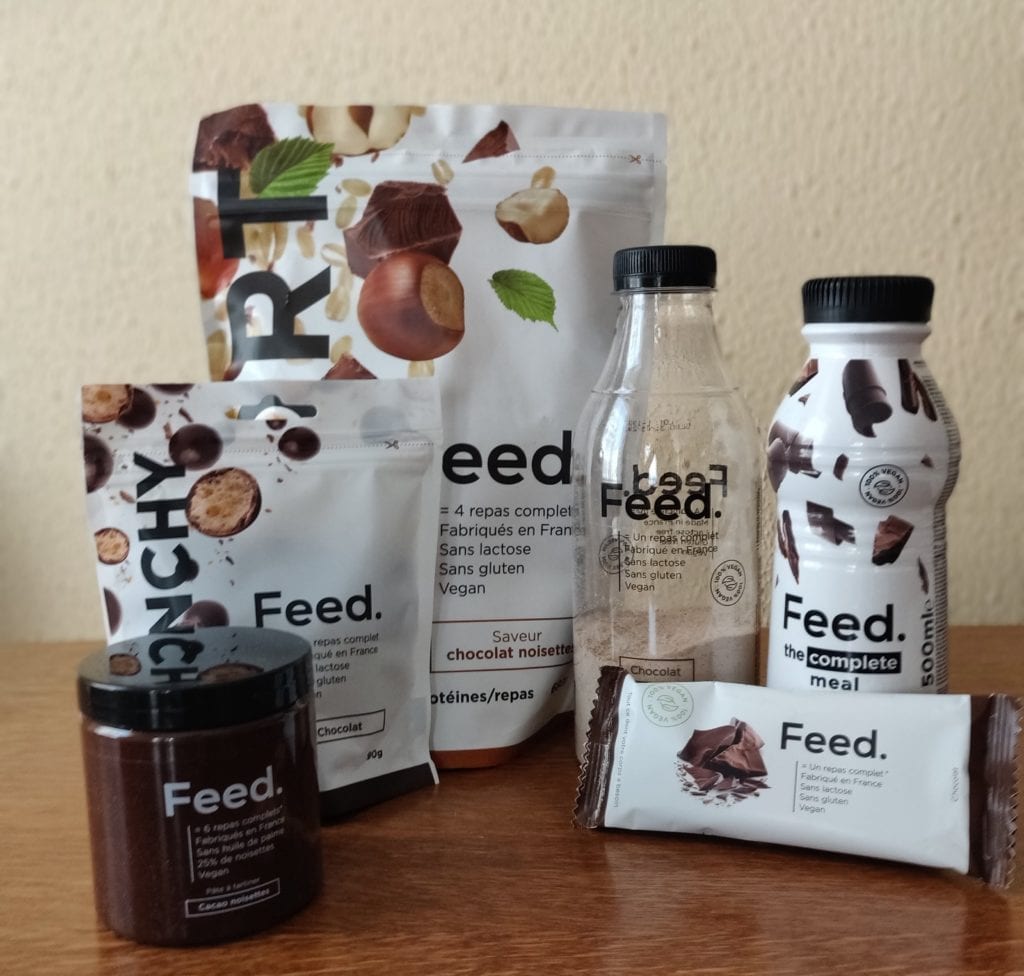 As a small disclaimer, I must say that taste is very subjective and often a point of discussion. However, I think I will agree with most users here, when I state that Feed. has some of the best flavours in the industry.
Feed. Powder: Great Taste and Variety
| | | | |
| --- | --- | --- | --- |
| | Light | Normal | Sports |
| Texture | 3.5/5 | 4/5 | 4.5/5 |
| Taste | 4/5 | 4.5/5 | 4.5/5 |
| Satiety | 5/5 | 4.5/5 | 4/5 |
| Best | Green Tea | Porcini Mushroom | Chocolate Hazelnut |
The amount of flavours available if we considered all the powder variants (Light, Sports, Organic and Normal) is absurdly high (the highest by any single brand). This is often synonym of them using cheap flavourings, but this is not the case for Feed. All powders have high flavour fidelity (resemblance) and each one offers a unique and tasty experience.
Feed. Sports; It Is All about Chocolate Hazelnut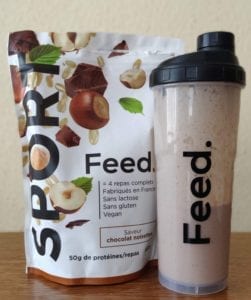 At first I thought it was too rich in hazelnut. However, it grew on me and I believe that it is the best flavour, perhaps from all the Feed. lineup. The Banana flavour is surprisingly good too, with a nice thickness and consistency.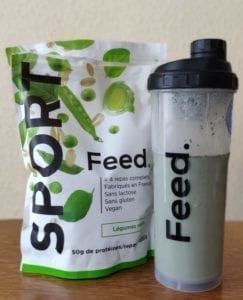 On the contrary, I would avoid is Feed. Sports Green Vegetables. I thought this shake was one of the worst I have tried, too spiced, too salty and almost undrinkable.
One thing they all have in common is the thickness, even when you use 600ml of water, which make it for a fairly big meal; good to quench your hunger for over 4h.
Feed Normal: Porcini Mushroom, a Surprising Winner
From the Normal and Organic flavours, I found Porcini Mushroom to be my favourite. It has a nice soup like taste, with a good balance of spices and mushrooms. Furthermore, I was greatly surprised by all savoury variants (shown below); and I think they offer a good alternative to sweet shakes.
Besides, I thought the organic Tomatoes flavour was very good too, while perhaps a little bit too spiced. In fact, it is a weird shake to drink, since it has actual seeds on it, which you need to chew on.
Regarding the sweet flavours, the Chocolate one is the best, with Coffee close behind it. I do believe that this flavours are easier to pick up, and I would recommend them to a beginner.
Best if you use a shaker.
Feed. Light Peach Green Tea, a Pleasure
Regarding Light variants, I think that Peach Green Tea is the most refreshing and tasty shake of them all. It has the most balanced flavour, it is easy to drink and fills you up.
Overall, these shakes are a little more watery than the rest, and the flavours more muted. Thus, the rest of the options, feel a little bit underwhelming, when compared to normal Feed. One thing that Feed. Light shakes do surprisingly well is quenching your hunger for 3h, with only 300kcal.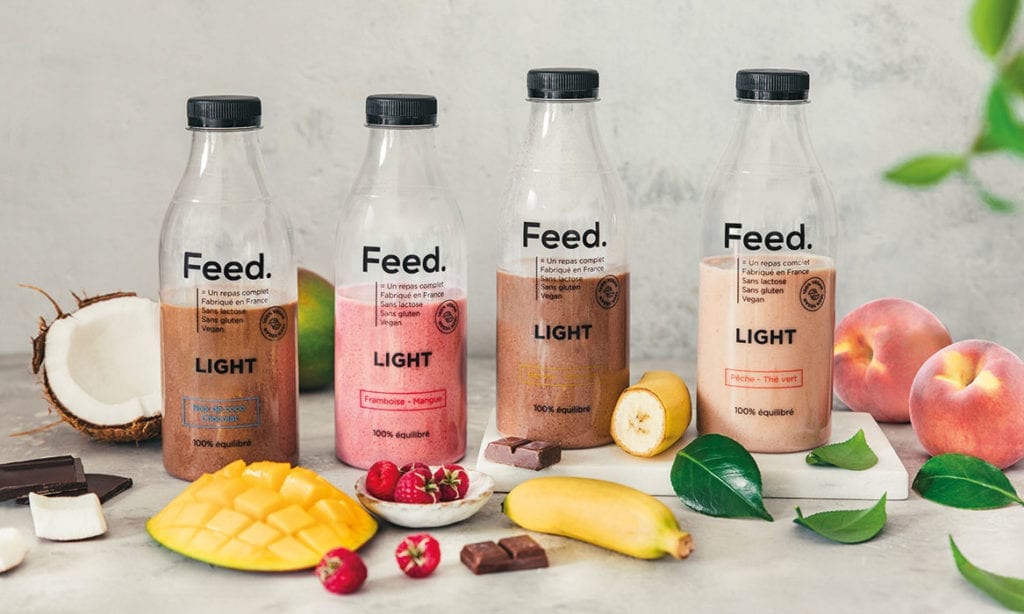 Feed. Bars, Unparalleled Taste
Coco> Chocolate> Lemon & Amaranth > Apple & Cranberry > Banana & Chocolate > Red Berries.
The selection of meal replacement bars that Feed. offers in much wider than any other brand, and not only that; but from the taste standpoint they are miles ahead anyone else.
I do not say this lightly, and I could easily put almost every Feed. Bar above any other bar that I have tried. It will ultimately come to preferences, since they are some nut based bars (GO Bar and Break) that offer a different experience. Nevertheless, Feed.'s bars should be your go to if you enjoy protein bar like meals.
Feed. Coco, The Best
Above the rest, the Coco flavour is the real winner. It has an incredible texture, a nice balance of sweetness and it is really pleasant to chew on. Great bar starting from the texture to the flavour. In fact, it is the best rated flavour when consulting with other experts.
Second is the Chocolate flavour, nice soft and with a sweet chocolate flavours, slightly reminiscent to a brownie. For something more acidic or with a less sweet flavour profile I would recommend the Lemon or Apple bars.
A Big Meal
The Feed. bars are truly a meal that makes you full. Each bite takes you a while to chew and you will need a few minutes to eat the full bar. This helps you with feeling like you have eaten a bigger meal. When you finish with the bar, you will fill full for 4h without any issues.
Feed. RTD, The Weak Link
Chocolate > >Red Fruits > Vanilla
In my experience, the RTDs where the most underwhelming of all Feed. products. By no means I mean that they tasted bad, just that they were not as stand-out as the rest.
Overall, they were too sweet and artificial for my liking. Particularly the Vanilla RTD was faulty of this. It is not an RTD that I would drink lately. I felt that I needed to drink more water afterwards.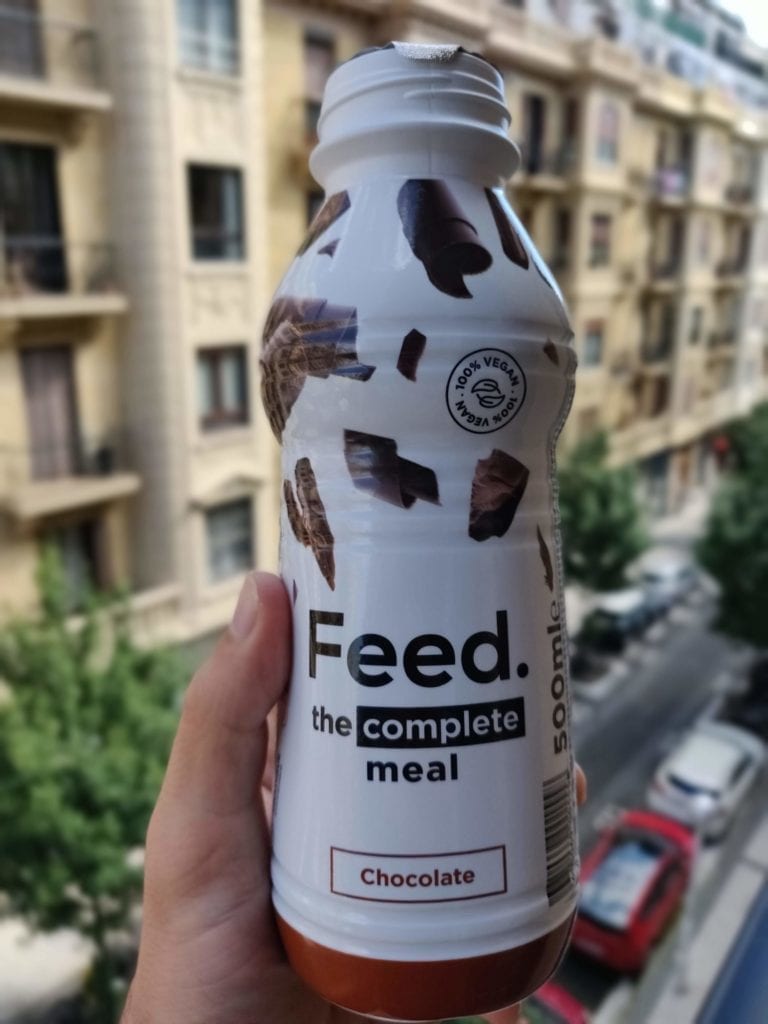 The chocolate RTD was the best of all, with a nice thickness and less soy taste than other competitors. Regarding the Red Fruits, much of the same, too sweet.
What PRODUCTS does Feed. offer?
Feed's line up of products and flavours is absolutely incredible and unmatched. It is so vast that I do not know where to start. First of the flavours. Feed offers up to 8 different flavours in some of their products. It is not only the variety but the nature of these flavours, as extravagant as Spicy Tomato or Carrot & Pumpkin – many certainly not for everyone.
On top of that, Feed offers a ready-to-drink product; a powder in a bottle version; a bar; powder meal replacements with both caffeine and sport iterations; and you can choose between organic and non-organic. Furthermore, they have added the Light range with bars and powders dedicated to those who are looking to lose weight.
Plus, they just released a Chocolate Hazelnut Spread to add to bread and have a different meal, still with all the nutrients that you need. Last but not least, there is Crunchy, in short, nutritionally complete Maltesers.
If you have been able to wrap your head around all that, congratulations. Here is a quick rundown: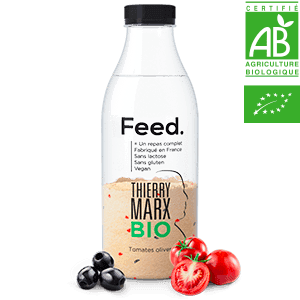 Feed. Original & Organic
Meal Replacement
Add water only
600-660kcal/meal
12P/48C/40F % of Energy from
30.9g of sugars/2.5g of Saturated Fats per serving
Price Original: €3.9/meal
Price Organic: €7.9/meal
Soy*
---
Feed. RTD
Meal Replacement
Ready-to-drink
650kcal/meal
15P/52C/33F % of Energy from
5.1g of sugars/1.6g of Saturated Fats per serving
No subscription: €4.9
Soy*
---
Feed. Powder
Meal Replacement
Powder
657kcal/meal
15P/52C/33F % of Energy from
5.1g of sugars/1.6g of Saturated Fats per serving
Small (5 servings): €3.7/meal
Large (20 servings):3€/meal
Soy*, Caffeine*
---
Feed. Sport Powder
Meal Replacement
Powder
676kcal/meal
33P/34C/33F % of Energy from
5.5g of sugars/2.3g of Saturated Fats per serving
Small (4 serving): €4.63/meal
Soy*
---
Feed. Light Powder
Meal Replacement
Powder
300kcal/meal
28P/57C/15F % of Energy from
3.2g of sugars/0.6g of Saturated Fats per serving
Small (4 serving): €4.63/meal
---
Feed. Bars Original & Organic
Meal Replacement
Bar
400kcal/meal
20P/49C/31F % of Energy from
23.7g of sugars/1.38g of Saturated Fats per serving
Normal: €3.5/bar
Organic: €6.5/bar
Soy*, Almonds*
---
Feed. Bars Light
Meal Replacement
Bar
241kcal/meal
20P/45C/35F % of Energy from
6.9g of sugars/3.8g of Saturated Fats per serving
Most expensive: €3.67/bar
Cheapest: €2.93/bar
Soy
---
Feed. Spread
Meal Replacement
Spread
405kcal/meal
13P/52C/35F % of Energy from
11g of sugars/3.5g of Saturated Fats per serving
€1.65/meal
Soy
---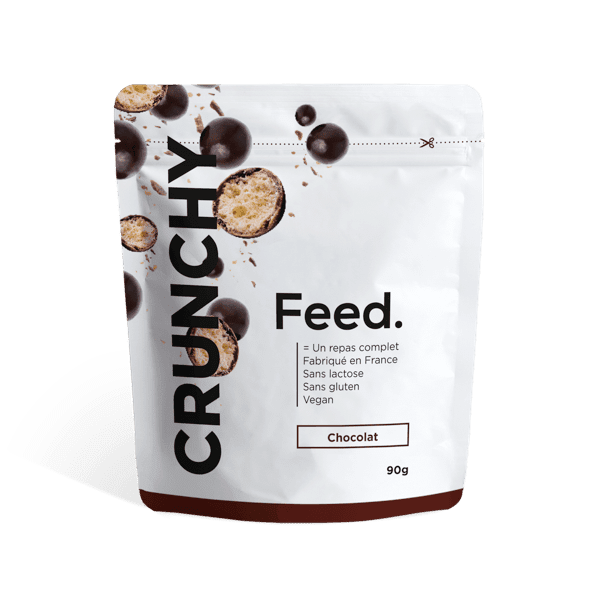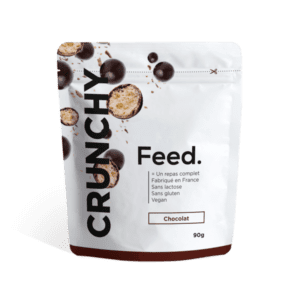 Feed. Spread
Meal Replacement
Solid
388kcal/meal
15P/44C/41F % of Energy from
22.4g of sugars/10.4g of Saturated Fats per serving
€4.50/meal
Brief Reviews of Feed. Products
This is a section where I do a quick overview and analysis of all Feed. products:
If you want, you can also skip to the nutrition section.
Brief Feed. RTD Review
Feed.'s incredible line-up is hard to cover. However, these products aim to deliver convenience and simplicity. Overall, the ready-to-drink options are smooth, slightly too sweet and more artificial tasting than the products. Despite the harsh critique, I do think they are one of the best RTD shakes in Europe.
"Only" Vanilla, Chocolate and Forest Fruits are available in the RTD format. While the individual nutritional specifications may vary, they are currently sold in bottles of 500ml that provide you 1/5th of your daily needs. This is, around 400kcal and 20% of your daily micronutrients. Regarding the macros, the RTDs come with 15g of protein, 15g of fat and 55g of carbohydrates.

Brief Pre-Powdered Bottle Review
The pre-bottled ones come in organic and non-organic flavours. There are currently only two organic flavours, which are Strawberries & Basil and Tomatoes & Olives (which made it into our top organic shake picks).
Regarding the non-organic choices, these include; Chocolate, Garden Vegetables, Carrot & Pumpkin, Red Berries, Porcini Mushrooms, Spicy Tomatoes and Coffee (caffeinated). Certainly the oddest variety I have so far seen. The organic iterations are also significantly more expensive than the non-organic version (4€ more).
One issue with this model is that they do not mix very well. It is somewhat dependent on the flavour, but on average you will find some lumps on the shake.
Non-Organic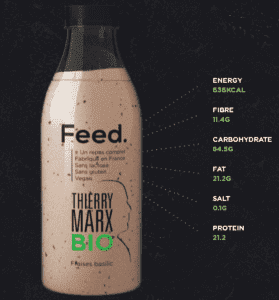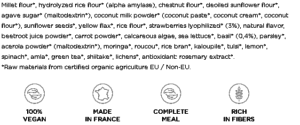 Organic
Which one should you choose, the pre-bottled one or the RTD? The RTD is €1 more expensive (€4.9) than the the powder in the bottle version. The latter also have more flavour options, including the caffeine version. If you are looking for the smoothest shake and most convenient on the go, the RTD is your choice.
Brief Feed. Powder Review: Normal, Sport and Light
The powder meal replacements Feed. offers are as extensive as the ready-to-drink versions. First and foremost, they have the Sport (€4.63/meal) and normal versions (€3.7/meal). Furthermore, the latter can be purchased in larger bags (20 servings) at a lower cost per meal (€3).
Feed. Sport with Extra Protein

The main difference between the Sport and the normal iterations is the protein content; which is higher in the first. It also comes with more calories, but not significantly, not as much as other brands do with the Sport variations. Banana, Chocolate Hazelnut and Green Legumes are the flavour choices.
One interesting thing about Feed. Sports is that you can buy it in 3 sizes: individual servings; 4 meal pouches; and 15 meal pouches.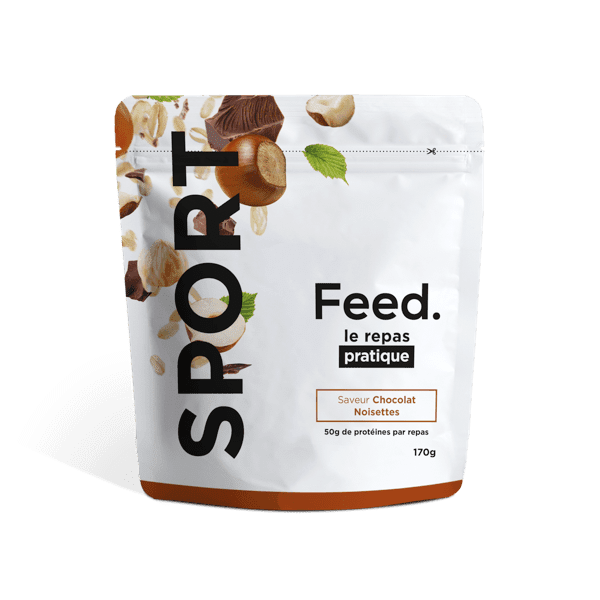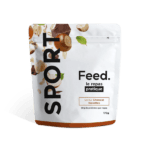 €4.9/bag
€2.82/400kcal
€18.5/bag
€2.66/400kcal
€60.0/bag
€2.30/400kcal
It is curious to see that the extra protein in the Sport variation comes at the cost of carbohydrates, because these are primordial in fueling active individuals during sports. I think I would have liked to see a more calorie rich iteration, which is based in a 2,500kcal diet instead of a 2,000kcal diet.
Feed. Powder: Flavour Heaven
The original version comes in more flavours including: Chocolate, Garden Vegetables, Red Berries, Spicy Tomatoes, Porcini Mushrooms, Carrot & Pumpkin, and Coffee (caffeinated). These can all be purchased in the 20 servings bag (€60) and there is an extra neutral flavour.
As you might observed all the flavours are offered in the pre-bottled versions. However, if you do not care about the convenience, I would recommend purchasing the powder in the bigger bags.

Similarly to Sports, you can buy the Original powder in two different sizes: 5 meal (2.5 days worth) pouches; or 20 meal (6.5 days worth of food) bags.
€18.5/bag
€2.28/400kcal
€60.0/bag
€1.85/400kcal
Feed. Light Powder: Very Interesting, But Too Expensive
I preface this by saying that I love the flavours and the product itself, just the price is a little too high, for such commodity.
Besides this issue, you will find Feed. Light has 4 delicious flavours: Peach Green Tea; Chocolate Coco; Banana Chocolate; and, Raspberry Mango (from best to least favourite).
Similarly to the other powder variants, you will be able to buy the Light powder in different formats: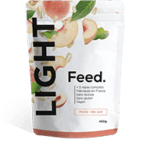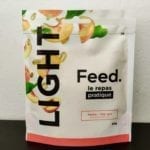 The pricing system in Feed. Light is not like anything else on the site. They are sold in boxes of 15, 30 or 60 meals; and the price per meal depends on the size of the box.
Brief Feed. Bars Review
The thing that stands out the most is the flavour variety on the bars; together with the fact that there are organic and non-organic versions. While variety is often synonym of lower quality, this is not the case with Feed. bars; and they are the best tasting meal replacement bars that I have tried.
Non-Organic
Chocolate
Banana & Chocolate
Coco & Chocolate
Red Berries
Apple and Cramberries
Lemon & Amaranth
Organic

Cranberries & Chocolate
Figs & Almods
Aside from the flavours, the main difference is the massive disparity between the prices. The organic bars cost almost double (€6.5) as the normal ones (€3.5); up to a point where I do not think is worth buying them, unless you are really conscious about organic food. Even the normal ones are more expensive than the average (about €2.5).
Despite the high price, it is worth remarking that these might be the best meal replacement bars in the market. While the variation in nutrition is significant between flavours, and some have high sugar content, they truly offer a good and sustainable meal alternative.
Light Bars: An Expensive Treat
Besides the normal bars, you can also buy Light bars (in boxes similarly to the powder). These bars remind me a little bit more to protein bars when it comes to the texture; softer with a chocolate coating outside.
Currently, they can be bought in two different flavours: Sesame & Chocolate (the best); and, Blackberry & Chocolate. Each bar will provide you with 255kcal and 33% of your daily micronutrients; making them ideal to boost your vitamin and mineral intake.
Brief Feed Spread Review
Feed.'s Cacao Spread is an interesting alternative to the standard complete food formats that we have. Designed to be added on top of bread and still offer a full nutritional meal, it is a nutella spread with many boosts.
Each serving (with 80g of bread) provides with 405kcal, 35% of which from fat, 13% from protein and 52% from carbohydrates. Unlike standard chocolate spreads, Feed.'s "only" has 11g of sugar per serving (from fructose). It is also quite heavy on fats, mainly from sunflower oil and rapeseed oil; thus I would expect to have both omega-3 and -6.
Protein content is fairly low, unfortunately, with only 13g of protein per serving. The sources are soy and pea protein although the ratio is not clear. Most complete foods offer more than 13g of protein per 400kcal, which would be more nutritional.

Besides, each serving does also provide with at least 20% of your vitamins and minerals.
Ingredients: Hazelnut spread (25%), fructose, rapseed oil, cacao powder (9%), sunflower oil, soy protein, pea protein, minerals (dipotassium phosphate, tricalcium phosphate, calcium carbonate, potassium chloride, magnesium oxide, zinc gluconate, iron pyrophosphate, manganese gluconate, copper gluconate, potassium iodide, sodium molybdate, sodium selenite, chromium), emulsifier: sunflower lecithin, acacia gum, maltodextrine, arome, vitamins (C, E, A, K D, B1, B2, B3, B5, B6, B8, B9, B12).
Feed. Crunchy Review – a Great Tasting Snack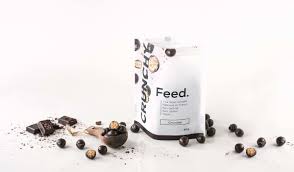 I have mixed feelings about this product; since while the taste is great, nutritionally is not very balanced at all. I would by no mean recommend it as a "healthy" meal, but rather a healthier snack. Most of us have fun meals and Feed. Crunchy is ideal for those occasions; like when you go to the movies or fancy a sweet snack.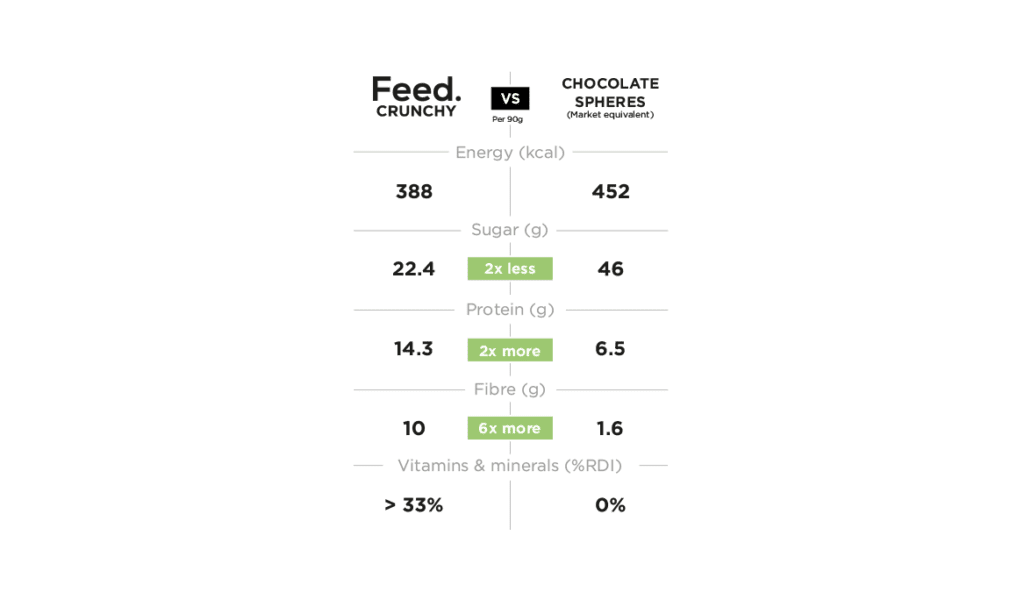 Besides my nutritional concerns, I must say that they achieve a great crunchy texture and taste, no far from the original Maltesers or other chocolate ball alternatives. When I had them, I found myself often snacking a couple in between hours.
In spite of how much I like them, it is hard for me to recommend them due to their price. €4.9 per bag (388kcal) is a very expensive snack.
Starter Packs
This has been an area of improvement over the last year, and now, Feed. has 3 amazing starter packs that are much more beginner friendly than before. All three cost €19.9, but you are not allowed to customize the flavours.
Feed. Original Starter Pack
It comes with 5 meals (different formats) and a superb Feed. shaker. Nevertheless, the main issue is the chosen flavours (which you cannot change) which are 2 savoury powder options. I liked both of them, Tomato and Green Vegetables, but I think that sweet options would have been safer.
Feed. Light Starter Pack
This is, perhaps, the best starter pack with 3 great powder meals and 2 very good bars plus the shaker.
Feed. Organic Starter Pack
Mayhaps the weakest of them all. You will only get 4 meals and no shaker, which if you do not have is a problem. However, you will get to taste all that the organic range, created by the chef Thierry Marx, has to offer: Tomato powder, Strawberry & Basil powder, Fig & Almond bar and Cranberry & Chocolate bar.
Honestly, I am surprised that they do not have a Sports starter pack; but it is probably due to the low number of products that they have (3 powders).
Analysing Feed.'s overall nutrition is hard, due to the extensive range of products. As, such, I would strongly recommend to individually check each and one of them, before purchasing.
However, the common theme in Feed. is high quality prime ingredients, locally produced in France; with the option to purchase organic. Feed.'s products are also all vegan, gluten free, lactose free and non-GMO. Some of the products do contain soy as part of the protein blend.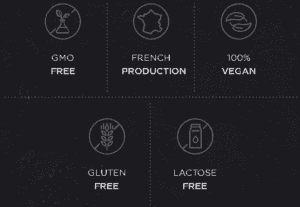 Energy
Most Feed. products offer around 650kcal (except the bars) and all of them are based on a 2,000kcal diet (except the Light range). Each meal replacement is designed to have the third of the daily energy requirements. While individual products may vary these are the energy distributions:
As you can observe, both the RTD and normal powder versions are low in protein, high in fat and medium in carbohydrate content. The energy from fats is higher than the AMDR, 20-35%; whereas, the input from carbohydrates borderlines the lower end of AMDR (45-65%).
This distribution, however, is fairly popular among vegan meal replacements. Feed Sport, on the other hand, has an almost equal energy distribution between fats, carbs and protein, very similarly to Huel Powder.
All in all, Feed. offers a very wide array of macronutrient distributions, covering most diets, except extreme diets, such as, keto. For most of their products, Feed. tries to comply the EFSA guidelines.
Fats
Each product has different fat content; the RTD versions being around 23g (33% of RI) and the powder 28g (38% of RI) of fat. However, they are both low in saturated fats (again varies with flavour) and contain no trans fats.
The main fat source used by Feed. are vegetable oils, more concretely, sunflower oil. Sunflower oil is commonly seen in European meal replacements, as it can be produced locally. This type of oil is usually high in oleic acid (omega-9) and linoleic acid (omega-6), although there are different variations. Sunflower oil is also rich in vitamin E.
The main drawback of using this type of oil is the omega-3 to -6 ratio, which is 1/70. The ideal ratio is somewhere between 1/1 and 1/3, since increased ratios are linked with obesity. Feed. ensures that the ratio is indeed 3/1 in their products, probably thanks to flaxseed oil or canola oil (high in omega-3) used in some of their products. However, I am surprised to see is that high in omega-3.
Another thing they should clarify better is the monounsaturated and polyunsaturated content in their products.
Carbs
Interestingly, Feed. RTD products have around 84g of carbs but are low in sugars; whereas the powder versions are have a similar content of total carbohydrate but are a lot richer in sugars (33.4g). The curious case of Feed. carbs, however, has a real simple explanation.
RTD Uses Maltodextrin
RTD products use maltodextrin as main source of carbohydrate. Maltodextrin is a complex carbohydrate, that counter intuitively has a very high GI (85), because it hydrolyses very quickly into glucose. In fact, maltodextrin's impact in metabolism can be as harmful as sucrose's.
Powders Rely on Oats and Isomaltulose
On the other hand, the powder versions (except Sport and BIO) use Isomaltulose, currently categorized as sugar by the ESFA and the FDA. This fructose-glucose disaccharide has actually a lower GI than maltodextrin and is takes longer to digest; reducing the glycemic response and increasing the fat oxidation. In fact, isomaltulose is the carbohydrate of choice (besides oats) for many European companies including Runtime and Saturo.
This creates the paradigm, where the product with highest sugar content may actually have the lowest effect in blood sugar. Nevertheless, the GI of Feed. products is as low as 22; probably due to the fat and protein content slowing the carbohydrate digestion.
You can find more in Feed's FAQ section.
There are other forms of carbohydrates that Feed. uses, such as, gluten free oats (powder versions), rice flour (organic), millet flour( organic)… but I will talk about them in their specific reviews.
Besides all this, Feed. products are quite rich in fiber. This mostly comes from gluten free oat fiber, a form of insoluble fiber that helps with digestion.
Protein
Another field where Feed. uses multiple blends and quantities making it hard to generalize.
Feed. Bar Organic

Rice, Pumpkin, Flax, hemp blend
20g
Because the all are vegan products, none of them uses whey protein; arguably the best protein source on its own. However, plant based protein blends and isolates have also been found to be an efficient source. Despite this, they will often have to be implemented with individual amino acids, consumed in greater quantities or be part of a blend with a balanced profile (van Vliet et al., 2015).
The use of a single source of protein in the Feed. RTDs (soy isolate) and, particularly, in the Sport variations are sources of concern to me. For instance, soy protein is especially low in methionine, and sometimes even extra supplementation is advised (Young VR, 1991). Other, amino acids such as lysine, of great importance to build muscle, are also present in lower quantities of that of whey. Another issue with soy is that whey protein is more easily digested and has a triggers a bigger response (Phillips et al., 2009; Tang et al., 1985).
Similarly, pea protein has been found to promote muscle thickness; but it is also low in methionine, lysine and leucine (among others) when compared to whey protein. I would like to see other non-legume based protein sources (rice, for instance) to make the Sport's amino acid profile more optimal.
As such, the Feed. meal replacement bars might have the best amino acid profile, as well as, quantity to promote muscle growth out of all Feed. products.
Micronutrients
The non-organic products use a vitamin and mineral blend to ensure that each serving provides sufficient amounts of micronutrients. In the organic products, however, Feed. uses a mix of plants and herbs (parsley, spinach, green tea, basil…) to ensure enough micronutrients are provided.
Allergens
Not all Feed. meal replacements have the same allergens. In fact, many of them contain almost none. Soy is present in ready to drink versions and non-organic bars. The bars can also contain Nuts or almonds.
I, once again, would recommend looking at the ingredient list before purchasing.
Nutrition Summary
Feed. products are gluten free, non-GMO, lactose free and vegan.
The BIO range is sourced with organic ingredients.
They tend to have high fat content and low protein content (except the bars and the Sport variation).
While the sugar content may seem high in some of the products, it is mostly because isomaltulose, a low GI sugar. In fact, some Feed. meal replacements have a GI of 22.
All products provide the sufficient macros and micros for a 2,000kcal diet. Only Light range products are not based on a 2,000kcal diet.
The only issue worth mentioning is that every product is different. Thus, there will be specific allergens in some of the products.
Aside from that, I like what Feed. is offering, while I am a little disappointed they chose not offer a non-vegan meal replacement.
Anthony Bourbon founded FeedSmartFood in June of 2016 after 18 months of product development. In 2017, they launched their products on their website and 50 shops in France. Since, Feed. has received multiple rounds of investments from venture capitalist fundings worth up to €21.5M and has increased the size of their Parisian based team to 50+ employees. Definitely an impressive ramp up.
Following with the impressive numbers, Feed. is sold in more than 1,000 shops, besides their website. They have also been listed in the top 15 French start-ups to keep an eye on 2018 by maddyness.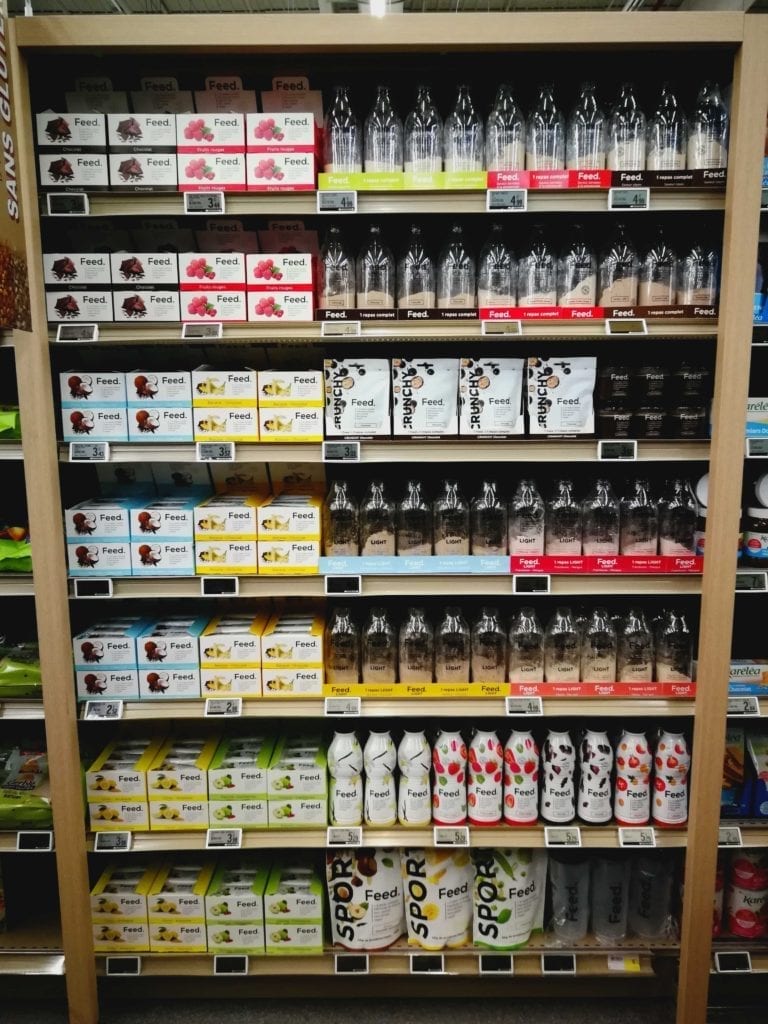 While the numbers are good and the track record is impeccable, Feed. is still trying to get a foothold on countries besides France, and it is yet to expand to the US.
More About the Founder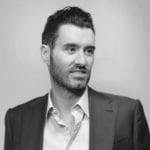 Anthony Bourbon developed the initial Feed. formula while he was working in a Parisian Legal company. Tired of having to eat the same snacks everyday, and intrigued by the idea of complete foods developed in other countries he started on his own recipe that would suit the French palate. His first customers where his colleagues that asked him for "la boisson magique" (the magic drink). From there, he surrounded himself with chefs, nutritionist and agrobusiness engineers to develop Feed.
A product that would suit the Frech cousine, without the addition of chemicals and with few allergens.
We are continuously innovating in order to provide healthy, practical and affordable solutions while also respecting our ecosystem.

Anthony Bourbon, CEO.
Interestingly, Anthony has been a "controversial" figure for the French, who are strongly tied to their gastronomic culture and history; thus see Feed. as the enemy. He has been very vocal about Feed.'s positive impact and often clashed with those who antagonized Feed.
Feed.'s Packaging
Feed.'s packaging is very professional and nice to the touch. Furthermore the options are multiple, from different formats to various sizes within the same product. However, this does not mean they are all good.
Looking at the positives:
Different packaging models and options. E.g. you can choose between powder bags or pre-bottled powder, where you just need to add water.
Powder bags come in small (one days worth) and large (20 meals, about 6.3 meals) options.
You can choose between premixed RTD and add water RTD.
All Feed. bottles are recyclable.
Into the negatives:
Bars wrapping is not fully recyclable.
The sport variation only comes in one size.
The powdered bottles are nice, but they occupy a lot of space and produce a lot of unnecessary waste.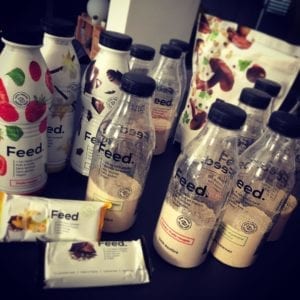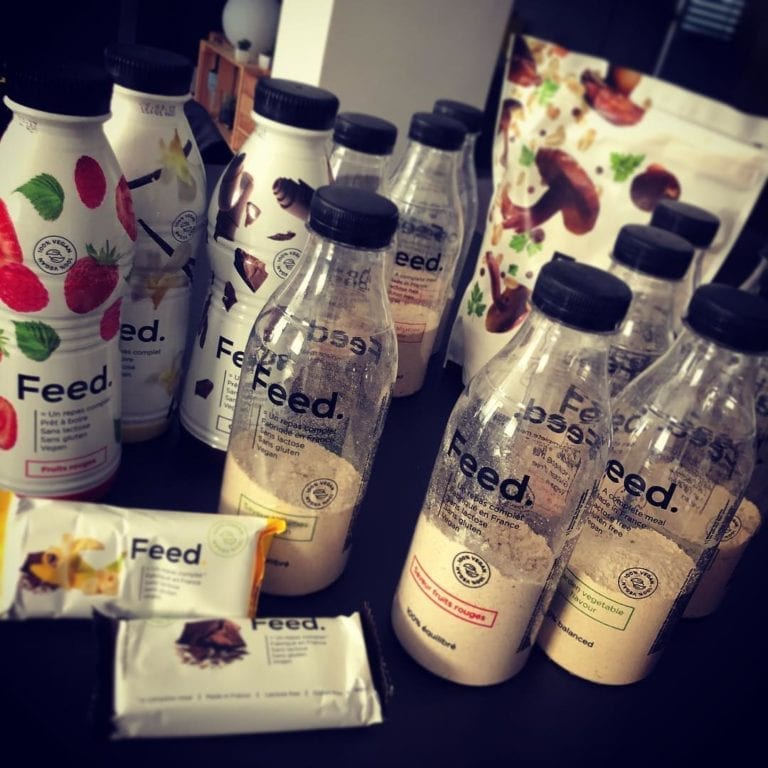 Shelf Life
Feed. states that the shell life of the RTDs is 9 months. For the powder based products I would expect a longer shell life, but I recommend checking the individual packages.
Shipping and Return Policy
Feed. is currently only available in Europe. They offer free delivery in orders over €70 to all the EU. This is certainly higher than other competitors (Queal's €50, Saturo about €40, Huel €54), but still reasonable. Unfortunately, there are no dates for US release, yet.
Pricing & Subscription
Non-bio RTD: €4.9
Organic RTD: €7.9
Pre-bottled powder: €3.9
Normal powder: €3
Sport Powder: €4.63
Bar: €3.5
Organic bar: €6.5
Interestingly, Feed. is yet to offer a subscription based discount. They offer discounts according to the total amount of the purchase; e.g. 10% in orders above €100 (like shown below).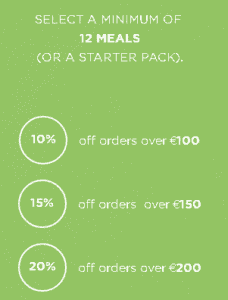 While this is a cool method, does not offer the same commodities as a subscription based model, where the user does not need to manually take care of ordering each month. It is also more limiting in any rewards system that might be implemented later on and does not help the user tracking their past purchases.
Buying Feed. Light
Buying the Light products can be a little complicated. You have 3 pre-set options: 15 meals; 30 meals; and, 60 meals. Therefore, you first choose how many meals you want.
Once you have chosen the amount of meals that you want, you will be given the opportunity to choose what products and flavours you want.
You will be able to choose from the bars, the bottles or the powder sachets.
Which Feed. product is right for me?
Feed. Powder is the ideal product for those looking for daily meal replacements.

However, I would say that if you are a fairly sporty person go for the Sports trim; and, if you are looking to lose weight or are fairly skinny go for Light.

If you are looking for something more portable, try the Feed. bars, some of the best tasting in the market.


Where can I get Feed.?
You can buy Feed. online (feed.co) or at the stores in France and in the UK. Feed. delivers to all Europe, but not to the US or Canada.


Are Feed. products gluten-free, vegan or/and GMO-free?
Yes, all Feed. products are gluten-free, GMO-free and vegan. Furthermore, those with the organic label are organic certified.


I am diabetic, can I consume Feed. shakes?
Feed. is consumed by many diabetic consumers, however, Feed. cannot guarantee the safety of their products for such consumers. Thus, I would recommend checking with your dietitian.


Where is Feed. manufactured?
Every product is manufactured in France.


What is Feed.'s refund policy?
You can return any unopened item within 14 days. However, if the package is opened Feed. will not take it.


Why choose Feed. over Huel or other meal replacements?
Feed. has more products to choose from, including an organic line; more varied macronutrient distributions; more formats (RTD, bars, powders and more); and has some of the best tasting shakes in the industry. Furthermore, you will be able to find both, savoury and sweet shakes.


Does Feed. offer student discount?
Yes, Feed. does offer a student discount. Go to their site to find out more. For the rest, use the code LATESTFUELS for 20% off.
Feed. vs other meal replacements
Pinpointing the major competitors is hard, since Feed. touches most areas of meal replacements. Feed's biggest enemies are possibly, Huel, Saturo (RTD), Ambronite (organic) and in a lesser way, Jimmyjoy and Queal.
Soylent is currently only available in the UK and with limited offering. However, the UK is a very interesting field in terms of meal replacements and the competition there is relentless.
| | | |
| --- | --- | --- |
| | Soylent | Feed. |
| From | USA | FRA |
| Ships to | USA | EU |
| $/400kcal | $$ | $$$ |
| C/P/F | 38/19/43 | 48/12/40 |
| Allergen | Soy | Soy* |
| kCal/meal | 400 | 650 |
| Serv/day | 5 | 3 |
| Suitable | Vegan | Vegan |
| Flavours | 4* | 3* |
| Products | 3 | 8 |
Label:
Price per 400kcal without subscription:
$– Below $1.5 $1.5 = €1.3 = £1.15
$$- $1.5 to $3 $3 = €2.6 = £2.3
$$$– $3 to $5 $5 = €4.3 = £3.85
$$$$– over $5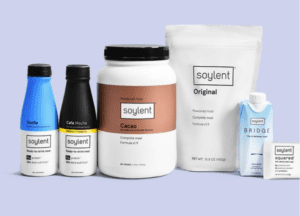 Products Available:
Soylent (UK): Powder, Soylent Drink and Soylent Cafe.
Feed.: Feed Powder (Normal, Sport, Organic and Light), Feed. Bars (Organic, Light and Normal), Feed. Crunchy, Feed. Spread and Feed. RTD.
Flavours Available
Soylent (UK): Original, Cacao (Powder and RTD); Vanilla (RTD); and Cafe Mocha (Soylent Cafe).
Feed. (RTD): Vanilla, Chocolate and Red Fruits.
Note that Feed. has a much bigger variety in powders and bars, that simply dwarfs Soylent's.
Price
Price

Feed. RTD

Soylent Drink

UK (£)
per 400 (expensive)
3.50
2.91
per 400 (cheapest)
2.80
2.77


Feed Powder

Soylent Powder

UK (£)
per 400 (expensive)
1.53
1.80
per 400 (cheapest)
1.23
1.53
Feed. RTD products are slightly more expensive than Soylent's. This is even true in the case of the organic powder pouches and bars (up to twice as expensive). However, the normal powder versions are more affordable.
Taste
Feed. has a much bigger range, when it comes to meal replacement powders (savoury and sweet) and bars. They are also the better tasting ones.
However, when it comes to the RTDs, I think I prefer Soylent's. They are a little less sweet that Feed. RTDs and are more pleasant to drink.
Nutrition
| | | | | |
| --- | --- | --- | --- | --- |
| per serving | Feed RTD | RI (%) | Soylent Drink | RI (%) |
| Energy (C/P/F) | 52/12/33 | – | 35/19/46 | – |
| Energy (kCal) | 400 | 20 | 400 | 20 |
| Fats (g) | 15 | 20 | 21 | 30 |
| Saturated (g) | 1.0 | 5 | 2.1 | 11 |
| Carbs (g) | 55 | 21 | 32 | 12 |
| Sugars (g) | 3.0 | 3 | 9.3 | 10 |
| Fiber (g) | 7.0 | 28 | 2.9 | 15 |
| Protein (g) | 15.0 | 30 | 20.0 | 40 |
| Salt (g) | 1.0 | 16 | 0.8 | 13 |
This is closer than I would have thought. If I take the RTD versions into account I must say I prefer the higher protein content Soylent offers (even if they both use soy protein). Feed. also has more carbohydrates and more for maltodextrin, which will mean that the GI of the drink should be higher.
If I were to take the whole range, I think Feed. offers more options nutritionally, as well as better plant based protein blends. Certainly, it has the offering from higher quality ingredients, like organic range.
Purchasing
Soylent is a US powerhouse, but with little presence in Europe. They only deliver in the UK and they use the Amazon network (.co.uk) to do so. However, they are also available in WHSmith travel stores.
Feed. is big in France, although it is not as well known as other brands in the rest of the world. In France, Feed. is also readily available in retail. In the UK, you will be able to find Feed. at Sainsbury's. For the rest of Europe, you will have to buy online.
Which One Should I Buy?
Feed.
Best tasting powders.
You get tired of flavours easily.
Looking for meal replacement bars.
You want organic shakes, or diet options.
Soylent
Better tasting RTDs.
Caffeinated RTD.
Want to buy using Amazon.
---
Feed. vs Huel
Huel is a great company to compare to, because they tend to do most things right. On top of that, both are fiercely competing in European market, most recently in the UK.
| | | |
| --- | --- | --- |
| | Huel | Feed. |
| From | UK | FRA |
| Ships to | World | EU |
| $/400kcal | $$ | $$$ |
| C/P/F | 38/31/31 | 48/12/40* |
| Allergen | Gluten* | Soy* |
| kCal/meal | 500 | 650 |
| Serv/day | 4 | 3 |
| Suitable | Vegan | Vegan |
| Flavours | 5* | 8* |
| Products | 4 | 8 |
Label:
Price per 400kcal without subscription:
$– Below $1.5. $1.5 = €1.3 = £1.15
$$- $1.5 to $3. $3 = €2.6 = £2.3
$$$– $3 to $5. $5 = €4.3 = £3.85
$$$$– over $5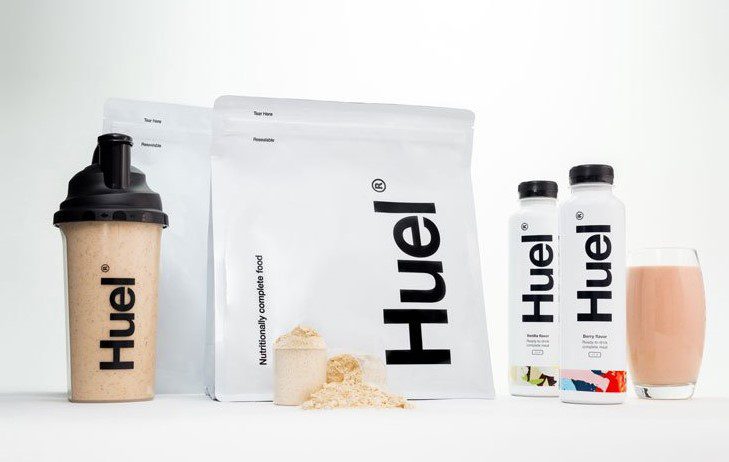 Products Available:
Huel: Huel Powder, Huel Powder Gluten Free, Huel Powder Professional, Huel Bar, Huel Granola, and Huel Ready to Drink.
Feed.: Feed Powder (Normal, Sport, Organic and Light), Feed. Bars (Organic, Light and Normal), Feed. Crunchy, Feed. Spread and Feed. RTD.
Flavours Available (Powder):
Huel Powder (UK/EU): Vanilla, Original, Coffee, Chocolate Mint, Chocolate, Berry, and Unflavoured & Unsweetened.
Feed. Powder: Banana, Chocolate Hazelnut, Green Legumes, Chocolate, Garden Vegetables, Red Berries, Spicy Tomatoes, Porcini Mushroom, Carrot & Pumkin, Coffee, Peach & Green Tea, Chocolate Coco, Banana Chocolate, Raspberry Mango, Tomatoes, and Strawberry & Basil.
The flavours in Feed. Powder depend on the variant (Sports, Light, Organic or Normal).
On the other hand, Huel offers up to 10 different flavour boosts (sachets that you need to buy aside) that you can use in combination with the powder.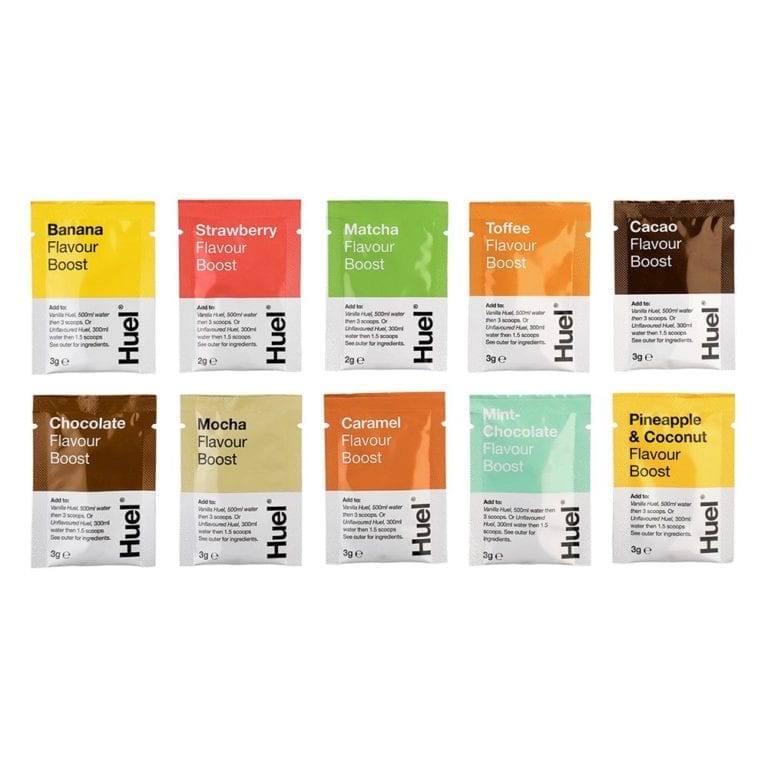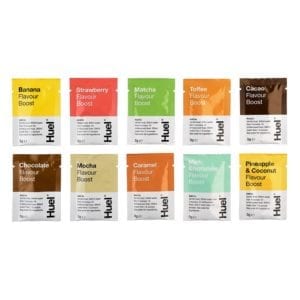 Price
Price

Huel Powder

Feed. Powder

UK (£)
per 400 (expensive)
1.28
1.53
per 400 (cheapest)
1.16
1.23
EU (€)
per 400 (expensive)
1.72
2.28
per 400 (cheapest)
1.54
1.48


Huel RTD

Feed. RTD

UK (£)
per 400 (expensive)
3.08
3.50
per 400 (cheapest)
2.13
2.80
EU (€)
per 400 (expensive)
1.72
3.90
per 400 (cheapest)
1.54
3.12


Huel Bar

Feed. Bar

UK (£)
per 400 (expensive)
2.75
3.00
per 400 (cheapest)
2.26
2.40
EU (€)
per 400 (expensive)
4.00
3.50
per 400 (cheapest)
2.78
2.8
The prices are based on the normal range for Feed. The Organic and Light products are usually more expensive.
Nutrition
This is a tough one to judge due to the multiple combinations that are possible.
I believe Feed.'s ingredient variety is unmatched, particularly in the organic products. However, Huel's mastery over nutrition is unparalleled as it can be seen in their nutrition page (more like extensive library). Feed. powders follow the ESFA guidelines a little more thoroughly, while Huel has their own approach.
I personally enjoy Huel's more balanced energy split more, too. I am an advocate for oats as carbohydrate source, and really like the amino acid profile Huel offers with their plant based protein blend. More so, than using pea protein on their own (like Feed. does). I also prefer the lack of isomaltulose or any other type of sugars in the Huel powders.
Taste
Without a doubt this is where Feed. shines above Huel. In fact, it is the point where there is the most difference between both brands.
Huel has a more earthy, thick, gritty, and less sweet shakes. The flavours tend to be more neutral. Feed.'s on the other hand are more pronounced, more distinctive and flat out better. The savoury Feed. shakes and the organic taste are very reminiscent of "real" food; whereas the sweet shakes have also more authenticity or fidelity (it is closer to what you would expect).
The difference is even more clear in the bars, where Feed.'s are not only more varied but far better tasting. I would confidently say that 8 out of 10 people would choose Feed. over Huel.
On top of that, I feel that most Feed.'s shakes are more beginner friendly than Huel's.
Purchasing
Huel has a really good brand image thanks to their product quality, customer service, forum activity and overall customer satisfaction. They offer good shipping terms in the EU and US; plus a 10% off subscription method that can be really convenient. In the UK, Huel can be bought in stores and online (with very quick delivery and discounted prices).
Feed. is particularly strong in France, where it is sold in multiple stores, as well as online. Within the last few months, Feed. has also made itself available in UK stores; but to a lesser extent than Huel. There are no subscription benefits from Feed., but you can enjoy bulk discounts.
Which One Should I Buy?
It will become to what you are looking for (Bar, Powder etc), as well as what you consider more important for you (taste, convenience, price, nutrition). In general terms, Huel will be better for those that want the "healthiest" shake or the most protein heavy shake (not the same); whereas Feed. should be the top choice for those who care about flavours and taste.
Feed.
Taste above everything else.
You get tired of flavours easily.
Looking for Bars.
You want organic shakes.
Huel
Looking for a high protein shake.
You are allergic to soy.
Unflavoured/Unsweetened is your thing.
Looking for the most nutritious shake.
---
Verdict
Feed. is a rare brand that offers both quantity and quality. Their flavours are unique and unparalleled in the market, and their product range is the most extensive you will find (RTD, powder, bar, Organic, Light…). While the price can be an issue for some of the meals (Organic, Light); most are products are worth every penny.
All in all, trying out Feed.'s Complete Food products was one of the most exhilarating and rewarding experiences that I have had.
Recommended.
Always check the Deals section for the latest discount codes.
– You can get 20% OFF if you use the code LATESTFUELS which will make any Feed. meal replacement an absolute bargain and worth every cent.