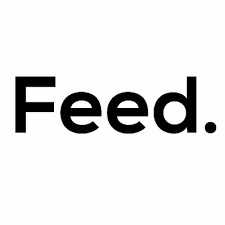 Vegan, gluten-free, lactose-free, non-gmo, locally sourced… they are buzzwords common in the European meal replacement market. However, Feed. takes this approach a level further and even offers an organic range certified by independent labs. All this, while offering an unmatched product (RTDs, powders, bars) and flavour variety with clear French culinary influence. A brand that is about to crack into the grown-ups table in Europe. Let's see why.
I welcome Feed.'s approach to mold the meal replacement into the culinary culture of the country the brand is from. I think it is a smart way not to force people into something that is alien, but to offer a product that they are familiar with in another format. With that, they have achieved an exceptional product diversity and offer multiple solutions. However, currently the delivery is not there for the rest of the European market to jump on the Feed. train. Small tweaks catapult Feed. into the big stakes table.
What We like
Most products contain little or no allergens.
Product and flavour variety.
Use of locally source products.
Different packaging options.
Availability in shops.
The full product range with the organic and non-organic versions, the amount of flavour options; and the different prices are the characteristic features of Feed. This together with the identity of those flavours, being so closely tied with the French culinary culture, is comendable.
It is not only the quantity but the quality of each and one of these products. The fact that they use locally sourced ingredients, non-gmo and organic in the BIO range is a thorough way to ensure the best prime ingredients.
Furthermore, Feed. meal replacements have very little allergens, some even having none. Only soy in some of the RTDs and nuts in some of the bars are likely to cause an allergic reaction.
On top of the variety of products, it is the diversity of packaging options in ready-to-drink products and powder based Feed. meals. Having a already shaked RTD might create some engineering challenges, but having a pre-bottled powder is easier to do, and something more companies should.
In fact, I think the latter could be one of the easiest ways to sell meal replacements in shops, just like Feed. does in France.
What We dislike
Website is buggy on the phone.
Website could do with a nutrition page.
Discount based on price could be clearer.
Price.
No subscription method.
Taster Pack is not customizable.
The website looks nice and tidy at first glance. However, as you start navigating it you find few annoying features: there is not a nutrition page where you can access the full information about the products; in fact, accessing the nutritional information requires quite a few clicks; and on top of that is buggy on the phone.
Following in a similar topic, clarity is key. Feed. lacks clarity on their nutritional choices, the prices and the discounts are a little hidden and while the FAQ is great, there is information there it should be more easily accessible.
Besides this, there is the issue with subscription. Feed. has none. "Not a big deal, they still offer discounts" you might think. Wrong, subscription is for comodity and the discount is the rewards. The user should be able to subscribe and forget about having to do the monthly order. Or check back, track their previous purchases and subscription. Finally, get rewarded for their loyalty in a clear manner. It is also a way for Feed. to build a follower base. People who they can trust to buy their products, get feedback from and be their harshest critics.
As a final note, there are two issues with their products:
First, it is that a lot of them are "out of stock". Having a couple products out is understandable, but more than a third is too much. If it is a problem that you have too many available then cut your range, but it is not legit to show more than what you can actually deliver.
Secondly, I like the size of the taster pack, but it should be customizable and should have at least one organic bar and one organic RTD on it. Currently the flavour options are fixed and they are the same in the RTD and the bar. If your strenght is the variety, please showcase it.
Improvements
Website features.
Subscription method.
Sport variation's protein profile
Make taster pack customizable.
Keep products in stock.
Website needs to be optimized for clarity and availability of information; nutritional choices cannot be hidden from the customer. I believe that part of the role of this industry is to educate the consumer to make better nutritional choices.
The subscription method is a must. Not only for the customer, which will be benefited by a better rewards system, more comodity and clearer access to past purchases and their track record; but also for Feed. It will help the company to build a base to grow upon, a base to test new products with and get the most accurate feedback from.
I would also like to see improvements in the Sport variation with a better protein blend. It would also be interesting to reshape it for a 2,500kcal diet.
Following with products, the taster pack MUST be customizable. I do not want to be forced to try flavours that I am not going to like. I want to have the chance to get an organic RTD and an organic bar, and even perhaps the Sport powder pouch, because that what I am most likely to buy.
Finally, I believe that not having products in stock reflects badly in the company. Hopefully, they can sort that out.
If Feed. polishes the issues they have, are more proactive towards the English userbase, and can expand their shops deal to other EU countries, they will be set for a really strong future.
What PRODUCTS does Feed. offer?
Feed's line up of products and flavours is absolutely incredible and unmatched. It is so vast that I do not know where to start. First of the flavours. Feed offers up to 8 different flavours in some of their products. It is not only the variety but the nature of these flavours, as extravagant as spicy tomato or carrot & pumpkin – many certainly not for me.
On top of that, Feed offers a ready-to-drink product; a powder in a bottle version; a bar; powder meal replacements with both caffeine and sport iterations; and of top of that you can choose between organic and non-organic.
Plus, they just released a Chocolate Hazelnut Spread to add to bread and have a different meal, still with all the nutrients that you need.
If you have been able to wrap your head around all that, congratulations. Here is a quick rundown: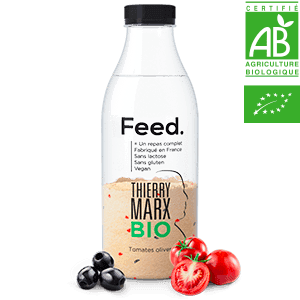 Feed. Original & Organic
Meal Replacement
Add water only
600-660kcal/meal
12P/48C/40F % of Energy from
30.9g of sugars/2.5g of Saturated Fats per serving
Price Original: €3.9/meal
Price Organic: €7.9/meal
Soy*
---
Feed. RTD
Meal Replacement
Ready-to-drink
650kcal/meal
15P/52C/33F % of Energy from
5.1g of sugars/1.6g of Saturated Fats per serving
No subscription: €4.9
Soy*
---
Feed. Powder
Meal Replacement
Powder
657kcal/meal
15P/52C/33F % of Energy from
5.1g of sugars/1.6g of Saturated Fats per serving
Small (5 servings): €3.7/meal
Large (20 servings):3€/meal
Soy*, Caffeine*
---
Feed. Sport Powder
Meal Replacement
Powder
676kcal/meal
33P/34C/33F % of Energy from
5.5g of sugars/2.3g of Saturated Fats per serving
Small (4 serving): €4.63/meal
Soy*
---
Feed. Bars Original & Organic
Meal Replacement
Bar
400kcal/meal
20P/49C/31F % of Energy from
23.7g of sugars/1.38g of Saturated Fats per serving
Normal: €3.5/bar
Organic: €6.5/bar
Soy*, Almonds*
---
Feed. Spread
Meal Replacement
Spread
405kcal/meal
13P/52C/35F % of Energy from
11g of sugars/3.5g of Saturated Fats per serving
€1.65/meal
Soy
---
Brief Feed. RTD and Pre-bottled Powder Review
Feed.'s increadible line-up is hard to cover. However, this two products are very similar. They aim to deliver convenience and simplicity. The ready-to-drink option are more limited than the pre-bottled ones (likely, because Feed has more powder options and they are easier to develop).
"Only" Vanilla, Chocolate and Forest Fruits are available in the RTD format. While the individual nutritional specifications may vary, they offer 650kcal (33% of RI), 84g of carbs (32% of RI), 5.1g of sugars (5.6% of RI), 23g of fats (32.9% of RI), 1.8g of saturated (9% of RI) and 23g of protein (53.8% of RI). It also comes with 33% of all vitamins and minerals.


The pre-bottled ones come in organic and non-organic flavours. There are currently only two organic flavours, which are Strawberries & Basil and Tomatoes & Olives (which made it into our top organic shake picks). Regarding the non-organic choices, these include; Chocolate, Garden Vegetables, Carrot & Pumpkin, Red Berries, Porcini Mushrooms, Spicy Tomatoes and Coffee (caffeinated). Certainly the oddest variety I have so far seen. Some of which do not sound very appetising to me, but do resemble more like actual food. The organic iterations are also significantly more expensive than the non-organic version (4€ more).
Non-Organic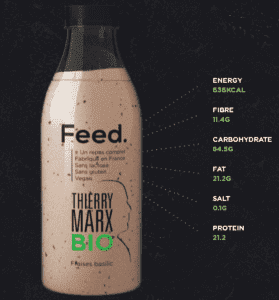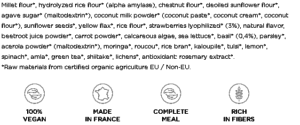 Organic
Which one should you choose, the pre-bottled one or the RTD? The RTD is €1 more expensive (€4.9) than the the powder in the bottle version. The latter also have more flavour options, including the caffeine version. However, the Vanilla only comes in RTD. After all this considerations, I would recommend going for the powder in the bottle version, because of the variety and the price difference. However, if you are looking for the smoothest shake and most convenient on the go, the RTD is your choice.
Brief Feed. Powder and Feed. Sport Review
The powder meal replacements Feed. offers are as extensive as the ready-to-drink versions. First and foremost, they have the Sport (€4.63/meal) and normal versions (€3.7/meal). Furthermore, the latter can be purchased in larger bags (20 servings) at a lower cost per meal (€3).
The main difference between the Sport and the normal iterations is the protein content; which is higher in the first. It also comes with more calories, but not significantly, not as much as other brands do with the Sport variations. Vanilla, Chocolate Hazelnut and Green Legumes are the flavour choices.
The original version comes in more flavours including: Chocolate, Garden Vegetables, Red Berries, Spicy Tomatoes, Porcini Mushrooms, Carrot & Pumpkin, and Coffee (caffeinated). These can all be purchased in the 20 servings bag (€60) and there is an extra neutral flavour. As you might observed all the flavours are offered in the pre-bottled versions. However, if you do not care about the convenience, I would recommend purchasing the powder in the bigger bags.




It is curious to see that the extra protein in the Sport variation comes at the cost of carbohydrates, because these are primordial in fueling active individuals during sports. I think I would have liked to see a more calorie rich iteration, which is based in a 2,500kcal diet instead of a 2,000kcal diet. Anyhow, 53g of protein per 673kcal is as high as Huel or Queal Athletic, to superb meal replacements for sports.
Brief Feed. Bars Review
The thing that stands out the most is the flavour variety on the bars; together with the fact that there are organic and non-organic versions. This variety I have only seen in snack bars, however, Feed.'s are fully fledged meal replacement bars.
Non-Organic
Chocolate
Banana & Chocolate
Coco & Chocolate
Red Berries
Apple and Cramberries
Lemon & Amaranth
Organic

Cranberries & Chocolate
Figs & Almods
Aside from the flavours, the main difference is the massive disparity between the prices. The organic bars cost almost double (€6.5) as the normal ones (€3.5); up to a point where I do not think is worth buying them, unless you are really conscious about organic food. Even the normal ones are more expensive than the average (about €2.5).
One last thing I would like to remark is that this might be the best meal replacement bars in the market. While the variation in nutrition is significant between flavours, and some have high sugar content, they truly offer a good and sustainable meal alternative. Other bars that can do that might be Queal GOBar and Twennybar (but I would not recommend them for a daily basis or sole nutrition). Whereas, I could consider being able to live solely of Feed. bars for a short amount of time (if it were not for the price).
Brief Feed Spread Review
Feed.'s Cacao Spread is an interesting alternative to the standard complete food formats that we have. Designed to be added on top of bread and still offer a full nutritional meal, it is a nutella spread with many boosts.
Each serving (with 80g of bread) provides with 405kcal, 35% of which from fat, 13% from protein and 52% from carbohydrates. Unlike standard chocolate spreads, Feed.'s "only" has 11g of sugar per serving (from fructose). It is also quite heavy on fats, mainly from sunflower oil and rapeseed oil; thus I would expect to have both omega-3 and -6.
Protein content is fairly low, unfortunately, with only 13g of protein per serving. The sources are soy and pea protein although the ratio is not clear. Most complete foods offer more than 13g of protein per 400kcal, which would be more nutritional.

Besides, each serving does also provide with at least 20% of your vitamins and minerals.
Ingredients: Hazelnut spread (25%), fructose, rapseed oil, cacao powder (9%), sunflower oil, soy protein, pea protein, minerals (dipotassium phosphate, tricalcium phosphate, calcium carbonate, potassium chloride, magnesium oxide, zinc gluconate, iron pyrophosphate, manganese gluconate, copper gluconate, potassium iodide, sodium molybdate, sodium selenite, chromium), emulsifier: sunflower lecithin, acacia gum, maltodextrine, arome, vitamins (C, E, A, K D, B1, B2, B3, B5, B6, B8, B9, B12).
Starter Pack
Feed.'s starter pack is a preset bundle of 1 RTD (chocolate), 2 powder in the bottle (chocolate and summer fruits) and 2 bars (summer fruits and banana & chocolate); that costs €19.90. While I think it is a good way to start with Feed., there are a couple of things that disappoint me:
Number one, that the flavours repeat themselves. Even if Feed. states that flavours will depend on availability, I would have expected more variety taking into account the full extent of Feed.'s flavour choices. They have up to 8 different options and yet, they offer the same flavour in the RTD and pre-bottled versions and in the bar.
Number two is that there is no sport option. It would have been great to have a pouch or a bottle with Sport powder too. I can not understand why they would not offer this. I, for instance, am more interested in the Sport iteration than the normal one.
Lastly, if they are to give two bars and two pre-bottled drinks, it would have been good to see one organic, one non-organic.
Analysing Feed.'s overall nutrition is hard, due to the variations between the different flavours in one product and between different products. As, such, I would strongly recommend to individually check each and one of them, before purchasing.
However, the common theme in Feed. is very high quality prime ingredients, locally sourced in France; with the option to purchase organic. Feed.'s products are also all vegan, gluten free, lactose free and non-GMO. Some of the products do contain soy as part of the protein blend.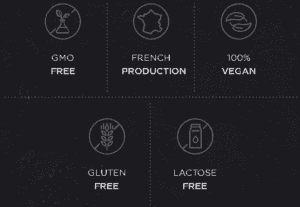 Other, nutritionally similar brands in Europe would be Ambronite (offers nowhere near the variety Feed. does) and Pulve.
Energy
Most Feed. products offer around 650kcal (except the bars) and all of them are based on a 2,000kcal diet. Each meal replacement is designed to have the third of the daily energy requirements. While individual products may vary these are the energy distributions:
As you can observe, both the RTD and normal powder versions are low in protein, high in fat and medium in carbohydrate content. The energy from fats is higher than the AMDR, 20-35%; whereas, the input from carbohydrates borderlines the lower end of AMDR (45-65%).
This distribution, however, seems to be fairly popular between Vegan meal replacements (Soylent Drink, Saturo, Queal Vegan).
Feed Sport on the other hand, has an almost equal energy distribution between fats, carbs and protein, very similarly to Huel Powder.
Fats
Each product has different fat content; the RTD versions being around 23g (33% of RI) and the powder 28g (38% of RI) of fat. However, they are both low in saturated fats (again varies with flavour) and contain no trans fats.
The main fat source used by Feed. are vegetable oils, more concretely, sunflower oil. Sunflower oil is commonly seen in European meal replacements (YFood, Saturo), as it can be produced locally. This type of oil is usually high in oleic acid (omega-9) and linoleic acid (omega-6), although there are different variations. Sunflower oil is also rich in vitamin E.
The main drawback of using this type of oil is the omega-3 to -6 ratio, which is 1/70. The ideal ratio is somewhere between 1/1 and 1/3, since increased ratios are linked with obesity. Feed. ensures that the ratio is indeed 3/1 in their products, probably thanks to flaxseed oil or canola oil (high in omega-3) used in some of their products. However, I am surprised to see is that high in omega-3.
Another thing they should clarify better is the monounsaturated and polyunsaturated content in their products.
Carbs
Interestingly, Feed. RTD products have around 84g of carbs but are low in sugars; whereas the powder versions are have a similar content of total carbohydrate but are a lot richer in sugars (33.4g). The curious case of Feed. carbs, however, has a real simple explanation.
RTD products use maltodextrin as main source of carbohydrate. Maltodextrin is a complex carbohydrate, that counter intuitively has a very high GI (85), because it hydrolyses very quickly into glucose. In fact, maltodextrin's impact in metabolism can be as harmful as sucrose's.
On the other hand, the powder versions (except Sport and BIO) use Isomaltulose, currently categorized as sugar by the ESFA and the FDA. This fructose-glucose disaccharide has actually a lower GI than maltodextrin and is takes longer to digest; reducing the glycemic response and increasing the fat oxidation. In fact, isomaltulose is the carbohydrate of choice (besides oats) for many European companies including Runtime and Saturo.
This creates the paradigm, where the product with highest sugar content may actually have the lowest effect in blood sugar. Nevertheless, the GI of Feed. products is as low as 22; probably due to the fat and protein content slowing the carbohydrate digestion.
You can find more in Feed's FAQ section.
There are other forms of carbohydrates that Feed. uses, such as, gluten free oats (powder versions), rice flour (organic), millet flour( organic)… but I will talk about them in their specific reviews.
Besides all this, Feed. products are quite rich in fiber. This mostly comes from gluten free oat fiber, a form of insoluble fiber that helps with digestion.
Protein
Another field where Feed. uses multiple blends and quantities making it hard to generalize.
Feed. Bar Organic

Rice, Pumpkin, Flax, hemp blend
20g
Because the all are vegan products, none of them uses whey protein; arguably the best protein source on its own. However, plant based protein blends and isolates have also been found to be an efficient source. Despite this, they will often have to be implemented with individual amino acids, consumed in greater quantities or be part of a blend with a balanced profile (van Vliet et al., 2015).
The use of a single source of protein in the Feed. RTDs (soy isolate) and, particularly, in the Sport variations are sources of concern to me. For instance, soy protein is especially low in methionine, and sometimes even extra supplementation is advised (Young VR, 1991). Other, amino acids such as lysine, of great importance to build muscle, are also present in lower quantities of that of whey. Another issue with soy is that whey protein is more easily digested and has a triggers a bigger response (Phillips et al., 2009; Tang et al., 1985).
Similarly, pea protein has been found to promote muscle thickness; but it is also low in methionine, lysine and leucine (among others) when compared to whey protein. I would like to see other non-legume based protein sources (rice, for instance) to make the Sport's amino acid profile more optimal.
As such, the Feed. meal replacement bars might have the best amino acid profile, as well as, quantity to promote muscle growth out of all Feed. products.
Micronutrients
The non-organic products use a vitamin and mineral blend to ensure that each serving provides sufficient amounts of micronutrients. In the organic products, however, Feed. uses a mix of plants and herbs (parsley, spinach, green tea, basil…) to ensure enough micronutrients are provided.
Allergens
Not all Feed. meal replacements have the same allergens. In fact, many of them contain almost none. Soy is present in ready to drink versions and non-organic bars. The bars can also contain Nuts or almonds.
I, once again, would recommend looking at the ingredient list before purchasing.
More about nutrition
The FAQ section is the best place to clear up your questions, as well as, the individual product nutrition and ingredient section. For more general questions about nutrition, you can always visit the Resources page.
Nutrition Summary
Feed. products are gluten free, non-gmo, lactose free and vegan. The BIO range is sourced with organic ingredients. They tend to have high fat content and low protein content (except the bars and the Sport variation). While, the sugar content may seem high in some of the products is mostly because isomaltulose, a low GI sugar. In fact, Feed. meal replacements have a GI of 22. All products provide the sufficient macros and micros for a 2,000kcal diet.
The only issue worth mentioning is that every product is different. Thus, there will be specific allergens in some of the products.
Aside from that, I like what Feed. is offering, while I am a little disappointed they chose not offer a non-vegan meal replacement.
Anthony Bourbon founded FeedSmartFood in June of 2016 after 18 months of product development. In 2017, they launched their products on their website and 50 shops in France. Since, Feed. has received venture capitalist funding worth up to €3.5M and has increased the size of their Parisian based team to 42 employees. Definitely an impressive ramp up.
Following with the impressive numbers, Feed. is sold in more than 1,000 shops, besides their website. They have also been listed in the top 15 French start-ups to keep an eye on 2018 by maddyness.
While the numbers are good and the track record is impeccable, Feed. is still under the shadow of the European giants, Huel, Queal, Jimmyjoy and Mana. This could change soon, if they keep up with the good work.
More about the founder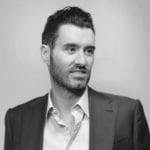 Anthony Bourbon developed the initial Feed. formula while he was working in a Parisian Legal company. Tired of having to eat the same snacks everyday, and intrigued by the idea of complete foods developed in other countries he started on his own recipe that would suit the French palate. His first customers where his colleagues that asked him for "la boisson magique" (the magic drink). From there, he surrounded himself with chefs, nutritionist and agrobusiness engineers to develop Feed.
A product that would suit the Frech cousine, without the addition of chemicals and with few allergens.
Feed.'s packaging
Feed.'s packaging options are multiple, however this does not mean they are all good. Starting from the positives:
Different packaging models and options. E.g. you can choose between powder bags or pre-bottled powder, where you just need to add water.
Powder bags come in small (one days worth) and large (20 meals, about 6.3 meals) options.
You can choose between premixed RTD and add water RTD.
All Feed. bottles are recyclable.
Into the negatives:
Bars wrapping is not fully recyclable.
The sport variation only comes in one size.
As you can see there is not much to complaint about. I really like the fact that they offer their powder products in pre bottled versions and I could see that variation being an easier solution to sell in shops and more accessible to consumers (Ample has a similar thing).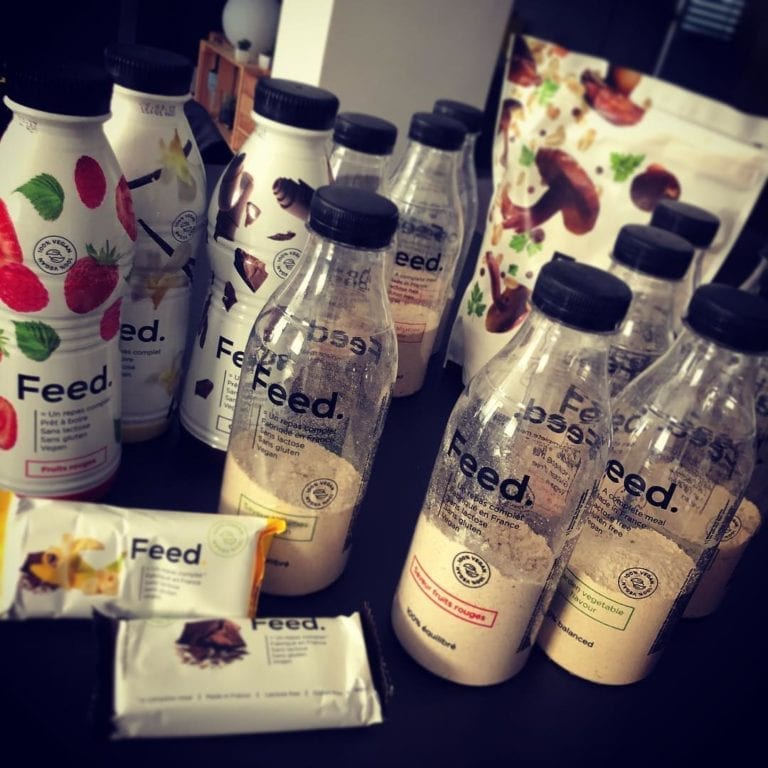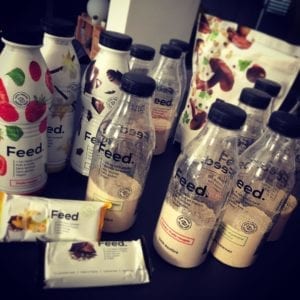 Feed. states that the shell life of the RTDs is 9 months, I would expect a longer shell life for the rest of the products.
Shipping and Return Policy
Feed. is currently only available in Europe. They offer free delivery in orders over €70 to all the EU. This is certainly higher than other competitors (Queal's €50, Saturo about €40, Huel €54), but still reasonable. Unfortunately, there no dates for US release, yet.
Subscription
Interestingly, Feed. is yet to offer a subscription based discount, much like Satislent. They offer discounts according to the total amount of the purchase; e.g. 10% in orders above €100 (like shown below). While this is a cool method, does not offer the same comodities as a subscription based model, where the user does not need to manually take care of ordering each month. It is also more limiting in any rewards system that might be implemented later on and does not help the user tracking their past purchases.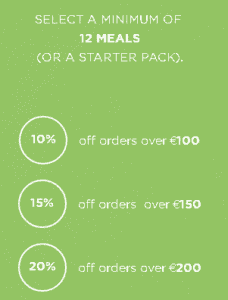 How do I get started with Feed.?
Starting with Feed. might be more intimidating that it really should be, mainly because of the huge range they offer. This can make a newcomer confused. For that reason, the taster pack would be the best option for you.
For a step by step guide for newcomers to complete foods visit how to start with meal replacement guide. Anyhow, here is how to get started with Feed. in 5 easy steps:
Get your head around your nutritional needs. Particularly, the amount of calories you will need in any given day. The easiest way to do so is to use MyFitnessPal.
Purchase the taster pack in the Feed. website using the link provided to get %20 off. Alternatively, purchase the product you are more likely to use or like (flavour wise or format wise).
Think about when do you struggle having a healthy meal the most and swap it for a Feed. meal. I would recommend starting with one meal a day.
Track the calories for the rest of the day so you know you are hitting your targets.
Rinse and repeat. Get inmersed in the French culinary experience that Feed. offers you.
Other things worth considering:
Beginners should take special care with tracking their calories.
If you live in France, you can buy Feed. in Franprix stores or order in Deliveroo or Ubereats (instead of that kebab with chips that you were about to order).
The Deals section tends to have the latest offers, check it out.
Stop consuming Feed. products if you feel unwell, you notice an allergic reaction or you develop stomach problems.
How to buy YFood
Go to Feed. website and select the shop option in the navigation menu.
The options in the shop menu can be overwhelming. You can click on each product to see their nutritional profiles (recommended to do). Alternatively, you can use the filter to choose from the different products and flavours.
Select the quantity and add to cart. I would recommend spending above €70 to get the free shipping. You can access the checkout clicking the cart on the top right side.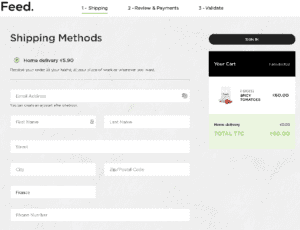 Lastly, time to set your wallet loose.

Which Feed. product is right for me?
Feed. has a humongous catalogue and finding the right one might feel overwhelming. However, I would say that if you are a fairly sporty person go for the Sports trim; if you are looking to lose weight or are fairly skinny go for Light; and if for the rest the normal ones will do.


Where can I get Feed.?
You can buy Feed. online or at the stores in France and in the UK. Feed. delivers to all Europe, but not to the US or Canada.


Are Feed. products gluten-free, vegan or/and GMO-free?
Yes, all Feed. products are gluten-free, GMO-free and vegan. Furthermore, those with the organic label are organic certified.


I am diabetic, can I consume Feed. shakes?
Feed. is consumed by many diabetic consumers, however, Feed. cannot guarantee the safety of their products for such consumers. Thus, I would recommend checking with your dietitian.


Where is Feed. manufactured?
Every product is manufactured in France.


What is Feed.'s refund policy?
You can return any unopened item within 14 days. However, if the package is opened Feed. will not take it.


Why choose Feed. over Huel or other meal replacements?
Feed. has more products to choose from, including an organic line; more varied macronutrient distributions; more formats (RTD, bars, powders and more); and has some of the best tasting shakes in the industry. Furthermore, you will be able to find both, savoury and sweet shakes.


Feed. vs other meal replacements
Pinpointing the major competitors is hard, since Feed. touches most areas of meal replacements. Feed's biggest enemies are possibly, Huel, Saturo (RTD), Ambronite (organic) and in a lesser way, Jimmyjoy and Queal.
Feed. vs Soylent– Feed.
Soylent RTDs have just launched in Europe. For the sake of comparison, I will use Feed. RTD.
| | | |
| --- | --- | --- |
| | Soylent | Feed. |
| From | USA | FRA |
| Ships to | USA | EU |
| $/400kcal | $$ | $$$ |
| C/P/F | 38/19/43 | 48/12/40 |
| Allergen | Soy | Soy* |
| kCal/meal | 400 | 650 |
| Serv/day | 5 | 3 |
| Suitable | Vegan | Vegan |
| Flavours | 4* | 3* |
| Products | 3 | 6 |
Label:
Price per 400kcal without subscription:
$– Below $1.5 $1.5 = €1.3 = £1.15
$$- $1.5 to $3 $3 = €2.6 = £2.3
$$$– $3 to $5 $5 = €4.3 = £3.85
$$$$– over $5
Price, product range and flavours: Winner Feed.
Feed. products are definitely more expensive than Soylent's. In the case of the organic powder pouches they are more than 3 times more expensive. However, the normal versions are more competitive.
The Frech brand's strength relies on the variety, though. It mops the floor with Soylent, which has a pretty good range itself (RTD, RTD with caffeine and Powder version). The organic variants, up to 8 flavours as opposed to Soylent's 4-5, the sport iteration, the caffeine boosted powder and the two RTD types.
On top of that, the flavours Feed. offers are more flamboyant than Soylent's, even if they will not be of the liking for many.
Nutrition: Feed.
This is closer than I would have thought. If I take the RTD versions into account I must say I prefer the higher protein content Soylent offers (even if they both use soy protein). On the other hand, the quality of products, especially in the organic versions, are higher in Feed. products.
If I were to take the whole range, I think Feed. offers more options nutritionally, as well as better plant based protein blends.
Brand image, Customer Service, Availability, Shipping: Soylent
Soylent is a US powerhouse with huge presence in forums and always present in any talk about lents. It is the reference point at the moment. Their customer service is OK, and their availability is increasing as for September of 2018, when they finally cross the pond.
Feed. is big in France and has a huge Instagram following. However, it is not as well known as other brands in the rest of the world. In France, Feed. is also readily available, and you can easily order within Europe, but you cannot do the same from the US.
While Soylent takes this point now, I have a hunch that this might not be the case in 1 years time.
Feed. vs Huel – Winner Huel
Huel is a great company to compare to, because they tend to do most things right.
| | | |
| --- | --- | --- |
| | Huel | Feed. |
| From | UK | FRA |
| Ships to | World | EU |
| $/400kcal | $$ | $$$ |
| C/P/F | 38/31/31 | 48/12/40 |
| Allergen | Gluten* | Soy* |
| kCal/meal | 500 | 650 |
| Serv/day | 4 | 3 |
| Suitable | Vegan | Vegan |
| Flavours | 5* | 8* |
| Products | 3 | 6 |
Label:
Price per 400kcal without subscription:
$– Below $1.5 $1.5 = €1.3 = £1.15
$$- $1.5 to $3 $3 = €2.6 = £2.3
$$$– $3 to $5 $5 = €4.3 = £3.85
$$$$– over $5
Price, product range and flavours: Draw
Honestly, I think it will be hard for Feed. to lose this section vs any company.
Huel offers 3 variations of their powder product, a granola breakfast meal, a bar and soon a ready to drink shake, too. On top of that, you can have up to 16 different flavours, if you include the boost. A tough variety to match.
However, I believe Feed. offers all that (except the breakfast solid option) and perhaps more, with the organic and non organic variations.
I must say Huel's prices are slightly cheaper than Feed.'s, though.
Nutrition: Huel
This is a tough one to judge. I believe Feed.'s prime ingredients are almost unmatched in quality, particularly in the organic variations. However, Huel's mastery over nutrition is unparalleled as it can be seen in their nutrition page (more like extensive library).
I personally enjoy Huel's more balanced energy split more, too. I am an advocate for oats as carbohydrate source, and really like the amino acid profile Huel offers with their plant based protein blend. More so, than using soy protein isolate or pea protein on their own (like Feed. does).
Brand image, Customer Service, Availability, Shipping: Huel
Huel has a really good brand image thanks to their product quality, customer service, forum activity and overall customer satisfaction. They offer good shipping terms in the EU and US; plus a 10% off subscription method that can be really convenient.
Feed. may have the potential to crack Huel's EU stronghold, however, it will have to start offering similar services (forum, subscription, easy contact) in order to do so.
Who is Feed. for?
Feed. caters for many people. From people who are bored with the standard flavours and want to try something different, to people who really care about what they eat and how the prime ingredients are sourced. This French brands offers variety and quality, adapting to almost any consumer's needs.
The Sport variation is a little weaker than the competition, but their meal replacement bars are top of the market and their RTD range very unique.
Does it taste good?
In my opinion some do and some do not. Nonetheless, this is due to the range of flavours, from which you can pick your favourites. I must say Feed. has some of the best savory meal replacements. You can read more about the different Feed. flavours here.
Will I get all the nutrients I need?
All Feed. products are based on 2,000kcal diet and provide all the nutrients required. Even the organic versions and the meal replacement bars are packed with the necessary vitamins and minerals, which is quite an achievement.
I want to buy it. How much will it cost me?
Best to see this in the product section; but summing up:
Non-bio RTD: €4.9
Organic RTD: €7.9
Pre-bottled powder: €3.9
Normal powder: €3
Sport Powder: €4.63
Bar: €3.5
Organic bar: €6.5
Feed. offers no subscription, but a discount based on the total amount of the purchase; e.g. 10% off after €100, 15% off after €150, and 20% off after €200.
Wait a moment, is it perfect?
Perhaps for the organic food lovers the opportunity to enjoy a organic bar and RTD is perfect. However, the brand itself has ways of improving. I would like to see the some tweaks in the formula to use plant based protein blends instead of the isolates (especially in the sport variation). On the plus side, most Feed. products have very few allergens (or none).
Verdict
Feed. is an extremely unique brand that offers both quantity and quality. Not only you can choose between organic and non-organic products, but their flavours are peculiar and unparalleled in the market, plus they offer multiple formats (RTD, powder, bar). It has the value proposition to become a top brand; however, I would like to see improvements on the pricing and returning consumer rewards. I recommend trying Feed. if only to try something new and different; or if you really care about the sourcing of your prime ingredients.
Always check the Deals section for the latest discount codes.
– You can get €20 OFF if you use the link above which will make any Feed. meal replacement an absolute bargain and worth every cent.
-LATESTFUELS for 20% OFF.