Twennybar Review | A Bar That Won't Disappoint You
Chocolate or vanilla, perhaps the easiest and most convenient Jimmyjoy meal
The best bar in the world. Or so does Jimmyjoy claim. For under €2 per bar you get almost 400kcal and 20% of your nutritional needs. Looks promising. Really handy for those busy moments when you do not have time to buy/cook food, or for when you are lost in the mountains and you need some food. But how does that make it the best bar in the world. Is it really? Let's find out in this Twennybar review.
Note: Twennybar is going a revamp and it is currently only available for subscribers. The new bar will be called Plenny Bar and it will be launched in October.
Plenny Shake WakeUp at a glance
Flavour: Chocolate, Vanilla.
Ingredients: Rolled Oats, Humectants (Glycerol, Maltitol), Rapeseed Oil, Soy Protein Crisp (Soy Protein, Tapioca Starch, Raising Agent(Calcium Carbonate), Salt), Full Cream, Milk Powder, Fructose-Oligosacharides, Maltodextrin, Soy Protein Isolate, Whey Protein Concentrate (Milk) cointain Emulsifier (Soy Lecithin), Inulin, Coconut Oil Powder (Milk), Milk Protein, Vitamin and Mineral Blend (Maltodextrin, Potassium Citrate, Calcium Carbonate, Di-Potassium Phosphate, Sodium Chloride, Magnesium Oxide, L-Ascorbic Acid, Ferric Pyrophosphate, DL-Alpha-Tocopherol Acetate, Zinc Sulphate, Nicotinamide, Retinyl Acetate, Calcium D-Pantothenate, Manganese, Sulphate, Cupric Sulphate, Cholecaciferol, Pyridoxine Hydrochloride, Thiamin Hydrochloride, Riboflavin, Phylloquinone, Pteroylmonoglutamic Acid, Potassium Iodade, Chromium (II) Chloride, Sodium Selenate, Sodium Moblybdate, D-Biotin, Sodium Fluoride, Cyanocobalamin), Salt, Flavouring, Exhausted Vanilla Bean Powder, Antioxidand(Natural Mixed Tocopherols).
Macronutrients per serving (g)
Protein(g)
Carbs(g)
Fiber(g)
Fats(g)
% of Energy from each macronutrient
Carbs 47%
Prot 20%
Fats 33%
% of Recommended Intake per serving
RI based on 2,000kcal
RI based on 2,500kcal
The Twennybar is nutritionally different to all the Plenny shakes and other Jimmyjoy products. Not only does include some unique ingredients, namely, coconut oil; but it also has a different nutritional balance.
Plenny Shakes have usually a 50C/25P/25F split, as energy sources. However, the Twennybar is richer in fats (both total and saturated) and lower in protein; for a 47C/20P/33F split. Does it make much difference? Not really, since it is not dramatically different and sits within the acceptable macronutrient distribution ranges set by the ESFA.
Coconut Oil
Coconut oil is richer in saturated fats than other fat sources (olive oil, canola oil, sunflower oil…). In fact, its used is advised to be limited or nule by WHO, USHHS, the British National Health service, among others. However, the quantities in the Twennybar do not surpass the upperlimits established in this guidelines, therefore, there is little to worry about.
Furthermore, it has been linked to multiple health benefits, such as, increased absorpotion of magnesium and calcium, improve health, improve thyrod function, etc.
To sum up, do not worry about the coconut oil and fat levels in Twennybar. The reason why they are used it is because the solidify in room temperature, thus they are more practical in while producing snack bars (discussed also in GOBar).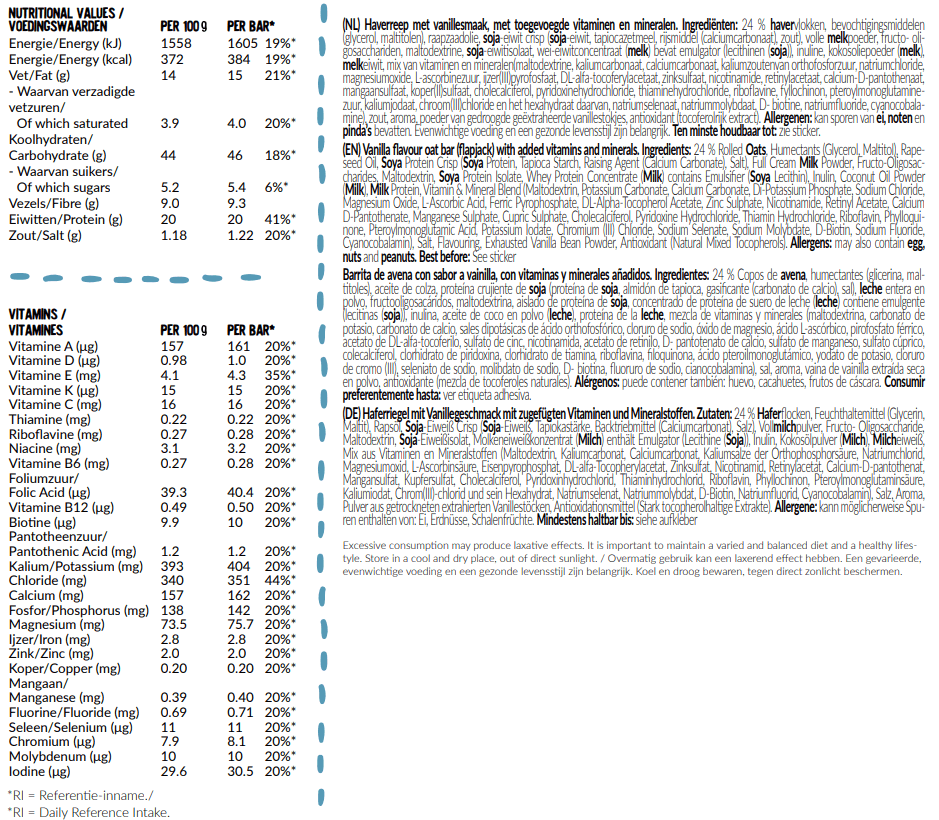 1- Can I live only eating Twennybars?
Eh, we guess you could. However, we strongly advise against it. Not only because the nutritional values might not suit you, but also because it could have some laxative effects.
2- Is it just another protein bar?
We understant why would you think so. It does come with 20g of protein, which is what most protein bars offer. However, Twennybar is also enriched with 20% of the daily recommended micronutrients. Plus the macronutrient range is designed to fit your daily needs, unlike many of the protein bars which will have too much carbs or fats.
3- Is it Vegan?
It contains whey protein and might contain traces of egg. Therefore, no. However, Jimmyjoy have stated that they will release a vegan bar at somepoint in the future. So stay tuned.
4- How long I can keep it in the shelf before I eat it?
About 12 months. We expected bars could last up to 18-24 months if stored in a cool, dry place, but we would not advise to eat them much after 12.
5-What about shipping costs?
We explain all in detail here.
Veredict
We like Twennybar as a product. It is nothing that will blow your mind, but it certainly is handy and tasty. We just do not feel like it will be our long term meal. We rather have shakes, not only because there are more flavour options, but also because we think they are healthier in the long run. Hey, great snack or meal if you need a bite on the go.
---
Other JimmyJoy products