It is Küik, Smooth, Sweet & Complete. Intrigued? (Review)
A brand that aims for continuous improvement and is quick to evolve.
In this Kuik review, I want to have a good look to the Spanish meal replacement company.
It's been a while since I last reviewed Kuik shakes, and I have always said that they used to have one of the smoothes meal shakes you could eat.
However, since I've last had them, they've removed the Original line (whey based) and have made all the products vegan friendly. Thus, Kuik now offers two meal replacement powders: Sport and Vegan (I liked them both last time).
Plus, they now offer a meal replacement bar (220kcal), ideal to snack on or have it after your workout.
Therefore, I have a tons of new things to rediscover in this Kuik meal replacement review. Let's get started.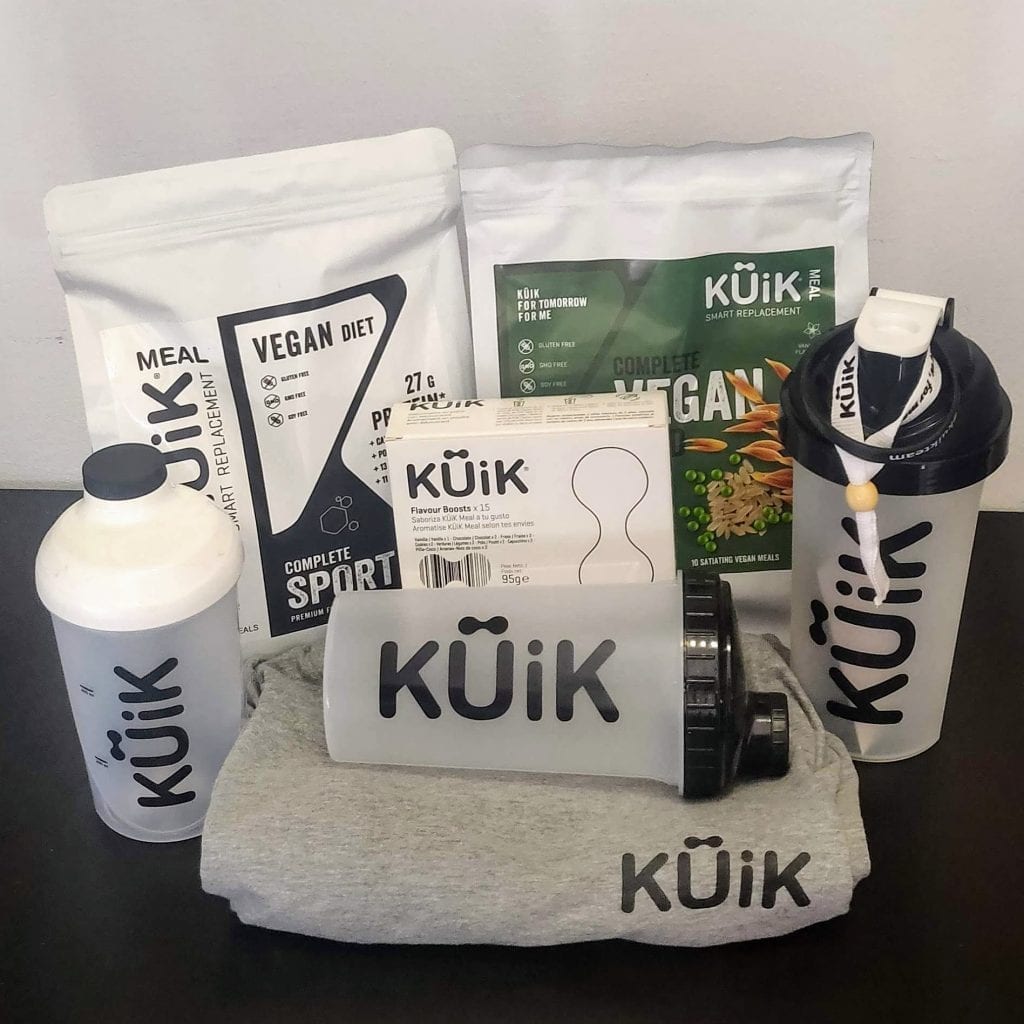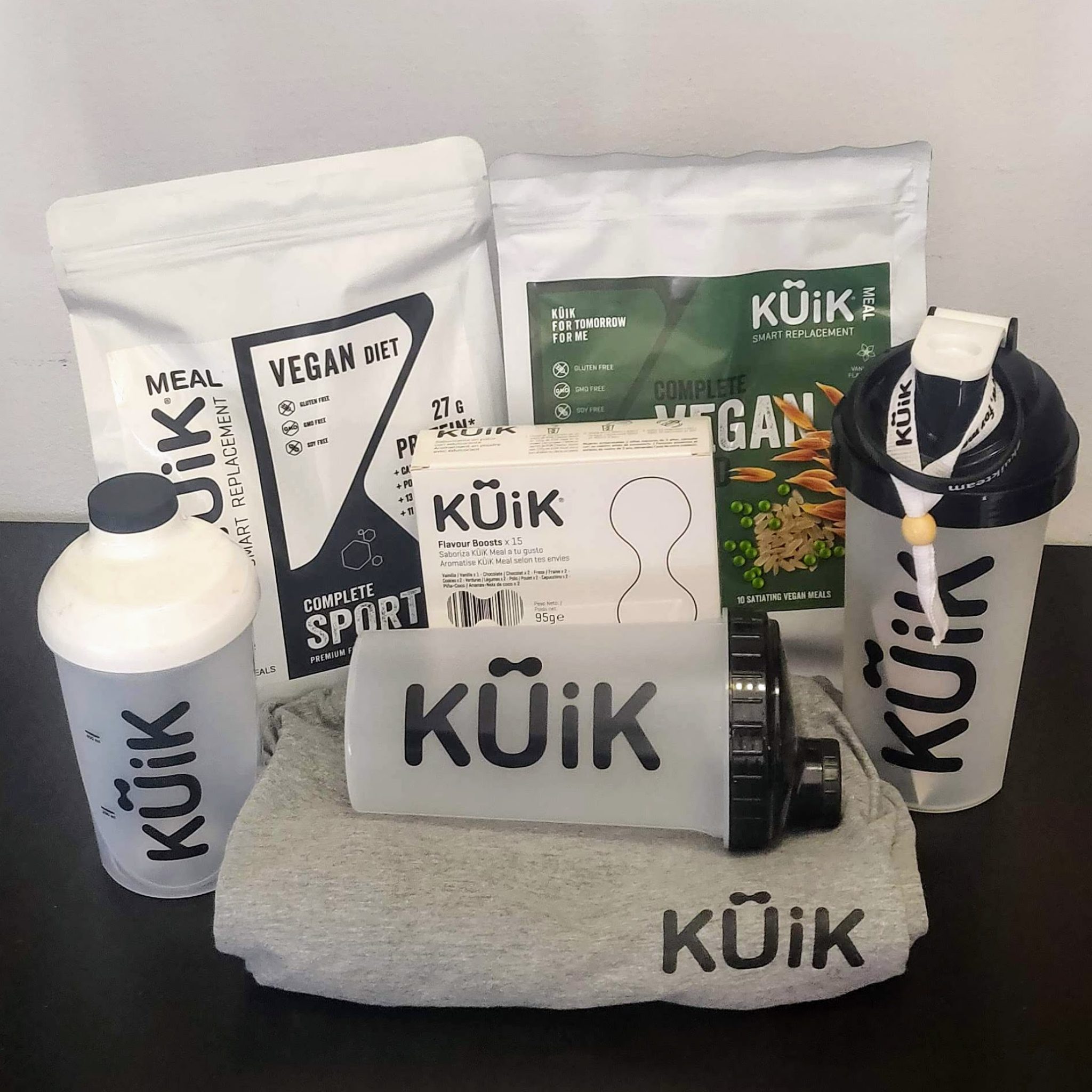 Kuik Review at a Glance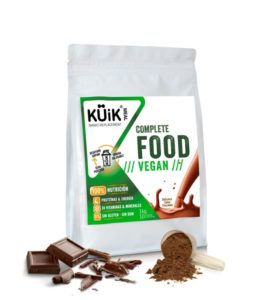 Opinion
Küik is a brand that is currently growing. However, they still manage to deliver a three good products in up to 8 different flavours, including both savoury and sweet alternatives. The main strength of the Spanish brand is the smoothness of the shakes, which has no rival in Europe. Besides the smoothness, Küik also excels in sweet shakes. Now they have expanded their repertoire with two great dairy-free shakes. I just hope they keep developing healthier meal replacement shakes.
What I like
1. Vegan and non vegan formulas. Küik offers a little bit of both, so you don't have to make a choice.
2. Smoothness. This is not really true for the new Vegan shake, but the Original and Sports variants are among the smoothest and thinnest shakes that I have tried.
3. 8 different flavours to mix with. I am not a big fan of the flavouring system, since I don't think the flavours achieve the perfection, pre-mixed shakes do; plus also generates more waste. However, the range of flavours they offer is interesting and pretty tasty on average (with few exceptions).
4. Nice starter pack. While the Vegan range doesn't have one yet, the original starter pack is great and the best way to discover what Kuik is about.
5. Focus on the Spanish market. It is good to see that they are trying to penetrate their home market.
6. Rich in micronutrients and omega-3s. It is great that each serving provides you with 2.1g. On top of that, each Küik shake also gives at least 45% of each micronutrient, more often than not even more.
7. Great beginner shake. The texture and the sweet flavours are very easy to like. The lack of lumps or mixability issues makes it a great shake for those that are put off by these.
What I dislike
1. No bulk discounts for the Vegans. I feel that this will be fixed with time, but right now with the introduction of the vegan range there is no way to get any discount on them.
2. Prices for the vegan products. In a similar note, having to pay an extra €2/meal for the vegan shake it is a little too much.
3. Maltodextrin. On a more personal note, I am not a big fan of maltodextrin, despite being the key to the smoothness of the shakes. I think that besides pure carbs, brings little else nutritionally.
4. Too sweet. If you have a sweet tooth, like some of my friends do, you are in luck. You are going to love Kuik Vanilla and the rest. However, it is just too sweet for my taste.
5. Issues keeping me full. The vegan shakes are much better at this, but in general, I will be hungry in about 2h of having a Kuik shake. A little too quick.
Improvements
1. Improved pricing for the vegan range. Hopefully this will come with time, but I would love to see bulk discounts.
2. Subscription option. I am an advocate of the choice to subscribe to your favourite product, so you can enjoy extra benefits (discounts, rewards etc.).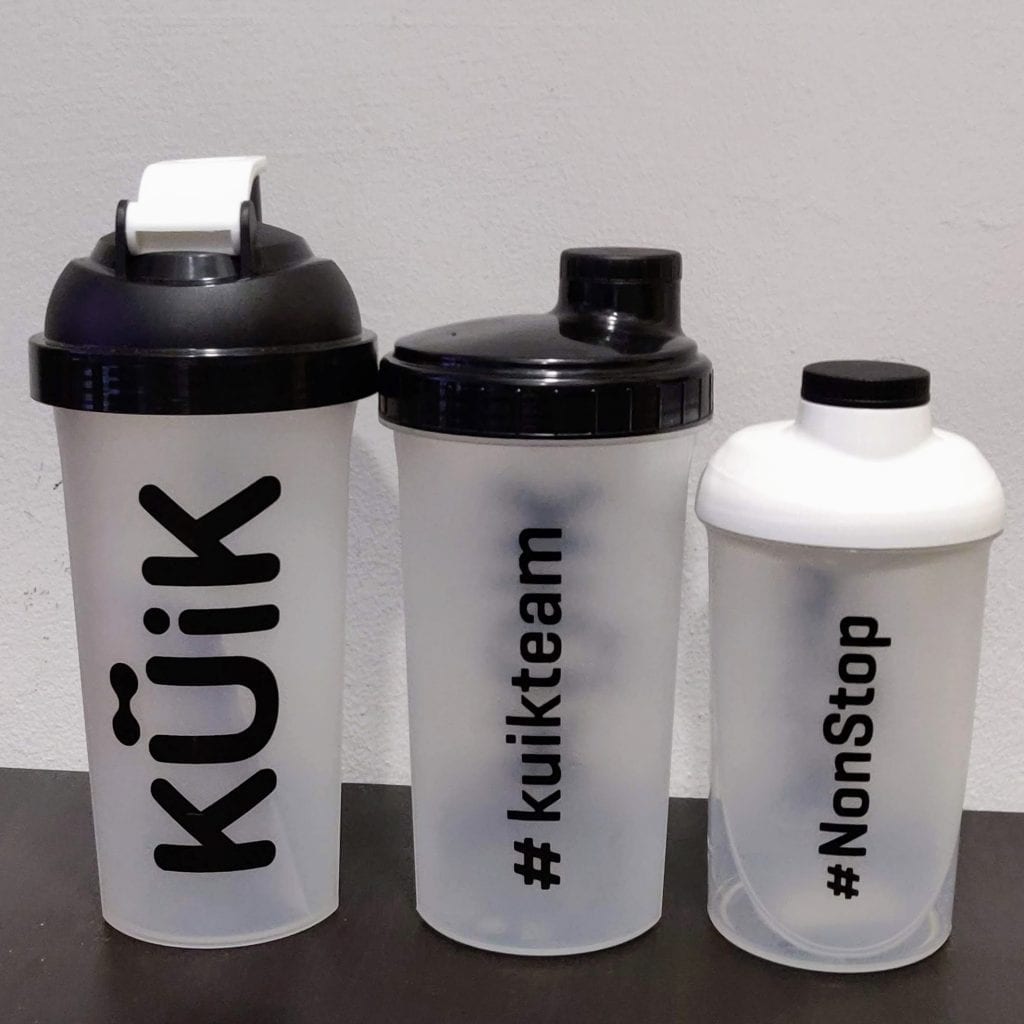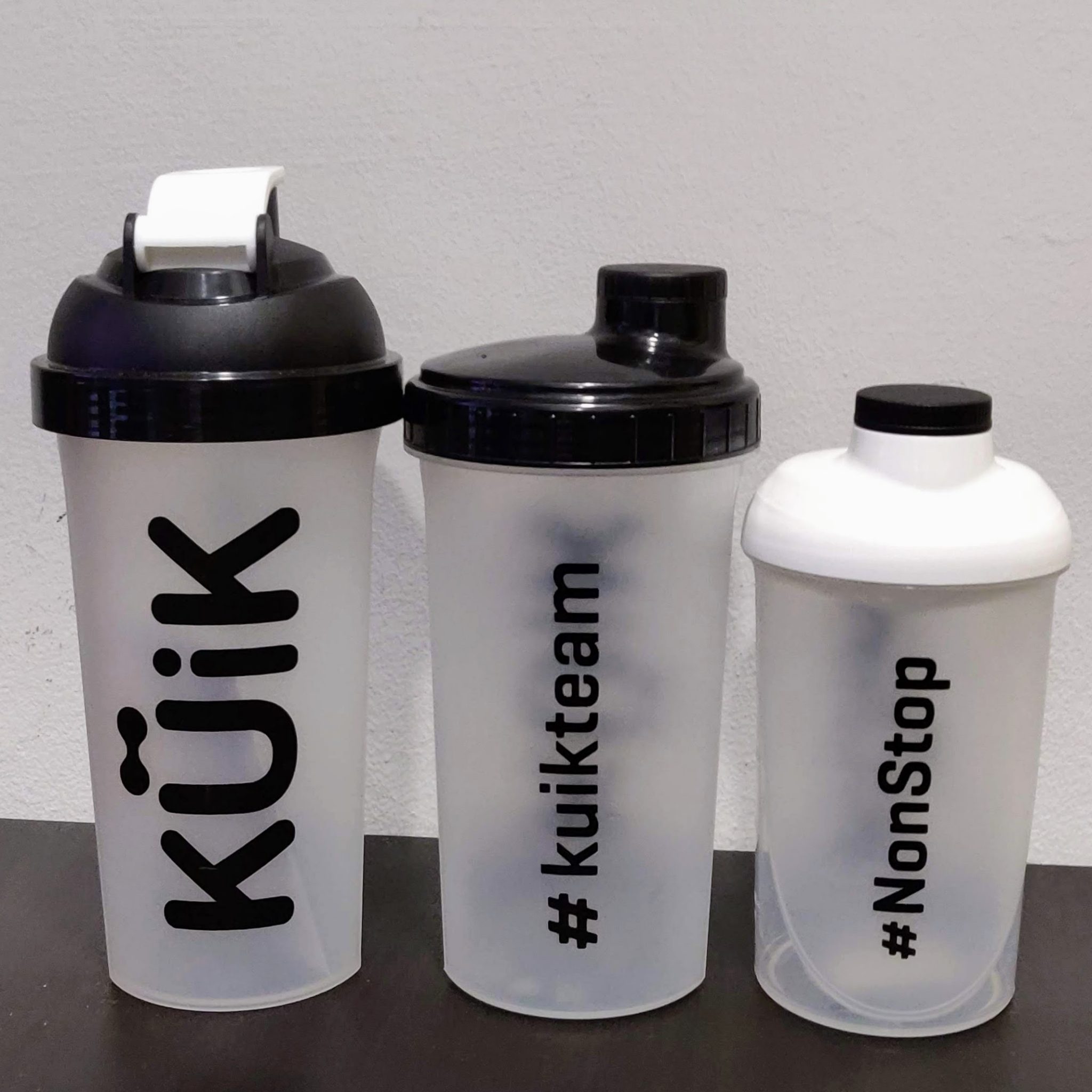 Kuik Powder Taste Review
I will review all Küik products, since I have been fortunate enough to try them all. One thing to remark is how smooth all the shakes are (0 lumps), with the exception of Kuik Vegan. This last one has oats, which are noticeable in the shake (not a bad thing, per se).
Küik Original and Küik Vanilla (Pre-mixed)
Küik Original shakes use a neutral base that on its own is very milk-like (both taste and texture), but salty. In fact, it can be a little uncomfortable. I would be perfectly fine drinking it without any flavourings if it were not for that saltiness touch.
As for which flavour boost goes best with the Original formula, I would say vanilla, chocolate and strawberry.
On the other hand, the Vanilla premix has no saltiness at all, but an excessive, aggressive sweetness. It reminds me of sponge cake. Nevertheless, it must be said that this shake is the favourite of some of my friends.
Küik Vegan and Vegan Sport
Despite both being Vegan, and both being available in three flavours: Original (Vanilla-cinnamon), Chocolate and Strawberry; the taste is fairly different.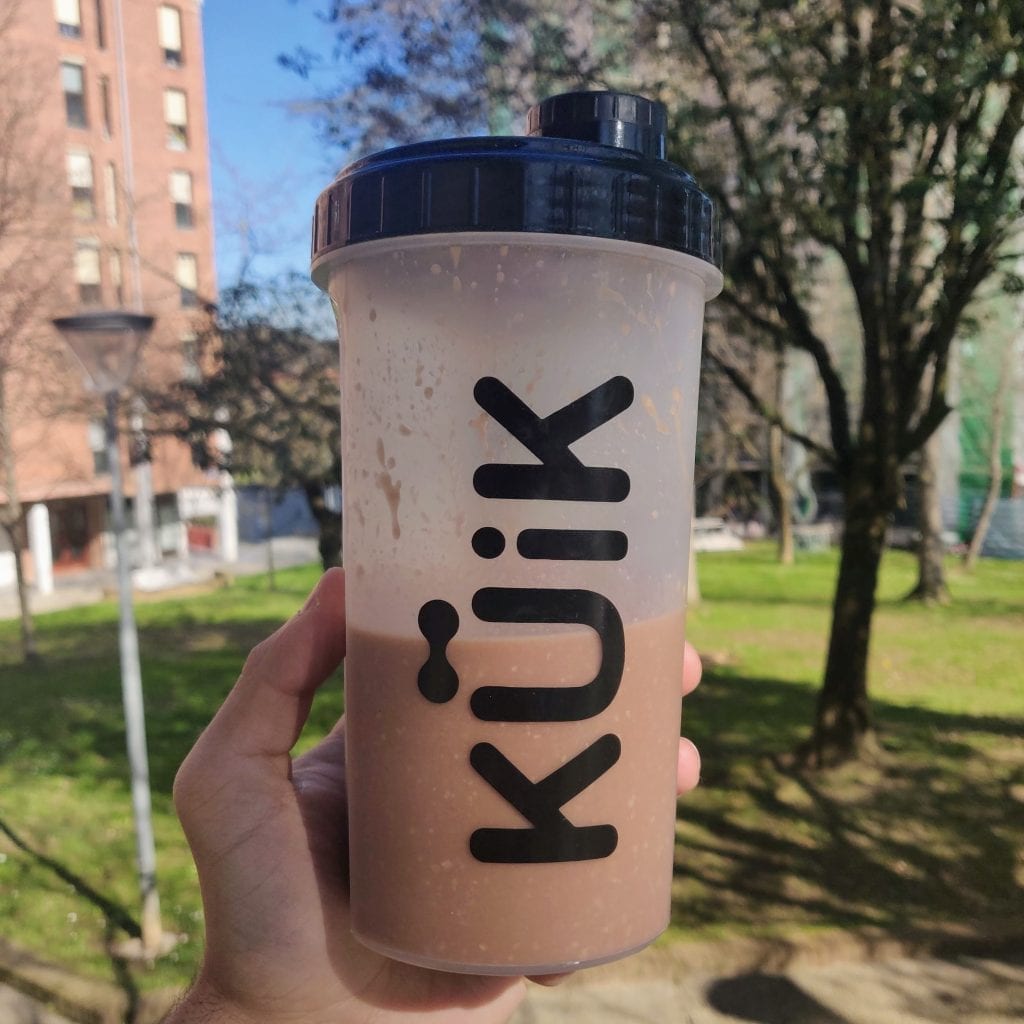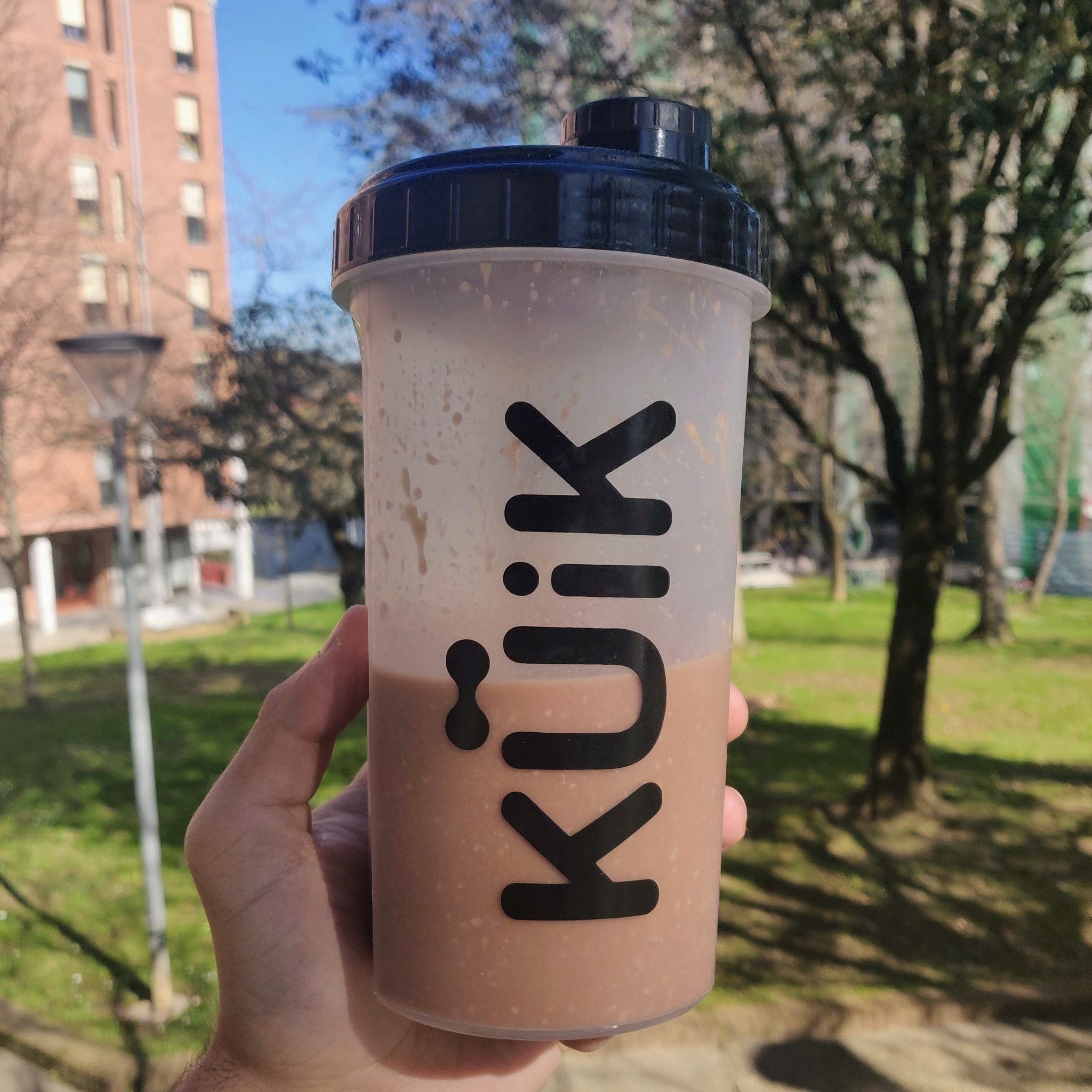 The Vegan powder is the tastiest of both, with a nice touch of vanilla, oats and cinnamon. Despite the fibers adding some bits to the drink, I think it is pleasant to drink.
On the opposite side, Vegan Sport strikes to me as a little more artificial. It is the smoothest out of both, and thicker than original, but not by much. The Vanilla flavour, however, it is less sweet than in the original, and easier to like.
Both go well with sweet flavour boosts, but not so well with the savory ones (Chicken and Legumes).
Küik Flavour Boosts Rating
One thing about the FB is that they are very sweet. So careful when you add them to the Vanilla premix. Besides, the savoury ones taste like Kraft soups. They are not unpleasant, but do not expect a crazy culinary experience.
Here is the ranking of the FB: Vanilla> Chocolate> Strawberry> Chicken> Cookies> Cappuccino> Legumes > Pineapple-Coco.
What PRODUCTS does Küik offer?
Küik is a Spanish meal replacement brand, similarly to Satislent. This small brand currently offers three powder based products, a whey based formula and two vegan alternatives. To the first, you can then add 8 different flavourings that they produce: Chocolate, Vanilla, Cookies, Strawberry, Legumes, Coffee, Chicken and Coco-pineapple.
The flavourings come in 15 pouch boxes, so you can use one box per quick bag (15 meals per bag).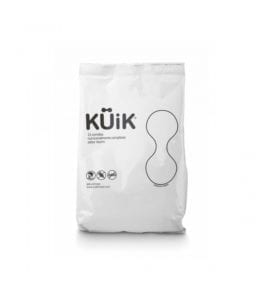 Küik Original
Meal Replacement
Powder
469kcal/meal
20P/37C/43F % of Energy from
2.5g of sugars/2.6g of Saturated Fats per serving
Price no subscription: €1.42/400kcal
Lowest: €1.28/400kcal
Allergen: Dairy, Soy
---
Küik Vegan
Meal Replacement
Powder
418kcal/meal
21P/47C/32F % of Energy from
6.8g of sugars/1.4g of Saturated Fats per serving
Price no subscription: €3.50/400kcal
Lowest: €3.50/400kcal
Allergen: Gluten
---
Küik Sports Vegan
Meal Replacement
Powder
378kcal/meal
29P/57C/14F % of Energy from
4.3g of sugars/0.5g of Saturated Fats per serving
Price no subscription: €3.72/400kcal
Lowest: €3.72/400kcal
Allergen:
---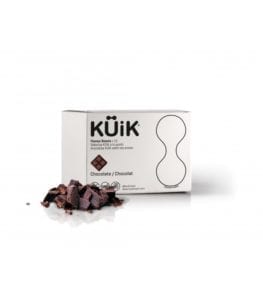 Küik Flavourings
Flavouring
Powder
25-40kcal/meal
Price: €0.53/meal
Flavours: 8
Servings per box: 15
Price per box: €8.00
Brief Starter Pack Review
Küik's starter pack includes one bag with 15 meals, one flavour boost of your choice (I would recommend going for the multiflavour to try them all), a shaker, a t-shirt and some stickers for €49. This is not a good taster deal in my opinion. I say this, because included in the price are non-food stuff that most brands give it for free. I do not feel that the consumer wants to pay extra for the t-shirt and the shaker, when most likely he expects them for free. However, it can be very helpful for those who are starting and need all the gear.
For the advance meal replacement user, I would recommend buying a multiflavour boost and a normal 15 serving pouch for €34 instead and use a shaker that you have at home.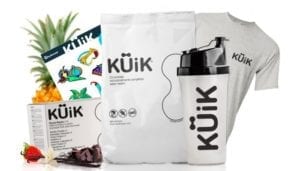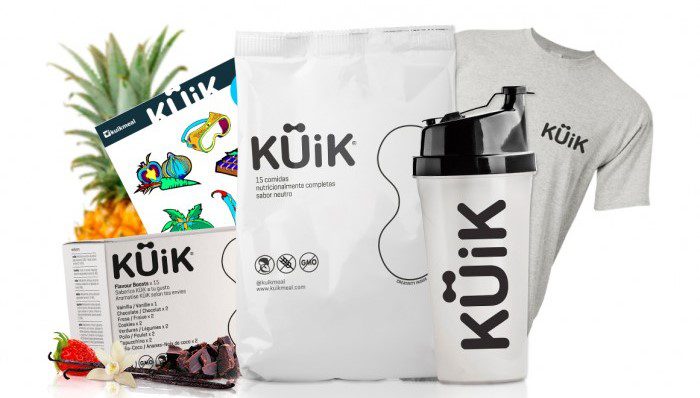 So what's the difference between the various Kuik meal? Are you unsure to which one will be better fit for you? It's really easy:
Küik Original is the best fit for those who don't follow a vegan diet and want to enjoy the smoothest shake possible. The neutral blend is also the easiest to mix. Pluse, it is the most affordable out of all three options.
Küik Vegan is a little more lumpy (oat fibre bits), but has nicer vanilla flavour with a great cinnamon touch. It is also richer in carbs, so great if you don't want to have many fats. Unfortunately, it is more expensive than the Original.
Küik Vegan Sport on the other hand is the mix with the most protein and the least fats. It is a great recovery shake with added BCAAS. Price-wise, it is the most expensive per calorie, sadly.
Brief Küik Original Review
Küik's powder meal replacement is based on a 2,000kcal diet and provides one fourth of the daily requirements per serving. Each serving provides with 469kcal (unflavoured powder). However, when we add the boost the caloric content of the shake is closer to 500kcal.
With Vanilla boost 487kcal.
With Legumes boost 505kcal.
With Chocolate boost 501kcal.
With Pineapple-Coco boost 487kcal.
With Cookies boost 487kcal.
With Strawberry boost 486kcal.
With Chicken boost 483kcal.
With Coffee boost 481kcal.
Even if Küik recommends 5 servings, I would say 4 are enough for most sedentary adults. Plus, there is no worrying about having enough micronutrients, since each serving offers at least 45% of every vitamin and mineral (in most cases more than that).
The Küik Original shakes have no gluten, no added sugar, no-GMO ingredients nor nuts. However, they contain protein from milk origin; thus, they are not vegan shakes. Interestingly, they do have carnitine and taurine, two ingredients often seen in energy drinks and boost products; as well as, an antioxidant blend.

The Original is available in a Neutral flavour (tastes like salty milk) and Vanilla premix (very sweet). If you order the Neutral version, I strongly recommend you buying the flavour boosts, too.
Brief Küik Flavourings Review
Each flavouring costs €8, apart from the multiflavour box, which is €9. The multiflavour box offers 2xchocolate, 2xcoffee, 2xstrawberry, 2xcookies, 2xlegumes, 2xpineapple-coco, 2xchicken and 1x vanilla. Out of these flavours, Coffee, Pineapple–coco and Chicken are not available otherwise; which I find strange. I hope they make them available for individual purchase.
---
Ingredients:
Coffee: finely powdered decaf coffee, maltodextrin, flavouring, E-960.
Chocolate: no fat cacao powder, maltodextrin, E-960.
Vanilla: maltodextrin, flavouring, E-960, colouring (carotene) E-160a(i).
Strawberry: maltodextrin, flavouring, beetroon juice, E-960.
Cookies: maltodextrin, flavouring, E-960.
Legumes: maltodextrin, powdered tomato, powdered onion, red pepper bits, powdered leek, sodium cholride, parsley, colouring (carotene) E-160a(i).
Chicken: maltodextrin, flavouring (salt, lactose, hydrolised plant protein, maltodextrin, magnesium carbonate, monosodium glutamate (E-621)), powdered onions, sodium chloride, parsley colouring (carotene) E-160a(i).
Coco-Pineapple: maltodextrin, flavouring, citric acid (E-330), E-960.
---
The box contains 15 mini bags with 15 servings. Each serving offers a small nutritional addition (about 20-36kcal) and costs €0.53. While I like the idea of having the unflavoured version to be able to customize and play around; I dislike the idea to charging extra to the consumers for the flavours.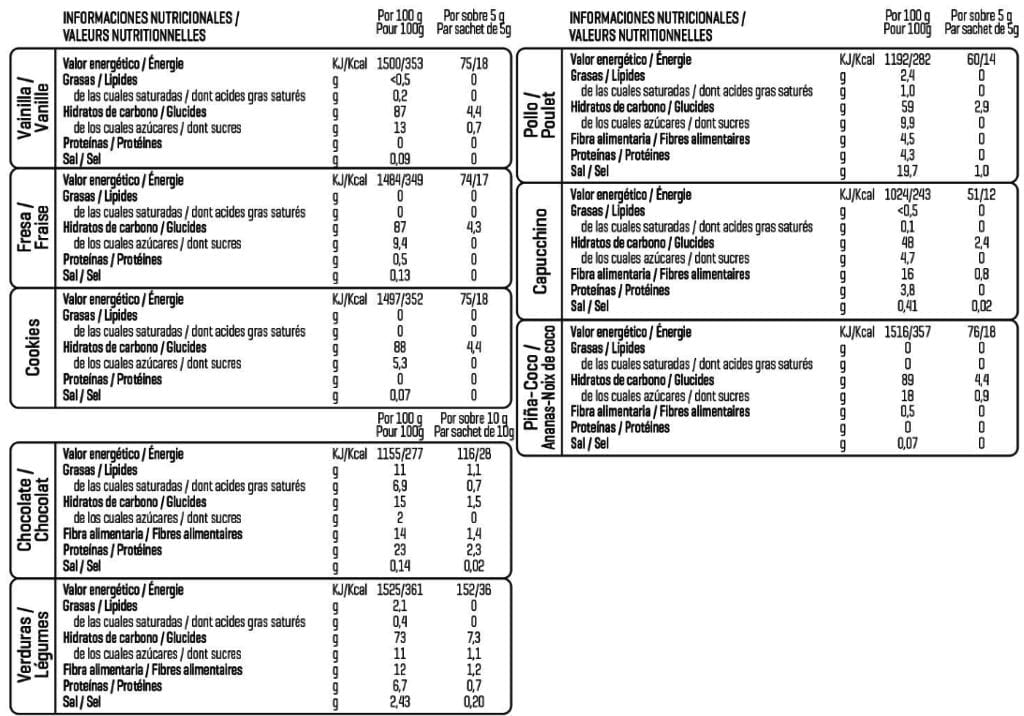 Kuik Nutrition Breakdown

Küik Original offers a very nutrient rich product, which is heavy on fats (but low on saturates) and fairly low in carbohydrates. It uses co-operative milk from the farmers of the North of Spain to support local production and reduce carbon footprint. The Küik powder is non-GMO, gluten-free, nut free and without any added sugars.
Energy
Küik's shakes offer 469kcal per serving which is a bit odd. Most companies offer a 500kcal serving or a 400kcal serving or even a 700kcal serving. This is because when you add the flavouring, it nears 500kcal (as explained in the section above). Thus, each shake will provide you with 25% of your daily energy needs.
For the original, 43% of the energy comes from fat sources. This is 8% higher than the maximum recommended by the EFSA, WHO and US health departments; which recommends 20-35% of the energy to be from fats. On the contrary, both vegan formulas contain less fats and more carbs, which better align with the dietary guidelines.
Fats
Küik Original
Total Fats: 22g. 31.4% of the DRI.
Saturated Fats: 2.6g. 13% of DRI.
Monosaturated (MUFA): 13g. This is 24.9% of the calories per serving.
Polyunsaturated (PUFA): 6.6g. This is 12.7% of the calories per serving.
Omega-3(ALA): 2.1g.
Küik Vegan
Total Fats: 15g. 21.4% of the DRI.
Saturated Fats: 1.4g. 7% of DRI.
Küik Vegan Sport
Total Fats: 5.8g. 8.3% of the DRI.
Saturated Fats: 0.5g. 2.5% of DRI.
Monosaturated (MUFA): 1.0g. This is 2.4% of the calories per serving.
Polyunsaturated (PUFA): 1.8g. This is 4.3% of the calories per serving.
For the Original formula, the main fat sources are canola oil and sunflower oil to achieve the best possible omega-3/6 ratio (1/1 to 1/4). In fact, each serving contains 2.1g of alpha-linoleic acid (ALA). This is broken down into eicosapentaenoic acid (EPA) and docosahexaenoic acid (DHA), which are primordial in proper body functioning and decrease risk of cardiovascular diseases. Although the combined recommended intake for both is between 0.25-0.5g, the conversion rate of ALA to EPA is 1-9% efficient and ALA to DHA 8-20% efficient. Thus the high quantities for ALA in Küik.
The MUFA and PUFA higher than the recommended (15-20% of the total energy from MUFAs and 6-11% of total energy from PUFAs). Nevertheless, this is to be expected, since it is a product high in fats and low in saturated fats. Another positive aspect of Küik is that the shakes MUFA>PUFA>SFA, which is correlated with positive effects in metabolism.
On the other hand, it is surprising to observe the lack of any canola oil in the vegan mixes.
Carbs
Per serving:
Küik Original
Total Carbs: 41g. 15.76% of the DRI.
Sugars: 2.5g. 2.78% of DRI.
Fiber: 6.2g. 31% of DRI.
Küik Vegan
Total Carbs: 45g. 17.3% of the DRI.
Sugars: 6.8g. 7.6% of DRI.
Fiber: 5.1g. 25.5% of DRI.
Küik Vegan Sport
Total Carbs: 53g. 20.4% of the DRI.
Sugars: 4.3g. 4.8% of DRI.
Fiber: 3.1g. 15.5% of DRI.
The main carbohydrate source in Küik is maltodextrin. This complex carbohydrate is usually less than ideal, due to its high glycemic index (GI 85). This is, even if it is a complex carb, it breaks down rapidly in the digestive system into glucose, causing a rapid increased in blood glucose and bigger insulin response increasing risk for diabetes.
Nevertheless, Küik claims that the Gi of its shakes is under 55 (without specifying a number). The reason for this is that there is relatively low carbohydrates in relation to fats and proteins; and these slow down the break down process.
Each serving also provides with 6.2g of fiber, mostly from fructooligosaccharides. Soluble fiber helps slowing down digestion, lowering cholesterol levels and facilitate healthy bowel movements.
Oats and Isomaltulose for the Vegan Mixes
On the bright side, Kuik Vegan contains oats, which is one of the best complex carbohydrate sources. Full of fiber and other beneficial compounds, it slows the digestive process.
However, it is interesting to also see isomaltulose. A sugar with low glycemic index that breaks down into fructose.
Protein
Küik Original
Total Protein: 22g. 44% of the DRI.
From whey.
Küik Vegan
Total Protein: 22g. 44% of the DRI.
From pea and rice protein.
Küik Vegan Sport
Total Protein: 27g. 54% of the DRI.
From pea and rice protein.
High protein diets have been found benefitial for weight loss (or weight management), increased lean mass, or help athletic performance, among other things. In case of Küik, the protein comes from whey from Spanish cows. As I always mention, whey protein is an absolute superfood. Whey is rich in leucine, lysine and methionie; which have a key role in muscle growth and synthesis. Whey protein is not only benefitial for sportive acitivities, but has also been shown to help fatigue and health improvements in the elderly.
For the vegan mixes, pea and rice will provide you with all the amino acids your body requires. Arguably, this mix will be inferior to whey when it comes to the amino acid profile, but this shouldn't matter for most individuals.
Micronutrients
Perhaps one of the most astonishing facts about Küik is how nutrient rich it is. Each serving provides you with at least 45% of every micronutrient, while often is higher than that. In fact, a single serving will provide you with enough copper, molybdenum, vitamin D and vitamin E. You should not worry about overdosing on any of these, since the toxic levels are a lot higher than the Daily Recommended Values.
Antioxidants and Active Ingredients
Küik meals also include an antioxidant blend rich in tocopherols (vit E family) and ascorbyl palmitate (related to vit C). However, they do not provide an ORAC value to judge the antioxidative power of Küik.
Something that is fairly interesting is the inclusion of taurine (0.055g) and carnitine (0.046g). While these ingredients are common in energy drinks, they appear at much lower levels in Küik (a can of 250ml of Redbull contains 1g of taurine, for instance). The levels at which this components appear is almost insignificant.
Allergens
The only allergen in Küik shakes are lactose, from the dairy used as protein source, and soy, used as emulsifier. However, Küik lactose levels are minimun, about 0.2g per 100g. Thus, most lactose intolerant people should be able to consume it.
In Kuik Vegan there is some gluten, but in Kuik Vegan Sport is gluten-free.
More about Kuik
The three founded Küik in December 2017, not that long ago, after they were introduced to meal replacements by Enric's brother. After trying some of the brands available in the market without much success, they decided to create their own brand in collaboration with Grand Fontine Labs. They developed a product of pharmaceutical quality, without sacrificing the taste. Sweet? Savoury? Why not both?
The founders set 3 main values for Küik: eco-friendliness, power to creativity and don not stop. They will need all of them in order to succeed in the market. To expand from Spain to the rest of Europe, since many bigger brands have had a head start. #nopares
One remarkable aspect about Kuik is their friendliness and good vibes. Their team is really active in social media and is often out in the street spreading the word. As a consequence, their customer service is top notch. Friendly, attentive and fast.
Küik Packaging
One of the Küik values is zero-waste and being as environmentally friendly as possible. The 1.5kg pouches certainly create minimal waste.
In fact, Küik bags are sturdy and are made of recyclable plastic, thus the environmental impact is much much lower than the treding RTDs. They also require less storage space.
However, the flavourings do not go well with this zero waste mentality. As they come in individual packages, they create more waste than necessary. Even more, there would be no need for them if it were already mixed. I understand individual sachets are a lot handier and require no measurement from the user, but this should not go well with the their motto.
The shelf life for Küik is 12 months according to the brand. I would expect that this is the point were some nutrients will start deteriorating and it should be safe to consume up to 18 months.
Pricing
Now, let's talk about Küik's pricing model. It is an interesting one since the Original offers bulk discounts, while the vegan ones do not and are significantly more expensive.
Pricing for Küik Original (1 bag has 15 meals and costs €39):
| # | Discount | Savings | Order | €/400kcal |
| --- | --- | --- | --- | --- |
| 2 | 5% | €3.00 | €71.40 | €2.03 |
| 3 | 7% | €6.30 | €108.81 | €2.06 |
| 4 | 10% | €12.00 | €140.40 | €2.00 |
| 5 | 12% | €18.00 | €171.60 | €1.95 |
| 6 | 15% | €27.00 | €198.90 | €1.88 |
For Küik Vegan and Vegan Sports there aren't any discounts available yet, sadly.
Küik Vegan comes in bags of 10 meals, and each (418kcal) costs €3.5.
Küik Sport Vegan also comes in bags of 10 meals (378kcal), and each costs €3.5.
I suspect there will be more discounts with the time.
Shipping
Küik delivers all across Europe with free shipping in orders above €69.
Subscription
Regarding subscription options, Küik currently does not offer any subscription discounts. I generally think that these programs are a must in the industry, since they benefit both the customer and the brand.
The brand acquires a loyal fanbase that will be source of feedback and support; whereas the consumer gets the benefit of better rewards, discounts and not having to worry about re-ordering.
In fact, the companies aforementioned offer big bulk discounts (up to 20%), while Küik "only" offers a 10% discount when buying two bags (no discounts for flavour boosts). Plus, the current 20% off deal with the code AKTIVAKUIK.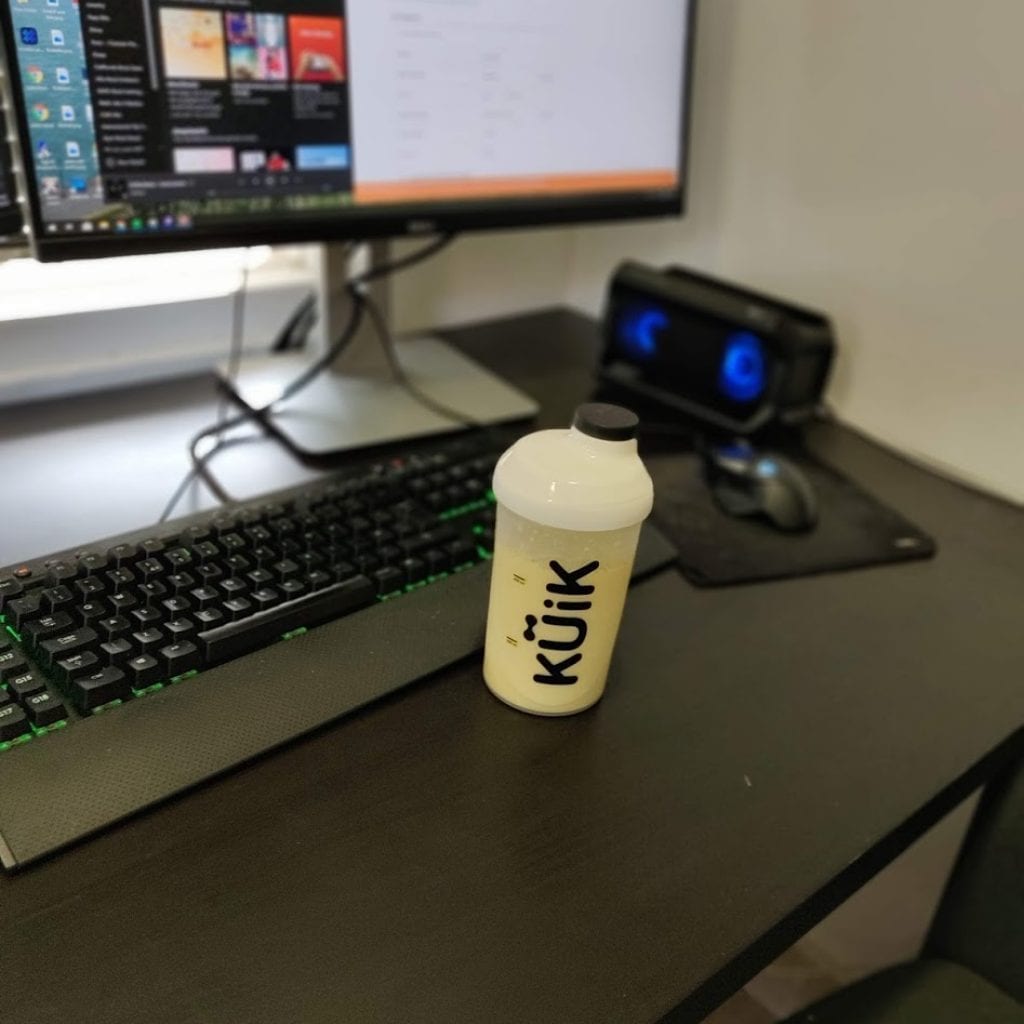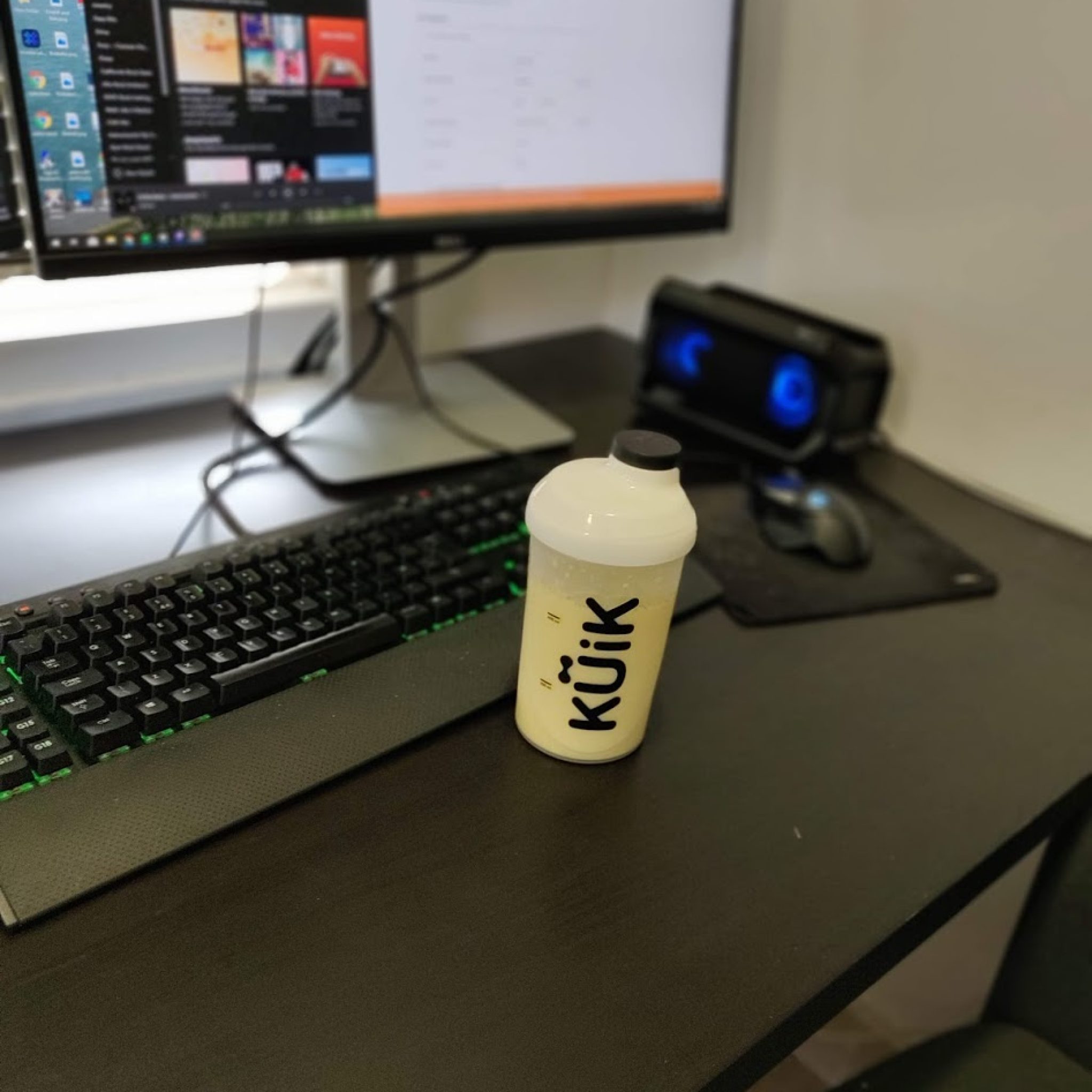 Kuik FAQ
Is Küik Vegan?
Their original formula is not vegan-friendly, but they have recently introduced 2 products for vegans: Vegan Sport and Vegan Complete.


Are Küik shakes gluten-free?
Yes, most Küik products are gluten-free and safe for celiacs.


I'm lactose-intolerant, can I use Küik?
You can use the vegan products that the Spanish brand offers.


Are Küik shakes organic?
None of the products is organic, nor they have many ingredients of organic origin.


What does Küik taste like?
You can check the tasting section, but overall Küik shakes are incredibly smooth and sweet. The original does have a milky undertone, whereas the vegan ones taste more vanilla-like.


Why Küik and not Kuik?
Perhaps, I should have addressed this earlier. The diaeresis or the double dot above the "u" is an important part of the brand image. They are tied together to represent the infinite symbol, representing the continuous drive for improvement (semper ad meliora) and left empty inside so you can fill them with your creativity.



Kuik Powder vs Other Meal Replacements
Küik battles with in the toughest market there is: the European market. There are dozens of brands trying to be the best meal replacement. Starting from the local rival Satislent, to giant like Huel and Jimmyjoy. Let's see how Küik compares to them.
| | | |
| --- | --- | --- |
| | Soylent | Küik |
| From | USA | ESP |
| Ships to | USA&UK | EU |
| $/400kcal | $$ | $$ |
| C/P/F | 38/19/43 | 37/20/43 |
| Allergen | Soy | Dairy* |
| kCal/meal | 400 | 467 |
| Serv/day | 5 | 4-5 |
| Suitable | Vegan | Vegan* |
| Flavours | 2* | 8* |
| Products | 3 | 3 |
Nutrition:
Both brands offer a high fat low carb profile in all the products. Nevertheless, Soylent is a vegan shake that contains GMO ingredients, whereas Kuik is a non-GMO shake but vegetarian.
Soylent's main source of protein is soy protein isolate, arguably worse than whey protein (Küik), particularly for muscle synthesis and athletic performance. Soylent's main fat source is sunflower oil, as opposed to Küik's canola oil, which makes the latter richer in omega-3 fatty acids. Soylent's GI is lower than Kuik's (thanks to isomaltulose), which gives the edge to Soylent.
Overall, both shakes are fairly similar, with Kuik having the better fat and protein profile and Soylent the better carbohydrate sources.
---
I will compare Küik to the king of budget meal replacement shakes, Plenny Shake by Jimmyjoy.
| | | |
| --- | --- | --- |
| | PS | Küik |
| From | NED | ESP |
| Ships to | World | EU |
| $/400kcal | $ | $$ |
| C/P/F | 55/15/30 | 37/20/43 |
| Allergen | Soy, Gluten | Dairy* |
| kCal/meal | 400 | 469 |
| Serv/day | 5 | 4-5 |
| Suitable | Vegan | Vegan* |
| Flavours | 5 | 8* |
| Products | 4 | 3 |
Price & Range:
Jimmyjoy: Plenny Shake, Plenny Shake Active, Plenny Drink and Plenny Bar.
Küik : Original, Vegan and Vegan Sport.
Plenny Shake has been the reference for cheap complete foods since its creation. With the cost of €1/400kcal it is about 30 cents cheaper than Küik. Plenny Shakes also offers 5 flavours plus a caffeinated option and a Sport option (Plenny Shake Active).
In Küik's favour, the flavouring boosts offer a wider and more different flavours than what PS offers, but they also increase the price significantly (another €0.53/meal).
Nutrition:
Jimmyjoy recently changed the formula of Plenny Shake to make it a vegan shake, with less protein than before and different fatty acid profile. Now, it is heavier on carbs and lower on fats and protein than Küik. In fact, each serving offers about 7g less protein. Not only less protein, but a blend with less leucine and lysine comparatively to whey protein. Thus, I think Küik's protein profile is better.
Jimmyjoy uses a both maltodextrin and oats as source of carbs and a blend of sunflower oil and flaxseed oil for their fats. The ALA (omega-3) content is lower in PS but it should be enough for an average adult.
Technically I favour carbohydrates to high fat diets, but in this case I prefer the extra protein provided by Küik.
---
Finally, "El Clasico". Both brands are trying to make a space for them in the ultraconservative gastronomical culture of Spain.
| | | |
| --- | --- | --- |
| | Satislent | Küik |
| From | ESP | ESP |
| Ships to | EU | EU |
| $/400kcal | $ | $$ |
| C/P/F | 56/16/28 | 37/20/43 |
| Allergen | Soy, Gluten | Dairy |
| kCal/meal | 670 | 469 |
| Serv/day | 3 | 4-5 |
| Suitable | Vegan | Vegan* |
| Flavours | 5 | 8* |
| Products | 3 | 2 |
Nutrition:
Satislent offers vegan products with about 670kcal per serving, fairly high in carbohydrates. Küik is heavier in in fats, but also has more protein. Satilent uses pea protein instead of whey protein. Once again, I would favour whey over pea, because the latter is short in methionine.
Satislent uses olive oil as a fat source, has a omega-3/6 ratio of 1/4 (heavier in omega-6 than Küik), but has adequate amounts of MUFA and PUFA. Both brands are really low in saturated fats. Regarding to carbs, Satislent uses oats as opposed to maltodextrin as main source, I find this better as it has a lower GI.
Which One Should I Buy?
Küik shakes are smoother and sweeter, in comparison to Satislent. They also have savoury flavours, which Satislent doesn't. Nevertheless, the price for Satislent shakes is lower than Kuik's when bought in bulk; which could be the tipping point for some.
---
Verdict – Kuik Review
Küik is a very interesting brand, with a solid nutrition particularly regarding micronutrients and omega-3s. I like that they opt for local products and try to appeal the local clientele.
As a brand they have grown considerably in the last year, with 2 new products: Vegan and Vegan Sports. Both products are solid, and offer a good beginner shake. However, I feel that the starting price is a little high, thus I would still recommend the original if you don't have any dietary restrictions.
Nutritionally, I am not a big fan of maltodextrin being the main carbohydrate source and I would like to see more oats in their powders (like the Vegan option). On the plus side, I like that the 3 variations have different macronutrient profiles. I personally enjoy Vegan Sports, a great post-workout meal.
All in all, I would recommend Küik to those who prioritize smoothness and taste; since it delivers an unparalleled experience in this regard.
Pros
Incredibly thin shake, with no lumps
Multiple flavour combinations, including savoury ones
Vegan and non-vegan alternatives, as well as a Sport shake
Great beginner shakes due to their texture and taste
Cons
Taste is too sweet for the Vanilla premix
The Original base powder is salty and can be noticed in all shakes
Best flavours are not available premixed