Satislent Review – Brand | Taking the Bull by the horns
Spanish budget meal replacement company with some seriously good products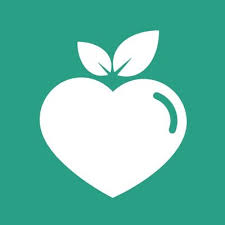 Satislent is a Spanish meal replacement brand specialized in budget shakes. They use non-GMO, locally sourced ingredients, such as, Spanish virgin olive oil or local cornmeal. So it is local, non-GMO and uses ingredients, such as, olive oil; thus, how can each meal (670kcal) cost under €2? Is the taste bad? Is the quality of the shakes not as good as it looks? Let's find out the truth in this Satislent review.
---
LatestFuels Recommended brand.
ENTER LF6OFF for €6 OFF!
---
This is a brand to watch out for the future, but you can start enjoying it now and brag about it later. As a small company, it has certain limitations in the packaging, labeling and shipping reach departments. However, this limitations are easily overcome by the quality of the product and prime ingredients used, as well as, a very very competitive price. One of the best deals in the market, no doubt.
What We like
Price goes down with bigger orders.
Family Pack and Individual Pack options.
Spanish Virgin Olive Oil usage.
Delivery Speed.
Website. Easy to navigate and tons of info.
Taster Pack.
I like a lot of things about Satislent, so it is hard to decide where to start. The obvious first point is how good value for money Satislent shakes are. They have very good nutritional values, with some good quality ingredients, including Spanish virgin olive oil. They offer a vegan product, which is non-GMO for about €2!
Another point is that their product range is good, even if the company is quite small. A sport variation, a breakfast option and a taster pack (a really good one actually!). They also offer two packaging sizes, an individual version and family pack, both useful in different situations.
Their shipping and delivery speed is remarkable. Perhaps, not so much if you live outside mainland Spain, but top quality if you do.
I also want to give them props for the website, clear and easy to navigate. They could improve it by adding some extra nutritional info and a clear shipping costs info, but the buying experience is swift and pleasant.
What We dislike
No subscription.
Single Flavour for the Sport variant.
Omega-3/6 ratio is slightly too omega-6 heavy.
Portions too big.
Shipping range.
Regarding the negatives, I would like to say that I am a bit surprised by the lack of flavours in the Sport and SatisUp variants. In theory, I would expect the flavours to be easy to replicate. I guess it is something to look forward to in the future.
Another minor issue is the size of the portions. 670kcal might be a bit too much for many people. Yes, you could split it into two meals, but you would still end up having 2,010 kcal. This can be too many calories for a big portion of the population.
Another flaw that should disappear with the maturity and growth of the company should be the range of countries that currently sell their products too. They do not even cover the whole European Union nor the nordic countries, which I consider is fairly important.
The texture of the shakes is also a concern of mine. They should improve the formula with the time, but some of the bits and clumps that currently remain after shaking are slightly too big.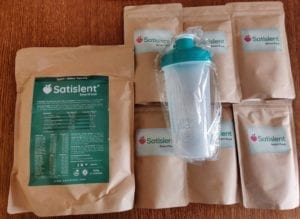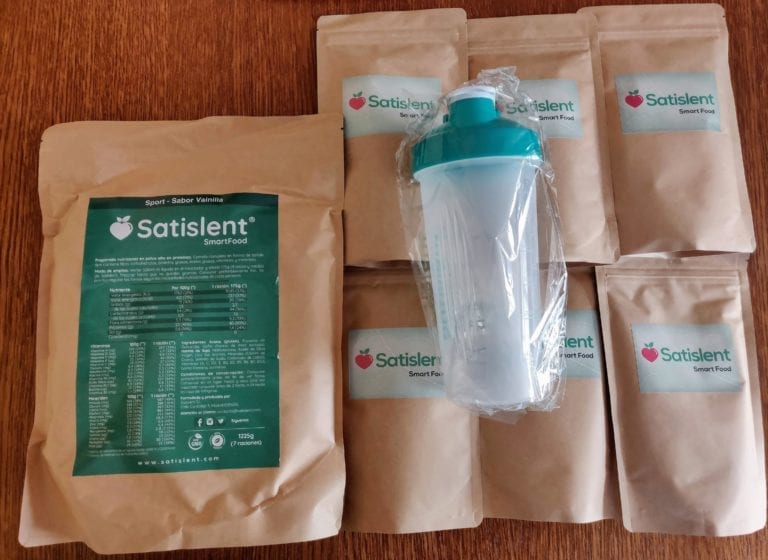 Perhaps the biggest issue is the labelling. There are a few problems. For once all the packages are identical, so you cannot distinguish easily. Between the standard version and SatisUp the only difference is a small label on the back bottom right corner saying "contains caffeine". From the front they are indistinguishable.
Improvements
More extensive shipping and costs indicated somewhere.
More Flavours in the Sport variation.
A diet or light version.
Improved texture.
Growth will solve (or should solve) some of the issues Satislent has. For instance, the amount of countries they ship to and having free shipping all around the EU. In fact, growth should help with the labelling and branding issues that they have. They really need to make a clear differentiation between the products in the packages. I do not want to be reading the nutrition facts every time I take one bag.
Another issue with the bags is that the family pack does not hold itself very well upright. This could be a bit of a nightmare to store, since some of the powder could escape if left open and horizontally.
Something else they need to work on is on improving the texture of the shakes and developing a lighter version, something similar to the standard Satislent but with more micronutrients per serving. On a similar note, they could develop a smaller serving option.
Once started asking, I could also suggest a ready-to-drink version, but I feel that the points mentioned above should have priority over this.
One last thing I would like to see improving is the website. While the shopping experience is clear and brilliant, I would love to see some more nutritional information on their choices, who the team behind Satislent is and page where all the shipping costs are stated clearly (issue which currently are working on).
I am not very good at this but I will try my best: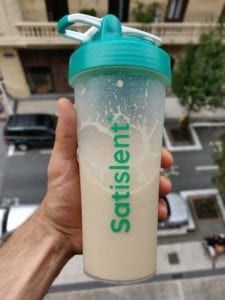 Overall: 7.4 (26/35)
Taste: 3/5.
Very strong oat taste, fairly plain overall with a small hint of olive oil. It just does not taste much like anything. I did not mind much.
Flavour Fidelity: 3/5.
Possibly, even lower. I struggled to find the differences between the flavours. They all tasted very similar.
Aftertaste: 4.5/5.
Because of the lack of a strong flavour Satislent does not give you a bad aftertaste.
Texture: 3/5.
It can strike you as powdery if you do not mix it well. Some of the shakes had a sandy edge to them, that I got used to as I drank the shake. I think it has to do with the amount of water I have been using. If not, it is very smooth.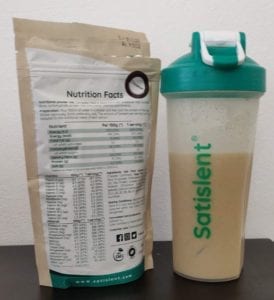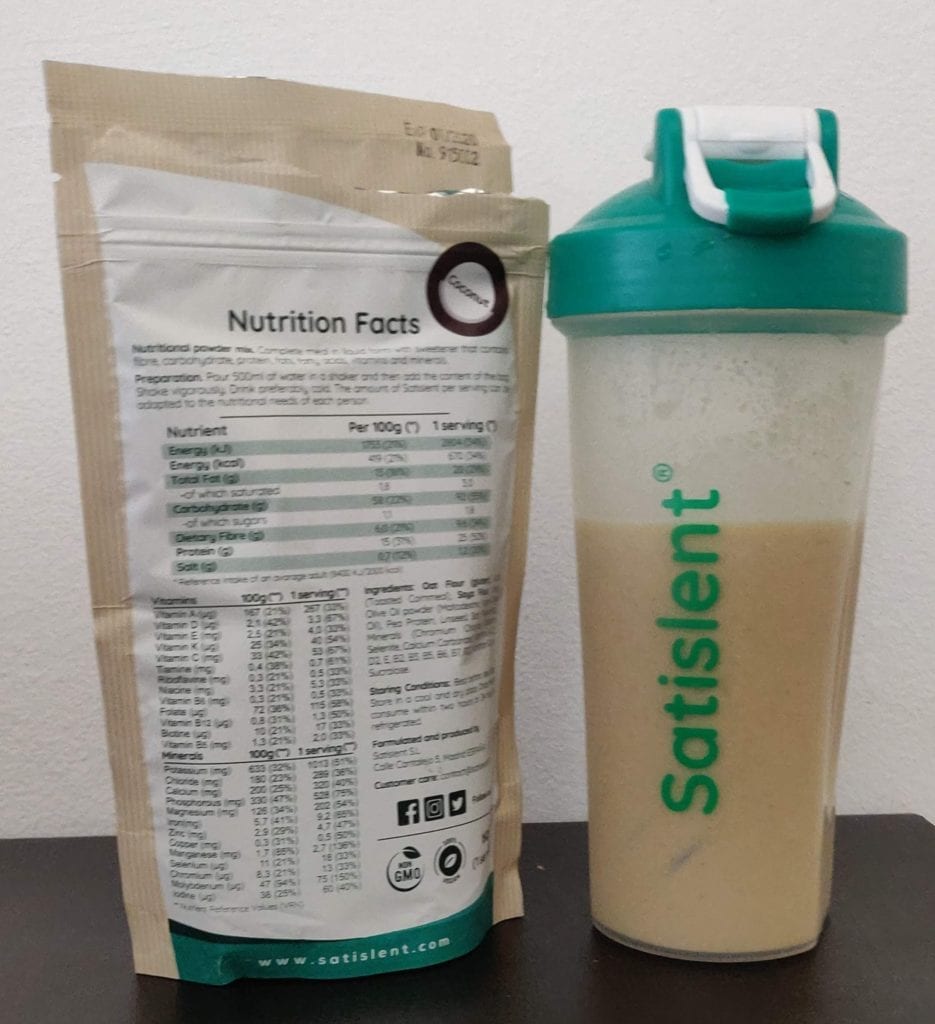 Consistency: 4/5.
I like mine thick. Satislent is quite thick even when you add the recommended 500ml of water (that barely fits the shaker).
Easiness to drink: 4/5.
This is going to be relative. Each shake is about half a litter that you need to drink. I am used to drink that much liquid, but for many will be a challenge. You cannot really make it smaller, since it will become very thick.
Hunger Quenching: 4.5/5.
Nothing to complaint about here. I guess it can be due to the portion, due to the thickness, or because it is a 500ml shake, but Satislent will quench your hunger for over 3h30′.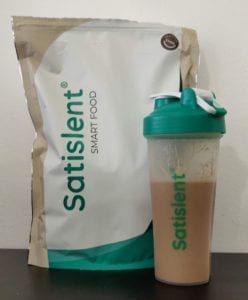 What Satislent tastes the best?
Honestly, they all taste so similar that is hard to say. I once again enjoyed the Coco flavour. The Vanilla was fairly meh, and the coffee one did not taste very much like coffee. I think any flavour would do.
What PRODUCTS does Satislent offer?

There are three products that Satislent offers: the standard formula (also known as the Economy Pack); SatisUp (basically, the same as the standard but with caffeine); and Satislent Sport. This is a fairly good range of products, covering the needs of most. All Satislent products are vegan, non-GMO and lactose free. Nevertheless, the fact that we like the most about these products is that they come in two different sizes: Family pack (7 meals per pack and more economic) and Individual Pack (single meal per pack but easier to carry around).
Satislent also offers a taste pack which includes 8 bags with all the flavour variations (including 1 SatisUp) and a free shaker if its your first order.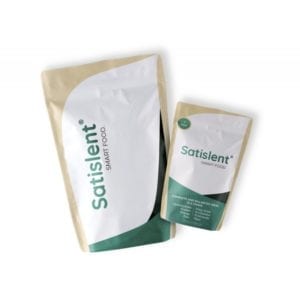 Economy Pack
Meal Replacement
Powder
670kcal/meal
16P/56C/28F % of Energy from
1.8g of sugars/2.9g of Saturated Fats per serving
Starts at €2
Soy and Gluten
---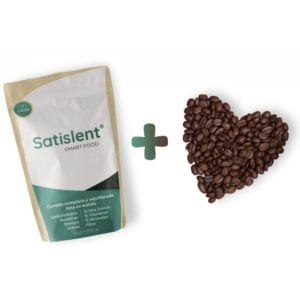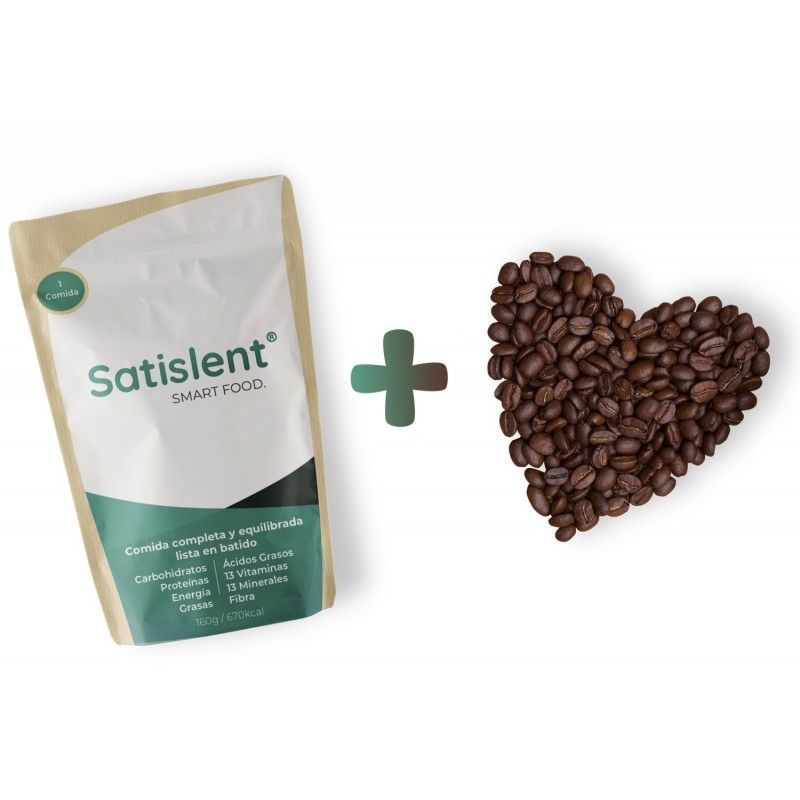 SatisUp
Meal Replacement
Powder
670kcal/meal
16P/56C/28F % of Energy from
1.8g of sugars/2.9g of Saturated Fats per serving
Starts at €2
Soy, Gluten & Caffeine
---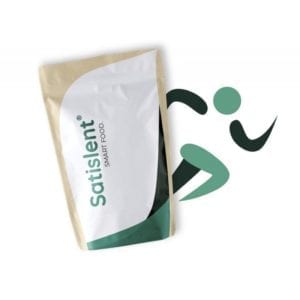 Satislent Sport
Meal Replacement
Powder
737kcal/meal
23P/51C/26F % of Energy from
1.6g of sugars/2.7g of Saturated Fats per serving
Starts at €2.3
Soy and Gluten
---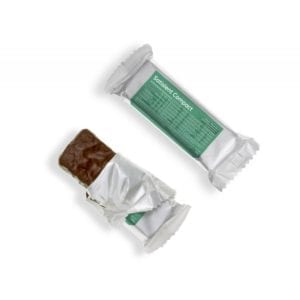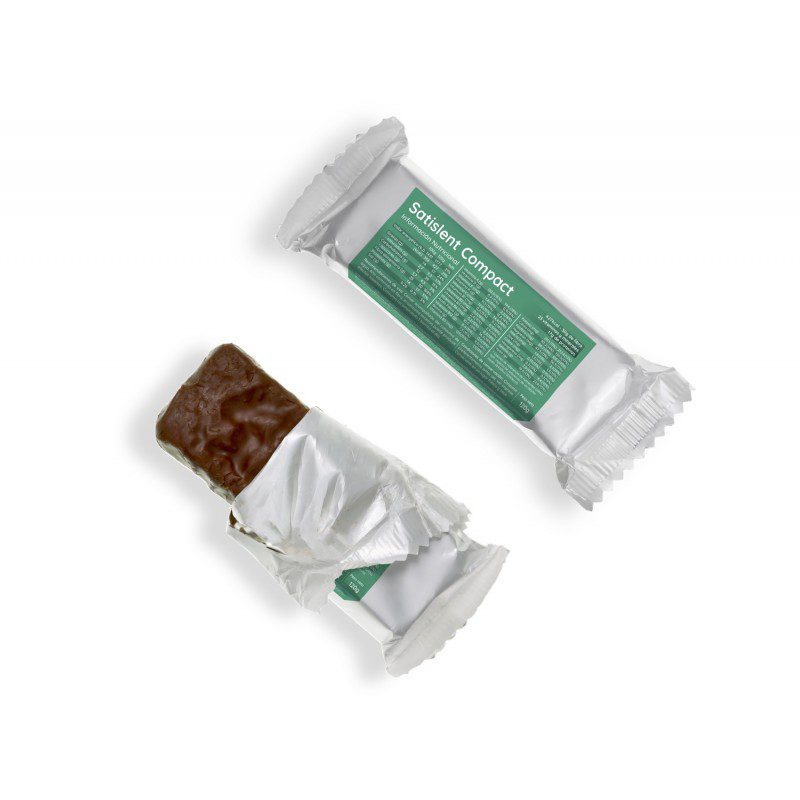 Satislent Compact
Meal Replacement
Bar
427kcal/meal
19P/41C/40F % of Energy from
4.5g of sugars/3.3g of Saturated Fats per serving
Starts at €2.5
Soy and Gluten
Brief Satislent Economy Pack Review
Satislent is very high in carbohydrates (56% of the daily energy), perhaps as a reflection of the Spanish diet itself. However, all macros fit in the standard set by the European Food and Safety Agency. Because it is a vegan shake, the main source of protein is pea protein.
Besides all the nutritional information, Satislent standard variation is a great meal replacement because of its price. Only Jimmyjoy Plenny Shake comes close to it in terms of cost. We wonder how they make it so competitive.
Lastly, it is worth mentioning that there are 5 different flavour variations, namely: Vanilla, Coffee, Lemon, Strawberry and Coconut.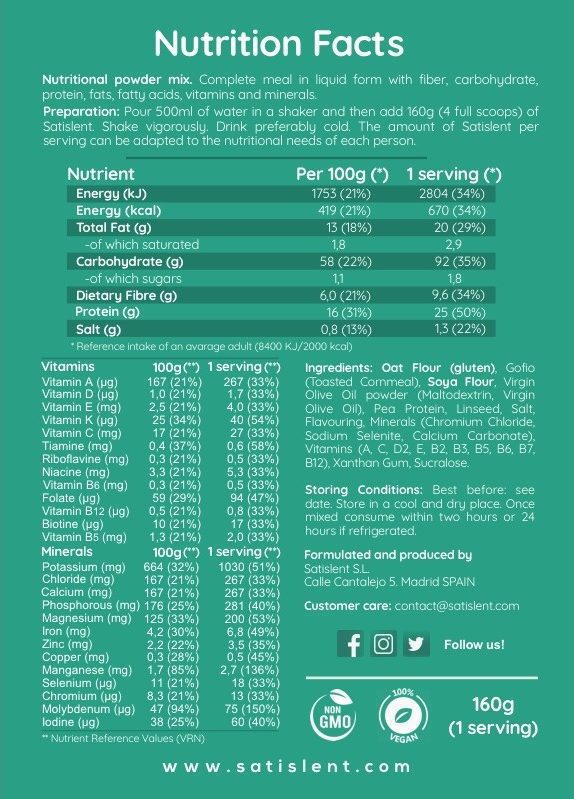 Brief SatisUp Review
For most purposes SatisUp is just another flavour variation of the standard version. Nutritionally they are identical, except the fact that SatisUp contains caffeine. Furthermore, the pricing is the same. Quite surprisingly, since many brands tend to charge extra for the "caffeine boost". Bravo!
This product is targeted for those who tend to skip breakfast and need a good alternative to stop doing so. Arguably, 670kcal is a fairly big breakfast that most people will feel pretty full after consuming. So perhaps, you would rather have half the serving. I think I would.
On the other hand, SatisUp comes only in one flavour: Coffee Latte. My guess is that this is to please the coffee fanatics, but I would love to see some of the other flavours they offer in the standard variation here.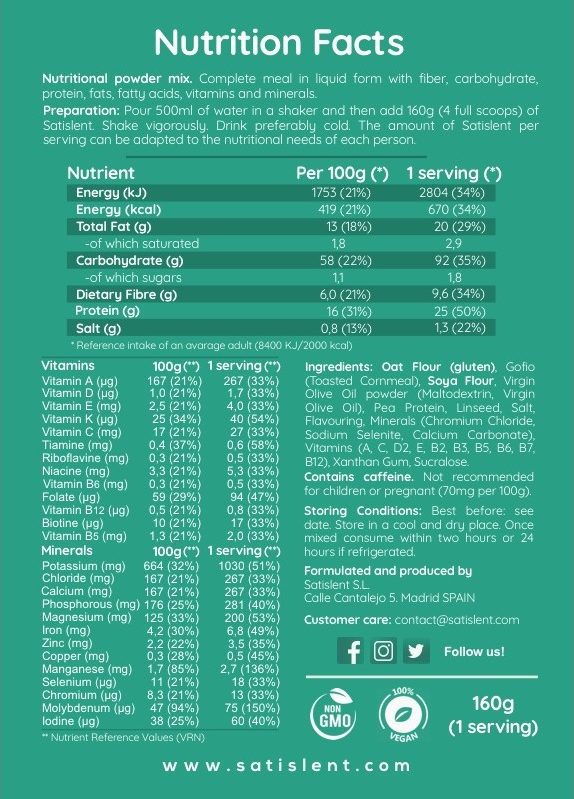 Brief Satislent Sport Review
For few people, Satislent will be too low in protein for their liking. I could agree with them. As such, Satislent has a sport variation with 60% more protein per serving (15g). It also comes with some extra calories as it is a bigger serving (175g).
Aside from that fact, the formula seems to change very little (same ingrediets). Obviously the energy balance is changed with 23% of the total energy income coming from protein, instead of 16%. However, there does not seem to be any additions of BCAAs or creatine or other supplements often added to the Sport variations.
I think for most people this will be too big of a serving, so I would advise to stick with the Economy Pack (it is also cheaper), unless you are a very active person or you are looking to put on weight.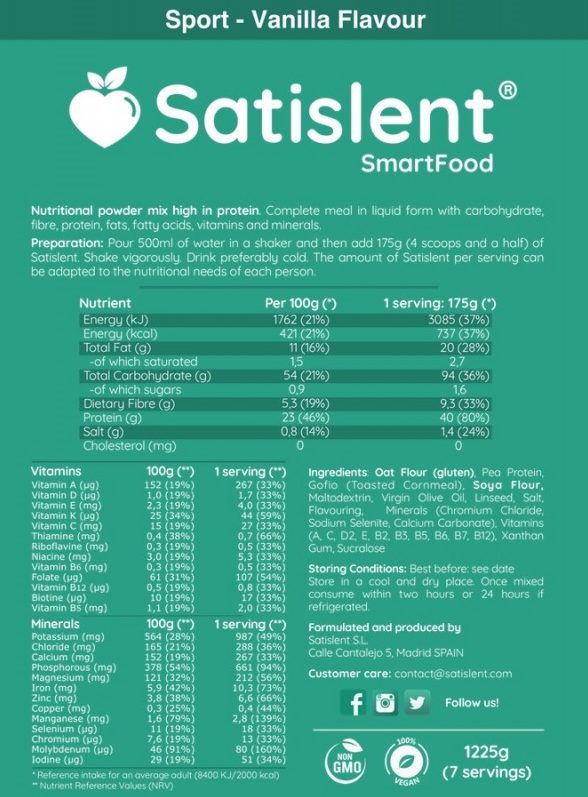 Brief Satislent Compact Review – For the Full Review
Satislent Compact is a vegan meal replacement bar that starts at €3.5 per bar but goes down to €2.5 (+30 bars). It is currently in the beta phase and has room to improve, but offers a good amount of calories mostly from fats (19P/41C/40F) and is really high in fiber (30g per bar). It is currently available only in chocolate.
I would recommend consuming it in moderation to avoid any laxative side effects. However, it is a very competent meal replacement bar, and better than other alternatives in the market.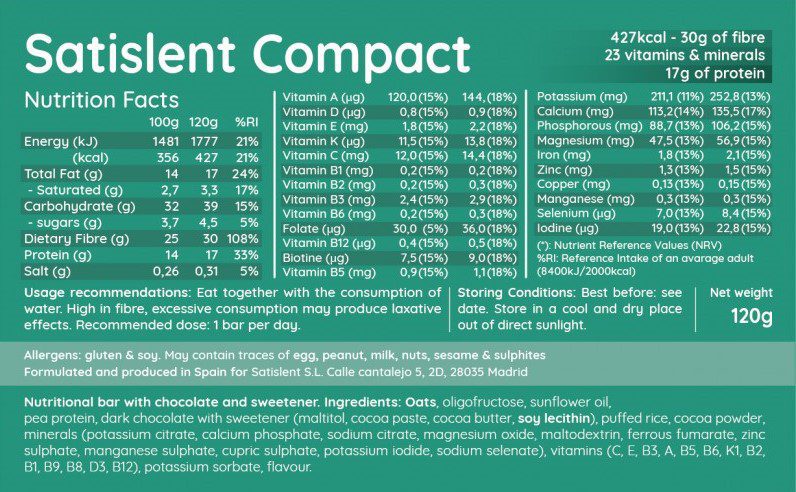 Taste pack
The taster pack from Satislent is a great deal to get started with the Spanish brands. It includes 7 individual packs of Satislent Standard (2xVanilla, 2xStrawberry, 1xLemon, 1xCoconut, 1xCoffee Latte) and one individual pouch of SatisUp (caffeinated version). All this for €22.5 and it contains a free shaker if its your first order. This is 8 meals worth 5,360kcal for only €22.5. A true bargain.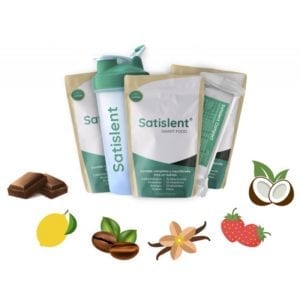 As previously mentioned, Satislent offers high carbohydrate (low sugar, though) products. It might be the influence of the mediterranean diet, with many legumes and whole grains and usage of olive oil and other vegetable oils.
Actually, having olive oil is not a fairly usual thing. Firstly, because it has a very strong peculiar taste; and secondly, because it is not a cheap ingredient outside Spain. We like that Satislent has decided to go for local ingredients to give its shakes an unique personality. All ingredients are non-GMO and lactose free.

Energy
Like other few European brands (Queal, Jimmyjoy), Satislent has decided to offer big and fewer servings. As such, they recommend 3 meals of 670kcal for a total of 2,010kcal per day. Just on the sweet 2,000kcal mark. I understand that 670kcal servings might be a little too big for many people, specially for breakfast (I for one). You can always split the serving in two and have is as a snack later. It might even help you with hunger management.
Coming back to where calories come from Satislent Economy pack and SatisUp have a 16P/ 56C/28F split; while the Sport variant is 23P/51C/26F (%  of daily energy from). Even if the numbers seem too heavy in the carbohydrates side, they are all within the AMDR from ESFA: 10-35 % of energy from protein; 45-65% of energy from carbs; and, 20-35% energy from fats.
Fats
I guess we need to talk about olive oil. But first let's observe some numbers (per serving):
Total Fats: 20g. 28.6% of the DRI.
Saturated Fats: 2.9g. 14.5% of DRI.
Monosaturated: 10g. This is 13.4% of the calories per serving.
Polyunsaturated: 7g. This is 9.4% of the calories per serving.
Omega-3: 1.2g.
Omega-6: 5.7g.
Omega-9: 10g.
Both monounsaturated (MUFA) and polyunsaturated (PUFA) fatty acids are below the WHO upper limits for MUFA and PUFA (20% and 15%, respectively). The only minor issue is that MUFAs are lower than the recommended but not by a significant margin. Furthermore, some studies have shown that MUFA > PUFA > SFA (saturated fatty acids) correlations are metabolically more benefitial.
The omega-3/6 ratio is a little too heavy on the omega-6 side. It is recommended a ratio around 1/3, while Satislent has a 1/4.6 ratio (not that much higher). This is most likely due to olive oil. Olive oil has 1/12 ratio. Another feature of olive oil is that is mainly oleic acid (55-83%), which is an omega-9 fatty acid. Linseeed oil is the factor that brings the omega-3 up.
Olive oil has also been linked to protection against cancer, improved cholesterol levels, and other benefits in CVD prevention and overall mortality risk reduction (Schwingshackl et al., 2014; ESFA, 2011; Bucland et al., 2015; Psaltopoulou et al., 2011) . This not only due to the fatty acid composition, but also the effect of polyphenol components.
Carbs
Priorly we have mentioned how many carbohydrates Satilent shakes have. 90g per 670kcal meal. Nevertheless, they are within the AMDR for carbohydrates (45-65% of the energy) at 54% of the daily energy being from carbs. All this, while keeping the added sugars increadibly low (1.8g/serving, 2% of DRI).
As it is the norm, Satislent's main source of carbohydrates is oat flour. Understandable, taking into consideration the composition, all complex carbs that slow down digestion and energy release.
Besides oats, Satislent has gofio de millo or toasted corn (flour), high in fiber. It helps to slow down carbohydrate absorption rate and increases the feeling of fullness.
Protein
Each serving offers 25g of protein (50% of DRI). With 3 servings you would get 75g. For a 80kg male that would be 0.94g/per kg of bodyweight. If you are looking for more, you should look at the sport variation, which has 40g of protein per serving for a total of 120g.Really reasonable even for athletes and active people. If you are a protein-freak or you are consuming a high protein diet, this might fall just a tiny bit short. For everyone else, even one meal of Satislent can be the right boost to achieve your protein goals.
Satislent shakes are vegan, which means they do not use whey protein. Instead, Satislent has opted for pea protein (also used by competitor Queal Vegan). This protein source has been seeing a resurgence over soy protein (sometimes as part of a soy and/or rice protein blend, like Ample V). Pea Protein has optimal amounts of 8 out of 9 essential amino acids. It only falls short in methionine (reason why some mix it with rice protein blend). Shortage that is mostly insignificant for the general population. On top of that, pea protein on its own has been show to be able to support muscle growth equally to whey based products.
Nonetheless, I think that the protein blend could be optimized with the addition of a different source to balance the EAA profile. Furthermore, it would be interesting to boost it with some more branched-chain amino acids, especially in the Sport variation.
Micronutrients
Truth be told, all Satislent meal replacement shakes have a beautiful vitamin and mineral spread. We have often been surprised with high quality shakes being short on X or Y micronutrient; however, Satislent products all reach the recommended dose for everyone.
You will have some surplus in certain vitamins (B1) and minerals (molybdenum and manganese), but it is nothing to worry about, since they will just "wash out". It is also worth noting that each serving will provide you with 33% of Vit B12, often a headache for vegans.
Allergens
Like many other vegan products Satislent contains Soy and gluten. If you are looking for gluten-free try, Ample or Ambronite. In fact, Ample is also soy free.
More about nutrition
Some people always want more and cannot satiate their curiosity. It is a great trait to have. You can learn more about nutrition via the Resources page. You will find tons of information from governamental agencies, nutritional guidelines, and scientific papers we found useful.
Nutrition Summary
High carbohydrate profile, while maintaining the added sugars low. Because of that, Satislent will have a slow energy release and steady digestion process. You also get 25g of protein from pea for each serving (50% of DRI), which will be ideal for most people. Satislent products also have a nice fat profile with a 1.4/6 omega-3/6 ratio and adequate amounts of PUFA, MUFA and low SFA. Olive oil for the win.

Satislent is a one of the only if not the only Spanish meal replacement companies. This is a great feat, since in Spain the attachment to food and its importance in society is unparalleled in any other country (except maybe one or two other EU contries). it is no concidence there are 10 three michelin star restaurants. Let me give you another example. It is common to get 2h break for lunch. Life revolves around food.
Satislent packaging
A fact that we really like about Satislent is that they offer two size bags. One individual and one familiar (7 meals). This will enable you to take advantage of the portability of the individual bags, but have a big one if you plan on storing them at home.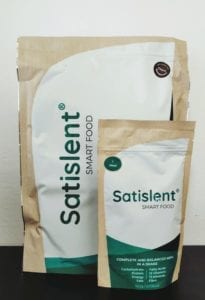 There are a couple issues with the packaging (discussed in the opinion section):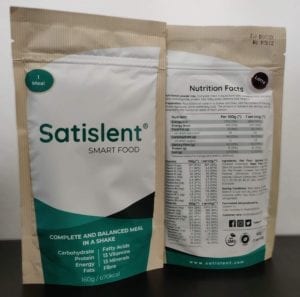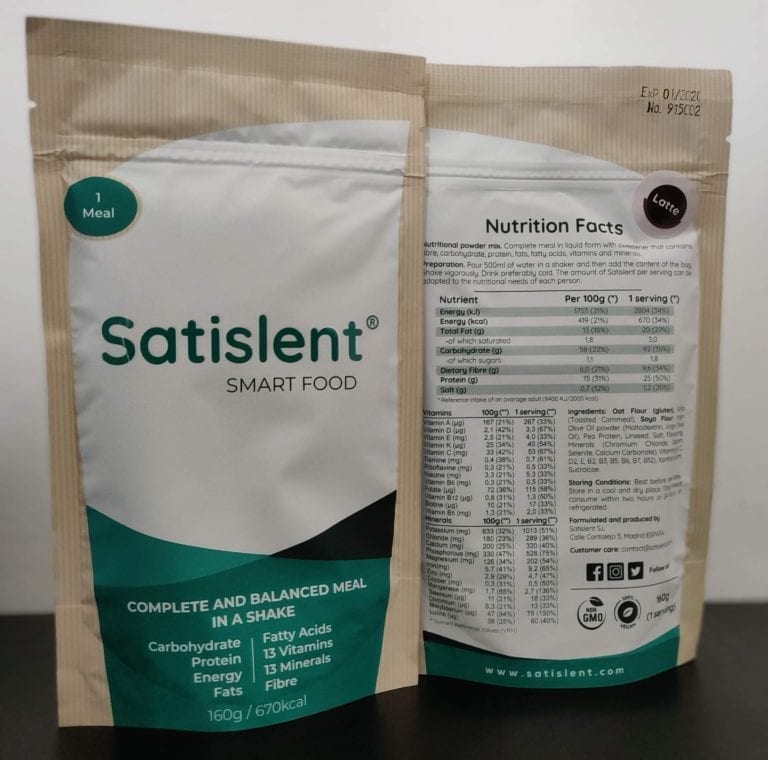 It is impossible to distinguish between the different products in the individual bags, because all are identical. Satislent needs to work on giving them a customized look per product.
The family pack is certainly handy, but it has problems standing upright, which might cause storage problems or accidental powder spillages.
Once at home, the shelf-life of the products is set at 6 months. I assume they can probably last as long as 12 months and perhaps 18 (but I would be really careful).
Shipping and Return Policy
Currently delivery is limited to Spain (arrives within 2 days!), Portugal, France, Italy, Germany, Netherlands, Belgium, Luxemburg, Austria and the UK. Somewhat surprising that they do not deliver to all the EU memebers or Switzerland, or any of the nordic countries (fairly big in the industry). I hope they improve the service soon; however, I would expect you might be able to ask for a special delivery within Europe at not much extra cost (just a guess).
My delivery to Spain was free and arrived within two days. Satislent states that to other countries it can take up to 5 days and it will cost €5  if the order is under €50. Any purchase above €50 has free shipping!
Anyhow, it would be great if they displayed all the costs in a separate page (which I believe would be soon).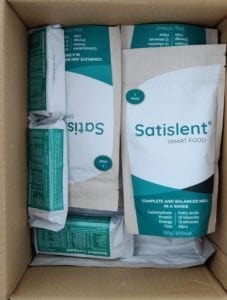 Subscription
Noteworthily, Satislent does not yet offer a subscription program. Certainly really odd (over the top of my head is the only brand doing so). Nevertheless, the price of each bag goes down, the more you purchase. Plus, the pricetag for its products are already one of the lowest in the market.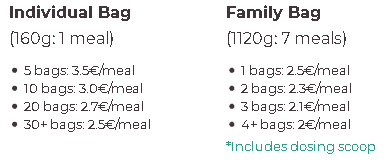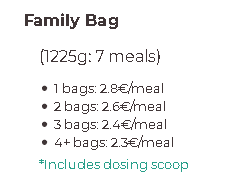 1- Do all products come in individual bag and family size options?
No, only SatisUp and the Economy Pack offer the individual packaging options. I am uncertain why the sport option does not offer the individual options, since I can imagine many people wanting to take their shake prior  or after doing the workout at the gym.
2- Can I get it in the US?
Sadly, no. It is not available in the whole Europe, either. I assume this is due to the size of the company and as they get popular and have more demand they will expand to an US warehouse. So, your fate is in the hands of EU Satislenters!
3- Is it suitable for diabetics?
I could see why you would be tempted to consume Satislent as a diabetic. The company has stated that it has not been clinically tested safe for diabetes. In spite this fact, many diabetic users have given positive testimonials. So proceed with precaution
4- Can I take it as part of a low-FODMAP diet?
Fermentable Oligo-, Di-, Mono-saccharides and Polyols can cause you gas and digestive problems. The carbohydrates in Satilent are low in FODMAP, however, there are other components, such as, pea protein and soy flour which may cause you problems. On the whole, Satislent shaker are low-FODMAP but take with caution.
5- Where is it manufactured?
All products are engineered, manufactured and packaged in Madrid.
6- How does it taste?
According to the company, Satislent tastes "smooth texture with biscuit taste and light flavours". Satislent shakes are very oaty, with mild flavours and very thick but smooth texture. The lemon shake is fairly interesting.
7- When can I take Satislent?
Honestly, at any time. Some might find it too big of a meal for dinner, others will think it is too much energy for the morning. The truth is it does not really matter. Find the right time for you, half the serving if you think is too much and enjoy Satislent whenever you are hungry. I ensure you will be fine.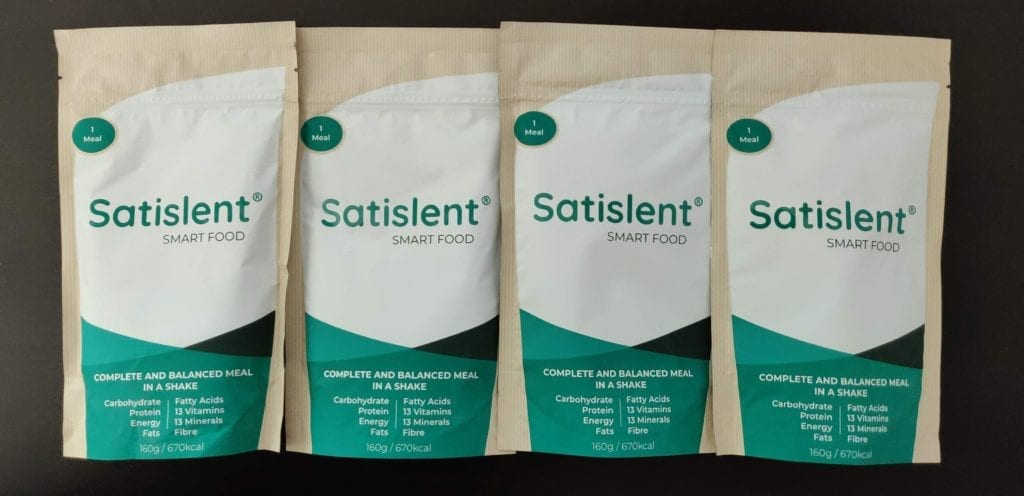 Satislent vs other meal replacements
Soylent is perhaps the most popular of them all, and certainly father of many of them. You only need to see the "lent" sufix. So how does Satislent fair against Soylent?
| | | |
| --- | --- | --- |
|   | Soylent | Satislent |
| From | USA | ESP |
| Ships to | USA | EU |
| $/400kcal | $$ | $ |
| C/P/F | 38/19/43 | 51/23/26 |
| Allergen | Soy, Gluten | Soy, Gluten |
| kCal/meal | 400 | 670 |
| Serv/day | 5 | 3 |
| Suitable | Vegan | Vegan |
| Flavours | 2* | 5 |
| Products | 3 | 3 |
Label:
Price per 400kcal without subscription:
$– Below $1.5     $1.5 = €1.3 = £1.15
$$- $1.5 to $3     $3 = €2.6 = £2.3
$$$– $3 to $5      $5 = €4.3 = £3.85
$$$$– over $5
Price, product range and flavours: Winner Satislent
Satislent is cheaper, has more flavours and has a sport variation that Soylent does not have. Soylent on the other hand offers two ready-to-drink versions (Soylent Drink and Soylent Cafe), besides the powder version. These can be really handy.
Satislent has also more flavours than Soylent, even if not by much for the RTD versions.
Nutrition: Draw (tipped towards Satislent)
Soylent is richer is in fats and lower in both carbs and protein. It also offers a smaller serving (400kcal) than Satilent (670kcal). Both are fairly balanced meals and offer all the require nutrients if solely consuming them.
I personally prefer Satislent's choice of ingredients (e.g. olive oil over sunflower or pea protein over soy), but those are personal biases.
Brand image, Customer Service, Availability, Shipping: Soylent
Soylent has a huge brand name, it is present in many stores throughout the US and has very active social channels. It is just a bigger brand.
Both offer very good support. Soylent has a subscription program (15% off) that Satislent is yet to offer (it will probably come with time). Soylent also offers a return policy of 30 days, too.
Soylent has free shipping within the US in orders over $20, whereas Satislent only offers free shipping to mainland Spain. Neither of them has yet crossed the ocean (although Soylent will be available in the UK in October).
---
Satislent vs Huel
| | | |
| --- | --- | --- |
|   | Huel | Satislent |
| From | UK | ESP |
| Ships to | World | EU |
| $/400kcal | $$ | $ |
| C/P/F | 38/31/31 | 51/23/26 |
| Allergen | Soy, | Soy, Gluten |
| kCal/meal | 500 | 670 |
| Serv/day | 4 | 3 |
| Suitable | Vegan | Vegan |
| Flavours | 5* | 5 |
| Products | 3 | 3 |
Label:
Price per 400kcal without subscription:
$– Below $1.5 $1.5 = €1.3 = £1.15
$$- $1.5 to $3 $3 = €2.6 = £2.3
$$$– $3 to $5 $5 = €4.3 = £3.85
$$$$– over $5
Price, product range and flavours: Winner Huel
Satislent is again cheaper than Huel. However, Huel has more products (Huel RTD, Huel Hot & Savoury, Huel Bars, Huel flavouring) and more flavour options if you take into account the flavourings. Their powder version can also be purchased in an original, gluten-free and competition approved versions.
Huel is the clear winner in this area.
Nutrition: Huel
Huel also opts for smaller servings that Satislent (between 400 and 500kcal). The energy source distribution is equal for fats and proteins (both higher than Satislent).
Ingredients in both are good quality, but soylent uses a MCT powder, sunflower oil as source of fats, while Satislent uses olive oil and linseed oil. Huel's protein blend is also slightly better, since it has rice protein to balance some of the deficiencies in pea protein (the sole protein source in Satislent).
Brand image, Customer Service, Availability, Shipping: Huel
Unfortunately, Huel is another giant of the industry. It took the UK by a storm and has since become unstoppable in Europe and has started conquering the US.
Unlike Satislent, Huel offers worldwide shipping (in reality is more like EU and US), a subscription program and a 30 day guarantee. Huel also has a massive forum in English and other smaller ones in other languages, like German.
While we believe Satislent can get there in the future, it is just not there, yet.
---
Satislent vs Plenny Shake
| | | |
| --- | --- | --- |
|   | PS | Satislent |
| From | NED | ESP |
| Ships to | World | EU |
| $/400kcal | $ | $ |
| C/P/F | 55/15/30 | 51/23/26 |
| Allergen | Soy, Gluten | Soy, Gluten |
| kCal/meal | 395 | 670 |
| Serv/day | 5 | 3 |
| Suitable | Vegan | Vegan |
| Flavours | 5 | 5 |
| Products | 4 | 3 |
Price, product range and flavours: Winner Jimmyjoy (barely)
Plenny Shake Vegan is actually cheaper or on-par with Satislent's shakes (both the cheapest vegan shakes in the market).
Plenny Shake is made by Jimmyjoy, which also offers Plenny Shake Active, Plenny Shake WakeUp, Plenny Bar and Plenny Drink. So there is a wider range of opportunities at Jimmyjoy.
As far as flavours go they both offer 5 flavours for their vegan versions, although Plenny Shake offers a neutral version (unsweetened and unflavoured).
Nutrition: Satislent
Jimmyjoy has recently changed their formula (not reflected above) and have lowered the amount of proteins, as well as, changing the fat source to sunflower oil and composition (to match WHO's guidelines).
While all this mess is cleared up, we need to give this to Satislent, with the locally sourced, non-GMO ingredients and solid nutritional balance.
Brand image, Customer Service, Availability, Shipping: Jimmyjoy
Jimmyjoy has been around for a while. They have a very characteristic branding with more cartoony presentation, but certainly full of personality. This is also reflected in their customer service and SM known to be joyful.
Another point for Jimmyjoy comes from availability, since in theory the ship worldwide, even if the shipping costs to OCE are higher than the cost of the product.
---
Satislent vs Queal Vegan
| | | |
| --- | --- | --- |
|   | Queal | Satislent |
| From | NED | EU |
| Ships to | World | ESP |
| $/400kcal | $ | $ |
| C/P/F | 48/19/33 | 51/23/26 |
| Allergen | Soy, Gluten | Soy, Gluten |
| kCal/meal | 700 | 670 |
| Serv/day | 3 | 3 |
| Suitable | Vegan | Vegan |
| Flavours | 3 | 5 |
| Products | 6 | 3 |
Label:
Price per 400kcal without subscription:
$– Below $1.5 $1.5 = €1.3 = £1.15
$$- $1.5 to $3 $3 = €2.6 = £2.3
$$$– $3 to $5 $5 = €4.3 = £3.85
$$$$– over $5
Price, product range and flavours: Draw (+Satislent)
Queal is another brand that offers really competitive prices. However, Satislent is about half euro cheaper per meal.
Satislent also offers more flavours than Queal Vegan, which is suprising since Queal Standard can have up to 7 flavours in sale certain times.
Queal does offer more products, including Athletic, GObar and the nootropic supplement Flow.
Thus, as a brand, Queal is more complete, but when comparing to Queal Vegan, Satislent comes on top.
Nutrition: Satislent
Both have at first sight a very similar nutritional profile. They both offer around 700kcal per serving, have a energy source split around 50C/20P/30F and use pea protein as protein source.
However, Queal uses sunflower oil together with linseed oil instead of olive oil as fat source. Another difference is in the added sugars content. While not particularly high by RI standards, it is about 20g more per serving than Satislent.
Brand image, Customer Service, Availability, Shipping: Queal
Once again, Satislent comes short in this aspect. Queal, aside from having a really strong social media and a great forum community, is also present in both sides of the Atlantic.
On top of that, in theory they offer worldwide shipping (while again in reality is more like EU & US) and also free shipping within those regions in orders above certain thresholds.
Another review that has gone a little too long.
Who is Satilent for?
Satilent is ideal for those who are on a budget, especially, if they are following a vegan diet. Or if you live in Spain and want to support local companies. The delivery is free too. Satilent says is you could consume it if you are looking for low-FODMAP and people with diabetes, but it has not been cleared for the last one. It also contains, few ingredients, like pea that might have a negative effect on you if you have stomach problems. So proceed with maximum caution.
Everybody else looking for a cheap meal replacement look no further.
Does it taste good?
Yes, the taste is competent. There are 5 flavours to choose from in the standard variation, which is almost always a plus. Plus, let's not forget SatisUp Coffee latte. One of my favourites. It could be yours too if you enjoy a good latte in the mornings.
Will I get all the nutrients I need?
You will have no problems to get all the energy and nutrients needed if you are a sedentary man or quite an active woman. Satislent Economy Pack and SatisUp shakes add up for a total of 2,010kcal a day. Satislent Sport brings a little more calories 2,211, but it might fall a bit short if you are a young active male. Look to add a protein shake or an extra meal.
I want to buy it. How much will it cost me?
A whole day having Satislent could cost you only €6! That is crazy cheap for a whole days worth of food. Your weekly budget in food can be significantly reduced changing one or two meals a day for a shake. If you are lucky enough to live in Spain, you will get your delivery for free. For the rest of Europeans it will be around €5.
Therefore, where are the cost reductions? Why is Satislent so cheap? What does Satislent sacrifice? It is true that a lot of the prime ingredients use by Satislent are fairly cheap in Spain, such as olive oil and oats. The manufacturing process is likely cheaper than in other European countries, which brings down the price.
Wait a moment, is it perfect?
I am tempted to say yes. This company looks very promising with its competitive prices, acceptable product range and good nutritional balance. There are some mixability issues and clumps in the shakes, for which if you have a blender we recommend using it. I cannot understand why there is not a chocolate flavour (what can I do without it?!). Besides, portions might be slightly too big for certain people and 2,000kcal too much for older folks and women.
Verdict
It is a great little brand that you MUST try if you live in the western-central part of Europe. It is so cheap that you will not regret even if you dislike it. It has a good range of option, I like the nutritional values (even if I am and advocate for slightly higher protein values) and meets the needs of most sedentary people (maybe slightly high if you are a female). Watch our for this brand in the future.
Satislent deals and discount codes
We will try to update this section regularly, but do not forget to visit the Deals section for more discount codes.
– €6 off in all your orders when you use the code LF6OFF. You will also get a free shaker if you order the Taste Pack.
– 10% off when you write a review for a previous purchase. This is actually really smart, but an ideal way for any customer to save even more. I assure you, if you try it, you will come back for more.
Satislent
Pros
Interesting array of flavours available.
The golfio and the olive oil give it a very unique and interesting touch
Great starter pack to try out all flavours
Cheap when bought in bulk
Cons
Powder doesn't mix perfectly
Shakes are quite thin, might fail to fill you up
Low in protein