Nobody said being a vegan is easy. Their diets are hard to follow, even for the most veterans. The world does not want to make it easy for them. Today is the day this changes. Queal Vegan is the break a lot of vegans have been waiting for. An easy, nutritionally complete, quick vegan meal. Shake, drink and enjoy.
However, will Queal Vegan meet the high standards vegan set to their food? Will it be suitable for the most hardcore vegans? Let's find out in this Queal Vegan Review.
Flavours: Banana Mania, Chocolate Hazelnut Happiness Flavour and Smooth Vanilla Flavour.
Ingredients (Banana Mania): Whole Grain Oats Flour (Gluten), Isomaltulose, Maltodextrin, Soy Flour, Vegetable Oil (Sunflower- & Linseed), Pea Protein, Rice Protein, Vitamin and Mineral Mix ( Potassium Dihydrogen Phosphate, Sodium Chloride, Choline Bitartrate, Calcium Carbonate, Vitamin C, Vitamin E, Chromium Chloride, Potassium Iodide, Ferric Pyrophosphate, Vitamin B3, Soduimselenite, Vitamin A, D-biotin, Vitamin B5, Sodium Molybdate, Magnesium Oxide, Vitamin B12, Zinc Oxide, Vitamin D2, Copper Sulphate Monohydrate, Vitamin B6, Vitamin K1, Vitamin B9, Vitamin B2), Glucose Syrup, Natural Flavouring, Emulsifier: Sunflower Lecithine, Rainsing Agent: Sodium Bicarbonate, thickener: Xanthan Gum & Modified Starch, Anti-caking agent: Silicon Dioxide, Antioxidant: Rosemary Extract, Sweetener: Sucralose.
Nutritional breakdown
Queal Vegan is different from the other Steady line products. Obviously, Queal has faced some challenges while engineering this vegan shake, such as, protein sources. This is reflected on the different distribution of macros compared to other Queal Steady products.
Macronutrients per serving (g)
Protein(g)
Carbs(g)
Fiber(g)
Fats(g)
% of Energy from each macronutrient
Carbs 48%
Prot 19%
Fats 33%
% of Recommended Intake per serving
RI based on 2,000kcal
RI based on 2,500kcal
Nutrition Overview
Queal Vegan offers 700kcal per meal for a total of 2,100kcal with 3 servings. A higher portion of this energy comes from fats (35%) and sugar (4.58%), as opposed to other Queal powders. Most likely, this is due to the difficulties when engineering a vegan product. They will tend to have more fats (nuts are common in vegan diets and high in fats) and less protein.
Protein
In fact, Queal Vegan offers 30.9g of protein per serving, which still equates to 62% of the recommended intake by most food agencies. This should be plenty for any normal person, but here at Latestfuels we believe the recommended intake figures are quite low. High protein diets are good for weight loss(lower appetite), muscle building and increased metabolic rate among other things. But that is a discussion for another day.
The fact is that most common protein sources in the food industry are milk (whey protein) and meat (for whole foods). Both, in the banned list of vegan foods. As such, Queal has decided to use pea and rice as alternative protein sources.
Pea protein has often seen as a subpar choice because it lacked the right amounts of essential amino acids (amino acids that need to be consumed, since the body cannot synthesize them). This, however, was found to be false by MIT researchers. Pea protein contains correct amounts 8 out of the 9 EAA, only be lower than ideal in methionine. Nevertheless, this should not be much of a concern for the general population. Only those who are engaging muscle building or sport activities should look to reinforce this deficiency. And yet, there is evidence that pea protein can support muscle growth at the same level of whey-based products.
In summary (so I do not derail too much), pea protein is a fine choice, slow digesting and helps with the filling sensation.
Carbs
Besides the lower protein content, vegan diets might be rich in added sugars. Especially, if there is a tendency to consume a lot of fruits. However, this does not seem to be the case with Queal Vegan. The added sugars are Isomaltulose and glucose syrup, none from fruit origin. Plus, the even if the sugar content is higher than on other Queal products ( 25% of RI/serving); it does not surpass the upper limit of USDA or EFSA.
Other carbohydrates used in making Queal Vegan are whole grain oat flower, maltodextrin and soy flour. All common suspects.
Fats
32% of the energy provided by this vegan shake comes from fat. Certainly, in the higher end of the acceptable range for fats (35%). If not partaking in a high fat diet, such as, Keto you might find this figure high. Let me assure you there's nothing wrong.
Queal Vegan has quality sources of fats, sunflower and linseed oil. The second is more of a controversial choice, but has high levels of omega-3 fatty acid, alpha linoleic acid and is USFDA approved (GRAS certified).
Allergens
Queal Vegan includes Soy (from soy flour) and Gluten (whole grain oats). While the product does not contain any eggs, it is produced in the factory that produces the rest of the Queal Steady products. In the nutrition label there is a warning saying that it could contain traces of Egg. Fact that we found odd in a vegan shake.
The Ultimate Queal Product Comparison: Queal Vegan vs Queal Steady line
Well, the last section extended more than I intended. Anyhow, one of the things I found most interesting about Queal Vegan is how similar it is to the other Queal Steady line products (Standard, Athletic and Agile). Yet, it has key nutritional differences that might make it more suitable for some consumers. Even if, they are not vegans.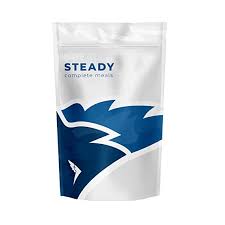 Right of the bat, it is clear that Queal Vegan is like a twin of Queal Steady Standard, and brother/sister to the others. They both pack the same amount of calories and are designed taking the general population needs. Queal Agile is more for women and people with lower caloric needs; as opposite to Queal Athletic, made for more active, sportive people (discussed fully in the respective reviews).
Therefore, while both Queal Vegan and Standard have the same calorie content, they do not share the macronutrient profile. The first is lower in protein content, but higher in fats and carbohydrates (especially, added sugars). Queal Standard, instead, has more saturated fats, even though the total fats are lower.
As discussed above, the protein content discrepancy is probably because plant-based proteins are harder to come by and use. Still, even if it is not as high as the other Queal Steady line products, it should not be a problem for most. Queal Standard (and the others) use whey protein as opposed to pea protein and rice as a source. Whey protein is the golden standard in the protein industry, so no surprises there. This might cause a slightly better amino-acid distribution on the Queal Standard, Athletic and Agile products. Although, it is neglectable.
One thing that might tip the balance against Queal Vegan is the sugar content. While is not high (23g/serving), it is not the ultra-low 8.3g found in Queal Standard. We have praised the latter for this. It is remarkable. They both have sucralose, as well, so it is not like you will be skipping the artificial sweeteners with the vegan option.
So Queal Vegan vs Queal Steady Standard? Which one is better? Nutritionally, both are fairly similar. If you care about protein content, then we would recommend going for Queal Standard. It also has a wider variety of flavours and has been around for longer, hence it is a more evolved product. It is also cheaper, even if its about 20 euro cents per bag.
Even then, we would recommend trying both. You might find you like the consistency of one better than the other, or that the Queal Vegan macros suit you better.
Obviously, if you are a vegan you have no real choice. You would have to go outside Queal to look for different nutritional profiles, ingredients and philosophies.
Who is Queal Vegan for?
Anybody who does not eat animal origin products and is looking for a quick meal that can take on the go, to work, travelling or feels too lazy to cook. It will suit most people, with 3 different flavours to choose from and good nutritional input. If you are not vegan but are interested in Queal products, I would recommend looking at Queal Standard.
Does it taste good?
No complaints about the taste. Really good, as it is the Queal hallmark. My only critism is the smaller range of flavours, as opposed to the other products. I am sure they will come soon, though.
Will I get all the nutrients I need?
Check. 700kcal, 81g of carbs (23g sugar), 30g of protein and 25g of fat (3g saturated). Plus at least 33% of all necessary micronutrients. Some of you who are concerned about muscle building and/or are athletes you might want to look to get some more methionine in your diet.
I want to buy it. How much will it cost me?
About 2.5€ per meal without applying the subscription discount. Queal shipping is great, so it should be at your door within 2-3 days from ordering. If you are lucky enough to live in the US, shipping is free after $40.
Wait a moment, is it perfect?
No, is there anything perfect in this world? There might be some methionine deficiency (very low to matter for most). Also might contain Egg traces, which some vegans may not find acceptable. Sugar content is a bit on the high end, so if you are using it as part of your diet, make sure you keep an eye. As I mentioned before, vegan diets can be high in sugars if a lot of fruit is consumed.
Verdict
Is it the best vegan meal replacement? Certainly, not. Is it a good product? It is still a very good product by Queal. We would recommend it to most vegans, but some hardcore practitioners might find it too industrial for their like. Or not organic enough. While the nutritional aspect is fine, it might not suit the standards they apply for their primary ingredients.