Queal Ready Review | The Perfect Breakfast Done Easy
Quick Links
Queal Instant Oats, now Queal Ready, target those who are alienated by the concept of shakes and drinkable meals. This breakfast oriented product is supplemented with nutrients that your body requires daily.
A hot 'chewable' meal of 400kcal, 26g of protein, 42.6g of carbs and 12.3g of fat. As well as, all the needed micronutrients. Oh, and it is vegan friendly. Hurray! In this Queal Ready review, I will try to explain why it might be the best breakfast option in the market.
It is time to change your morning oats for Queal Ready.
Queal Ready Review at a glance
Flavours: Red Berries; Carrot Break.
Ingredients:Whole grain oat flakes (gluten), whole grain oat flour (gluten), peaprotein, rice protein, dried cranberries (cranberries 9%, cane sugar), soy protein isolate, vegetable oil (sunflower- & linseed), freeze-
dried strawberry powder (3%), vitamin- and mineral mix (potassium dihydrogen phosphate, sodium chloride, choline bitartrate, calcium carbonate, vitamin C, vitamin E, chromium chloride, potassium iodide, ferric pyrophosphate, vitamin B3, sodium selenite, vitamin A, D-biotin, vitamin B5, sodium molybdate, magnesium oxide, vitamin B12, zinc oxide, vitamin D2, copper sulphate monohydrate, vitamin B6, vitamin K1, vitamin B9, vitamin B2), rice flour, modified starch, colour: beet root, natural flavouring, raising agent: sodium bicarbonate, glucose syrup, anti-caking agent: silicon dioxide, anti-oxidant: rosemary extract, salt, sweetener: sucralose.
Queal Instant Oats was in a beta phase for the last two months. This is, it was been sent to few selected customers to try it out and listen to their feedback (cool thing to do by Queal!). Queal Ready is the final iteration, the product that was born from Instant Oats.
Macronutrients per serving (g)
Protein(g)
Carbs(g)
Fiber(g)
Fats(g)
% of Energy from each macronutrient
Carbs 45%
Prot 27%
Fats 28%
% of Recommended Intake per serving
RI based on 2,000kcal
RI based on 2,500kcal
Nutrition Overview
Each serving of Queal Ready provides with 400kcal, with low amounts of carbs (particularly for an oatmeal), high protein and medium fats. In fact, the energy from carbohydrates is in the lower end of the recommended (45-65%).
Perhaps, the most noteworthy feature is the high amount of protein. Breakfast (main meal that is intended to be used on) is usually a meal where we do not consume enough of it (e.g Spain, UK and US). Furthermore, these studies also showed that Western breakfast habits favour carbohydrates and sugar over healthy fats and protein.
And water! The studies found out that most people do not drink enough water for breakfast. Try to drink a glass as soon as you wake up!
Thus, Queal Ready has an ideal macronutrient distribution to start the day with.
Carbs
Per serving:
Total carbs: 42.6g, 16.4% of RI.
Sugars: 11.7g, 13% of RI (UK).
Fibers: 6.6g, 33% of RI.
The amount of sugars is higher than what you would expect from normal oats. This is because the dried cramberries (9%) that are added for flavouring purposes contain some fructose and added cane sugar. While it might not be ideal, the sugar levels are really low for most of us, and cause no issues (unless you are have diabetes).
At the end of the day, most of the carbohydrates come from oats, the golden boy of complex carbohydrates. Oats are source of complex carbs, as well as, source of fiber (11%), some protein (17%) and some fats (7%). Not only they are widely used in the meal replacement industry, but also by many athletes and bodybuilders.
Relative to a normal oatmeal (100g), Queal Ready does not have much carbohydrates, though; and the sugar quantities are significantly higher.
Fats
Per serving:
Total fats: 12.3g, 17.6% of RI.
Saturated fats: 1.4g, 7% of RI.
Monounsaturated fats (MUFA): 7.4g. This is 16.7% of the calories per serving.
Polyunsaturated fats (PUFA): 3.3g. This is 7.4% of the calories per serving.
Omega-3 (ALA): 2.0g.
Omega-6: 1.7g.
Queal Ready provides 28% of the total energy from fats. The main sources are oat flour and the vegetable oil mix, which includes sunflower oil and linseed oil. This means that each serving will have some omega-3 in the form of alpha-linolenic acid (ALA).
In fact, the omega-3 to -6 ratio is 1/1 (slightly in favour of omega-3), which is considered ideal to decrease risk for cardiovascular diseases and heart attacks. Noteworthy, since the Western diet usually falls short in omega-3.
Another great feature about the fatty acid composition is that MUFA and PUFA levels are within the recommended by the World Health Organization: 15-20% of the energy per serving for MUFA and 6-11% of the energy for PUFA. Both are in greater quantities than saturated fats, too; metabolically more benefitial than SFA.
Protein
Interestingly, Queal was decided to make this product available for vegans. You can see this in the protein source choice. I say interesting, since almost every other product uses whey protein as main source, which in has usually a better amino acid profile, rich in leucine and other branched amino acids.
In this product they use pea and rice protein. As discussed in the Queal Vegan review, pea protein is an interesting source. Rich in essential amino acids (EAA), while only low in methionine. This is why is paired with rice protein which is high in this amino acid.
Soy protein isolate, an unecessary addition?
Not only these two, but they have added some extra protein in form of soy protein isolate. Soy protein is widely used due to the cheap price tag and the fact that is easily digestible. While, one on one might be slightly worse than whey, in conjunction with the pea/rice protein blend, it is a very well round up line-up.
I do think that the inclusion of soy is a little odd, since it adds an extra allergen which should not be necessary. Rice and pea protein (together with a little bit from oats) should be enough. My expeculations are that has something to do with the effect on the flavour or the texture.
If you struggle to get protein in breakfast, just because you eat some cereal or toast, but no eggs, meat or supplements, Queal Ready will help you. Protein in the morning may help satiating your hunger for longer and allow to skip the mid-morning cravings.
Allergens
The usual suspects appear here: Gluten and Soy. Do not give up, there are products out there, which are gluten free!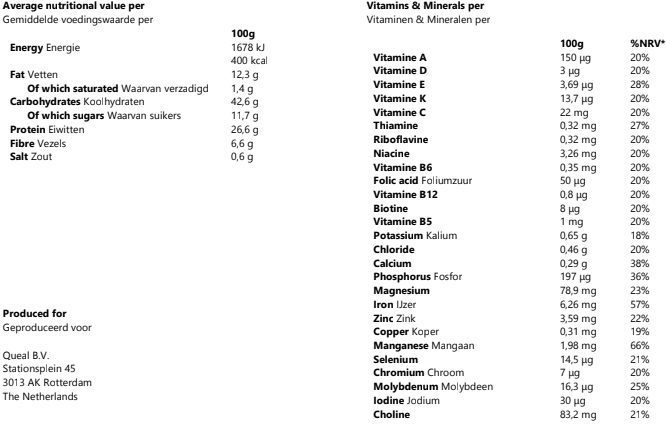 I am a big porridge fan. Thus, I was really looking forward to try Queal Ready. I was afraid. But I was not disappointed. Queal Ready delivered, and to a higher extent than I expected.
The biggest issue with oatmeal is often its dullness. The taste is not exciting, unless you add something to it.
Queal went for Berries (standard addition) and Carrot cake (very surprising).
How does Queal Ready taste like?
Queal Ready Berry Good tastes like a mild berry yogurt. The texture can be pretty thick (add more water to make it thinner) and the oats get blendend, making it a consistent paste.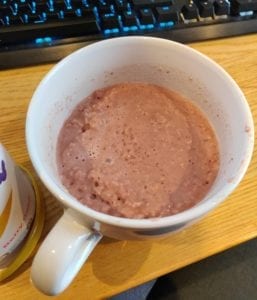 Queal Ready Carrot Break is more like a cinnamon oatmeal with bits. The carrot bits feel weird and the overall flavour can be pretty bland. I prefer this version left overnight in milk and eaten cold the next morning, since the milk takes the cinnamon flavour making it more tasteful.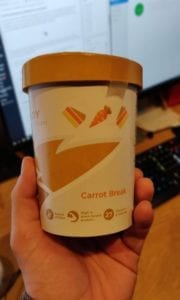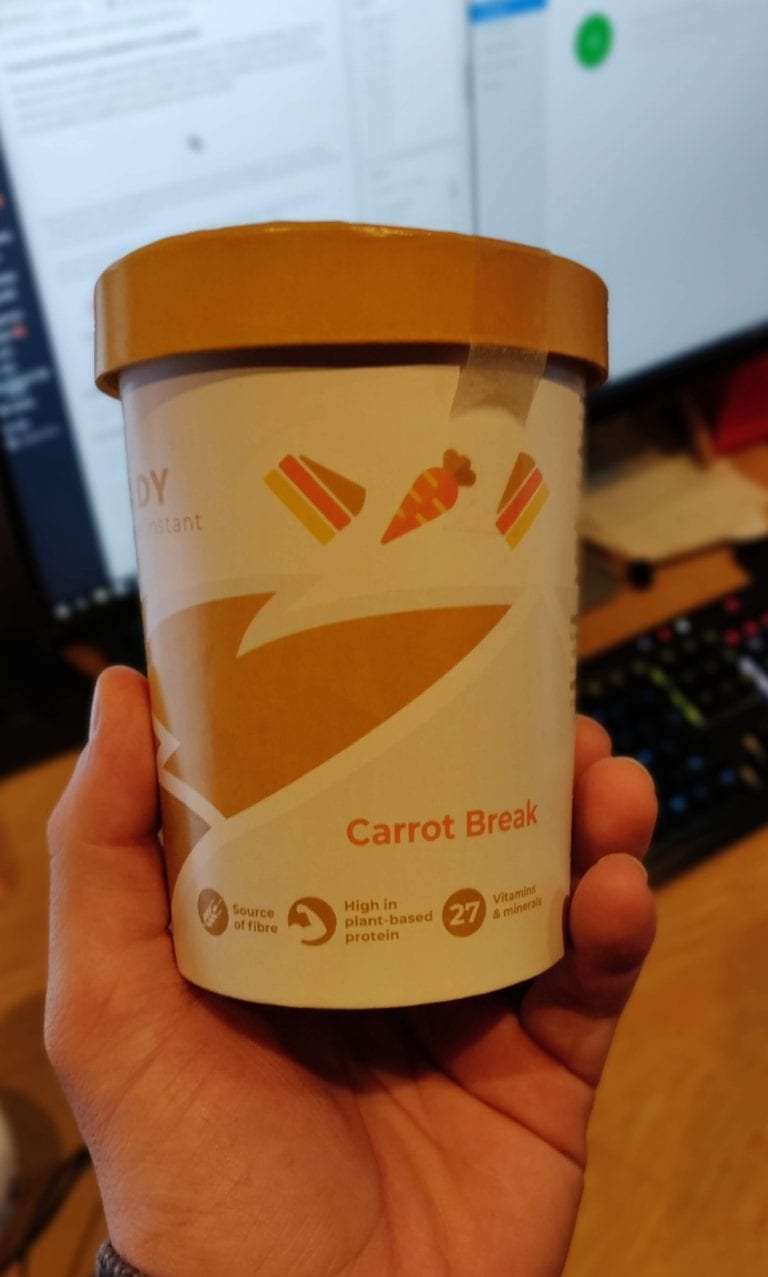 Which one is better?
For me Queal Ready Berry Good was the best out of the both. It was tastier and work better in when warmed up. It did have more flavour than Queal Carrot Break, which felt much more neutral.
So here are some tips so you can enjoy your Queal Ready more:
You can have them either warm (with water) or cold (left in milk overnight).
Mix it few times thoroughly. Do it while warming it up or if you left it. If not, you will have clumps at the bottom.
Berry is better warm, Carrot Cake left overnight.

Left it overnight with milk, the texture is like rice pops.

Use water and milk together to make it taste better (50/50 mix).
The more water/milk the less thick the oatmeal will be.
Thick porridge is usually harder to eat and more filling (bloating).
The individual tubs are OK to heat it in, but I would recommend passing it to a bowl.
Use our link to get Queal Ready at a discount!
I have not had the chance to try them myself, but I have collected some initial thougths from some of the beta tasters:
By u/silentexception:

First things first, I love oats/oatmeal and before Queal I was enjoying oatmeal almost daily. OK, I usually made so called proatmeal (oats + protein) but I just love the taste of oats in general.

There are people who dislike or even cannot stand oats (like my wife) so if you're like that, just skip this product. No amount of protein, flavoring or sweetener is going to make it taste better for you.

After seeing the "Red Berries" flavor my first thoughts were "Oh, no, not a fruity one again" but after this bag I have to say that the flavoring is not overwhelming and it blends nicely. I would still tone it down a notch but it is very enjoyable as is. Same thing with sweetness. It is just tad sweeter than I would like it to be. Nonetheless, it is a great taste and experience.

Also, I saw some comments where I'm not sure everyone is aware that this is not regular flavored/sweetened oatmeal. Even though oats have pretty neat nutritional profile by themselves this is Queal we're talking about here so it is more nutritionally balanced/complete paired with the vitamins and minerals mix.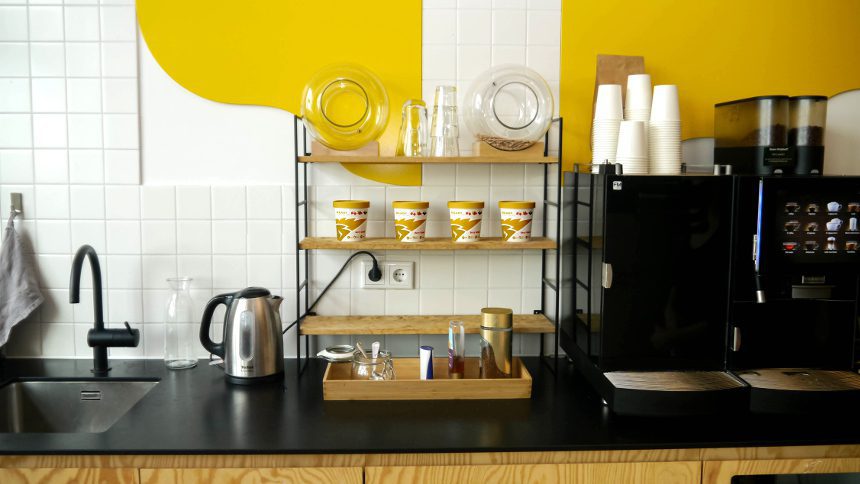 By u/skymirrh:

50g + 100ml water (boiling): wanted to try a less dense version.  I found this to be way too watery for my taste. In the end, the densy porridge texture felt more appealing to me.

100g + 100ml water (at room temperature): not a big difference when compared to boiling water, though the texture felt less well mixed, rawer.

100g + 100ml water (heated up with microwave): couldn't sense a difference vs. directly using boiling water.

100g + 100ml milk (heated up with microwave): seems like milk is absorbed less easily than water. Texture was more like the 50g + 100ml boiling water experience than the 100g + 100ml boiling water one. Tasted better with milk though.

50g + 35ml milk: texture was more akin to the 100g + 100ml boiling water experience. Tasted better as well.
Adding some milk (or almond milk) usually gives a better flavour, even to the plain porridge. I think you could even add more blueberries or banana chops to improve the taste.
Queal Ready is a boosted variation of the normal oatmeal. There used to be a similar product in the market, Huel Granola, which is a variation of granola that is nutritionally complete. Even then, Queal ready is one of the best breakfast meal replacements you can have.
Queal Ready vs Oatmeal
Queal Ready will be the most complete option of both, will pack the most protein but will also come at a price cost. It will cost you 5-8 times as much as a premium oat blend. Then again, you will not have to worry about adding anything else to it.
Queal Instant Oats vs Normal Oats. Nutritional comparison

| | | |
| --- | --- | --- |
| per 100g | Queal Oats | Oatmeal |
| C/P/F | 45/27/28 | 67/17/16 |
| Kcal/100g | 400 | 389 |
| Carbs(g) | 30.5 | 66.3 |
| Sugars(g) | 11.2 | 0.5 |
| Protein(g) | 24.1 | 16.9 |
| Total Fats(g) | 9.9 | 6.9 |
| Saturated(g) | 1.2 | 1.2 |
| Fiber(g) | 4.6 | 10.6 |
| Nutrient Balance | Yes | No |
There is one clear distinction between the two: Queal Ready comes with 20% of each micronutrient (at least) and the regular porridge or oatmeal does not. Besides that "minor" difference, Queal Ready is a lot higher in protein, and has a more varied, better rounded amino acid profile (oats alone are lacking in methionine, histidine, isoleucine…).
In favour of the oatmeal, it has a lot more fiber than Queal Ready does. This is probably due to the trade off between carbohydrates and protein. It is also significanly lower in sugars.
The other biggest difference will be the price. 400kcal (100g) of Queal Ready (in beta) were selling for €1.78. This is significanly more expensive than oats, which because they are so common and cheap are so popular. 100g of oats expensive oats (Quaker) will cost you around €0.25; while the cheap version might be as low as €0.15.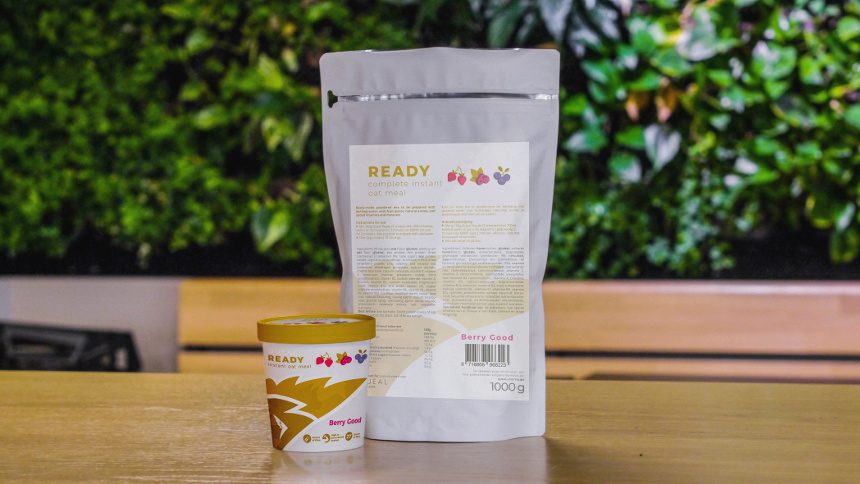 Queal Ready is going to be available in two different packagings: an individual serving tub (as seen in other instant oats products) and a bigger bag of 1kg with 10 servings of 100g (400kcal). I do think this is a smart move, since it allows you to have a portable option you can easily eat at the office or on the go, while the bulk packaging is more convenient and affordable to consume it at home (where most I assume will consume it).
Queal Ready Price
Queal ready is available in very handy single tubs or a bigger bag containing 10 meals of 400kcal. The price for the individual tubs is more expensive than buying in bulk.
Single Serving Tub (400kcal) = €2.5
10 meal bag (4000kcal) = €2.0/400kcal
1- Is Queal Ready better than normal oats?
Queal Ready is sligthly different because it comes with a better, more well-rounded nutritional profile. It is richer in protein and has the right amount of fats (often lacking in our breakfast options); as well as incorporating 20% of all essential vitamins and minerals.
Thus, yes it will be more expensive, but also a better way to ensure the perfect breakfast.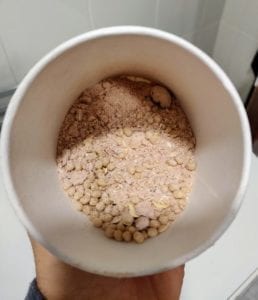 2- How do I prepare Queal Ready?
Similarly to porridge or oats you can have Queal Ready cold or heated (the usual option). I would recommend about 150ml of water (or 50/50 with milk for better taste) and then adjust it according to your preference (thicker or thinner).
Warm:
Add 150 ml of water with 100g of Queal Ready. Heat up in the microwave for 1-2min. Careful because oats tend to rise. Wait to cool down before consuming.
Cold (German style):
Add 200ml of milk with 100g of Queal Ready (as if you were going to prepare cereal). Wait 5 minutes for the oats to soften and blend in with the milk.
You could also prepare them overnight with milk and leave them in the fridge or blend them with water/milk and some frozen berries (kind of defeating the purpose of the chewable meal, but you might prefer the nutritional options)
3- Can I only use Queal Ready for breakfast?
No, you can replace any meal (for instance blending them and taking them in a shake). In fact, if you prefer this nutritional output to other Queal products, you could swap any meals with Queal Ready.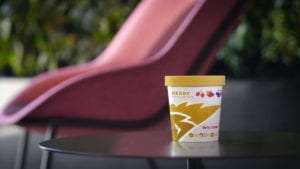 4- Can I live solely off Queal ready?
In theory there should be no problem. It contains all the essential nutritents in a very balanced way. However, I would advise against it, because you might be losing some nutrients (not discovered yet) and phytonutrients (antioxidants, for instance) that are necessary for better health and good gut microbiota.
5- I find Queal Ready too bland. How can I improve the taste of Queal Ready?
The easiest option is to add your favourite milk. You will be amazed by how much difference it makes when compared to water. Other popular options to make the oatmeals tastier are fruits, such as, banana, frozen berries and similar. You could always add peanut butter (for extra calories and fats) or your protein of choice (do not heat up with the oatmeal!).
If you are looking for non-caloric options, I would recommend trying MyProtein's Flav drops, particularly Toffee and Vanilla. Warning! They are really sweet so you will have to use them in moderation.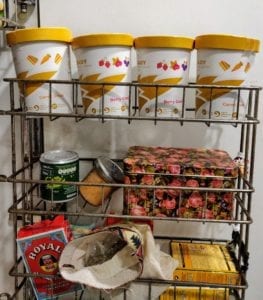 Verdict
Queal Ready is a great product. For some it could be the greatest product Queal currently offers from a nutritional standpoint. While the price is high for an oatmeal, I do think the convenience and the nutritional balance is worth it. Unfortunately, there is currently only two flavours.
I would strongly recommend Queal Ready to anyone who has porridge or oats in the morning; or to anyone looking for a warm meal replacement.
Superb product all in all.
Queal Ready
From €2/400kcal
Pros
Great alternative to shakes; particularly as breakfast
Very tasty and filling
High protein content, with 27g per serving
Nutritionally well rounded
Cons
Slightly high in sugars
MIght taste sweet and artificial
High price when compared to normal oatmeal