Welcome to the 5th edition of meal replacement news. After few weeks with multiple exciting announcements, new flavours left and right, and interesting developments, this has been a rather quiet week. However, there have been enough stories to report on; together with some more personal stuff. So here is week #5.
New Queal App; the Dashboard on Your Phone
Queal is a fantastic Dutch brand with some of the best flavours on the industry. Besides their great tasting shakes, they have one of the best customer areas/dashboards. In there, you are able to track your consumption, earn points by giving feedback or referring friends, see the positive impact you have had in the environment and much more… It is a great tool to get more out of your food.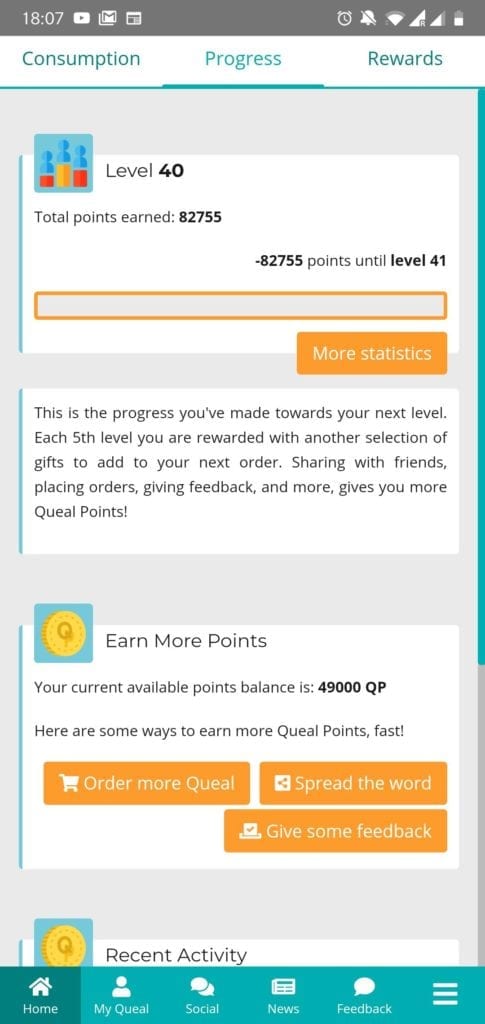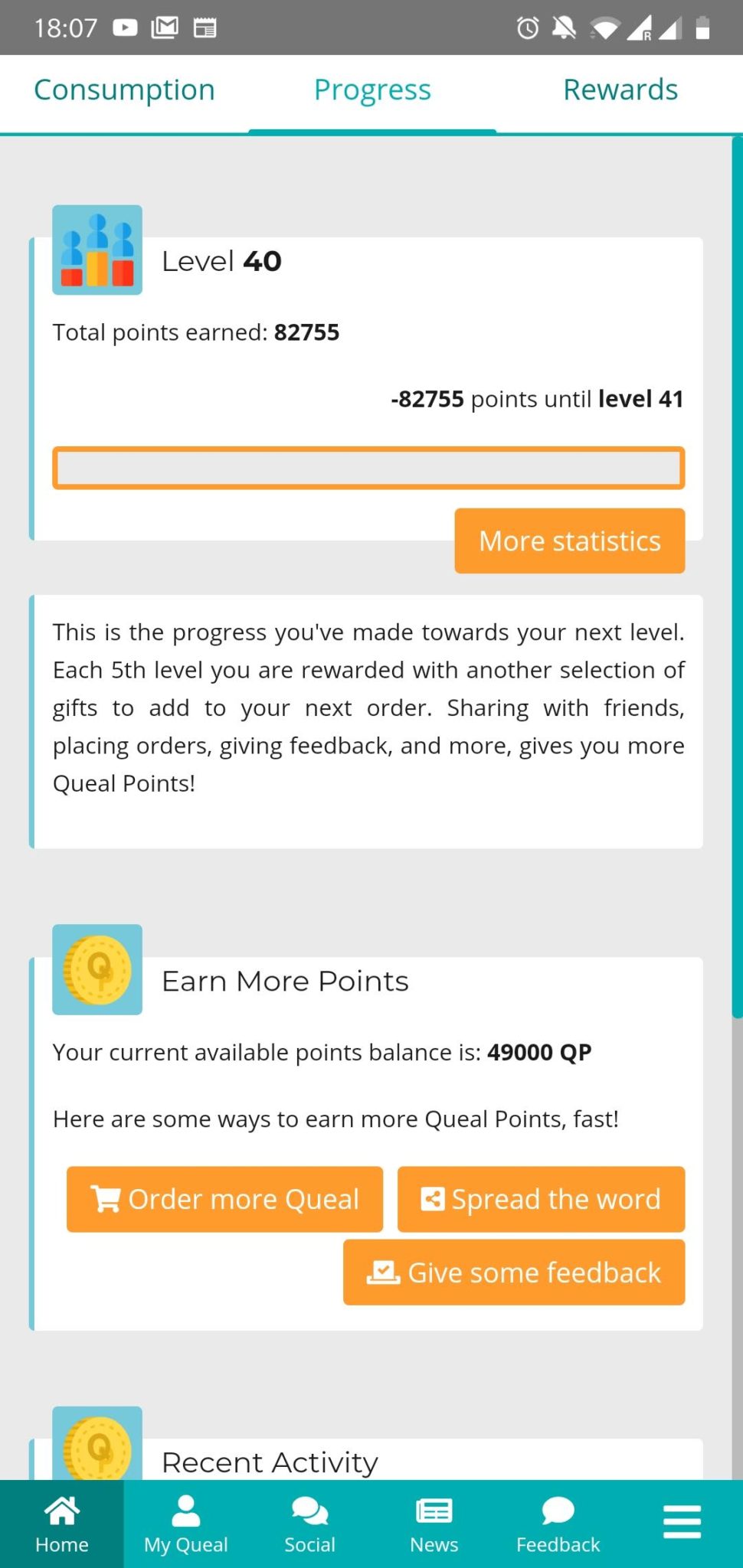 In order to expand the functionality of the Dashboard, Queal launched an app so you can do all this and more from your phone. The app is currently in Beta, so the options are limited. However, there are plans to expand what you can do from your phone; such as order more Queal, notifications about the availability of flavours, ability to track your meals etc.
Currently, the App allows you to do most things you can do on the site; check the latest news from Queal, see your progress, give feedback, track your order etc.
Latestfuels, What Is Happening
Due to the low volume of news this week, I thought this could be a good time to give you a small update on the site. It has been a year since I started working on the site full time, so it has been a good period for self-reflection.
Self-Evaluation
It has been a year of ups and downs; many great experiences and some sour ones.
The Good: Support from Strangers
The most memorable moments have often be interactions with my readers; yes via email or yes via comments.
In fact, this has been something that has kept me going on; small tokens of support from random strangers of the internet. While there is not a community build up around Latestfuels; there are some habitual readers that leave comments from time to time that make my day.
You can always contact me at [email protected]
More recently, I got a very emotive email thanking me for the site and giving me some valuable feedback on what he would like to see in the future. It was a very nice exchange of thoughts, that helped me understand the needs of my reader better.
The Bad
Unfortunately, a big part of life is about money and getting it has been an issue. While I do generate some small revenue from affiliate links and some kind donations; it has not been nearly enough to live off from. Currently, the site pays for itself. However, there have been some recent developments that make me believe that the situation is changing for the better (as you might have seen the site is serving some ads).
Besides the monetary issues, there have been times where I have not worked hard enough or post enough content. On top of that the content I post has been too long, and perhaps boring for the reader. I am looking to make improvements of both fronts.
Improvements and Future Goals
First and foremost, I am hoping to keep increasing the quality of the content; adding more (better graphics), different ways to digest it, and perhaps reducing the length of my reviews.
I want to do so to better server the reader, which I assume gets bored and lost in my current reviews.
Besides, I would also like to write other content besides reviews. Content on topics that are related to Complete Food, but from tackle it from other angles (environmental issues, nutritional guidelines, etc).
Projects Going On
Regarding what is going on right now on the site and what will be the focus on the next few weeks:
Analysis of CFS results. This has been going on in the background with me trying to read the 1,108 responses (thank you); but over the next three weeks it will take more of my time and focus. I am aiming to be able to provide with a comprehensive and detailed analysis, thus it will take some time from Latestfuels. Therefore, expect less articles in the next month.
Rewriting of old articles. I have realised that many of my articles were written a year ago; therefore there is some outdated data. I am looking to update my oldest reviews, which you will see popping out on the feed.
Restructuring the site for an improved navigation. I had some recent feedback letting me know that the structuring on the site was a little chaotic. It is true. Thus, I have been trying to make my site more user friendly and you will notice some changes in the URLs and the sections.
Those are the main points of focus for the next month but I will also be travelling to the US. I intend to use that period to try products from the US market that I can usually not try; thus, you might see some new reviews as well. On top of that, I will be working on some more Best Meal replacement lists; since I see people asking me those questions very often.
Other News
Besides the above mentioned; here are some brief news:
Saturo Off Amazon (US). Saturo's US adventure has been a weird one. They offered their Vanilla and Chocolate RTD's via Amazon in the US for almost a year now. However, a month ago, stock seemingly run out and now you cannot even find Saturo listed. Thus, this might be the end of Saturo in the US for a while.
Huel NI shipping fees have increased. According to a recent post on the Huel forum, the shipping prices for Northern Ireland have increased for Huel from £3 to £5.5.
This Week's Deals
As usual, a pleasure and I hope you all have a great week.