GO bar Review | For a Good Meal on the GO
A bar to quench your hunger when you need it. All while keeping your diet at check.
Ready… Steady… GO Bar Review!
Meal replacement bars are tricky. It is often hard to pack all the nutrients in such a small package. Even more so, when there are some technical difficulties in the process of making them (need of certain fats, sugars for taste and texture purposes). Therefore, many fail.
Yes, there are a lot of protein bars, but this are filled with protein, some carbs and/or fats and that is it. Their main focus is on the quality and quantity of the protein. Not so much the source of the rest and the micronutrient content. Thus, we are still facing the same problem. What is a balanced meal bar option?
Queal -one of the best meal replacement brands out there, in our opinion – has an answer; GO bars. 358kcal, 32g of protein, 38g of carbs, 12g of fats and 20% of all vitamins and minerals. All good in paper. So, is this the real deal? The answer to all the market needs? Let's find out in this GO Bar review.
Note: Queal GO bars as described in this review have been discontinued. Instead, now they produce a 207kcal bar (Nuts & Apricot). While this review is being remodeled, you can check the best meal replacement bars in my opinion.
Queal GO Bar at a glance
From:
Ships to:

Worldwide

Price:

$$| From €2.5

Kcal/meal:

358

Servings/day:

5

Type:

Bar

Allergens

Milk, Soy, Nuts,Peanuts
Flavours: Dark Chocolate and Seasalt & Nuts.
[better-reviews]
Nutrition in short
Macronutrients per serving (g)
Protein(g)
Carbs(g)
Fiber(g)
Fats(g)
% of Energy from each macronutrient
Carbs 39%
Prot 33%
Fats 28%
% of Recommended Intake per serving
RI based on 2,000kcal
RI based on 2,500kcal
Ingredients: Soy Protein, Maltitol Syrup, Glucose Syrup, Milk Protein, Chocolate with Sweetener 9% (Cocoa Mass, Maltitol, Cocoa Butter, Milk Fat, Emulsifier (Soy Lecithin), Vanilla), Maltitol, Humectant (Glycerol), Low Fat Cocoa 3.9%, Oligofructose, Soy Oil, Tapioca Starch, Cocoa Mass 2.7%, Palm Fat, Minerals (Dipotassium Phosphate, Magnesium Oxide, Tricalcium Phosphate, Ferric(III) Diphosphate, Zinc Oxide, Copper(III) Chloride, Sodium Selenite, Sodium Molybdate, Potassium Iodide, Acidulant (Citric Acid), emulsifier (Soy Lecithin), Cream Powder (contains Milk), Flavours, Vitamins (C, Nicotinamide, E, Calcium Pantothenate, B2, B6, B1, A Folic Acid, K, Biotin, D, B12), Salt, Sunflower Oil, Vanilla, Colouring Agent (Beta Carotene).
Allergens
If you are allergic to any kind of food… then you are in bad luck since it contains Milk, Soybeans, Nuts, Peanuts and Seasame. Also, the factory where they produce them handles Wheat, Gluten and Eggs.
Note: Some of this allergens are flavour dependant.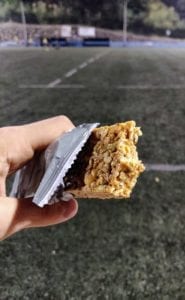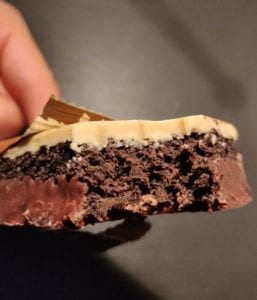 Energy
Nuts & Seasalt: 354kcal
Carbs 24%
Prot 24%
Fats 52%
Dark Chocolate: 385kcal
Carbs 40%
Prot 33%
Fats 27%
Carbohydrates
Nuts & Seasalt
Total Carbs: 17.7g, 6.8% of RI.
Sugars: 2.9g, 2.9% of RI (based on EU).
Fiber: 11.6g, 58% of RI.
Dark Chocolate
Total Carbs: 38.4g, 14.8% of RI.
Sugars: 3.6g, 4.0% of RI (based on EU).
Fiber: 4.1g, 20.5% of RI
Fats
Nuts & Seasalt
Total Fats: 20.6g. 29.4% of the DRI.
Saturated Fats: 3.0g. 16.5% of DRI.
Monosaturated (MUFA): 14.7g. This is 37% of the calories per serving.
Polyunsaturated (PUFA): 6.9g. This is 17.5% of the calories per serving.
Omega-3 (ALA): 2.5g.
Dark Chocolate
Total Fats: 11.7g. 16.7% of the DRI.
Saturated Fats: 5.0g. 25% of DRI.
Monosaturated (MUFA): 4.6g. This is 10.8% of the calories per serving.
Polyunsaturated (PUFA): 2.1g. This is 4.9% of the calories per serving.
Omega-3 (ALA): 2.5g.
Protein
Nuts & Seasalt: 20.8g of protein from Soy

Dark Chocolate: 32.4g of protein from Milk

It is interesting to see that they have opted to make one bar vegan and one non-vegan. Nuts & Seasalt uses soy protein, instead of protein derived from milk. As such, and because the higher protein content, Dark Chocolate is a better post workout bar.
Taste Trial
So, perhaps you are wondering which one tastes better? Or do they taste good? The short answer is that both are pleasant to eat, but I think the Nuts&Seasalt GO bar is better.
Nuts & Seasalt is the best tasting
I found this to be the more natural out of both options while I was trying different Queal products on my week on Queal. Dark Chocolate was good, but I found it too artificial and sweet for my taste. It was very like other cruncy chocolate bars, but without the bitterness of the dark chocolate, and more like the sweetness of the white chocolate.
On the other hand, the Nuts & Seasalt flavour was like having a nutty bar (which I am quite fond of). There is no denying that the bar is salty. Some might find it to be unbearable, but I got used to it fairly quickly. It has a honey-like glace, but the main flavour is nuts.
Nuts & Seasalt vs Dark Chocolate: which one is best?
Both bars are very filling even if they offer under 400kcal. I think either option is great for travelling around or having them on the go (like a day trip to the mountains).
Dark Chocolate might be the better post workout bar
Dark Chocolate has12g more protein per serving than Nuts&Seasalt. That is a significant amount that might turn the balance for those who are more active or looking to build some muscle. 20g per 350kcal is not  shy, but the extra protein and the fact that is whey protein will surely fit better for the more active people.
Nuts & Seasalt is vegan (well almost)
Nuts & Seasalt Go is a vegan meal replacement bar, and as discussed above, I preferred its taste to Dark Chocolate. However, Queal does not advertise it as vegan, because it contains vitamin D3, in the form of cholecalciferol. Cholecalciferol is processed from wool grease (sheep) so technically it has animal origin.
Nutritionally… A mixture of both would have been the best
I am a bigger fan of Dark Chocolate's macro split (particularly due to lower fats and higher protein content), but there are some issues with this bar, too. Namely, that the saturated fat content is higher than the MUFA and PUFA. Not only that, but the overall MUFA and PUFA quantities are slightly lower than WHO's recommendations. It also contains sugar alcohols, like malitol (part of the reason why it tastes artificially sweet).
Nuts & Seasalt has more fiber; and a better MUFA, PUFA and SFA balance. However, it also contains these in excess. EU and US guidelines recommend no more than 35% of the energy coming from fats and more than 50% of the energy from each bar comes from fats.
Ultimately, it will come to the flavour of preference, the situation and what your diet needs most. The fact that both are different is not a bad thing, but positive, since it allows you to find the ideal one for each situation.
GO vs other meal replacement bars
There are other meal replacement bars out there worth checking out besides the ones mentioned in the table below.
From the table below, Vitaminbar (Jake) and Twennybar (Jimmyjoy) offer two flavours; Saturo and Compact (Satislent) one; and only Huel offers more, with 3. Out of all of them, only Twennybar and Satislent Compact are cheaper. However, Satislent Compact is a little too heavy on fibers and too low in protein in my opinion.
In fact, GO Bar is the bar with the most protein per kcal and that is why I like it so much. It is a great post-exercise snack, or a catch up meal when you know you are lagging behind in protein. All that while offering, a low sugar alternative, even if perhaps is a little low in fiber.
General Information
| | | | | | | |
| --- | --- | --- | --- | --- | --- | --- |
| per serving | Compact | Huel Bar | GOBar | Vitaminbar | Saturo | Twennybar |
| Price (€)/bar | 2.5 | 2.25 | 2.5 | 2.5 | 2.5 | 1.9 |
| Energy (C/P/F) | 41/19/40 | 53/25/22 | 39/33/28 | 42/24/35 | 44/23/33 | 47/20/33 |
| Energy (kCal) | 427 | 250 | 385 | 332 | 250 | 385 |
| Fats (g) | 17 | 7.2 | 11.7 | 12.0 | 8.7 | 15.0 |
| Saturated (g) | 3.3 | 2.9 | 5 | 1.6 | 4.3 | 4.0 |
| Carbs (g) | 39 | 25.4 | 38.4 | 34.0 | 16.9 | 46.0 |
| Sugars (g) | 4.5 | 11.2 | 3.6 | 14.0 | 13 | 5.4 |
| Fiber (g) | 30 | 7.5 | 4.0 | 6.0 | 9 | 9.3 |
| Protein (g) | 17 | 15.4 | 32.4 | 19.0 | 12.5 | 20 |
| Salt (g) | 0.3 | 0.3 | 0.91 | 0.9 | 0.15 | 1.22 |
Other alternatives
So, either you are unlucky enough to be allergic to some of the ingredients or it just is not what you were looking for. Do not worry. There are plenty of alternatives in the market. From other Queal products (Vegan option, light option, Athletic option…) to other brands (Soylent, Huel) or other meal formats (ready-to-drink, powder).
However, if you are looking for something to eat on the GO -pardon me-, we would recommend looking to ready-to-drink products first, since they tend to be more balanced than the solid counterparts (bars).