Rumble Supershakes Review | How Good Are these Canadian Nutritional Shakes?
Let's get ready to rumble Latest Fuelers! Sorry, I couldn't help myself. Today we have the Rumble Supershakes review, a fortified protein shake offering from Canada.
That's right everyone, this one is a nutritional shake, not a full meal replacement.
Claiming to be the best nutritional shake in Canada, Rumble seeks to provide a high protein product, comprised only from all natural ingredients.
While they're all included in the same product stack, three of the five total flavors contain whey based protein, while the remaining two are plant based. Dutch Cocoa, Vanilla Maple and Coffee Bean are based on grass fed milk & whey protein. Latte, and Cacao are new, and based on pea & hemp protein.
Furthermore, each Rumble Supershake contains 16-20g of protein, 2000mg of omega-3s, potassium, calcium and iron in each 355ml serving. The plant based shakes have also been fortified with vitamins B12 and D2.
Now that you know the facts and figures, stick around to see if Rumble Supershakes are for you!

---
Rumble Review at a Glance
Flavours: Vanilla Maple, Dutch Cocoa, Coffee Bean, Latte, and Cacao.
---
Opinion
Looking at the packaging and the bottles, you can tell a lot of thought and care have been put into this product.
We finally got a proper sampler, containing everything that should be in it, so I'm appreciative of that. The box is custom printed, and the bottle labeling has everything you need to know on it and makes it hard to grab the wrong one in a hurry.
Futhermore, I found that the labels were extra helpful. It states that 5% or less is little, and 15% or more is a lot, which is super handy if you are new to nutrition and label reading.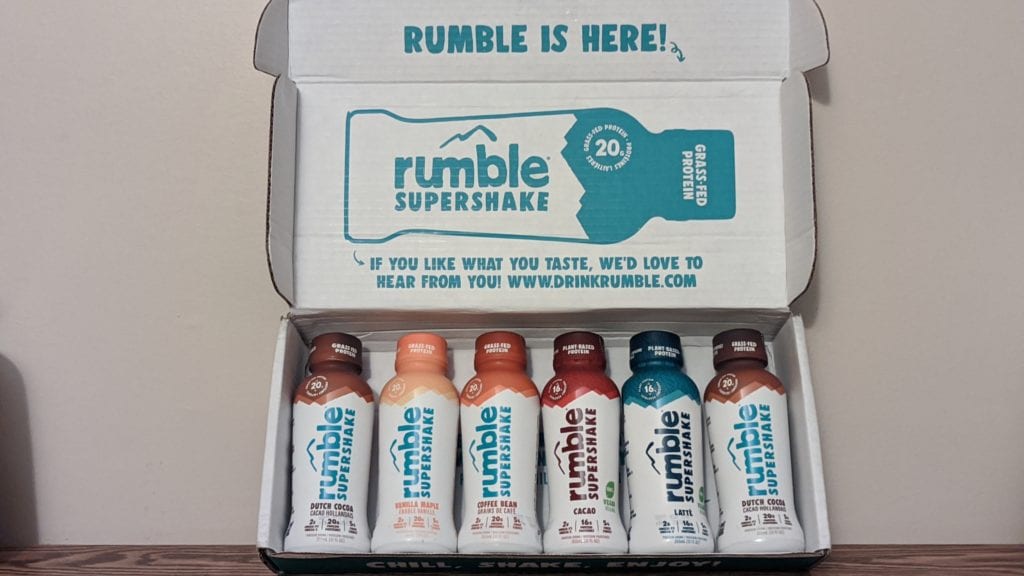 One thing I'm cautious when looking at protein shakes it's the amount of sugar. Some are literally candy!
Rumble Supershakes are winning in that aspect with only having around 10g of sugar per bottle. Also, this doesn't have any artificial junk in it, and you will recognize most ingredients. Ingredients like organic beets, broccoli, and kale really allow you to put your mind at ease regarding what you are putting in your body. Also the fact that they are largely allergen free, t's something I really appreciate.
What I like
1. Natural Ingredients. Organic veggies, coffee, cocoa, maple syrup, coconut cream. All good stuff that you can pronounce, and know that its good for you.
2. Informative Labeling.
3. Lactose Free. Even the whey based offerings are 99.7% lactose free.
4. Free of major allergens. No soy, gluten free, no tree nuts, no peanuts, no shellfish + a non-dairy option. Seems like all bases are covered for everyone.
5. Shipping was fast. Was shipped from Vancouver to Ohio in 3 days!
6. Nutritious, despite not being nutritionally complete. While this is not a nutritionally complete meal (like the ones we usually cover), it's still a balanced and nutritious meal. It's just lacking a few vitamins and minerals. Thus, it can be a good occasional meal substitute.
7. Great sample pack.
What I dislike
1. Pricey! Fancy branding, grass-fed whey, organic veggies, and fair trade ingredients pump up the cost.
2. Make the caffeine content more visible. Its printed on the bottle vertically in a not so obvious space. It should have a listing alongside the protein, fiber and omega-3s on the front.
3. Plant based shakes only in Canada. I believe this is a work in progress regarding distribution, but for now, Canada only.
4. Plant-based shakes are not as good as whey based ones, mainly due to chalky texture.
5. Most flavours could be improved.
Improvements
1. Offer plant based on Amazon as well. As the push to get away from animal products continues, it'd be nice to also have the plant based option available too.
2. Try to be more flexible with pricing. Not by much, but still higher than some of its close competitors in the market.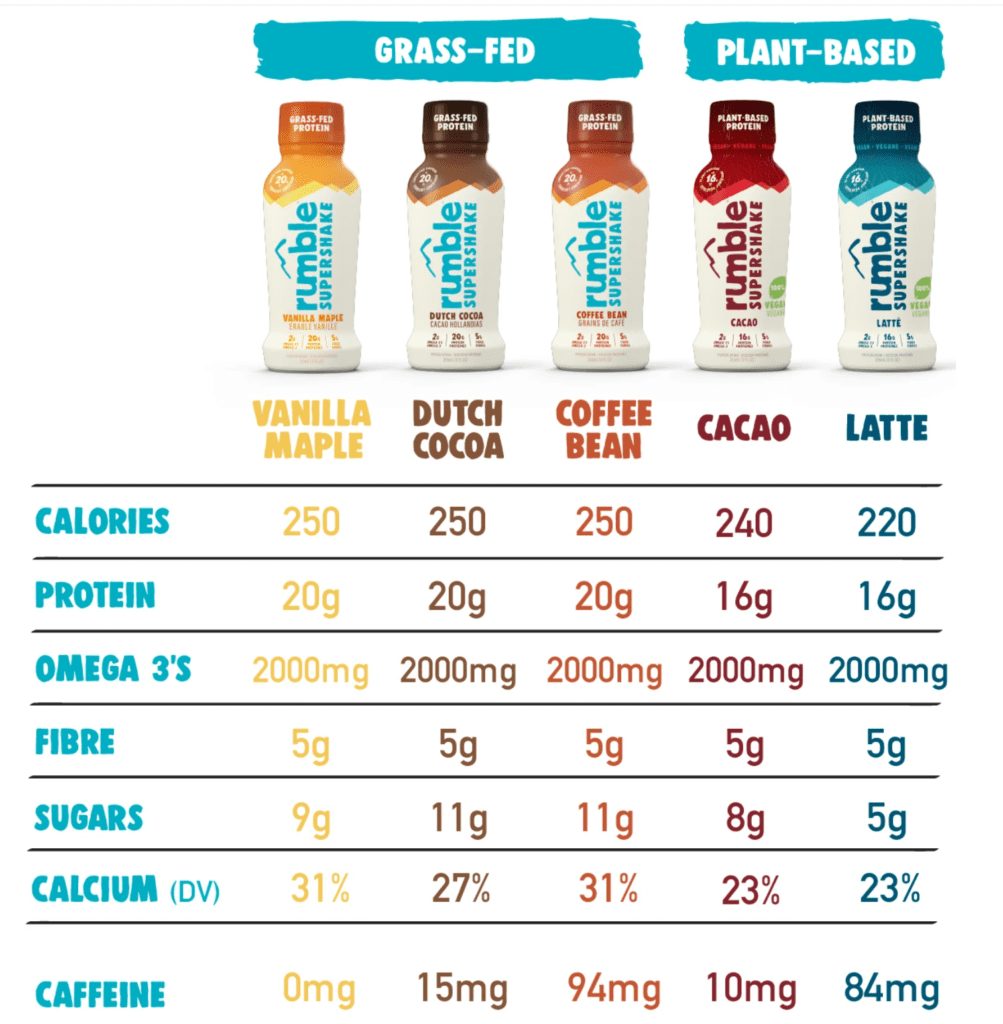 Nutritional Breakdown
Keep in mind that these are nutritional shakes without artificial sweeteners, not meal replacements. Thus, they won't provide you will all essential nutrients, even though they do contain omega-3 and other nutrients that are uncommon in protein shakes.
Their defining features are being all natural and hypoallergenic. This means that their selling points are:
Free of nuts, soy, lactose, gluten & shellfish
Plant-based (Latte/Cacao)
Whey sourced from grass-fed cows
Free of artificial additives
Added nutrients (when comparing to protein shakes): omega-3, fibre, some vitamins and minerals
This opens the door to a much wider audience, since allergies are becoming more commonplace and are increasing in severity for many.
Rumble Supershake Nutrition Overview
| | |
| --- | --- |
| | Rumble Supershake |
| Kcal/meal | 250 |
| Macros (C/P/F) | 32/32/36 |
| Vegan | Yes (Latte & Cacao) |
| Keto | No |
| Features | GF, SF, EF, LF, Kosher |
| Non-GMO | Yes |
| Organic | Yes |
| Includes Probiotics | No |
| Artificial Sweeteners | No |
| Synthetic Additives | No |
| Contains All Micronutrients | Yes |
| Controversial Ingredients | None |
Some values vary. Depends on if plant based or whey.
Whey-based (Dutch Cocoa): Purified Water, Grass Fed Protein Blend (Grass Fed Milk Protein, Grass Fed Whey Protein), Brown Rice Syrup, Fair Trade Organic Alkalized Cocoa, Maple Syrup, Organic Tapioca Syrup, Organic Flaxseed Oil, Avocado Oil, Inulin, Natural Flavours, Coconut MCT Oil, Tara Gum, Monk Fruit Juice Concentrate, Sunflower Lecithin, DHA Algal Oil, Gellan Gum, Sea Salt, Organic Red Beet, Organic Broccoli Sprouts, Organic Kale, Organic Stevia, Mixed Tocopherols. Contains: Milk Proteins
Plant-based (Cacao): Purified Water, Pea Protein, Coconut Cream, Organic Cane Sugar, Fair Trade Organic Cacao, Avocado Oil, Organic Flaxseed Oil, Natural Flavor, Inulin, Hemp Protein, Calcium Citrate, Sunflower Lecithin, Algal DHA Oil, Sodium Bicarbonate, Sea Salt, Gellan Gum, Monk Fruit Juice Concentrate, Organic Broccoli, Organic Kale, Organic Beet, Organic Stevia, Vitamin D2 (ergocalciferol), Vitamin B12 (methylcobalamin), Mixed Tocopherols.
Carbohydrates
Based on 250kcal serving:
Total Carbs: 23g, 10% of DV.
Sugars: 11g.
Fiber: 5g, 10% of DV.
As mentioned above, the exact carbohydrate counts vary by product type.
For instance, whey based products have 22-24g of carbs. They all contain some form of syrup be it maple syrup, brown rice syrup and or tapioca syrup. These are likely the culprit.
Instead, the dairy free shakes only have 12-14g of carbs.
All products include 5g of fiber, which equals a bit more than a cup of oatmeal.
Protein
Per 250kcal serving:
Total Protein: 16-20g, 40% of DV.
Source: Whey or Pea/Hemp
As mentioned the product stack includes products made from grass-fed whey, as well as products that are plant based.
The whey based shakes contain 20g of protein and seek to provide lasting fullness.
On the other hand, the vegan shakes contain 16g of protein and utilize a pea/hemp blend for essential amino uptake.
Nonetheless, both have similar efficiency to promote muscle growth after exercise.
It is worth noting that Rumble Supershakes, particularly the plant based ones, are not as protein rich as other "pure" protein shakes.
Fats
Per 250kcal serving:
Total Fats: 10g, 15% of DV.
Saturated Fats: 3.5g, 18% of DV.
Omega-3s, 2g.
Omega-6s: ?g.
When it comes to fats, it's good to see that Rumble will provide you with all the essential fatty acids, including 2000mg of omega-3 (from flaxseed oil and algal DHA).
This is a very unique proposition for a nutritional shake, and provides you with an essential nutrient that is often lacking in our diets. In fact, the shakes provide you with DHA; instead of the precursor ALA used commonly (lower quality).
Also included is sunflower oil, avocado oil and coconut oil, for a well balanced fatty acid profile.
Micronutrients
Because this is not just a protein shake, there are some micronutrients included in the Rumble shakes. These include potassium (7%), calcium (35%) and iron (17%).
The plant based products have similar values of the same nutrients, but have also been fortified with vitamin B12 (50%) and vitamin D (25%).
Other Ingredients
Despite not including any pre-/probiotics, Rumble shakes do offer you some green superfoods. Namely, they contain organic red beet, broccoli and kale, which are rich in phytonutrients like antioxidants or anti-inflammatory agents.
Sweeteners
As mentioned, Rumble Supershakes do not contain artificial sweeteners. The sweeteners used are monk fruit extract, and organic stevia. Plus, they contain some organic cane sugar.
Allergens
Rumble Supershakes are virtually allergen free. Even the whey based options are lactose free.
Coconut cream is present in all shakes. While coconut allergies are rare, it's something to keep in mind.
Taste Test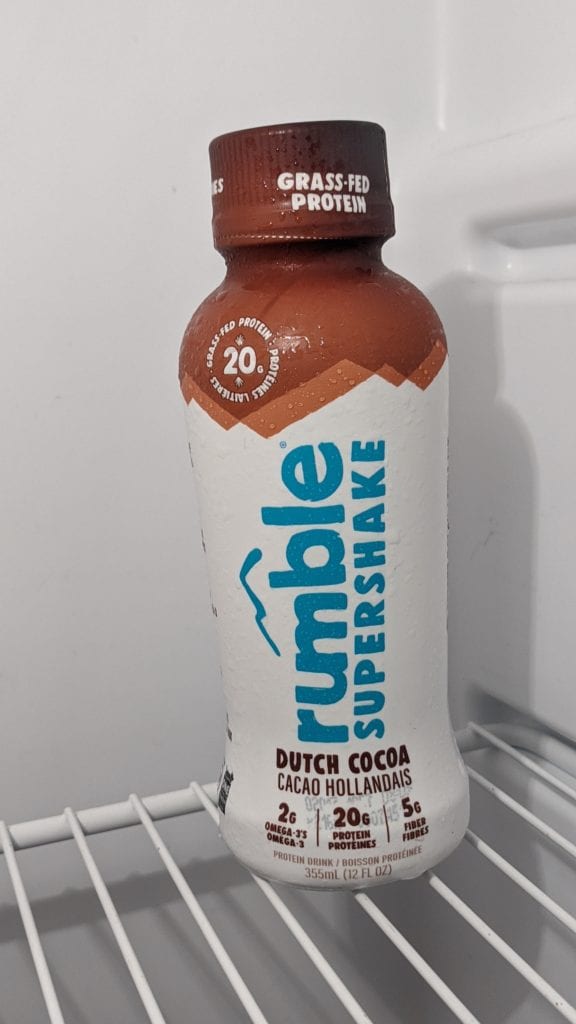 | | |
| --- | --- |
| Best flavour | Dutch Cocoa. |
| Taste | Dutch Cocoa & Coffee Bean were good. Vanilla Maple could be good with improvements. Latte & Cacao were similar to Dutch Cocoa & Coffee Bean but with awful texture. |
| Texture | Not bad, but could have been thicker. |
| Best to Worst | Dutch Cocoa, Coffee Bean, Vanilla Maple, Cacao, Latte |
| Satiety | About 2hrs. Not bad. |
| Easy to Clean | N/A |
| Afterthoughts | The chalky texture of the plant based products really overshadows everything. Only Dutch and coffee were good. |
I'm all about natural shakes. However, from previous experience, I know that getting all those ingredients to play nice taste-wise is hit or miss. Not going to give it a set time limit expectation for satiety, but will document how it turns out.
Rumble Supershakes Taste Review
Vanilla Maple
I can't really smell vanilla in it, but definitely can detect the maple syrup. Not overbearing but noticeable.
First sip, I still couldn't really make out the vanilla, but could taste the hints of syrup. It wasn't too sweet, but also not very flavorful. The syrup was more of an aftertaste. It was looser than I like.
In summary, I didn't hate it and it wasn't a chore to drink, but I wouldn't want it again. 
Rumble Dutch Cocoa
This one didn't have a real strong chocolate scent, but I could tell it was a deeper chocolate.
Sure enough my suspicions were correct, and while not very sweet, it was pretty good, I really didn't mind it.
I'm glad it came with two in the box.
Latte (Plant Based)
First ingredient in this flavor is cold brew coffee, and it definitely shines through.
As soon as you crack it open you are greeted to a bold coffee scent. As for the taste, same deal. It tastes okay, much like any other chilled coffee beverage from a bottle, albeit a bit muted.
The standout part of this flavor is it's texture, it's rather chalky.
I managed to get it down, but wouldn't want to have it again. 
Cacao (Plant Based)
Well, good news and bad news with this flavor.
The good news is that this one has a similar smell and taste to Dutch Cocoa, which I did like.
The bad news is that it has a similar chalky texture as Latte, which I did not care for. I'm not sure if it's the pea/hemp protein blend that they're using, but some time will have to be spent addressing what causes the texture of the plant based offerings to be so different from their whey based counterparts.
Coffee Bean
The smell and taste seem to be identical to Latte, which is not a bad thing. Where it wins is mouth feel.
Unlike Latte, this is whey based, and all of those have a perfectly smooth texture that goes down easily. It was a solid second in my book, I'd have it again.
Pros
Wasn't hungry for nearly 2 hours. Not too shabby for less than 300kcal
Balanced Sweetness. Not too sweet with any flavor.
Caffeine gave a boost, without causing me to be jittery
Cons
Vanilla Maple needs to be reformulated. It feels like it could be good, but isn't really good at anything. The flavors just don't seem to complement each other.
The plant based flavors have a dreadful mouthfeel. Super chalky, almost unbearably so. See cacao residue pic for reference. It was taken around 15 minutes after completion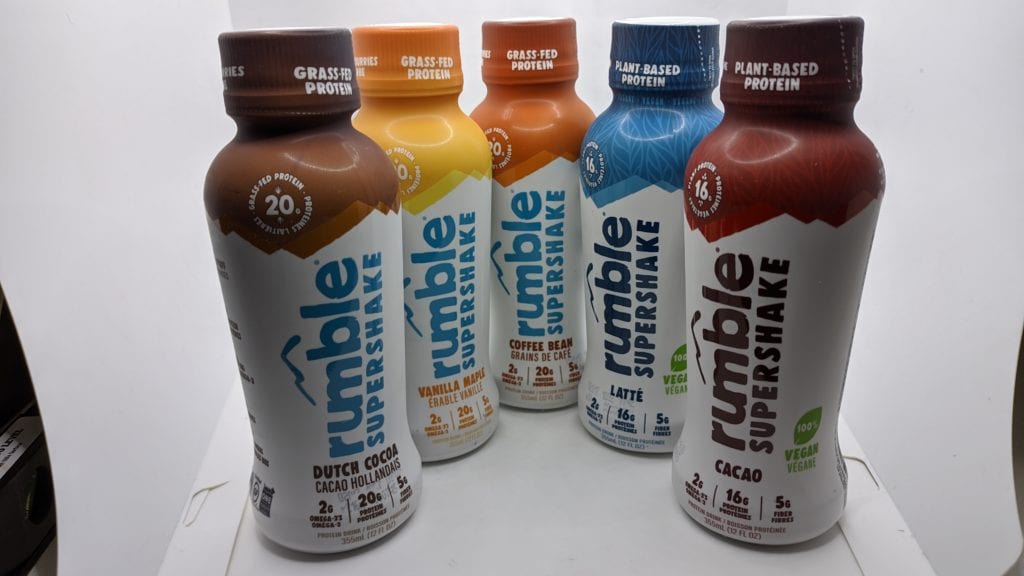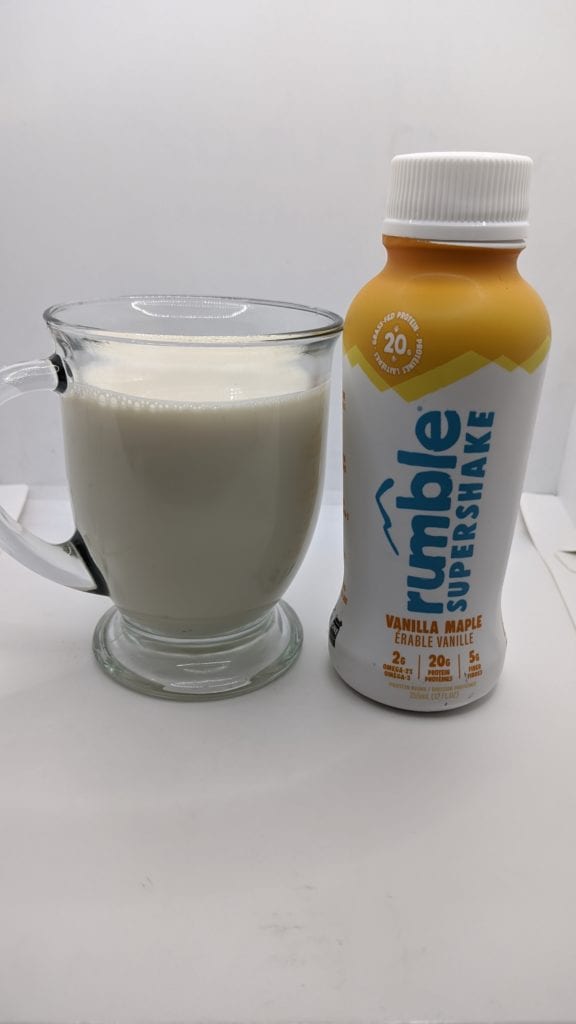 More about Rumble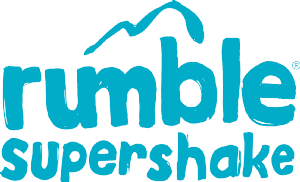 How It Started
Rumble was founded by Paul Underhill. Paul has Cystic Fibrosis, a genetic lung condition, which ultimately led to a double lung transplant. To supplement his nutrition, Paul was advised by doctors to drink nutritional shakes but was surprised when he couldn't find natural alternatives to the big brands. That's when he started making shakes in his kitchen.
Paul teamed up with Dr. Kim McQueen (a naturopathic doctor) to create his recipes. Working with Dr. Kim as head of nutrition, and food scientists in Canada, they went through many test samples.
Through hard work and determination, Rumble was born, the only shelf-stable, all natural product with a highly nutritional profile and great taste.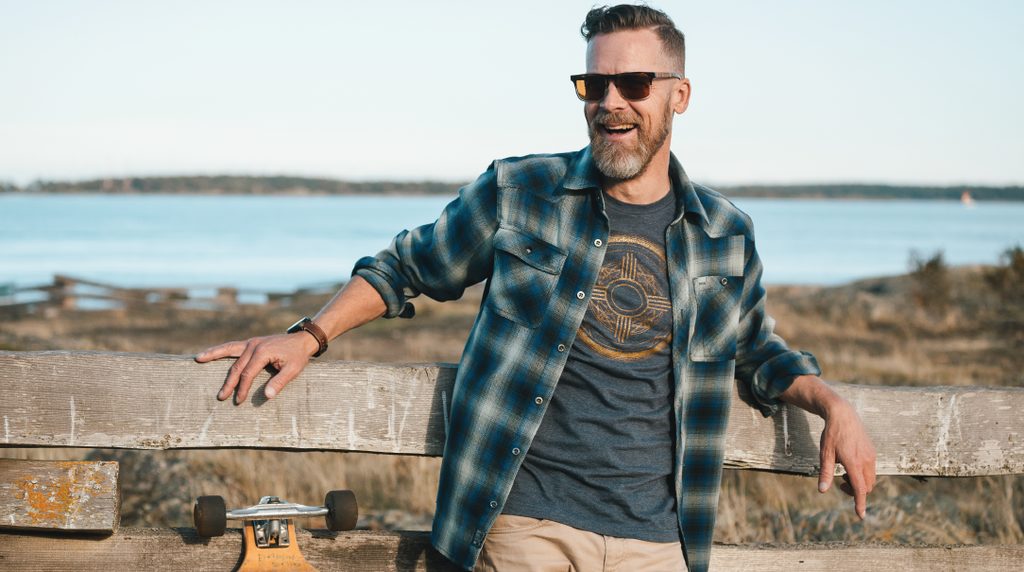 Rumble Supershakes – Pricing, Packaging & Shipping
Rumble Supershakes are based out of Victoria, British Columbia in Canada.
Here is a quick overview of their pricing and shipping options.
Packaging
Rumble Supershakes are sold in cases of 12. They also offer a sampler pack with one of each flavor for you to try. This is what I would recommend on your first buy, unless you have dietary requirements.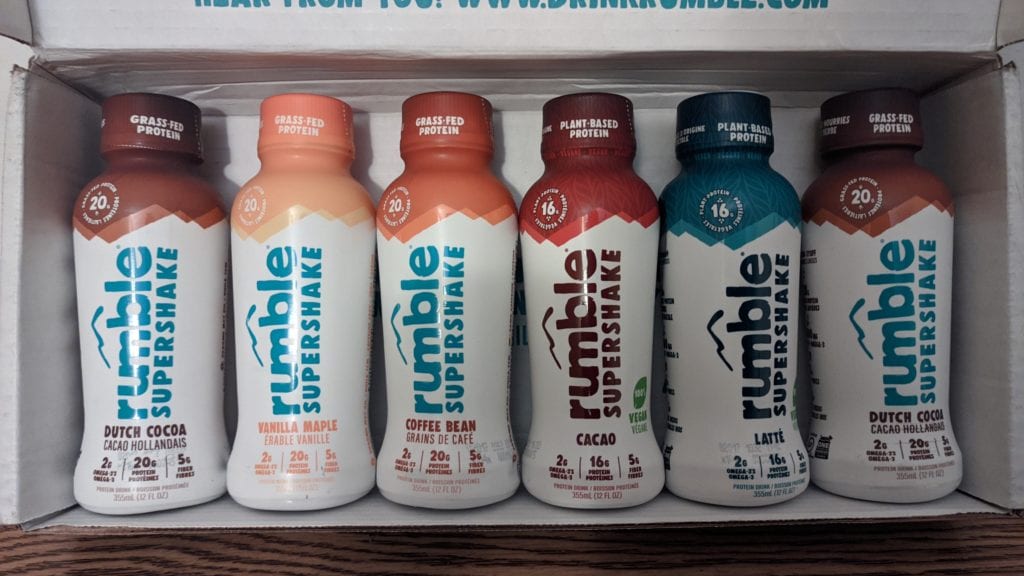 Pricing
You can net a 10% discount if you subscribe to receive their 12 packs. Subscription intervals are every 30, 60 days or 90 days, and includes free shipping within Canada. See breakdown below.
| Quantity | Total Price (Non-sub/Sub) | Serving Price (Non-sub/Sub) |
| --- | --- | --- |
| 6pk Sampler | $30 | $5 |
| 12 pack | $55/$49.50 | $4.58/$4.12 |
Prices are in CAD
Otherwise, prices will vary depending on your region. Remember that Rumble shakes are available worldwide.
Shipping
Unfortunately, Rumble Supershakes are only available in Canada via their website.
If you are in Canada, shipping is free in orders above $75.
If you reside in the US, you can purchase the whey based products from Amazon, as well as their site.
Furthermore, you can order Rumble Supershakes in Europe, UK, Japan and Australia. The shipping fees will vary.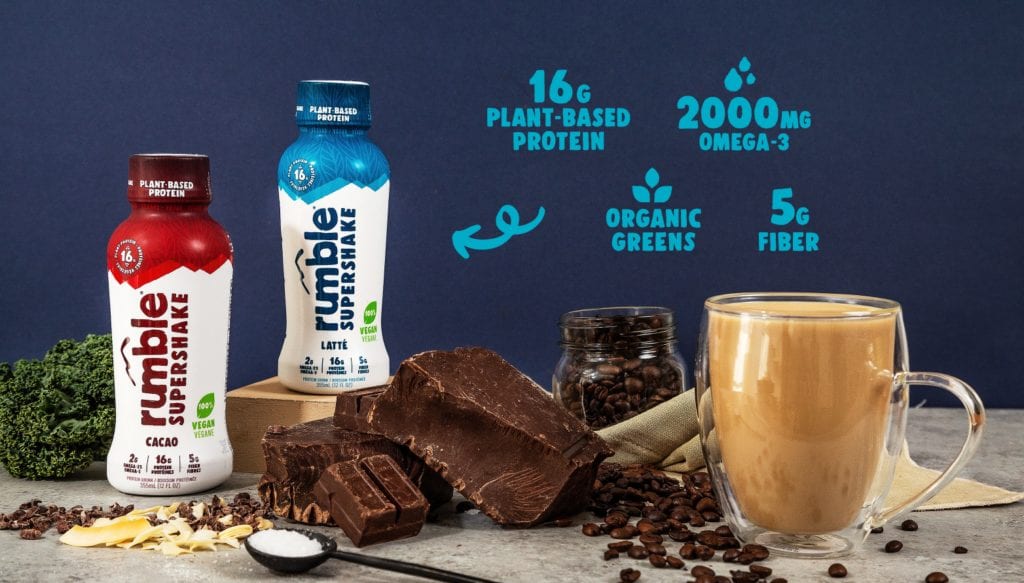 Rumble vs. OWYN vs. Soylent
Let's see how it measures up against comparable offerings in the United States in OWYN & Soylent Complete Protein.
OWYN is also an all natural, low allergen protein shake, in ready to drink format. This brand also offers a ready to drink meal replacement, that contains no artificial ingredients or sweeteners.
On the other hand, Soylent Complete Protein also offers a high protein product fortified with micronutrients. However, this is not all natural, they promote GMOs and contain artificial sweeteners
To keep it as even as possible, we'll compare OWYN's Dark Chocolate, Soylent's Chocolate Complete Protein and Rumble's Cacao. All are plant based and gives us a mostly apples to apples comparison.
Head to Head
| | | | |
| --- | --- | --- | --- |
| | Rumble | OWYN | Soylent CP |
| serving price | $4.58 (CAD) | $3.00 (USD) | $2.75 (USD) |
| serving size | 355ml | 355ml | 330ml |
| kcal/serving | 240 | 180 | 250 |
| Protein (g) | 16 | 20 | 30 |
| Sugar (g) | 8 | 4 | 0 |
| Fiber (g) | 5 | 5 | 3 |
| Fats (g) | 14 | 7 | 13 |
| Vegan | Y | Y | Y |
| Organic | Y | N | N |
| Artificial Sweeteners | N | N | Y |
| Synthetic Additives | N | N | Y |
| GMO | N | N | Y |
| Protein Source | Pea/Hemp | Pea/Pumpkin | Soy |
Prices shown are most expensive option.
As you can see, its pretty close. All three products trade blows in many areas. Converted to USD, Rumble would be $3.67 per serving, putting it in line with Soylent and OWYN, but still the most expensive of the trio.
However, Rumble is still offering the least protein, the most sugar and at the highest cost. Definitely something to consider before pulling the trigger on a purchase.
That said, Rumble Supershakes are also the most natural of the bunch (closely with OWYN), and this usually tends to increase the cost of base ingredients.
Rumble FAQ
Is Rumble a meal replacement?
No. It has not been fortified with additional vitamins and minerals. However, it can be used to replace the occasional meal.


Can I drink Rumble if I'm diabetic?
Rumble does have a low glycemic index, but consult your physician if unsure.


What is the source of the omega-3 fatty acid DHA?
The DHA oil used is from algae. This is vegan friendly.


What is the difference between Cacao & Dutch Cocoa?
Both from the same plant, cocoa is from roasted beans whereas cacao are raw or fermented.


Are plant-based Rumble Supershakes keto friendly?
Yes. While not certified, Latte has only 7g of net carbs, and Cacao has 9g of net carbs.


How much caffeine is in Rumble?
Cacao has 10mg, Dutch Cocoa has 15mg, Latte has 84mg and Coffee Bean has 94mg.

Are Rumble Supershakes kosher?
Yes! They are certified OU Kosher.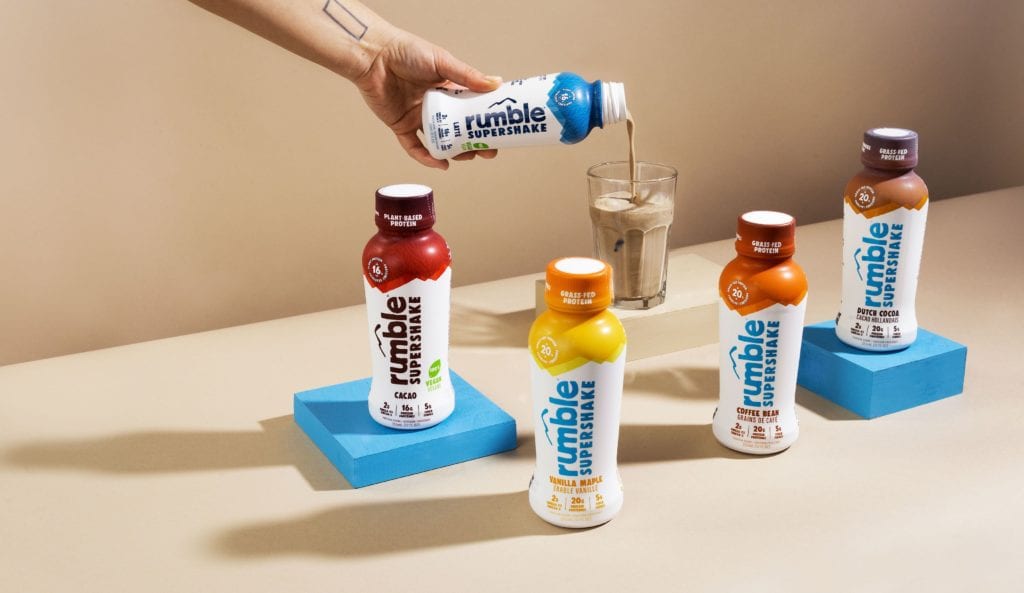 Verdict – Rumble Supershake Review
I have a good friend that has cystic fibrosis. He is super thankful for his good days, because his bad days can be so debilitating. It truly is an awful disease. I share that to say, I empathize with Paul's journey, and really appreciate how this product came to be.
However, let's talk about my conclusions at the end of this Rumble Supershake review.
Firstly, it's important to understand that this a nutritional shake, but a complete meal. It has high quality nutrients and a good nutritional profile, but it lacks some vitamins and minerals to make it complete.
Plus, it's all natural and low allergen. Those two things alone make Rumble Supershakes appealing to a wide audience. 
Taste wise, I thought Dutch Cocoa & Coffee Bean were g enough to be a daily driver for me, and I'm sure for others.
However, not all the flavours met the same standards and I think they need some improving.
In particularly, the plant based products were the most disappointing. I understand are new, but should not have made it out of any focus group. The mouth feel is so bad, that a complete reformulation is required, in my opinion.
In closing, I think Rumble Supershakes is in a position that their next moves will really dictate whether they reach the next level, or get lost in the shuffle. It's a solid option in Canada, but in the US, I'd opt for other products that offer the same benefits and overall experience at a lower price.
Rumble Shakes
Starting at CAD4.58/serving
Pros
Unique natural and nutritious shakes in Canada
Available worldwide
Allergen free, no artificial sweeteners
High quality ingredients
Good source of protein and omega-3
Cons
Plant based shakes have chalky texture
Not cheap
Lacks some micronutrients
Most flavours can be improved