Neuro Gum Mints Review | Nootropics for Energy & Focus in a Fun Format
Welcome to the Neuro Gum review, a look into nootropic gums and mints that provide you with an instant boost to your focus and energy.
Here at Latestfuels, we are no strangers to nootropics or brain supplements that help you with memory, focus, energy levels and fighting fatigue.
However, most of them, like the popular Alpha Brain, come in capsules or pills. Definitely, a less exciting and interesting way to consume nootropics than pills and mints.
So when we first heard about these gums that could calm you instantly (and no they don't have any nicotine or similar substances!) we were extremely intrigued.
Are these legit brain supplements? Do they really work? Are they as efficient as the best nootropics in the market?
About Neuro
Neuro is a company that manufactures functional products that you can just pop when need a boost, some clarity or just want to maintain good health. Not to mention, keeping fresh breath in the process.
All products by Neuro are vegan, gluten-free, sugar free & contain no aspartame.
Seems like a lot to ask of a breath freshener, so let's see how all these fare!!
Short on time? Here are LatestFuel's quick takeaways:
Quick easy way to try nootropic supplements.
Gum didn't hold the flavor long but it was effective in short term.
Mints were great for breath, but lacking in effectiveness. Results will vary, and reviews have been mixed.
The company also has products for calmness/clarity and health/vitality.
For actual long-term cognitive improvements, we recommend Hunter Focus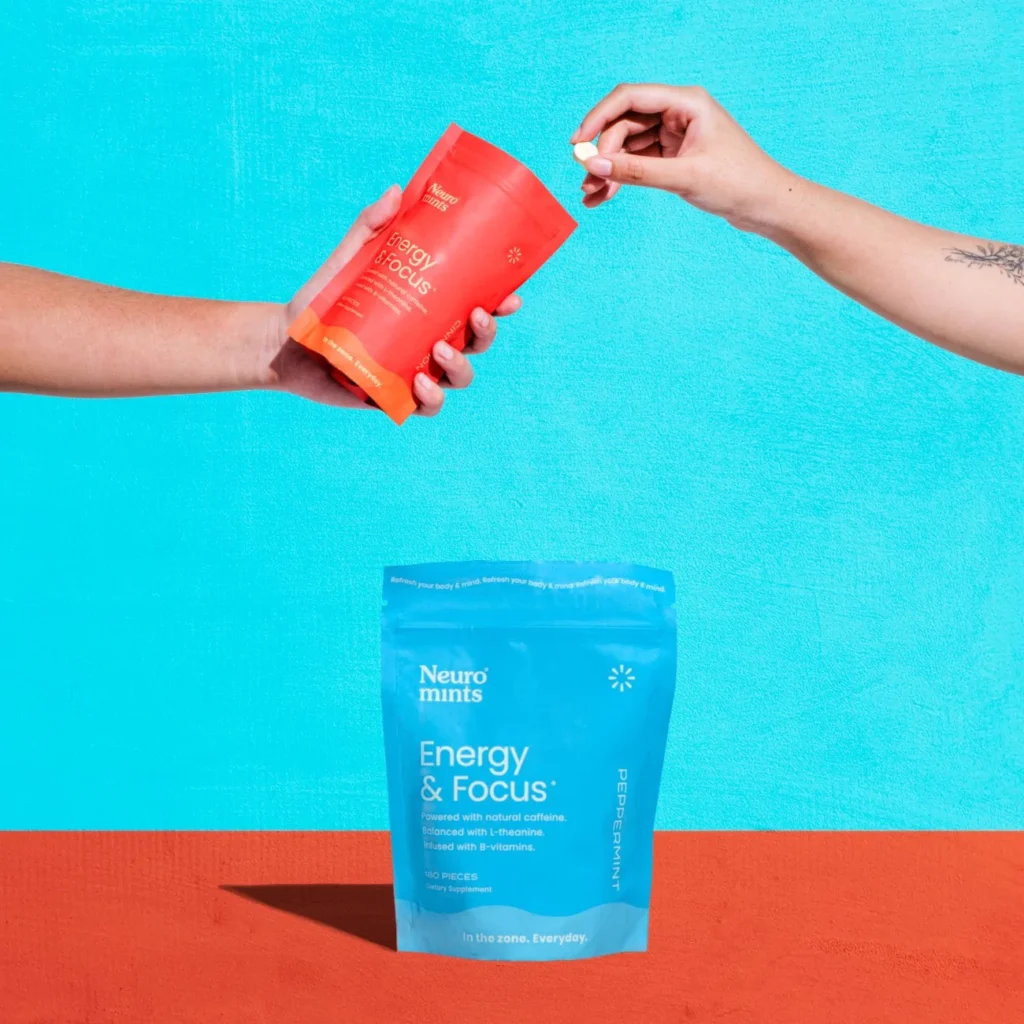 Quick Links
---
Neuro Gum Review at a Glance
Products: Energy & Focus Gum/Mints, Calm & Clarity Mints, Health & Vitality Mints
---
Opinion
If I didn't take good care of my teeth, I'm sure my dentist would be unhappy with me. Gummies not long ago, and now gum and hard mints.
We're specifically looking at the Peppermint Energy & Focus line today. The only line that offers Neuro gum and mints. These also are offered in a cinnamon flavor.
Each product came in a nice-looking and feeling box. The Neuro gum came in a 9-pack in individual foil compartments, and the mints come in nice little tins, each housing 12 mints.
Both look nearly identical, with the gum being noticeably a bit larger than the mints.
While they are interesting ways to consume a nootropic, I'm curious if these will have any meaningful benefits, but before that….here are our likes and dislikes.
Looking Good
1. Innovative and easy way to approach nootropics. No pills, powders or hype drinks
2. Powerful taste. Whether the effects hit you hard, or not at all…your breath will be on point
3. Sugar/Aspartame free. Our teeth thank you.
4. Inexpensive. Replace coffee for as little as 25 cents!
5. Extra discount for seniors, students & military. They get 20% off. Includes teachers & first responders!
6. Low dose of caffeine makes it more approachable for people with low tolerance to caffeine.
Less Than Ideal
1. Multi-piece serving size. Didn't feel anything with one piece, found two to be more gum than I wanted.
2. Mints were ineffective for me. Your mileage may vary.
3. Low doses of nootropics. It even lacks many powerful ingredients other brain supplements for energy have.
4. Not effective for people with high tolerance to caffeine.
Ingredients & Benefits
These are the four primary ingredients. The ones that will lift us up, level us off, improve our mood and helps us convert what we eat into energy.
For those who cannot read the ingredients in the image below:
Natural Caffeine (40mg)
L-Theanine (60mg)
Vitamin B6 – Pyridoxine (60% of DV)
Vitamin B12 – Methylcobalamin (100% of DV)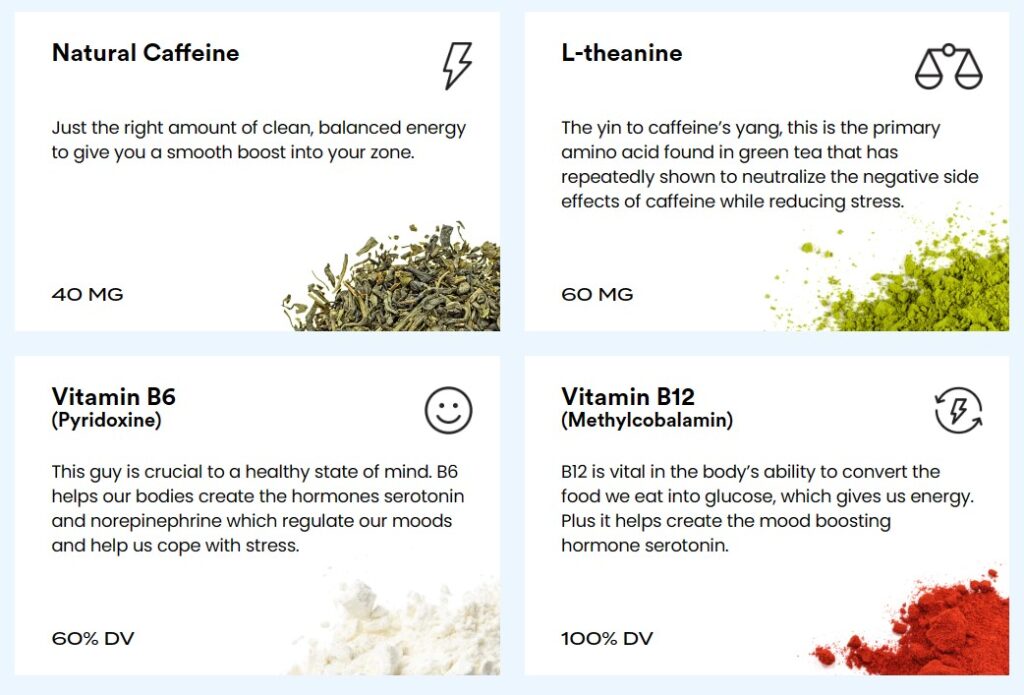 Neuro Gum & Mint Benefits Review
So why should you use Neuro Gum? What are the benefits of taking these brain supplements?
In theory, they should help you with these areas:
Energized
Help you focus
Reduce fatigue
If we look at the ingredients in Neuro Gum and Neuro Mint, we can identify ingredients that are often seen in brain supplements: caffeine, L-theanine, and B-group vitamins.
However, for Neuro Gum to work or to provide any benefits, the dosages seem too low.
Let's take caffeine, for instance. Doses of 100 to 200mg are most effective at increasing reaction speed and helping you with memory according to various studies. If you have a low tolerance to caffeine, you might feel increased alertness.
On the positive, L-theanine is in a higher dose than caffeine, but not in a 1:2 ratio that has usually the best results enhancing cognitive effects.
The role of b-vitamins in the brain and cognitive decline-related illnesses (Dementia, Alzheimer's) is not fully understood. However, there's some evidence that b-vitamins (in particular B12) might have protective roles and might delay onset dementia.
Does Neuro Gum Work? Does Neuro Mint Work?
From a scientific standpoint, the dosages in both bran supplements seem to low to have any significant impact.
Nevertheless, if you are not used to the use of nootropics like caffeine and l-theanine, you might experience some marginal and short-term cognitive boosts.
In our experience, Neuro Gum was mildly effective at short-term memory and energy boost. That said, the reviewer is not used to caffeine.
Similarly, Neuro Mint was not very effective at all.
For longer-term cognitive focus, larger doses of b-vitamins, as well as other nootropic agents that reinforce neuronal pathways (phosphatidyl serine, choline, ashwagandha) are preferred.
That's why we use Hunter Focus for long-term cognitive boosts and protection.
For a caffeine free alternative, Mind Lab Pro is also excellent.
Taste & Results
This is probably the most important taste test ever conducted.
Being this is gum, something you have to chew, and keep chewing, its game over is its bad. Hard to will yourself through unlike with a beverage or a large pill you can just quickly gulp down.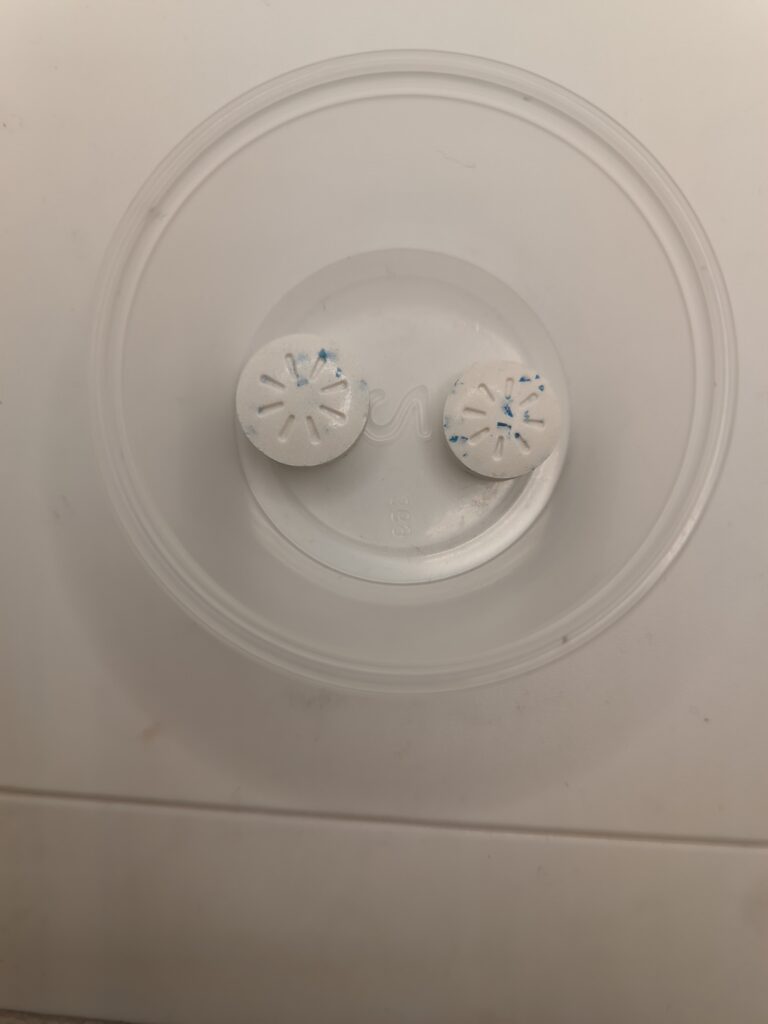 Benefits:
Can improve focus and attention.
Increases energy and concentration.
May help memory recall.
Freshens breath.
Neuro Gum Review
Gum first. Initial experience is the gum has an outer coating that's kind of crumbly, so you have to chew as well as consolidate the pieces in your mouth in order to have one solid piece. The flavor is strong and hits hard, and you can expect it to last around 15-20 minutes with steady chewing. It's a pleasant chew, and there is nothing going on consistency-wise that sets it apart from any other gum.
A serving size is two pieces, which makes for a large wad of gum. After around 45min, I did experience a subtle energy boost.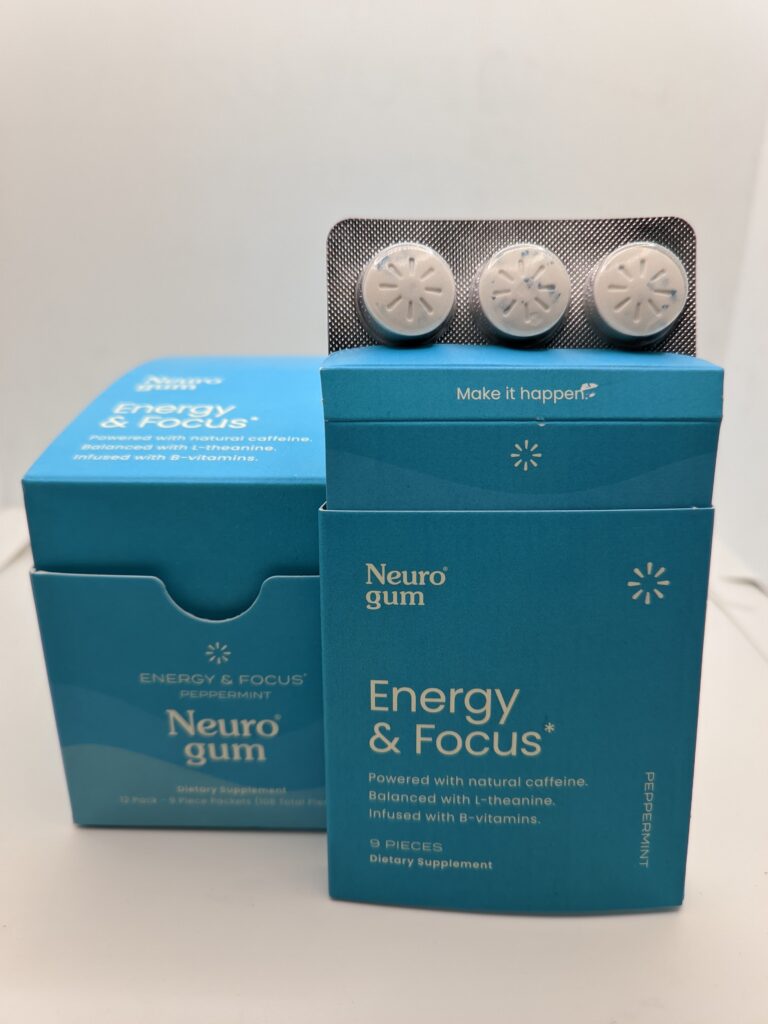 Neuro Mints Review
Now on the mints, these just smell like they're going to strong. Sure enough, they're very strong…like clear your sinuses strong. The sensation you feel eating these will definitely have you alert.
Like the gum, the mints have recommended serving size of two, which I highly suggest you stagger a bit to avoid tears lol. The breath effect of one mint certainly will last you a bit, and I believe is strong enough to overpower some moderate smells like onions or coffee. Probably best to opt for two if we're talking things like garlic, or smoking.
As for the stated benefits, I didn't get them from these. My breath was kiss ready though.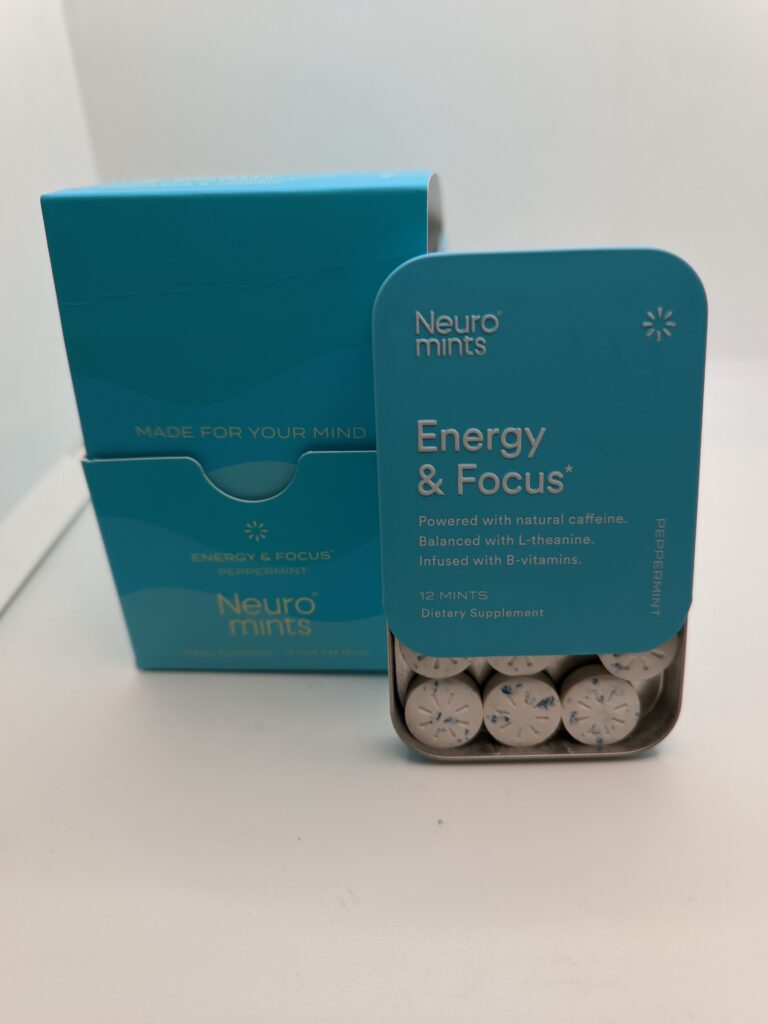 User Neuro Gum Reviews & User Neuro Reviews
How does my own experience compare to other user Neuro Gum reviews, though?
Well, luckily both Neuro nootropics are on Amazon.
First, Neuro Gum has 4.2-star rating out of almost 4k Amazon Neuro Gum reviews. That is not the best rating, considering that Amazon reviews of products tend to be positively biased.
Among the positive reviews, users remark that Neuro Gum tastes good:
This neurogum energy & focus is actually really good the flavor of the peppermint is very peppermini. I love that it's easy to chew and the texture of the gum lasts for a good while it doesn't turn to Mush or harden up like others and when chewing I did feel more energetic and focused and wanting to get things done I do highly recommend trying this gum out if you're looking for something to boost your energy and focus throughout the day.

Wade_Marie, 5-star
I think the gum is great and the flavor is good for energy gum. The energy is consistent and doesn't give you any shakiness. I use it for work and helps me to stay on task and focus. I would recommend this product to anyone that needs a little pick me up during the day. Great stuff!!!

5-star Neuro mint review
Nevertheless, there are many Neuro user reviews that state the product did nothing for them (note that there are users like the above who found Neuro Gum effective):
Decent product. I barely notice the effects. I'm not sensitive to caffeine though. I find the gum loses its flavor quickly. I take tons of supplements and I'm an endurance athlete. I used it mostly at work or on drives. It's pleasant for about 5 minutes of chewing then I spit it out. Maybe cost is too much for it be in my EDC (every day carrry) or daily usage platform.

3-star review
More about Neuro
When Kent and Ryan met in college, they had a lot on their plates. Kent trained with the Japanese Olympic Judo team, painted as a muralist for the city of Los Angeles, and competed internationally in Muay Thai. Meanwhile, Ryan trained with the U.S. Paralympic team while holding a 2nd-degree black belt in Kendo.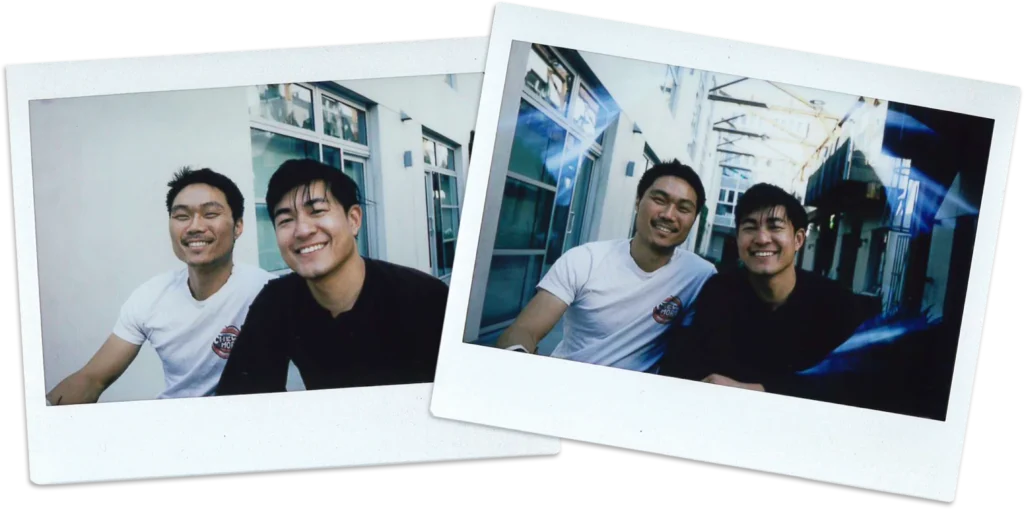 With degrees in neuroscience and chemistry and economics, they challenged both their minds as well as our bodies. They set out to live life to the fullest. They've always believed that the best version of themselves starts with the mind.
That's why we've dedicated the past 5 years to creating great-tasting products that conveniently and effectively get us in the right state at the right time.
Neuro Pricing
Neuro supplements can be purchased online from their webpage, Amazon or Walmart. Also, locally Neuro can be found nationwide at Walmart, CVS, Whole Foods, Barnes & Noble….and many more.
The gum is sold in 6 or 12 packs, with each pack containing 9 pieces.
Mints are also sold in this format, alongside bulk bags of 90 or 180 pieces.
A subscription discount of 10% is offered, and shipping intervals are every month or every two months.
There is also a special discount of 20% for seniors, students & military personnel. This is limited to one discount per day, and you must verify your age, student status, or GovX ID.
This offer is eligible for:
Current & former U.S. military
Military spouses & dependents
First responders including law enforcement, fire, and EMS
Federal, state, and local government employees
Teachers (K-12 and University teachers/staff)
Product
Single Order
Price
Subscription Price
(10% off)
Senior, Student, Military
(20% off)
Gum 6pk (54pcs)
$24 ($0.44)
$21.60 ($0.44)
$19.20 ($0.36)
Gum 12pk (108pcs)
$42 ($0.38)
$37.80 ($0.35)
$33.60 ($0.31)
Mints 6pk (54pcs)
$24 ($0.44)
$21.60 ($0.44)
$19.20 ($0.36)
Mints 12pk (108pcs)
$42 ($0.38)
$37.80 ($0.35)
$33.60 ($0.31)
Mints Bulk Bag (90pcs)
$30 ($0.33)
$27 ($0.30)
$24 ($0.27)
Mints Bulk Bag (180pcs)
$45 ($0.25)
$40.50 ($0.22)
$36 ($0.20)
Priced in USD. Per serving price in ($)
Shipping
Free ground shipping is offered on their webpage. Shipping carriers include FedEx, UPS and USPS.
Other Neuro Products
Outside of the Energy and Focus line of gum and mints, Neuro also offers other mints with different functions and flavors.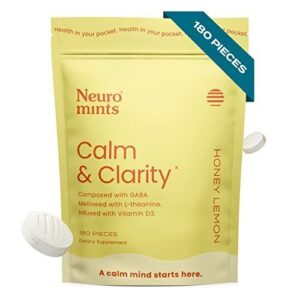 Calm & Clarity
Our best achievements always start with a steady state of mind. Our Calm & Clarity products are specially formulated with GABA, vitamin D3 and L-theanine to optimize composure and mental clarity in the moments we need it most.
Flavors: Honey Lemon & Ginger Chai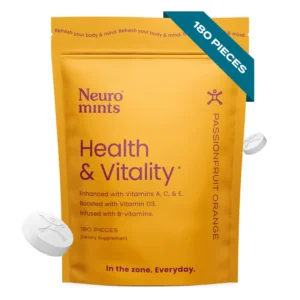 Health & Vitality
Our state of mind influences us in every moment – it affects our moods, thoughts, behaviors, and over time, our identities. That's why we created Neuro – functional gum and mints formulated to refresh your state of mind.
Flavors: Passionfruit Orange & Blueberry Guava
Neuro Gum Alternatives
There aren't real alternatives that keep this form factor and provide you what Neuro does for energy and focus.
So, I guess that's something to take into consideration.
#1 Best Drinks for Energy & Focus – Sneak Energy
There are gummies, caffeine pills and similar, but the most "fun" way to consume brain supplements is by drinking one of the best gaming energy drinks for focus.
While it might seem odd, they are similar to Red Bull or Monster in the sense that they can boost your cognitive performance, attention span, increase your reaction speed, and reduce fatigue. However, they have 0g of sugar, only 15kcals and there are tons of fantastic flavors. They are actually addictive to drink.
That said, they are usually very high in caffeine content (150mg +) and definitely not as handy as Neuro Mints and gums.
#2 Long-Term Cognitive Health and Performance Boost – Hunter Focus
For those who are looking for a better well rounded brain supplement, one that will boost your mental performance, take care of brain health, improve your memory and focus, as well as provide you with an energy boost, nootropic supplements are your answer.
Something like, Hunter Focus, Qualia Mind, Mind Lab Pro etc. will offer you a blend of 11+ nootropics that will take care of various aspects of your brain:
Support production of neurotransmitters
Boost signaling pathways
Provide building blocks and protective elements to fight mental breakdown
Short term increase in focus and energy
The reason why they are able to do this better than Neuro Gum is simple: more ingredients and higher quantities. However, they will come on pills and servings are considerably larger (often 4+ pills per serving).
So the fun factor is gone.
Neuro FAQ
What makes Neuro different?
We use thoughtfully crafted ingredients and endless lab testing to create the most effective product to enhance your state of mind. Also, unlike heat-extruded gum and mints, we use patented cold-compression technology to maintain each ingredient's bioavailability.


How many pieces should I have in a day?
We recommend 1-2 pieces at a time, but not exceeding 10 in a day.


How long should I keep it in my mouth to absorb all of the benefits?
Neuro works quicker than if consumed as a drink. Your body can absorb the effects in as little as five minutes, but feel free to use if for as long as you'd like.


What is the pH level of Neuro?
The same as water, pH of 7.


How much caffeine (mg) is there per gum?
There are 40mg of caffeine per Neuro Gum.


---
Verdict – Neuro Gum & Mints Review, Good for Short Term
So we've come to the end of this Neuro Gum review, and I definitely have some thoughts.
Neuro has surely pioneered a more approachable to way to test the waters on nootropics. For those of us (myself included) who generally steer clear of pills, or any canned beverages with lightning bolts on them, it really is a neat way to reach a wider audience using mints and gum.
The ease of access to brain supplements is definitely a huge plus.
As mentioned, the gum did do its job. It provided a gentle boost that I didn't even notice until I realized I had been up and moving around while trying to write this review. I think this will benefit the couch potatoes (again, me included) among us that can afford to move more. I also appreciate, that I wasn't wired and scattered, which is what caffeine does to me more often than not. I didn't care for having to chew two pieces though.
As for the mints, they were a letdown. I think that those needs become the kind of lighter-tasting mint that you keep in your mouth and let dissolve as opposed to the powerful mint that you chew and quickly swallow.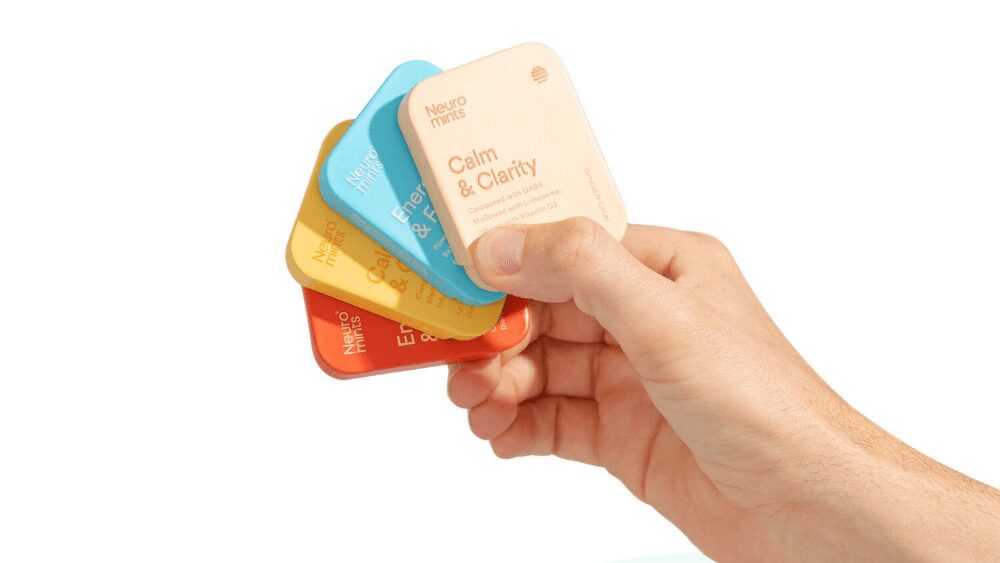 Bottom line, Neuro Gum provides nice benefits in an easy-to-try product. Neuro Mints are decent mints, but not much else. For long-term cognitive boosters, look at Hunter Focus.
Neuro Gum & Mints
From $0.24 per serving
Pros
Easy way to consume nootropics
Mildly effective short-term (Neuro Gum)
Good tasting gum
Good caffeine/l-theanine ratio
Medium caffeine content allows more people to consume
Cons
Not as effective if you have high tolerance to caffeine
Lacks many nootropic ingredients that are highly effective
Not as great for long term cognitive boost
Brain supplement pills are better