Kate Farms Review | Nutritional Shakes That Are Not Great for Everyday Use
Welcome back to LatestFuels. This is the Kate Farm review in which we will analyze their Nutrition Shake.
Kate Farms offers medical formulas for children and adults, to be used as supplemental nutrition, or even as a sole source for oral or tube feeding. Kate Farms' formulas are designed for tolerance with easily digested organic pea protein, fiber, and phytonutrients, and without common allergens, artificial sweeteners or flavors. The Nutrition Shakes are certified organic, certified gluten-free, certified kosher, and non-GMO verified.
Kate Farms Nutrition Shakes come in three flavors, Vanilla, Chocolate and Coffee. Each is 330 calories and comes packed with 16g of protein, 12g of fat, 38g of carbohydrates and 27 micronutrients. 
Let's have a look if this will be one of the best ready-to-drink meal replacements.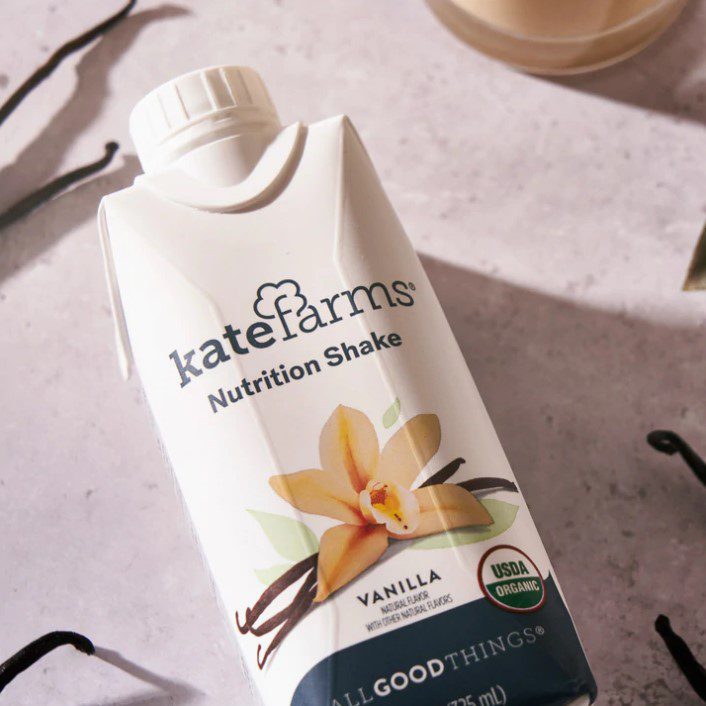 ---
KF Nutrition Shake at a Glance
Flavours: Vanilla, Chocolate & Coffee
---
Opinion
Like I said above, I'm glad to have another RTD to look at, as it's been all powders as of late. I've seen these in hospitals before, and they have quite a few formulations from shakes designed for pediatrics to shakes designed for those with kidney issues. 
Makes me wonder if they started with nutrition shakes, then tailored them for medical uses, or vice versa. Also, will this mean that they are one of the healthiest shakes?
Apparently, not. One thing that jumps out is the amount of sugar Kate Farm shakes have. We're looking at 18g to 20g, and all of it added! That is a lot ladies and gentlemen.
We'll get into the source of that later on in the review, but it definitely got my attention. I'm thinking this will taste really good, or be so sweet that it's just bad, but let's start off with what I like:
What I like
1. Allergen free. Even corn has been omitted
2. Many high-level certifications. Organic, non-GMO, gluten-free & kosher
3. Nutrient dense. Many of its 27 micronutrients are 35% or greater.
4. Fast and free 2-day shipping.
5. Easy to store. Boxes are really compact. Cartons take less room.
6. Tasty. All flavors are good, and easy to drink.
What I dislike
1. High in sugar. You're looking at 18g or more per serving
2. Caffeine is not stated on the bottle. Caffeine is a psychoactive chemical, it should be on the box and containers. FYI… Coffee contains 50mg.
3. Cartons make it hard to drink.  There always seems to be some left that's trapped. For $4 a serving, I want all of it!
4. Expensive.
Improvements
1. Lower sugar. They have other formulas that do this, but this could afford to be cut in half
2. Larger servings. Wish they had 400-500ml bottles.
Nutritional Breakdown
Kate Farm's main objective is to be a great-tasting, easy-to-drink shake that is super easy on your system. With that in mind, they have attained the following certifications:
Kate Farms Nutrition Shake Overview
| | |
| --- | --- |
| Kcal/meal | 330 |
| Macros (C/P/F) | 48/19/33 |
| Vegan | Yes |
| Keto | No |
| Features | Allergen-free, Kosher |
| Non-GMO | Yes |
| Organic | Yes |
| Includes Probiotics | No |
| Artificial Sweeteners | No |
| Synthetic Additives | No |
| Contains All Micronutrients | Yes |
| Controversial Ingredients | None |
Carbohydrates
Based on 330kcal serving:
Total Carbs: 38g, 14% of DV.
Net Carbs: 33g, (Total Carbs – Dietary Fiber – Non-digestible Carbs)
Sugars: 18-20g.
Fiber: 5g, 18% of DV.
That sugar though!! You're looking at 18g to 20g dependent on flavor.
The natural sweeteners are organic agave syrup and organic brown rice syrup solids. Brown rice syrup contains some magnesium and zinc, but is still a concentrated and refined sweetener.
This high sugar content can be good for those who are lacking nutrients and need an easy source of energy. However, for general and prolonged use, it's not recommended.
Protein
Per 330kcal serving:
Total Protein: 16g, 25% of DV.
Source: Organic Pea Protein
Kate Farms comes in at 16g, which is pretty standard for this product type at this volume.
Pea protein was specifically chosen due to its easy digestibility and low rate of allergy. As such, this will be one of the few soy-free RTD shakes. That said, I would've liked to see it paired with rice protein to complete the amino acid profile, as pea protein is not a complete protein.
Fats
Per 330kcal serving:
Total Fats: 12g, 15% of DV.
Saturated Fats: 5g, 25% of DV.
Omega-3s, ?g.
Omega-6s: ?g.
The fat content is provided by organic high-linoleic sunflower oil, as well as organic coconut oil.
Omega-3s appear to be absent from their Nutrition Shake, but are present in other formulations such as Renal Support. It seems that they are truly providing you with the minimal essential nutrients, and even skipping in some very important ones, like omega-3.
Micronutrients
Kate Farms contains 27 micronutrients, most of which are 30% or better or your daily needs.
Some highlights include 80% of vitamin A, 60% of vitamin C and 90% of vitamin B12.
This is where the product really shows up, with such high amounts of key nutrients.
Allergens
There are no common allergens present in Kate Farms Nutrition Shakes.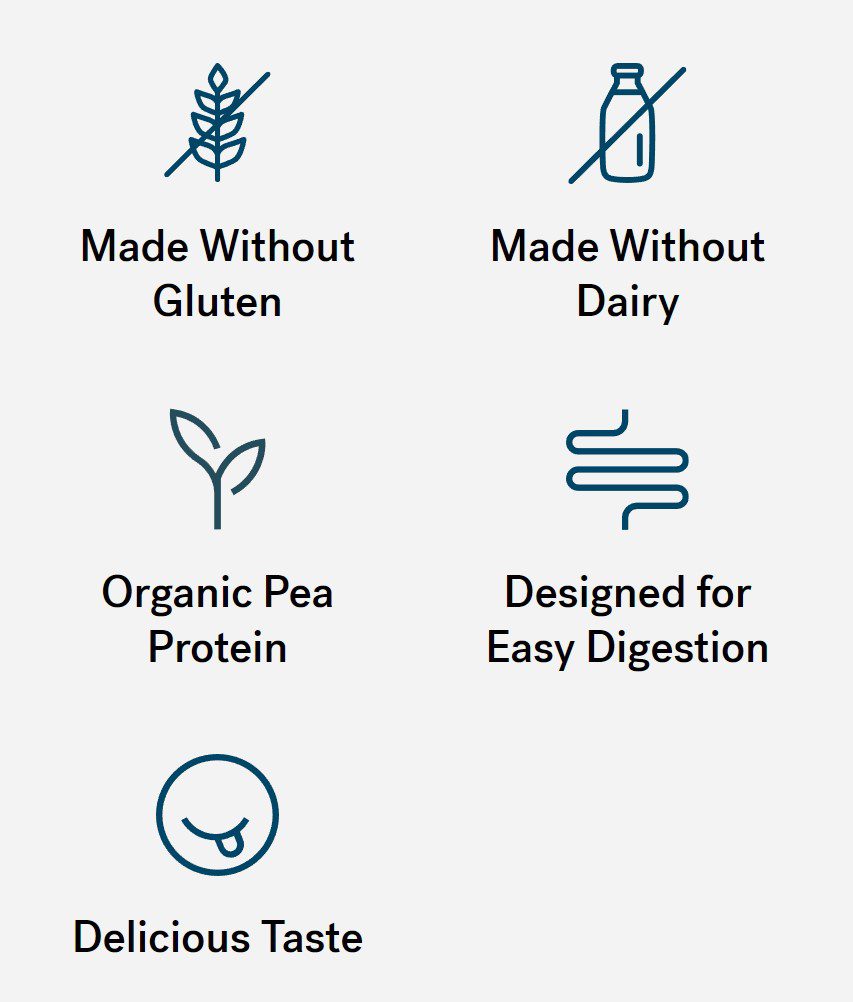 Taste Test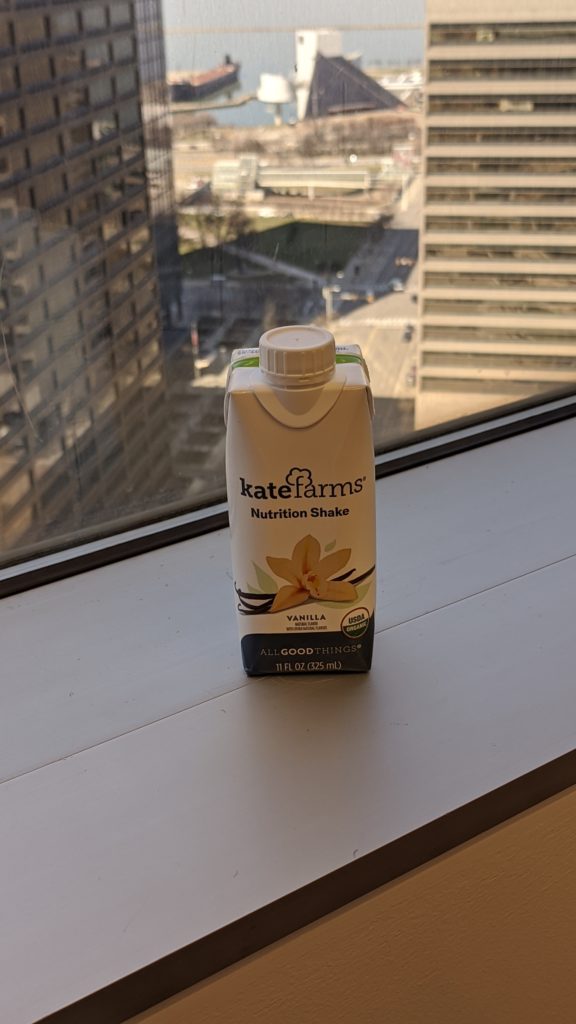 | | |
| --- | --- |
| Best flavour | Chocolate |
| Taste | Very good. All flavors were great! |
| Texture | Medium. Not too thick, or too thin. |
| Satiety | Not great honestly. Plan for an hour or so. |
| Easy to Clean | N/A |
| Afterthoughts | Very easy to drink, though I had to fight the urge to have more than one at a time. |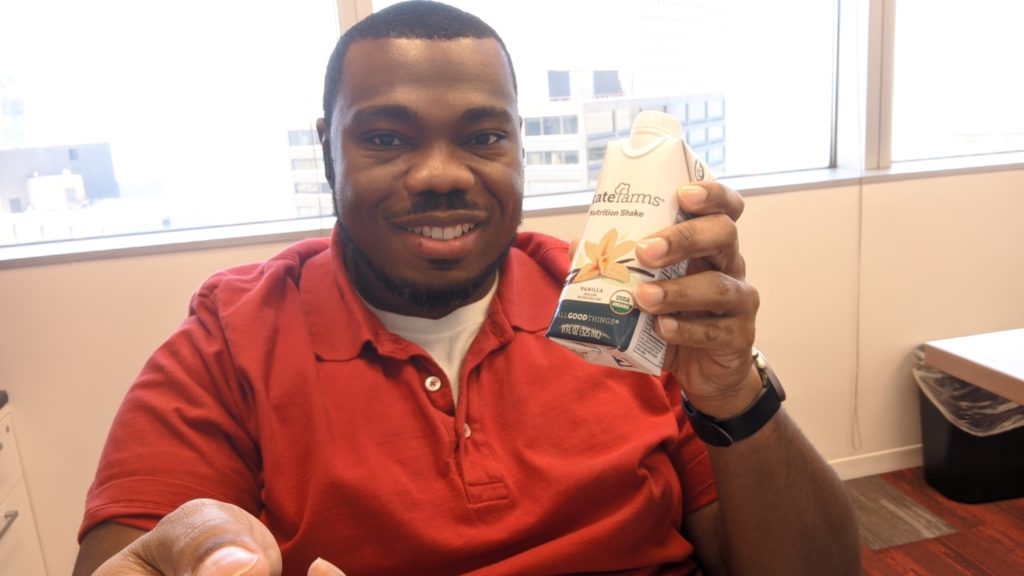 I thought I was going to have only one of each flavor, but through a turn of events, ended up with a case of each flavor. This gave me the opportunity to have each multiple times, over the course of a week to really formulate my opinions on each.
Vanilla
The first smell doesn't inspire a lot of confidence, smells kind of sterile, but we soldier on. First sip, and you feel that sugar right away. It's very sweet, but not overly sweet. It's pretty good overall, solid vanilla milkshake-like flavor.
Coffee
The smell of it is hard to place, but it's not exactly like coffee. This one is also really good, I'd say better than vanilla. The coffee flavor is not strong, it's light actually but still tastes like an off-the-shelf, bottled coffee drink. Also love the fact it's not spiked with tons of caffeine, only 50mg. Another strong showing.
Chocolate
This one smells more like the flavor, unlike the others. It's very chocolatey with a robust chocolate flavor. Thinking this one wins the crown of the three as the best tasting.
Summary
These were all very good, and you can't go wrong with any of the flavors. Surprisingly, these are some of the best tasting meal replacement shakes I've tried recently.
Being as sweet as they are, they will definitely be kid-approved. There are a couple of drawbacks of note here.
Firstly, with the cartons, I never felt like I got all the drink out. There always was a bit left swishing around when shaken. At $4 a serving, I want EVERY drop!
In addition, these were not very filling. I'd say I was good for only about an hour and change, which is unfortunate considering how good they are, and easy to drink.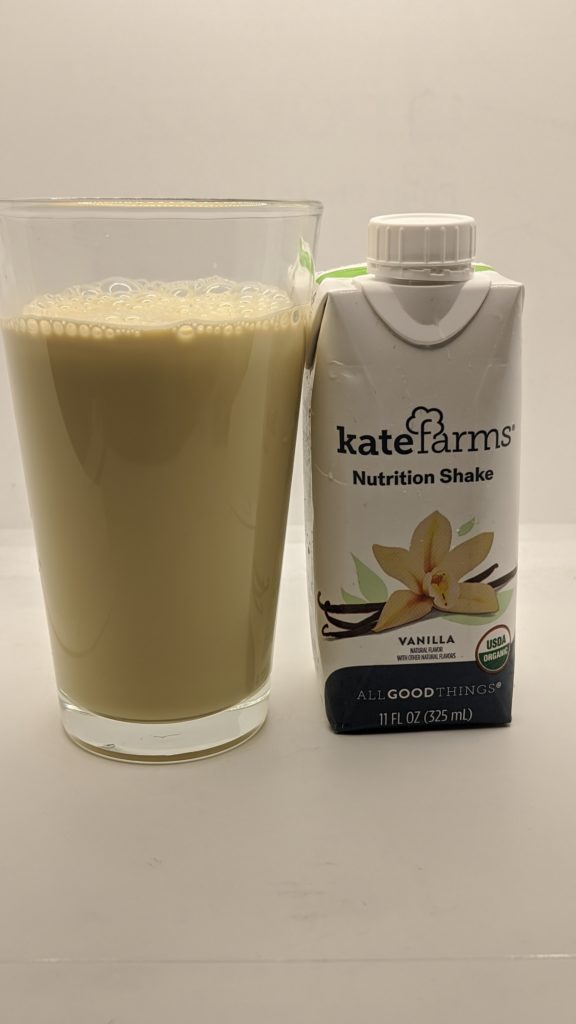 More about Kate Farms

Kate Farms was founded in 2011 by parents determined to save their daughter's life after a diagnosis of failure to thrive. Richard and Michelle were frustrated that they got to eat fresh, healthy food while Kate had to make do with formulas with the first five ingredients being water, sugar, corn syrup, maltodextrin, and casein.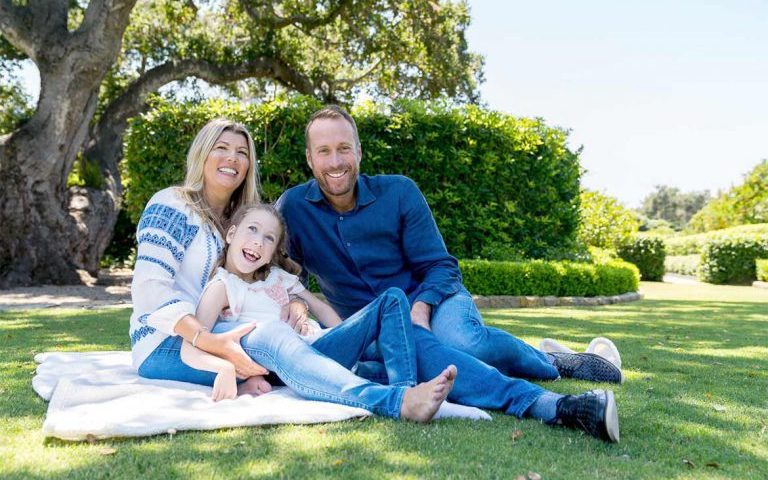 After looking at the label and replacing each ingredient with better organic sources of plant-based proteins, carbohydrates and fats and removing the common allergens, they turned to their blender and tried more than 70 different recipes from scratch. Richard was also committed to making the formula taste good, which is rarely a consideration for products delivered via a feeding tube. Richard and Michelle wanted to be able to share a meal with their daughter, so the formula had to appeal to them and to Kate.
Pricing & Shipping
Kate Farms Nutrition Shake is offered as boxes of 12 cartons. Also offered is a trial pack that contains one carton of each flavor
Pricing
Kate Farms Nutrition Shake can be found on their website, and from third-party sellers such as Amazon. The subscribe and save discount is 10%
| | | |
| --- | --- | --- |
| Product | Non-sub/sub | Per Serving Price |
| Nutrition Shake (12 servings) | $48/43.20 | $4/$3.60 |
| Trial Pack (3 servings) | $15 | $5 |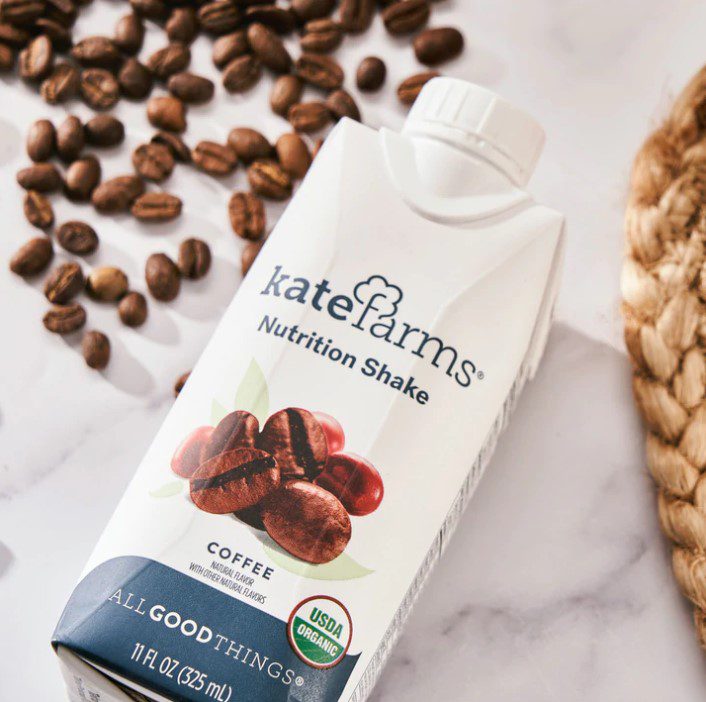 Shipping
Free two-day shipping is offered on all orders, and is only available within the USA.
Other Products
Beyond the Nutrition Shake, Kate Farms has several variations of their shakes to suit many unique nutritional, and or medical needs. Below is a brief synopsis of each:
Standard 1.0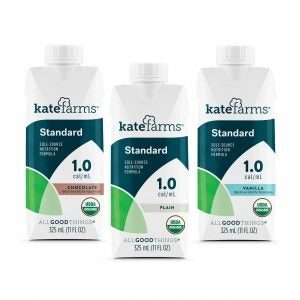 325 Calories
C/P/F – 38/16/12
Used for suboptimal intake
For poor GI tolerance
Oral or tube feeding
Vanilla, Chocolate, Plain
Price – $48 ($4/serving)
Standard 1.4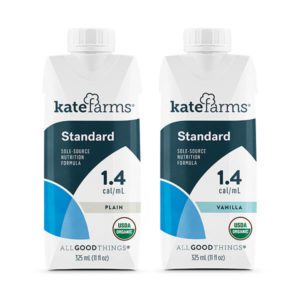 455 Calories
C/P/F – 51/20/19
Supports weight gain
For limited volume issues
Oral or tube feeding
Plain or Vanilla
Price – $68 ($5.66/serving)
Renal Support 1.8
450 Calories
C/P/F – 43/20/22
Dialysis specific
Supplemental nutrition
Oral or tube feeding
Vanilla only
Price – $48 ($4/serving)
Glucose Support 1.2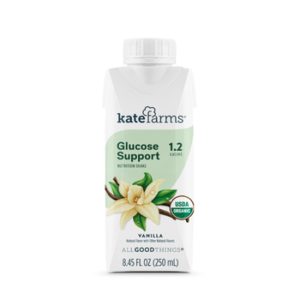 300 Calories
C/P/F – 26/16/15
Blood sugar management
Oral or tube feeding
Vanilla only
Price – $48 ($4/serving)
Peptide 1.0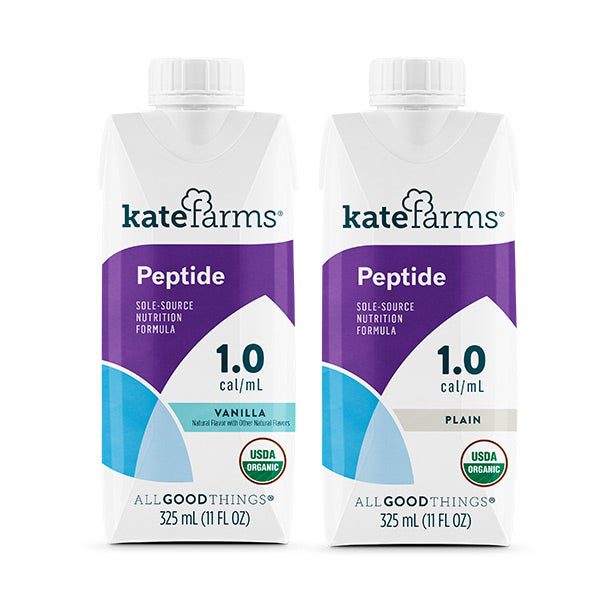 325 Calories
C/P/F – 37/16/13
For malabsorption
Oral or tube feeding
Plain or Vanilla
Price – $80 ($6.66/serving)
Peptide 1.5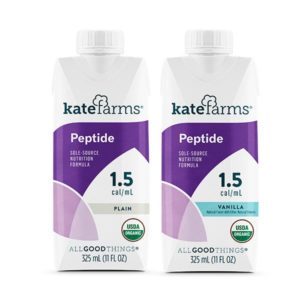 500 Calories
C/P/F – 45/24/25
For sole-source nutrition
Oral or tube feeding
Plain or Vanilla
Price – $120 ($10/serving)
Pediatric Standard 1.2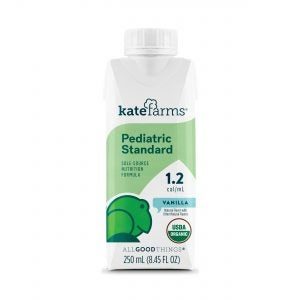 300 Calories
C/P/F – 36/12/12
For kids up to 13
Oral or tube feeding
Vanilla only
Price – $48 ($4/serving)
Pediatric Peptide 1.5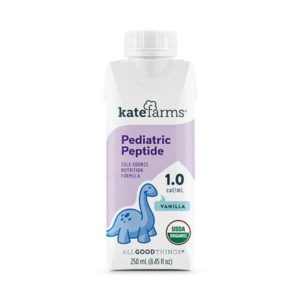 250 Calories
C/P/F – 30/9/10.5
For kids up to 13
For allergy/intolerance
Vanilla only
Price – $80 ($6.66/serving)
Pediatric Peptide 1.5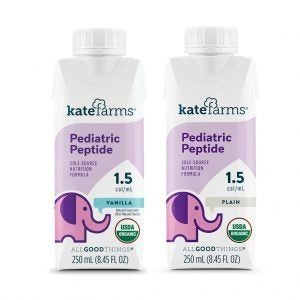 375 Calories
C/P/F – 44/13/17
For kids up to 13
For impaired digestion
Tube feeding only
Plain or Vanilla
Price – $120 ($10/serving)
Kate Farms vs. OWYN vs. Orgain
This is a battle of all-natural RTDs, both of which we have our thoughts posted on the site.
OWYN (pronounced oh-win) is a manufacturer of all-natural protein shakes with the goal of providing easy-to-digest plant protein in the form of tasty shakes. They also have a line of meal replacements (recently re-branded as "weight management") that offer protein and add many micronutrients while remaining all-natural and allergen-free.
Our other competitor is Orgain. Orgain Vegan Organic Nutrition Shake shares many similarities with Kate Farms. They are both vegan, certified organic and non-GMO and have similar flavors and packaging.
Let's see how Kate Farms compares….
Head to Head
| | | | |
| --- | --- | --- | --- |
| Category | Kate Farms | OWYN | Orgain |
| serving price | $4 (USD) | $3.08 (USD) | $2.50 (USD) |
| serving size | 325ml | 355ml | 330ml |
| servings per | 12 | 12 | 12 |
| kcal/serving | 330 | 300 | 220 |
| Packaging | Cartons | Bottles | Cartons |
| Flavors | 3 | 2 | 2 |
| Protein (g) | 16 | 20 | 16 |
| Sugar (g) | 18 | 5 | 10 |
| Fiber (g) | 5 | 3 | 2 |
| Fats (g) | 12 | 10 | 7 |
| Carbs (g) | 38 | 31 | 29 |
| Vegan | Y | Y | Y |
| Organic | Y | N | Y |
| Micronutrients | 27 | 23 | 24 |
| Artificial Sweeteners | N | N | N |
| Synthetic Additives | N | N | N |
| GMO | N | N | N |
| Protein Source | Pea | Pea/Pumpkin | Pea |
| Availability | US | US | US |
Orgain is by far the most affordable, at nearly 50% less than KF. You get much of the same nutrition, but will definitely feel it in the calories department. But again, if money is tight, Orgain may be worth a look.
OWYN is also a fair bit cheaper than KF. You get a bit more protein, but you also sacrifice the peace of mind of the certified organic designation. However, according to their FAQ, while they lack the official badge, they do use organic ingredients as much as possible.
Kate Farms is the most expensive of the trio. For that, you get few extra nutrients here, and likely a decent volume of each. It has a lot more sugar than the others, literally more than OWYN & Orgain combined. Because of that, having had them all, I can confidently say that it does taste the best out of all of them for what that is worth. You can also enjoy their coffee flavor when vanilla and chocolate get boring, which is all the other two have to offer flavor-wise.
Other Alternatives
If you are considering Kate Farms, likely you are drawn to the good points about it such as it being certified organic, or steering clear of perceived drawbacks of other products, like protein sources or artificial additives.
However, if neither of those is the case, here are other RTDs we have highly rated, and would serve as suitable alternatives.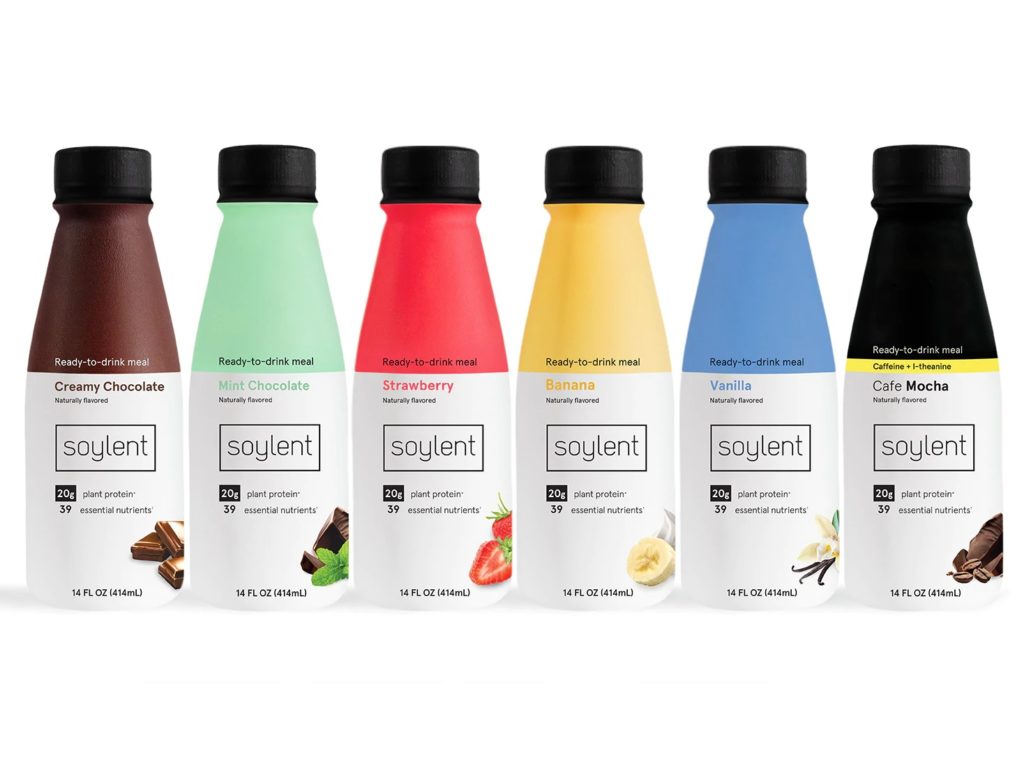 400 Calories
20g of Protein (soy)
Widely available in US
8 Flavors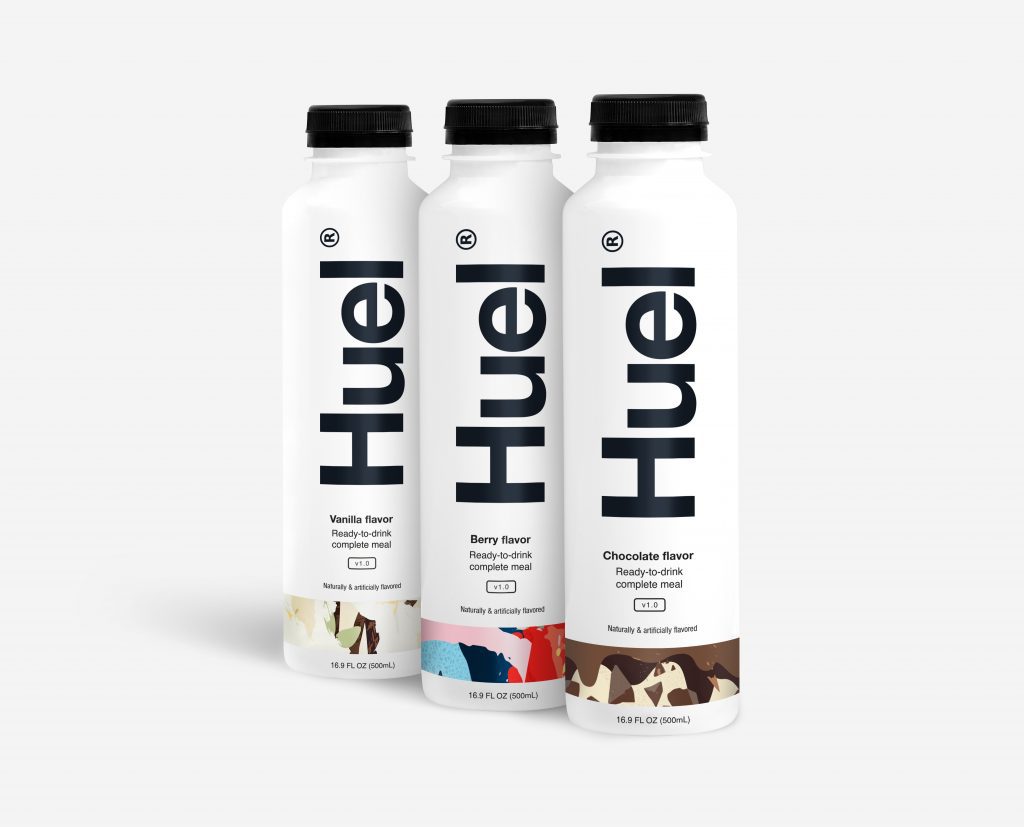 400 Calories
20-22g of Protein (Pea)
Available worldwide
8 Flavors
Only buy the 2.0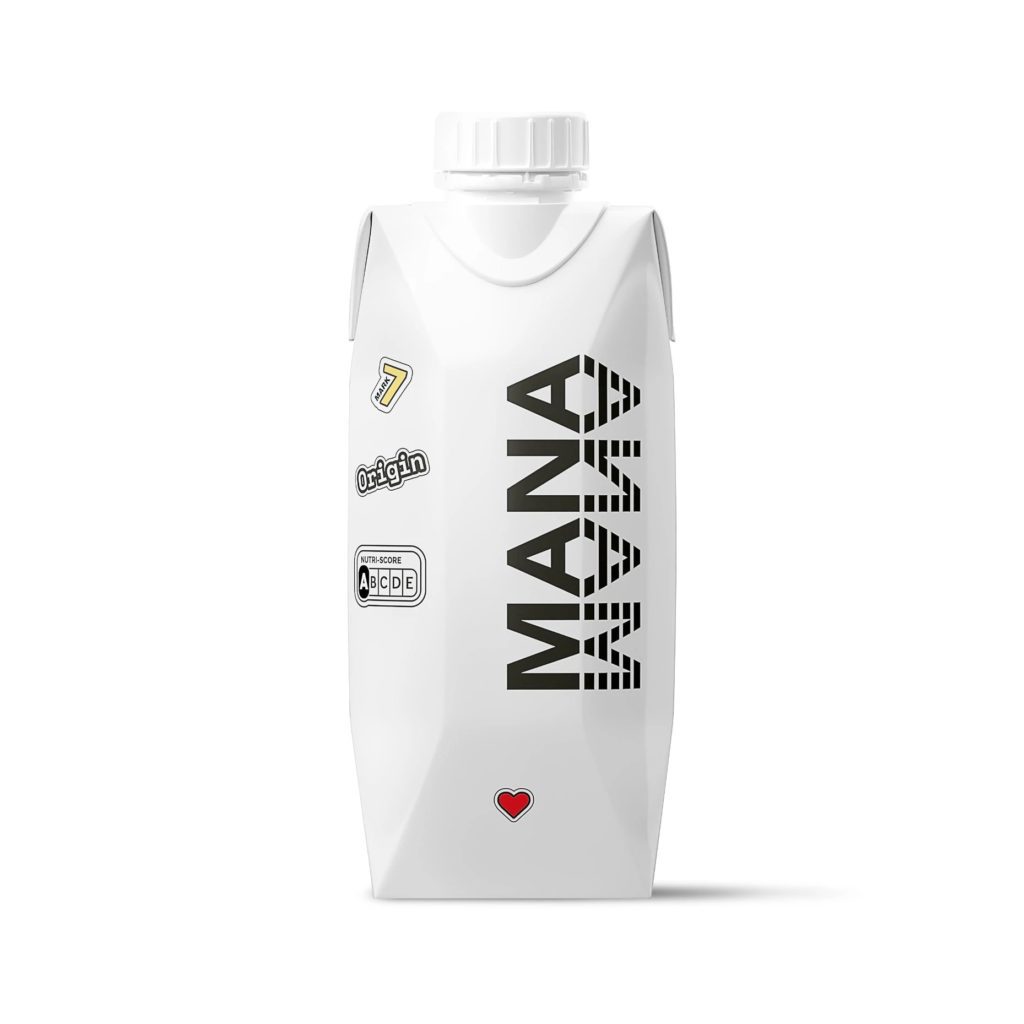 330Calories
19g of Protein (Soy protein)
Available in EU and US
2 Flavors
Very easy to drink
KF Nutrition Shake FAQ
Why choose Kate Farms?
Kate Farm's formulas are made to support health needs associated with many diseases and conditions. Food allergies, gastrointestinal conditions, and childhood eating difficulties are just a few of the reasons why people choose Kate Farms for support.


Is there a supermarket or retail location where I can buy your products from?
Unfortunately, we currently do not have any retail stores or physical locations for you to purchase our products. This may change in the future since we are expanding into new markets and constantly updating our product line.


What payment methods are accepted?
All major credit cards


What is the refund policy?
At Kate Farms we have a 100% Satisfaction Guarantee! If you are unsatisfied with a Kate Farms product you purchased from katefarms.com or one of our authorized sellers for any reason, we will happily provide you a replacement or a refund up to one year from the original date of purchase.


Where do you ship?
We ship to the 48 contiguous United States, PO Boxes, and Hawaii and Alaska! Unfortunately, we currently do not ship to Puerto Rico, Samoa, Virgin Islands, Northern Mariana Islands, Guam, APO/FPO/DPO Military, or internationally at this time.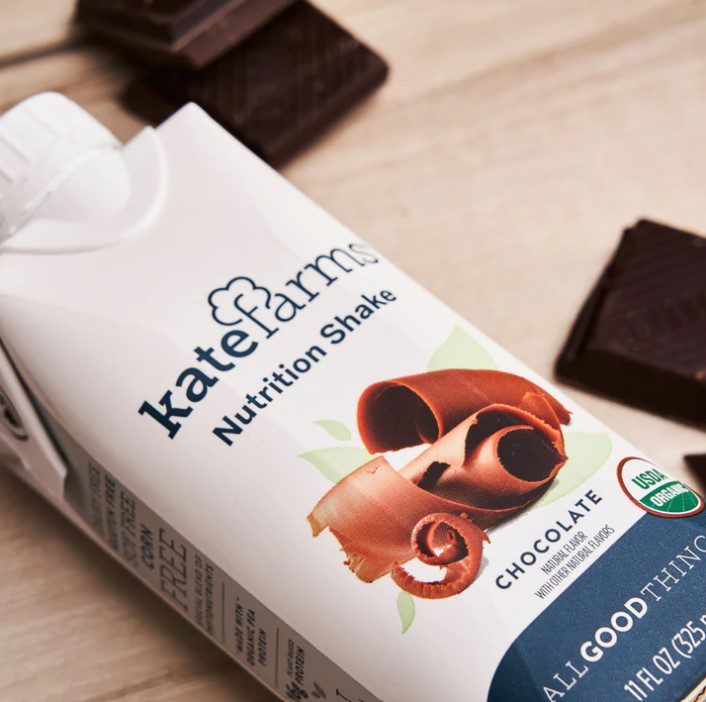 ---
Verdict – Kate Farms Review
So what do we think of Kate Farms Nutrition Shakes?
To start, they are some of the best-tasting RTDs in this space. The flavors were spot on and even the one I liked the least….vanilla, still offered a pleasant-tasting shake. Also, being so allergen-free and carrying many high-level certifications is worth considering, and make it a worthwhile product.
However, like everything, that comes at a cost:
The sugar content that contributes to its phenomenal taste may be too much for some. I'd argue that it could be dialed back and the taste would not suffer tremendously.
Another issue is price and satiety. At $4 a serving, it's a large ask for something that did not keep hunger away long.
Lastly, this feels a drink designed for those who are in dire need of calories, rather than a fully balanced meal replacement designed for long-term use.
I feel like other meal replacement companies offer better ready-to-drink alternatives, when it comes to full nutrition.
Bottom line – KF Nutrition Shakes will do the job if you're determined to have an organic RTD, and should work well if you're small-statured or it's for kids. Outside of that, you can opt for other products that are less expensive and much more filling.
Kate Farms
From $4/330kcal
Pros
Tasty, all flavours are nice
Easy to drink, ideal for those who struggle eating
Allergen free, vegan, organic
Certified and tested
Cons
High in sugars
Not very filling
Expensive
Doesn't fill designed to use by healthy people or long term