Testo Prime Instant Energy Review | Ultra Boost Your Day
Everybody suffers from energy slumps. It is part and parcel of being human. There are some days when we just feel like we are completely drained, often with little to no reason behind it.
This is probably why the energy drink and nootropics market is so big. People are always clambering for ways to perk themselves up. Instant Energy is one of these products, and it may be a bit different from the others that you have encountered.
Let's dive into them in this Instant Energy review.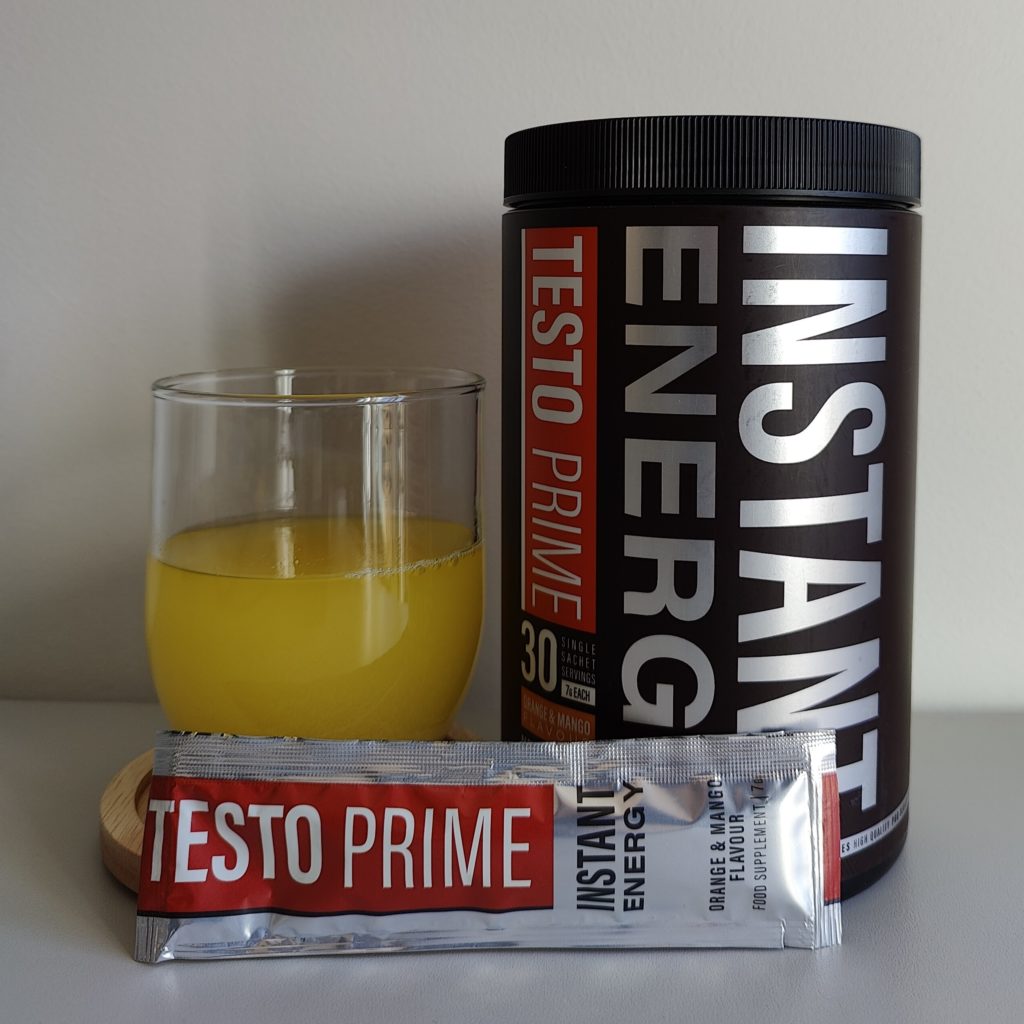 What Is Instant Energy?
Instant Energy is an energy drink from Testo Prime. You may have heard of these guys. They make a ton of pre-workout supplements, and they have assisted many people when it comes to muscle gain. Among others, they have one of the best testosterone boosters on the market, Testo Prime.
Instant Energy is a bit different from the other products under the Testo Prime banner, though. While we are sure that there are plenty of people that will take advantage of Instant Energy to get them through their workout sessions, this is an energy drink designed for the 'everyman'. It is for those that just need an extra pump to get themselves through the next working day.
Unlike other energy drinks (the stuff that people normally down when their energy is lacking), Instant Energy is completely natural and is calorie-free. This means that you don't have to worry about piling on calories during a particularly energy-heavy week. 
It is easy to consume too. Like all Testo Prime products, Instant Energy is in powdered form. This means that you just pour some powder into a bit of water and you are ready to go.
Testo Prime Instatn Energy Review at a Glance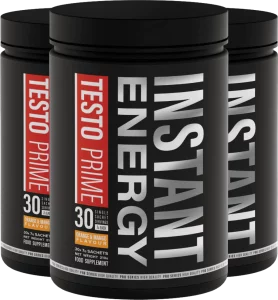 | | |
| --- | --- |
| From | US |
| Ships | US |
| Price/serving | $1.20 |
| User Reviews | Mixed |
| Caffeine | 200mg |
| LF Recommended | Yes |
Flavors: Orange & Mango.
Testo Prime Instant Energy comes in tubs of 30 individual servings.
Pros
Great to use as pre-workout
200mg of caffeine
Includes proven ingredients in effective dosages
Great taste
Vegan, gluten-free
100% money back guarantee
Cons
High in caffeine
Can cause insomnia
Not recommended to use more than 1 serving a day
Instant Energy Testo Prime Ingredients
As with all products from Testo Prime, Instant Energy has gone through a ton of testing. There are independent studies that demonstrate that Testo Prime has effective ingredients in Instant Energy.
There are no fillers in Instant Energy. Every single ingredient in Instant Energy is going to give you a boost in some way. All of the ingredients are natural too, so they are even safe for you to consume.
I've got to highlight the fact that they don't use a proprietary formula as well! No hidden ingredients to give you nasty surprises.
L-Tyrosine, Juice Powder Blend (Orange, Mango, Poato Maltodextrin, Gum Acacia), L-Taurine, Flavor, Vitamin B blend, L-Theanine, Caffeine Anhydrous, KSM-66, Ashwagandha Extract, Vitamin C (Ascorbic Acid), Emulgold Acacia Fiber, L-Choline Birtrate, Beta Carotene, Sweetener (Sucralose), Flow Agent (Silicon Dioxide).
Here is a quick run-through of what ingredients you will find in Instant Energy:
Caffeine is your main energy-boosting ingredient in Instant Energy. 200mg per dose.
L-Theanine boosts your mental strength while also reducing the side effects of caffeine.
L-Taurine gives your body a bit of assistance in energy production.
L-Tyrosine boosts your mood. It helps to increase the production of various brain chemicals e.g. dopamine.
B-Vitamins. This is a product for men, and most men are deficient in B-Vitamins, which can lead to a decrease in energy levels.
L-Choline Bitartrate improves your motivation, and focus, and reduces stress levels.
Ashwagandha Extract: boosts energy levels and maintains a high mood, even when under a lot of stress.
Vitamin C. Your body needs a lot of vitamin C when you are energetic, so this helps to replenish the resources.
If you have done even a light bit of research into energy-boosting supplements, then we are positive that you will have encountered all of these.
They are scientifically proven to help, and it is fantastic that they have all been included in Instant Energy. It makes it a much more potent energy drink.
Instant Energy Benefits Reviewed

Looking at the claims by Instant Energy, it should be able to help you with the following:
Increased Energy
Mental clarity and agility
Boost to focus and creativity
Enhanced mood
Reduced stress
Fatigue reduction
After testing Instant Energy rigorously over the past 2 weeks, I'm happy to say that it's very effective at what it does.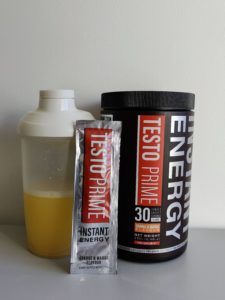 However, I felt that it was best at increasing my workout performance or helping me when I felt low in energy; as opposed to helping with memory and productivity. For these, I feel that the top nootropic blends do a slightly better job.
Other Instant Energy Benefits
Instant
When Instant Energy makes the claim that it is instant, it really is. You will be getting that energy hit within a couple of minutes of downing your glass of Instant Energy, and it won't let up for a good 4-6 hours.
So, more than enough to get you through a good chunk of the day. So, what other benefits does Instant Energy provide?
Nootropics
If you have been researching energy-boosting products for a while, then you will have come up against the idea of nootropics. While Nootropics were originally dismissed as a fad a while back, they have taken the world by storm.
Nootropics are used by anybody that has a creative mind, needs to relieve stress, or just gets through a college lecture while ensuring they take all of the information on board. In fact, I use Hunter Focus on a daily basis to boost my productivity and mood.
Nootropics have the following benefits:
Boost focus
Boost decision-making skills
Boost creativity
Boost memory
Since all of this tends to go out of the window when you are a bit low on energy, it is nice that the nootropics give you a little bit of a boost.
In fact, scratch that. They give you a whopping boost. There is a reason why there are many people swearing by nootropics. Here, you get those all wrapped up into a nice energy-boosting supplement. 
Mood-Boosting
Energy slumps will often be a mood downer. You may be more stressed. You may suffer from the perils of anxiety.
Instant Energy can help to combat this too. Load up on Instant Energy by Testo Prime, and your mood will be perkier. You will be able to tackle the day in an awesome way. With a smile on your face. 
Jitter-Smoothing
Instant Energy, like most energy drinks, will have caffeine in it. This is important. There are few better ways to perk yourself up than with a dose of caffeine. This is why a lot of people reach for a cup of coffee whenever they need a boost.
We don't begrudge the use of coffee. We use it ourselves. The problem is that caffeine can give you jitters, and can often lead to energy slumps when you have worked your way through the effects of the caffeine.
Thankfully, Instant Energy has been loaded with ingredients that help to smooth the effects of this out, like L-theanine. If you normally suffer from the bad effects of caffeine, then give Instant Energy from Testo Prime a whirl. You will be surprised at how different it will feel.
Otherwise, make sure to check out our top stim-free energy drinks, as they will provide you with an energy boost without any of the side effects.
Side Effects of Instant Energy
Does Instant Energy have any negative side effects?
In short, it shouldn't. Nonetheless, if you are not used to caffeine you might experience some side effects like jitters, nausea, insomnia, or increased anxiety.
Check with the doctor if you experience any of these.
What Do Real Instant Energy Customers Say?
My experience has been really positive, but what do Instant Energy reviews by other users say?
Generally, they praise the effectiveness of this energy drink in helping them get through the day.

For now, the general consensus is extremely positive.
FAQ
Is Testo Prime Instant Energy Safe?
It should be safe for any healthy adult that is used to caffeine. However, each serving has 200mg of caffeine, which is 50% of the daily recommended. Thus, I would advise not to consume more than 1 serving per day.


Is Instant Energy Effective?
Yes, you will notice a boost in energy levels within 10 minutes.


Who is Instant Energy for?
Instant Energy works best for men over 18 that are looking to boost their energy levels during the day. It can also help you with your workouts and physical activities.


How do I consume Instant Energy?
You should add 200 to 300ml of water to a shaker and add 1 serving of Instant Energy. Shake it vigorously and use it 10-15 minutes before it's needed.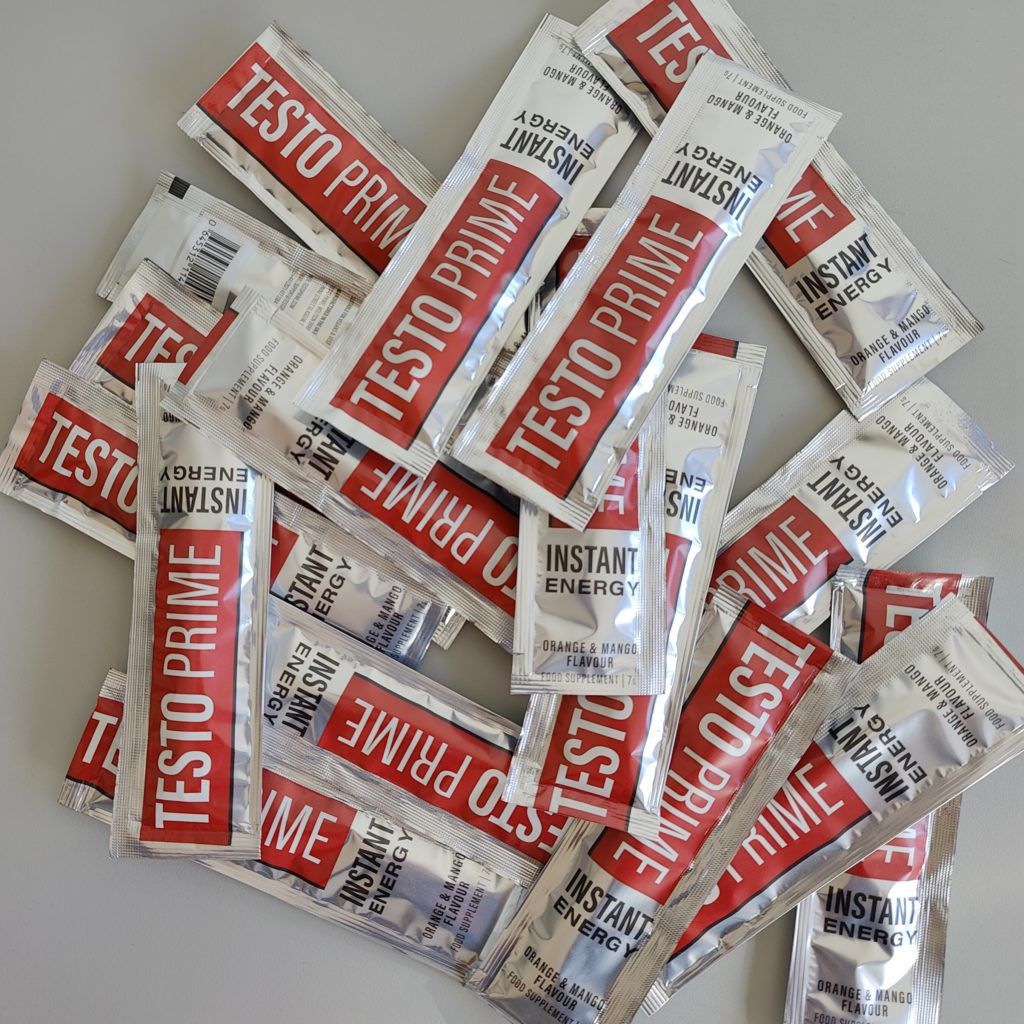 ---
Verdict – Instant Energy Review – Do I Recommend It?
If you want to boost your energy levels in the safest possible way, then absolutely. Instant Energy is fantastic, and the fact that it has been loaded with nootropics means that you are going to get even more benefits from it.
However, I feel that it's most effective at boosting energy levels, and not so great and increasing your focus and boosting your cognitive performance. For the latter, I would recommend a nootropic blend like Hunter Focus or Mind Lab Pro (free of caffeine).
That said, I loved the taste of Instant Energy, it was incredibly refreshing. For the price, it offers a great alternative to the best energy drinks, and can definitely help you get through the day.
Check it out today. There is even a money-back guarantee if you aren't happy with it.