Meeting the Founders | Getting to Know YFood
YFood is one of the most promising meal replacement companies in Europe. While they remain a little unknown outside Germany (where the business is from), YFood is a brand with some of the best meal replacements that I have tried, particularly taste-wise.
For the first couple of years, they limited themselves to producing Ready-to-Drink (RTD) meal replacements. However, after the funding they received from the Lion's Den (German Edition) they have expanded their repertoire with powder based meal replacements and bars. Now, they finally feel ready to "leave" Germany and they are opening new online stores in other European countries like the UK.
With that in mind, I thought it would be a good time to take an insight of the German brand. Thus, I was lucky enough to interview the founders of YFood; Noel and Ben.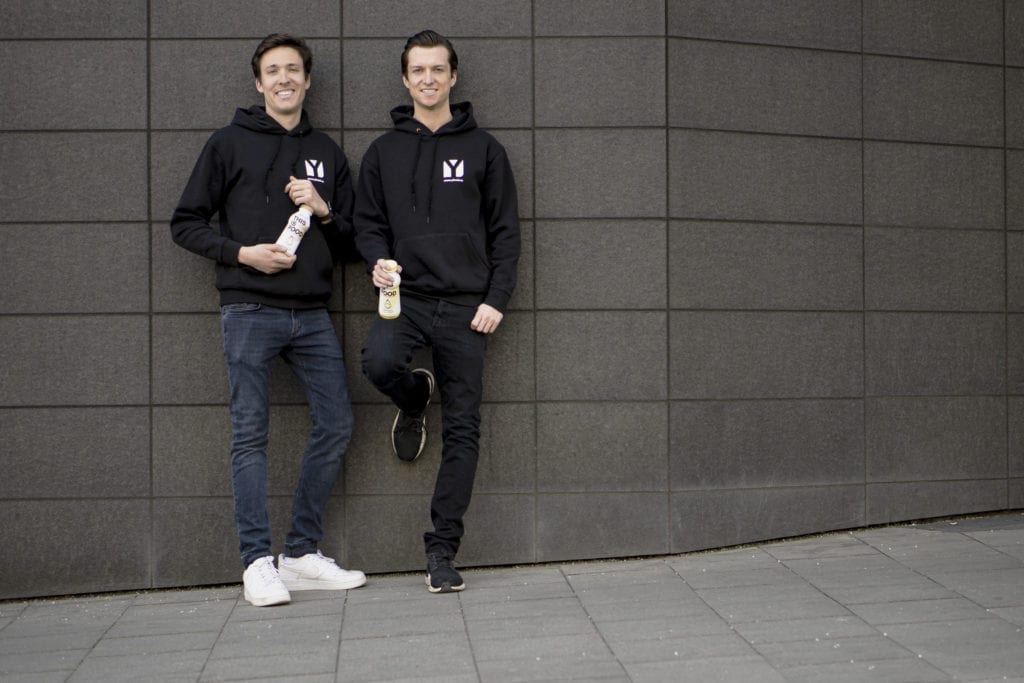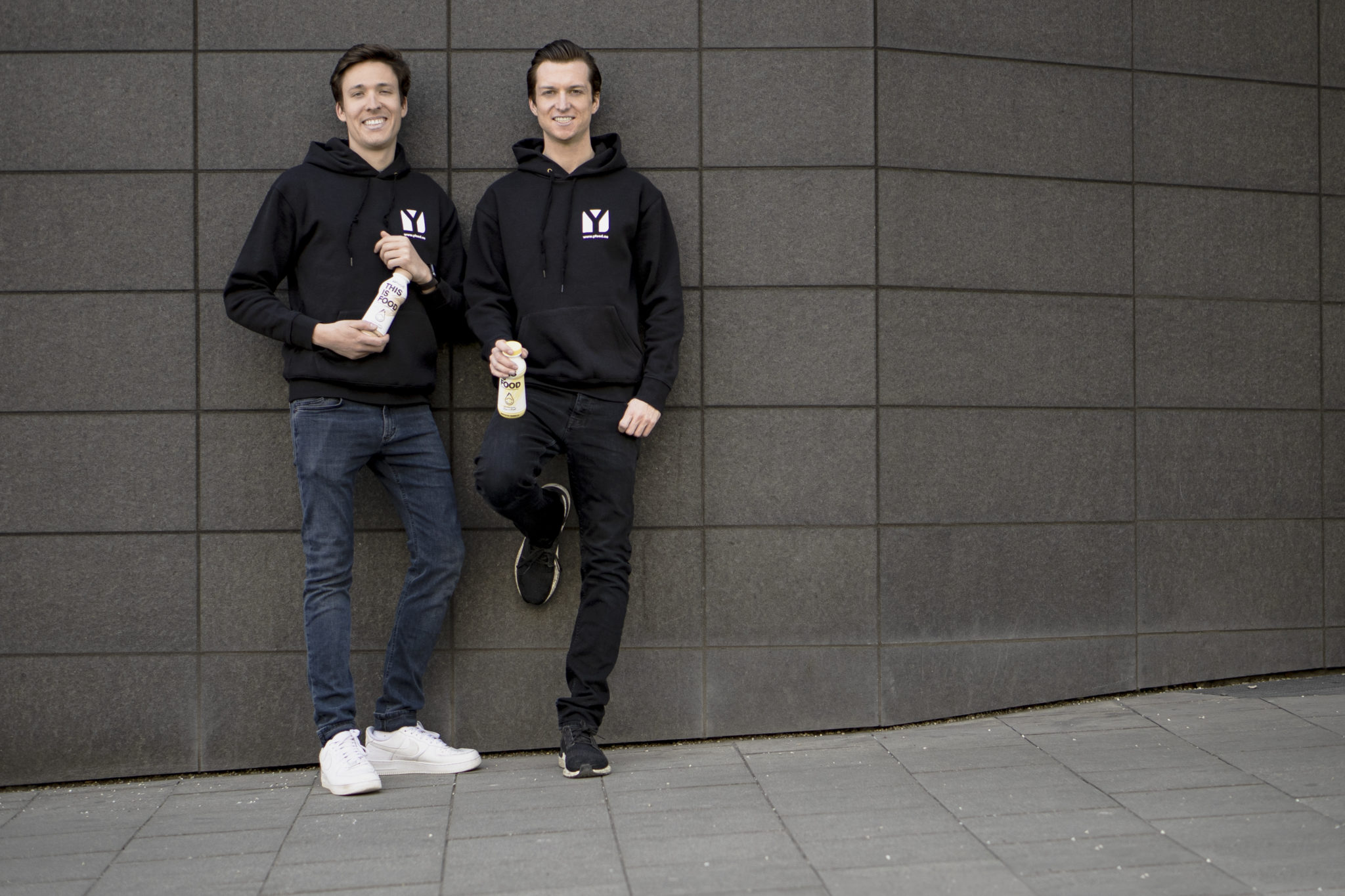 Quick Qs
1- Favourite place to live in?
Ben & Noel: Munich.
2- What's your favourite food?
Ben: When there is enough time to eat, I love Bavarian specialities like Käsespätzle.
Noel: Fresh pasta is my all-time favourite!
3- If you had to define YFood with one word, what would it be?
Game-Changer.
4- If you had to live out of one YFood product (specific flavour) for the rest of your lives, which would it be?
Ben: Cold Brew Coffee.
Noel: Vanilla Vegan.
5- If you weren't working at YFood, what would you be doing?
Perhaps we would both still be working in the financial industry, as we did before YFood and would definitely still be annoyed by the lack of alternatives to unhealthy junk food.
Meeting the Founders
Ben, can you introduce us to Noel? Noel, could you explain the readers who Ben is?
We were both born and raised in Munich and come from the financial sector. While Noel worked in private banking, Ben worked in private equity.
Noel about Ben: Ben is primarily responsible for the retail area here at our company. His know-how in this area impresses me, time and time again. Because of his knowledge, persistence and skills, YFood is now available at over 13,000 retail outlets in the DACH region.
Ben about Noel: Noel has always been the cool head of both of us. Even in stressful situations (and there are plenty of them) he stays focused and manages to calm me down, so we never lose focus on the essentials.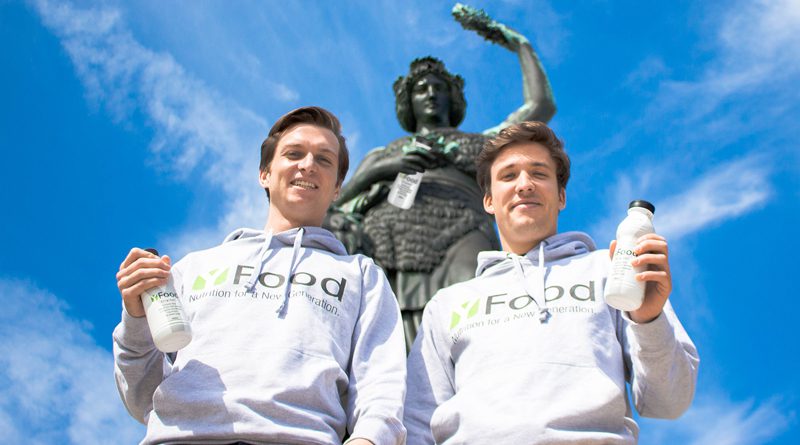 How did you meet each other, and who was the first coming up with the idea of YFood?
We have been friends for a long time and were working in the financial industry before YFood: Extreme working hours, rushing from one appointment to the next and the permanent stress were the norm for us. But it was our professional background that gave us the idea for YFood. So often, we were sitting in the office at night with empty stomachs and only had the choice between crisps and chocolate bars in the vending machine. We didn't want to accept that a quick meal, almost always had to be unhealthy. The idea for YFood was born.
Now that we know who the founders of YFood are, could you explain what YFood is? What is YFood for you?
Since YFood was founded in 2017, we have been revolutionising the food industry with our products. Innovative "complete food" in the form of drinks, bars and powder gives people with busy lifestyles a newfound ability to combine fast and healthy living. All our products are well-balanced, fully portable meals which contain all the essential micro- and macronutrients that the body needs – without compromising on taste.
Starting YFood
How does one start with a meal replacement company? And what were the hurdles that you have to overcome along the way?
After the idea YFood was born, we started researching everything around the topic of Ready-to-drink (RTD) meals and analysing the possible target groups in every detail.
Only when we were convinced that YFood would solve an existing problem for many people and that our drink meal would have a real chance on the market, did we move on to the next phase.
Since we both came from the financial industry and had almost no know-how in the foodbev industry, we had to acquire some knowledge and work on our food technology background to understand the market. Together with an experienced food technologist we managed to understand the industry and to design a prototype with him. Finally, we were able to really get started with our YFood project.
Related to the last question, YFood took a very unusual approach to starting a meal replacement company. You guys started with a RTD, instead of a powder like most brands do. Often the reason for this is purely economical, since developing and producing a RTD is much more costly than a powder.
Why did you guys decide to go with this route? What benefits do you think it gave you, when comparing to the competition? Do you have anything that you would have done differently?
Exactly, our first and to this day, main product is our RTD. We were looking for a mobile solution for healthy meals. For us the most important thing was that YFood makes healthy nutrition as simple, fast and tasty as possible. Our RTDs meet all these demands, 100%. A powder alternative has a clear cost advantage. However, as we now offer both products, we can meet the individual needs of our target groups and let the consumer decide for themselves which product meets their needs.
By starting with our RTD, there were a number of hurdles we had to overcome at the beginning of YFood.
It was difficult to find a suitable manufacturer who could meet all our requirements and produce the product that YFood is today. We were actually laughed at by many manufacturers who weren't convinced two guys with no food technology background were capable of developing such a product.
Convinced of our vision, we persisted and found the right manufacturer after all.
As a side question, some of your retractors might have criticized you on doing RTD only since the bottles produce more waste than powder. What is your opinion on the matter? Is YFood an environmentally conscious brand? What do you do in this regard?
For our products, the sustainability of the packaging is extremely important to us, which is why our bottles are already 100% recyclable and consist of 30% recycled material.
As a young and innovative start-up, we also see sustainability as an important topic and task for us. In order to guarantee the long shelf life of our nutrients and other demanding properties such as the high mineral and vitamin content we are currently dependent on non-transparent packaging, which makes the search for environmentally friendly packaging even more difficult.
Editor's Note: Environmental impact of the products is often a hot topic for meal replacement enthusiasts. The more hardcore users tend to lean towards powder, not only because it's cheaper, but also because they believe it's better for the environment.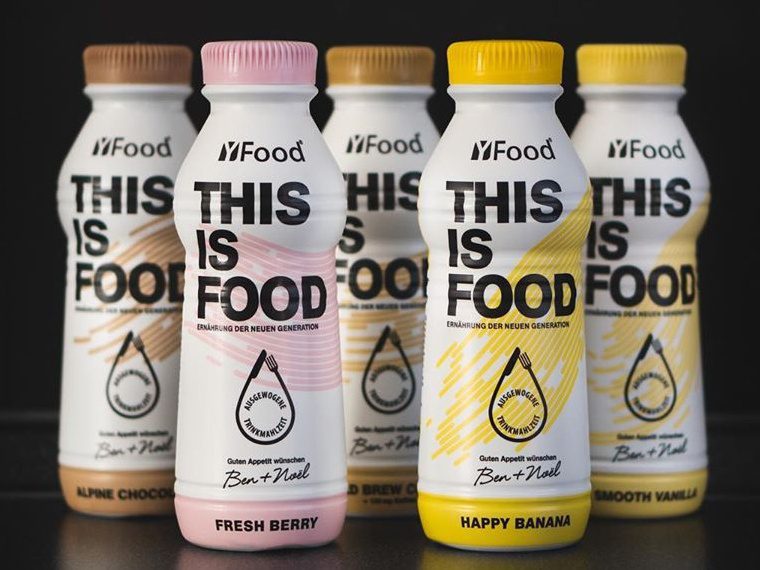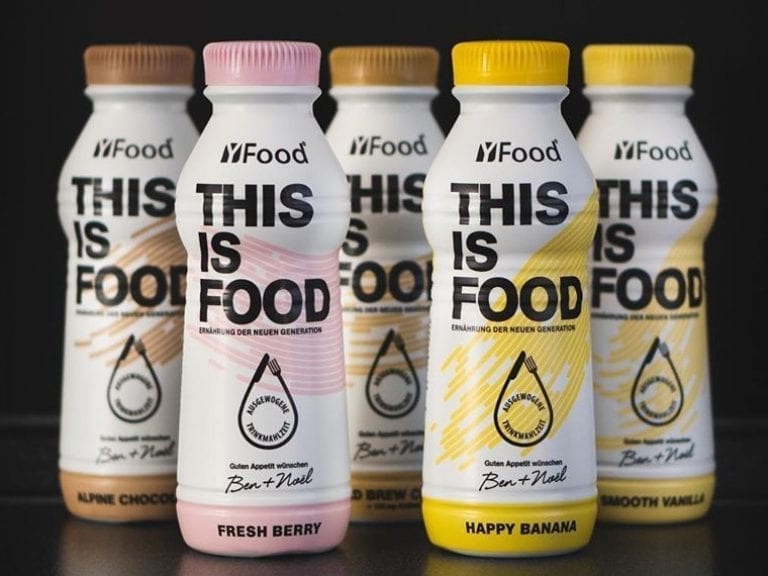 What was your vision of YFood when you started? And how did it plan out in the first years?
Our vision has not changed since we started YFood three years ago: We want to give people with busy lifestyles the possibility to combine fast and healthy living.
In today's fast moving age of Iphone and co., modern consumers have less and less time, are more and more mobile, but at the same time want to eat healthier than ever before. With YFood we are building the bridge between speed and healthy eating. In this way, we solve a problem which is becoming more and more relevant for our customers.
Getting Funding and Growing
Let's talk about Lion's Den, which I consider to be one of the pivoting points for the company. YFood decided to partake in the German version of Shark's Tank in order to get some funding and guidance. What did prompt you guys to make this decision? Why not go for VC or crowdfunding like other companies have? How was preparing for LD like?
When the idea for YFood was born, we talked a lot with people in our circle about our first steps. Friends and family gave us feedback which we could use to further develop our idea.
We repeatedly heard the sentence "Why don't you join the Lion's Den?" No sooner than it was said, we had it done. An appearance on the show is not only recommended when searching for investors, but it also increases the brand awareness. We wanted and still want to solve a problem for as many people as possible. Through The Lion's Den we had the chance to reach a wide and diverse audience.
The acceptance for the pitch only came a few days before, so we had hardly any time to prepare. But the team, which at that time still consisted of only five people, gave everything. In the end, we think that we were able to convince the jury with our innovative product but also with the fact that we were and still are so convinced of the benefits of YFood.
Editor's Note: Getting funding is a huge deal for any start-up. There are many ways to secure this cash influx including VC funding, angel investors or crowdfunding (Kickstarter). While companies often have to give part of their equity (ownership), the funding can help them accelerate growth and develop products otherwise couldn't.
In YFood's case, I consider their Lion Den's appearance gave them a nice marketing boost (particularly in German media); as well as the cash to increase their team. Only after that we saw new meal products from them.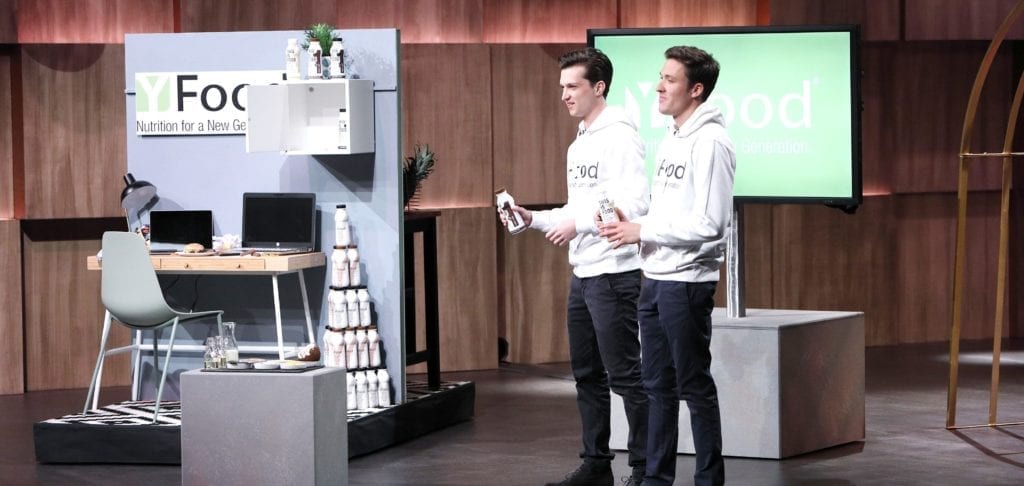 What were the biggest changes the company and you as founders underwent after succeeding at LD?
We received a lot of positive and encouraging feedback not only from people in our environment, but also through our social media channels. This motivated us to push our project further. Even today, more than two and a half years later, many people still respond to our appearance in the show. Around the same time we introduced YFood to the first stores, which gave us a great start boost.
Ever since, you have launched a ton of new products (powder, bar and vegan RTD). Was it something that you guys have planned on the beginning or was it something you decided to do after you got the funding? What is your favourite product from the new additions?
We have always had the desire to expand our product range in order to solve problems for as many people as possible. With the completion of the Series A in May 2019, we were able to accelerate this project.
The background between the different products is that all three products satisfy different needs. While our drinks are characterised by being ready-to-drink, our powder is even more affordable and practical for travelling. The bar is perfect for those who like to have a healthy meal with them at all times, and want something to sink their teeth into.
We are big fans of our powder, because it is easy to carry in your hand luggage and we don't have to do without YFood when travelling. But also the bar is often in our jacket pocket, in case we get hungry between meetings.
Another step that YFood took was trying to get a strong retail presence in Germany. From my experience and according to the Complete Food Survey, having more meal replacements in supermarkets is something the customer wants.
However, achieving this (retail presence) is often logistically and economically not feasible. Could you explain the reader why this is the case and how YFood is trying to counteract this?
Yes, the market is a relatively new market, and so many companies are still in the early phases. Logistically, it's difficult to get the required stock into supermarkets. Young companies don't have the negotiation power with the large supermarkets. However, the key factor is that supermarkets are often hesitant in trying out new products, which do not have a track record yet.
With YFood, however, as we know how important accessibility is to the customer, we managed to overcome the initial hesitation and gained a significant track record in German retail. We are stocked in supermarkets throughout Germany, such as Rewe and Edeka, to name two out of many, and hopefully many more throughout Europe as we expand.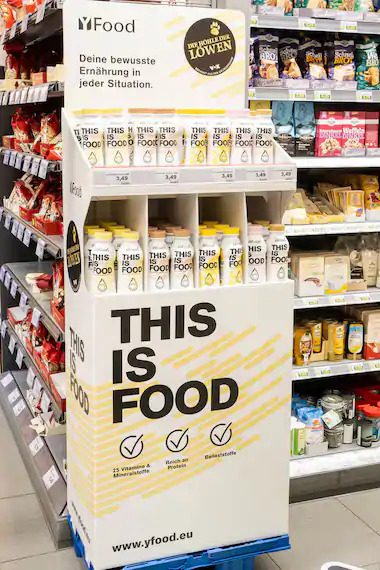 For now YFood is only available in German, Austrian and Swiss retailers. Similarly, most of the marketing, social media interactions and the website itself have been focused to a Germanophone audience.
Why did you guys decide to focus on Germany first and not Europe instead?
In the beginning, it was important for us to understand our home market and the target groups. In the first months we learned that our target group is much bigger than we thought. Our strategy and product range is constantly being adapted to such findings, which is why it is also important for us to approach expansion strategically. We just secured a 15 million Euro Series B financing round. The funds will be used to roll out our successful and proven model – which is already profitable in Germany, Austria and Switzerland – throughout Europe. The recent launch of the UK online shop marks the start of this expansion into other key European markets.
Editor's Note: Focusing on their home turf s has been an approach that many other successful brands have taken. In spite the fact that the meal replacement market is theoretically global – since most of it is conducted online; the reality shows us otherwise. Taxes, shipping fees, logistical issues, over-diversifying marketing are just but some issues that companies encounter when trying to sell worldwide. Other factors might include taste preferences, cultural and language barriers, to mention a few.
It seems that finally YFood is branching out. You have always offered shipping to European countries, but it wasn't until recently that you've launched a site fully in English. This is the case for the UK YFood website.
Why did you take so long, and what makes now a good time?
Yes, we've always been working to make YFood as accessible to as many people as possible. As our company expands, our ability to cater, and enhance the experience of our customers in other countries has improved. We now have a strong share of the DACH market and have become a recognisable brand which we hope to replicate in other markets.
Understanding YFood Products
What do you think YFood offers other brands don't? Why should customers buy YFood?
YFood is not to be confused with conventional protein drinks or diet shakes. YFood establishes a completely new product category of so-called "Complete Meals", in which we are among the worldwide pioneers. The name "Complete" comes from the fact that our products contain the complete spectrum of all essential micro- and macronutrients in perfectly balanced amounts. As a result, they represent complete meals that enable balanced nutrition even on stressful days. YFood stands out from its competitors by not only focusing on a balanced and complete nutritional profile, but also on excellent taste. For this reason, YFood's products have been proven to appeal to a large customer base – from sales reps to working parents and healthcare workers. Particularly among healthcare professionals, stress and lack of time has become even more relevant in times of the COVID-19 crisis.
Editor's Note: I have the YFood RTD (Chocolate, my favourite) as the best RTD meal replacement you can buy in the UK. I also think that all RTDs in general are among the best tasting in Europe. The new chocolate powder is also delicious. While in their answer, Ben & Noel focus on the "complete" aspect, I would say that taste is the differentiating factor between YFood and other meal replacements.
In my opinion, one of the distinguishing features of YFood is the prominent use of milk protein. In a market dominated by plant-based (dairy-free) meal replacement shakes, why did you choose to use this ingredient?
Our mission is to provide a balanced and nutritious meal replacement product. For this to work for people in the long run, we want to deliver a product that does not stand back in terms of taste. Using lactose-free milk and milk protein as major ingredients of our products, we can create products of high-quality and great taste. Moreover, milk protein provides us a great amino acid profile which has many nutritional benefits. But since we know that nowadays many people like to live without dairy products, we also have a vegan variety in two flavours in our range, which will be launched in the UK shortly.
---

YFood 500ml RTD
Meal Replacement
Ready-to-drink
495kcal/meal
28P/31C/41F % of Energy from
22g of sugars/4.5g of Saturated Fats per serving
No subscription: €3.49
With subscription: €3.02
Dairy (but no lactose), Caffeine*
YFood's first and main product, a milk-based complete ready-to-drink meal.
---
What would you say to hardcore enthusiasts who might say that the nutritional hurdles (such as high sugar content and maltodextrin) overshadow the (delicious) taste of YFood?
As mentioned above, we strongly believe that complete food products should not only have a rich and well-balanced nutritional profile but also be super delicious. For our YFood "Original" variants we therefore decided to use low-fat, lactose-free milk, which give those products a certain overall natural sugar content. It is very important to understand that this sugar consists almost purely of natural milk sugar and does not contain any added or refined sugar. Furthermore, consuming the daily intake of 2,000 kcal through YFood Original RTDs still accounts to less than the by the EU recommended daily intake (RI) of overall sugar level. For those consumers who even further want to reduce their daily sugar intake a new range of YFood Vegan RTDs will soon be available in the UK, which (at least in the opinion of many of our consumers) are also taste-leading in their respective category.
Due to a couple of formulation specific reasons we use low amounts of corn-derived maltodextrin in our RTD products. Nevertheless, we are constantly working on improving our recipes to further optimize all products. Therefore, we have already significantly decreased the amount of maltodextrin in our Original RTDs.
For our latest RTD flavours 'Crazy Coconut' and our limited edition 'Salted Caramel' we created a recipe in which maltodextrin is only used in marginal amounts to stabilize sunflower and canola oil in the drinks.
Striving for constant improvement is a strong part of our company philosophy, and we are excited to share many more product improvements with you in the near future.
Editor's Note: The community is very nutrition focused. In fact, proper and balanced nutrition was one of the most important factors (even above taste) when choosing a meal replacement product (CFS '19). Some ingredients and nutrients (maltodextrin, sugars, isomaltulose etc.) have a "bad-rep" for many customers. In this case, there're concerns on the impact that maltodextrin and sugars have to blood glucose regulation. Many tend to avoid both in order to prevent spikes, hoping to reduce chances to develop illnesses, like Diabetes.
Coming back to the UK, it is an increasingly competitive market with more brands focusing on the Islands than never before. Why is YFood different, and what do you intend to do to cater the UK?
With YFood we not only offer a healthy alternative to junk food, but we also offer a fantastic and unique taste. We knew how important taste was while maintaining a healthy diet, and from the outset we really focused on this. We worked with food technologists, using only high-quality ingredients and developed a great recipe with healthy nutritional properties. With Ready-to-Drinks, bars, and powders, we have a wide range of products, which cater to our customer's needs.
Besides the UK, you were also hiring regional managers for France and Spain. Should we expect the YFood site to be available in French and Spanish soon? Also, will you be offering YFood in supermarkets throughout Europe?
Yes, we are currently developing our website and hope to launch not only a French and Spanish site, but also further European websites. It's an exciting time at YFood. Just wait and see! We're taking things one step at a time but hopefully you'll find us in supermarkets throughout Europe in the future.
The Future
Seeing how expansion seems to be the objective for the near future for YFood, can we expect YFood to be available in the US before the end of 2020?
As aforementioned we want to make conscious nutrition available for more and more people. Therefore, the US market is definitely a very promising market for our products. However, for now our mid-term focus lies on Europe. But – as they say – you'll never know what the future brings!
Talking about the future, where do you see YFood in the next 5 years and how do you expect the meal replacement market to develop?
We are sure that the company will continue to grow rapidly. This time last year we only had around 20 employees, in a year we've tripled to over 60! It's a really exciting time here at YFood, and we think in the next 5 years YFood can disrupt the food industry even more. People nowadays, have less time than ever and are often forced to reach for unhealthy junk food. With YFood consumers have a healthy alternative, that they can consume quickly without compromising on the taste!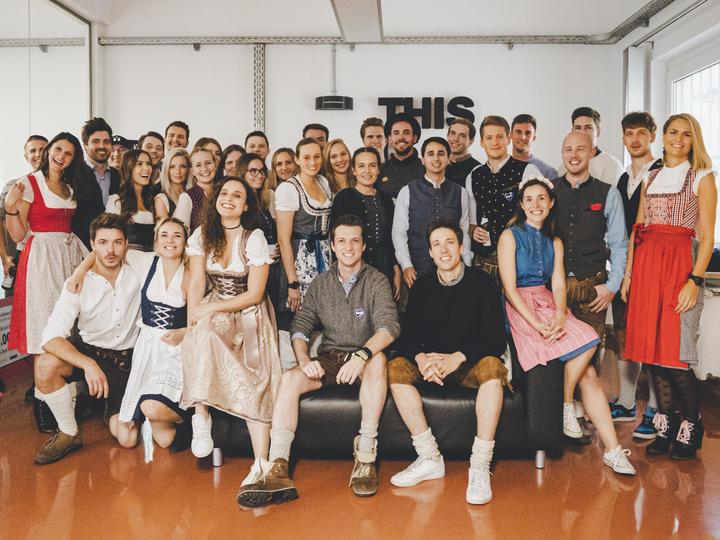 As a final question, I would like to ask about food-like meal replacements (complete meals that take inspiration on existing dishes; like Vite Ramen, Mana Burger etc).
What are your thoughts on this kind of product? Is this something YFood could expand upon? Do you think they will be a part of the future of meal replacements?
Some of these are really good ideas and offer consumers an alternative to junk food.
However, we see convenience as an incremental factor for the growth of the industry and will therefore focus on products, which offer a high level of convenience, while having a healthy nutritional profile and a great taste.
---
You can find more everything you need to know about YFood in my reviews, as usual:
Otherwise, you can purchase YFood on Amazon or their online stores (as well as some German retailers):