The Complete Food Survey '18 | Your opinion matters
The meal replacement industy is in its infancy. It is now that key events will shape the future. Every brand is trying to optimize their product, cater for their target market and grow to reach further and be better. As such, it is the time where us, the customers have the most power. We can have a say on which products we like, which nutritional values we follow, how we want to consume our complete foods, and what price are we willing to pay for them (among many other things).
The Complete Food Survey 2018- Results
I initially wrote this article to promote the participation in the survey and increase awareness. The survey was conducted between 19/09 and 30/09 as an initiative by Queal and Saturo. Multiple other brands and websites around the meal replacement industry also did their best to get as many people involved as possible.
Queal, Blendrunner, Eatcomplete, GenesisFoods, Holfood, KetoChow, Lently, MealSquares, Next Level Meal, Repas en poudre, Satislent, Saturo, Shake2day, Trinkkost, Vitaline and VitaminFood were among the participants this year.
Queal was the brand in charge of analysing and displaying the results, and they are currently available at Complete Food Survey '18.
Summary
Analysis
800 users answered, of which 79% were male and 21% female. This is more than double last year's.
Breakfast+another meal is the most common combo. Only, 9.5% of the users consume more than 90% of their food via meal replacements.
Time constrain and healthy nutrition are the primary reason to start with complete foods; while, nutritional value and price are the most important factors to choose a brand.
Most people consume their meals alone (either at home, at work or on the go) and they preferred to have their shake chilled than at room temperature.
Buying powder in bulk is still the most popular way (65%) vs RTDs (32%) and vs single serving pouches (30%) or one day bags (26%). This numbers have changed comparing to last years, and RTDs are gaining popularity.
Maltodextrin, high carb shakes, palm oil and high prices are not liked by the consumers.
Environmentally friendly and sustainable practices are positively looked upon.
Thoughts
Very strong biases towards European thoughts and models; created by the lack of participation of brands like Soylent, Jimmyjoy and Huel.
Complete food customers are an "elite" that care about nutrition and environment (again reflection of European bias).
Whey protein is preferred, even if more brands are opting to go for fully vegan product range. This is also partially, because the respondants are more likely to be Queal buyers.
There is a lot of question still unanswered: are the customers happy with their brands? Do they expect more, what are they looking forward to? What do customers think about the flavour options?…
The presentation of the data has been subpar compared to last year.
The biases and the scale of the survey are still not significant enough to draw strong conclusions.
An analysis of the results
Who answered?
Most of the participants were male (79%) as opposed to female (21%). While the ratio is increadibly unbalanced, there have been more female participants than in 2017 (14% female).
A total of 800 people answered this year, which is noticeably more than last year (about 300). This is positive and shows that the complete food user is willing to give feedback if he is listened to.
When do we consume our meal replacements?
For most people, complete foods are the ideal solution for breakfast and another meal during the day. Particularly, the combo breakfast and lunch seems to be the most popular one. The mean for how many meals each consumer replaced a weak was 9 meals, but 9.5% of the users reported to use complete foods in more than 90% of their meals.
How many calories there is in the average complete food meal?
According to the survey, the average size of the meals was 536kcal. 35% of the users reported to have 700kcal or more per meal, whereas 16% of the users said they consumed 400kcal and 23% stated they had 500kcal/meal. This is a clear bias caused by the fact that most of the responders were Queal users.
Why do people start consuming complete foods?
No surprises here, and as per last year, time costrain and nutritional output are the two main reasons to start consuming meal replacements. Similarly, nutritional content seems to be a very important factor for the users when deciding which brand to buy from, together with the price.
How do people consume meal replacements?
Most respondants said that they have their meals alone, either at home (75%), at work (68%) or on the go (52%). Perhaps more surprisingly, 4/10 people consume their drink with other people. This is probably in a work environment rather than at home, though.
Powder vs RTD, what do the users thing?
65% still favoured buying in powder in bulk as opposed to 32%, which preferred RTD. However, this result does not reflect the current tendency of the market, where RTD products are popping up everywhere. I suppose this preferrence is due to the fact that the majority of the respondants are long time complete food users (thus they are used to the shakes) and that the main brands spreading the word do not sell RTDs (except Saturo).
When deciding at what temperature they drink the shake 42% said room temperature vs 58% from the fridge.
What do the buyers hate about the industry?
Maltodextrin and high carb shakes are not very well seen. This comes to no surprise if you take into account that most of the popular shakes are either high fat low carb, or high in protein.
Sustainability is a big factor for most consumers, and as such, palm oil has become a big nono for the consumers. Besides, buyers positively favour any effort to become more environmentally friendly or reduce waste.
Some thoughts about the survey
First and foremost let me say that I am really disappointed that some of the biggest brands like Soylent, Huel and Jimmyjoy do not participate actively in the survey. Unfortunately, this is vey clear in the answers, where there is a heavy bias towards European thoughts and models of consumption. What do I mean by this? I believe that if they were more American participants for instance, some of the results would be different, such as the RTD preferrence.
Another conclusion that we can take home is that the complete food consumers (and more so the respondants) are an "elite" who care about topics like nutrition and ecology in a much deeper way than normal people. This is a positive thing, since we can shape the industry on a path that will promote sustainability, food responsability and knowledge about nutrition. If brands are told that people care about these points, they will make more effort to put that information available or to develop systems to decrease waste, for instance.
An example of this is how buying powder in bulk was preferred to RTDs, single serving bags or daily bags. Responses like this one can help to reduce environmentally unfriendly practices, such as, flavouring boosts, unrecyclable bags or unecessary waste.
Whey protein preferrence
There is another point that I have not mention, and that is the preference of whey protein over other forms of protein source. This is surprising, since a lot of brands are heading towards becoming fully-vegan (like Jimmyjoy) and the amount of vegan products in the European and US markets grows by the day.
I am a big advocate of whey, and while I understand some of the environmental issues with animal farming, I belief there can be sustainable methods to obtain whey. Soy, for instance, is not a natural plant from Europe and is often sourced from plantations that have destroyed the natural habitat to farm soy.
However, once again, we need to take into account that Queal uses whey protein in most of their products, thus respondants are likely to favour it.
Missing information
There is some information that is not in the survey, either because it was not asked or because they decided the data was not relevant. I feel as a consumer there are other things that I am interested that are not in the scope of this survey.
I would like to know if people tend to stick to their usual brand or if they keep looking around. I would assume most people stick to the brand that they made the first purchase with. Nevertheless, it would be interesting to see if people try to find the best match for them or just try new things as a culinary experience.
In a similar fashion, it would be interesting to know if the first purchase is an impulse buy or something they think carefully about before jumping the gun.
In a more selfish manner, I would like to know if they users feel aware about the status of the market, or they feel there is a lot of missinformation or just lack of information in general.
Expanding that point, I would like to know if the consumers feel like the brands are trustworthy and if they feel like the products are top quality.
What do the consumers think about the flavour options in the meal replacement market?
Do they think meal replacement bars are a good alternative to shakes?
What do people hope to see? Product-, price-, normalization-wise.
How satisfied are the users with the brands that they consume?
This are just few questions that I would find very interesting. In addition to that, an economical analysis of the market would be great, such as, how much money is moving, how many meals are brands selling, but that is beyond the scope of the survey and this analysis.
The presentation of the survey data has not been as good as last year's
One of my biggest disappointments this year has been the delivery of the data. It feels rushed and not very polished. I love Queal for all the effort they put into their products and this survey. I, actually, hope that more brands will take similar approaches, and that we will see more transparency in the industry.
This bias, however, can not negate that the delivery is lackluster. The document is hard to understand at parts; the colour scheme is not very good, as parts are hard to distinguish; the graphs are hard to understand; and the ideas are not well explained.
I do not blame them (heck, I make tons of mistakes in my articles). I understand that doing this is partially for the community and takes away from time they could spend working. Plus, they probably feel that they are under a time constrain. Honestly, I would rather wait a couple weeks longer and see a more polished article.
What I do hope is that they find some time to work on it, and try to make some of the graphs more clear, and some of the explanations easier to understand.
Current Limitations of the Survey
The European Bias. The survey was promoted by Queal, an EU brand. In fact, last year there were only 14 respondents from the US (over 200 from EU). This almost nulifies the value of the US answers. The bias is also shown in the preference of meals, perhaps the ecological worry (EU citizens tend to be more aware), and also in the primary reason for consuming the products.
Who is likely to answer and how the questionnaire was promoted. I am unsure to how the 2017 questionnaire was marketed, however, I am sure that the methods reached a fairly similar group (people who are likely to be in front of the computer and are used to use forums). Thus, the people answering this survey were likely to share interests.
Sample size and brands involved. Different brands cater for different people, some offer organic products, some convenience products (RTD), others offer variety… Queal being the major promoters, their reach is limited to a specific persona (even if both brands offer different products). For instance, there is no Soylent or Huel or Jimmyjoy among the supporters. Jimmyjoy users are more likely to care about budget.
Control group. The people answering the questionnaire are going to be complete food users. True, that we care mostly about what they think, but having a "control group" of non-users or just beginners would help to clarify many points about the stigma, reasons not to use and so on.
---
The Complete Food Survey 2017
Queal and Saturo did a colaborative effort to identify key issues and characteristics of the market in 2017. The Complete Food Survey of 2017 is actually a very interesting read, while a little biased due to the origin of the respondants.
Some insights to questions like when, why, who, health impact or where it goes from here are presented in a fairly digestible way. I strongly recommend you reading if you have time (should not take you longer than 10minutes). You will learn something new.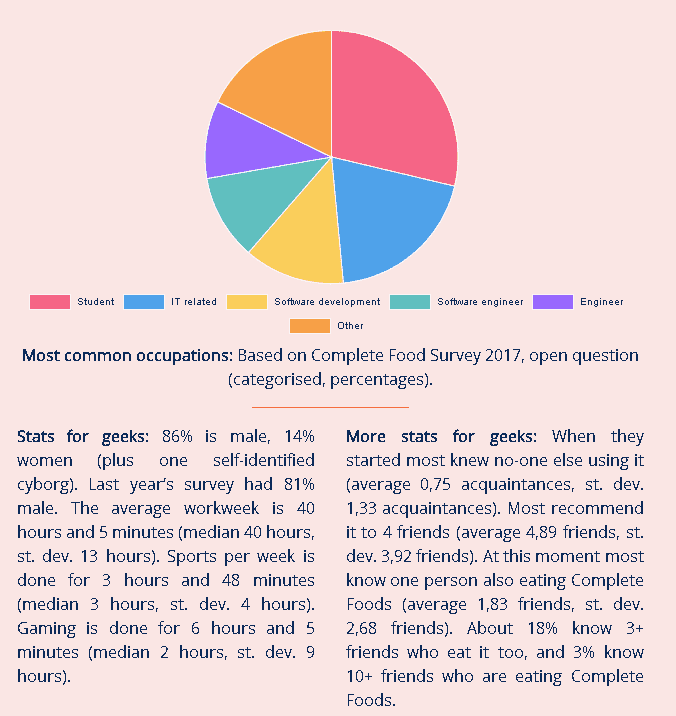 A small Summary and Analysis.
When do we consume meal replacements the most?
Breakfast>Lunch>>Dinner. This might reflect the fact that dinner is more of a social event and family gathering than the other two main meals. This holds particularly true in Europe (where most answers came from), but I believe it would hold in the US, too.
Another thing that is remarkable is that more than 20% of the users have been using them for more than two years. It shows that the satisfaction rate with the products is high, as the retention is high.
Why do people start consuming complete foods?
Time constrain> Nutritional fullness>Curiosity>Health>Price>Dislike Cooking. While number one factor is time, it is interesting to see that nutritional output and health benefits are also among the top reasons. People are not doing it because they are lazy, but because they care about what they eat.
In fact, nutritional balance is more important than price in terms of choosing the brand. I belief this to be an extremely positive attribute of meal replacement consumers.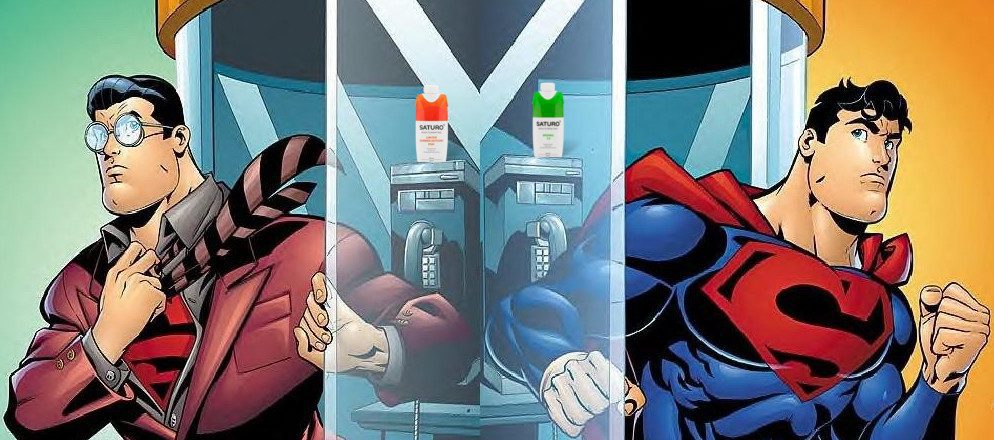 Who consumes meal replacement shakes?
Funnily enough, the average is a male of 32 who works in IT, exactly the profile of my friend who introduced me to complete foods. However, as seen above, students and engineers, follow closely. Students may opt for this kind of nutrition because they are more open to innovation, they are more likely to be on a budget, they tend to care about health and also time (because most are not good at time management), and are likely not to be very adept at cooking. Nevertheless, I must say that this answer is probably also due to some bias or limitations on the questionnaire.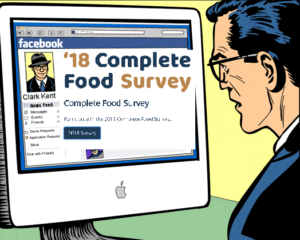 Another intersting fact is that the 40% of the consumers identify themselves as flexitarians (limited fish and meat); plus the ratio of vegetarian (or vegan) is twice as much as the standard population's. It shows that people following certain diets not fully adopted by the society tend to look for easier alternatives, and find so in the meal replacements. This can be reflected on the European meal replacement market where only 5 out of 33 brands do not offer any vegan options and for 21/33 brands vegan is the default option (from the meal replacement list).
Sustainability and food waste are other topics users care about.
What is the aftermath of consuming these products?
The majority of people seems to keep their weight (57%), while 34% claim to have lost weight, and only 8% put on weight. However, this is not a very good metric without knowing the objective. Perhaps, it is more interesting to notice, that 36% of people claim to have notice improvements in their health (subjective), whereas only 1% claims is been for the worse.
Where do people buy their favourite products?
Currently, buying online at the sellers website is the preferred option. However, Amazon and in situ retail are some of the most requested features. Whoever is able to nail their offering and availability will have the advantage over the competition.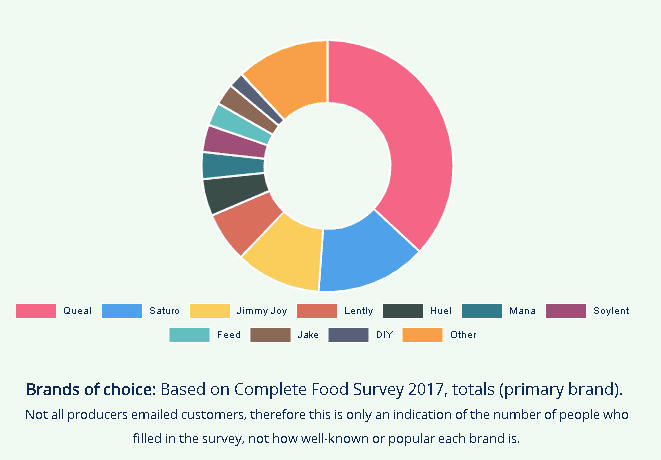 Brands that took part on the 2017 survey:
Feed. (EU)
Hol Food (CAN)
Lently (EU)
KetoGenesis (EU)
Trinkkost (EU)
Pulve (EU)
Complete Food Survey 2018, why should you care?

Now is the best time to have a say and shape the future. Meal replacement brands are looking for the perfect product, the best delivery method, the best way to serve you. Their survival currently depends on your satisfaction, because their market reach is limited and there is a lot of competition (mostly Europe). Now is when they are willing to listen, use it to your advantage.
Do you have any idea of how it could improve? Anything you dislike about the current market; shipping costs, overall cost, use of certain ingredients? Raise your voice and make it clear.
More information should also mean better products. Products evolved and optimized for the consumer needs.
Co-operation between brands should be encouraged to "normalize" complete foods and have them more easily available.
More interest also means more escrutiny and better regulations. We should care about scammy brands, badly researched products and potentially harmful shakes to ever making it to the market.
It would be a good document to show those who you are trying to convince to join the revolution.
You can earn €85/$100 worth of products for your hassle.
Yes, this will benefit the companies participating. It should ideally be done by a external audit backed up by more companies (including Jimmyjoy, Soylent and Huel; which currently are out). However, if participation is high in Survey's like this it will hint the other companies about the willingness for neutral and unbiased audits of the market.
Who is organising the Complet Food Survey?
Once again is Queal and Saturo taking the lead, and in charge of analysing the results. However, there are other brands supporting the survey, namely:
Runtime (EU)
Hol Food (CAN)
Lently (EU)
VitamineFood (EU)
MealSquares (USA)
Trinkkost (EU)
Vitaline (EU)
I find it interesting to notice that brands like Feed. and Pulve have dropped out, and that bigger brands like Jimmyjoy, Huel and Soylent are not participating. This will, unfortunately, create a bias in the market representation, once again.