JimmyJoy Review | Bring Back Joy to your Meals
One of the cheapest brands with their own unique style
Jimmyjoy, formerly Joylent, is one of the first Soylent alternatives born in Europe. Jimmyjoy was created to offer a cheap, enjoyable and healthy meal, for those occasions when eating is more of a formality than a social event. They have delivered over 15 million meals to 88 different countries! They currently offer not only one of the cheapest alternatives in the market, but also a wide variety of products, including vegan meal replacement shakes, a caffeine powered version, a sport version and a meal replacement bar. A jack of all trades, master of none? Let's figure it out in this Jimmyjoy review.
Our Opinion
We would say embrace Jimmyjoy's offer: have more fun by enjoying a very affordable, tasty meal, while saving time to be more efficient and happier!
What We like
Options in terms of flavours and number of products.
Price is supercompetitive in all shakes and bars.
Clear shipping cost in a easily accessible page (more should do this).
Nutritional balance and willingness to evolve.
Jimmyjoy, former Joylent, does indeed offer a fun, affordable and enjoyable alternative to other food replacements out there. We are very pleased with the different dietary options they offer, for people with different nutritional profiles. The caffeinated option and the sport option, besides the normal Plenny Shake at those prices are absolute bargains.
Looking at the nutritional aspect, Jimmyjoy does a good job of providing well balanced meal replacements. All macros are within the USDA and ESFA acceptable distribution range, low in the 'ugly' fats (saturated) and unnecessary added sugars. With the new Plenny Shake formula they have done a good job balancing the omega-3/6 ratio and the MUFA, PUFA and SFA balance.

Regarding the shopping experience, surfing around their website is straightforward, and we applaud their effort to make shipping costs and product costs clear, making planning the budget so much easier.
At last, hats off to their customer service, though, who have very neat details, such as, personally thanking twitter followers. Jimmyjoy's customer service is also quick and clear to answer any queries or needs.
What We dislike
Twennybar's nutrition is not as good as the shakes.
A taster bundle to sample all the different Plenny Shakes.
Canadian issue (I know it is not their fault).
Our only complaint regarding the nutritional aspect of JimmyJoy products is the Twennybar; which is unfortunately high in saturated fats and sugars (not so good for your health). We would recommend to use it moderately, either prior or post sporting activities.
While, ordering products is surprisingly easy, there have been some concerns about delivery times. For regular customers, we would strongly recommend going for a monthly subscription. For newcomers, disappointingly there is no taster bundle.
Shipping issues to Canada are a running gag in the industry. It is the Canadian laws and authorities which make it hard to get there, but that still means that accessing to Jimmyjoy while in there it is not possible. Please, let them have some joy, too.
Improvements
Update in Twennybar.
Excited to see the new RTD Jimmyjoy.
More flavours is always good.
I would like to see a non vegan option.
We would like to see some variations in the Twennybar, since at the moment it is nutritionally slightly unhealthy, high in saturated fats and sugars. Ideally, they would substitute the coconut oil which is used in order to produce them, since it is high in trans-fats. As far as customer experience goes, a clearer subscription program is needed for those who regularly want to enjoy Jimmijoy.
Besides, even though I understand that a lot of the brands are going for vegan products as environmentally friendly alternative, I would like to see whey protein in their line-up. At least a product, that comes with it. A non vegan Plenny Shake.
Let's see how the new ready-to-drink product tastes. We have very little doubts it will be a hit, but we will have to keep an eye -mouth?- on it.
What PRODUCTS does JimmyJoy offer
Jimmyjoy has different powder meal replacement variations (Plenny Shake, Plenny Shake Active) and the very popular meal bar (Plenny Bar), all which are suitable for vegans.
Plenny Shake
Meal Replacement
Powder
55C/15P/30F % of energy from
396kcal/meal
From €1.2/meal
Soy, Gluten
---
Plenny Shake Active
Meal Replacement
Powder
500kcal/meal
From €1.2/meal
Soy, Gluten
---
Plenny Bar
Meal replacement
Bar
387kcal/meal
From €1.9/meal
Soy,Oats
---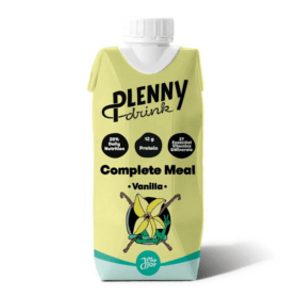 Plenny Drink
Meal replacement
Ready-to-drink
400kcal/meal
From €2.5 | $2.79
Soy, Gluten
Plenny Shake is the base for all their powder meals
Jimmyjoy Plenny shake is inexpensive, time-saving, tasty and the ideal meal replacement for almost anyone. The different flavours available are banana, strawberry, chocolate, mango and vanilla. All Plenny Shakes are now vegan; while before they used to have whey protein.
If you are looking for breakfast alternatives or need some extra caffeine to keep you going, Plenny Shake Wake-up adds 200mg of caffeine per serving! And if you lift or do cardio, check Plenny Shake Sport, with 57g of protein per serving, creatine and beta-alanine for a full pre- or post-workout meal!
Jimmyjoy's bar
Twennybar has almost 400 calories and 20% of all the nutrients you need on a day. The different flavours you can choose from are vanilla and chocolate. A healthy solid meal, without the hassle of having to shake!
All JimmyJoy products are vegetarian friendly, they even have the vegan shake, where they replace whey protein with a custom blend of hemp, rice and soy protein. The main ingredients are oat flour, soy flour, whey, maltodextrin, ground flaxseed and a vitamin mix (pretty standard base for any meal replacement product).
Protein
On average, the powder meal replacements offer 15g of protein per serving for a total of 75g a day (15% of total energy comes from protein). This is due to a recent change in their formula, where they readjusted the protein needs for the average sedentary consumer.

The protein according to Jimmyjoy comes from all the ingredients, although I expect most to be coming from oats and soy flower. I do not consider these sources ideal, and I much preferred their old whey protein formula, because it provided more Leucine, which is good for muscle growth and recovery.
Now, if you are looking to supplement your active lifestyle you will have to buy Plenny Shake Active, which only comes on Banana flavour for now. The active version provides with 34g per serving (500kcal), mostly reinforced with soy protein isolate. Once again, soy protein has been shown to be less effective than whey in muscle growth.
Fats
Jimmyjoy uses ground flaxseed and sunflower oil as source of fats. This was changed in a recent update. Jimmyjoy changed the fat source and balance in their Plenny Shakes. Their aim is to balance the omega-3/6 ratio closer to 1:3 (respectively) to match WHO's recommendations. More in the Plenny Shake review.
While their powder based meals have healthy amounts of fats and low saturated fats profiles, Twennybar raises the red flag, with higher fat and saturated fat content than expected for the amount of energy provided. Coconut oil is used in the making of these bars, which is higher than other oils (olive oil and sunflower oil, for instance) in trans-fats (keep them to minimum!).
Carbs
Unfortunately, Twennybar does also have higher than expected amounts of added sugar (13g of sugar per bar, when the upper limit per serving would be 10g). This, however, does not make them unhealthy! Quite the opposite, they are a very good pre- or post- exercise meal. We would not recommend solely eating Twennybars as form of meal replacement though.
Jimmyjoy Plenny, Sport and Wake-up all have medium carbohydrate profile and plenty of dietary fiber, making them very well balanced nutritional meals.
Allergens
The powder meal replacements contain soy flour and gluten. Twennybar may contain traces of eggs, as well as the mentioned above.
From the humble start of Joey Van Koningsbruggen's (Founder) bedroom in 2014, the company has grown with the help of friends, especially Sam Rohn (CEO), and has now grown to include 16 members!
Product packaging
Each of the products is delivered in bag's with a day of nutrients worth in it. Each serving is designed to cover one fifth of your caloric and nutritional needs. However, we would recommend not replacing every meal in a day!
The bags are wider now in Plenny Shake to make the scooping out of the powder easier. This bags are fairly handy, but they take a lot of space and if you are consuming you Plenny Shake at home, you might find that you would like a bigger bag. Furthermore, the zip on the bags feels really flaky.
For that reason, they developed Plenny Shake Big Bag (2.3kg per bag or 25meals) in collaboration with the customers and forum collaborators. They not only packed Plenny Shake in a bigger bag, but they also changed the formula.
They added extra protein (soy protein isolate) and removed maltodextrin in favour of more oats. In my opinion, this are very welcome additions and make Plenny Shake more attractive.
It is currently available in 3 different flavours: Vanilla, Banana and Chai Latte (limited edition).
Jimmyjoy shaker
Jimmyjoy provides all first users with a 1L shaker that is one of the best that I have received. It is not only big enough to make your shakes, but also does not leak at all and feels really sturdy. I have used it to carry my Plenny Shake around without any fear of leakage or breaking.
"Worldwide" Shipping
Jimmyjoy products are produced in the Netherlands and most of them are shipped worldwide, however, the US store still contains the old formula until the re-stock.
However, this is not the full picture. This worldwide shipping comes at a cost. Delivering anything to Australia will cost you at least AUD104! Probably as much or more than the actual order. So, perhaps, it is not a truly worldwide delivery.
One thing that we want to praise is that you can access all the shipping cost information in advance, unlike many who only show you when you checking out (hello, unpleasant surprises). You can see full shipping info here.
Oh, Canada
Dear Canadians, your borders and governmental laws can be a pain in the ass (sorry). Jimmyjoy, like many other EU brands, is having trouble to ship to CAN. Even when ship from the US to CAN is more expensive than shipping it to AUS. Yeah, not kidding. So we would recommend you looking at alternatives made in Canada instead, like Hol Food.
Great Customer service and Forum
Jimmyjoy is all about giving the customer fun and more time to have fun, thus their customer team is incredibly friendly and quick in response. You can contact them at [email protected] for any queries or questions about their products.
Alternatively, you can join their very active forum in order to share experiences with other customers and add your opinion to the discussions going on. The community is even helping them in developing a new name!
And this Jimmyjoy review is coming to an end, just some bonus info…
They have recently added a monthly subscription option of 15%! You will have to create an account and it will periodically renew (30 days). However, I think it might be worth it; this makes Jimmyjoy one of the cheapest products in the market.
If you want even more perks and discounts, you could use their refer-a-friend program and save up to 10% extra on their products! I know, a lot to think about in this Jimmyjoy review.
Verdict
Jimmyjoy is a great brand, especially for those who are looking for budget meal replacements. In fact, even if they offer budget products, their meals do not feel like it. They might not have the premium ingredients and feel like the most expensive brands, but they are within EU and US standards. I mean, it is not easy to rack up thousands upon thousands of positive reviews just like that. They must be doing something right.
Room for improvement? Of course. But we are really liking Jimmyjoy's journey within the MR industry.