Ketologic Review | Is the Keto 30 Challenge Worth It?
This is the Ketologic review, a look into the 30 day Keto Challenge to discover how good of a deal this is.
Ketologic is, as the name suggests, a brand focused on keto meal replacement shakes and supplements. However, their best selling product is the 30 day Keto Challenge Bundle, which mix and matches the aforementioned keto meals. Plus, this also includes free keto coaching and access to a dedicated community.
Sounds like a good bundle, yes? In this Ketologic 30 day Challenge review, I will discover if Ketologic is worth your money or you should look for something else.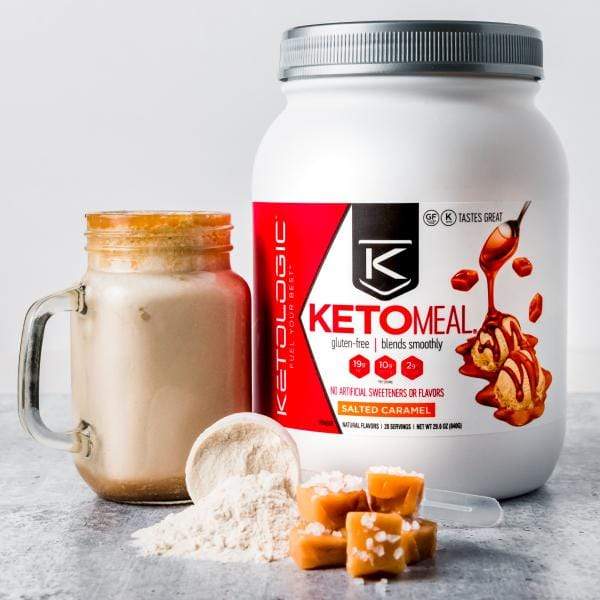 ---
Ketologic Review at a Glance
Flavours: Salted Caramel, Chocolate, Vanilla, and Strawberry.
---
Opinion
This Ketologic review has been sweet and sour.
On one side, I am a little disappointed with their primary product; Keto Meal (the meal replacement shake). It's just not up to par with the best keto shakes in the market. Nutritionally, it's too rich in saturated fats, and taste wise, there's something odd.
However, on the other side, the Keto 30 Challenge is a useful program/tool for those getting started with keto. It provides you with the meals, support and coaching (free).
As for the rest of the products, I feel that they are unnecessary. For instance, the BHB Exogenous ketones are not needed in a keto diet; while the the electrolytes might be more useful.
What I like
1. Plenty of flavours available. This is often a struggle for keto shakes.
2. No artificial sweeteners. These can often cause trouble with your ketogenic state.
3. Keto 30 day challenge can be useful for beginners. Particularly when you consider you get free coaching and community support.
4. OK price.
5. Free shipping after $39.
What I dislike
1. Saturated fats through the roof. 87% of your DV in 250kcal is just too much. Even more, when a lot of them come from coconut oil.
2. Fails to deliver key nutrients & micronutrients. No omega-3, no iron, only 8% of calcium… These are key nutrients for a meal replacement.
3. Quality of ingredients. There's no arguing that the formula is a little cheap; filled with creamers.
4. Keto 30 Challenge Premium includes unnecessary products.
5. No starter pack or samples.
6. No bulk discounts. I feel that Keto Meal should be cheaper when bought in bulk.
Improvements
1. Add the key micronutrients that are lacking.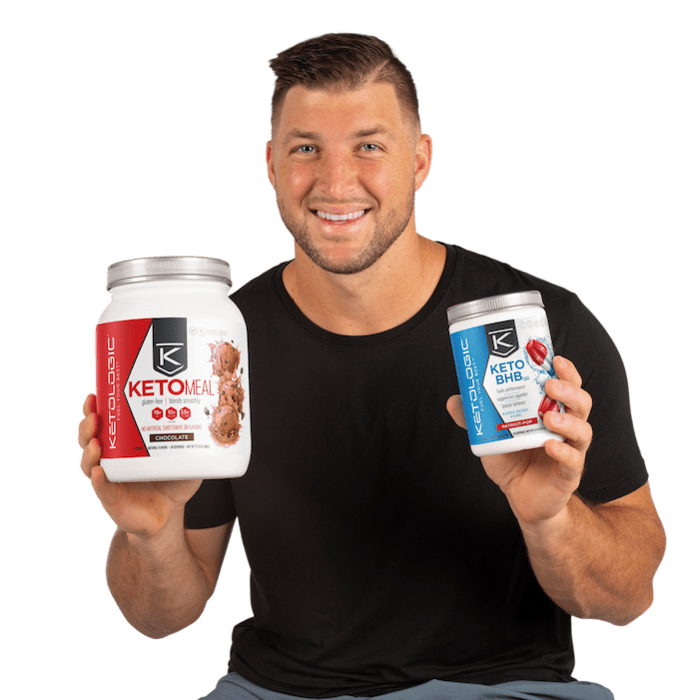 Nutritional Breakdown
As far as nutrition is concerned, Ketologic opts for more processed ingredients (coconut oil creamer, soluble corn fibre) etc; than some of the more natural keto shakes. Plus, the recommended serving is also smaller at 250kcal; more fitting of a snack rather than a meal.
Besides, you will see what you would expect from a keto shake: plenty of fats, MCTs; very low net carb content; and no sugar. It is also without artificial sweeteners, gluten or soy.
Ketologic Keto Meal Nutrition Overview
| | |
| --- | --- |
| | Keto Meal |
| Kcal/meal | 250 |
| Macros (C/F/P) | 16/16/68 |
| Vegan | No |
| Keto | Yes |
| Features | GF, SF |
| Non-GMO | No |
| Organic | No |
| Includes Probiotics | No |
| Artificial Sweeteners | No |
| Synthetic Additives | Yes |
| Contains All Micronutrients | No |
| Controversial Ingredients | Erythritol |
Based on Salted Caramel.
Coconut Oil Creamer (Coconut Oil, Soluble Corn Fiber, Sodium Casinate, Sunflower Lecithin, Silicon Dioxide), Whey Protein Concentrate (Whey Protein, Sunflower Lecithin), Dutch Process Cocoa, Erythritol, MCT Oil Creamer (Medium Chain Triglycerides, Nonfat Dry Milk, Disodium Phosphate, Silicon Dioxide), Natural Flavors, Sea Salt, Magnesium Oxide, Calcium Carbonate, Steviol Glycosides (Stevia rebaudiana), Cellulose Gum, Xanthan Gum, Carrageenan , Ascorbic Acid, D-Alpha-Tocopheryl Acetate, Copper Gluconate, Niacinamide, Zinc Oxide, Cholecalciferol, Lactase, Calcium Pantothenate, Biotin, Vitamin A Acetate, Potassium Iodide, Pyridoxine HCI, Thiamine Mononitrate, Riboflavin, Folic Acid, Cyanocabalamin
Carbohydrates
Based on 250kcal serving:
Total Carbs: 9g, 3% of DV.
Sugars: 1g.
Of which added: 0g.
Sugar alcohols: 3.5g.
Fibre: 3.5g, 13% of DV.
As it's usual, the carbohydrate content is way below standard meal replacements. In fact, the net carb content of Keto Meal by Ketologic is 2g (total carbs -fibre – sugar alcohols).
Perhaps, the most note worthy thing when comparing to some of the best keto shakes is the presence of sugar alcohols. These are sugars that are not digested by the body and thus don't have an effect in your blood glucose. In this case, Keto Meal contains Erythritol.
Currently, most keto experts consider erythritol safe to consume in a keto diet.
Otherwise, there's not much, besides some soluble corn fibre making the rest of the carbs. Arguably, not the best quality fibre.
Protein
Per 250kcal serving:
Total Protein: 10g, 20% of DV.
Source: whey protein concentrate.
To the surprise of nobody, Ketologic's keto shakes contain whey protein concentrate as primary source. In fact, there are very few plant-based keto shakes (KMS); thus most use milk or whey protein in their keto powders.
Either way, there's no issues with whey protein concentrate; as it is the golden standard of protein sources. It has a complete amino acid profile, and it's easily absorbed by the body. Thus, making it perfect as a nutrient source.
Fats
Per 250kcal serving:
Total Fats: 19g, 24% of DV.
Saturated Fats: 17.0g, 85% of DV.
Omega-3s (ALA): ?g.
Omega-6s: ?g.
Last but not least, we have the fats, the most important aspect of the keto shakes. In Keto Meal, they will be providing you with 68% of the energy.
Most of it comes from the coconut oil creamer; and the rest from the MCT oil creamer. Both are really high in saturated fats (MCTs are a form of saturated fats), almost to an excessive amount. While the MCT creamer might provide you with shorter chain MCTs (which are consider better); the coconut oil is mostly lauric acid.
Unfortunately, this fatty acid takes longer to break down and it's less efficiently used as fuel.
Furthermore, despite the prevalence of fats, I fail to observe any good sources of omega-3 fatty acids which are essential for proper brain function. Similarly, there's a noticeable lack of omega-6 fatty acids, which are equally important.
All in all, Keto Meal's fat profile is too imbalanced.
Micronutrients
Besides, Ketologic shakes will provide you with at least 21 vitamins and minerals. However, in few other shakes you get up to 27 essential micronutrients.
On top of that, it's odd to see that the shakes fall short in Calcium (8%), Iron (0%), Potassium (2%) and Phosphorus (4%). These minerals are quintessential for a healthy diet.
Allergens
In the Keto Meal drinks you will find coconut, and milk. However, the manufacturer also states that the powder has been made in a factory that handles eggs, soybeans, wheat, shellfish, fish oil, tree nuts and peanut flavour.
More about Ketologic

Learn about Ketologic, Review
As the name suggest, Ketologic was born to provide a logical approach to health, nutrition and fitness. Their main objective is to do so through the ketogenic lifestyle and to provide products that can sustain this in an easy way.
The founder, Mike McCandless, started Ketologic when he had to lear about the keto diet after a tragedy in family. Since, he's focused on providing one healthy meal that won't overwhelm you.
Ketologic's Mission
Our mission is to help empower you with the resources you need to make better decisions about what goes into your body. Here you'll find research-backed insights and practical advice from our seasoned keto experts to help you Fuel Your Best®.

Ketologic site.
Ketologic Products
So, I've been reviewing the Keto meal; the powder based ketogenic meal replacement. However, this is not the only product Ketologic offers.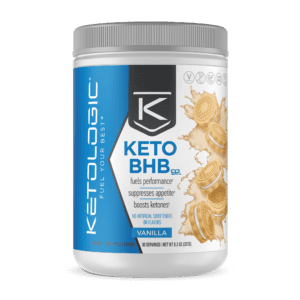 BHB Exogenous Ketones
Exogenous ketones
15kcal per serving
It's meant to help with ketone production and feeling of energy
5 flavours available: Vanilla, Chocolate, Patriot Pop, Orange Mango, and Pear-Apple
Keto Snack Bar
Keto friendly bar
190kcal, 5g of net carbs
Gluten free, soy free, no added sugars
Only available in one flavour: Chocolate Hazelnut
Plus, the Keto 30 Challenges. As a matter of fact Keto 30 Challenge should perhaps be the main focus of this review; since it's their best selling product.
Keto 30 Challenge Review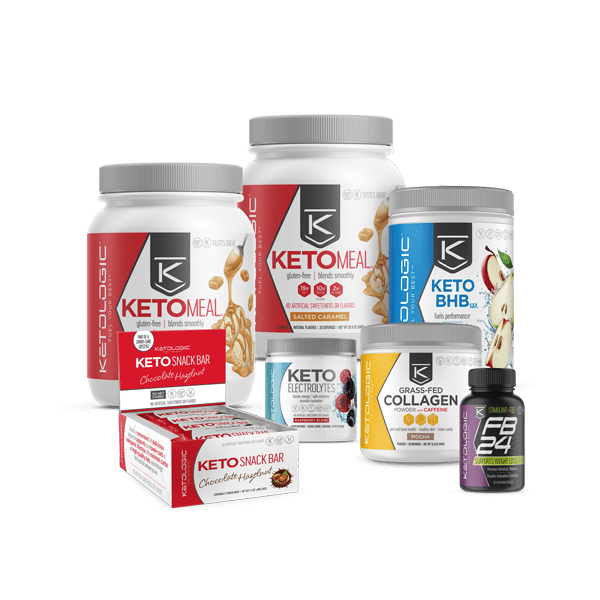 So what's this 30 day keto challenge by Ketologic?
In short, it's a bundle that makes going keto (or following a keto diet easy). With that goal in mind, they provide you with:
Keto powder meals (Keto Meal),
Keto supplements (Keto BHB, electrolytes, collagen, snack bars…)
Detailed step-by-step keto plan
Access to coaches and community support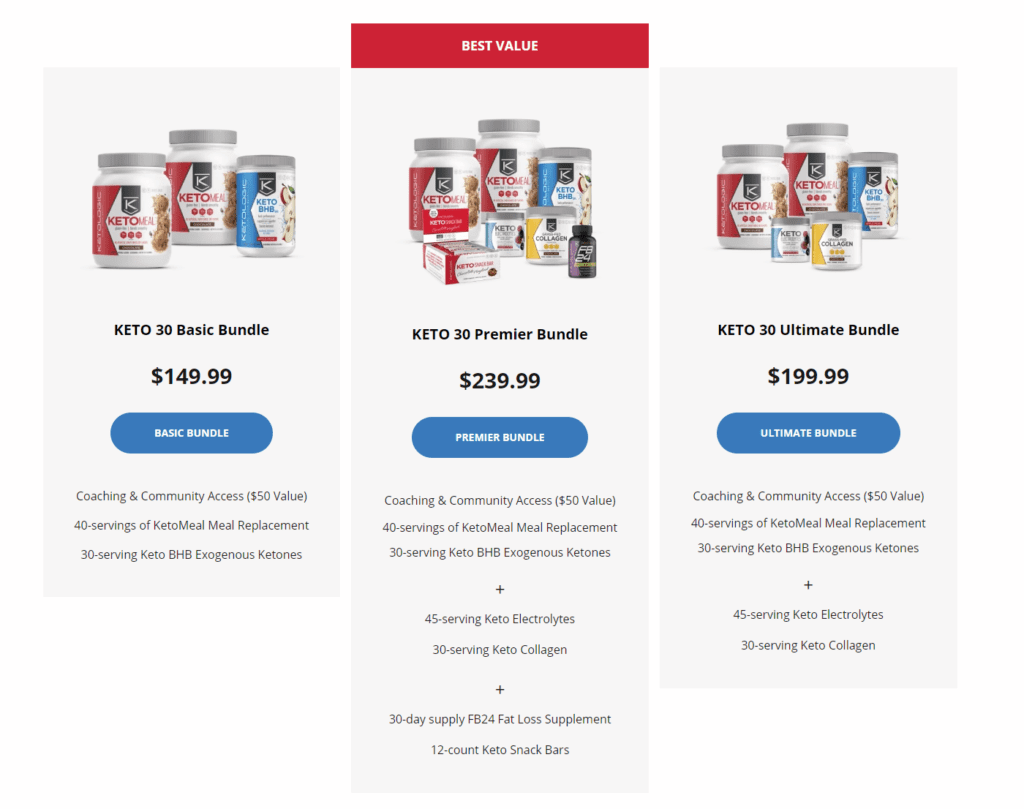 Ultimately, is Keto 30 by Ketologic a good deal?
If you are a beginner or the type of person who struggles to stick to things on its own it might be worth it. As a monetary thing, I believe that most keto supplements are unnecessary; with the exceptions of electrolytes (to avoid keto flu).
Instead, I would look to buy more of the best keto meal replacements for that money (you can buy more than 80 meals).
Pricing & Shipping
Coming back to the Keto Meal review, let's see how expensive this meal replacement is: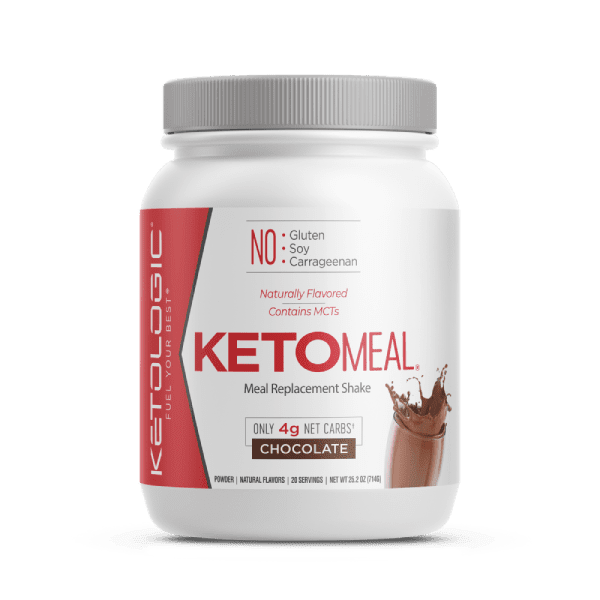 20 serving (840g) –> $2.5/meal; $49.99 per bag.
With subscription (15%): 20 serving tub –> $2.13/ meal; $42.49 per bag.
Unfortunately, Ketologic does not offer any subscription or bulk discounts. So how does this compare to other keto drinks?
| | | | | |
| --- | --- | --- | --- | --- |
| Price ($)/400kcal | Ketologic | HLTH | Sated | Ample K |
| Expensive | 4.00 | 4.00 | 3.00 | 5.27 |
| Cheap | 3.40 | 3.33 | 2.40 | 4.48 |
Note that the Ketologic serving has been adjusted to 400kcal.
Shipping
If you are interested getting Ketologic you must live in one of the following countries:
USA: Free shipping after $40.
CAN: Free but you need to pay some taxes.
UK and SA: $25 for international shipping.
Sadly, if you live in Europe, you will not be able to purchase Ketologic.
Ketologic Keto Meal vs
During this Ketologic review, I've been doing a few references to other keto meal replacements. The truth is that in the US, they are quite popular, and there's a good array of options to choose from. For instance, you have the more natural Ample K; or on the other hand, the more affordable Sated shakes.
Thus, here is a small comparison between Ketologic Keto Meal vs other keto shakes.
Overview
| | | | | |
| --- | --- | --- | --- | --- |
| | HLTH | Ample K | Sated | Ketologic |
| price ($)/400kcal | 4.00 | 5.27 | 3.00 | 4.00 |
| kcal/serving | 400 | 400 | 400 | 250 |
| Macros (C/P/F) | 12/27/61 | 10/13/79 | 5/18/79 | 16/16/68 |
| Protein (g) | 27 | 13 | 18 | 10 |
| Sugar (g) | 2 | 1 | 0 | 1 |
| Fiber (g) | 9 | 5 | 6.7 | 3.5 |
| Fats (g) | 27 | 35 | 35 | 19 |
| Net Carbs | 4 | 3 | 1 | 2 |
| Vegan | N | N | N | N |
| Organic | N | N | N | N |
| Real Food based | Y | Y | N | N |
| Artificial Sweeteners | N | N | Y* | N |
| Synthetic Additives | Y | N | Y | Y |
| GMO | N | N | N | ? |
Most expensive prices shown.
Out of the 4, only Sated and HLTH are complete (offer all the essential nutrients per shake). Ample K lacks some vitamins and minerals; whereas Ketologic does not have essential omega-3 fatty acids.
Besides that, it must be said that HLTH and Ample K are the most natural shakes out of the three. On the other hand, Sated offers more flavours than the rest and it's also more affordable.
Ketologic vs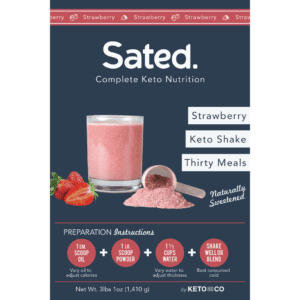 Sated Naturally Sweetened
I have listed it as my favourite keto shakes. This is due to the Sated triple threat: great nutritional output; very affordable; and good tasting shakes. Plus, they have over 6 flavours you can choose from. All in all, it's a better well rounded keto shake than Ketologic Keto Meal.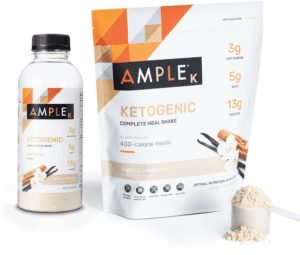 When it comes to taste, there're very few shakes that can compete with Ample K Chocolate. Consequently, Ketologic is a little worse in this department; although they do offer more flavours. Nutritionally, I personally prefer the more natural approach Ample takes, with higher quality ingredients.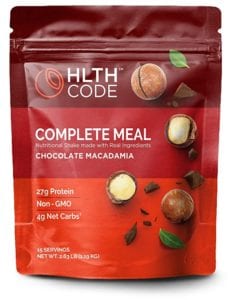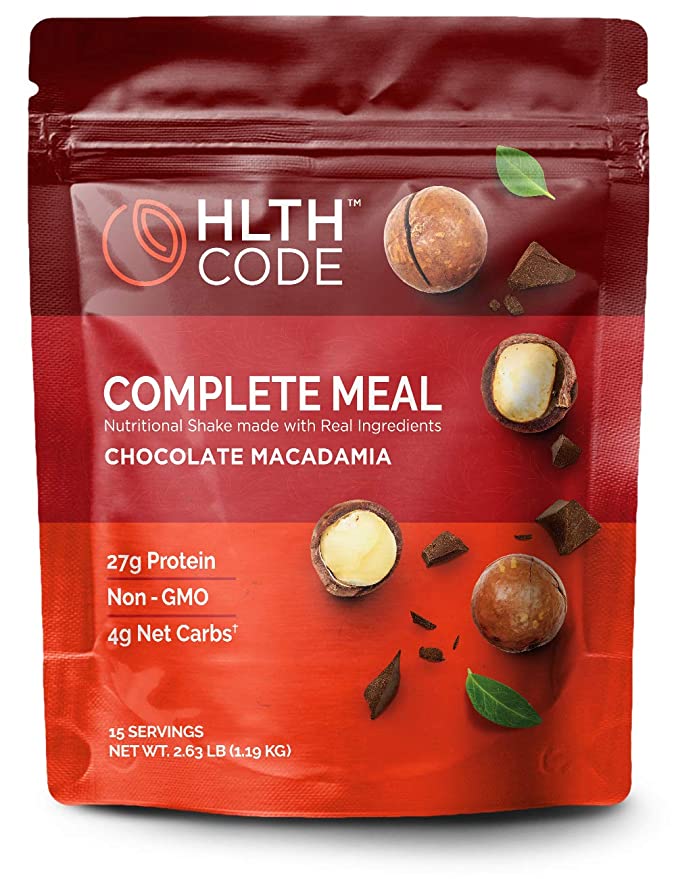 HLTH Complete Meal
Finally, one of the shakes that I've discovered more recently. HLTH's keto shakes are honestly some of the best tasting shakes. They have no added additives (colouring, preservatives, sweeteners); and provide you with 27g of protein. In my opinion, HLTH not only outshines Ketologic nutritionally, but it also has a cleaner taste.
In case you are not looking for a keto shakes, you can look at my compilation of the best meal replacement shakes. In there, you will find all kind of shakes; from low sugar, to high calorie shakes.
Ketologic FAQ
How do Ketologic shakes taste?
Ketologic's Keto Meal drinks taste very sweet for a keto shake.


Is Ketologic vegan?
No, they have protein derived from dairy.


Is Ketologic Keto 30 day challenge good for weight loss?
All keto shakes are effective for weight loss, particularly in short term. The 30 day challenge will help you with the structure and planification; as well as providing you with good keto meals.


Are the Ketologic BHB Exogenous Ketones worth it?
If you are following a keto diet, you don't need to get extra ketones. Thus, I don't think they are worth your money.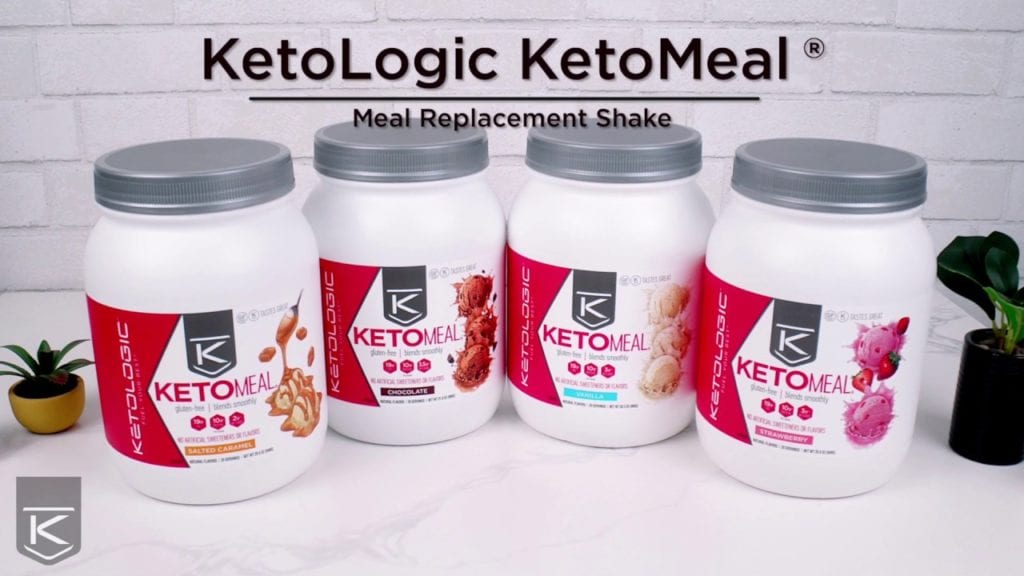 Verdict – Ketologic Review
As summed up during this Ketologic review; this is a company that mainly focuses on keto meal replacements, supplements, and primarily on the Keto 30 Challenge.
Regarding the meal replacement, Ketologic Keto Meal, it must be said that it's not a bad shake; but it's far from being the best. While the taste and flavours are OK; they taste more artificial and chalky than close competitors.
Nutritionally, they are also weaker, with no real omega-3 source and too many saturated fats (even for a keto shake).
Plus, they are not the cheapest shakes; thus, I would recommend staying away from Ketologic keto shakes.
As far as the Keto 30 Challenge is concerned, this will be helpful if you are not good/confident with the diet. It will provide you with the structure and support (from coaches), as well as the meals you require. As long as you are willing to pay extra for that insurance, it's OK.
Ketologic Keto Meal
From $2.50/serving
Pros
Good array of flavours
Keto 30 Challenge is helpful/useful for beginners
Free US shipping after $39
No weird aftertaste
No artificial sweeteners
Cons
Way too many saturated fats
Cheap ingredients
Lacks key nutrients (including omega-3)
Feels expensive for what it is