It's been awhile! Did you miss me? Good to be back on LatestFuels, and this time with the KOS review!
Named after a small Greek island off the coast of Turkey, KOS produces a family of certified organic, plant-based nutritional supplements which include protein powders, supplements and functional ingredient powders such as coconut, beetroot and lion's mane.
KOS was also the birthplace of Hippocrates—the ancient Greek health enthusiast, and today's anointed "Father of Medicine".
As it relates to protein powders, they contain between 140 to 170 calories per serving, 20g of protein, 5 to 10 g of carbs and 6g of fat. Also of note, KOS contains 13 individual micronutrients ranging between 2% and 90%, with no added sugar. Micronutrients can provide you with a significant boost to your health and physical performance.
According to SPINS, a data technology firm focused on the wellness market, KOS was the fastest growing plant protein brand in 2021 by total distribution in the natural channel. 
Sounds like KOS is really taking a foothold in the industry, but are their protein powders any good?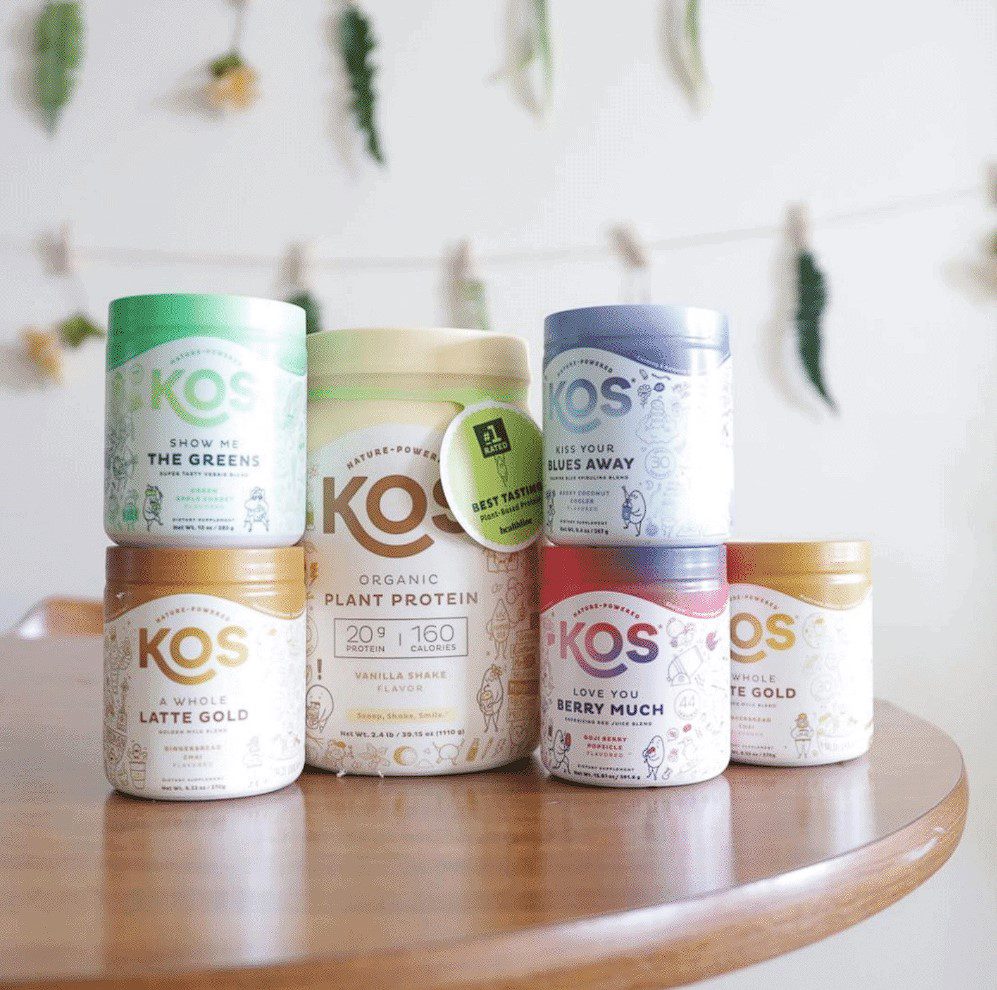 ---
KOS Review at a Glance
Flavours: Unflavored, Vanilla, Chocolate, Chocolate Peanut Butter, Chocolate Chip Mint, Salted Caramel Coffee, Blueberry Muffin
---
Opinion
Looks like we have another organic product to take a look at. This will surely peak the interest of some, but for me, only if it tastes good. The origin and quality is certainly important, but often they fail to deliver a good tasting shake.
Before I jump in, there are a few things that jump out to me. For once, I think they've done an excellent job presenting their brand. This is, how much care is placed not only in a product's ingredients, but also how much attention to detail is placed in its branding, packaging, presentation, customer focus and retail channel positioning. All of those matter, and KOS looks like its fully invested in all of those things, even before I prepare my first shake.
What We Like
1. Seven flavors! Three chocolates, a coffee and fruit flavor. All bases covered!
2. Bulk discounts. Nice option to save for those who don't want to subscribe.
3. Scaled sizes. They offer samples, 14 & 28 serving sizes
4. Caffeine content clearly listed. Finally! Someone is listening!
5. Design/Branding. I think they've done a really good job here on the product and webpage.
What We Dislike
1. Texture is iffy. Being organic, it won't be perfect, but lots of particulate in the shakes.
Nutritional Breakdown
From a nutritional standpoint, the graphic below provides a brief summary of what you can expect with KOS. The highlights include KOS being fully plant-based shakes, including omega-3 essential fatty acids even organic greens.
All of these extra ingredients are there to tackle various areas of nutrition. KOS does not only want to provide you with the protein you might need to replenish from your exercise, but also boost your overall health.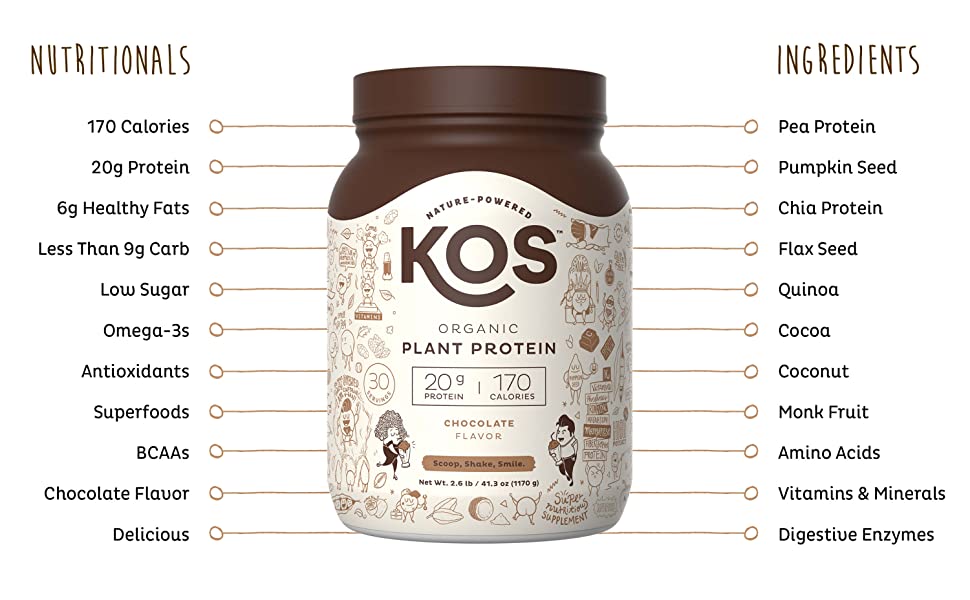 KOS Nutrition Overview
| | |
| --- | --- |
| Kcal/meal | 140 – 170 |
| Macros (C/P/F) | 14/52/34 |
| Vegan | Yes |
| Keto | No |
| Features | Gluten Free, Nut Free, Soy Free, Dairy Free, Low Carb |
| Non-GMO | Yes |
| Organic | Yes |
| Includes Probiotics | Yes |
| Artificial Sweeteners | No |
| Synthetic Additives | No |
| Contains All Micronutrients | No |
| Allergens | Peanuts |
Exact calories will vary with the flavour. Please check the labels.
Ingredients (based on Vanilla): Organic Pea Protein, Organic Flax Seed, Organic Quinoa, Organic Pumpkin Seed Protein, Organic Chia Seed, Organic Coconut Milk, Organic Inulin, Organic Coconut Sugar, Organic Acacia Gum, Organic Plant-based Vanila Flavor, Organic Stevia, Natural Plant-based Fruit and Vegetable Flavor Blend (Tomato, Broccoli, Carrot, Shiitake Mushroom, Cranberry Apple and Orange), Sea Salt, Natural Monk Fruit Extract Flavor. Contains Tree Nuts. Amylase, Protease, Lipase, Lactase, Cellulase.
Carbohydrates
Based on 150kcal serving:
Total Carbs: 9g, 3% of DV.
Net Carbs: 7g, (Total Carbs – Dietary Fiber – Non-digestible Carbs)
Sugars: 2g.
Fiber: 2g, 8% of DV.
While not a keto product, KOS is very low carb. Most protein powders will contain minimal carbohydrate content, since they aim to provide you with the most protein possible.
Also, KOS has no artificial sweeteners, and gets its sugars from coconut sugar, stevia and monk fruit for certain flavors.
Protein
Per 150kcal serving:
Total Protein: 20g, 46% of DV.
Source: Pea, Rice, Quinoa, Pumpkin, Flax & Chia
KOS offers a complete protein derived from several sources, seemingly every vegan source they could find.
Pea and rice are a very common pair, as they are affordable plant-based protein sources that give you a complete amino acid profile. Quinoa and pumpkin are also popular. While on their own are not the best sources, they can be a nice complementary source.

Fats
Per 150kcal serving:
Total Fats: 6g, 8% of DV.
Saturated Fats: 4g, 20% of DV.
MCT: ?
Organic coconut milk provides the 6g of fat per serving. This is also the source of the saturated fats, which is without a doubt rather high for a protein shake.
Though the amounts are unlisted, omega-3s should be in generous supply from the organic flax seeds present in KOS. That said, I would not rely in KOS as sole source of omega-3, and I would look to supplement it.
Micronutrients
KOS contains 13 micronutrients, not bad for a protein shake. Many of these are significant amounts such as 15% of zinc, 30% of iron, and 45% of vitamin B12.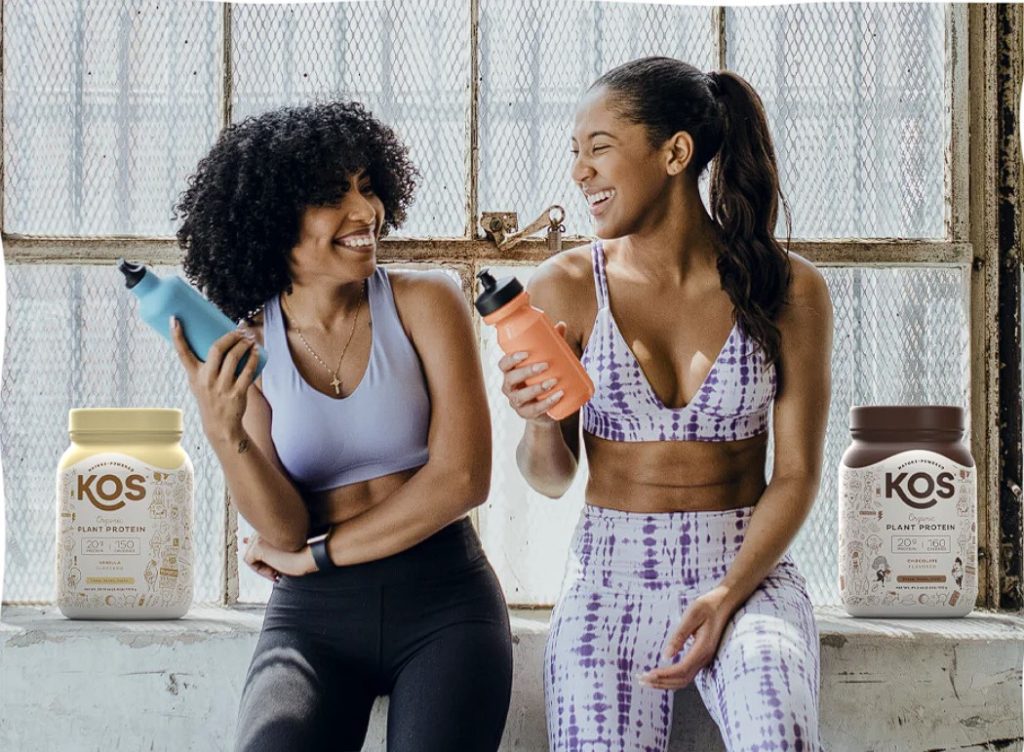 Allergens
The peanut butter flavor contains peanut flour.
Taste Test
Best flavour
Chocolate Peanut Butter
Taste
Majority of them were really good!
Texture
Not great. Gritty with water, only slightly better with milk. Best blended with additions
Satiety
Around 90min.
Easy to Clean
Nope! It will really stick to the bottle. Wash immediately!
After
Thoughts
While only ok on its own, it can be made quite good with some creative additions.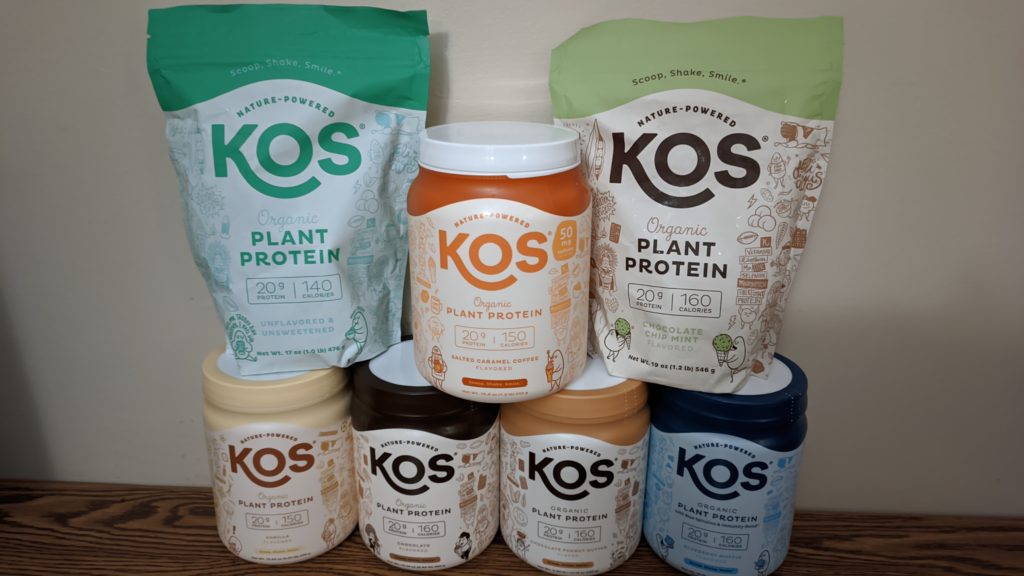 We have every flavor in the house! As you can see above, some are in tubs, and others are in bags. KOS is transitioning from tubs to bags, so its a coinflip as to which you will get for the moment. The bags use up to 78% less plastics than the bags. The new bags are also made from up to 20% of materials retrieved from ocean waste. A noble cause indeed!
Starting this test drive with the base model. It smells very earthy, making me curious how it will actually taste. Well lets find out…
Unflavored/Unsweetened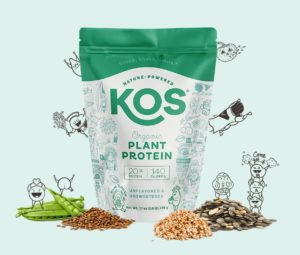 Has a strong pea/seed flavor. Definitely not undrinkable, but I wouldn't want to have it again solo with just water. Additions are a MUST for this. I'd also suggest ones with strong flavors. In that context, I'm sure it will be good.
Vanilla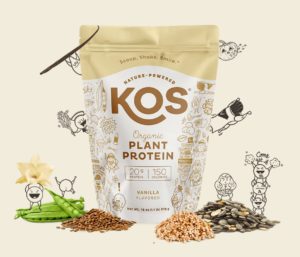 This vanilla is interesting. Being organic, KOS does not have the luxury of adding anything artificial to make it taste like frosting or ice cream, so it has an almost buttery taste to it, like sweet croissant. Not what I'm used to, but definitely not bad.
Chocolate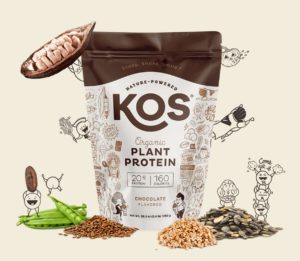 A very rich chocolate flavor, quite good. Nothing special about it, but should blend well with additions.
Chocolate Peanut Butter
You can smell the peanut butter pretty prominently. It's very good, a great balance of both flavors. Chocolatey with PB undertones. The winner of the chocolate flavors.
Chocolate Chip Mint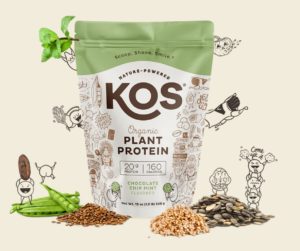 The mint is strong in this, almost too strong. It doesn't taste bad but has a menthol effect to it. It does taste like mint chip ice cream, but they may have to dial the mint back a bit. The worst of all the chocolate flavors.
Salted Caramel Coffee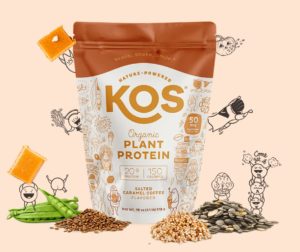 Smells pretty good, a lot like caramel popcorn. Taste wise, it's not bad. It's decently sweet and has a good flavor. I liked it, but my little one loved it, and went back for more. Something tells me that this taste test will be all I get of it with her around.
Blueberry Muffin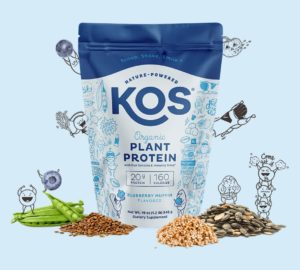 Most excited about this flavor as it's not one you see often. You can see small blue & purple bits of blueberries in the powder. Initially, the taste is so bold it's almost off putting, but stick with it, it gets better. A few more sips in, and I found myself enjoying it.
Summary
Honestly, pleasantly surprised by these, they were all pretty good. I really enjoyed the variety they provide, and the flavors were bold, and different. They were as expected in regard to hunger, which was about 90min or so.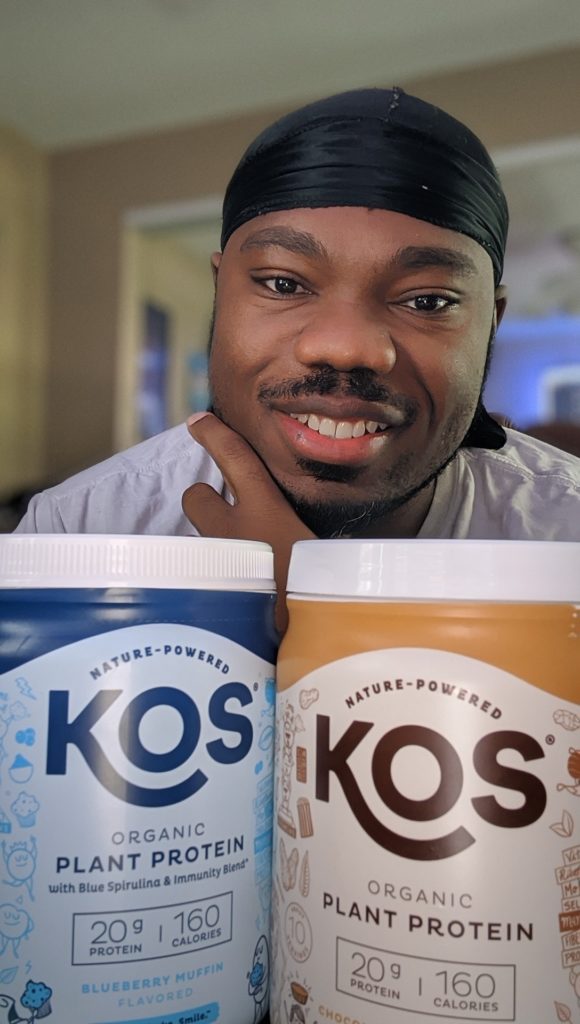 Where they have work to do, is the texture. I cut it some slack, being organic and all only gives them so much wiggle room, but if anything, that was a sore spot if drinking solo. With fruit and milk though, no issues.
More About KOS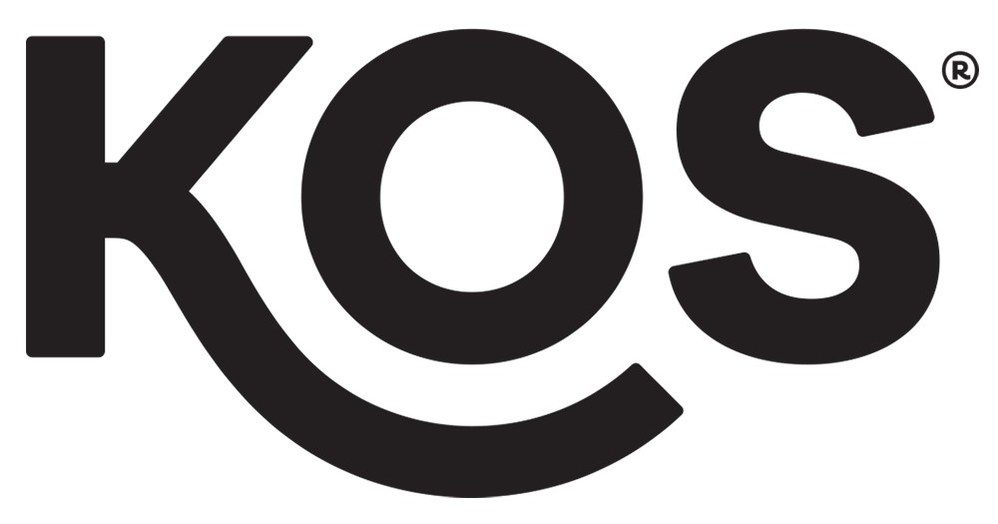 KOS was founded in 2017 by Allen Steven, and Tony Stahl. After the loss of a close friend, they embarked on creating a product that helps everyone take a healthy path forward and to retake control of their lives. Based out of California, KOS prides itself on its non-GMO, certified organic products that omit additives, fillers and artificial sweeteners.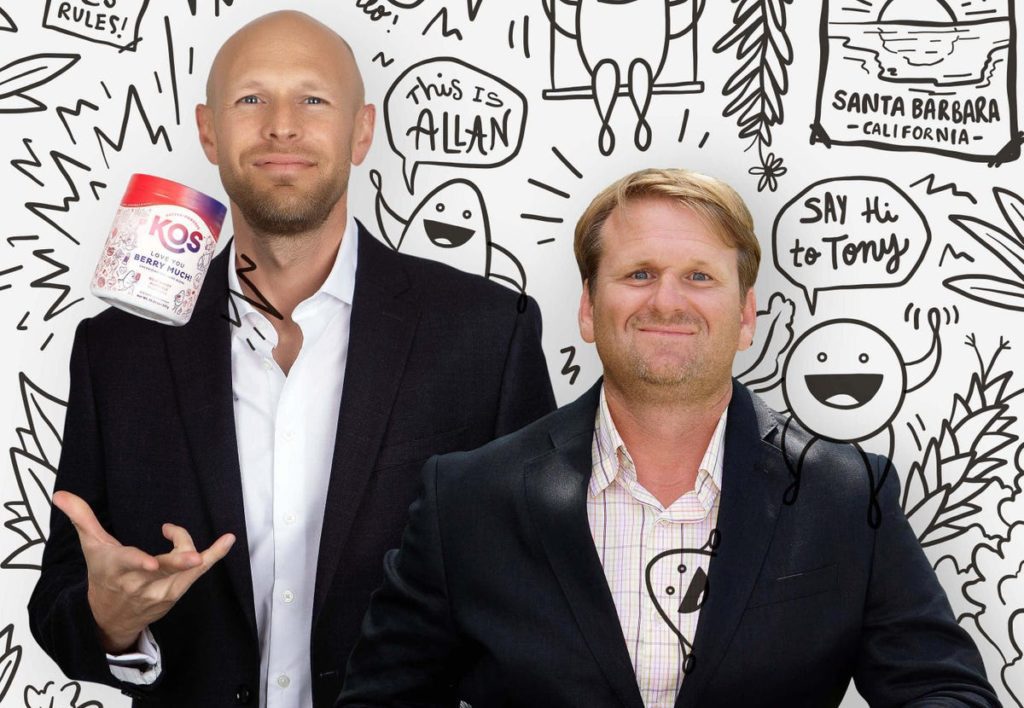 The cornerstone of human nutrition is protein, and the KOS mission begins there. We produce a vegan, plant-based protein additive. This is a proprietary formulation we mix in small, artisanal batches in our own lab. You won't find KOS in your local grocery hangar, huge plastic tubs of weird powder stacked into impulse-buy pyramids. We want to get personal, have a conversation. We offer a small-batch, boutique, totally plant-based protein product made out of the good stuff that springs from the soil. Transparent ingredients transparently sourced. Our mad scientists are farmers.
Pricing & Shipping
KOS can be purchased from their webpage, as well as Amazon. Its is also available at many local retailers such as Walmart, CVS & Whole Foods. They offer a 15% discount with subscription orders and will deliver at intervals of 30, 45, 60 or 90 days.
If subscribing is not for you, they offer discounts on multiple bag purchases. If you order 2 packs, you'll get $10 off…if you order 3 packs, you'll get $30 off! Even the samples qualify for this discount, where you can save $2.39 off a purchase of three.
Shipping is $8 flat rate for orders below $50. Above $50, and shipping is free.
Product
Total Price
(Non-sub/sub)
Serving Price
(Non-sub/sub)
Bulk Discount
(2pk/3pk)
Bulk Discount – Serving
(2pk/3pk)
14 Servings
$35/$29.74
$2.50/$2.12
$63/$84
$2.25/$2
28 Servings
$50/$42.49
$1.78/$1.52
$90/$120
$1.60/$1.42
Other Offerings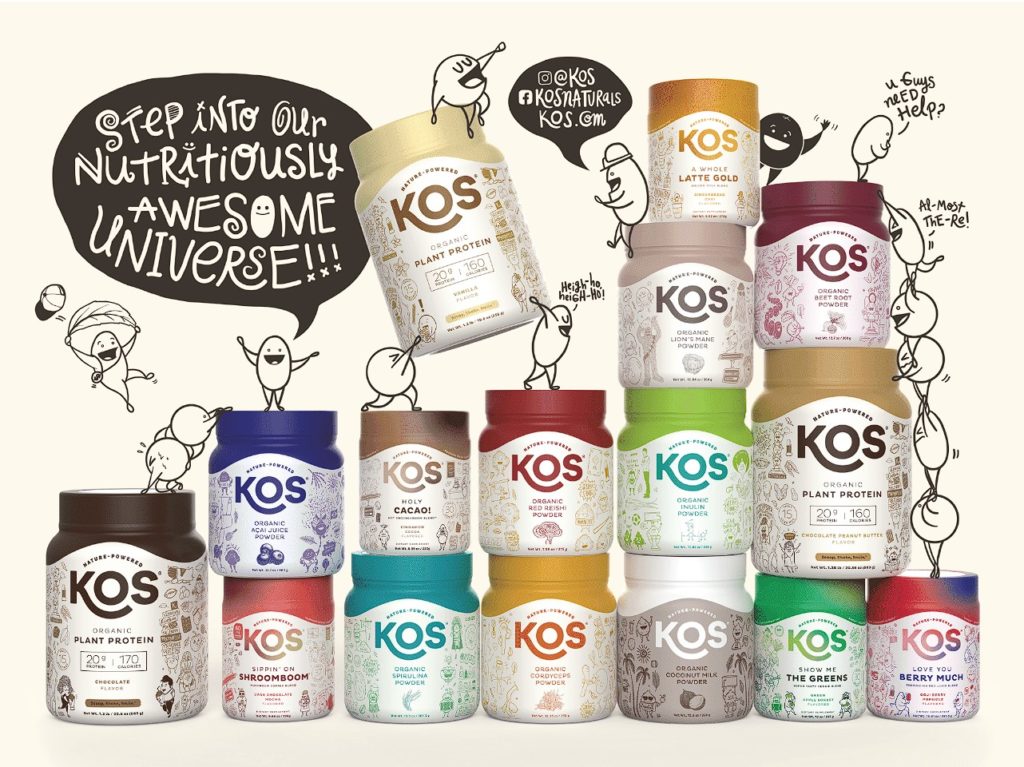 As mentioned, KOS offers many other products in the wellness category. This includes functional ingredients, specialty blends and supplements which come in capsule or gummy form.
Check out their webpage for more information the many additional products they offer.
KOS vs. The Competition
So I wanted to look at KOS and contrast it against other protein shakes that I've tried, and reviewed.
LyfeFuel's Recovery Shake is a protein shake designed for post workout recovery. They emphasize quality nutrition over calorie counts and prirotize the usage of high quality ingredients.
Check out our review of LyfeFuel!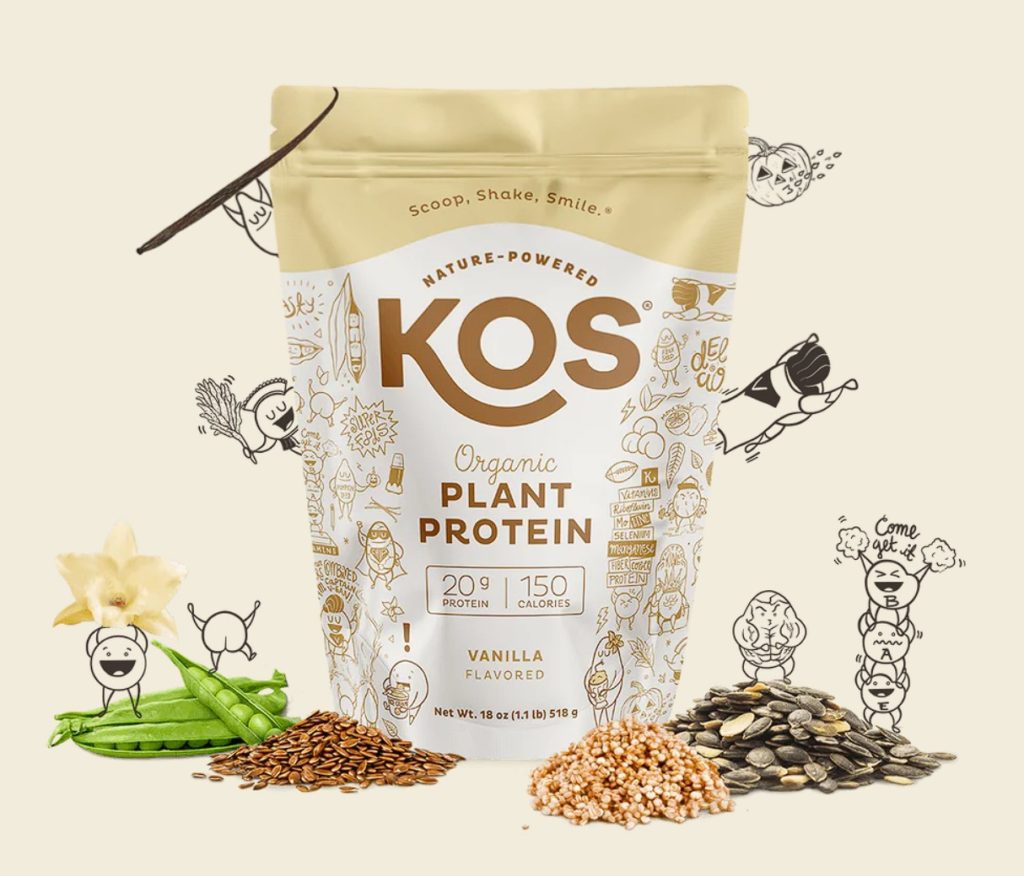 Also in the race is another Californian brand, Four Sigmatic. They also specialize in organic protein powders with a twist: adaptogens!
Head to Head
Category
KOS
Four Sigmatic
LyfeFuel
serving price
$1.78
(USD)
$2.67
(USD)
$2.08
(USD)
kcal/serving
150
150
140
servings per bag
28
15
24
Packaging
Bag
Tub
Bag
Flavors
7
4
2
Protein (g)
20
18
25
Sugar (g)
1
4
3
Fiber (g)
3
2
1
Fats (g)
3.5
8
3
Carbs (g)
5
10
6
Vegan
Y
Y
Y
Certified
Organic
Y
Y
N
Micronutrient
13
4
9
Artificial Sweeteners
N
N
N
Synthetic Additives
N
N
N
GMO?
N
N
N
Protein Source
Pea &
Flax
Pea, Hemp, Chia
Pea &
Rice
Availability
US
US, EU
US
Other Products
Many
Coffee Creamers
Meal Replacement
KOS vs. LyfeFuel
KOS and LyfeFuel Recovery Shakes compare favorably, and are literally trading blows in many key areas.
KOS comes in a bit cheaper, you get more servings, is certified organic, and has seven flavors to choose from. KOS has a better vanilla, while LyfeFuel has a better chocolate when it comes to taste.
LyfeFuel, while not certified organic is confirmed to source excellent ingredients, and does edge KOS in the protein department. Lyfefuel also has the Daily Essential Shake which includes all the essential nutrients you need per meal and it's loaded with nutrients (27+ as opposed to 13). This includes more omega-3s, significant quantities of all vitamins and minerals (including B12, A, K2, D…) and more fiber.
The latter is one of my favourite meal replacement shakes, and I highly recommend it.
KOS vs. Four Sigmatic
While they have a lot in common, Four Sigmatic's plant based protein powders have also very distinct characteristics that makes them really appealing.
Regarding the similarities, both are plant-based, free of artificial sweeteners, without soy or gluten, and natural. However, Four Sigmatic adds Lion's Mane, ashwagandha, chaga and other mushrooms that provide you with a significant boost to your mental health.
While KOS might have more nutrients, Four Sigmatic's protein powders will help you with your mood, energy levels and stress (as well as providing you with a protein boost).
Thus, it will depend on what you are looking for!
KOS FAQ
Can KOS be used as a meal replacement?
KOS protein powder can be used as a meal replacement or an everyday snack. We strive to provide you with the best ingredients to nourish your body with no extra additives, stabilizers, preservatives, or fillers so you can feel good about including it in your diet with or without exercise!


Can KOS protein help me gain weight?
KOS plant-based protein powder can be helpful if you're trying to gain weight, but it will need to be part of a healthy diet with a caloric surplus.

Is KOS protein a complete protein with all essential amino acids?
Yes. Essential amino acids are the amino acids that our body cannot produce and therefore must be supplemented through our diet.

Every flavor of our protein powder contains all nine of these essential amino acids: histidine, isoleucine, leucine, lysine, methionine, phenylalanine, threonine, tryptophan and valine!

What is your return policy?
If you don't absolutely love it for any reason, we'll give you a full refund within 60 days of delivery.

Full refund means the total amount you paid for your product. The customer is responsible for return shipping. Repeated refund requests from the same customer are not allowed. (1 bag/bottle of each flavor is allowed)



Does KOS ship internationally?
Not currently. USA only.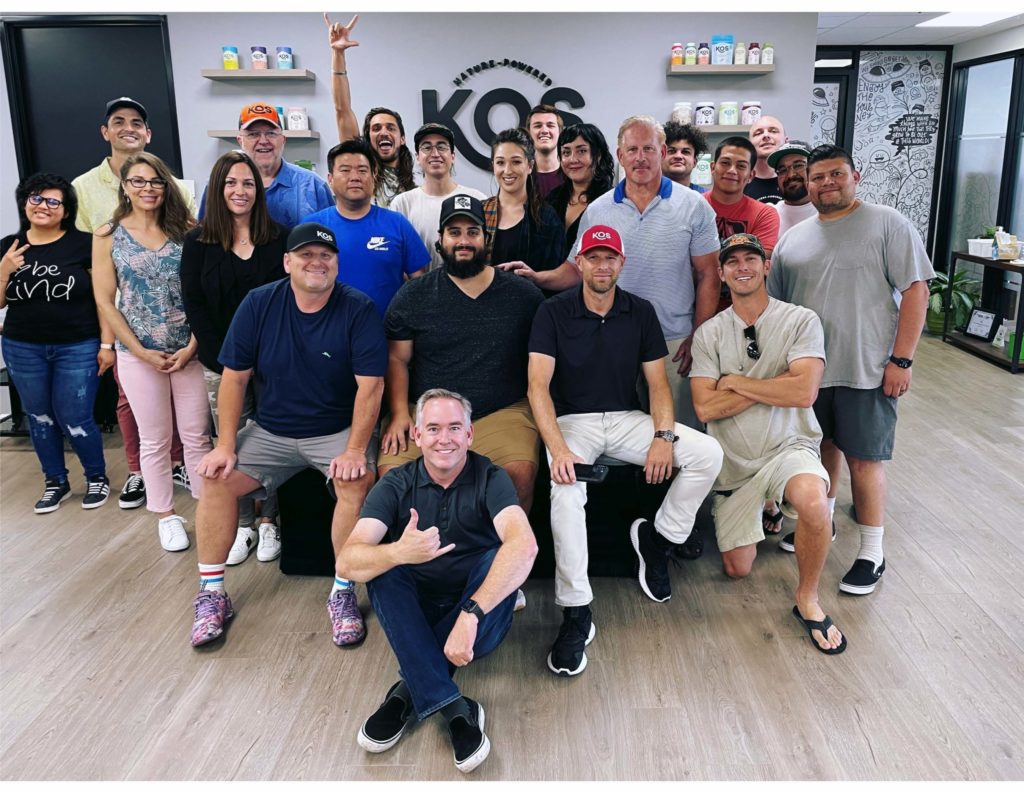 ---
Verdict – KOS Review
After some time away which was needed/enjoyed, and after my last couple of reviews, I can say this one was definitely a net positive. I am greatly surprised by this KOS review. Where I expected another generic brand, I found one that genuinely seems to care about their product.
As I keep mentioning, products need polish. A product needs a purpose, one beyond turning a profit. You can tell which ones are a means to an end, and which ones are a representation of someone's vision.
KOS is one of those products that feels like it means something, and I appreciate that. I love the bulk buy discounts! The last thing we need in modern society is another subscription to manage, so being able to get similar discounts, while ordering as needed without recurring charges is a HUGE PLUS in my book.
I had a good experience with KOS, though not perfect. They surely need to look at ways to make the texture better, as it always felt like I had something extra in my mouth. And maybe the answer is not to smooth it out, but to add more texture to give it more body. I'm unsure of the best path forward, so I'll leave that to them, but surely it needs to be explored.
Bottom Line: KOS is my new favorite protein shake. Its variety and flexibility has earned it a spot in my cabinet.
KOS Plant Protein
$2.5/serving