After the calm comes the storm and indeed, this has been a week full of news about meal replacements. Particularly from the European giant Huel, which has released a new version of their powder, new version for the bars, the bars have been launched in the US for the first time and they have announced a new product! A single update is usually a big deal, so a this is pure madness. Without further ado, let's explore this week's news.
Huel's Crazy December
Let's start with Huel. After the announcement of the 3.0 version of the Powder, which caused more anger than the brand could have expected, I thought this was it for a while. However, Huel had a couple more aces on its sleeves.
This was something that I supposed was going to happen when they reformulated the bars for the second time in a year. The bars were getting more attention than any of the other products, therefore there was a big chance that they were looking to sell them in the US.
In fact, it has been a product that has been long seek after. The original Huel bars were pretty poor, and they didn't even make my top meal replacement bars list (not even close). The reasons for that were the brick-like texture and the fact that they were flavourless.
The new bars were here to fix those issues, being incredibly chewy and soft. Huel also introduced new flavours to the mix. However, for now, only 2 of the 4 available in the UK have made it to the USA: Chocolate and Caramel.
The bars are 200kcal each and cost $2.07 without subscription. You can apply both bulk and subscription discount to get them as low as $1.52 per bar. Huel bars come in boxes of 15, and the minimum order is two boxes or 30 bars.
First Impressions
The feedback in the UK Huel forum has been really positive, however, some of the US based customers had other opinions. We shall wait to see what other buyers have to say, but I would say buy with caution. Since the bars are manufactured in the UK, I would've expected a similar reaction, but the shipping might have affected them.
This was the biggest surprise of the week. It was leaked in the UK forum and soon after confirmed by Huel. And just launched now.
So What is Huel Black?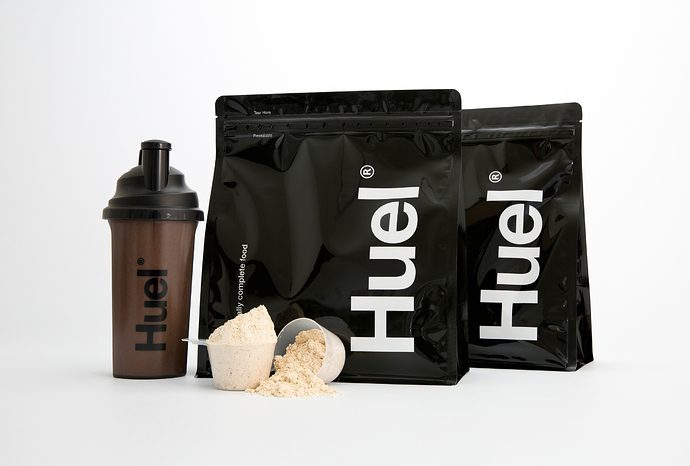 There is very little that is known right now, but it looks like it is going to be a higher protein low carbohydrate blend. According to the leaks, the powder could be aimed for people who are looking for a meal to fuel their workouts.
It is clear that Huel is starting to listen to some of the data they have collected in the US and UK. Both the launch of the bars and Huel Black seem directly taken from customer feedback. Huel Black has 3 features are commonly asked to Huel: low carbs, high protein and zero artificial sweeteners. In fact, due to this, there seems to be 9g of sugars per serving.
Huel Black Nutrition
As per usual, I will do the full review with all the minutia. Be on the look for that.
For now, nutritionally it is an interesting product. It will be vegan, gluten free (from the get go), high in fats (higher than normal Huel Powder) and low in carbohydrates.
With 44g of protein per serving, it will be the highest protein meal replacement powder in the market. Most likely, this will be from pea+rice protein combo once again. Currently, this seems to be a little to high to be your usual meal; even for those who are very active.
Quick Glance
Available: Europe and USA.
Price (cheap): $1.73/400kcal; £1.20/400kcal; €1.61/400kcal.
Price (starting): $2.45/400kcal; £1.63/400kcal; €2.29/400kcal.
Minimum order: 2 bags (34 meals).
Ingredients: Pea Protein, Ground Flaxseed, Brown Rice Protein, Tapioca Starch, Sunflower Oil Powder, Organic Coconut Sugar, Natural Vanilla Flavouring, Maltodextrin, Micronutrient Blend*, Medium-Chain Triglyceride Powder (from Coconut), Stabiliser: Xanthan Gum, Sweetener: Steviol Glycosides, Kombucha Tea Powder, Green Tea Extract Powder, Bacillus Coagulans MTCC5856.
First Impressions on Huel Black
I like the fact that the new powder is nutritionally different, while keeping some of the Huel's DNA (high protein). It is kind of unique, since there are not many products with that profile for now. However, whether this macro profile is something that people are looking for is something we should see. On top of that, I don't think Huel Black is a healthier alternative to Huel, but a different offering. In fact, for now, it would not be the Huel I would be recommending.
Another thing I positively regard is the "low" price. While this low cost is probably only valid in the UK (European prices tend to be higher) and after applying all the discounts; it is good to see the new product close to the old one (price-wise). Considering that gluten-free Huel is already at a premium, the pricing seems very reasonable.
Lastly, ithere will be 2 flavours at launch. Vanilla and Chocolate are the chosen ones. We will have to see how they taste. The protein choice will have a huge influence on the taste, as a matter of fact.
Lastly, last week was finally introduced the last iteration of Huel Powder (v3.0). The debate is still up, and many old Huel customers are not very happy about the change.
If you are one of them, you can still buy the v2.3 while stocks lasts. If this is not the case, I would recommend you starting to look at some Huel alternatives, since they are not going back with the changes.
Other News
Truly, this week has been Huel's show. Otherwise, the rest of the brand have been focused on Christmas giveaways and preparing for the new year.
Sated is giving some free Sated RTDs in exchange of honest reviews. This particularly applies to those living in the USA and even more if you have a public blog. See source.
New blog post from Genesis Foods about vitamin E. Very interesting read for enthusiast that are want to know a little more.
Soylent keeps having issues with backorderer and short best before dates. While I believe they are a reputable company, lately they have been on a slump. If you are one of these, look at the best Soylent alternatives.
Powdermatter has reduced the cost of shipping to the UK. All orders are shipped from €2.5 and are free after €50.
Merry Christmas and Have a Lovely Week!