Welcome back to another edition of meal replacement news. This past week has been one packed with product launches and announcements, such as, the new Ambronite Keto shake, changes in Soylent's CEO position, Vite Ramen going back to kickstarter and more. Besides that, I had the chance to try the new Küik vegan shakes that I discussed on the previous article, so make sure to check out that review too.
Ambronite Keto Meal Shake
In a surprise move, the Finnish brand Ambronite (specialized in real food based natural shakes) announced that they were launching a ketogenic product on Tuesday last week. Next day, the product was out in the market for everyone to try. While seeing more ketogenic shakes is not a shock, Ambronite was not a brand that I was expecting to launch one.
Nevertheless, I think it makes sense, since the keto meal replacement shake offering in Europe is a little low currently. Thus, I believe that this is a gap in the market that we will see companies fill throughout the year. In fact, I believe that Huel Black itself is somehow directed to the same people, partially.
Keto Meal Shake First Impressions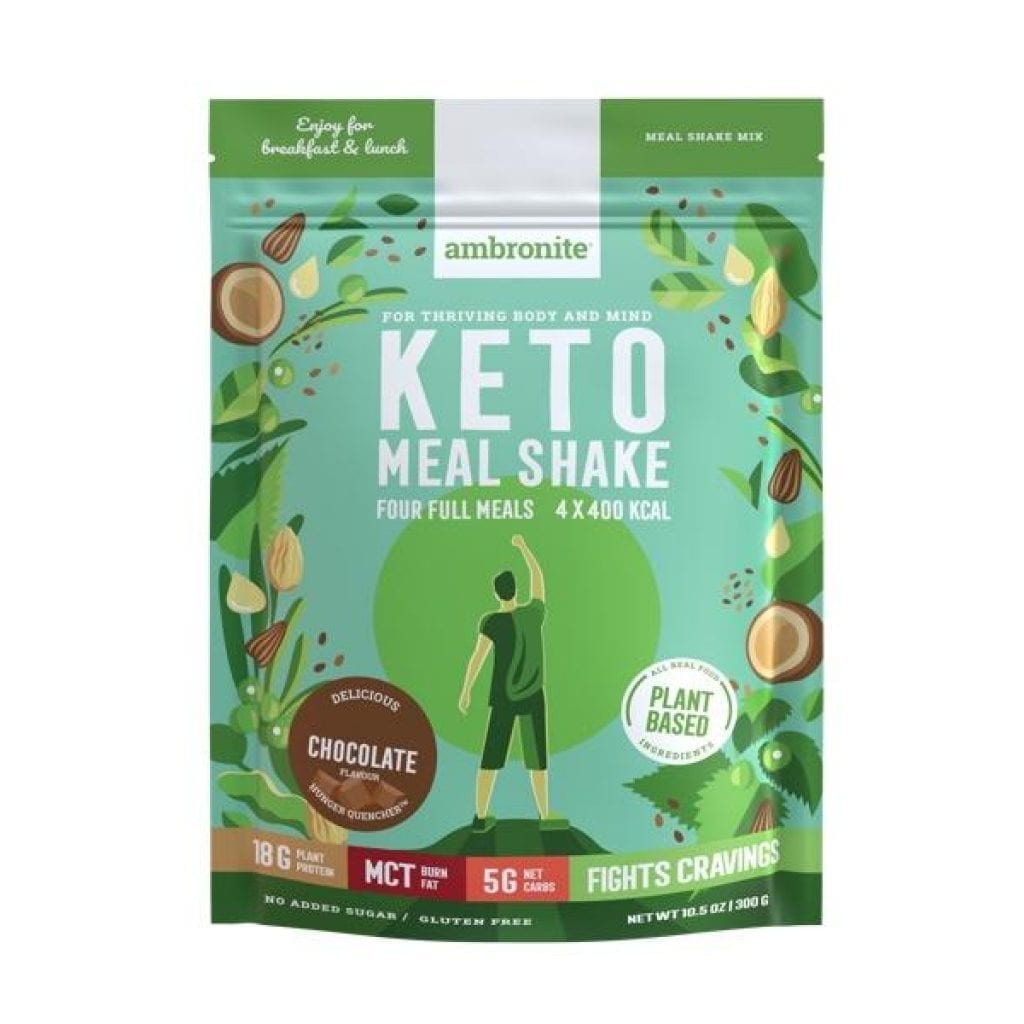 Plant-based.
400kcal per meal.
Macronutrient distribution: 12C/18P/70F.
Net carbs: 5g/400kcal.
Available flavours: Chocolate.
Ships to: Worldwide.
Price without subscription: $5.5/400kcal.
Ingredients: Sunflower lecithin, Complete Plant Protein™ (pea protein, sunflower seed protein, pumpkin seed protein), cacao (14 %), MCT powder (coconut oil, acacia fiber), coconut milk, xylitol, natural flavours, almond, psyllium, chia seed, vegetable powders (spinach, carrot, beetroot, nettle), nutritional yeast, mineral salt, spirulina, natural digestive enzyme (bromelain, Ananas comosus), ProbioVita™ live bacterial cultures (Bacillus coagulans), stevia, maltodextrin.
One remarkable thing is that Keto Meal Shake is a very Ambronite product: based on real food, with no synthetic additives or GMO ingredients. It also offers one of the few plant based keto meal shakes that have all the macronutrients that you need, which is a big plus. They have also added some probiotics (Bacillus Coagulans) and some digestive enzymes to help your digestive process.
However, on the negative side, I was disappointed to see that it fails to deliver all the micronutrients that your body needs. In that regard, it follows Balanced Meal Shake and only provides you with a few vitamins and minerals. I was hoping that the next Ambronite product would follow Complete Meal Shake (their best product), in this aspect.
Regarding the price, no surprises here, with the each meal being above the average, starting at $5.5/€5.5. As per usual for Ambronite, Keto Meal Shake is best when bought in bulk and with the code Latestfuels for 25% OFF. Despite this, I must say that this pricing is very similar to Ample K, another premium keto shake.
Other Opinions
I wanted to add some thoughts from other experts:
My main other concern is the prevalence of sunflower lecithin.[…]. The largest daily dose of lecithin that has been tested in studies is 35g/day. This level didn't indicate any issues, but I'm wary of going above this amount just in case. […]Sunflower lecithin is also usually very high in omega 6, which can be quite inflammatory if not balanced with omega 3s, so I'd be curious to see your omega ratios.

Owner of Keto Genesis, at Reddit.
Xylitol is not a good choice for a sweetener. #1 it kills dogs very quickly, #2 it raises blood sugar 40-60% as much as regular sugar would. Depending on if it's included in the Total Carbohydrates (it should be, along with a "sugar alcohols" line) the carbs in this may be far higher than what is on the nutrition panel.

From Chris Bair-owner of Keto Chow, at Reddit, as part of more in depth answer.
In summary, it seems that some of the "experts" and opposition think that there is much to improve in the formulation; particularly if this product is aimed to more serious keto practitioners.
Soylent Changes CEO
Another big new was the change in leadership in the American giant Soylent. As reported multiple times in here, the past few months have been tumultuous at Soylent; with negative employee reviews, downsizing and issues with product quality control. It is clear that changes were needed, and it seems that Bryan Crowley was forced to step down in favour of Demir Vangelov (previously COO).
Today we are making some changes at the company. We are renewing our commitment to being transparent, authentic and science-driven, all while putting the customer first. To do this we are going to re-focus on our core products. We will be improving our current product line as well as bringing some truly innovative ideas off the shelf and into the market, and we will be improving our prices by focusing on quality over quantity when it comes to distribution and marketing

Rob Rhinart, founder of Soylent in the press release.
Whether this swap will make any significant differences in the trajectory of the American company is yet to be seen. The initial reaction from Soylent enthusiast was not very positive, and many showed skepticism. The overall feeling seems to be that Bryan just jumped out the boat before it definitely sunk, so it didn't affect his CV.
Many people have already started looking at Soylent alternatives, and the loyal fan-base seems to be thinner by the day.
Soylent Packaging Changes
In other news, Soylent has also changed the packaging in which the RTDs are deliverd. According to the company "following the Life Cycle Analysis (LCA) […] where a significant part of our sustainability footprint was shown to be driven by our cardboard cases" was the primary reason for this change.
Therefore, from now on, they will be delivering Soylent Drink in corrugated brown cardboard boxes that come from 80% recycled cardboard. You can read more about the positive impact the company expects here.
Other News
So those were the major news from the past week. However, here's a round up of other noticeable events:
Vite Ramen launches a new Kickstarter campaign on the 20th. In a lengthy explanation, the founders of Vite Ramen explained that they thought this was the best way to get their founding without having to sell their company to outside investors or get loans.
YFood launches Salted Caramel RTD. Despite not having tried it yet, I must say it sounds delicious. I already think YFood does the best ready to drink meal replacement shakes in the market, so anything released by them is worth trying out.
Have a wonderful week!