How to Start with Meal Replacement Shakes| In-depth Guide
Once we become meal replacement enthusiast, discuss about complete foods in the forums and comment on reddit threads, we tend to forget we all once were beginners. We had no idea about this world: "What is a meal replacement?"; "Is Soylent real food?"; "Can I lose weight with this?"… were questions most of us asked.
The truth is that consuming "complete foods" is a lifestyle choice. A diet that is not just about food but about health, time management, budgeting, nutrition and fitness (not all for everybody). So, once you started, once you clear out all your missconceptions; you will notice your life improve in one of more aspect.
So without further delay, let's dive in this "How to start with Meal Replacements" guide.
It got pretty long so here is a navigation menu:
1- Cover your basics about nutrition.
2- Have a budget.
3- Find the Meal Replacement that suits you.
5- How to integrate the meal replacement shake in your diet.
Where to go after reading the guide.
1- Cover your basics about nutrition.
I feel that one of the most important things when you start consuming meal replacements is that you consciously decide to make a change in your nutrition (diet). Say it is because you need to safe money, because you do not have time to cook or you are just plain lazy. All reasons work, we understand.
Complete foods are based on the idea of fully balanced nutrition. Balance towards whom? Balance is relative and personal. Your nutritional needs will have a lot in common with the average Joe or average Mary (or may not). This fictional average persona is for whom the recommended intakes are calculated for (more info in Resources):
---
Average Mary
Energy: 8,400kJ/2,000kcal
Total fat: less than 70g
Saturates: less than 20g
Carbohydrate: at least 260g
Total sugars: 90g
Protein: 50g
Salt: less than 6g
Average Joe
Energy: 10,500kJ/2,500kcal
Total fat: less than 97g
Saturates: less than 31g
Carbohydrate: at least 333g
Total sugars: 90g
Protein: 70g
Salt: less than 6g
---
As such, most of the brands will balance their products using very similar numbers to the average Mary.
How to decide whether you fit in the Average Mary or Average Joe category?
Are you active or young or really tall (male)? Then you are Joe.
Are you sedentary or smaller than average (male)? Hello, Mary.
Are you active or young (female)? Neither one nor the other, you are MaryJoe (2200-2300kcal).
Are you sedentary (female)? Nice, to meet you Mary.
General guidines for caloric needs: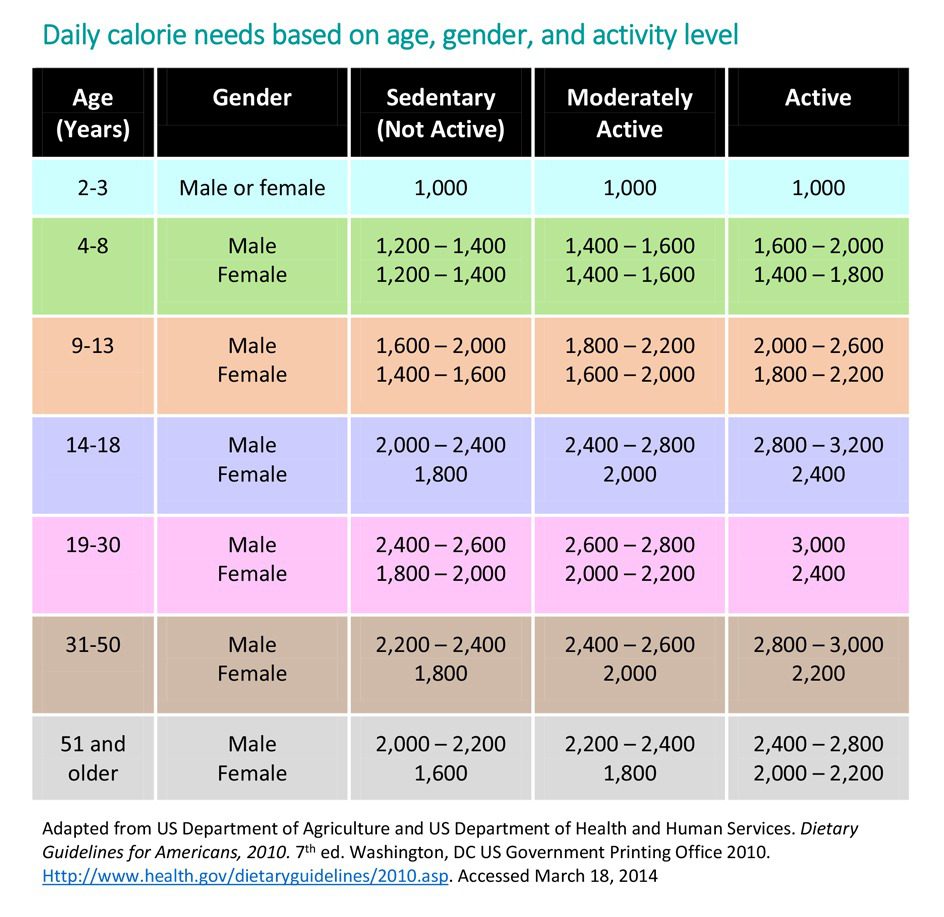 How much calories do I need?
However, as we said, nutrition is very personal. You might have fairly fast (or slow metabolism), a disease or genetic condition that affects how you absorb nutrients (very rare) or have some specific needs. The best way to calculate how many calories you need is a calorie calculator.
a) MyFitnessPal.
Before starting let me say that there is tons of calculators out there. This are just my favourites and the ones I use. For a full guide on how to start with myFitnessPal.
1- Create an Account.
2- Put your Weight, Height, Age, Gender and Activity levels.
3- Voila! MFP will fairily accurately estimate how many calories you need! You can also later keep track of the calories you consume by adding the food you have during the day.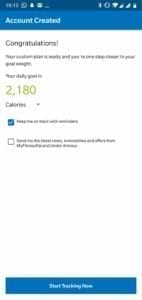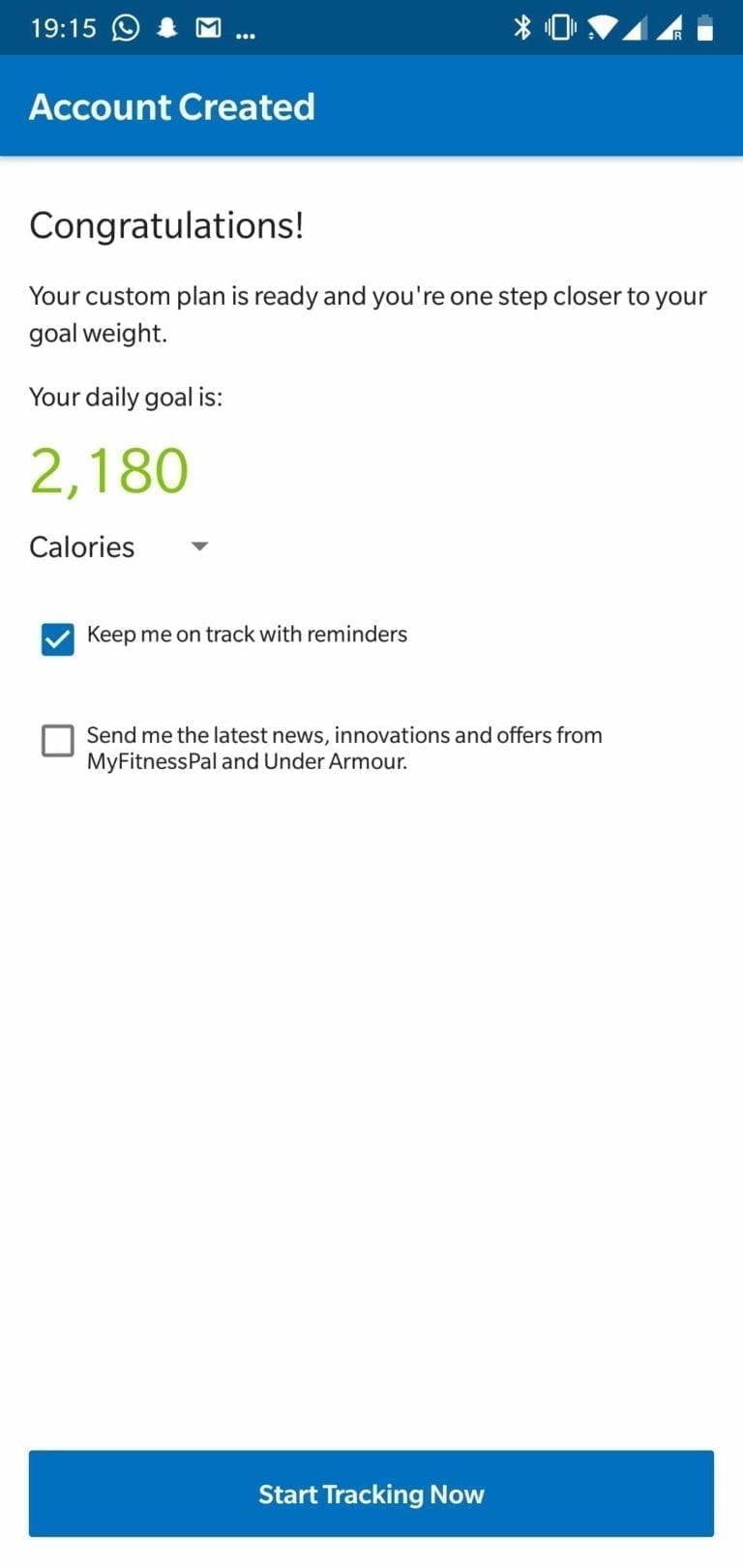 b) Bodybuilding.com Calorie Calculator.
MFP estimate 2,180. Bodybuilding.com 1,932. I assume it is going to be somewhere in the middle.
2- Have a budget.
I am kind of breaking the flow here, but I want to remark the importance of having a budget. Most will already have an idea of how much they are willing to pay, but let me explain you something. A meal of 400kcal can cost you as little as $1 or up to over $6.
Some brands offer budget options, like Jimmyjoy or Queal. Does this mean they are worse? Not always. They might use prime ingredients that are non-organic or GMO or a blend that is cheaper (cheaper whey protein, or oats).
Premium brands, such as, Ambronite or Ample, will tend to offer top of the line prime ingredients and tend to be more accommodating for people with health issues (celliac, less allergens…). However, they might not be able to compete with the range of products and flavours others do.
All meal replacements in the following list, however, will be FDA, USDA or ESFA compliant, and will have had to pass food safety certificates (especially Europeans).
3- Find a Meal Replacement that will cover your needs.
So, after this break let's come back to choosing our ideal MR.
In this example, we need a meal replacement that will be between 1,900kcal and 2,100kcal. As I said, most brands will balance their MR shakes around the 2,000kcal diet. Therefore, most standard versions will suit us in this instance. Sport variants or diet variants are likely too have too much or too little.
In here, you will be able to find most of the brands ordered from country of origin and with some basic info, such as, where they ship, their nutritional profile (vegan, keto, sport, gluten free…) and their cost/meal.
Brands from your country or around your country will tend to have the best shipping rates. In fact, most brands will offer free shipping within EU after orders over €50-€60; and similarly, most US brands will offer free shipping in the US. The only problem is for Canadians, which will have a hard time having any complete foods imported; and the Australians, because they live so -goddamn- far.
Note: Some brands will have reviews and ratings on the far right corner. Use them to check our reviews or see all products we reviewed here.
b) Types of complete foods.
Another quick diversion to explain the different types of meal replacements you might find in the market:
1- Powder. They are sold in bags or tubs that will contain a specific amount of meals (e.g. 4 servings). You will need a shaker and water to make your shake. E.g. Next Level Meal, Satislent, Sated.
2- Ready-to-drink (RTD). Already prepared for you, they come in tetrabrick or plastic bottles. No prep required, just take them anywhere and drink. For instance, Soylent Drink, Saturo, YFood.
3- Bars. Just like a protein bar or a snack bar, but packed with all the vitamins and minerals and tailored to your daily recommended intakes.
PROS
CONS
Powder

Cheaper
Better storage
Lasts longer
More variety
Customizable

Need to prepare
Not as portable
Can be messy
Need shaker
Need to clean

RTD

Portability
Conveninence
Clean
Disposable

More expensive
Storage Room
More waste
Less options

Bars

Most portable
Convenience
Easy to consume
Discrete

Less nutritionally balanced
More expensive
Not for everyday
c) Choose your ideal meal replacement.
Take into account the following parameters:
Country of origin. Influences shipping rates.
Price per meal. Stick to your budget.
Nutritional profile. Are you vegan? Are you a very active person? Do you want non-GMO ingredients?
How does it fit your calories needs (MOST IMPORTANT).How many calories does it provide per meal and per day. Does it fit in your meal plan for the day?
Do you want a ready-to-drink version, a bar or powder so you can make your own shake?
More advanced:
Energy Distribution. Where do you want your energy to come from: fats, carbs, protein?
Do you have any macronutrient goals? For instance, more protein than usual (1.5g per kg of bodyweight)?
Are you looking to exclude certain ingredients? Artificial sweeteners, sucralose, soy…
Use the reviews, see if they fit the parameters you set and decide which to buy.
In this case looking for a 2,000-2200kcal meal replacement that ships within Europe and hopefully is under €3 per meal. We could go for Queal Standard, Jimmyjoy Plenny Shake or Runtime's Next Level Meal (and many more).
4- Purchase your meal replacement of choice.
The website.
Most brands will have a similar layout. Homepage where you can click "order now" and you will be directed to the shop section; a series of explanations about the different features and about the company (in the homepage); a navigation menu on the top with nutrition section (for in-depth information), a FAQ, and shop/product catalogue.
You will also have on the top right the cart and the opportunity to log in/sign in into your account. On the footer, you will often find the general information about the company, the terms and conditions, the FAQ, contact form, shipping rates and social media links.




Buying the product.
It can be trickier than initially thought, due to all the sizing, flavour and nutritional options.
a) Look for taste testers
Due to all the choice that many brands have I am a big fan of taste tasters. They are usually the best way to try all different flavours and/or products to choose not only your favourite variations, but also make your mind about the brand itself. Therefore if there is any, I would strongly recommend buying it. Examples would include Queal Taste Tester or Runtime Starter Pack or Satislent Taste Pack.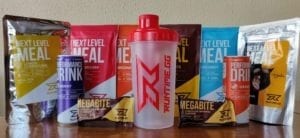 b) Double tap. Double check.
Anyhow, if you have already chosen the product and you want to buy it there are few things you need to look before adding it to the cart.
Is the subscription checked "Yes"? Many brands have Yes by default to lower the price in the screen.
Is it the right flavour?
Is it the right size? Either the package sizing or the size or the order (how many meals) can be choosen.
Double check the nutrition labels to check for allergens.
See if they put the shipping costs there. Not all brands do this.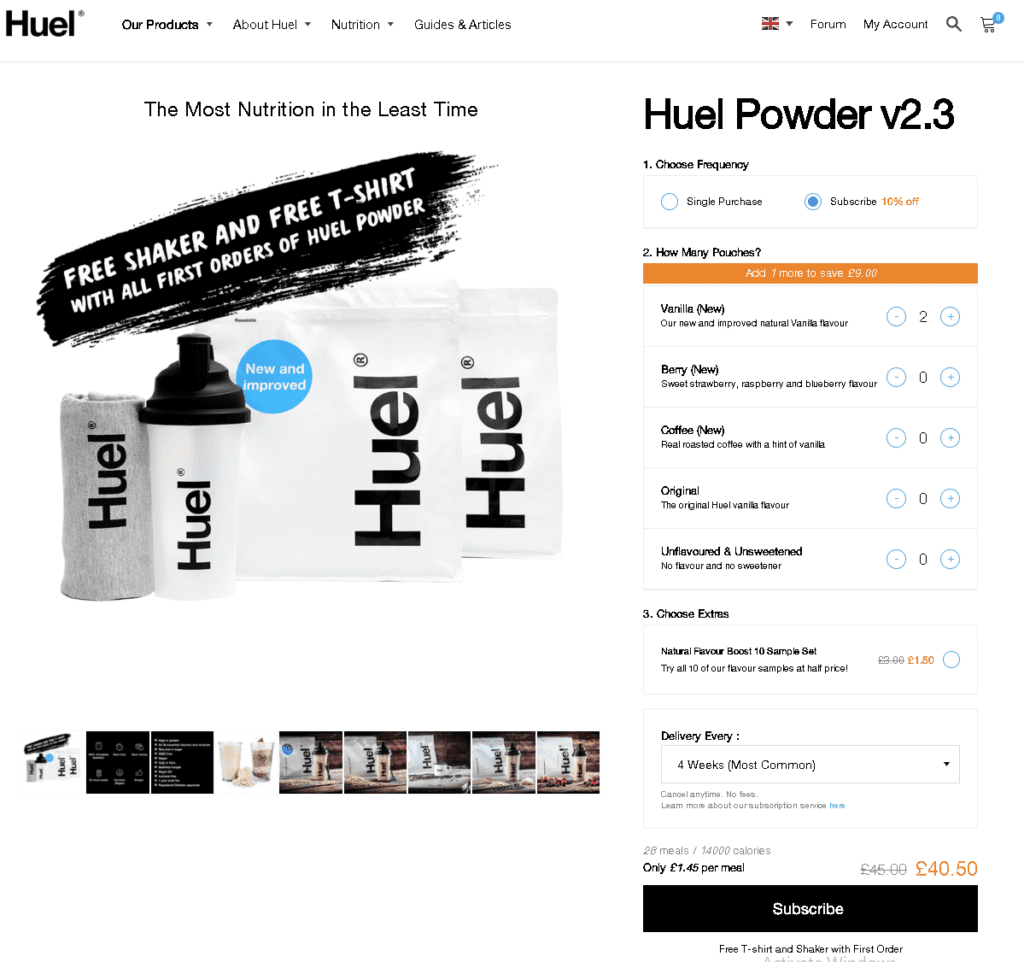 c) Make the best out of your first order.
Take into account that the first order is the most important for many brand. As such, brands like Huel will give you a free shaker and perhaps a free t-shirt in your first order. Furthermore, there are also usually good discount codes for first time customers. E.g. click HUEL to get £10 (€10/$10) OFF in orders over €40. For more you can always check our Deals page.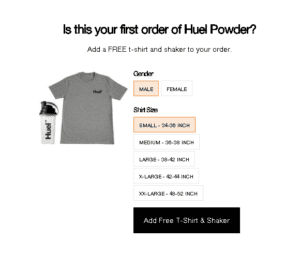 From here it is fairly straight forward. You will be requested to fill your contact information and shipping address (which often will be used to create an account). Often, you will also have the chace to enter any discount code you migh have.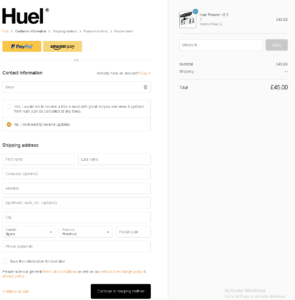 Huel only has card, Paypal and Amazon pay as payment options, but many other brands will have multiple options including cryptocurrencies.
d) Delivery.
The delivery will vary from how far you are from the company you ordered from, or when you ordered. Certain companies, like the aforementioned Jimmyjoy, offer same day delivery if you purchase before 3pm CET. Most will deliver the product within 3-5 days. Some even as fast as 1-2 days (Huel within the UK).
5- How to integrate the meal replacement into your diet.
The hardest part is done. You have made the step to change your lifestyle and your diet. You bought your complete food, it has arrived and you are ready to take it. But how to start? Should you have it for breakfast? Perhaps, lunch? Or dinner, because you are always too tired to cook?
a) Decide when to have your shake
There are a few things to take in consideration:
When do you struggle to eat the most? Which meal do you tend to skip?
Which meal do you enjoy the most?
When are you looking to safe money and/or time?
When do you think a MR shake can improve your productivity?
How often are you planning on having a shake instead of a meal?
The easiest thing to do is to just go, prepare it and drink it. However, there are ways to optimize your meal replacement experience and that involves a little bit of planning. Answer honestly the questions above and you will realize one of the following:
That you tend to skip breakfast because you are not hungry or too busy.
That you always get the same old sandwich for lunch.
That cooking in the evening is simply not for you and you end up ordering take aways.
Choose one of those meals and simply replace it with the meal replacement you bought.
b) Preparing your meal replacement (only for powder versions).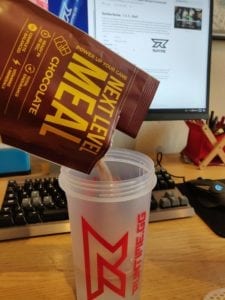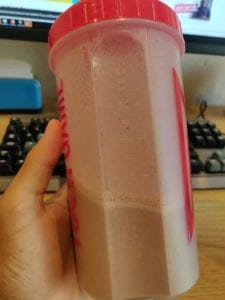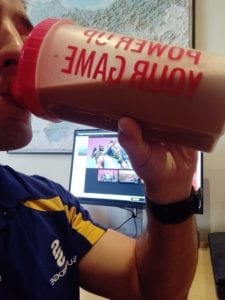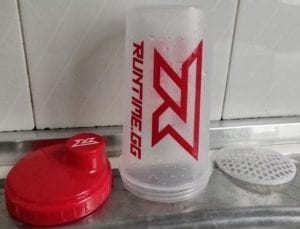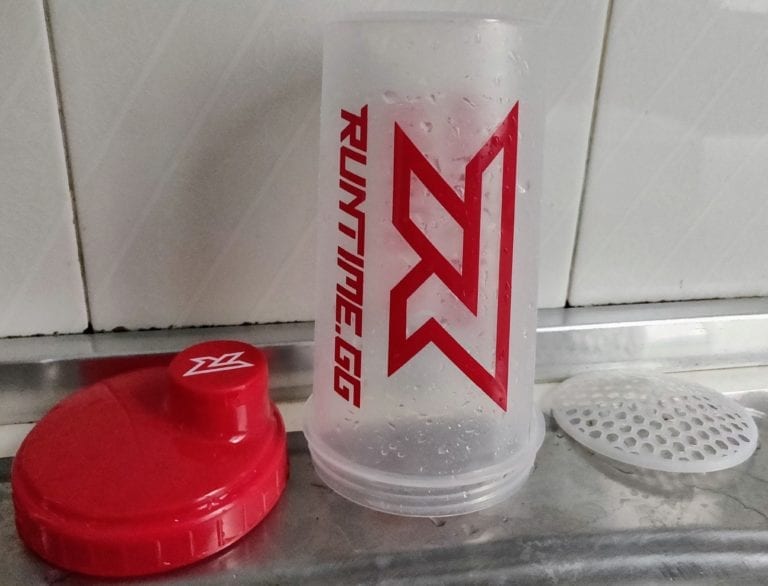 c) Integrate the shake into the diet.
Afterwards, at least for the first few times you might want to track the calories you just drank. Just so you can put the rest of your foods in your diary and have a good idea of what you consumed during the days (calories, macros and micros).
Beginners FAQ
Please feel free to post your doubts in the comments section, so we can expand the FAQ.
1- How often can I have a meal replacement instead of food?
In theory, you can replace every meal with a shake, that is what they are designed for. However, we would not recommend doing this to a beginner. There are many minor drawbacks or side-effects that can happen, including; indigestion (due to unusual reaction to an ingredient); excessive or unbalanced stomach flow; heart burn, skin acne…
Despite all this do not panic. Adverse effects are minimal and often due to excessive use or a single ingredient that simply does not suit you.
We recommend starting with once a day and increasing to 2 (or over 50% of your daily intake). Only once you are comfortable and more knowledgeable we recommend (kind of) doing the full switch.
2- Can I mix different meal replacement products or brands?
Yes, you can. The only issue is that you will have to keep an eye on the nutrition facts and make sure it does not cause you to go over any of your DRI.
3- Will I feel hungry?
I almost never feel hungry after a shake. Perhaps, in a 5 min window after drinking it I will feel tempted to have something else, but after that window I tend to be fine for 3-4h.
One trick that might work for you is to drink your meal replacement shake slowly, sipping it. This will make it seem like it has been a longer meal than drinking the 300ml in one go and trick your mind. At least, it works for me.
4- Will I get bored of the taste?
It is true that some brands offer a single flavour, which can be a little boring after a while. However, there are multiple brands that offer 4 or more flavour options. If not, some brands even offer small packages of flavouring (e.g. Huel, MyProtein) to customize your shake.
Not feeling the artificial flavouring pouches? You can always add a banana, blueberries, strawberries, peanut butter, coffee, ginger… and many other foods and blend them in a blender to fully personalize your shake. Although, do not forget to add the extra calories to your diary!
There are tons of recipies out there! Hopefully, I will soon add a section so you can have a look at them here.
"So where do I go now?"
Ready to start with meal replacements? Go to check our reviews to make the most informed decision or check the Meal Replacement List to get to know your local brands.
Not feeling ready just yet, want to know more? Comment on the section below or contact us to give you more advice. Otherwise, check the Resources page, where you will be able to learn more about nutrition.
Please do not hesitate on contacting us via a private message or a comment below if you have any doubts or you would like to see more of something.