How to | Guide to create a MyFitnessPal Account
This is a mini guide to help you to set your MyFitnessPal account. It really is simple and self-explanatory, but in case you have any doubts we decided to do a step-by-step guide. Without further ado…
In the website:

2-Sign up using Facebook or Email. Here we will use the email option.
3- Put your email address and choose a password.
We recommend using a password easy to remember (so you can later install MFP app in your phone), but with a number, a lowercase/uppercase combo and a special character, if possible.
4- Put your personal information.
Input your weight, your height gender and birthday. Also, tell MFP what is your weight goal aka if you want to lose, gain or maintain weight. On top of that, you will have to choose from Sedentary, Lightly Active, Active and Very Active to describe your daily routine. This is important
MyFitnesspal will use this information to estimate the calories that you need in a daily basis (Age, gender, weight, height and activity levels are the required parameters to calculate your energy needs).
You will also get the opportunity to add how many times you plan on exercising. This is a plus but not necessary for the overall calculus.
If you are unsure about any of the parameters just put an estimate. You WILL ALWAYS BE ABLE TO CHANGE LATER.
5- Agreee to the data consents.
Fairly straight forward.
6- Nutrition Summary.
Now you will get a quick glance of what your nutritional needs are and what is the macronutrient split that MFP thinks is correct for you. Do not be afraid clicking the "Get Started Now!" button as this information will be available in your Dashboard at all times. However, it is important for you to get familiar with the concepts and the amount of calories you will require.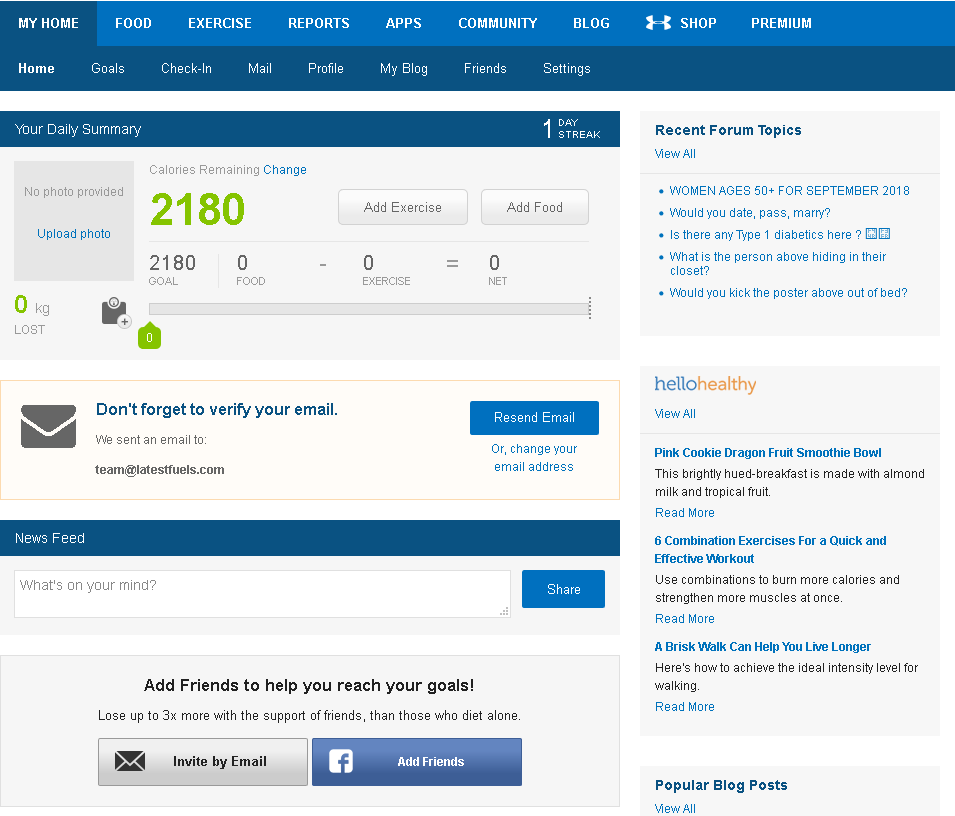 7- Getting Started.
You will soon get familiarized with the MyFitnessPal Dashboard, but this will be your home screen. From here you will be able to do everything you need, including:
Add Food- Obviously. Access to the database and search the food you have consumed and add it to your diary.
Add Exercise- MFP has some exercises you can add (jogging at different paces, cycling, hiking…) and will give you a rough estimate of the calories you have consumed doing that exercise. Then, this will be added for your daily needed calories to be recalculated.
Goals- You can change your goals at any time. Increase weight, lose weight, by how much…
Other features- Other things  you will be able to do are creating your own food, so you can add it to the diary; change your macronutrient distribution; access to blogs and communities for information or support; or connect with your friends.
There you go. You all set and ready to start tracking you nutrition and achieve the fitness goals that you wanted. We also recommend installing the MFP app in your phone to track food on the go and make use of amazing features like "add food with barcode".
On your phone:
1- Download MFP app from iTunes or Google Play.
2- Sign Up using email or Facebook. We will use the email option.
3- Choose your goal.
Important because MFP will substract or add calories according the goal you choose. Anhyhow, you will be able to change this goal later at any time.
4- Choose your activity level.
Very important, but not crucial to get it right. Make an estimation of what is your best fit; Sedentary, Lightly Active, Active and Very Active. You will be able to change this later. This parameter is important to estimate the amounts of calories you will require daily.

5- Choose Birthday, Height and Weight.
This trifecta is used to calculate your basal metabolic rate (BMR). It will not be the most accurate estimate, but it will calculate how many calories you need just to maintain the your current form (if you did nothing the whole day).



6- Introduce your email, password and username.
Make sure to use a password that it is easy to remember but secure. This includes lower and uppercase letters, a number and a special character. E.g. Latest5Fuels#.
7- Accept the terms and conditions.
8- Nutrition overview.
What Myfitnesspal estimates your caloric need is going to be. You do not need to memorize it, since it will be in the dashboard and it can change if you do any activities. However, it is good you familiarize with it.
9- Home Screen.
This is MFP interface. Focused on adding foods to your meals, so you can track your calorie intake. You can either manually introduce a food, use the database or scan a barcode to add a food. Real handy. You will be surprise with the amount of foods that are already in the database.
From here you will also be able to add exercises, change your goals, change the macronutrient distribution or access the community for tips and motivation.