Ambronite Review (2019) | The Most Natural Complete Shakes
Aiming to create the ultimate organic, GMO-free, plant based superfood
Super food, naturally sourced without any additives and GMO free, that is Ambronite. A company of supermeals wants to help you reach your dreams. In order to do so aims to provide a meal replacement that will make focused, strong, energetic and healthy. Nice words, but what is the reality and to what price is this experience delivered? Let's find out in this Ambronite review.
To get the 25% OFF use the code LATESTFUELS.
[better-reviews]
If you are very concerned about the sourcing of your products, believe in organic ingredients, food is your obsession, and you are willing to spend some extra money, then Ambronite is the meal replacement for you: natural, tasty and extremely healthy.
We Like
High quality prime ingredients, non-GMO and shakes free of artificial additives. These qualities are not present in many meal replacement shakes; and we embrace Ambronite's philosophy for a better sourced and higher quality ingredients. We believe that without the top quality components, you can not aim to deliver the uppermost standard products.
Nutritionally well balanced shakes. Complete Meal Shakes delivers an excellent fatty acid profile, with plenty of omega-3; together with good quality proteins and carbs.
All nutrients your body needs from real food and plants. Using real foods and plant based recipe, nuts and berries for instance, as main source of nutrients is not all that common in the industry. Mainly because providing 100% of your micros this way is hard. Thus, it is great that CMS delivers with all you need from natural sources.
Huge discounts for those who subscribed or buy in bulk. Loyalty is appreciated at Ambronite, and as such, regulars will be able to enjoy their shakes at a much cheaper price.
Free worldwide shipping in orders above $/€150. If you use the international store, you can order Ambronite from anywhere around the globe and you will have free shipping. No other brand offers such a good deal.
We Dislike
The price. While it is comparable to other products that are based on organic and real food (Feed. and Ample); $6.5/400kcal as starting price will not be affordable for many.
UX and UI of the website. Navigation on the site and choosing which flavours you want can be a little bit confusing.
High sugar content. One drawback of plant based meal replacements is usually their high sugar content. Ambronite is fairly high in sugar, although mostly comes from fructose (sugar from fruits), still poses a minor issue.
Improvements
An alternative protein source. While oat protein is very viable (particularly in higher doses, like CMS offers); it would be better if they used a protein with higher bio availability.
More affordable alternatives and new products. Ambronite v5 was their only product until recently, until the launch of Balaced Meal Shake. However, both products are fairly similar and cater for the same audience.
Plant-based organic meal replacement bar. We know that delivering high quality, all natural products is not easy, but Ambronite will have to do their best if they want to thrive in the market. A bar healthier than any other in the market could be the way to do so.
What PRODUCTS does Ambronite offer
They used to only offer one product: Ambronite v5. It comes in packages of 1600kcal and pouches of 400kcal. Athletes, backpackers, busy people, fitness enthusiasts or people looking to lose weight can consume Ambronite alike; since not only provides all nutrients needed, but it also helps with focusing and re-energizing.
Recently, they have launced Balance Meal Shake, which comes in bigger packaging 10 meal tubs; and it is cheaper.
Ambronite v5/Complete Meal Shake
Meal Replacement
Powder
500kcal/meal
41C/24P/35F % of Energy from
15g of sugar/3g of saturated fats per meal.
Price without subscription: $6.66/400kcal
Price with subscription: $5.82/400kcal
Lowest: $4.67/400kcal
Nuts, traces of Soy
---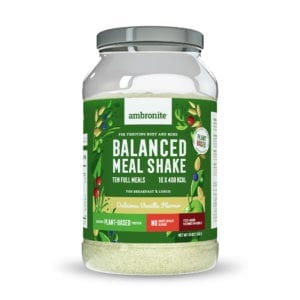 Meal Replacement
Powder
400kcal/meal
41C/21P/38F % of Energy from
12g of sugar/2g of saturated fats per meal.
Price without subscription: $5.5/400kcal
Price with subscription: $4.95/400kcal
Lowest: $4.06/400kcal
Almond and Oats
---
Brief Ambronite v5 – Complete Meal Shake Review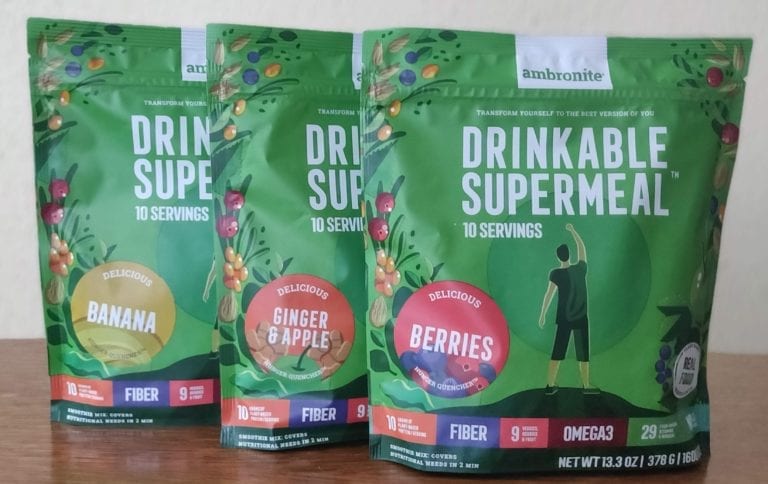 Ambronite v5 is available in 3 different flavours: Ginger & Apple, Banana and Berries. All of them can be purchased in 1,600kcal pouches, which is a bit odd. 1,600kcal does not offer enough for a day, nor it is big enough to consider bulk packaging and is not small enough to be an individual meal. Each scoop that they provide gives 165kcal, so in each pouch there is 10 scoops or, 4 meals of 400kcal (2.5 scoops).
Non-GMO, Natural Whole Food Ingredients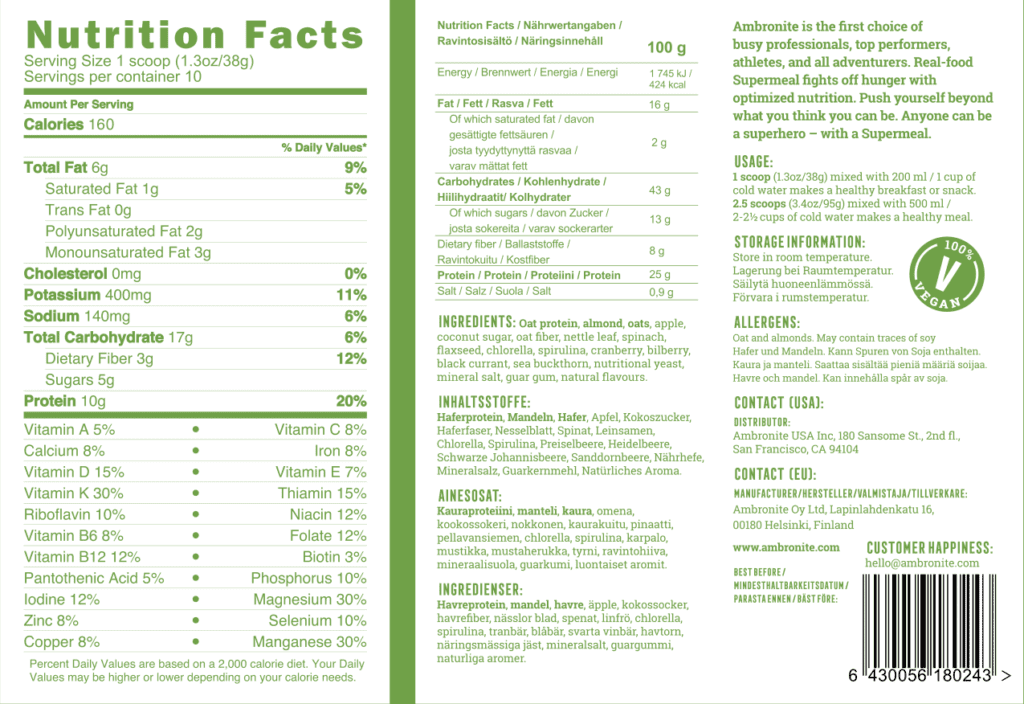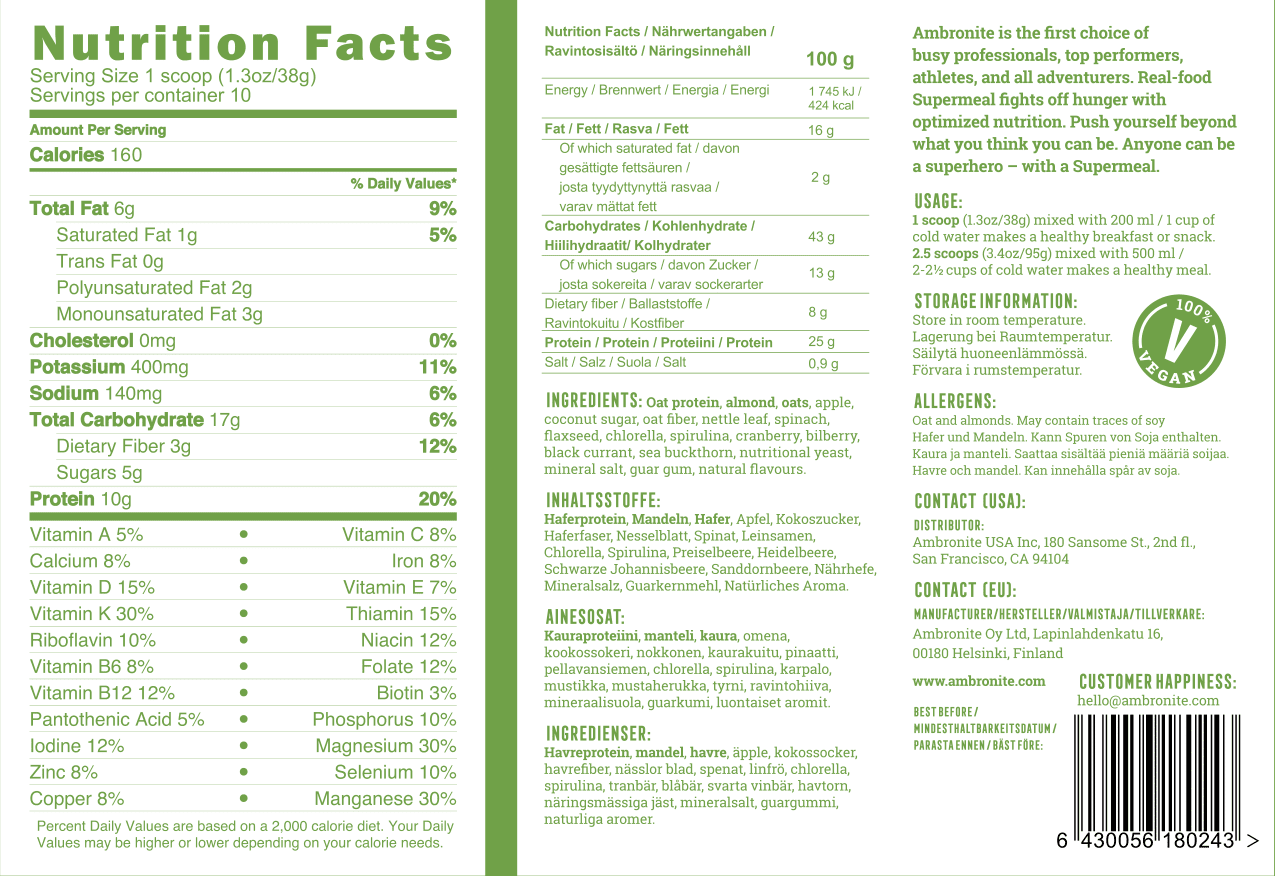 Ambronite claims only to use the highest quality ingredients, thus it is GMO free and free of artificial ingredients. The baseline for the recipe is mostly oats, nuts and berries, as well as, multiple fruits and vegetables. Although, all this ingredients tend to have short shelf-lives, the shake powder can last up to several months, when kept closed.
But the Price…
The biggest issue with Ambronite is the price tag. $7.3/€8.28 per meal (based on 500kcal meal) is very expensive, especially if you are planning to consume more than once a day. We understand that highest quality products, particularly organic and non-GMO fruits and vegetables, have a more costly production. Hence, a higher baseline price than the massively produced counterparts.
Does Ambronite Taste Good?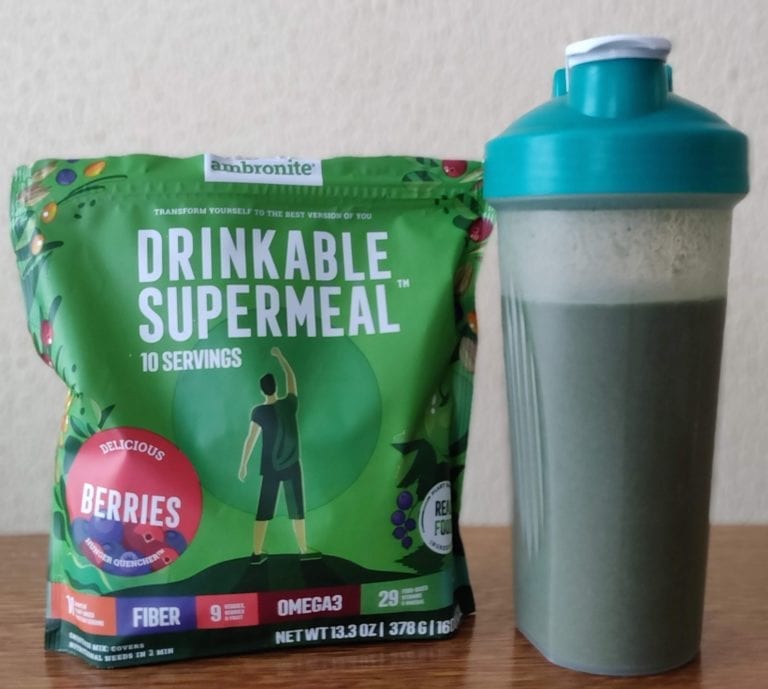 Ambronite Complete Meal Shake has a very fruity taste; very much like a smoothie, with a similar consistency. You will not find any lumps and the mix will be easy to shake; which is always a concern.
The one issue people might have is the background flavour; or what I call the Ambronite flavour. An earthy, very distinctive taste, that might not be of everybody's liking.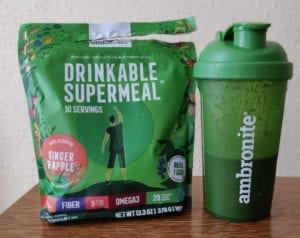 From the three flavours; I found Ginger & Apple to be the best, with that freshness that ginger provides with the acidity of the apples combining deliciously. Banana was my second favourite and Berry the most underwhelming.
If You Do Not Mind the Price, Complete Meal Shake Is a Great Product
Not only because of the quality of the ingredients, but because the nutrition profile is well rounded up. As discussed in the next section, Ambronite provides plenty of protein, a very good fatty acid profile (not achieved by many products), good omega-3/6 balance, plenty of fiber and all the micronutrients you need per serving. All from naturally sourced ingredients, which is a hard feat.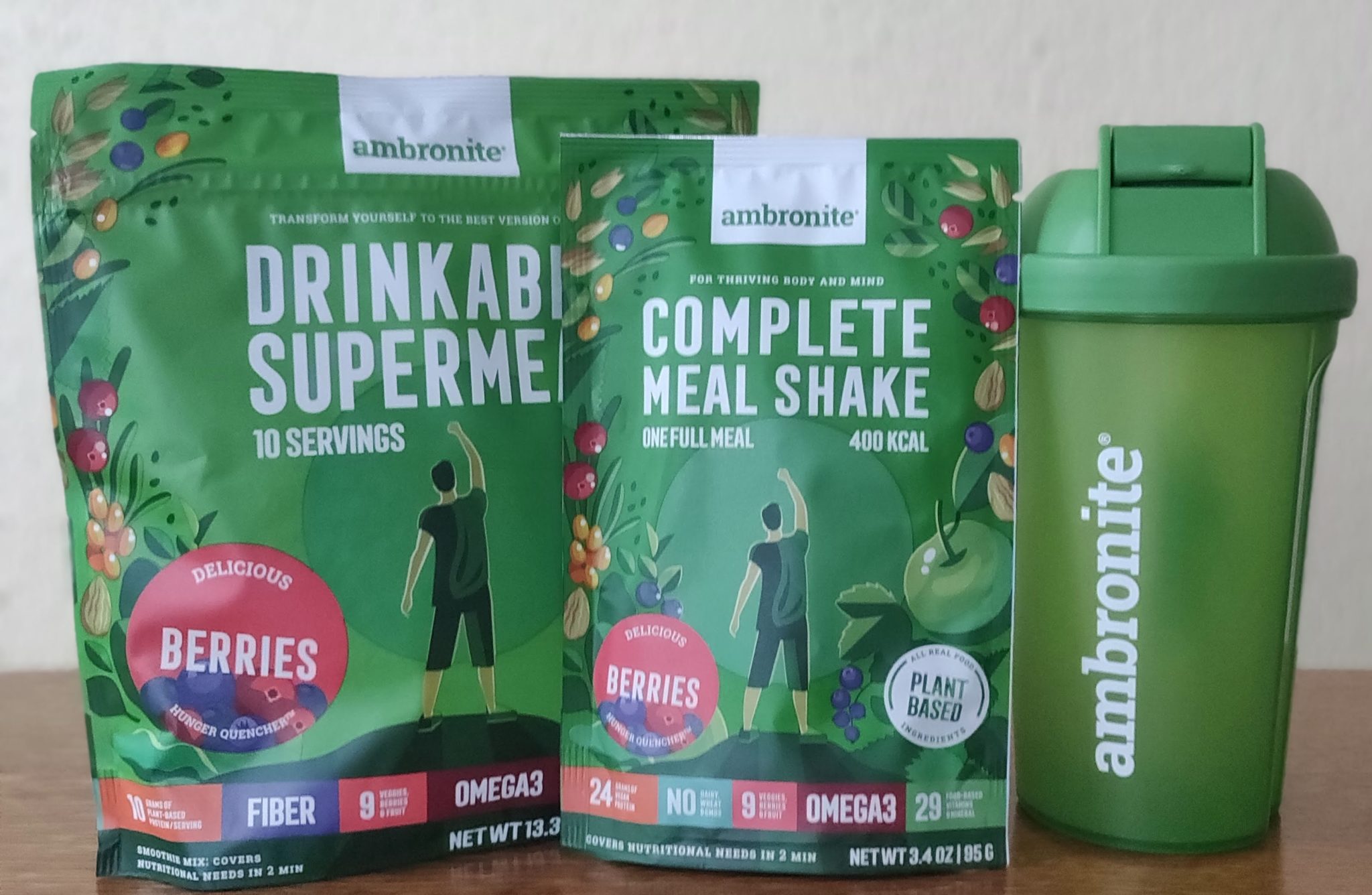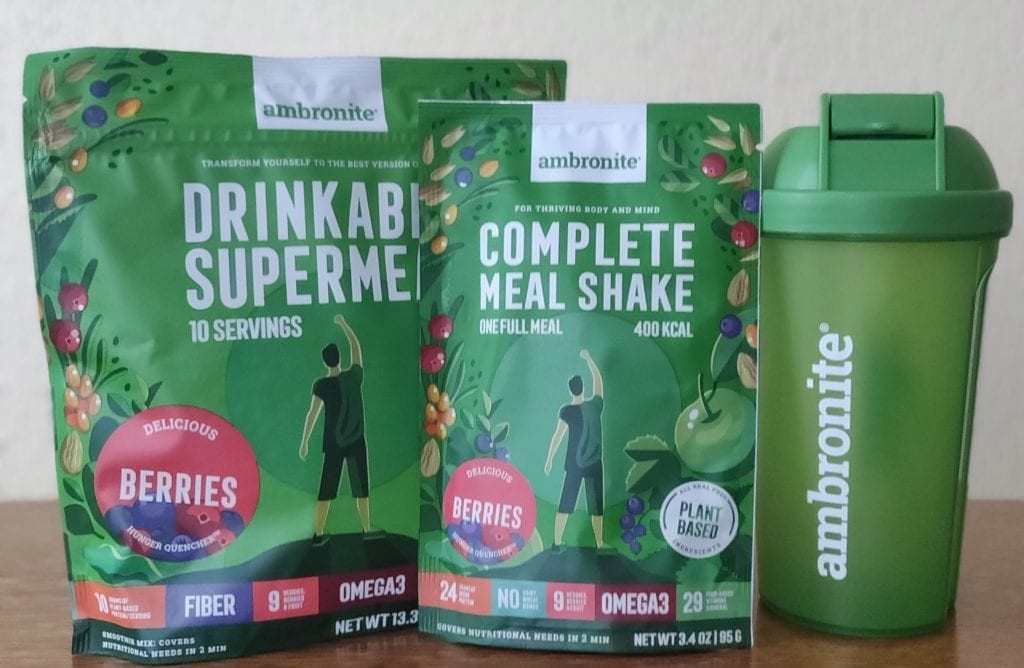 Brief Balance Meal Shake Review
If you are getting confused by the names, you are not the first. They are very similar. In fact, the names are not just but a hint to the many similarities both Ambronite products share.
Balanced Meal Shake is the Cheaper Option
One of the main strengths of the Balanced Meal Shake is its price. About a $1/€1 lower per 400kcal. This might be due to the bigger sizing on the packaging. Anyhow, it is good to see Ambronite delivering more affordable high quality meals.
Balanced Meal Shake Features
It comes in tubs with 10 meals of 400kcal. There is currently only three flavours available: Vanilla, Berry and Chocolate. Both Vanilla and Chocolate are exclusive to this product.
Looking at nutritional aspects, the protein source is changed a little, opting for pea protein instead of oat protein. The total protein content is also slightly lower(4g per 400kcal); while, the fat content is higher.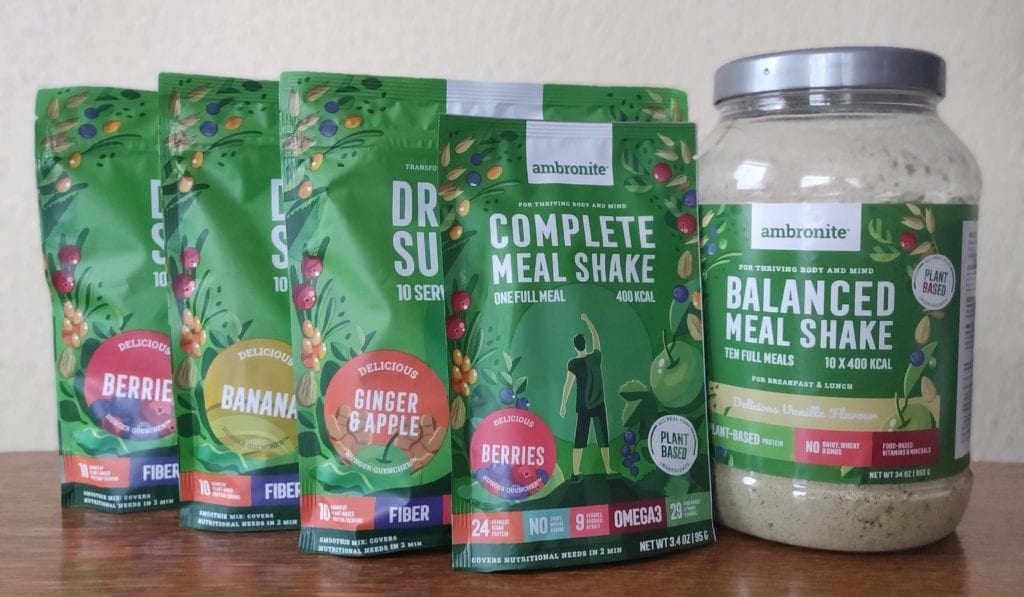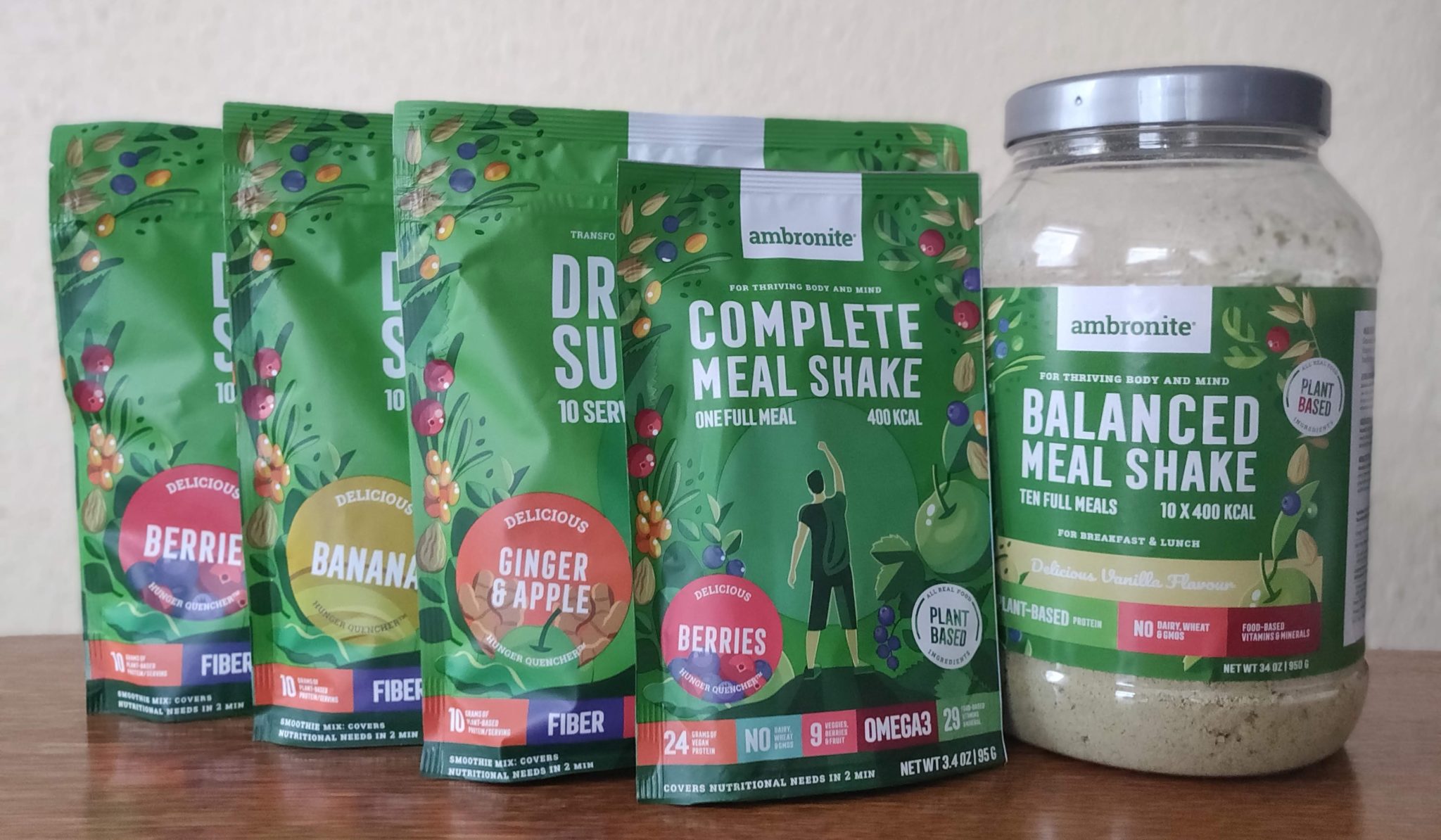 Ambronite aims to be a nutrition powerhouse in the meal replacement industry, by providing a plant based product, vegan friendly, with all the essential vitamins and minerals sourced from real food. Ambronite wagers on real food, as the nutrition field still discovers new findings about the way we process nutrients. Furthermore, many of the supplement recipes are based outdated resources; thus, making actual food the safest alternative.
The main ingredients include oat protein, berries (bilberries, cranberries and sea-buckthorn) and almonds. This is different to most other companies in the industry, since many do not base their products in nuts and berries. Noteworthy that Ambronite does not use soy as ingredient, widely used in meal replacements. They also use higher amounts of vegetables, such as, spinach and nettle, which cause an increase in the price of the product.
Energy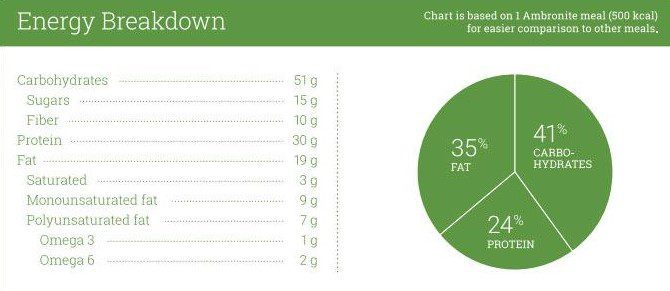 Ambronite is a low carbohydrate high fat meal replacement. In fact, the energy from carbohydrates is lower than the recommended by the EFSA and the USDA (45-65%). On the contrary, the energy from fats is on the higher limit (20-35%).
Protein
Interestingly, because Ambronite is dairy free, they make no use of whey protein (the biggest source of protein for most shakes), nor they use soy or rice. Instead, they use oat protein, almonds and coconut and still provide 30g of protein per serving!
The issue with some alternative plant based proteins when comparing to widely used protein sources, such as, whey or soy protein isolates is their amino acid digestivility and composition. Many tend to lack or are deficient in essential amino acids (EAA) and their digestion and absorption coefficients also tend to be lower. For instance, lysine and methionine are two of the usual suspects (low levels) in plant based proteins. Thus, in order to get all the EAA required you would have to increase the amount of protein you need a day (minimum 0.66g/kg of bodyweight) twice-fold.
However, 120g of protein is 2 times more than the minimum recommendations set by WHO and EFSA. Thus, for those who are not very active, Ambronite should give enough protein. If you are a top level athlete, or are looking to put on body mass, I would recommend supplementing your diet with whey protein (or your vegan blend of choice.
Carbs
Per 500kcal serving:
Total Carbs: 51g, 19% of RI.
Sugars: 15g, 30% of RI (based on EU).
Fiber: 10g, 50% of RI.
One of the main drawbacks of so heavily relying on fruits and vegetables is usually high sugar content. Indeed, Ambronite products tend to be high in sugars, mostly fructose (8g out of 15). In the US, the Dietary Guidelines recommend less than 10% of the calories to come from added sugars, which equals to 50g. 4 servings of Ambronite will provide you with 60g of sugars, from which a part will be added sugars (coconut sugar) and part will be naturally occurring sugar (fructose).

While, these sugars are from natural origins we would not recommend consuming all your meals from Ambronite only, especially if you have a sedentary lifestyle. High sugar intake is still a major problem in the dietary habits of western society.
On the plus side, Ambronite is fairly high in fiber, which comes from gluten free oats. High fiber foods are essential to maintain a healthy gut and regular bowel movement.
Fats
Per 500kcal serving:
Total Fats: 19g. 27.1% of the DRI.
Saturated Fats: 3.0g. 15.0% of DRI.
Monosaturated (MUFA): 9.0g. This is 16.2% of the calories per serving.
Polyunsaturated (PUFA): 7.0g. This is 12.6% of the calories per serving.
Omega-3 (ALA): 1g.
Omega-6: 2g.
The main sources for fat in Ambronite are nuts and flaxseed. Both sources are very well regarded in the nutrition community, since they are very low in saturated fats and contain plenty of omega-3 and omega-6 fatty acids. In fact, the omega-3/6 ratio is 1/2, within the ideal 1/1-1/4 range that is related to less risk for cardiovascular diseases.

On top of that, the amount of energy from MUFA is within the recomended range from the WHO (15-20%); while, PUFAs are a little in excess, it is not by much (recommended 6-11% from PUFA).
Micronutrients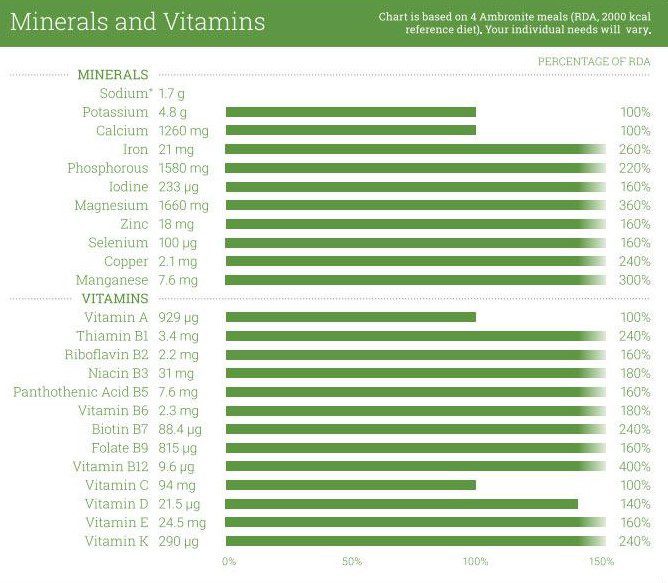 Each Ambronite meal (500kcal) will provide you with at least 25% of the daily required micronutrients. These micronutrients are not from a synthetic source, but from highly nutritious vegetables, such as, spinach, chlorela, spirullina…
These plants are not only rich in vitamins and minerals, but also in phytonutrients and antioxidants; compounds that have positive effects on health despite not being qualified as nutrients.
Allergens
Ambronite contains nuts and might contain traces of soy. Although, their products are gluten free, their oat provider handles gluten products, so they ask for caution for celiacs.
More about Nutrition
You can find more about the vitamin sources and Ambronite nutrition in the FAQ section of their website. Scroll down to the footer to find it.
Five Finnish men, named Simo Suoheimo, Mikko Ikola, Arno Paula, Mikka Pera and Tapio Melgin founded Ambronite in 2014 with the objective of creating the first drinkable organic meal.
It was advertised in Indiegogo (crowdfunding website) as the first organic food replacement, and became the most successful funding campaign in the website. The first shipments were made in December 2014, and they have since grown to deliver worldwide with factories in the USA and Finland.
The major point of focus of the company is creating the ultimate super food sourced completely from natural ingredients, plant based, non-GMO and vegan friendly.

The team has changed, with the inclusion of Valerie and Pessi, as Tapio and Mikka left. Not, however, the spirit, since Ambronite has been delivering meal replacements based on real food ever since their first shipment in December 2014.
Shipping Costs
Having born from crowdfunding at Indiegogo, it has grown to have to facilities, one in Finland and one in Europe, and be able to ship worldwide (quite a feat!). The shipping rates start at €9.9 in orders below €100 in Europe and it is usually delivered within 3 to 6 days. In the US and Canada, the delivery times will be around 5 business days.
Europe
Below €100: €9.9
€100-150: €4.9
Over €150: Free
USA
Below $100: $9.9
$100-150: $4.9
Over $150: Free
Canada
Same as US, but local fees may apply. If the order is stopped in the border you will have to pay extra.
Rest of the World:
Same shipping costs as for Europe, but local import taxes might apply and the delivery times will be longer.
Remarkably, this means that you could get Ambronite delivered to Australia for the same price as in Europe! Not something many brands can offer.
Return Policy
Ambronite emanates a positive vibe, easily noticeable if you ever need to contact their customer team; amiable, fast and reliable. If not satisfied with the product, you alway have the chance to return it within 30-days.
Not only that, but they operate a 110% money back guarantee program, which means they not only refund you the money but give you another 10% back!
Pricing & Subscription
If you are very satisfied, we recommend you to enroll their subscription program with a discount up to 33% (your wallet will thank you if you plan to consume Ambronite often). This is one of the best subscription discounts meal replacement brands offer.
In fact you can stack it up with bulk discounts:
No subscription
30 servings: $6.62/400kcal
60 servings: $6.25/400kcal
90 servings: $5.97/400kcal
120 servings: $5.77/400kcal
No Subscription + 25% OFF

30 servings: $4.97/400kcal
60 servings: $4.71/400kcal
90 servings: $4.50/400kcal
120 servings: $4.34/400kcal
Subscription
30 servings: $5.82/400kcal
60 servings: $5.56/400kcal
90 servings: $5.28/400kcal
120 servings: $5.07/400kcal
150 servings: $4.87/400kcal
180 servings: $4.66/400kcal
Subscription + 25% OFF

30 servings: $4.39/400kcal
60 servings: $4.18/400kcal
90 servings: $3.96/400kcal
120 servings: $3.82/400kcal
150 servings: $3.66/400kcal
180 servings: $3.5/400kcal
US | Use code for 25% OFF
EU | Use code for 25% OFF
Where is the product manufactured?
Ambronite meals are produced in Finland.


Is Ambronite vegan?
All Ambronite products are vegan, since the company believes in plant-based products as source of nutrition.


Is Ambronite GMO-free?
Yes, all Ambronite shakes and meals are GMO-free. They are also lactose-free and soy-free.


Are Ambronite products organic?
Not all Ambronite ingredients are organic certified, even if most of them are.


How many products does Ambronite offer?
Ambronite has 2 meal replacement shakes and a mix of greens to help you enhance your energy levels and improving gut health.


Is Ambronite healthy?
Ambronite Supermeals are some of the healthiest and most balanced complete food shakes.


Can Ambronite shakes help me lose weight?
Yes, Ambronite can help you lose weight. It will help you tracking your calories and feel you satiated better, so you do not overeat.

To lose weight with Ambronite, you can replace all your meals with Ambronite (have a 1,600kcal bag) or you can swap one or two. The most important thing is to maintain a calorie deficit. Read the how to lose weight with meal replacements for more in-depth information.


How long do Ambronite meals last?
Ambronite's shelf life is around 6-12 months. After this period, Ambronite will not go bad, but it will lose some nutrients.

Ambronite vs other meal replacements
I have been remarking the issue with the price, the fact that Ambronite is expensive when comparing to 95% of the meal replacements out there. But the fact is, Ambronite is not like the other 95% shakes out there. Ambronite offers an mostly organic, completely food based meal replacement matched by few; Vitaline, Ample and Feed.'s organic range, for instance.
Ambronite vs Ample– Ambronite has More Complete Nutrition
The European superfood vs the American superfood. Which one is the real deal?
Ample O
Ample Original is the starting Ample formula. It contains organic grass-fed whey protein concentrante as protein source, for which is not vegan friendly.
Ample V
Ample Vegan is the "copycat" version of Ample O, but with organic pea- and organic brown rice- protein. The other nutrients are in similar level.
Ample K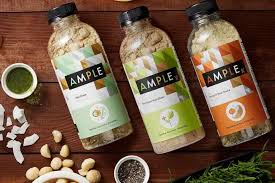 Ample K is the most different of all, since it is designed for keto users. Ample K uses grass-fed whey protein, but only has 16g of fat, of which 10 are fiber.
| | | |
| --- | --- | --- |
| | Ample O | Ambronite v5 |
| From | USA | FIN |
| Ships to | USA | World |
| $/400kcal | $$$$ | $$$$ |
| C/P/F | 25/27/50 | 41/24/35 |
| Allergen | Milk* | Nuts |
| kCal/meal | 400 | 330 |
| Serv/day | 5 | 6 |
| Suitable | Vegan* | Vegan |
| Flavours | 1 | 4 |
| Products | 3 | 1 |
| Subscription | 10% | 15-33% |
Label:
Price per 400kcal without subscription:
$– Below $1.5 $1.5 = €1.3 = £1.15
$$– $1.5 to $3 $3 = €2.6 = £2.3
$$$– $3 to $5 $5 = €4.3 = £3.85
$$$$– over $5
Products Available:
Ample: Ample K, Ample O and Ample V. Only the last is a vegan meal replacement.
Ambronite: Complete Meal Shake, and Balanced Meal Shake.
Flavours Available:
Ample: Just original flavour for all three products.
Ambronite: Berry, Ginger & Apple, Banana for CMS. Vanilla, Berry and Chocolate for BMS.
Price
Price

Ambronite

Ample V

US ($)
per 400 (expensive)
6.62
6.50
per 400 (cheapest)
3.50
4.97
Ample offers all their products in pre-powdered bottles which are available in 400kcal and 600kcal. Ample K is also available in bigger pouches which are slightly more affordable. Note that Ample is only available in the US.
On the contrary, Ambronite only has the 1,600kcal bag, which contains 4 servings of 400kcal; and the individual (400kcal) sachets for Complete Meal Shake.
Nutrition: Ambronite
| | | | | |
| --- | --- | --- | --- | --- |
| per serving | Ample O | DV (%) | Ambronite | DV (%) |
| Energy (C/P/F) | 25/27/50 | – | 41/24/35 | – |
| Energy (kCal) | 400 | 20 | 400 | 20 |
| Fats (g) | 21 | 33 | 15 | 22.5 |
| Saturated (g) | 10.0 | 52 | 2.5 | 12.5 |
| Monounsaturated (g) | – | – | 7.5 | – |
| Polyunsaturated (g) | – | – | 5.0 | – |
| Trans fat (g) | 0.0 | – | 0.0 | – |
| Cholesterol (mg) | 0.0 | 0 | 0.0 | 0 |
| Carbs (g) | 25 | 8 | 42.5 | 15 |
| Sugars (g) | 4.0 | – | 12.5 | – |
| Added Sugars (g) | | | | |
| Fiber (g) | 10.0 | 38 | 7.5 | 30 |
| Soluble fiber (g) | – | – | 1.0 | – |
| Protein (g) | 27 | 54 | 25 | 50 |
| Salt (g) | 0.49 | 21 | 0.35 | 12.5 |
One clear difference is the amount of energy that comes from fats. This is greater in Ample, as well as the amount of saturated fats. Ample is high in saturated fats, because they use coconut oil as main source of fats. On the contrary, Ambronite uses a mix of flaxseed and naturally occurring oat fats.
Both offer plenty of protein, while Ample O uses grass-fed (Ample V uses pea and rice protein); Ambronite uses a mix of oats, almond and coconut. More likely than not, Ample O has a better balanced amino acid profile.
However, there is a "black spot" in Ample's nutrition: it does not provide all the micronutrients necessary. Thus, you would have to either create your custom mix from scratch, or buy a vitamin & mineral supplement that will fit your needs (most likely synthetic).
Yes, Ample does come with probiotics and antioxidants; nevertheless, Ambronite will also contain many since it uses plants which are rich in these compounds. Ultimately, there might be ingredients in one of the other that you will prefer, but on paper Ambronite is a more complete meal.
Purchasing: Ambronite
Ample has a better website, clean design and very nice bottles for each serving. However, Ambronite has superior shipping terms, particularly outside EU and NA, offering free worldwide shipping in orders above €150. They also offer up to 33% bulk+subscription discount (both offer bulk+subscription discounts).
Ample might be the better deal for US citizens, because it is manufactured in the US, but Ambronite will be the better option for most of the world.
Which One Should I Buy?
Ambronite
You live outside the US.
You get tired of flavours easily.
Looking for something that will provide you with all your Daily Values.
Ample
Live in the US and want a US-based product.
Looking for really high fat shakes and keto shakes.
Want a non-vegan shake.
Verdict
Ambronite is the ultimate meal replacement for those who really care about what they eat. If you are concerned about GMO, you consume organic food, you care about where and how where they sourced you will like Ambronite. For us, the price to pay is too big. While we agree that they offer a very unique and exclusive product, we do not find the health benefits appealing enough to overcome the price issues for most of the users. Only with the 25% discount code does the price become reasonable.