SaladPower Review | A New Way to Drink Your Veggies
Now we're playing with power. SaladPower! In this SaladPower review, I will have a look to one of the most unique nutrition products I've tried.
In turn, SaladPower is a USDA certified organic smoothie, served in 8oz (236ml) twist top pouches. These smoothies only contain six basic ingredients, with no artificial sweeteners, colors or flavors. Also, there are no fillers, binders and no added sugar. What you see, is what you get.
As you will discover, the ingredients include 16 leaves of spinach, 12 leaves of kale, 5 carrots, 4 broccoli heads, half of an apple and a quarter of a lemon. That's it!
That blend provides you with 2x your recommended daily amount of veggies and is only 90 calories. Thus, it's almost reminiscent of the green superfood powders, like AG-1.
So, what is SaladPower, how does it improve your nutrition, and what are its benefits?
Key takeaways from this SaladPower review:
Saladpower is an organic drink made of 6 veggies
Provides an easy way to boost your veggie intake
Alone is not very tasty, it's best to mix with more fruits or with a meal replacement shake
It's not meant to replace a meal, but offer a nutrition boost
SaladPower is very expensive
Offers less greens and benefits than the best green powders.
---
SaladPower at a Glance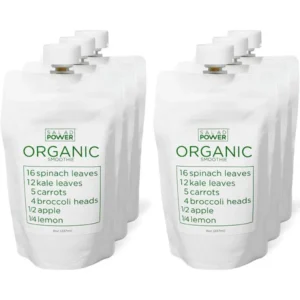 ---
Opinion
Probably like most people, when I make smoothies like this, it's likely 75% fruit, with a veg or two mixed in. Well, SaladPower has completely flipped that on its head with the vast majority of it's make up just being green veggies.
The first thing that caught my attention was the pouch. What am I…..2?? But I guess it makes sense, being the smoothie is on the thick side, and there's no way you'd get it all out of a bottle or carton. I still don't feel better about it, lol.
The next point of emphasis…the price. A six pack is $54! That's not a typo…..nine bucks per pouch! I don't care how well you're doing in this life; you will feel that.
Premier League
1. Literally worry free. No allergens, all natural, organic….everyone wins.
2. Great base. Even if you don't care for it solo, its super healthy base for other smoothies.
3. Pregnancy safe. No need to check the FAQ or consult your doctor beforehand.
4. Excellent way to boost your nutrient intake.
Bush League
1. Expensive. Despite the fact that organic greens are expensive, this product will only appeal to a certain audience.
2. Taste balancing. I would like to see more fruit added to cut the grass taste.
3. More flavors. Shouldn't be too hard to have other options.
Nutritional Breakdown
If you are familiar with green powders, you will know that these are concentrated powders of tons of vegetables, fruits, and mushrooms. They include veggies like kale, spirulina, chlorella, spinach, berries, or Reishi mushrooms to increase your nutrient intake.
These powders are finely milled vegetables, but some argue that part of their nutrients are lost in the process. Thus, SaladPower offers an alternative way to get the same benefits.
It's worth mentioning that SaladPower is fully organic, has no artificial ingredients or sweeteners, and that provides all its nutrients from food.
SaladPower Overview
| | |
| --- | --- |
| Kcal/meal | 90 |
| Macros (C/P/F) | 91/9/0 |
| Vegan | Yes |
| Keto | No |
| Features | Certified Organic |
| Non-GMO | Yes |
| Organic | Yes |
| Includes Probiotics | No |
| Artificial Sweeteners | No |
| Synthetic Additives | No |
| Contains All Micronutrients | No |
| Controversial Ingredients | None |
Carbohydrates
Based on 90kcal serving:
Total Carbs: 21g, 8% of DV.
Net Carbs: 16g, (Total Carbs – Dietary Fiber – Non-digestible Carbs)
Sugar: 11g.
Fiber: 5g, 18% of DV.
Being all natural fruits and vegetables, carbs comprise over 90% of the make up of SaladPower. Fruits and vegetables are nothing but water, fiber and simple sugars, so this is to be expected.
But it does feel good know that all carbs and sugars are derived only from the organic ingredients, nothing added or modified.
Protein
Per 90kcal serving:
Total Protein: 2g, 4% of DV.
Source: Fruit and vegetables
Unlike most of our meal replacements and protein products, SaladPower will not impress in this category. There is a bit of protein in kale and broccoli, but not enough in SaladPower's serving size to be noteworthy.
However, at only 90 calories, maybe add a pea protein powder to add 20+ grams of protein, without pushing the calorie count too high.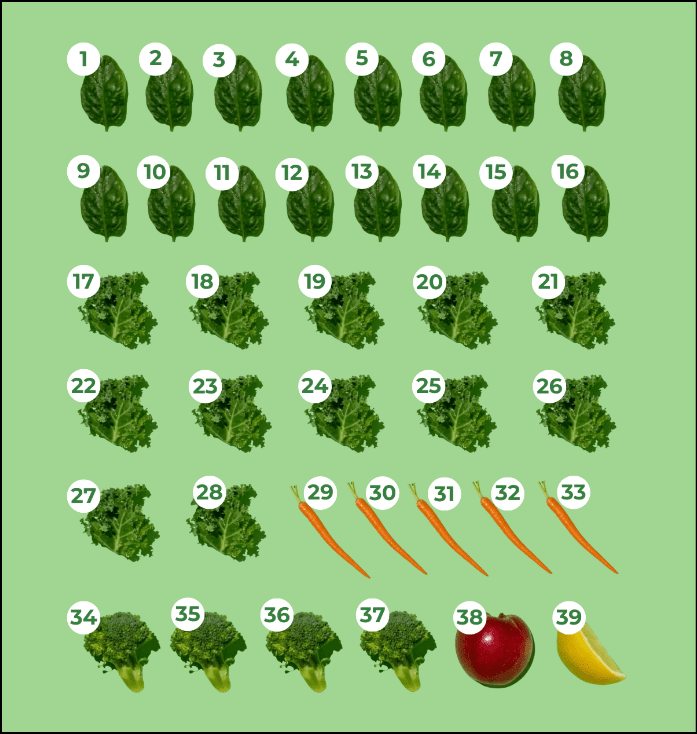 Fats
Per 90kcal serving:
Total Fats: 0g, 0% of DV.
Saturated Fats: 0g, 0% of DV.
Nothing. Nada. Zilch.
Healthy fats to consider addind could be coconut oil, olive oil, avocado oil,
Micronutrients
We have a few standouts in the vitamin and mineral section.
Vitamin C – 16mg (20%)
Potassium – 727mg (15%)
Vitamin A – 909mcg (100%)
Iron – 5mg (30%)
And no added multivitamins, all micronutrients are sourced from the ingredients themselves.
Allergens
SaladPower contains no prevalent allergens.
SaladPower Health Benefits
At the end of the day, if you are interested in a product like SaladPower, you are mostly interested in the health benefits you can get from it.
SaladPower contains 16 leaves of spinach. This leafy veg is a common in green powders due to its high antioxidant content, high vitamin K content and its immune boosting abilities. Spinach is rich in zeaxanthin and lutein which can improve eye health.
Another leafy green found in high quantities is kale, which is also rich in antioxidants, vitamin C, vitamin K and beta-carotene. Polyphenols found in kale can help you fight oxidative damage in your body which can lead to cancer and other chronic diseases. Kale might also be good to lower your cholesterol levels, protect against cancer, support eye health, and even promote weight loss.
Carrots are well-known for being rich in beta-carotene and vitamin A, both great for eye health. Plus, they are a good source of biotin and potassium.
Ultimately, this is an OK blend of greens that will provide you the following benefits:
Improved eye health
Boost in antioxidants
Cancer protection
Might boost immune system
SaladPower Comes Short
However, when we compare this to the best green powders in the market like SuperGreen Tonik or AG-1 we will soon realize that it lacks many key greens.
For instance, spirulina and chlorella are two power-house algae that reduce inflammation, help your body detox and get rid of toxins, and even improve digestion.
Furthermore, green powders tend to have more ingredients that help cognitive performance, mood and anxiety relief. Ultimately, they offer a bigger health boost than SaladPower.
Taste Test
So we're just gonna pop the top, and dive right in.
It smelled about as I expected it to, but I was a bit taken back by the color being a medium brown. Guess I expected it to be mostly green. Anyway, its thick and was very smooth, much like dipping sauce. The taste….it wasn't bad, I just personally am no fan of kale, spinach or uncooked broccoli. It has a subtle sweet/sour hint right as you swallow from the apple and lemon.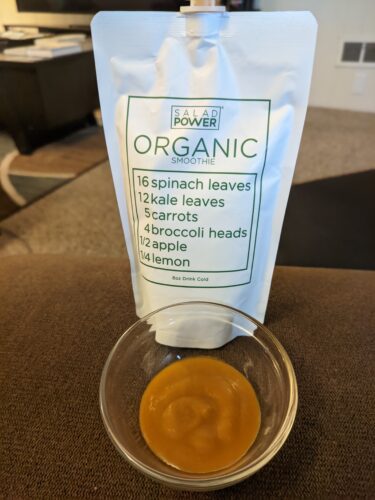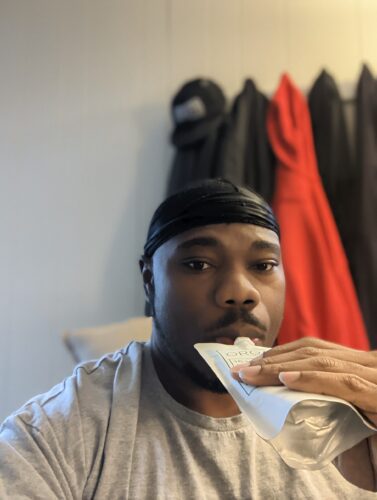 Mixed
After trying it straight out of the pouch, figured I'd add a few things to make it better for me. I added mango, peach, strawberries, a banana and some pea protein powder. This was much better, without taking away from its original state.
Another great way to take your nutrition to the next level might be adding it to the best meal replacement shakes, which include all the essential vitamins and minerals plus the protein you need.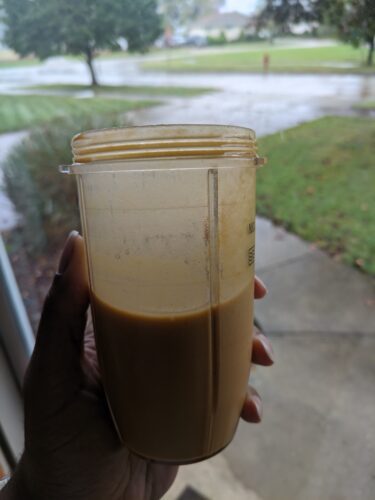 About SaladPower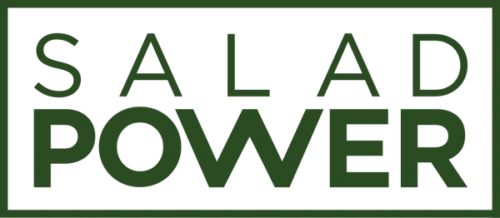 SaladPower was created by Stephan Lotfi and his longtime friend Nikhil Wagh -no longer working on SaladPower. As fitness and health enthusiasts, they wanted to create a healthier, cleaner juice option that was both refreshing and of the highest quality.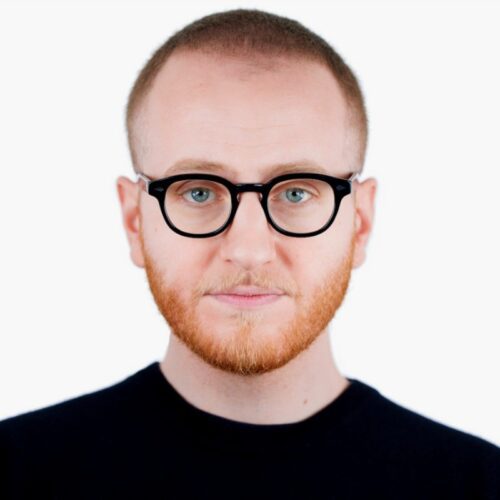 SaladPower is taking on the juice industry by bucking the buzzwords in favor of affordability, accessibility and proven nutritional value. Rather than choosing between price and nutrition, SaladPower has created the healthiest and most affordable vegetable juice on the market.
Pricing & Shipping
SaladPower is only sold via their website. Orders are sold as boxes of six pouches. A monthly subscription is available that offers a 15% discount, with delivery every 30 days.
| | | |
| --- | --- | --- |
| Order Size | Price | Serving Price |
| Single Order | $54 | $9 |
| Subscription | $45.90 | $7.65 |
Free flat rate shipping is offered, with delivery within 3-10 business days. No mention of which shipping partner is used, or if they ship internationally.
SaladPower Amazon Reviews
Keep in mind that on Amazon, SaladPower is "currently unavailable" but there are some reveiws from earlier this year.
Seems to be a very mixed bag, of mostly 5 star or 1 star reviews with some loving that one pouch is all their veggies needed for the day, and other less flattering reviews focused on the taste and refund policy.
Other SaladPower Reviews
A couple of opinions from others across the net.
SaladPower's ingredients are good, the nutrition is good, and the taste is also good.  So, would I drink SaladPower smoothies as a way to supplement my diet with more veggies? Yes. But, it's pretty expensive at $9 a pouch if you don't want to subscribe and $7.65 per pouch if you subscribe (you can cancel at any time). That adds up quickly if you plan to drink one every day. Convenience foods like this are always going to be more expensive than buying the individual veggies and fruits and preparing your own smoothie. But there's something to be said for being able to open the fridge, grabbing a ready-to-go pouch, drinking the 8 oz and calling it a day. What do you think? Would you drink a veggie smoothie?

The Gadgeteer
SaladPower is a refreshing and convenient solution that delivers all the goodness of veggies in a single sip. It's the perfect companion for busy individuals, anyone who does not like to eat veggies, and anyone looking to elevate their nutritional intake in convenient way.

The Fitness Junkie Blog
SaladPower vs. Noka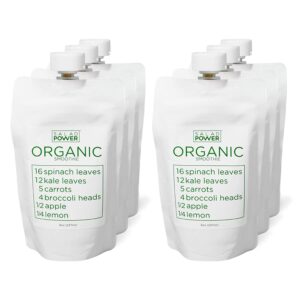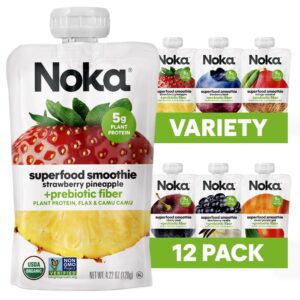 Honestly, it was tough to find a suitable contemporary for this comparison, but we have one measures up, and quite closely I may add.
Noka is also an organic smoothie in a pouch and is a top seller on Amazon.
Head to Head
| | | |
| --- | --- | --- |
| Category | SaladPower | Noka |
| serving price | $9 (USD) | $2.25 (USD) |
| serving size | 286ml (8oz) | 125ml (4.2oz) |
| servings per | 6 | 12 |
| kcal/serving | 90 | 110-120 |
| Packaging | Pouches | Pouches |
| Flavors | 1 | 6 |
| Protein (g) | 2 | 5 |
| Sugar (g) | 11 | 13 |
| Fiber (g) | 5 | 5-6 |
| Fats (g) | 0 | 1-2 |
| Carbs (g) | 21 | 22-24 |
| Vegan | Y | Y |
| Organic | Y | Y |
| Micronutrients | 7 | 3 |
| Artificial Sweeteners | N | N |
| Synthetic Additives | N | N |
| GMO | N | N |
| Protein Source | Vegetables | Brown Rice |
| Availability | US | US |
| Other Products | None | None |
This turned out to be closer than expected, with the differences between them being minimal when only focused on the numbers.
Both products take different approaches. SaladPower makes no apologies about being veggie first, which is rare considering most put the fruit front and center. Just looking at the numbers, SaladPower does fall short in some areas with its lack of variety, and its high cost. Where it makes up for that is by being able to stand on containing no questionable additions alongside offering more micros.
Full disclosure, I don't have Noka, nor have I tried it. However, I do appreciate the half dozen flavors, more reasonable price and added protein. Where some may pause, is many of them have "natural flavors" which we all know is an unregulated black box here in the US. If that doesn't deter you, Noka certainly has a lower barrier of entry, and provides much of what SaladPower provides…at a fraction of the cost.
SaladPower FAQ
Why is there just one flavor?
We developed the perfect single formula to maximize vegetable nutrition density while minimizing sugar. Our formula is geared towards functionality (and still tastes great too!)


Can I give SaladPower to everyone in my family?
Yes, SaladPower is pregnancy & baby safe. However, we always recommend to consult with your doctor for specific nutritional requirements


My SaladPower tastes slightly different. Why is that?
Great question! We only use USDA Certified Organic produce. Organic produce is inherently different harvest to harvest, depending on factors such as time-of-year and local weather conditions. This means SaladPower may slightly vary in taste from batch to batch. That's a good thing! It's what happens when you don't use pesticides!


Do I need to refrigerate it?
While SaladPower is best enjoyed chilled, thanks to our pouch seal technology it can be stored at room temperature. It's pretty amazing. Once you break the seal by twisting the cap, we recommend consuming within 4 hours for maximum nutritional benefit.


I received my order, but there's a problem.
If your order was accidentally damaged during shipping, please reply to your order confirmation email with pictures showing the damage and we will send you a free replacement if necessary. You can also reply to your order confirmation email with any other questions.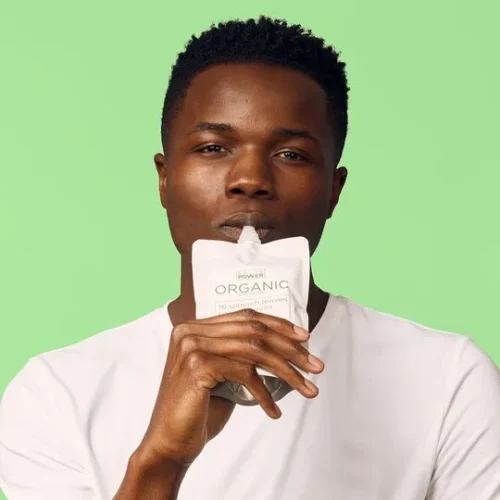 ---
Verdict – SaladPower Review
Funny that this review is right on heels of my previous review of CTRL, a product that I blasted for its artificial colors, and lack of natural ingredients. So in that vein, I'm very appreciative of SaladPower.
If we're being honest, and we always are at LatestFuels, I didn't care for the taste of SaladPower. I knew I would be biased against it, as I'm no fan of the vegetables used for the foundation of of the product.
However, I feel that more should be added to make it a bit more palatable to wider consumer base, or that other blends should be offered in the future since they have such good packaging that they can keep a truly all natural smoothie fresh without preservatives. I bet a fruit based one would be a hit.
Lastly, can't gloss over that price, it feels excessive. They offer free shipping, so maybe that cost is included in the price, but I'd rather them drop the price and charge for shipping. At least I can better wrap my head around $30 + $15 shipping, rather than $9 per pouch.
It is harder to justify when superfood powders might arguably offer a bigger boost for a third of the price.
Having said that, it is true that SaladPower works with organic US farmers that should be paid a fair wage. Thus, their prime ingredients are more expensive than the competition.
Bottom line – SaladPower is what it claims to be. Some like that, some don't. We would like to see more greens and a slightly more affordable price, but it could be a good way to drink your veggies.