Zhou Deep Greens Review | Great Boost for Your Mind and Body
Zhou is a nutrition supplement company from the US primarily focused on nootropics, mental boosters, multivitamins and similar. However, in this Zhou Deep Greens review, I will have a look to their greens drink. In fact, this is in my opinion one of the best green superfood powders available in the market; thanks to the powerful adaptogens that it contains. A mix of greens that will help you focus better, as well as boosting your immune system. Let's find out all there is about Zhou Deep Greens, and whether it is worth your money.
---
Zhou Deep Greens Review at a Glance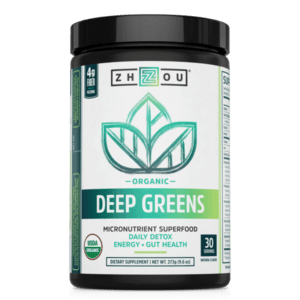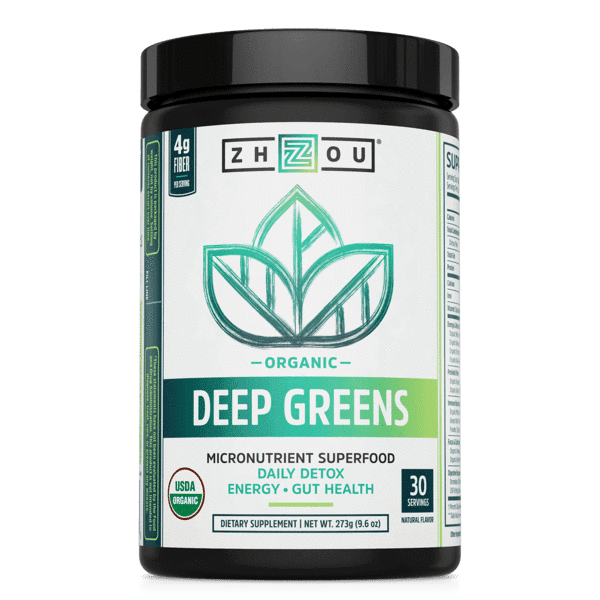 Flavours: Original.
---
Nutrition
| | Deep Greens |
| --- | --- |
| Kcal/serving | 35 |
| Sugars (g) | 0.0 |
| Protein (g) | 2.0 |
| Fibre (g) | 4.0 |
| Vegan | Y |
| Organic | Y |
| # of Greens | 19 |
| Adaptogens | Y |
| Probiotics | Y |
| Digestive Enzymes | Y |
| Sweetener | Stevia Leaf Powder |
| Unwanted Ingredients | None |
In this case, Zhou only offers one greens powder. However, this is USDA organic certified, gluten free and vegan. While it is the one of the few greens with organic ingredients, note that they are not all sourced in the US.
On top of that, all Zhou's powders are lab tested in Utah and follow Good Manufacturing Practices (GMP), which ensure the quality of the product.
Ingredients
Core Greens Blend
The main greens blend has many of the usual suspects: spirulina powder, barley grass, alfalfa, kale… In fact, the core blend is composed of 8 alkaline greens that make up to 4.7g per serving (9.1g per serving).
Asides from these greens, there are also few antioxidant rich vegetables: matcha, beet root juice powder, ginger etc. Unfortunately, Zhou does not provide with the ORAC values or the exact amounts of the ingredients.
Furthermore, there are also added fibres. In fact, Deep Greens has 2.9g of prebiotic fibre from agave inulin, flaxseed powder and apple fibre. This dietary fibre is very useful to help you control bowel movement, boost your gut health and reduce the risk of many gut related illnesses (diabetes, colon cancer etc.).
Adaptogens
This is an area where Zhou Greens edge the competition. As a matter of fact, they seem to have put special emphasis on adding herbs with stimulant properties. Understandable, since Zhou is a company specialized in such supplements.
In particular, it is interesting to see both ashwagandha and reishi mushroom powder. I talked a little about ashwagandha in the Super Greens review, but in short it can reduce stress levels and boost your memory. Similarly, reishi mushrooms are also effective against stress, can improve sleep and help you with combating fatigue.
Therefore, Zhou's Deep Greens drink is ideal to kickstart your mornigns.
Enzymes/Probiotics
On another positive note, it's good to see digestive enzymes and probiotic's in Deep Greens. There are two digestive enzymes in this mix:
Bromelain (2400GDU/g). This is a group of enzymes found in pineapples and can be helpful to reduce inflammation in your gut. However, it can interact with certain medications, so make sure you are OK to consume it.
Papain (6000PU). As the name might suggest, this is an enzyme extracted from papaya fruit. It has a key role on breaking down proteins into amino acids, and help our body digest them better.
Besides these enzymes, Deep Greens also contains Bacillus coagulans (100 billion CFU/g), which effectiveness is yet to be properly researched. That said, it could have beneficial effects in your microbiota, and help with intestinal issues, such as constipation.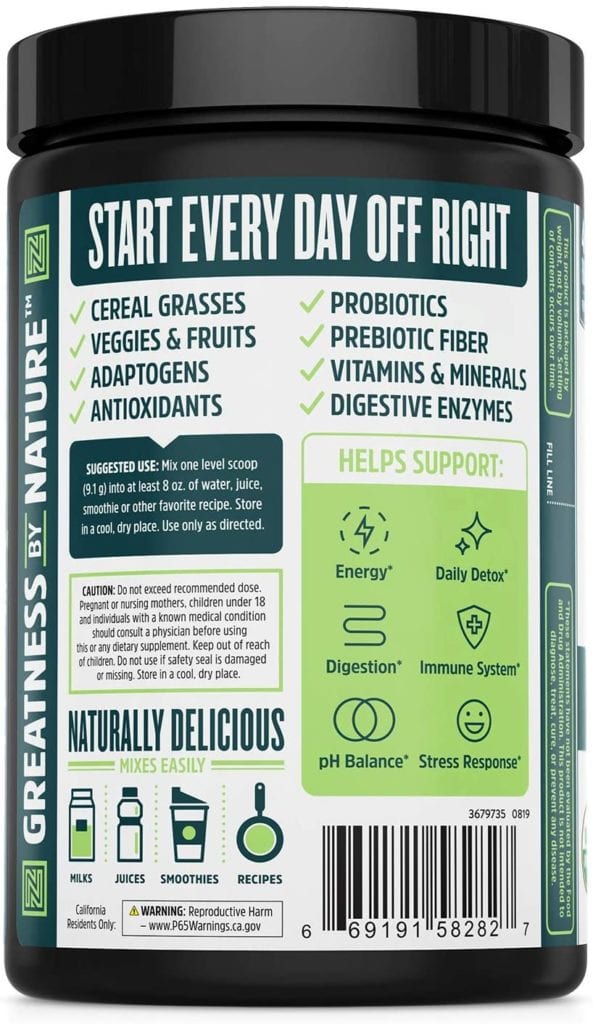 Unwanted Ingredients
Deep Greens does not contains any unwanted ingredients.
Sweeteners
Like many other competitors, Zhou steers away from artificial sweeteners like sucralose, and instead uses organic green stevia leaf powder.
Micronutrients – Vitamins & Minerals
Sadly, once again, only few micronutrients are shown in the nutrition label. As such, I wouldn't use Deep Greens as a source of essential vitamins and minerals; and instead look for multivitamins for this purpose.
That said, Deep Greens will provide you with 100% of Daily Values of Vitamin C, as well as, some vitamin A, K and E (naturally occurring).
Personally, and although there are some natural variations, I would like to see more information in this front.
Other Interesting Ingredients
Interestingly, the above mentioned are not the only ingredients with beneficial properties. Actually, Deep Greens contains a few more ingredients that are not common in green powders. For instance:
Astragalus Extract. This adaptogen is commonly used in traditional Chinese medicine. Besides being able to counteract fatigue, it is also rich in antioxidants, compounds that might help you fight viruses and might even help with heart conditions.
Echinacea Powder. Unlike the abovementioned, this is a North American herb. It is rich in many phytonutrients like phenolic acid, rosmarinic acid, alkimides, etc. Among many other things, it can help boosting your immune system (commonly used against the flu), may lower blood sugar levels, and could reduce anxiety levels.
All Ingredients
Energy & Detox Greens
Organic wheatgrass powder, organic spirulina powder, organic barley grass powder (leaf), organic alfalfa grass (leaf), organic chlorella powder (cracked cell), organic broccoli powder, organic kale powder, organic spinach powder.
Prebiotic Fiber
Organic agave inulin (as TicOrganic), organic flax seed powder, organic apple fiber (fruit).
Immune Boosting Antioxidants
Organic matcha powder, organic beet root juice powder, organic ginger root powder, organic echinacea powder, organic acai juice powder, organic parsley powder, organic acerola powder.
Focus & Clarity Adaptogens
Organic ashwagandha powder, organic maca root powder, organic ginger root powder, organic reishi mushroom powder, organic astragalus extract.
Digestive Enzymes & Probiotics
Bromelain (2400 GDU/g), papain (6000PU – equivalent to USP U/mg), Bacillus coagulans (100 billion CFU/g) (as Sanzyme).
Other
Organic natural flavour, organic green stevia leaf powder.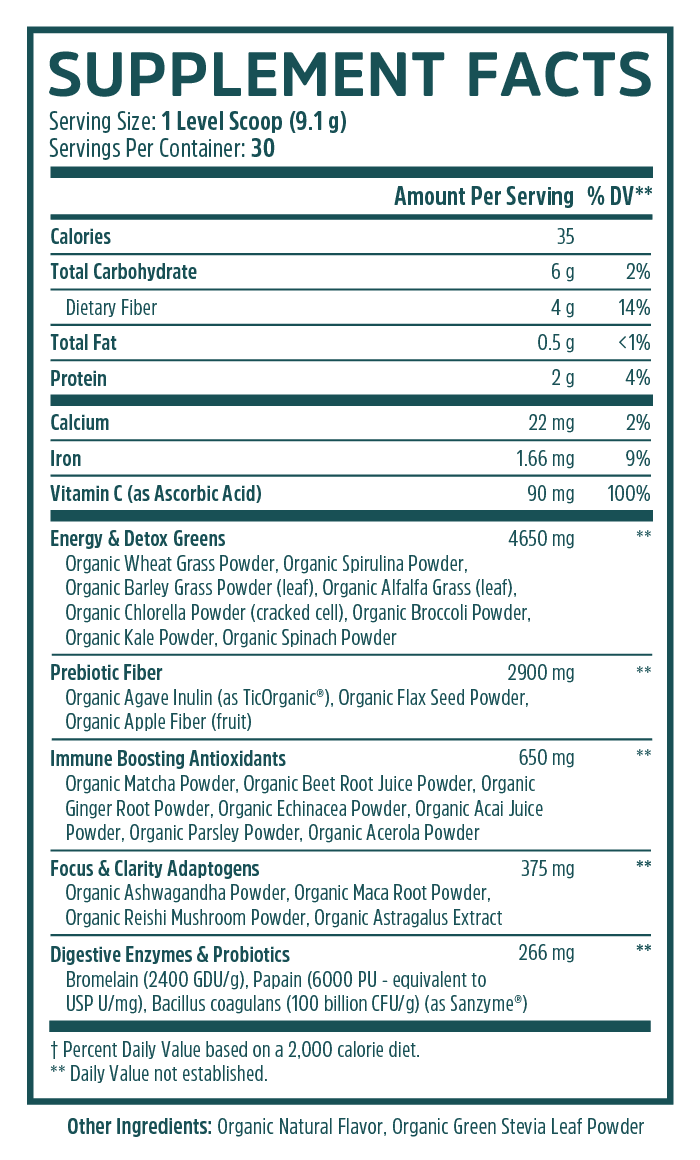 Taste
| | Deep Greens |
| --- | --- |
| Best Tasting Flavour | Original |
| Taste | 3.8/5 |
| Texture | 4.0/5 |
| Easy to Mix | Yes |
| Goes Well With | Smoothies, Meal Replacements |
This is not one of Deep Greens fortes. Not only does have one single flavour in offer; but also it's not the best tasting greens powder out there. Generally speaking, people who are not keen on the idea of a greens drink should not consume this with water.
The reason for this is because it is mildy sweet, but very green tasting. There is no hiding the flavour of the herbs, and it's not the freshest blend that I have tried.
Consequently, I preferred drinking my Zhou Deep Greens with my organic meal replacement shake. Alternatively, you can have it with your protein powder, smoothie or morning juice. It goes well and it's easily masked, to a point you won't even notice it's there.
Goes Well With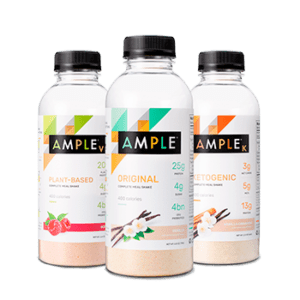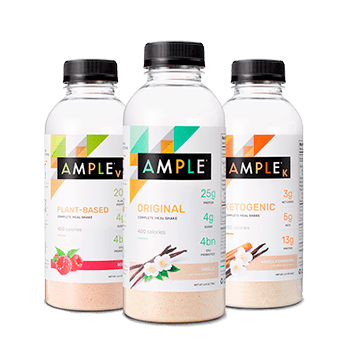 Best Vegan Meal Shakes
Ensure that you get quality nutrients.
Get all the vegan protein that your body needs, plus essential fatty acids, and healthy carbs.
Options for soy-free, gluten-free, organic… shakes.
Best way to ensure complete and balanced nutrition.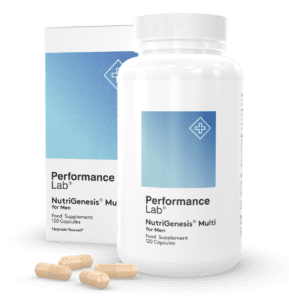 Multivitamins
Make sure you get all the micronutrients, as well as the benefits from Zhou Greens.
100% of Daily Values for over 17 vitamins and minerals.
Available in the US, UK and EU.
Price & Shipping
As far as the price is concerned, Zhou Deep Greens falls in the middle of the pack. While it's not as cheap as Amazing Greens and other competitors, I would say that anything under $1/serving is reasonable.
In the US, the pricing of Deep Greens is the following:
273g tub (30 servings): $0.92/serving – $27.85/tub
With subscription (20%): $0.74/serving – $22.28/tub
Currently, Zhou offers free shipping to the US in orders above $30; and they will be at your doorstep within 3-7 days.
Furthermore, they do also ship to EU and UK, but the costs will depend on your order. These will at least be $25. If you are looking to EU based alternatives, you can check Super Greens.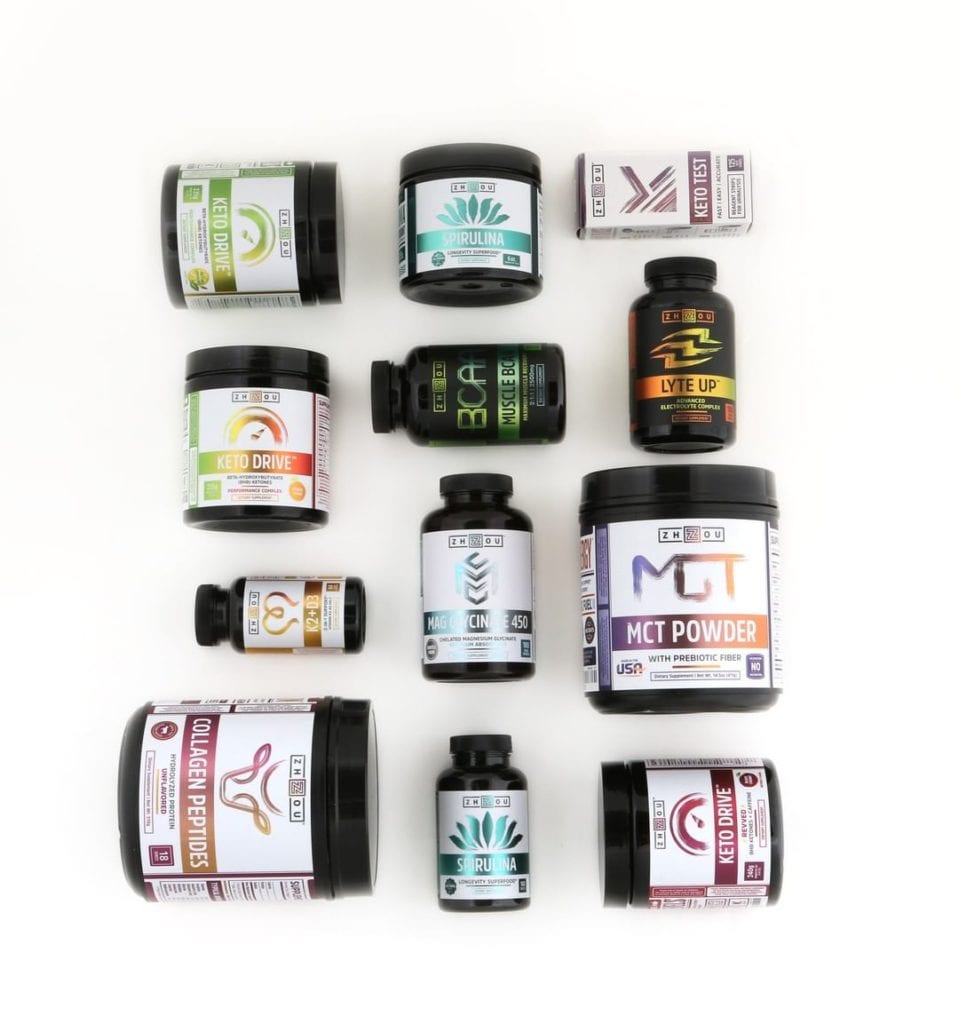 FAQ
Can I take more than one serving of Zhou Deep Greens?
Yes, there are no major health concerns with that.


What are the main benefits of consuming Deep Greens?
The actual benefits will vary with each person and the person's diet. However, Deep Greens should provide a boost to your immune system, might help you with digestion, and can also enhance your focus and clarity thanks to the adaptogens.


Are there any side effects when drinking Deep Greens?
No, but there is a label that cautions the user to not drink if pregnant, under 18, breastfeeding or have a medical condition.


What is Deep Greens shelf-life?
The product should be good for at least a year when kept in a cool, dry place, avoiding direct sunlight.


Pros/Cons
Pros
Interesting blend of greens with some unique powerhouses
Includes adaptogens to help you focus better
It has multiple active ingredients that can boost your immune system
Contains digestive enzymes and probiotics
Rich in fibre
Free of any nasty ingredients
Cons
Only one flavour available and it's not the best tasting
Affordable only if you life in the US
No clear information about micronutrients
Verdict – Zhou Deep Greens Review
All in all, I have mixed feelings after concluding this Deep Greens review. On one hand, I think that they have good quality greens and an unique focus on adaptogens that can help you with mental health. On the other hand, I would've liked to see different digestive enzymes and more flavour options.
In fact, perhaps my biggest problem with Zhou's Deep Greens is that it looks like an unfinished product. It has the blueprints of an excellent green powder, but it has been forgotten in their extensive nutritional catalogue.
As such, Deep Greens is a perfectly fine greens powder; just a little rough in the edges. If you don't mind the "greens" taste and are looking for a mental and immune booster, then Deep Greens might be the product for you.
Unfortunately, if you live in Europe, I would suggest you browse my best greens powders.
Zhou Deep Greens
From $0.74/serving
Pros
Exciting greens blend focused on boosting mental performance
Excellent adaptogens that can help you reduce anxiety
Contains probiotics, and digestive enzymes
Vegan, organic, and lab tested
Great option for US
Cons
Only one flavour available
Taste is very green
No clear information on micronutrients
Shipping to EU is expensive