Are RTDs the future of meal replacements?
Most major brands are jumping on the RTD hype train.
Ready to drink meal replacement shakes or RTDs are a hot topic right now. The US giant Soylent has started distributing his ace product, Soylent Drink (and Soylent Cafe) in the UK (discussed in another article). Similarly, Saturo, an Austrian based RTD company, has decided to make the jump to the US. Also, after getting some fresh funding. On top of that, this September, Jimmyjoy (the Dutch budget meal replacement giant) has launched Plenny Drink, their bet to get a share of the RTD market.
So why is this all happening now? Are RTDs the future of meal replacements? Will they offer an entry point to mass marketing? I will try to answer this questions and more.
An overview of the RTD market
North America
Ready to drink meal replacements have been around the US for a while, since Soylent lauched Soylent Drink Original back in September 2015. They followed up with more flavours, namely, Cacao, Nectar (12/16), Strawberry (06/18) and recently Vanilla (09/18). Plus, Soylent Cafe (the caffeinated version) in August 2016, expanding the flavour options in June 2017 (Cafe Vanilla and Cafe Chai).
In July 2017, Soylent was available in 7-Eleven shops, which was a great jump forward on the introduction of complete foods to the general audience. Now, you can find them in other stores like Kroger, Walmart or Target; besides over 8,000 7-Elevens.
So, yes a lot about Soylent, but what about other alternatives?
Sadly enough, the fact is that there is not any in the RTD format. Ample has a pre-bottled powder to which you only need to add water, but does not sell in retail and it is a more niche (organic superfood) product. Similarly, there is Vitalhouse in Canada, which offers their meal replacement in the same product, but it is even a smaller company than Ample.
Why is this? Where is the US competition? Will there be any more options soon? Questions to be answered in another article.
Europe
The RTD market in Europe is at the most competitive it has ever been. Mana Drink was launched at the start of 2017. Closely followed by the Austrian RTD one-trick Saturo, which has become one of the biggest names in the market and is now ready to jump to the US. These two offered products very similar to Soylent.
Later on, YFood brought a non-soy based RTD and arguably one of the best tasting shakes in the market. More recently, there has been other brands like Your Pop Up Meal (who only sells ready to drink products), Feed. or Trinkkost jumping on the RTD hype train.
The latest addition to the European RTD market has been no other than Plenny Drink. Based on Jimmyjoys worldwide successfull Plenny Shake, it is the Dutch powerhouse's bet on this sector. It aims to be the budget option.
Oh, and let's not forget. Soylent is also fight for a piece of the pie in Europe, after they launched their products via Amazon in the UK.
Many are now wondering when or if the European giant Huel will jump into the RTD hype. Other, brands like Queal, too, are looking to expand their product range to this sector, while this might not be happening in the first half of 2019.
RTDs in the World
Company
Price
Ships To
Profile
C
P
F
Soylent
$$$
US&UK
V,GF
38
19
43
YFood
$$$
EU
NG,GF
31
28
41
Saturo
$$
EU&US
V,NG,GF
35
20
44
Feed.
$$$$
EU
V,NG,GF
52
15
33
Sated
$$$$
World
V,K
8
17
75
Plenny Drink
$$
EU
V,NG
54
13
33
Jake Drink
$$$
EU
V,NG
34
23
43
Huel RTD
$$$$
EU
V,NG,SF
38
20
42
Ample
$$$$
US
V,K*, NG
25
27
50
Mana
$$$
EU
V,NG
35
20
44
YourPopUpMeal
$$
EU
NG
41
18
41
Trinkkost
$$$$
EU
V,NG
43
26
31
Appetite
$$$$
BEL
–
–
–
–
VitalHouse
$$$
NA
V, NG, GF
40
29
31
Labels:
GF– Gluten Free.
V– Vegan.
NG– Non-GMO.
K– Keto.
LF– Lactose free but not Vegan.
SF– Soy Free.
*– Only specific products are.
Price per 400kcal without subscription:
$– Below $1.5 $1.5 = €1.3 = £1.15
$$- $1.5 to $3 $3 = €2.6 = £2.3
$$$– $3 to $5 $5 = €4.3 = £3.85
$$$$– over $5
Why are RTDs so popular now?
First and foremost is important to remark that the meal replacement market is in its infacy right now. Much of the potential audience has not been introduced to complete foods and thus there is a huge piece of the pie yet to be tasted.
When this massification or normalization of meal replacements is going to come is something no one can guess. You can make wild predictions, but they will have little foundation. Thus, the companies are attempting different marketing techniques, producing different styles of products, in varying sizes and formats in order to find the key to the general population. To clarify this point, they are trying to come up with the "perfect" product that will solve some of the issues the market presents (selling in retail, overcoming competition, convenience, price…) for both new and old consumers.
After seeing how Soylent made a bet on their RTD over the powder version and has succeeded controlling the US market and ensuring retail deals with some of the biggest retailers in NA; it is normal that the European counterparts have tried to emulate it.
RTD vs Powder
So, what are the benefits of an RTD product over a powder based product?
Pros:
Convenience. Let's start with the most obvious one. RTDs are far more convenient than powders, particularly if you are to drink them on the go. It is not only that, but there is also the accountability factor. RTDs do not require use of scoops or any measurements. You know what you are getting in each drink, and that is a big load off some people.
Portability. Tied with the last point, it is obvious that RTDs are more portable than the powders. You do not need to bring a shaker, a pouch and/or water. You can take them almost anywhere (except plains) and drink them in an instant.
Time. Meal replacements are partially about saving time. There is not a quicker meal than the one already prepared for you in a bottle. Just open and drink.
Stigma. Complete foods have a certain stigma. "They are not real food". "They are unhealthy". "They are weird". Some people are put-off by shakers, powders and the preparation. However, the same people will likely buy a smoothie in the supermarket or even a protein shake. Just because they do not see the preparation method and these two are more accepted in the society.
Easier to sell in retail. Partially linked with the last reason I gave, RTD products will be more easily sold in retail. Think about it. Are you more likely to buy protein powder or a protein shake in the supermarket. There are a lot of factors that influence this decision in the consumer, but familiarity is one. I feel that currently customers are more familiar and comfortable with nutritional drinks than are with nutritional powders (the second just does not seem natural).
Easier for people to start with. Maybe a follow up of the last point, RTDs are easier to start with (if sold on retail). You can easily only buy one and it is not a big commitment (maybe a €2-4 commitment). If you see them close to the usual protein shake you buy, you might think "why not?".
Easier to buy. If they are in fact, expanded to real world stores (not online), like Soylent in US and Saturo in Austria, they are easier to buy. Not only because they are easier to compartimentalize in a store than powder (think about all the types of store that sell some kind of drinks over powdered food), but also because as said before they require less commitment and not preparation at all. Just buy and drink.
Consistency and taste. This one is subjective and personal, but RTD shakes are blended with industrial blenders, which creates smoother and better mixed shakes.
Cons:
Price. All RTD products are more expensive. Soylent Drink for instance is almost $2 more expensive than the powder version. Plenny Drink is €1.5 more costly than Plenny Shake, which is based upon. This is due to many factors, including the processing cost, the shipping costs, the packaging… So, currently, if you are on a budget or likely to consume your meals at home, powder versions are far superior.
Production and shipping cost. It is basically the reason why the price tag is so much higher than the powder versions.
Shelf life. One of the issues with mixing the powder with water is that reduces the shelf life of the powder. Just think about it; your standard powdered shake can have from 12 to 24 months of shelf life is kept in dry storage but only 24h if mixed.
Preservatives. Some companies will have to add preservative to make longer shelf lifes possible. This will change the formula, perhaps the taste and will go against the company policies of adding chemicals.
Enviromentally less friendly. Let's face it, RTDs require more production cost, they are more expensive (both economically and enviromentally) to recycle, they have a bigger transportation cost (volume and weight) and require more materials to produce. On the opposite hand, powder versions can be sold in biodegradable bags (Pulve) or have minimal waste (Huel's case shown below).
More storage. For a lot of us, Europeans, this is an issue since we live in "tiny" flats. Also, many of the potential consumers (office workers in big cities), they will have limited space in their houses. Having a 30 days worth of RTDs at home requires significant space, that powder simply does not.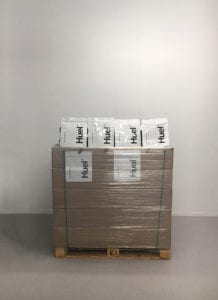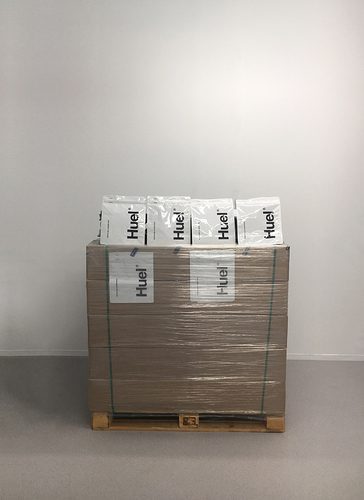 RTD vs Bar
Perhaps this is a more relevant comparison, since they are both really portable and discrete options, a lot more convenient than powder, and easier to sell in retail, as well as, easier to start with. They share many common pros vs powder based meal replacements.
Regarding how RTDs fair vs bars, they tend to be nutritionally more complete and balanced (since bars need to deal with solidifying fats and other manufacturing issues), have more flavour options and are easier to tweak to different nutritional values. Bars require less space, less volume to transport and perhaps are more discrete. They also have a smaller wrapping, which at first glance should mean more environmentally friendly; however, this wrappings are not as widely (easily) recycled as the bottles are. RTDs also offer hydration, while the bars would require a bottle of water or hydration method of choice.
In Europe, bars have been the go-to choice for brands until recently. Huel has his meal replacement bar, Jimmyjoy has offered Twennybar for a long time now, and Queal rebranded Wundrbar to GO bar (which they were selling since 2016).
So back to the question, why RTDs now?
There is no simple answer, obviously. It is a complex mix of what the consumer want, what the brands think the consumer want, the success of Soylent in the US, recent fundings received by both Saturo and Soylent (plus Feed.), the believe that this will be what it is going to allow to sell in retail…
It must be understood that when I say now, this is not but the "peak" or part of the upwards trend that has been occurring over the past two years. It has just now being ignited by the launch of Plenny Drink and the crossing over the Atlantic by both Soylent and Saturo. There are also more niche products like Sated, a brand focused in keto meal replacements, that are having a very successful Kickstarter campaing for their RTD version.
VC money seems to favour RTD
Another factor is the VC funding coming to the market. The three brands that have received the largest amounts of VC money (Feed., Saturo and Soylent) all currently have an RTD product that is already being sold in shops. Feed. sells in Franprix shops, Saturo sells in Austrian supermarkets and Soylent all over the US via 7-Eleven, Walmart, Target and Kroger (among others).
Nevertheless, Huel, which currently seems to be in talks for VC funding, is looking to sell their non-powder products (granola and bars) in some UK supermarkets, which shows that RTDs are not the only way to get to retail.
RTDs as key to open the magic doors to mass marketing
It seems that the VC funders belief that RTDs are going to be the key to open the doors to a bigger audience. Following the Soylent example, they want deals with retailers and let people know about the product. Familiarize them with it.
However, being on retail does not always mean that you are going to sell. Soylent retailers had trouble selling the some of their stock, which prompted some 7-Eleven's to scratch off the best by dates or other retailers offer huge discounted prices.
What do users want?
Even long time meal replacement users are looking forward to have their brands of choice to be available at their local supermarkets (CompleteFoodSurvey17). In which form? I do not have the data to answer that question, but my bet is that most of the biggest brands have an idea. They are all pushing for portability, in one way or another.
Are RTDs environmentally sustainable?
One fact that no one can hide is that they create significantly more waste than the powder meal replacements. Plastic bottles might be recyclable, but not only they require energy, water and an industrial process to do so; but also often are simply not recycled. Less than half of the bottles in 2016 were recycled and only 7% become new bottles as cited by The Guardian.
Many just end up on the sea. So many in fact, that a report by Ellen MacArtur estimates that there will be more bottles than fish in our oceans by 2050. So, if we are such an environmentally friendly industry, are we going to promote this trend?
How do companies approach this issue?
One thing in play here is the future potential. It is almost no denial that this industry has just begun and the bigger days are ahead. So companies have some "ethical" dilemmas. What are they willing to do or sacrifice to get the a piece of the bigger pie?
Let me put an example. Huel's core beliefs are "being supported by experts", "being affordable", "zero food waste mimimal total waste", "high manufacturing standards", "being ethical" and "being environmentally friendly". RTDs do pose some small issues here if we compared them to normal powder meal replacements. They are not as "affordable", nor are "minimal waste", nor are the most environmentally friendly products. Even less, if we consider many plastic do not end up being recycled.
If this comparison is made on an RTD to food, or RTD to RTD basis, the "evil" or the compromises are much smaller though.
Conclusion and final thoughts: Are RTDs the future of meal replacements?
One of the most clear things is that RTDs are here to stay.
Are they going to become the most prominent way to consume meal replacement shakes?
My guess, based on the protein shake industry, is no. The price difference is too important for most consumers (and definitely for the current audience) to make up for the convenience and portability. Most people will stick to the budget and "meal prep".
Besides, powder meal replacements offer logistical, economical and ecological advantages previously discussed that I do not think RTDs will overcome anytime soon.
Are RTDs they key to open the meal replacement industry to the masses?
No. I think that will be a longer and more complicated process, where many other factors (marketing, health organizations backing up, time, familiarization with the concept) will have part. It is, however, a way to start introducing the concept and de-alienize it. A way to let people know that this products are here and are safe for the average Joe. That they are not special shakes for dieting, or people that are ill or those who care "too much" about their health.
Are we going to see more ready-to-drink products from other brands?
There is no doubt about it. I am pretty sure that Huel will eventually jump into the market, once they perfect their product; that Queal will have a go; that companies that are starting like Runtime will create their versions; and that new companies focused on RTDs will be born in both Europe and US (and the rest of the world).
Define the future industry
However, it is true that now could be a turning point in the meal replacement industry. If RTDs are a huge success, and both old and new customers embrace this kind of product with more ferocity than predicted, they could become the most common way to consume complete foods.
As such, it is always good to remember that part of the industry was born as a more environmental friendly, less impactful way to consume food. Just because we can safe some time we should not forget our core values. Nor why some of us believe in meal replacements as a more sustainable alternative to "real food".
Plastics are a huge problem in the current world, if we make a strong bet for RTDs, we are helping the issue instead of solving it.
---
Let me know your thoughts:
Are RTDs here to stay?
Are you more likely to consume meal replacements because RTDs are going to be sold in stores?
Do you care about RTDs not being environmentally friendly?
---
RTDs that we recommend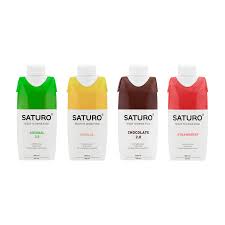 Saturo Taster Pack