I hope that this will be a platform to round-up the most important weekly news in the meal replacement market. While it is obvious that some weeks will be more busy than others, I hope that I can bring some fresh information that you can find useful on a weekly basis.
The industry tends to move fairly fast, so I also think it could be a good way for many to keep up with the updates, new products and news that I do not always cover or mention; besides in my social medial (such as the Huel RTD Chocolate launch).
Ambronite Balanced Meal Shake: New Flavour – Chocolate
In the past six months Ambronite has launched more products and flavours than what it had in the previous 3 years combined. They launched Balanced Meal Shake (initially only in Vanilla flavour) in May; then they launched Ambro Greens (which I did not cover); a berry flavour for BMS; and finally this Monday they will launch the chocolate flavour.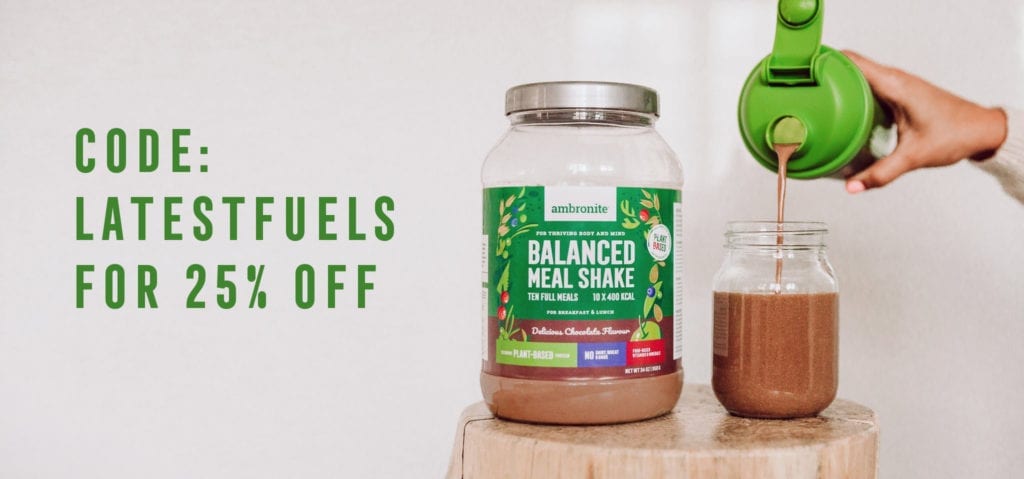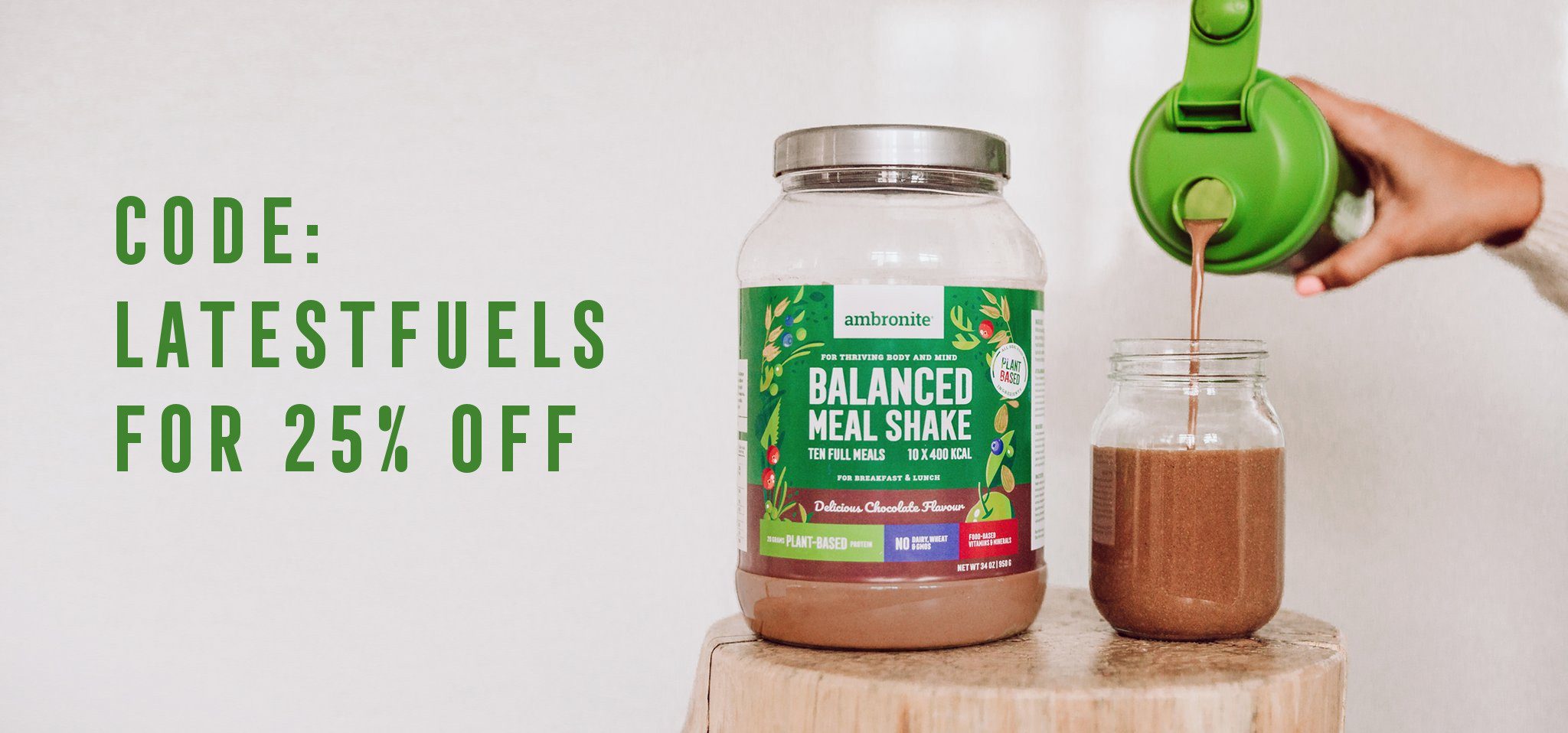 High Expectations
In my experience, BMS has a very smooth and likable texture. The Vanilla flavour is a little odd, since there is a strong fruity/green background taste that does not perfectly mix together. However, Ambronite seems to have very high hopes on this product:
This is something I've been missing in daily life for years: an ACTUALLY SATISFYING TREAT with FULL MEAL BENEFITS

Simo Suoheimo, Founder of Ambronite.
It has made be a little intrigued honestly, and I look forward to try it. You can also enjoy a 25% discount with the code LATESTFUELS; and have a great meal shake.
Future of Ambronite
When looking at Ambronite, and knowing that they are going to launch a new product soon; I cannot but wonder when they will launch a new flavour for the original Supermeal: the Complete Meal Shake.
This is, in fact, my favourite product out of the two, one of my top picks for natural meal replacement shakes. Mostly, because it delivers a more complete meal shake option.
Despite that, it has not gotten a new flavour in a while, while BMS has 3 new flavours, 2 of which cannot be found on CMS. Therefore, I hope that, in the future, we will see some updates here, too.
Ketogenegis v1.3.3 and the Return of the Blog
Genesis Foods is one of best keto shakes in Europe. Their KetoGenesis mix has been a staple in their line-up for years. With this new update; they have changed some of the compounds used in their micronutrient mix.
Changing beta-carotene source from a synthetic to a natural fermented one. The reason behind this change is that, the naturally fermented one has a higher cis-beta-carotene (90%); which will ultimately increase the bioavailability and absorption of it.
From retynyl palmitate to retinol acetate. The first was from palm oil, and Genesis Foods is trying to reduce the risk of supporting unsustainable palm oil practices. Thus, now they use a different source with the same nutritional output.
Carbonyl iron to ferrous citrate. The change has been done to increase the bioabailability of the iron source, while preventing issues that they had with previous sources.
Bisglycinate forms of copper, manganese and zinc changed to their gluconate forms. This was done to balance out the bisglycinate and add chelating agents that will bind to metals and help the body dealing with them.
More vitamin B12 but different source. They have swapped adenosylcobalamin (preferred source for them) with methilcobalamin and increase the dose to 25mcg. This change was due to the difficulties when trying to find a stable adenosylcobalamin source.
5-phosphate forms of riboflavin and pyridoxal have been reverted back to hydrochloride compounds.
Gum arabic increased to 0.3g per day.
You can have a look to GenesisFoods' blog for deeper explanation on the changes.
Besides this changes, they also announced that they will keep blogging the updates in a more regular fashion and the introduction of a new flavour: Butterscotch (replacing Banoffee).
Issues with Soylent Best Before Dates
This is, perhaps, one of the most surprising news that I have heard in a while. It was initially posted by u/sinusesnotanuses in the r/soylent subreddit on the 3rd of September and was supported by many Soylent users.
On the original post, he raised the fact that in his last orders he had a best before date set in November 2019; as opposed to the expected 9-12 months. To this, many other examples soon followed:
I got sent 4 boxes last week arrived Aug 26th, best before Sept 2019.
And they won't take them back either… I'm pretty much done with Soylent, which is a shame I was a Kickstarter backer.

u/blyd, for r/soylent.
The general mood of the thread was very negative and more peopled shared similar anecdote. This has, obviously caused people to be incredibly disappointed at Soylent's service and as usual; there has been no comment from Soylent.
Issues with both RTD and Powders; in Amazon and Soylent
Another very interesting fact about the whole issue is how widespread the problem seems to be. It is not limited to a product or a supplier; which is what I would expect in this circumstances. Instead, redditors shared examples of both RTDs and Powders having short best before dates.
While, it is true that these products do not "go bad" after the best-before date; they do lose the nutritional quality, with some vitamins and minerals slowly degrading.
Soylent's Response
When I inquired about the issue, this is the response I got:
We currently ship according to industry norm with a first-in, first-out (FIFO) basis. This means that sometimes you may receive an order with an expiration date that is less than a year from when it was purchased, as the product has a 1-year shelf life from date of manufacture, but the remaining shelf-life that our consumers may experience will vary depending on the demand cycle. It is our policy though that no consumer receives a product with less than 2 months remaining shelf-life so they can enjoy the product within specification.

If you have received a product from us and purchase it through our official website that has less than 2 months expiration date then please provide let us know so we can investigate further.

Soylent Customer Care.
This is the kind of policy I could expect from Soylent, even though I would like to see at least 4 months of safety net. I have inquired further, so I will keep you updated.
Superbodyfuel Update: Optional Scoops and Quick Surveys
Looking to reduce the amount of "waste" their products generate, Super Body Fuel has decided to make the scoops that come with the bags optional. After listening to user feedback, they have added a tick box in the checkout process, where you will be able to opt out from having a scoop with your order.
Besides the scoops, they are also asking their customers to fill out a quick survey to determine what to do with the strawberry flavour. The reason behind the survey is that the current strawberry flavour has proven to be too expensive for their normal pricing (the cheapest in the US), thus they are considering adding it as a "premium flavour".
Similarly, they are running a survey on their keto product to decide whether to reduce the salt content or not.
Other News
Quick round-up of other things that have happened during the past week:
Holfood Pricing Changes
Holfood is one of the best Soylent alternatives in Canada and they announced a 5% increase on all the prices (including subscription and non-subscription orders) starting on September the 4th.
Non-Subscription 29 meal tub: C$93.34 = C$3.22/400kcal.
With Subscription, 29 meal tub: C$84.01 = C$2.90/400kcal.
Huel Banana Flavour Launch
Huel has also stepped-up their pre-mixed flavour game. Their last addition has been Banana, which existed previously as a flavour boost. However, according to long time Huel users, they do not taste the same the premixed being closer to the real banana flavour.
It is, currently, only available in the UK and EU stores.
Complete Food Survey
So, have you heard about the Complete Food Survey? I guess that with the amount of content that I have made around the survey lately the answer to that is yes.
However, I would greatly appreciate if you could participate, too. The initial reaction has been very positive, but we are still far from the goal that I put to myself: 2,000 responses. So please, fill out the survey and share it if possible:
https://forms.gle/kG36n9A5LaGqi1Pt9
And that's all folks. See you next week with more news.