Welcome back to another week of meal replacement news at Latestfuels. This has been a very interesting week in the complete food industry with some product announcements and more details in previously reported news, such as Soylent's return to Canada.
AmbroBite: Ambronite's Snack Bar
This past week started with a big announcement on Ambronite's part with the release of their new snack bar: AmbroBite.
This bar is the latest addition to Ambronite's line up; which this year has added Balanced Meal Shake and Ambrogreens. The launches while interesting have been a little bit disappointed in my opinion. I say so, due to the fact that they have been parted away from completeness and offered more supplement like options.
Ambrobite Features
In this regard, when I first heard about the bar, I was hoping for a high quality real food based bar. Something along the lines of Vitaline Bar; the best meal replacement bar nutritionally speaking. Sadly, Ambrobite is more a snack than a complete bar.
Currently, Ambrobite is only available in one flavour: Berries. However, I suspect there will be more soon. The bar released by Ambronite has 155kcal per bar and costs $3.9 (same price in Euros) for a 24 serving box. It is definitely not a cheap bar.
You can make this cheaper by subscribing and getting 10%, plus using LATESTFUELS for a 25% further discount. Prices do also go down to $1.83 per bar (without discounts) when you buy in bulk.
Nutritionally, Ambrobite has many features of Ambronite products: real based food, high sugar content from fruit, non-GMO ingredients and a plant based recipe. One surprising feature is the presence of pea protein, which have not been used by the Finnish brand before.
Ambrobite First Impressions
Honestly, it is a little bit of a disappointment. The high base cost is not much of a surprise from Ambronite; which is still better when bought in bulk. You can save more than 50% in this case. The biggest issue is the fact that it is not complete. Ambronite seems to be going away from complete foods and offering slightly different products.
Thus, if you are looking for high quality, organic, non-GMO bars, I would recommend looking at Vitaline instead.
This has gone a little under the radar, and I don't know whether it has been officially announced; but the Spanish brand Satislent now offers a Keto meal replacement. The new ketogenic powder is the second available in Europe after Ketogenesis; and it might be the catalyst to a diet very popular in the US.
Satislent Keto Details
Ingredients: Medium Chain Triglycerides, Pea Protein, Flaxseed Flour, Cacao Powder, Fragance, Xantham Gum, Salt, Minerals, Vitamins, Choline Bitrate, Lycopene and Sucralose.
Price: €42 per bag or €3.11/400kcal. Each bag has 12 meals of 75g and 450kcal.
Discounts: Bulk discount when you buy 3 bags (5%) and 5 bags (10%).
Per portion: 35g of fats (23g saturated); 6g of carbs with 1.3g of sugar; 7.5g of fiber; and 25g of protein.
Satislent Keto First Impressions
It is a very interesting product that comes to fill a gap in the market. While the ketogenic diets are popular in the US; and so the brands doing keto meal replacements (Sated, Ketochow, Ample…). Satislent's keto option is an interesting one; but has some flaws that I hope they iron out.
On the pros, I like the fact that you don't need to add any oil, and the mix provides you with anything that you need (unlike Keto Genesis). The net carbs are very low too, so it should work well driving you into ketosis.
Among the negatives, I would remark the fact that the mix fails to provide you with all the micronutrients. They also use pea, which is an incomplete protein (doesn't have all essential amino acids above certain thresholds). The second should be OK, due to the high quantity of protein, though.
All in all, I am looking forward to try the product and we will have to see how the taste and texture are before making any further comments.
More News
Let's see other announcements that happened during this last week.
Soylent Canada Clarifications
The communication with the Soylent team has often been lacking; something that has angered many enthusiasts. However, the past week, they answered few questions in both the official Soylent Forum and the r/Soylent subreddit.
Among the answers they gave there were two important facts:
They are aiming to launch in Q1 of 2020. Great news, since I was expecting a more lengthy offer.
They will not be reformulating. The original issue was that they could not be sold due to "violating" Canadian nutritional laws. It seems that they've found a workaround.
Bivo Launches a New Powder in the Bottle Format
The Italian brand Bivo announced last week that they were launching this new format. It's a way to consume meal replacements that kills two birds with one stone; since it enables the portability and simplicity of RTDs, without having to create a new product. In fact, it has been tried by other companies like Vitaline, Feed. and Ample to various degrees of success.
While the concept is interesting, I believe that it creates unnecessary plastic waste. On top of that, it is usually more expensive than buying powder in bulk. We shall see how it goes for the Italian brand.
Queal's Go Bars have been reformulated in the last half of this year. While I really like the old flavours, I was positively surprised by the Nuts&Apricots GO bar.
Now they have launched Dark Chocolate, which is going to be a 195kcal vegan bar. It will cost €1.5/bar, but you can now pre-order them and get a 15% discount.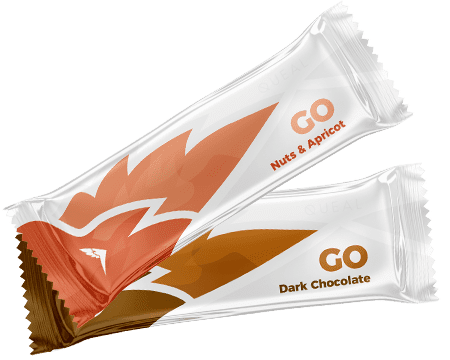 Powdermatter is one of my favourite brands, due to the quality-price relation of the product. It is in fact, top in my best meal replacement shakes in the UK list. One point where Powdermatter is weaker than the competition is the taste and flavour options.
With the launch of launch of the new exciting flavours Powdermatter is trying to tackle this issues. Great to see progress!
Extra News
Soylent Mocha Powder will be discontinued.
New Huel Flavour Boosts are out.
Vite Ramen are looking for a food production worker inf Vacaville, CA.
Huel RTD has won the Innovative Food-to-Go Product of the Year award, delivered by Food Matters.
This week is Black Friday week so expect some good deals out of the brands. Some like Runtime are already offer discounts up to 35%. Due to the nature of the products and how good the discounts are; it might be worth stocking up.
Runtime products are 35% OFF. The discount is automatically applied at checkout. This brand can be purchased from Europe and US. If you have never bought from them before I would recommend starting with the starter pack.
Soylent Vanilla RTD is 30% off when you used the code 30Vanilla.
You can also enjoy 30% OFF in the Soylent Cafe line for a limited period of time. There will be more deals on Black Friday so stay tuned for that.
Trinkkost Active Vanilla 20% OFF with the code 88375. Great little organic meal replacement brand for the European consumers.
Stay tuned for more Black Friday deals from brands like Jimmyjoy, Ketochow, Genesis etc.