Welcome to the 13th edition of weekly meal replacement news, the best place to stay up to date with all the announcements and events. This has been a quiet week dominated by the Black Friday excitement and the expectations for crazy deals. Many of which might not have been as good as we had hoped for. Either way, I hope you were able to stock up on your favourite complete food. That aside, let's dive in into this week's news.
New Huel Bars
Huel bars have been a source of disappointment for many over the years. While, without a doubt each iteration had its following, the European giant has failed to make a bar that I would consider good. In fact, I did not include Huel's bar among the best meal replacement bars. Simply, because it did not belong there. It was overprice, and not very tasty.
Interestingly enough, the bars did have a "major" update earlier in the year (Q1) with the launch of the v3.0. However, it seems that this did not solve the issues the previous bars presented (being to dry and hard); so Huel released the v3.1.
Huel Bars v3.1 more like v4.0
The fact is, without even having to try them, I can already tell you that the difference from v2 to v3 was smaller than the one that happened now. The v3.1 bars are very different to the previous iterations; as Huelers have said in the forum and the following video shows:
When we look at the formula we can spot some differences:
| | | | | |
| --- | --- | --- | --- | --- |
| per serving | Huel 3.1 Bar | RI (%) | Huel 3.0 Bar | RI (%) |
| Energy (C/P/F) | 40/26/36 | – | 47/25/28 | – |
| Energy (kCal) | 200 | 10 | 250 | 13 |
| Fats (g) | 9.0 | 13 | 7.7 | 11 |
| Saturated (g) | 2.6 | 13 | 3.2 | 16 |
| Carbs (g) | 18.0 | 7 | 25.4 | 10 |
| Sugars (g) | 7.6 | 8 | 11.2 | 12 |
| Fiber (g) | 4.9 | 16 | 7.5 | 25 |
| Protein (g) | 12.0 | 24 | 15.4 | 25 |
| Salt (g) | 0.4 | 3 | 0.3 | 4 |
The exact values for both will depend on flavours.
Regarding the flavours, I cannot comment on the improvements or lack thereof without having to tried them. However, I can see that the initial reaction from other Huelers has been positive:
I have chocolate v2 chocolate v3 and chocolate v3.1
Not much difference between 2 and 3.
But v3.1 is completely different – actually tastes like chocolate, smells like chocolate and is chewy and sweet.

u/ChristinaT, Huel Forums
Ingredients (Chocolate): Pea Protein, Brown Rice Syrup, Soluble Gluco Fibre, Concentrated Grape Juice, Rice Starch, Brown Rice Protein, Gluten-Free Rolled Oats, Chocolate (Cocoa Mass, Coconut Sugar, Cocoa Butter), Gluten-Free Oat Flour, Sunflower Oil, Flaxseed Powder, Sunflower Lecithin, Rice Bran, Cocoa Powder (2.5%), Micronutrient Blend*, Medium-Chain Triglyceride Oil (from Coconut), Tapioca Starch, Natural Flavouring.
*Potassium Citrate, Potassium Chloride, Calcium Carbonate, Maltodextrin, Vitamin C, Magnesium Oxide, Niacin (as Niacinamide), Vitamin E (as D-Alpha Tocopheryl), Pantothenic Acid (as Calcium-D-Pantothenate), Zinc Oxide, Riboflavin, Vitamin B6 (as Pyridoxine Hydrochloride), Vitamin B1 (as Thiamin Mononitrate), Potassium Iodide, Vitamin K2 (as Menaquinone-7), L-Methylfolate Calcium, Vitamin A (as Retinyl Acetate), Vitamin D2, Vitamin B12 (as Cyanocobalamin).
Pricing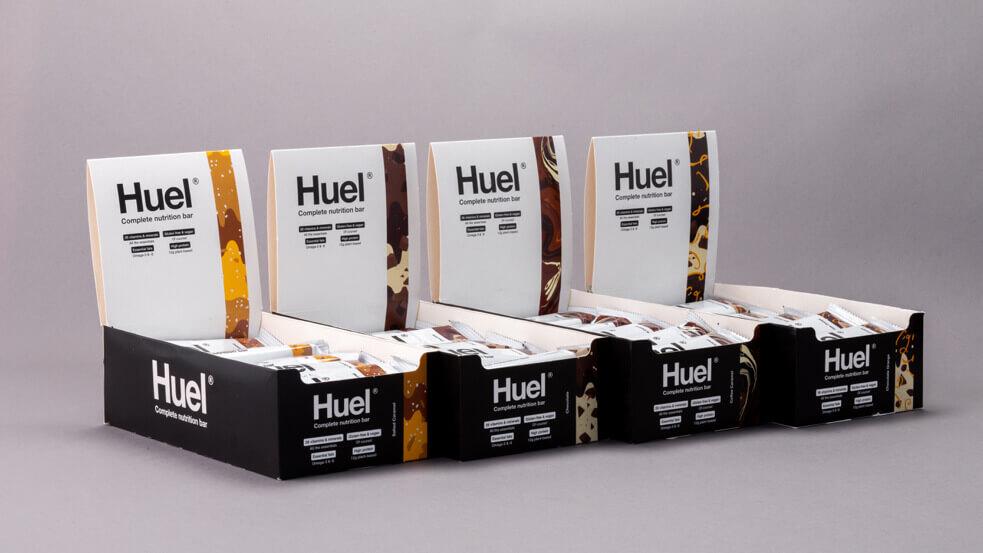 I talked about the pricing and changes in a previous week; but here is a quick reminder:
| | | |
| --- | --- | --- |
| | Bar v3.1 NEW | Bar v3.0 |
| Number of bars in a box | 15 | 16 |
| Price per bar (based on subscription for 2 boxes) | £1.30 | £1.48 |
| Price for 2 boxes (on subscription) | £39.00 | £47.25 |
| Price per 100kcal (based on subscription for 2 boxes) | £0.65 | £0.59 |
Huel Bars 3.1 First Impressions
Final judgement will be reserved until I tried them, but I have seen positive signs and negative ones. For once, I am not the biggest fan of making snack bars (reducing size), nevertheless, it seems that it's the smartest business move to do.
From the video, I'm encouraged about the texture of the bars; thus, there's hope to be had in this area too. Taste-wise, it seems that the reaction has been overall positive, even though, I've seen both ends.
New flavours and adding options it's always welcome, so I'm happy about that.
Nonetheless, this all means nothing unless they taste good.
---
Other News
I want to mention a couple of other news, before closing up this short round-up.
Sated RTD Is Available on their Site
Sated is the manufacturer of the best keto meal replacement shake, and during the past 2 years have been working on developing a ready to drink version. After a few delays, I reported that it was out to pre-order a couple of weeks ago.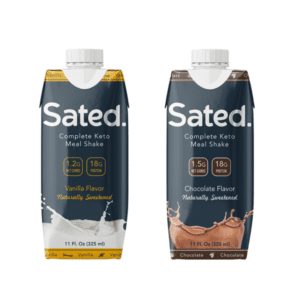 Now, you can currently order one of the first Ketogenic RTDs in the market. It is, without a doubt the easiest keto meal you can have. It is available in both chocolate and vanilla; and the initial reactions have been positive:
I tried the Vanilla first, and found it… peculiar. It is moderately sweet […]. It has some vanilla flavor but also some other flavors that are hard to identify. The closest comparison I can think of is the "milky" flavor of Elmer's Glue or school paste. And there is a slight residual bitterness after swallowing. I didn't much like it.

The chocolate is another story: it tastes exactly like a good-quality grocery store chocolate milk drink. Not too sweet, solid chocolate flavor, and very pleasant.

u/fernly, meal replacement expert.
I will have the option to try it soon, so I will update my thoughts on it, when this happens.
---
LatestFuels Subscription
I don't want to make a big deal out of this, because I don't think it is; but I've created a mailing list that you can subscribe to. There will be a pop-up that will appear at 20s (after you enter the site) giving you the opportunity to join.
The idea behind the subscription list is to send a couple of emails a month summarizing what is going on with the site and the meal replacement world. This should include the latest deals, news and personal comments.
I don't expect this to be for everybody, thus please not subscribe if you already have too much "junk" email on your inbox. Also, please feel free to share your opinion on the pop-up or the content you want to see on the emails.
Email me at [email protected] or comment below.
It would be great if I could provide you some value with these emails, so feedback is appreciated.
Extra News
Mana US is now officially out. I will be dropping all the information around it, later on today.
There are still some Black Friday/Cyber Monday deals available. Make sure you make the best out of the offers.
You should check the Cyber Monday deals, but here is a rundown of deals that are still active:
Have a great week!