Here we are back with some more action. Unlike the previous week, this past week has been very exciting. Big announcements happening, particularly in North America; where Soylent announced that they will finally be back in Canada. On top of that, the European giant Mana Drink has also announced that they will be selling their products in the US as soon as December 2019.
Fantastic times ahead. Let's have a look to this week's news.
Soylent IS BACK in CANADA!
Soylent's return to Canada has taken everybody by surprise. It has been the perfect storm that has flooded the Canadians with happiness and hope. In all honesty, if I were a betting man I would've bet that they wouldn't be back in years. I was strongly suggesting people to look for Soylent alternatives and give up.
Back Out of the Blue
Those that didn't might call me a fool; but the truth is there was little proof to believe in Soylent. Their track record leaves a lot to be desire in terms of product management and administration.
On top of that, they were on a total blackout on the Canadian issue; only occasionally stating on the forums "Nothing to report."
In fact, all issues about Canada where mostly ignored by Soylent, their PR agents and the customer service in general. The situation seemed very dire until, out of the blue, Soylent sent the following email to some customers:
Why Was Soylent Banned in First Place?
As covered on another article, Soylent does not meet the dietary requirements to be classified as a meal replacement; thus it cannot be sold. To be more specific, Soylent Drink and Soylent Powder contain too much fats (among other things) and do not meet the Canadian nutritional guidelines.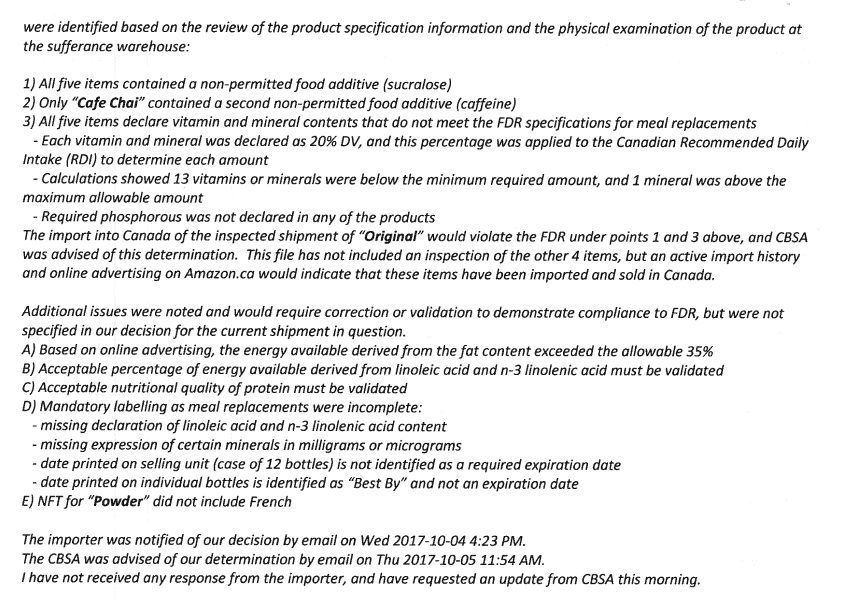 There are other administrative issues (like having the label in French); but mostly it was an issue with Soylent's formula. Thus, why a comeback was so unlikely. It would require a change in the law or a change in the formula.
Which one has been? That I don' know, yet.
So What Do We Know About Soylent Canada?
Pretty much nothing to be honest. They have not make any statement on when Soylent is going to be launched on Canada or which products are going to be available.
If I were to make some predictions, after doing the survey, I would assume that they will not make all the products available. If this is the case, it makes me wonder if they are reformulating Soylent Drink in order to make it work.
Another interesting question is whether it will be available via Soylent website or via Amazon. Considering what we know, I would say both. We will have to wait, though.
So, are you excited about Soylent coming back?
---
MANA Launch In the US Announced
Another awesome surprise: Drink Mana is coming to the US!!
Who Is ManaDrink and Why Should I Care?
It is all covered in detail in my Mana Drink review, but in shot is a very successful Czech meal replacement brand that offers low carb high fat meal replacement shakes, both in RTD and powder.
In fact, nutritionally it is fairly similar to Soylent (macronutrient split), but arguably has some improvements (more omega-3s). Nevertheless, the taste is slightly different. Highly praised in most Central Europe, Mana makes very buttery and silky shakes.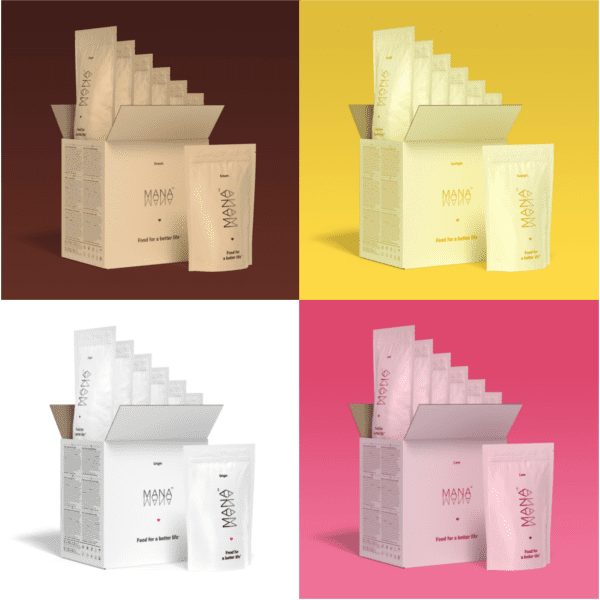 In my experience Mana Origin is the best, with a slight Vanilla hint, fairly sweet while remaining somewhat neutral. Both Mana RTD and Powder Origin are better than Soylent Original. The others not so much.
In any case, it means that a new exciting brand will be available in the US. Their RTDs are very compact (330ml) and their branding very slick; so it is perfect to consume on the go.
When Will Mana Be Available in the US?
Details are a bit obscure at the moment, but here are some things that we do know:
Pre-orders will be available on 25th of October at Drinkmana.com
Deliveries should start at some point on December
All Mana products will be available, both RTD and Powder in 4 flavours: Origin, Dream (Cacao), Sunlight (tropical) and Love (berries).
Deliveries will be free after $20. This means that they will be shipping from a US warehouse.
It does not seem that Canadians will be able to purchase Drink mana, though.
Vitaline Price Changes: the Good and the Bad
Mixed news, mostly positive, from one of my favourite organic meal replacement brands. There have been some pricing changes at the French brand Vitaline, particularly in the powder based products.
Daily Range is now cheaper. This will benefit mostly larger orders.
However, this is at the cost of free shipping under €50 (no longer free).
Now you can buy individual servings (1 bottle instead of minimum 6).
Catalyst Range price increased, but it is now out of the Pilot program and it is permanent.
---
Other News
Those were the major news, but there have been some other minor developments:
HolFood is having to backorder. It is not the first time, but it seems that the Canadian brand is having some stock issues. Not a good time, when the competition is becoming tougher. Original source.
Soylent is having issues with best before dates. I reported this in a previous week, but it seems that they keep delivering Soylent Powder with very short best before dates. Funnily, one Redditor shared his story of having his order replaced (Soylent will do if the best of is less than a month when delivered) for a new batch; just to find out that the replacement also had a best before date under one month! Original source.
Eat Complete V3 is now live. My archenemy, Eat Complete another wonderful site for info on meal replacements, has made some updates on the site. It has new sections, improved visuals and some updated functionalities now. Still, no quality reviews like mine, though. See more.
Weekly Deals
As usual, you can find the best meal replacement deals in the appropriate section, with the latest discount codes and vouchers. However, here are some that we found this week:
Latestfeed for 35% OFF in all Feed. products. This is the best discount code for the French brand. 100% worth it!
Use the code MOCHA50 for 50% OFF in Soylent Mocha Powder (only US!). This deal is crazy good, however, note that the bags might have short best before dates.
Use the code AUTUMN20 for 20% discount on Küik products.