Who is Who CFS'19 | Blendrunner, GenesisFood and HolFood
While the Complete Food Survey 2019 is running, I would like to share some insight on the brands and media sites that have agreed to take part on the survey. Therefore, I will cover them in a mini-series, particularly considering that I do not have the reviews for some of the brands. In this first article, I will talk about Blendrunner, GenesisFood and Holfood.
Blendrunner, the Ultimate Comparison Site for Complete Food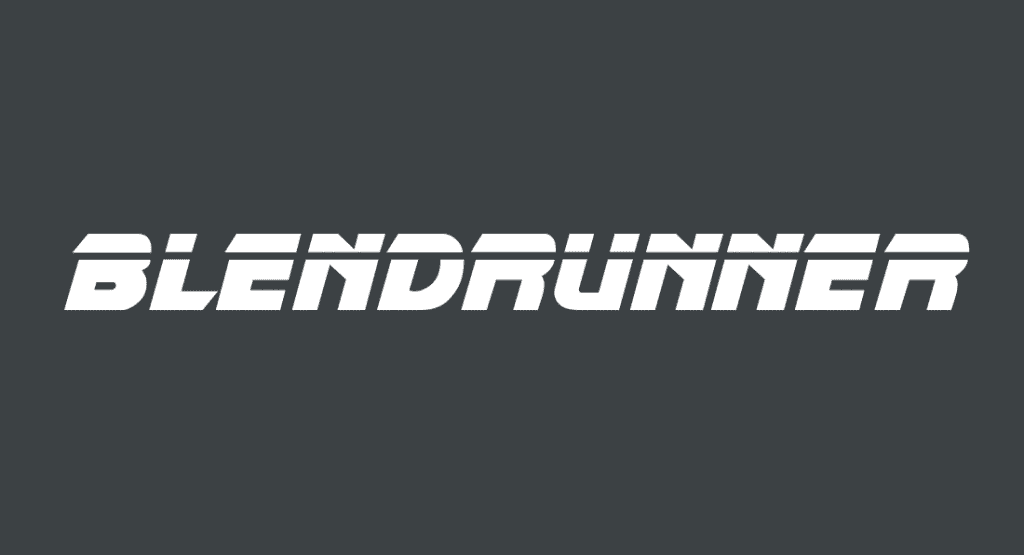 Blendrunner.com is one of the first sites to be born around meal replacements. Juraj and Pavol, two Slovak enthusiast, founded the site in 2015, and has since been the go-to comparison tool for any Complete Food user.
Even my Ultimate Meal Replacement List is based on their excellent database of meal replacement brands around the world. In fact, Blendrunner is one of the best places to go, if you are curious about the different options that are available to you.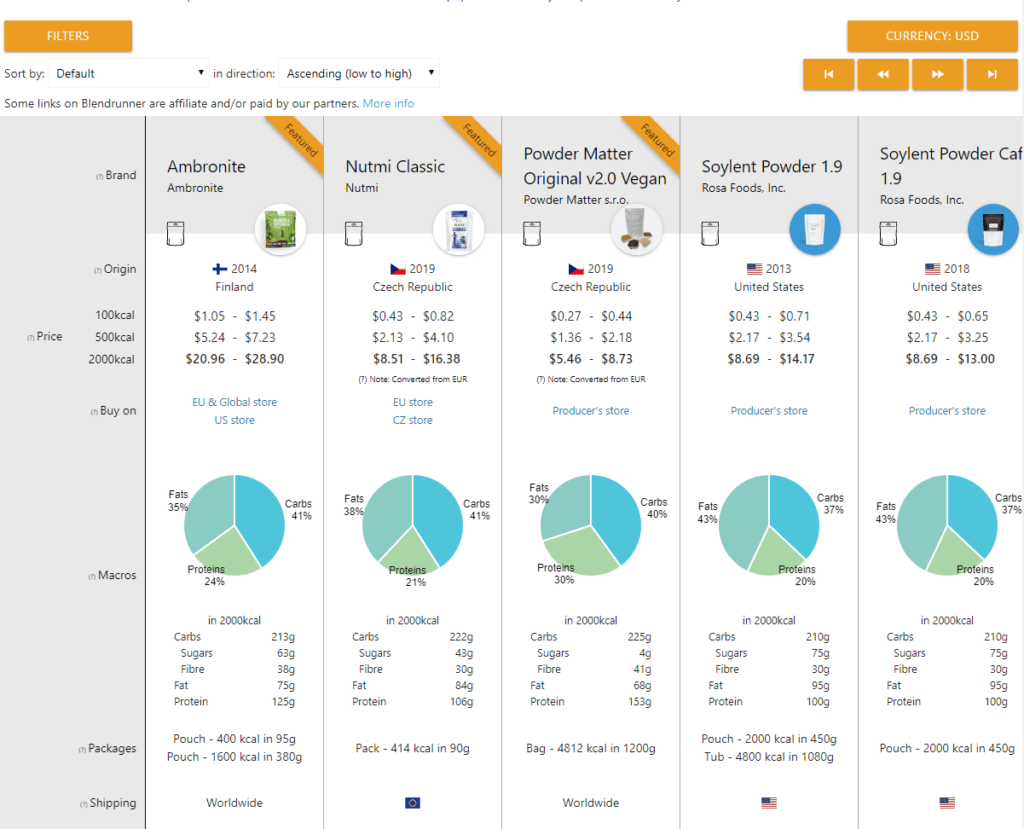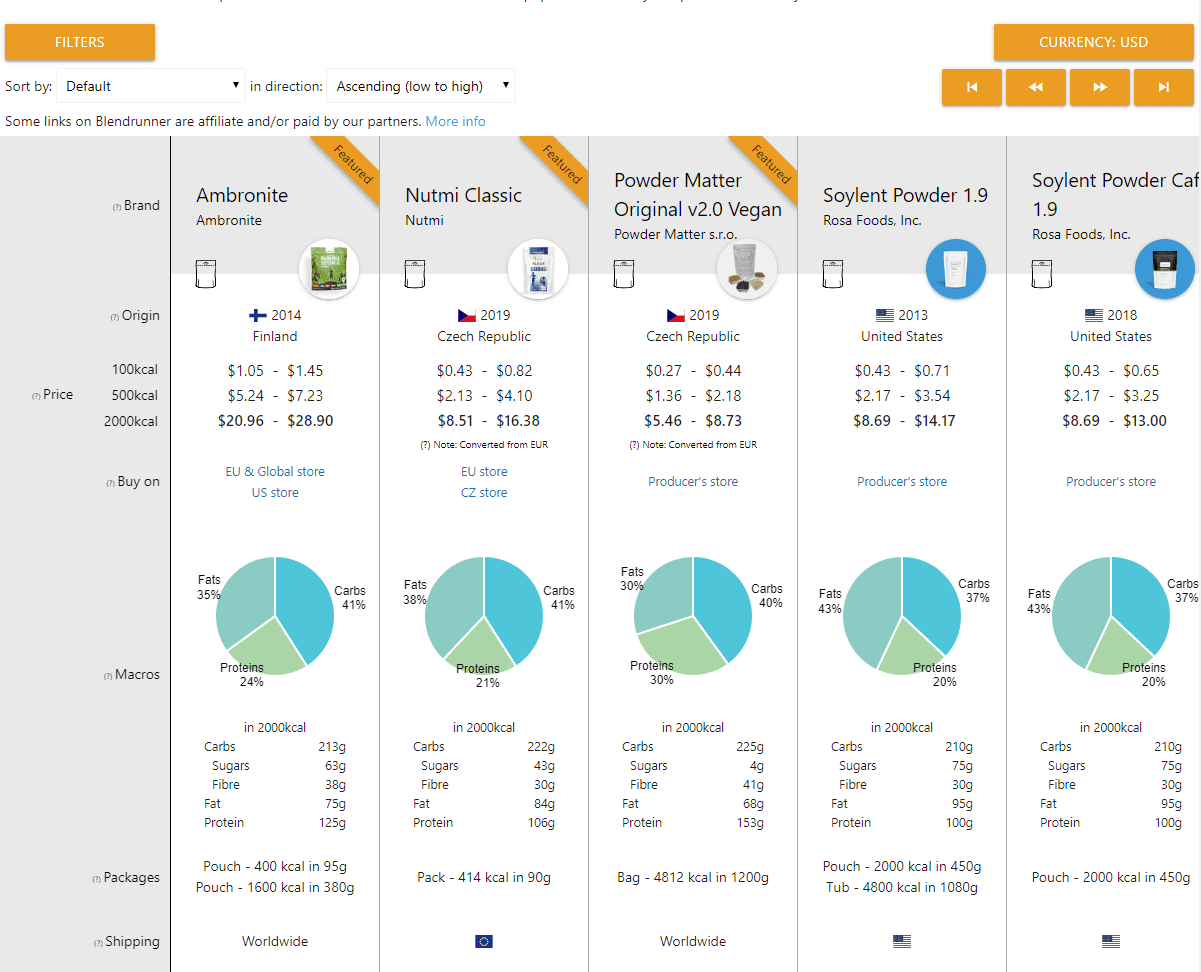 Blendrunner v3.0
The site itself has changed a fair bit. Despite the fact that the layout remains pretty much the same -a huge table displaying the features of the different products-; the functionality and UX/UI have improved considerably.
Currently, Blendrunner offers multiple filters from which you can narrow down the selection of products. Filters, as such, shipping, country of origin, nutritional breakdown, allergens etc. Honestly, a very functional tool to search around the different brands and products.
Juraj, Roman and Pavol; the Men Behind Blendrunner
If something is true, it is that behind every company and enterprise there are people. In this case, Juraj and Pavol are the founders of Blendrunner. They initially tried to create their own meal replacement brand, Synectar. Unfortunately, this project never saw a commercial venture; however, it was useful for both of them to get a better understanding of the Complete Food products.
This was also a motivating factor in creating Blendrunner. They were looking for a site where they could analyse all the products of a continuously growing market in a factual way. Beyond all the marketing terms, a site that would allow to compare them the prices, nutritional values etc. So, in 2015 Blendrunner was born.
With the growth of the market, and the growth of the site, Roman was added to the team. Roman is in charge of PR and communications. Juraj takes care of the database and making sure Blendrunner is up to date. Last but not least, Pavol is the IT guy.
---
Genesis Foods; UK based Brand
GenesisFoods is one of the most interesting brands in Europe; with a wide array of flavours and meal replacement products. Among them, there is one of the best ketogenic shakes of Europe. Not only that, but they also offer hypoallergenic meal replacements; and shakes for vegan and non-vegan consumers.
A Family, More than a Brand
I mean this positively. The vibe behind Genesis Foods is one of support, help those in need and genuine care. Multiple discounts for carers, emergency workers and similar; and, very strong environmental policies are some of the examples that indicate that.
After reading the about-us page, you understand that they believe in Genesis Foods as a tool for a better world; rather than just a mean for profit.
Here at Genesis Foods, we pride ourselves on putting people before profits

Joe, Founder of Genesis Foods
The Founders: Joe and Emily
Joe Barrow and Emily Lavis are the founders of Genesis Foods. Originally founded in 2016, it is a small company based in London, UK. They started by selling Europe's first keto friendly meal replacement and then expanded to other options.
Perhaps, Joe is the most known in the community. He is a meal replacement enthusiast, often found in the r/soylent subreddit or the Huel forum commenting on different topics about Complete Food. Joe always shares great insights on ingredients and nutrition that display his knowledge on the field.
Products: Glyco Genesis and Keto Genesis
Now, let's talk about the products that Genesis Foods offers.
Keto Genesis
Keto Genesis is the original product and one of the only European ketogenic options. It is available in 4 different variations: Standard, Hypoallergenic, Premium and Vegan. Standard and Premium are nutritionally the same but Premium includes more flavours. Hypoallergenic is free of most common allergens, thus uses rice protein instead of whey or soy (Vegan version).
Keto Genesis shakes offer you the carbohydrates, protein, vitamins and minerals that you will need; so you just need to add your own oil or fat source to make it complete. It is a similar system to those used by popular keto brands, Ketochow and Keto Fuel.
Glyco Genesis
Glyco Genesis is the shake to go for the "average" customer that it is not doing a keto diet. As opposed to Keto Genesis it does not require you to add oil, and it has a 42C/25P/33F macronutrient profile.
There are 3 variations: Standard (with whey protein); Premium (more flavours) and Vegan (with soy protein isolate).
The main ingredients in the Glycogenesis products are oats, flaxseed, coconut and the protein source, together with the vitamin and mineral mix.
GenesisFoods ships all his products across Europe, therefore, if you are lucky enough to live in the old continent, I encourage you to give them a try.
---
Holfood; Canadian OG
To round up the featured brands for this post; I want to introduce you Holfood. This is a brand that I have mentioned few times before, and picked as one of the best Soylent alternatives to Canada. Holfood is a Canadian brand that offers a great Complete Food product.
Founders: James Juras and Anastasia Alksnis
Both met at the University of Toronto. James has a long history on the area of nutrition; having worked at the Public Health Agency of Canada for two years before founding Hol Food. He, originally, studied Neuroscience at the University of Toronto, in which he currently acts as mentor.
Anastasia Alksnis studied a BSc in Materials Science and Engineering before co-founding HolFood. Currently, she is working on her master degree in Sustainable Extraction Metallurgy.
Products: One Trick Pony
Holfood is a rather small company when comparing to others participating on the Complete Food Survey. As such, they have opted for a simple approach: offer one product. Holfood's meal replacement is one high in protein with 35g per 400kcal (45C/35P/20F). Unfortunately, it is not a vegan friendly product, since it uses whey protein concentrate.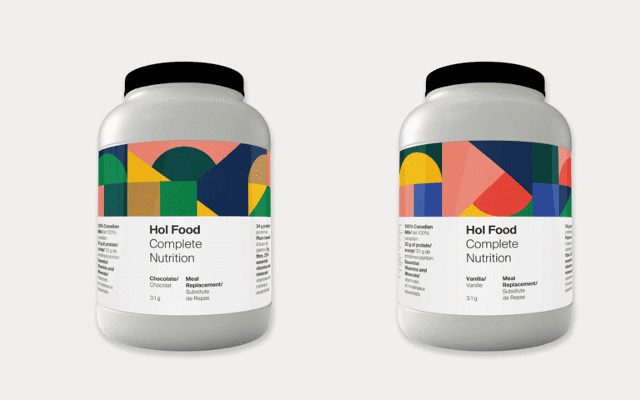 You can find Holfood in both Chocolate and Vanilla. However, they also offer flavour boosts to enhance the taste of the shakes: Mocha, Banana, Strawberry, Pure Matcha and Chai.
HolFood is available in both United States of America and Canada. While they ship from Chicago (logistical reasons), their products are manufactured in Canada.
---
Conclusion
So, I hope you have enjoyed these brief introductions to some of the promoters of the Complete Food Survey 2019. It was not my intention to do an in-depth analysis (as I usually do), but rather a general look to the brands and sites behind the Survey.
I wanted to do this as my appreciation to them for taking the time to promote the Survey. Talking about taking time, have you taken time to fill out the CFS 2019, yet?
If you have not, please do so, right now!