Next Level Meal is a meal replacement designed to feed gamers by Runtime. Tackling gamers' unhealthy diets and snacking habits is a huge task. Especially, if you also want to cater for the professional gamers. Next Level Meal relies on isomaltulose for a more steady energy release and caffeine and green tea extract to boost your cognition. All this is nice and fancy. But how much of this is PR sugarcoating and how much is it real? Let's find it out in this Next Level Meal review (damn, that is a long name).
Next level Meal at a glance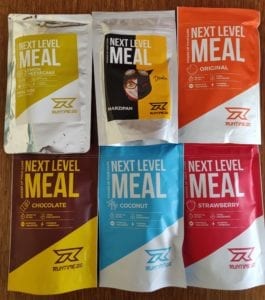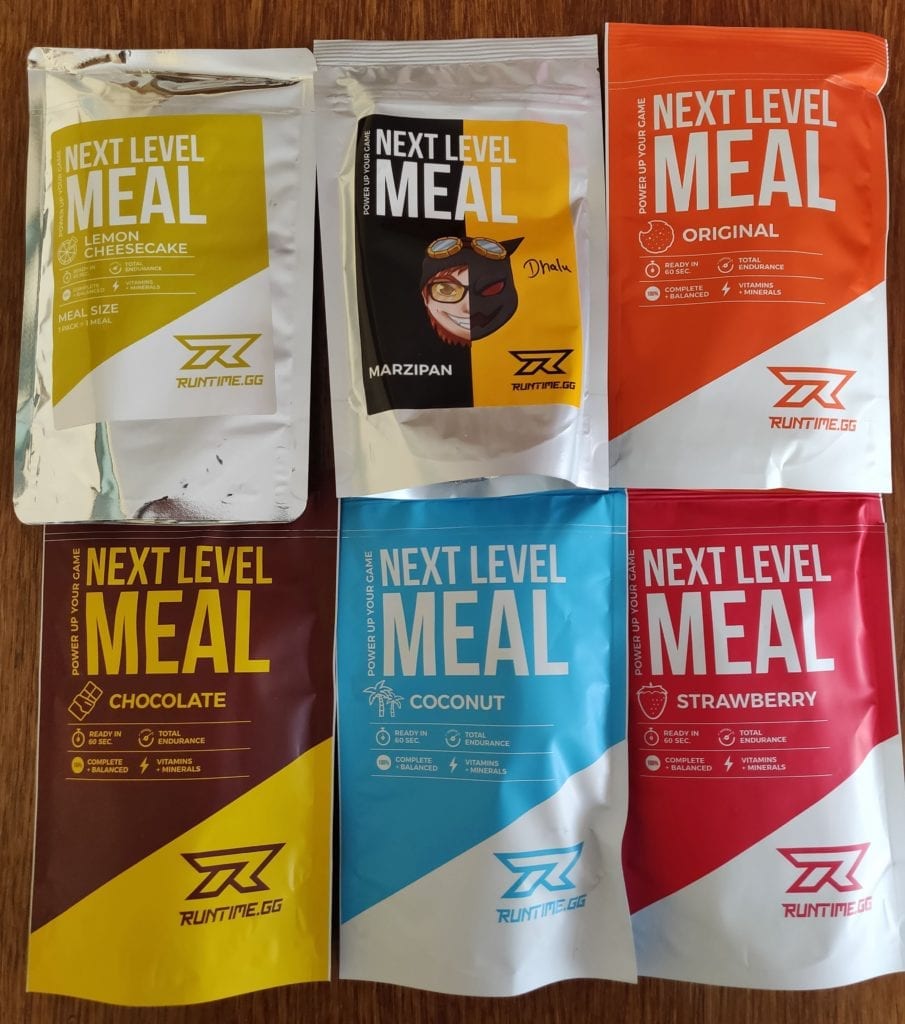 Flavours: Original, Strawberry, Cocoa, Coconut, Marzipan, Lemon Cheesecake, Banana, Coffee, Mango Mattin, Mango Dhalucard, Mango and Cherry .
Ingredients: Oatmeal (35%, contains gluten), maltodextrin (21%), whey protein concentrate (16%), isomaltulose (8%, palatinose), MCT fat powder, collagen hydrolyzate, soy lecithin powder, BCAA (L-leucine, L-valine, L-isoleucine), psyllium husk powder. Minerals: sodium bicarbonate, calcium carbonate, magnesium carbonate, zinc gluconate, potassium iodide, sodium selenite, copper gluconate, flavor. Vitamins: L-ascorbic acid ( C), tocopheryl acetate (E, 50%), nicotinamide (B3), cholecalciferol (D3), biotin (1%), calcium D-pantothenate (B5), cyanocobalamin (B12, 0.1%) pyridoxine hydrochloride (B6), riboflavin (B2), phytomenadione (K), Thiamine mononitrate (B1), retinyl acetate (A) and folic acid (B9). Dye beta carotene (1%), sweetener sucralose.
Macronutrients per serving (g)
Protein(g)
Carbs(g)
Fiber(g)
Fats(g)
% of Energy from each macronutrient
Carbs 52%
Prot 22%
Fats 26%
% of Recommended Intake per serving
RI based on 2,000kcal
RI based on 2,500kcal
Nutrition in short
As mentioned before, each Next Level Meal serving has 606kcal. If you are planning to consume 3 servings a day (as intended by Runtime), you will fall ~200kcal short from the daily recommended 2000kcal (USDA, EFSA). However, this might not be a problem if you are a gamer or a person who spends most of the day sitting (aka, if you do not have an active lifestyle). Please start moving around and doing sports -just a friendly tip.
---
All sources and extra information about nutrition can be found in our Resources page.
---
Either way, if you plan on solely living of Next Level Meal you might have to supplement yourself with an extra fruit piece, yogurt or use milk for the shakes. Have a look at how your weight changes before doing so.
Carbohydrates
Most of the calories come from carbohydrates. This is fairly standard for diets recommended by the international food agencies (e.g. British Nutrition Foundation, NHS, AUS, and WHO). The main source of carbohydrates are oats (35%) and maltodextrin (19%).
Oats are a good source of complex carbohydrates with 66% starch, 17% protein, 7% fat and 11% fiber. One of the golden standards as far as carb sources go.
Maltodextrin is more like the black sheep of the family. Despite the fact that it is widely used, people have negative connotations towards it. Primarily, because it breaks down into glucose fairly efficiently and has a high glycemic index (rapid raise in blood glucose). However, given the balance and presence of other nutrients the overall GI of Next Level Meal is likely to be lower. It would be interesting to know.
Sugars are an issue. Kind of.
It is remarkable, also, that the added sugars are slightly higher than the upper limits set. Three servings of Next Level Meal provide 54.45g of added sugars (18.15g per serving) which is more than the 50g max recommended for a 2,000kcal diet.
This would not be much of a problem for someone who is fairly active, or for anybody who supplements it within a low sugar diet. However, sugars are quite common in our diets and people's cravings, thus I do not know how often would this be the case.
In Runtime's defence, the main sugar is Isomaltulose. A sugar with low glycemic index, lower insulin reaction and a prolonged energy release (one of the concerns about high GI carbs). Thus, some of the ill effects of having too many sugars are lowered.
Nevertheless, we would like to see the sugar levels being lowered, since most gamers tend not to be very active, and thus would not make much use of them.
Protein
Furthermore, each serving includes 65% of the recommended protein intake. We believe that high protein diets are not a problem. Arguably, they might benefit more active people, but protein's roles in hunger quenching, muscle maintenance and healthy brain functioning. It also includes branched-chain amino acids, which are only available to the body through the diet.
One could argue, that gamers would need less protein, as they do not need much muscle tissue replenishment. This is a fair assumption, but the other benefits from high protein diets still stand.
Whey protein (16%) is the source of all the protein in NLM (sorry I got tired of typing Next Level Meal continuously; plus, gamers use abbreviations all the time). The addition of BCAA's is an odd choice. They are mostly used as sport performance boosters (they help with muscle growth); but, it is true that they are also beneficial for fatigue management and concentration enhancers.
Fats
MCT fat powder is the main fat source. While, MCTs are great; usually those derived from fat powder are inferior to the oil counterpart.
Something I am curious about is the omega-3/6 ratio in NLM and how much of the energy comes from polyunsaturated fats and monounsaturated fats. As reference, WHO recommendations for MUFA and PUFA % of energy are 6-11% and 15-20%, respectively. Hopefully, we will be able to analyze that in the future.
Micronutrients
As observed in the picture above, NLM comes with over 33% of every vitamin and mineral per serving. In fact, you will get more than 100% of Vitamin K1, Vitamin D3, Vitamin B2, Vitamin B1, Vitamin B7 and Manganese.
There is only one black mark, Calcium. Each serving will get you 20% of the DRI; which is surprising, due to the well known importance of this mineral. Time to take your shake with milk, a latte or a cold glass of milk before bed!
Allergens
Unfortunately, Next Level Meal is not very friendly with those prone to have allergies. Allergens include Milk, Eggs, Soy and Gluten.
Delivery, Packaging and Unboxing
The Order
I ordered the Starter Pack bundle, because we were interested in trying all products and flavours. I had high hopes for Runtime and I was very excited for the Starter Pack to arrive.
However, I made a huge mistake, you should definitely NOT make. I ordered the bundle and nothing else. That cost me €30. Shipping to Spain it cost me €14 EXTRA! For a total amount of €44. Runtime offers delivery for free in orders over €40, sight.
Buy something extra with your Starter pack to go over €40 and have free shipping. It is going to be cheaper!!!!
Delivery
The delivery took longer than expected, ordering on Friday and arriving on Monday (10 days). This is probably due to the holiday season in Europe (nothing works properly in August). It will be interesting to know whether more people have had similar experiences.
Unboxing
When the parcel arrived, I was actually very surprised by its size. It was TOO small. Surely that could not be all.
However, all arrived nicely put into the box, with little wasted space and not much room for movement.
Packaging
Next Level Meal comes in single serving packages of 150g. This packages can be handy if you are going to consume NLM outside, at work or on the go, since you only need the shaker, one pack and water. However, for consuming at home they are a bit limiting. You could drink only half a shake, but you would have issues storing the rest.
For that, Runtime has now released Next Level Meal in tubs. It comes with 11 servings of 606 calories and I think it is much better option if you will drink your shake at home. You have more liberties to customize and decide the size of the serving.
I am not sure how to approach this. I am no wine taster or food connoisseur. I will do my best:
Overall: 8.2 (29.5/35)
Taste: 4/5.
You can definitely taste the flavour that you are meant to taste. I found it a bit dull or faint, almost watered down in the end. It was very oat-like. Almost as if I have blended the oats and added flavoured protein after.
Flavour Fidelity: 4/5.
It tasted as it should. Just not very strong.
Aftertaste: 4.5/5.
Pleasant, not very noticeable or sticky.
Texture: 4/5.
There were some small clumps after thoroughly shaking for 20s. However, they were not enough to bother me much, and in the end, it was like a blended oats (really finely blended oats).
Consistency: 4/5.
It was fairly thick and consistent. Not hard to drink, but enough to make it more like a milkshake.
Easiness to drink: 4.5/5.
It was fairly easy to drink and pleasant. It was only after that I found myself full and not willing more. 300ml was no problem, though.
Hunger Quenching: 4.5/5.
I found the shake too filling early on and then I was ok for 4h30′ until late lunch. I would consider it a success. I almost always tend to snack between breakfast and lunch.
What Next Level Meal tastes the best?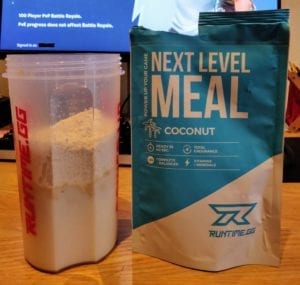 Coconut: 4.7/5. I was tempted to give it a 5. One of the best tasting meal replacements I had. I really enjoyed the mild coconut taste. Mixed with 300ml skimmed milk.
Lemon Cheesecake: 3.7/5. It was pleasant, fairly sweet, with a hint of lemon (no sourness) and a biscuity background. The taste faded away in the end, and I could taste the water. Mixed with 300ml water.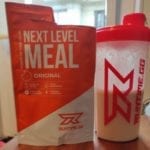 Original: 4.2/5. I really enjoyed it. It was more biscuit like (mix between biscuit-oat) and had a cinnamon hint that I really enjoyed. I actually think I would add cinnamon to it to improve it.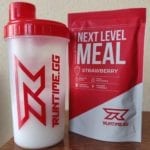 Strawberry: 4.2/5. Another surprise, I did not expect to like it. Plus, it could have been even better. It had strawberry bits that really gave the extra taste. It needed more of those to taste really like strawberry and perhaps win the crown of best tasting Next Level Meal.
Banana: 4/5. I do not like banana flavoured drinks too much. I did not enjoy Next Level Meal Banana either, but that was because it had a strong banana taste. I thought the texture was fine and so was the consistency. Probably perfect if you like this flavour usually.
Cherry: 3/5. Once again, I am not a big fan of cherry flavours. On the positive side, this NLM has cherry bits, similarly to the strawberry one, which make the drink more authentic. It has a similar taste to Cherry yogurt, but with an artificial hint. I would recommend to drink this shake thick.
Marzipan: 2.5/5. I don't think I like marzipan. It was a weird flavour, with some oaty aftertaste. Mixed with 150ml water and 150ml skimmed milk. No longer available.
Other Next Level Meal Facts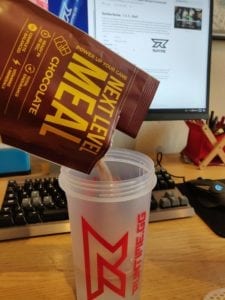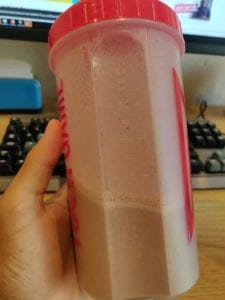 How to Start with Next Level Meal
You can purchase any individual flavour you would like, but we would recommend the Starter pack to initiate yourself. That way you can choose the flavour you like the most and also try out the rest of the Runtime products. The starter pack includes seven pouches of Next Level Meal (one for each flavour), 2 megabite bars and one performance drink for each flavour, as well as a shaker. A great deal for under €30.
Once you have chosen your favorite(s) Next Level Meal flavour(s) you can make customized boxes, ordering those which you really like. If you really get hooked up to it, Runtime offers a really good subscription discount (15%) and you can have them delivered monthly to your door.
Where to buy Next Level Meal
Next Level Meal is available from the runtime website, check the link below, and Amazon (in some countries only, e.g. UK).
We recommend using the Runtime website, as it will always have the latest deals up, as well as, other necessary accessories (shakers) or other products that might interest you. They will also have exclusive limited bundles.
Limited Edition Bundles
As Runtime partners with eSport personalities, events and teams, they have been releasing limited edition bundles with Next Level Meal as primary source of food. For instance, there is the BIG (CS:GO team) limited edition bundle up now, with 8 NLM, 2 megabite, a custom shaker, pins and players signatures for just under €50.
We expect this occurrences will happen a few times a year. If you are a person who likes to collect stuff, you might enjoy this events, while consuming Next Level Meal.
New Flavour out: Banana
One fact for which I will keep praising Runtime is their continuous efforts to improve. They keep bringing new updates, new flavours, new custom deals at a tremendous rate. Faster than anyone else. So, when everyone kept asking for the Banana flavour -not me!-, they started working and developed it. You can now enjoy the great Next Level Meal in Banana flavour. I will pass.
If we can start asking, I would like a caffe mocha flavour, please. Pretty please. Which flavour would you like to see? (Share in the comments below).
1- Can I customize my subscription?
Yes, there are custom boxes where you can choose your NLM of choice, as well as, other Runtime products. You can get your own mix of flavours monthly at a 15% discount, which is I think the best way to consume Next Level Meal
2- Should I drink my Next Level Meal shake with milk or water?
If you consume it with water, even though is going to feel fairly consistent, you will have a less consistent shake than with milk. Plus, we found the water mix a little low on the flavour (chocolate), like if it were watered down (even following Runtime's directions).
With milk it will more likely taste better (I prefer it), and you will get the extra calcium you need. True, you will also get some extra calories, including lactose and other sugars.
Milk for us, but is up to you. Why not both?
3- Will Next Level Meal satiate me?
It is actually a fairly big serving (606kcal) and even if it was easy to drink, we did feel fairly full (not wanting more) after the whole shake. Even a little sleepy, but that might be because I did not sleep very well. I found myself starting to think about food 4h after consumption and that is fairly good, since I tend to snack a lot.
So I would say yes.
4- When is the best time to consume Next Level Meal?
In theory, any time you are hungry. I took it for breakfast and it was a little too much for me, I do not usually do big breakfasts. Thus, I would think it fits me better for lunch or after sport. You could take it for dinner, but only if it is far away from your bedtime. It might be a little too filling and carb full to take it less than 1h-1h30′ before bed.
Who is Next Level Meal for?
Are you a gamer? Then this is the meal replacement for you!
Jokes aside, it is a good choice for many people who are looking to substitute one of their meals. It fits many profiles, although some people might not like that is too high in sugars. Obviously, if you have a tendency to eat sugary foods or have some diabetic pre-contidion, I would avoid it.
If not, go for it. The serving size is good, the nutrition is OK and it will quench your hunger really well.
Does it taste good?
I have to re-evaluate my first impressions. While, I found the chocolate version good, but not incredible and the marzipan flavour, something that just was not for me; I was blown away by the coconut Next Level Meal. Very very good. However, it is true that the overall trend of the shakes is a fairly mild flavour with a very oaty touch.
Will I get all the nutrients I need?
Yes, all macros are within the acceptable macronutrient range set by the ESFA, with the only exception of added sugars. There is 4g more than the upper limit set by the ESFA in Next Level Meal, but for most this figure does not make any difference. Regarding micronutrients, even one serving will give you the DRI for many vitamins and minerals. Perhaps surprisingly, the only one that falls short is calcium. Time to get that milk in!
I want to buy it. How much will it cost me?
Arguably more than it should. Since, it is not a premium product (aka, with non-GMO, organic, fancy prime ingredients), you could expect a lower price tag. Then, everything Made in Germany might be premium. Plus, with subscription each meal will cost you under €3! That is hardly expensive. Just not as cheap as Queal, Jimmyjoy, Satislent or even Huel.
Wait a moment, is it perfect?
No, it is not. However, we do see a strong trend of improvement and evolution in Next Level Meal. Runtime is a fairly new company that is working on its products aggressively, thus we could expect NLM to get closer to perfection with each iteration. Perhaps, it will become the perfect meal for gamers and eSport athletes. Good luck.
Verdict
Great product that has clear focus on gaming industry. If you enjoy the vibe, the competition and the social aspect of gaming Next Level Meal might as well be your meal of choice. The limited editions, the shakers and the community are not but added on positives to a shake that provides you with everything you need for the day and more. No need of cooking, no need of much cleaning. Just make it, shake it and drink it in front of your computer. We recommend to try Next Level Meal, if only because it has some very interesting flavours and will suit many people.
Next Level Meal
From €1.80
Pros
Great array of flavours, up to 12 to choose from
Some of the tasties shakes (Coconut, Lemon Cheescake...)
Added BCAAs
Great subscription discount
Cons
High in sugars (isomaltulose)
Not vegan
Nutritionally weaker than other powder alternatives