Note: Pulve is unfortunately no longer in business. It was one of the greatest products that I have tried, but it no longer is. If you are looking for well priced, quality vegan shakes, I would look at Powdermatter.
Otherwise, check the best organic and natural meal replacement shakes to see what some of my favourite shakes are.
Pulve was found from the struggle to juggle health, convenience and environmentally friendly nutrition. As such, the founders created a non-GMO, European sourced, soy free, lactose free, vegan meal replacement shake. From 2015 they have been aiming to improve their product to meet the European standards, and the even harsher standards of their customers. How successful have they been? Have they created the ideal product for a healthy, convenient lifestyle that also helps the environment and promotes a bio-based economy? Let's find out in this Pulve Review.
---
---
[better-reviews]
The European meal replacement market is full of hidden gems like Pulve (or the previously reviewed Satislent). Smaller companies that do not have the following of the bigger brands, but offer increadibly interesting packages. In this case, I love Pulve because their nutritional ideas (non-GMO, no aspartame, no acesulfame-K…) and the excellence they have achieved on that regard in their product. Besides this, they have a very unique 100% biodegradable pouch, which I could see becoming the norm in the market.
Few issues, mainly coming from the limitations due to the size, but overall a very interesting meal replacement company.
What We like
Products nutritional output: great fat and protein profile.


100% biodegradable bag.
Free Shipping Worldwide with 72 meals.
Different ingredients: no soy.
Payment methods include cryptos.
Bio-based economy put in practice.
Taste.
There is a lot to praise Pulve for. Perhaps, I will start with their efforts to offer a bio-sustainable product. This is not new in the market and many companies such as, Huel, have zero impact and zero waste policies in their missions. However, having a 100% biodegradable bag is a big step forward. That together with the locally sourced prime ingredients are key features for a sustainable future.
Following with the ingredients, it is rare to see no soy on the list. Particularly in vegan shakes, since it is used as a source of protein. The reason why Pulve does not use soy is not only nutritional, but the fact that this plant is not autochthonous to Europe. I like the fact that they stand by their ideas even if it make production of the shake harder.
Jumping into nutrition, I need to take my hat off to applaude the nutritional balance Pulve has achieved. As you will get tired to read in this review, their meal replacement shakes fit perfectly within the international dietary guidelines, have high protein content per meal, and a very beneficial MUFA, PUFA content, as well as, almost a 1/1 ratio of omega-3/6.
Lastly, I do not want to forget the fact that they include cryptos as a payment method. While for many of you this might be just another quirk, I see this as an effort to jump-start the next generation of online payments.
What We dislike
Subscription is a little weak.
No free shipping within the EU.
Only one flavour.
Logo.
Social Media presence.
Not all is green pastures in Pulve-land. Some major drawbacks include the lack of free shipping withing Europe (only to certain countries); the use of sucralose; their weak branding and social media presence, among others.
Regarding the first point, I find it surprising that they offer free worldwide shipping in orders of 72 meals (about €143), but they do not offer a lower threshold for the European customers. Usually, shipments over €50 tend to be free.
While their formula is great, and the Vanilla flavour offers a lot of customization options, I think having a single flavour nowadays is not enough. If you are advocating for convenience, it would be more convenient for the customer to be able to choose between different flavours rather than having to make their own flavours afterwards. Plus, this would not be possible in certain enviroments, such as the office.
Lastly, looking at their brand and services I do need to point out that their logo, SM presence and subscription are all a little weak. The last is on par with some of its competitors, and it might cause a little economic constrain to offer an even bigger discount. However, I feel like as a small brand, they should reward returning customers better.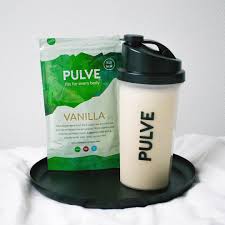 Improvements
Free shipping within the EU.
More Flavours.
A ready-to-drink for more convenience.
Increased social media presence (not so important).
Less sweet option.
It is important to understand that Pulve is a small company, and as such, they have a lot of limitations. However, I do not feel like free shipping to the EU in orders above a certain threshold should be one. Particularly, if they orders are above €70+.
Another interesting development with their product could be developing a less sweet option. Similarly to Huel New Vanilla and Original, I feel that the sweetness of Pulve can take many by surprise and might get tiring for some after a while.
On a similar topic, I would also like to see more flavours added to their meal replacement product. I feel that having a few flavours to choose from will not only increase convenience but potential to attract new customers.
On a more subjective note, I feel that the logo is particularly weak. Pulve could benefit from a better logo and more SM interaction. Although, the last can me hard and taxing in manpower.
Overall, I am really looking forward to see where they go.
Pulve was an absolute surprise in terms of taste too. I found the shake to be the right texture, with a quite strong vanilla flavour and fairly sweet, while not overly so. One of the best shakes I have tried.
You will like Pulve if:
You like the old Huel Vanilla (Original).
You do not mind seeds in your shake.
You are a fan of vanilla.
You like sweet shakes
You will not like Pulve if:
Sweet is not for you.
You can have anything but smooth shakes.
You are looking for a small (300ml) shake.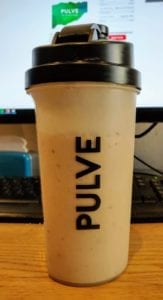 Overall: 9.1 (32/35)
Taste: 4.5/5.
Very clear Vanilla taste with no oaty flavour at all. Slightly sweet, maybe a little too much if not diluted enough and could get sickening if the shake was bigger.
Flavour Fidelity: 5/5.
The best vanilla flavour I have tried, together with Huel.
Aftertaste: 4/5.
Due to the fact that it has a fairly strong vanilla flavour, you notice it in your mouth for a while after you finish the Pulve shake.
Texture: 4/5.
In my opinion, it could be even higher. It had some seeds that might annoy few people but I found entretaining chewing on them, and not bothersome at all.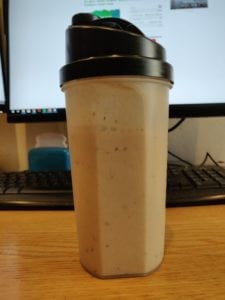 Consistency: 5/5.
It was not overly thick, nor it was very thin. Enough to notice you were consuming a real meal. I found it really pleasant middle-ground.
Easiness to drink: 4/5.
The shake was easy to drink for me, although I struggled more towards the end due to the sweetness to the shake. It is also a 500ml shake, which might cause a problem for few people.
Hunger Quenching: 5/5.
I felt satisfied straight away. I felt great for the next 4h, with plenty of energy (although that could have been because of the caffeine I took).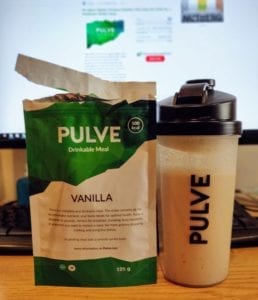 What PRODUCTS does Pulve offer?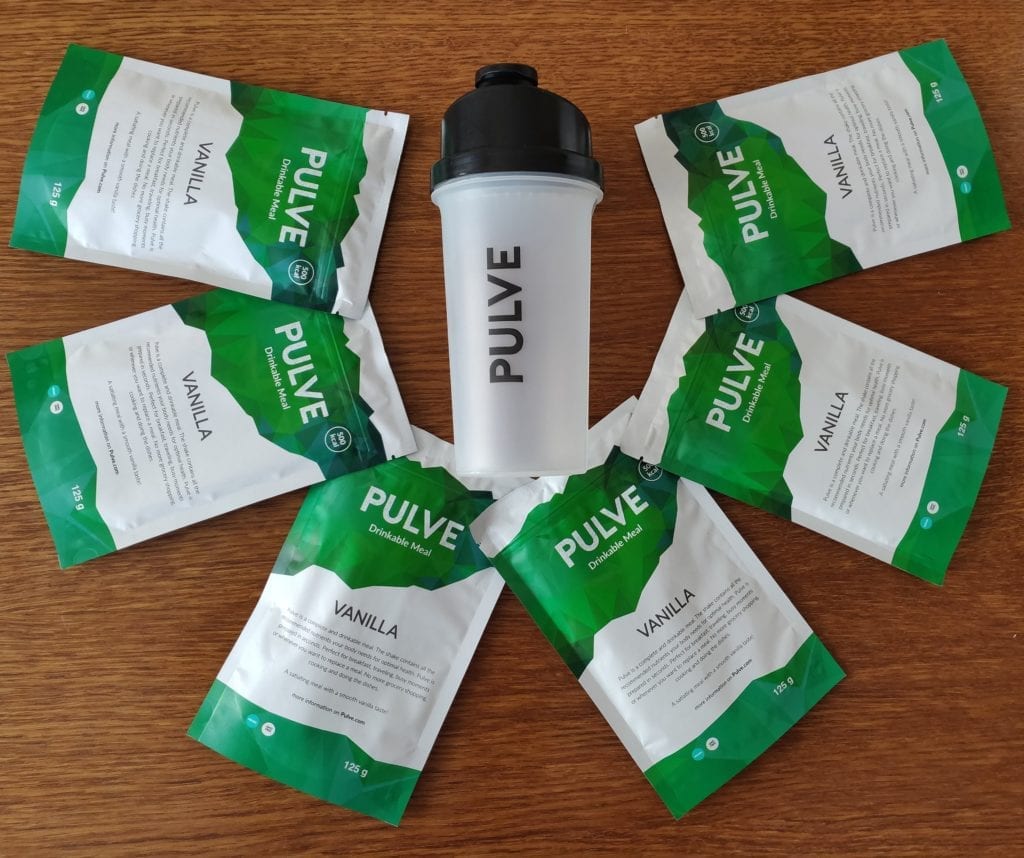 Truth is, Pulve really only offers one formula or meal replacement product. Their Vanilla flavoured powder. However, you can buy Pulve in individual packs, ideal to carry around, take them to work or for travelling; a 2.5kg tub with 20 servings, for easier storage at home; or you can buy the Sample Pack which consists of 6 individual packs plus a free shaker, for first users. We are always big advocate of Sample Packs and their usefulness. Great way to try a different company or meal replacement product.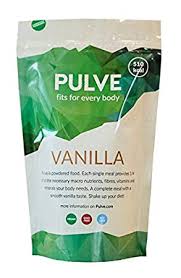 Pulve Vanilla Individual Pack
Meal Replacement
Powder
500kcal/meal
24P/46C/30F % of Energy from
1.8g of added sugars/2.2g of Saturated Fats per serving
Starts at €2.2
Gluten, Lupin, Wheat, Legumes, Maize
---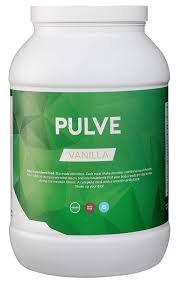 Pulve Tub (2.5kg)
Meal Replacement
Powder
500kcal/meal
24P/46C/30F % of Energy from
1.8g of added sugars/2.2g of Saturated Fats per serving
Starts at €2.1
Gluten, Lupin, Wheat, Legumes, Maize
---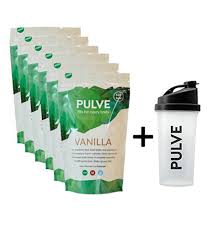 Pulve Sample Pack
Meal Replacement
Powder
500kcal/meal
24P/46C/30F % of Energy from
1.8g of added sugars/2.2g of Saturated Fats per serving
Starts at €2.8
Gluten, Lupin, Wheat, Legumes, Maize
---
Brief Pulve Vanilla Review (Individual and Tub)
Pulve is what I would call a one trick pony (OTP). A brand that produces a single product, and believes so strongly on it that its first (and only) aim is to improve it to perfection. In fact, Pulve has with the years improved the quality of its meal replacement drink to meet European safety standards HACCP, GMP, ISO-22000 and FSSC-2000 (EU is pretty harsh in terms of food standards and quality).
Nevertheless, this is not the main characteristic of this product. Pulve Vanilla is a non-GMO, European sourced, lactose free, soy free, vegan product. Soy free products are actually really hard to come by, as soy is a cheap ingredient that can be used a protein, carb source or as an emulsifier. The meal replacement industry uses it almost ubiquitously.
Pulve Vanilla offers 500kcal per serving with a 24P/46C/30F energy distribution split. I found this balance very acceptable and very easy to get used to, since it is not very extreme (while a little low on carbs for what you might be used to). It has good amount of protein and fiber; whereas is really low in added sugars and saturated fats. But this is discussed in detain in the nutrition section.
On the other hand, if you are a bit disappointed by the lack of flavour diversity, I would say you have the right to, but there are ways around it. The vanilla flavour is great, because aside from the fact that it tastes great, it is a mild flavour perfect for customisation. Adding coffee, a banana or blueberries will be enough to create a whole new experience.
While there is a lack of flavours, there is a lot of options in terms of choosing your serving. The individual pack is great for those to tend to consume (or are looking to do so) their meal replacement shakes at work or outside. You can store them on a little cupboard or pack them in your bag, without any issues; and prepare the meal within a minute. I would recommend the tub if you are going to prepare your Pulve at home. It is not that much cheaper, but it is more handy in terms of storage.
Brief Sample Pack Review
More than a review is a breakdown of what you get with your sample pack. It is fairly straight forward: 6 individual packs for almost €17. While the price is higher than for the Single Meal pouches, the commitment is also smaller, since you need to spend nearly €41 to purchase the latter.
Thus the Sample Pack is the best way to start with Pulve, unless you are very convinced of the product – I can understand that-. I also believe, would they release a new flavour, it would be included in the pack, hence allowing you to taste the different Pulve variations more easily.
Pulve offers a fairly evenly distributed nutritional profile, with 24% of the energy coming from protein, 46% from carbohydrates and 30% from fats. Despite having 54.7g of carbs per serving, it is strinkingly low on sugars (1.8g/serving). It is also remarkably low in saturated fats, while keeping a really good omega-3/6 profile.Another fact worth pointing at is how little salt Pulve has. Salt is a faboulous spice and a necessity in our diets, but we unfortunately use too much. Particularly, in pre-made meals or fast-food. Thus, Pulve is a good tool to keep your daily sodium intake at bay.
The main ingredients are whole grain oats, pea, lupine, sunflower seed and flaseed. All come from European countries and are non-GMO. The final product is soy free, lactose free and vegan. Other products on Pulve's banned list include aspartame, acesulfame K, fluoride, dextrose and maltodextrin. They used to use sucralose as a sweetener, but they have recently changed to a little glucose syrup, which does not change the nutritional values.

Energy
Pulve comes in servings of 500kcal (125g) and it is designed to have it 4 meals a day for a total of 2,000kcal. Most of the energy, 46%, will come from carbohydrates. This figure, while it might seem high at first glance, it is in the low end of the acceptable macronutrient distribution range (AMDR) set by the ESFA (45-65% for carbs).
30% will come from fat sources, which is in the upper half of the AMDR for fats (20-35%). Therefore, the last 24% will be from proteic sources.
I consider this a fairly good split for sedentary people and active people alike. The amount of energy from fats will help with a slower digestion and more prolonged release of energy; together with the complex carbohydrates.
Fats
Let's check some quick numbers:
Total Fats: 15.9g. 28.6% of the DRI.
Saturated Fats: 2.2g. 11% of DRI.
Monosaturated (MUFA): 8.7g. This is 15.7% of the calories per serving.
Polyunsaturated (PUFA): 4.5g. This is 8.1% of the calories per serving.
Omega-3: 2g.
Omega-6: 2.5g.
Sadly, for many people the beauty of this numbers might get lost. So, let me explain you why this might be one of the best balanced fatty acid splits in any meal replacement shake.
The main reason why I make that claim is because it adapts perfectly to the guidelines given by WHO, ESFA and USHH; as well as, the current nutritional believe ideal fatty acid distribution. In the "extremely interesting" Geneva congress of 2008, WHO set the recommended intake of MUFA to be between 15% of the daily energy and 20%; while for PUFA between 6% and 11%. While simple in theory, not many brands fall perfectly into this range.
Besides, the omega-3 to omega-6 ratio is also within the ideal 1/1-1/3 range. Many oils and formulas used in meal replacement shakes tend to have a ratio skewed towards omega-6, due to the nature of primary ingredients.
Thus, Pulve has done a very good job perfecting their formula to nicely fit within the guidelines. If you are asking why these ratios might be so important, it is because they have been correlated with benefits to general metabolism, decrease risk of heart attacks and CV diseases.
Most omega-3 probably comes from brown flaxseed, while sunflower seeds are richer in omega-6 fatty acids.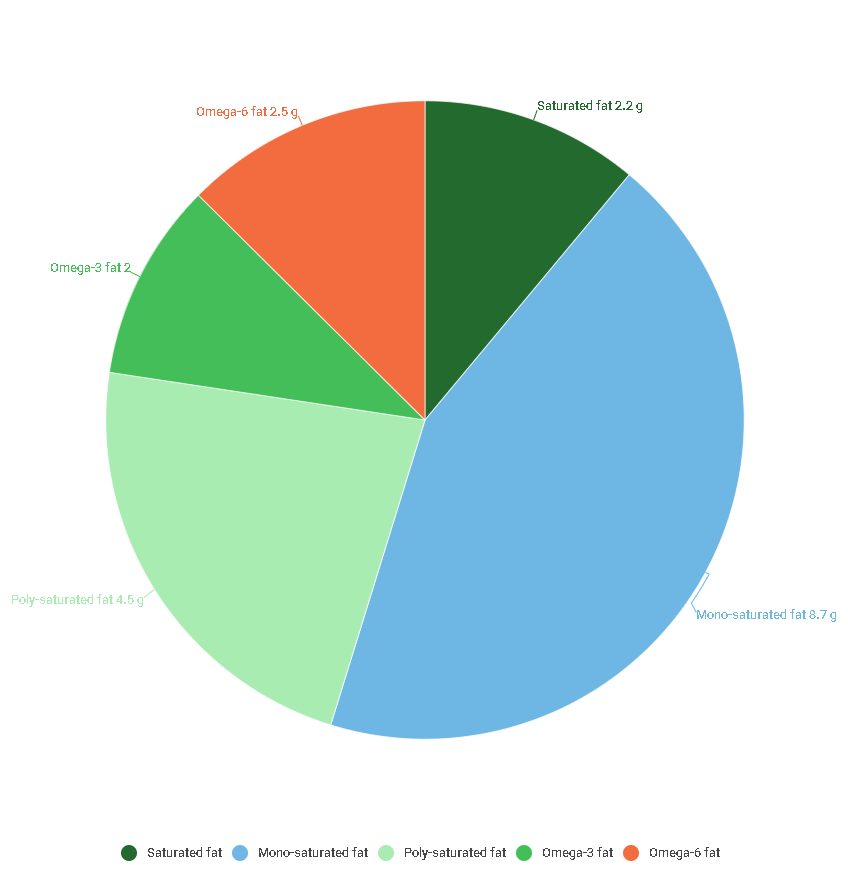 Carbs
Once again, the main carbohydrate source are the oats. Oats are like the golden child of all complex carbohydrate sources. Readily available, easy to blend and mild enough to go well with other ingredients. Oats are mainly complex carbohydrates, about 66%; also contain a good source of protein, 17%, and fiber 11%.
Speaking about fiber, Pulve contains a 50-50 mix of soluble (slows down disgestion) and insoluble fiber (prevents constipation). Both are necessary for proper stomachal functioning and help with the feeling of being satiated. Aside from oats, Inulin is the source for insoluble fiber.
Before jumping on into talking about the protein in Pulve, I want to remark the increadibly low added sugar values in Pulve; 1.8g of sugars per serving. This is astonishingly low and might help to people who are careful about sudden increases in blood sugar levels.
Protein
Each Pulve serving packs 27g of protein. All together, if you uniquely consume Pulve, you would get 108g of protein in a day, which would be 1.35g of protein per kg of bodyweight for a 80kg person. That is within athletic and sport person standards. For the sedentary population, this might seem excessive, since as little as 0.5g/kg of bodyweight is seemed appropriate by the international food agencies.
However, high protein diets help with hunger management, weight management, muscle growth and maintanance. Furthermore, a study performed in healthy adults consuming above the DRI for protein (56g a day) showed no significant impact in kidney function.
What it may be more interesting is the protein blend used in this vegan shake. As you might know, whey protein (milk) is the king of the hill, as far as, protein sources go. However, in vegan supplements, there is a wide array of blends and prime ingredients used, such as, rice, hemp, soy and pea.
Indeed, 30% of the protein comes from pea (8.2g). Another 43% (11.6g) come from oats. The final 27% (7.2g) comes from lupine beans. You might be wondering what this is. Lupin beans are legume seeds of the Lupinus plants from the Mediterranean basin and are native to Europe. They contain 36g of protein per 100g.
Legume based protein can be a great source of essential amino acids. Howerver, they tend to be low in methionine, cystine and cysteine (Iqbal et al., 2006). Both lupine and pea protein are low in methionine. Fact that is balanced by the proteins coming from oats.
Thus, overall, Pulve offers a complete amino acid profile with great digestivility and biological value.
Micronutrients
I am going to let the images do all the talking. There is too much writing going on either way: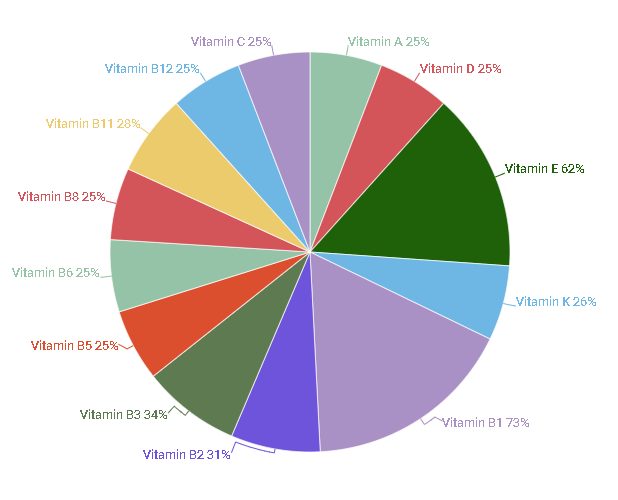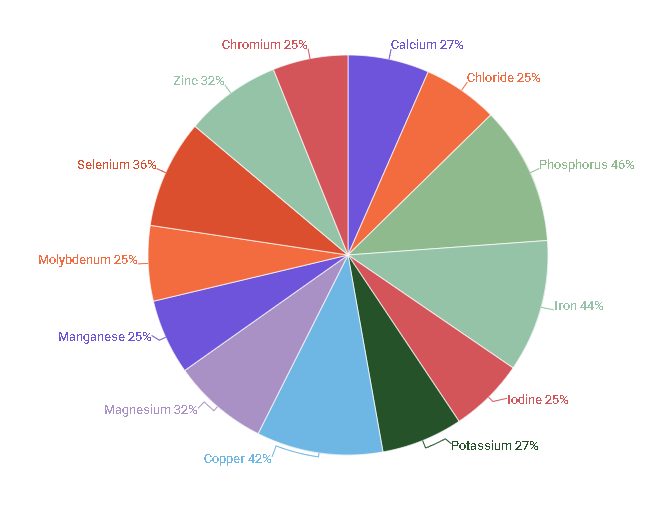 Pretty clear, no? I wish everything was this easy.
Sweeteners
I do not usually give a section to sweeteners, but I am aware they are important for some. For Pulve they are, thus respecting their beliefs I want to make a couple remarks.
Pulve does not contain any aspartame or acesulfame K. Both of these, while they have been cleared by FDA and ESFA for human consumption, there were old reports and studies in mice linking both to cancerigenous properties. Reviews of this studies made by the FDA have cleared both, but the shadow of doubt still remains. It is clear that more research is required in this area.
I understand the choice of staying away from it.
However, Pulve used to contain sucralose but they swapped it to glucose syrup. This change does not affect the caloric input of Pulve.

Allergens
The allergens in Pulve shakes are Gluten, Lupin, Wheat, Legumes and Maize.
More about nutrition
If you have been wondering where I got those beautiful pie charts, they are all (and more) available from the pulve website, under the nutrients tab. For more, information about guidelines and nutrition facts go to our Resources page.
Nutrition Summary
24P/46C/30F. Increadibly low in added sugars and saturated fats.
Increadibly well balanced fatty acid profile. 1/1 omega-3/6 ratio.
Protein sources are Lupin, Pea and Oats. Good digestion and amino acid profile.
At least 25% of every micronutrient per serving.
Pulve for the win.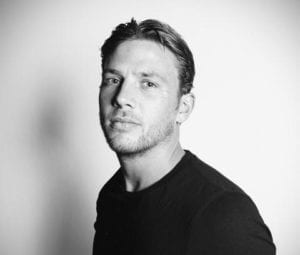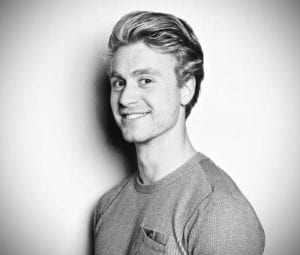 Some people claim they cannot trust a company if they cannot put a face it. Hence, here you have the two co-founders of Pulve, standing proud of their product. Steven is a business entrepeneur with an experience background on e-commerce, while Ruud has a BSc in International Food and Agribusiness with an specialisation in Bio Based Economy. They are both really friendly and approachable, and they will be able to answer any questions regarding pulve. Or start a conversation about sustainable food economy.
Pulve packaging
Part of Pulve's motto is to create a more convenient and environmentally friendly product. Convinience is sure achieved with the individual packages, where you will only need to pour the content to the shaker and shake it. You will be able to take it anywhere; be it an adventure trip to the woods, a business trip or your old boring office. Plus, you will have your good ol' 2.5kg tub at home to help you with storage. Having two sizing options is actually pretty handy.
The jackpot, perhaps, is their 100% bio-degradable pouch. This is something that no other companies seem to have yet. The fact that it degrades in nature without leaving any plastics or residues, makes Pulve a very ecologically friendly product.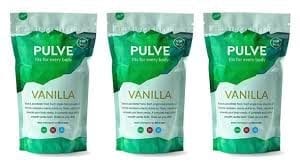 According to Pulve, the shel-life of the product is about one year. Probably longer if you leave it unopened. That is plenty of time to consume your 18 meals.
Shipping and Return Policy
Pulve ships for free to those lucky enough to live in the Netherlands, Denmark, Germany, Belgium, France, UK and Italy. For Austrians, Spaniards, Swedish and Czech it will cost almost €6. The rest of Europeans will have to pay €15 plus.
These all are fairly standard rates, although free shipping within all Europe would be nice. Especially in orders above a certain threshold, such as €50.
What if I live outside the EU? Can I not enjoy Pulve?
Oh, I almost forgot about you guys. Pulve offers wordwide shipping. According to their site, the fee is €17.95, which we find to be increadibly low (usual rates are around €50+ for intercontinental shipping). We advise to ask them directly at [email protected]
But wait! There is a cherry on top of the cake!
If you order 72 meals upwards (€143), you are elegible for free worldwide shipping. This is an increadible deal that will allow any serious customer to enjoy Pulve no matter where they live.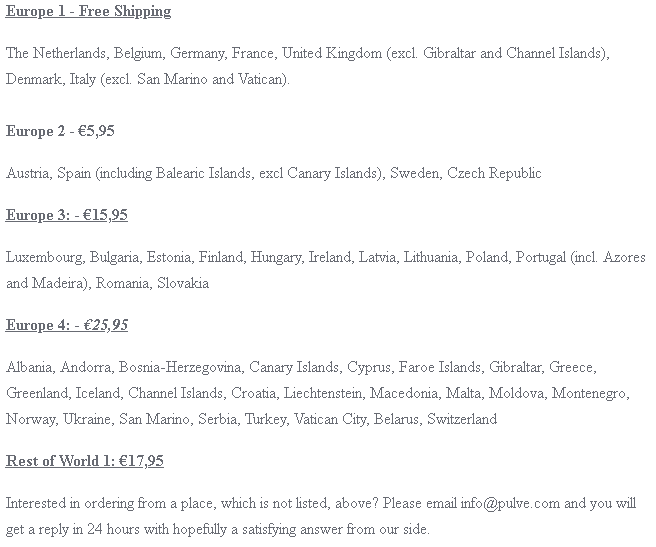 Refund Policy
You can return your Pulve packaging at no cost within 14 days of purchasing. However, the product needs to be unopened and unharmed. This refund policy is not as good as many others' taste guarantee, that covers you if you dislike the product. One more reason for which I advocate to go for the Sample pack first.
Subscription
Pulve offers a 7% off subscription program, on par with Queal (a local competitor), but lower than the best subscription programs that offer you up to 15% off (like Runtime or Ambronite). I think they can do better to reward their customer loyalty, but I understand this might be economically challenging.
On the plus side, you can choose to be delivered, biweekly, monthly or every other month.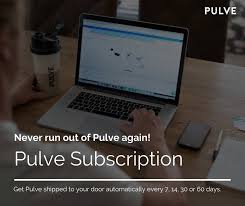 How do I get started with Pulve?
Make sure you check out the beginners guide how to start with meal replacements, if you are unsure about meal replacements in general. For the lazy, here is a short summary on how to start with Pulve:
Calculate your caloric needs with a calorie tracker app like MyFitnessPal.
Go to Pulve and buy the taster pack if you are unsure. If not think where will you be consuming Pulve and buy the Individual packs or the Tub accordingly.
When are you going to have Pulve? Decide what is the ideal time for you and start with 1 shake a day. You can increase it later.
Add the shake to MFP and balance the rest of your day to fit your caloric goals.
Oh, to make the shake mix 125g with 350-450ml of water (or milk of your choice). The more water the less thick, but the less intense the flavour will be.
Badaboom! You are hooked to Pulve.
Other things worth taking into account:
The Tub is the best bang for the buck, but not by much followed by the individual packs.
I would recommend weighting yourself before you start consuming Pulve regularly to see if you are losing or gaining any weight. You may have to adapt your diet accordingly.
We hope to have good discount codes in our Deals section. Make the best out of it.
Do not keep taking it if you see some adverse effects.
How to buy Pulve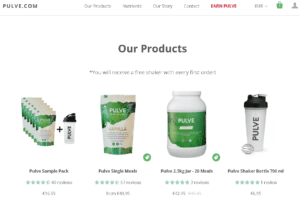 There are truly no secrets to buying Pulve. They have a very easy to navigate website that will allow you to easily purchase any of their products (shown above). Do not worry about the shaker if it is your first purchase, since it will be added for free with the order.
Once you have chosen the ideal format for you, go to the product page and click add to cart. Be sure that you do not have the subscription button checked, as it comes by default. Also, instead of ordering 2 of 18 Individual packs (they sell them in lots of 18), you can click the dropdown menu and select 36 or 72 (which will, actually, be cheaper in price). This is shown in the image below.
Your car will be on the top right corner where you will be able to proceed to checkout. After introducing you personal details and delivery adress you will be prompted to the payment screen. Pulve accepts a very wide array of payment methods, including cryptocurrencies, namely Litecoin and Bitecoin. Pretty cool addition. I just hope it does not happen to you what happened to the pizza guy.
Buying Satislent is pretty straight forward, although you need to be careful with choosing the right product and size. On the navigation menu you can switch between the different products. Once on the product shop interface, choose the right bag size for you (top right corner).
You will also have to select the flavours of the bags individually. Take into account that the more bags you buy the cheaper it will get (up to 5 bags).
After you added to the cart you will have the chance to continue shopping or proceed to checkout. You can also checkout clicking the cart icon on the top right corner.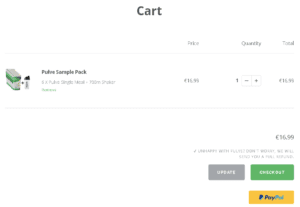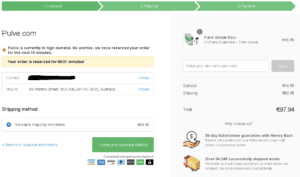 And that is all. Easy, right? Then, do it.
1- Can I lose weight with Pulve?
You can use Pulve as part of a diet without a problem. Even though implementing meal replacements on your diet is easy, it does require some thought process and planning. I recommend you reading the article where I talk more in-depth about how to lose weight with meal replacements.
As for basics, Pulve will enable you to track your calories a lot more easily and prevent you from eating unhealthy.
2- Can I get it in the US?
Yes, Pulve is available in the US. The shipping cost to the US is likely to be high, thus I would recommend you going for 72 meals to get the free shipping. Is a hell of a commitment though.
3- Is it suitable for diabetics?
While the sugars are really low and Pulve is likely to have a low GI, I do not think it has been certified for diabetics, and I would contact the company directly before purchasing.
4- Can I take it as part of a low-FODMAP diet?
Pulve has few grains and pea protein that tend to have higher FODMAP scores. Ask Pulve before buying.
5- Can I only consume Pulve?
Pulve powder products meet the guidelines set by the ESFA (and USHH, WHO), so in theory it is safe to do so. I recommend proceeding with caution and monitoring your health if you are planning on doing so.
6- How does it taste?
Pulve is delicious. You can definitely tell the vanilla taste, unlike in so many other shakes, and has a very good consistency. It is fairly sweet, perhaps too much for some, but it can be milden with milk or more water.
7- When can I take Pulve?
Anytime is good to consume Pulve. Choose the meal you struggle the most with and swap it with Pulve. Or the meal you consider the least healthy.
8- How cheap can i get Pulve?
If you get 72 individual meals in a 60 day subscription (that is a lot of Pulve!), each meal would only cost you €1.85! This is a fairly extreme case though.
Pulve vs other meal replacements
Pulve vs Soylent– Winner Pulve; better product
Both brands offer vegan products. Soylent has been around for a while in the market, but mainly distributes in the US. With Soylent arriving to EU soil soon, Pulve faces another contender in the fairly crowded EU market. So which one is better Pulve or Soylent?
| | | |
| --- | --- | --- |
| | Soylent | Pulve |
| From | USA | NED |
| Ships to | USA | World |
| $/400kcal | $$ | $$ |
| C/P/F | 38/19/43 | 46/24/30 |
| Allergen | Soy, Gluten | Lupin, Maize, Gluten |
| kCal/meal | 400 | 500 |
| Serv/day | 5 | 4 |
| Suitable | Vegan | Vegan |
| Flavours | 2* | 1 |
| Products | 3 | 1 |
Label:
Price per 400kcal without subscription:
$– Below $1.5 $1.5 = €1.3 = £1.15
$$- $1.5 to $3 $3 = €2.6 = £2.3
$$$– $3 to $5 $5 = €4.3 = £3.85
$$$$– over $5
Price, product range and flavours: Winner Soylent
They are both in a very similar price range for the powder versions. However, Soylent also sells ready-to-drink products (Soylent Drink and Soylent Cafe), which are more expensive. Soylent also comes with more than one flavour in all their products.
Nutrition: Pulve
Pulve has a really good nutritional profile, with plenty of protein, an excellent fatty acid balance and tons of complex carbs, but no sugars. Each serving provides 500kcal.
Soylent servings offer just a little less calories (400) but also aim for a 2,000kcal diet. Soylent products are richer in fats and lower on carbs and protein. I also do not think that the omega-3/6 ratio is as good in Soylent, as it is in Pulve.
Furthermore, Pulve also uses non-GMO products and contains no aspartame or acesulfame-K. While, you might not agree with excluding either, it shows great carefulness on the selection.
Anyhow, I think Pulve offers a more rounded up nutritional profile, with better fat sources and more protein per serving.
Brand image, Customer Service, Availability, Shipping: Draw (tipped to Pulve)
Pulve cannot compete with Soylent in terms of brand image, social media and community. The brand is just that much bigger. However, surprisingly, Pulve is very competitive in the shipping department, since it offers free worldwide shipping after certain conditions are met. Meanwhile, Soylent is struggling to expand itself even to Canada.
Soylent products are more easily available in the US than Pulve products are within the EU, but they deliver to any EU member country within 3 days. Not bad.
Because they are a smaller company they can also afford a more personal treat with the customer and make you feel special
Pulve vs Huel – Winner Huel; both great products, though
| | | |
| --- | --- | --- |
| | Huel | Pulve |
| From | UK | NED |
| Ships to | World | World |
| $/400kcal | $$ | $$ |
| C/P/F | 38/31/31 | 46/24/30 |
| Allergen | Soy, | Lupin, Maize, Gluten |
| kCal/meal | 500 | 500 |
| Serv/day | 4 | 4 |
| Suitable | Vegan | Vegan |
| Flavours | 5* | 1 |
| Products | 3 | 1 |
Label:
Price per 400kcal without subscription:
$– Below $1.5 $1.5 = €1.3 = £1.15
$$- $1.5 to $3 $3 = €2.6 = £2.3
$$$– $3 to $5 $5 = €4.3 = £3.85
$$$$– over $5
Price, product range and flavours: Winner Huel
In terms of price, they are almost on par. Both cost around €2 per meal. However, Huel offers few good quality products, including a granola, a bar and 3 variations of their powder version. Plus, each of those powder meal replacements have different flavours to choose from.
There is no much competition, Huel is the clear winner.
Nutrition: Draw
As stated in the Pulve vs Soylent, I love Pulve's nutritional equilibrium. I think they might have one of the best fatty acid profiles in the market, while keeping really low sugars and good protein quantities.
However, Huel is another nutritional beast. Everything they put (and do not) in their products is carefully chosen (as you can testify by reading through their Nutrition page). They even offer a sport tested Huel.
I will call this a draw, which should be a victory for Pulve.
Brand image, Customer Service, Availability, Shipping: Huel (barely)
Huel is one of the big names. Like the kings with the 7 rings in the Lord of the Rings. It could even become the next Lord of the Ring. They are a great company, with an increadible community supporting them and a very good customer service. They also offer worldwide shipping, even though the costs are extravagant.
Thus that is one thing that Pulve has a better deal on. The 72meals free worldwide shipping is unparalleled. They really do have great little tricks up their sleeves. However, in the other terms Huel is just bigger.
Pulve vs Plenny Shake Vegan – Pulve; better product
| | | |
| --- | --- | --- |
| | PS Vegan | Pulve |
| From | NED | NED |
| Ships to | World | World |
| $/400kcal | $ | $$ |
| C/P/F | 49/28/23 | 46/24/30 |
| Allergen | Soy, Gluten | Lupin, Maize, Gluten |
| kCal/meal | 395 | 500 |
| Serv/day | 5 | 4 |
| Suitable | Vegan | Vegan |
| Flavours | 5 | 1 |
| Products | 4 | 1 |
Label:
Price per 400kcal without subscription:
$– Below $1.5 $1.5 = €1.3 = £1.15
$$- $1.5 to $3 $3 = €2.6 = £2.3
$$$– $3 to $5 $5 = €4.3 = £3.85
$$$$– over $5
Price, product range and flavours: Winner Jimmyjoy
Oh! The local derby, how exciting.
Unfortunately for Pulve, Jimmyjoy has the upperhand in this category. Plenny Shake Vegan comes in more flavours. Besides, there are other Plenny Shake products (WakeUp and Sport) and non-powder complete foods like the Twennybar and the upcoming RTD.
On top of that, Jimmyjoy offers some of the cheapest products in the market.
Nutrition: Pulve
I will actually say that Pulve wins this easily. Partially, because their product is so good and also because Jimmyjoy has recently changed the formula, in what I think a negative directions. Yes, they will improve the fatty acid profile (while failing to reach the PUFA and MUFA levels that they themselves consider ideal), but they will take some protein out of it, too. Despite the fact that this might be fitting for some, I think it will not benefit the majority of the consumers.
Besides, Pulve seems to follow a more clear nutritional phillosophy. Thus, I believe that the smaller Dutch brother, Pulve wins this one.
Brand image, Customer Service, Availability, Shipping: Draw
One of the main strenghts of
Jimmyjoy
is their peculiar brand image. They have a very strong identity that ties them with their consumer. They also provide excellent support and have strong social media presence.
Both companies ship worldwide, but Pulve's deal is better.
Pulve vs Queal Vegan – Product: Pulve; brand Queal
| | | |
| --- | --- | --- |
| | Queal | Pulve |
| From | NED | NED |
| Ships to | World | World |
| $/400kcal | $ | $$ |
| C/P/F | 48/19/33 | 46/24/30 |
| Allergen | Soy, Gluten | Lupin, Maize, Gluten |
| kCal/meal | 700 | 500 |
| Serv/day | 3 | 4 |
| Suitable | Vegan | Vegan |
| Flavours | 3 | 1 |
| Products | 6 | 1 |
Label:
Price per 400kcal without subscription:
$– Below $1.5 $1.5 = €1.3 = £1.15
$$- $1.5 to $3 $3 = €2.6 = £2.3
$$$– $3 to $5 $5 = €4.3 = £3.85
$$$$– over $5
Price, product range and flavours: Queal
Another local derby that starts the same way as the last one. Queal is known for their flavour variety and great taste. They also have a great array of products: Queal Vegan,Steady standard, Athletic and Agile powder meal replacements; GObar and the nootropic supplement Flow.
If the range was not enough, I need to add the fact that their prices are really good. One meal of 500kcal can be almost €1 cheaper.
That is why, Queal wins the first round.
Nutrition: Pulve
As it has been the trend, this is where Pulve can hit Queal back.
Queal offers 700kcal servings with more carbs and slightly less proteins. Queal's omega-3/6 ratio is not as good as Pulve's either. While both use pea protein, I feel like the amino acid profile is more equilibrated in the latter, too.
As a final point, Queal Vegan's sugar contents are significantly higher than Pulve's (but not high in RI standards).
This is a clear win for Pulve.
Brand image, Customer Service, Availability, Shipping: Queal
I really like Queal as a brand. I do enjoy surfing in their forums, their staff seems to be very friendly and their social media is pretty good, too.
Queal also has warehouses in the EU and US and offers free shipping within those countries. Besides, they do have worldwide shipping.
While Pulve's worldwide shipping can be better, and they do offer free shipping within the EU, for most customers it will be easier to get their hands on Queal, thus I will give this point to Queal.
Note: I have not really considered how eco-friendly they are, or how their policies/motto's reflect on this. If you care about this, Pulve's biodegradable bag might be a swinging point. However, Huel has shown that their waste is minimal, too.
Who is Pulve for?
Pulve is for anybody who is new to meal replacements, for anybody who deeply cares about the environment and bio-based economical practices, but above all it trully is a product that will suit you.
It comes in meals of 500kcal, which can substitute any of those meals that you end up having crap. It has good quality prime ingredients and can deliver worldwide.
Does it taste good?
I am neutral about this. It is a very mild taste that is not very intrusive, therefore it is hard to dislike. However, it is almost as hard to love it. Many will find it dull and will have to look for flavouring options.
Will I get all the nutrients I need?
Without a doubt this is one of Pulve's strongest points. There are no shortcomings in the amount of micronutrients you will get, and the macros fit perfectly for a 2,000kcal diet.
I want to buy it. How much will it cost me?
A Pulve shake will cost you from €2-€2.5 per 500kcal. While it is certainly not the cheapest option in the market, I would consider it a fair price for the product they offer. The best way to do your first purchase would be to go with the Sample pack (which is a little more expensive, but more convenient).
Wait a moment, is it perfect?
Another instance where I have been very positively surprised by a rather small company. However, no they do not reach perfection. While their fatty acid profile might be perfect in WHO, ESFA and USHH standards; their product has other shortcomings (flavour choice, taste). The brand itself is restrained by size limitations.
Verdict
Are you a EU citizen? Then you MUST try Pulve. Buy the sample pack, spend €17, get a free shaker and try this meal replacement. I feel that the quality of the product will make you buy again. They have a great product that unfortunately only comes in one flavour. They are a promising company that unfortunately does not have the best branding. But in the core, they seem to be a gem ready to be polished. Give them a try.
Pulve deals and discount codes
We are currently working on getting better deals for Pulve. Visit the Deals section for more discount codes.
– There is a 5% discount on their 2.5kg Tub. While not the best deal ever, you will also get a free shaker if you are a first time customer.