Mealeady Review | An Interesting Korean Nutritional Drink
In today's Mealeady review, we will have a look at one of the most unique ready-to-drink meal replacement shakes you can buy on Amazon. Mealeady is a Korean meal replacement shake that comes in 4 different flavors.
Korea has given us so much. From great food, to Samsung, BTS, and even the fantastic series Squid Game just to name a few. Now the southern peninsula has a meal replacement product called Mealeady.
Mealeady is a pre-bottled, grain based, meal replacement powder. Mealeady comes in four different flavors, contains seven grains, 9-12g of protein, and contains around 180 calories per serving.
Key takeaways
Mealeady is a new meal shake sold on Amazon.
The product is based out of South Korea
They have four flavors and come as prefilled bottles.
Each contains around 10g protein and are about 200 calories.
It tastes good and provides a cereal like experience.
It's a different kind of product, but for $3+ there are better alternatives.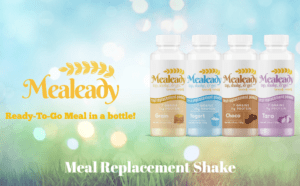 ---
Mealeady at a Glance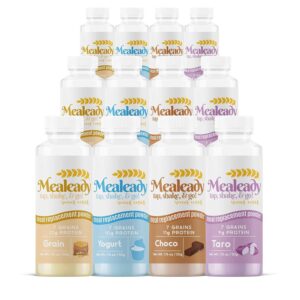 Flavors: Yogurt, Chocolate, Grain, Taro
---
Opinion
I was actually looking for something else when I stumbled upon this. Having never tried a product from Asia, I was intrigued and had to get it. The grain approach is interesting, it has me wondering how the texture will be. Will it be like cereal? Will it be like oatmeal?
I do like that for $15 bucks I can a least try them out.
Premier League
1. Enjoyed the cereal-like texture. Perfect if you're tired of plain shakes.
2. Filling. Was pretty satisfied for over two hours.
3. Prefilled bottles. No hauling or washing a shaker bottle.
4. Four bottle option. Low-cost way to try them all. Many products want you to dive in with a 6 or 12 pack
Bush League
1. Most flavors have nuts. 3 of 4 have almonds. I get it, but not a fan.
2. Pricey for what it is. I imagine part of the cost are the individual bottles. Its $3+ for basically cereal
3. Issues mixing. I didn't encounter this, but others have complained
Nutritional Breakdown
Containing 7 types of grains likely means that carbs are the star of this show. Apparently, how they process their grains is supposed to make for much bolder, and savory flavors for each drink.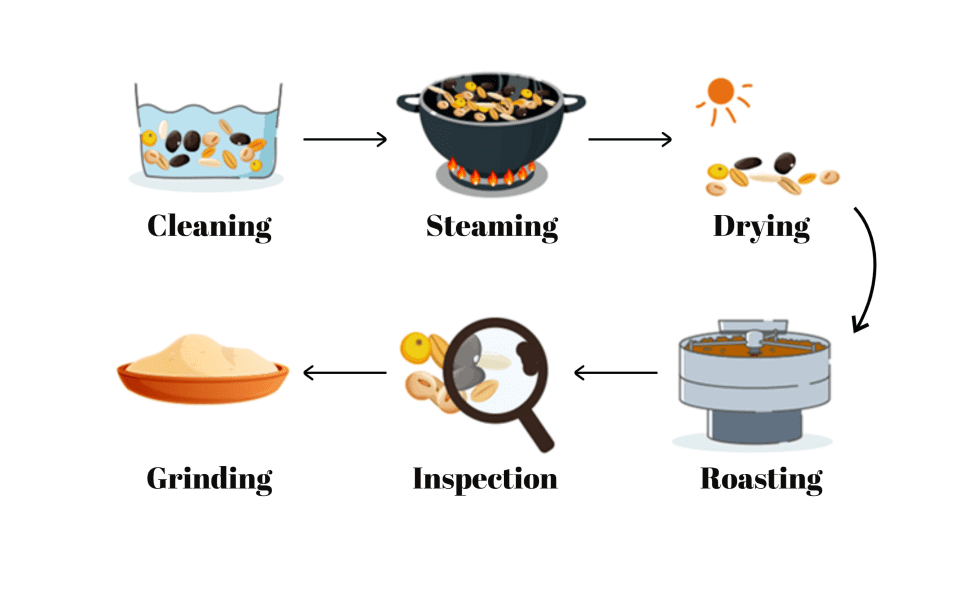 Mealeady Overview
| | |
| --- | --- |
| Kcal/meal | 173 – 185 |
| Macros (C/P/F) | 68/24/8 |
| Vegan | No |
| Keto | No |
| Features | Low Fat |
| Non-GMO | No |
| Organic | No |
| Includes Probiotics | No |
| Artificial Sweeteners | Yes |
| Synthetic Additives | Yes |
| Contains All Micronutrients | No |
| Controversial Ingredients | Milk, Soy, Fructose, Sucrose |
Carbohydrates
Based on 185kcal serving:
Total Carbs: 34g, 11% of DV.
Net Carbs: 30g, (Total Carbs – Dietary Fiber – Non-digestible Carbs)
Sugar: 13g.
Fiber: 4g, 16% of DV.
The calling card for Mealeady is the 7 grains. Usually, most meal replacement shakes opt for either maltodextrin or oats as a carb source.
The grains are as follows: Barley, brown rice, glutinous brown rice, soy beans, black beans, wheat and rice. This all makes for a carb-dense crunch.
What I find surprising about this blend is the high amounts of sugar, since the grains have low glycemic index. Mealeady actually adds sugar (the second ingredient in their list), therefore this will not be a good meal replacement shake for diabetics.
Protein
Per 160kcal serving:
Total Protein: 10g, 20% of DV.
Source: Soy protein isolate, whole milk powder, almonds
Most of the protein comes from soy protein isolate, one of the only complete vegan protein sources. Soy protein is easily absorbed (PDCAAS of 1) by the body and it's one of the best plant-based protein sources.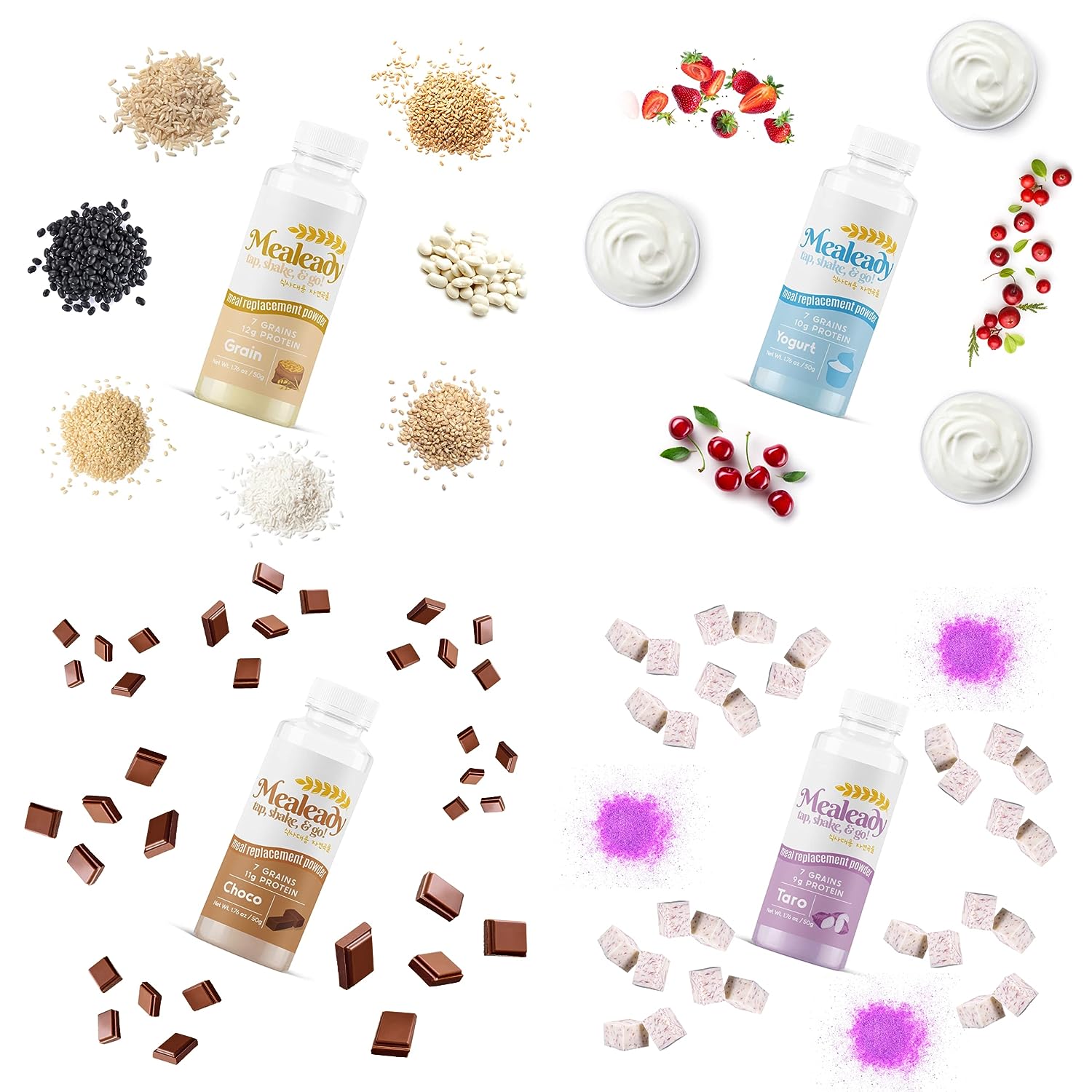 Fats
Per 185kcal serving:
Total Fats: 1.8g, 4% of DV.
Saturated Fats: 1.6g, 10% of DV.
Omega-3s, ?g.
Omega-6s: ?g.
Of all macros, the fat content makes up the least amount. Likely from the various forms of milk and nuts.
This means that Mealeady will be deficient in omega-3 essential fatty acids. I usually like to have meal replacement shakes that are rich in omega-3, since it's otherwise a nutrient that Americans don't get enough of.
Otherwise, you should look to supplement omega-3, as it is key for proper brain function, joint health, and eye health.
Micronutrients
Mealeady does not have many micronutrients on offer. A bit of iron, calcium and potassium is it.
Most meal replacement shakes will provide you with at least 20% of each vitamin and mineral.
Allergens
Each flavor of Mealeady contains milk and soy. Also Taro, Choco & Grain contain almonds.
Taste Test
Before we get started, it's important to know the best practices for getting the product mixed properly. The fill line seems high, but after the fill, the tap, and the shake, it mixed well with room to spare. You may have to tap again after shaking.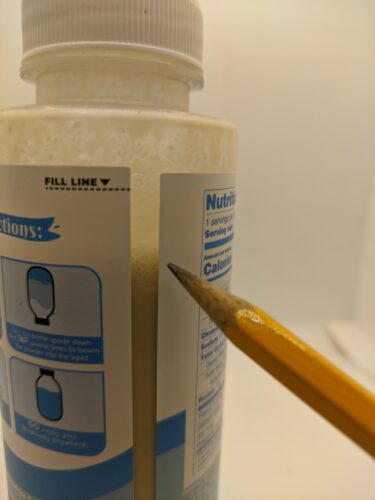 Yogurt
Starting with yogurt, the only flavor I can try of the four.
The bottle was sealed, and prep was easy. It had a deep grain smell, like cheerios but turned up a notch. I opted to mix it with oat milk, and the taste was rather pleasant. It was sweet, but the grains had a nice crunch that toned down the sweetness. The grains had an oat & puffed wheat taste. I'm glad I used milk, as it was much like a bowl of rice krispies, and I'm not sure I would have like that with water.
Choco, Grain & Taro
Tried by my lovely co-worker (thanks Peaches!) due to my allergies, the opinion for these will come from her.
She reports that all three were decent, but she preferred Choco & Grain, with Taro being just ok. She also mentioned liking the cereal-like texture, which she enjoyed with milk.
Summary
Overall these were pleasantly surprising. We enjoyed the flavor and the crunch. Turns out, that it's not bad with water, but still better with milk.
About Mealeady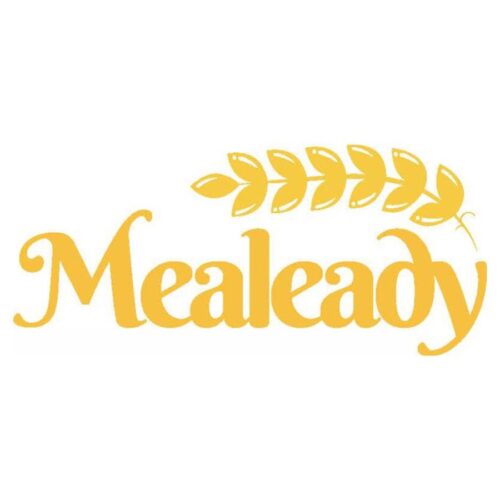 Not very much info on this company. They registered a few trademarks out of New Jersey in December 2022 under the name Saltation LLC.
Pricing & Shipping
Mrealeady is sold only on Amazon. Shipping will depend on whether you subscribe to Amazon Prime or not.
| | | |
| --- | --- | --- |
| Order Size | Price | Serving Price |
| 4 Bottles | $14.95 | $3.75 |
| 12 Bottles | $39.99 | $3.33 |
| 36 Bottles | $99.99 | $2.78 |
Mealeady Amazon Reviews
Mealeady is very new, and therefore doesn't have many reviews. Of the 69 (nice) reviews, the majority are positive.
Customers who have tried the product appreciate the taste. They find it convenient to carry and fulfilling. Also, they appreciate the product's nutritional value, though they acknowledge it's not perfect.
However, some customers have complained about experiencing nausea after drinking it. Others who tried it with dairy-free milk alternatives also had some digestive issues. Others cited that mixing it correctly can be a challenge.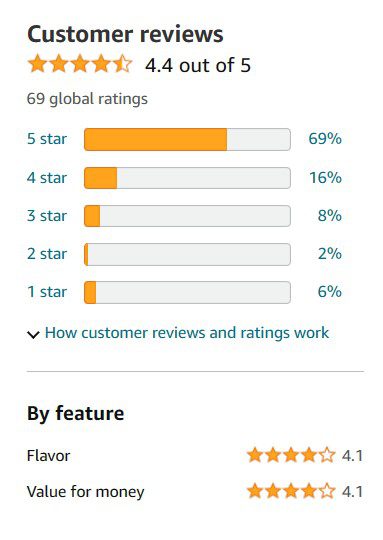 Mealeady vs. Ample vs. PB Puffs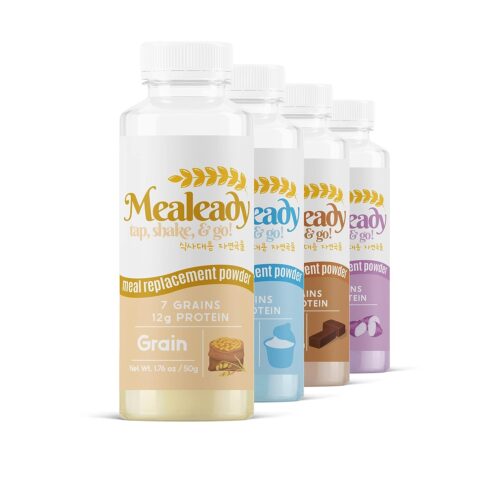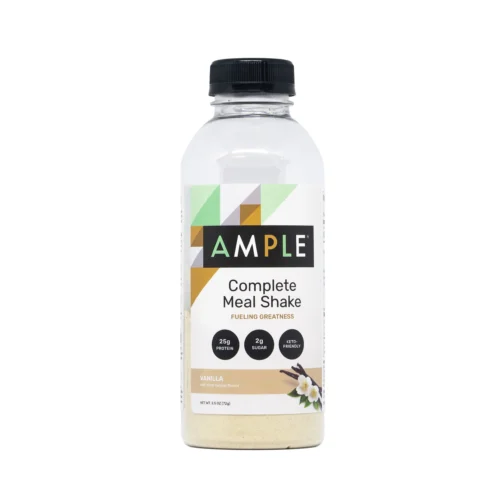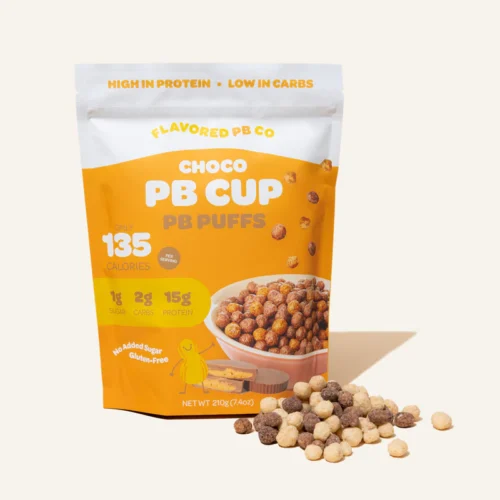 This is probably the most varied comparison ever done on LatestFuels. Since Mealeady comes in its own bottle, and is very much like a cereal, I figured we'd compare the following:
Ample is a company who stands for nutritional science, education and the importance of prime ingredients. Furthermore, they tailor their food to the customers diet habits, and as such, they are one of the few brands offering a "standard", vegan and keto meal replacement shake.
Choco PB Cup Puffs is high protein, low sugar cereal. Its is all natural, gluten free and keto friendly.
Head to Head
| | | | |
| --- | --- | --- | --- |
| Category | Mealeady | Ample | PB Puffs |
| serving price | $3.33 (USD) | $7.50 (USD) | $2.14 (USD) |
| serving size | 374ml | 330ml | 30g |
| servings per | 12 | 12 | 7 |
| kcal/serving | 185 | 400 | 135 |
| Packaging | Bottles | Bottles | Bag |
| Flavors | 4 | 3 | 1 |
| Protein (g) | 10 | 25 | 15 |
| Sugar (g) | 13 | 2 | 1 |
| Fiber (g) | 4 | 7 | .5 |
| Fats (g) | 2 | 28 | 8 |
| Carbs (g) | 34 | 11 | 10 |
| Vegan | N | N | Y |
| Organic | N | N | N |
| Micronutrients | 3 | 6 | 4 |
| Artificial Sweeteners | N | N | N |
| Synthetic Additives | N | N | N |
| GMO | N | N | N |
| Protein Source | Milk/Soy/Nuts | Milk/Egg/Nuts | Milk/Peanuts |
| Availability | US | US | US |
| Other Products | None | None | Flavored PB Powders |
Mealeady has elements of both other products, it comes in a bottle and it's more cereal than shake.
Ample is a legit meal replacement made from very high-quality ingredients. It is far superior to Mealeady in this regard and is priced as such being more than 2x. Safe to say here that the only similarity they share, is the prefilled bottle that just requires water.
PB Puffs is a pretty good cereal with a big crunch. Mealeady is also very crunchy and while the protein is a bit less, if you're in the mood for cereal, Mealeady is the better "on the go" option
Mealeady FAQ
Who needs Mealeady?
It's for those who are busy or dieting.


Which 7 grains are present in Mealeady?
Barley, brown rice, glutinous brown rice, soy beans, black beans, wheat and rice


Where are these grains sourced?
All the ingredients are gathered and produced in Korea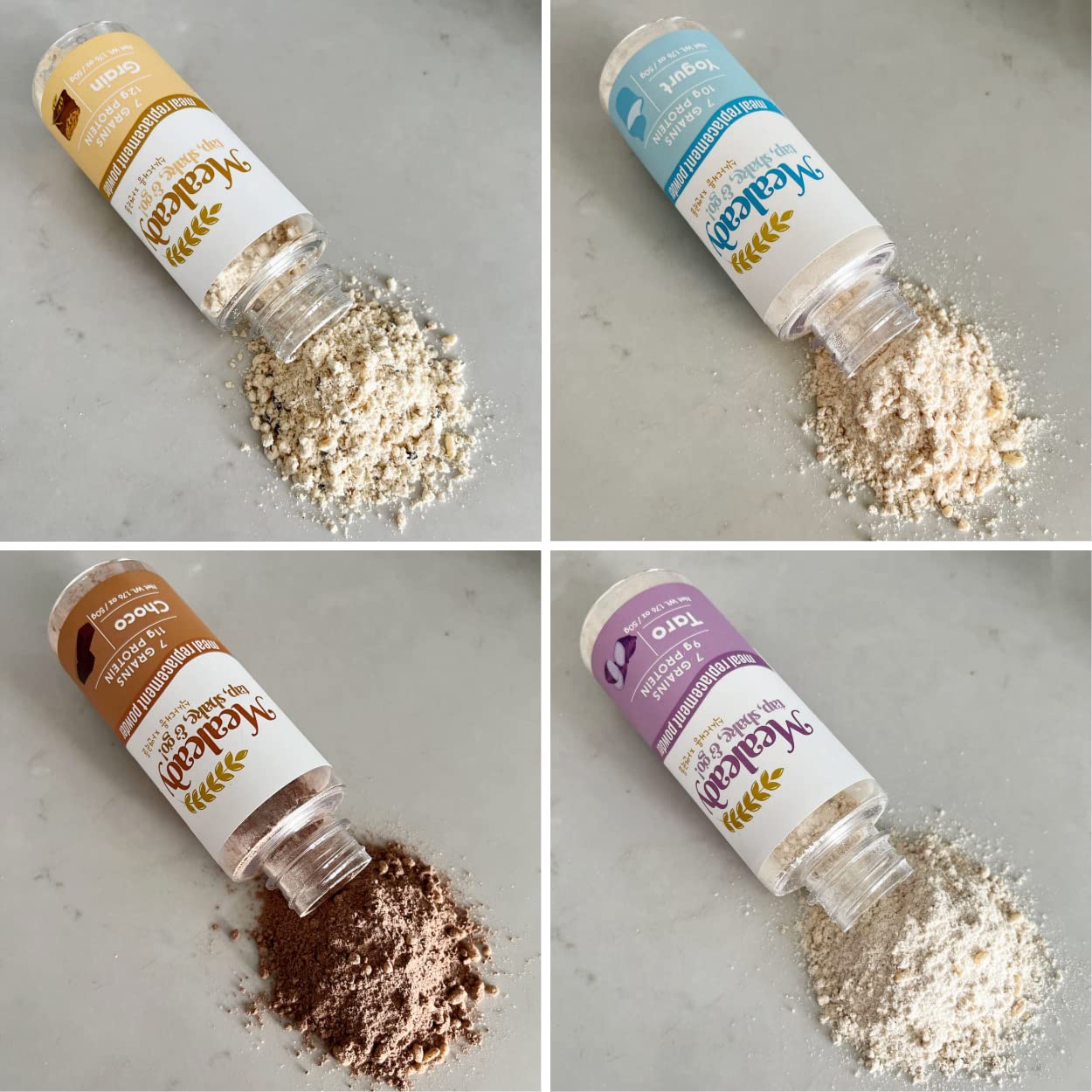 ---
Verdict – Mealeady Review
This Mealeady review was completely random, and not in the pipeline at all. Sometimes a product pops up on your radar and you just have to try it. That is Mealeady.
Really not too much to say, honestly. On its face, it's not amazing in any facet. It's not super cheap nor does it provide top-level nutrition. It's certainly not enough to be considered a meal replacement.
What I'd argue is that it's different, it's a change of pace, it's not the same boring ass vanilla/chocolate shake that can get monotonous. It's cereal you can drink. So, it comes down to how much it is, and if that is worth it to you.
Bottom line – Mealeady can be a fun quick breakfast, snack or even dessert. There are many products that are better, but this is worth a try.