Monolaurin By Palmara Health Review | Best Monolaurin in the Market?
Welcome back! It's HOT!! Me burning up aside, in this monolaurin review, we'll be doing something a bit different. We're taking a look at a supplement designed to provide immune system support. We have looked at green supplements and fat burners before. Today, in the lab, we have Monolaurin.
Monolaurin, produced by Palmara Health (formerly Natural Cure Labs) are dietary supplements containing the chemical monolaurin, which is made from lauric acid. This is found in coconut oil (the highest natural source), palm oil and human breast milk. Studies suggest that it has antibacterial, antiviral and antifungal effects when taken topically.
A virus works by attaching itself to an organism, and forcing its host to replicate itself. It does this by using its outer lipid layer to attach to the cell. From what I believe I now understand, the way monolaurin works is by weakening that lipid layer, making it unable to attach to a cell, thus "inactivating" it. In theory, this should make it effective against many types of pathogens.
---
Monolaurin at a Glance
Types: Monolaurin, Extra Strength & Monolaurin +L-Lysine.
---
Opinion
This is very much new ground for me. I was a bit hesitant, but the more I read, the more I came around to writing this piece. I am a big fan of coconut, and use it in my shakes, for my skin, my hair, and for my teeth with oil pulling. Yall see my amazing smile….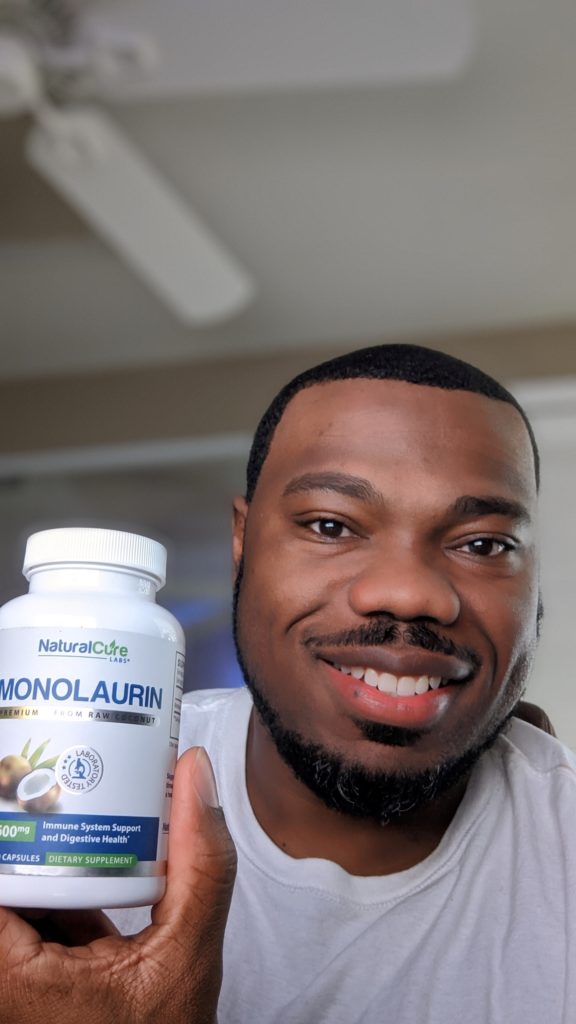 Also in the age we live in, any kind of immune support we can get, is much needed. Antibiotic resistance has become a worldwide problem. Many common hospital and foodborne infections have become resistant to the effects of traditional antibiotics. People are literally dying of formerly treatable conditions.
Personally, I had chicken pox as a kid, and then shingles in my late 20s. Those were easily two of the most miserable times in my life. That said, if these products are even marginally effective at making sure that never happens again, I will keep these on deckie….sign me up for a lifetime supply!
Positive Thoughts
1. Vegan, Non-GMO & Gluten free. Also no artificial colors or additives.
2. Manufacturing facilities on all coasts. Orders should arrive quickly, free shipping over $30, too.
3. Clean labeling. Very few ingredients and well outlined in FAQ.
4. Really good FAQ. Almost every random question I had was included and detailed.
5. Tons of positive reviews. Both on their site as well as third party sites.
Areas to Improve
1. Large pill size. Around 2cm long & .5cm wide. Might be hard for some to swallow.
2. Bundle discounts. Just something I'd like to see.
Ingredients & Benefits
Here I want to outline EXACTLY what you will ingest if you take Palmara's Monolaurin products. In addition, we take a closer look at both its benefits as an anti-pathogen & a digestive product.
First, here are the labels of all versions of the Monolaurin line.
Ingredients Overview
Monolaurin

Monolaurin (also known as glycerol monolaurate) is a medium chain fatty acid formed from lauric acid.
L-Lysine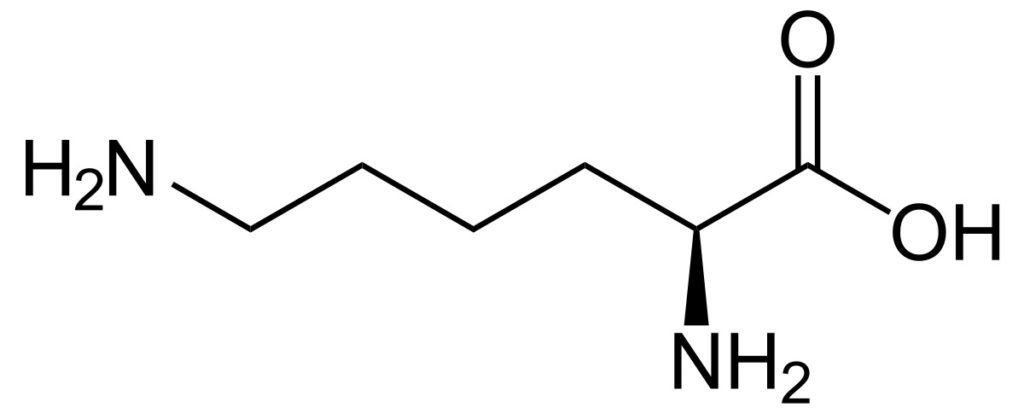 This amino acid plays a vital role in immune system support, collagen production, muscle health support, and the transport of fat cells to be burned for energy. L-Lysine also produces carnitine, which is an important substance found in almost every cell in your body.
Rice Flour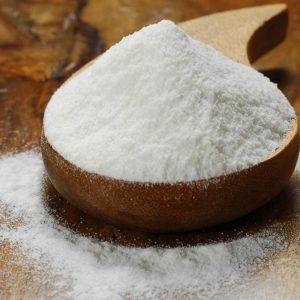 An inactive ingredient likely used as a vehicle of delivery for the supplement and also contains no gluten. This is also used to prevent caking and ensure a uniform fill of each capsule. Each capsule is weighed to ensure the full 600mg of monolaurin is present per dosage.
Hypromellose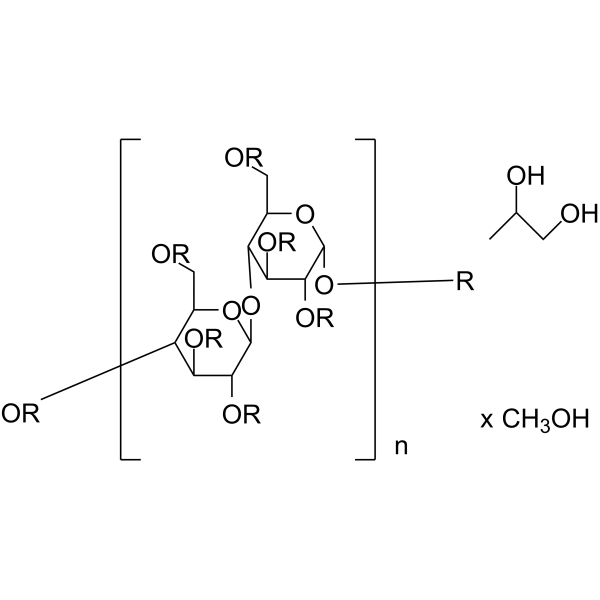 Full name is "hydroxypropyl methylcellulose". Also known as "HPMC" is plant based and formulated from the cellulose of softwood trees, in this case….pine trees. This is what the starch free, vegetarian capsule is made of and they are manufactured by Capsugel.
Monolaurin Benefits
Now lets examine the benefits of Monolaurin.
According to recent studies, many of the oral effects of Monolaurin require more research. However, there many articles that provide positive evidence of the antimicrobial effects in vivo.
Anti-Pathogen Benefits
As mentioned, the primary benefit of Monolaurin is its ability to prevent some pathogens from being able to attach to hosts, rendering them inactive. This includes viruses, bacteria and some fungus. Below are some examples of illnesses that have shown promising results when treated with Monolaurin.
H-Pylori
Chlamydia
Shingles
Epstein Barr Virus
Colds & Flu
Mold Illness
MRSA
Herpes
Strep/Staph
Lyme Disease
For more information, check out Monolaurin & More for links to additional research.
Digestive Benefits
Monolaurin helps greatly to encourage good digestive health by making sure the contents of the digestive tract are in good balance at all times. Here are a few examples:
Repairing leaky gut
Regulates insulin levels
Prevents yeast overgrowth 
Prevented visceral fat buildup (in lab mice)
For more on this, check out the weight loss section of Monolaurin & More.
Test
So what did I think of Monolaurin? Did I suffer any side-effects? Did I see any clear benefits to taking it?
Ultimately, do I think it's worth it?
Our Test – 5 Day Summary
Happy to report that after taking both products for the past five days, alternating between the two, I have no issues to report on any front outside of being a bit hard to swallow if you're not used to large pills.
My trick is to toss it to the back of my mouth and take a big gulp of water, swallowing water, air and the pill.
Regarding the benefits, I felt great while I was trialing and I have not felt any side effects. However, I am aware that a longer trial period is required.
It's worth noting, however, that I will keep having my daily Monolaurin dose for now and report in the future with further thoughts. So far, I'm happy with the results.
Other Products
Besides Monolaurin, Palmara Health offers many other products for immune support as well as for other conditions. Below are others of interest:
Premium Immune Support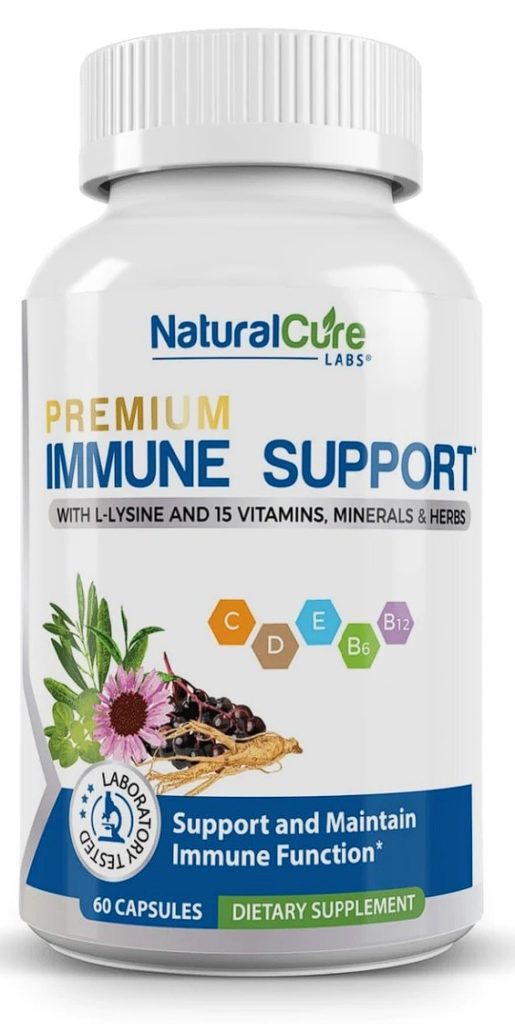 Premium Immune Support contains a unique proprietary blend of herbs, vitamins, minerals, and antioxidants carefully selected for supporting healthy immune function. Natural Cure Labs Immune Support is 100% vegetarian and contains no artificial colors, artificial flavors, sugar, dairy, shellfish, tree nuts, peanuts, wheat, or soy.
Premium Elderberry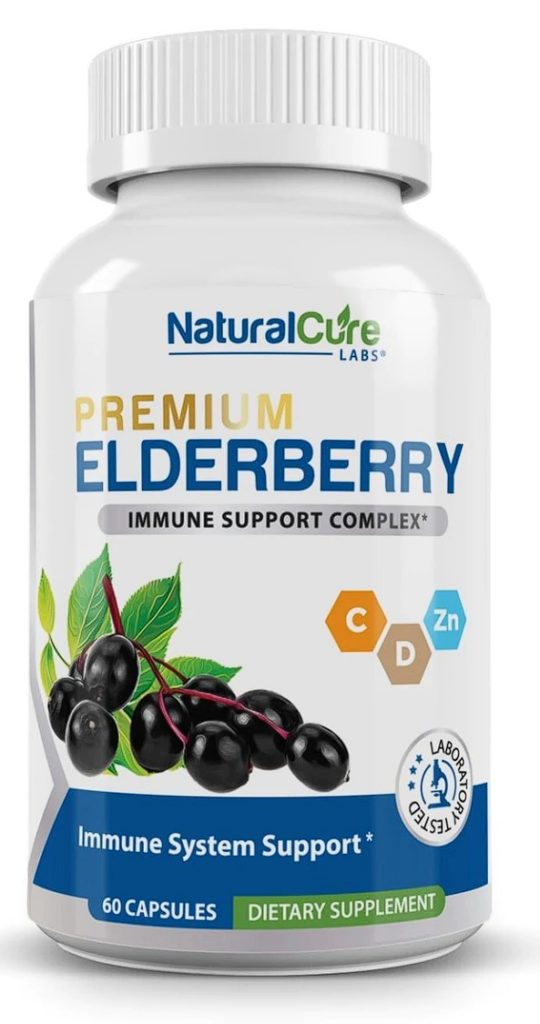 Natural Cure Labs Elderberry Immune Support Complex features a specialty blend of antioxidants, vitamins, and minerals expertly formulated to support immune health. This product is non-GMO, gluten free, vegan, free of common allergens, USA formulated, blended, and bottled, and contains no synthetic additives or artificial fillers.
Liquid Immune Support

Liquid Immune Support combines a proprietary mix of premium herbs and botanicals and cold processes them for extremely high bioavailability. This alcohol-free and gluten-free formula is suitable for vegetarians and provides a one-month supply per one-ounce bottle.
Premium Thyroid Support
Natural Cure Labs Thyroid Support features an innovative dual delivery system that combines liquid and dry ingredients into a single capsule. This unique combination provides efficient delivery and increased bioavailability. This product is non-GMO, gluten-free, 100% vegetarian, free of common allergens, formulated, blended, and bottled in the USA, and contains no additives or synthetic fillers.
Premium Andrographis Extract
Andrographis is an herb popular in Chinese and Indian (Ayurveda) traditional medicine systems commonly used for a healthy inflammatory response, regulating immune health, and supporting digestive health. Palmara Health Premium Andrographis has 1200mg of Andrographis extract per serving and over 100mg of Andrographolides..
About Palmara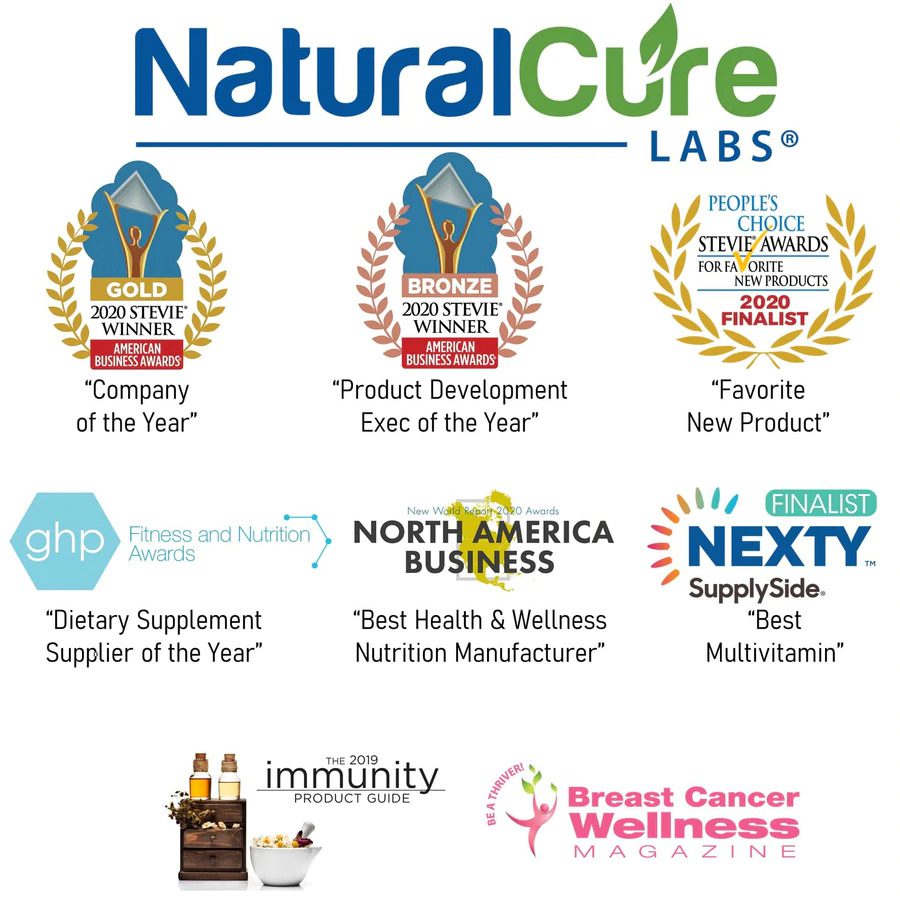 Natural Cure Labs was founded in San Francisco in 2015 with the desire to raise the standard for naturally-derived dietary supplements. In a market challenged by obscurity, inconsistent quality, and non-compliant advertising, the company set out to change the narrative for good.
Beginning with a single product, Natural Cure Labs applied three three foundational commitments which would define the company and portfolio:
Premium Ingredients – Vegetarian, Gluten free, Non-GMO
Quality Formulas – No artificial fillers, 3rd party lab tested, USA formulated, blended, and bottled
Customer Trust – Professional blends supported by research, industry recognized safety and transparency
Today, the commitment to producing research-based, naturally-sourced dietary supplements holds strong with more than 10 million capsules sold to more than 60,000 customers around the world. The company's goals are supported by a team of industry experts and a long-standing record of quality and compliance.
Beginning in 2020, the company started transitioning from Natural Cure Labs to Palmara Health to better reflect the company, values and mission. The company's products, ownership and management structure remain unchanged. More information can be found here.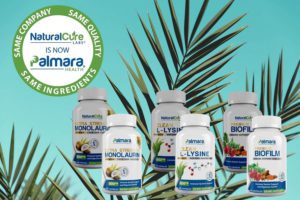 Pricing & Shipping
Palmara Health Monolaurin are sold in 100 capsule bottles.
Pricing
Monolaurin can be purchased from their webpage, as well as many popular online retailers such as Amazon, Walmart, Ebay, Wish and more. Because of their subscription options, it's best to buy it directly from their site.
Subscriptions are offered at the rate of 5% off, and can be fulfilled at intervals of one, two or three months.
Product (Dosage)
Total Price
(Non-sub/Sub)
Monolaurin (600mg)
$23.95/$22.75
L-Lysine +
Monolaurin (600mg)
$21.95/$20.85
Extra Strength (800mg)
$29.95/$28.45
Priced in USD
That's the price per tub, which means that you will pay just over $0.22 per serving. This is a great price.
Shipping
Purchases are shipped from one of four manufacturing centers, located in New York, New Jersey, Colorado & California.
Shipping is free in the US on orders about $30.
Monolaurin FAQ
Is Palmara Health's formula safe? How is it different?
Their premium raw ingredients are sourced from trusted providers with long-standing relationships. All ingredients come with a certificate of analysis, and we perform our own in-house testing to ensure it meets standards for microbial and heavy metal counts. Our capsules are blended and filled in the USA in an FDA registered and GMP certified state-of-the-art facility. Quality and safety is a top priority at Natural Cure Labs.


Can children or kids take monolaurin?
Clinical research and guidance does not include children, and therefore the safety and efficacy is unknown. It is not recommended to give monolaurin to children.


Why are some capsules off colored?
Because Natural Cure Labs supplement formulas do not use synthetic anti-caking agents like magnesium stearate or silica, we use either natural rice power (which is white) or organic rice bran (which is brown). The brown color is completely normal and does not affect quality or efficacy of the product. The vegetarian capsule shells are made of vegetable cellulose which naturally have a slightly tan / brown color (which is also normal and expected).


Does extreme heat/cold affect monolaurin?
Monolaurin is a very hardy product, and extreme temperatures found in normal everyday situations – ex: cold which a checked bag may experience on an airplane, or the heat a package may experience in a mailbox on a sunny day – should not harm the product. The official flash point as listed on the monolaurin Certificate of Analysis is +200 degree Fahrenheit (93.3 Celsius).


Why is this better than coconut oil?
Coconut oil contains around 40 to 50% of the medium chain fatty acid Lauric Acid, and may require many spoonfuls to achieve one dose. Some people find this unpleasant or inconvenient. Natural Cure Labs monolaurin (when encapsulated) has no taste and is highly portable and can be taken "on the go" with a variety of foods and beverages. Natural Cure Labs monolaurin is vegetarian and delivers all the benefit of lauric acid without the need to take so much oil.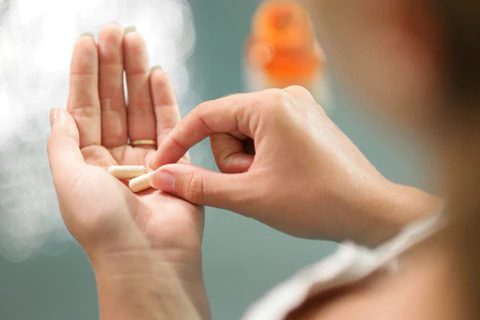 ---
Verdict – Palmara Health Monolaurin
Unfortunately, I'm new to these products in general, so I cannot give a set yay or nay as it compares to its counterparts. However, as I've read and learned, not all products are not created equal.
With that in mind, I really appreciate Palmara's approach. Palmara's transparency, clarity around the products and their manufacturing practices are definitely appreciated. This is huge for someone like me who often turns his nose up at any medication or supplement.
Just by looking at their high standards, it's clear that they have one of the top monolaurin supplements in the market.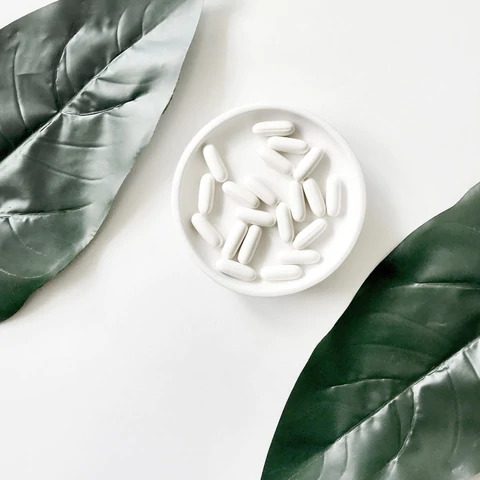 There definitely is something to watch here. Most of the reviews I read (I read quite a few) seemed to be overwhelmingly positive. The negative ones mostly focused around broken capsules, or not experiencing immediate effects, which is unrealistic…but some have reported almost instant benefits.
Bottom line, I believe trying Monolaurin is a low risk, but potentially high reward proposition. If you are looking to buy, I believe Palmara offers you the best quality Monolaurin there is.
Monolaurin by Palmara
From $0.26/serving
Pros
Vegan, non-GMO and gluten-free
Premium ingredients, lab tested, clean label
Tons of info available on the site
Very positive reviews
Cons
Pills are hard to swallow
Effectiveness of monolaurin is debated in the scientific community
Only available in the US