UpNourish Review | Great at a Glance, But Falls Short When You Try It
The good times just keep rolling at LatestFuels! Today, in this UpNourish review, we're looking a product that says it's perfect as a workout protein. Even more, a healthy snack or even a complete meal! I wish everything in life was this versatile. Well enough with the small talk, let's see what UpNourish is all about!
UpNourish offers two flavors, each with 21g of protein, 5-7g of carbs, and only 5g of fat. The flavors are 150 & 160 calories respectively. Also present are 22 vitamins and minerals, many of which are 50% or more of your recommended daily intake.
All UpNourish shakes are 100% plant-based. This means that you should be able to get a quality dairy-free meal replacement shake that's also gluten-free, and soy-free. It's very reminiscent of some of our favorite meal replacement shakes like LyfeFuel or Ka'chava.
A couple of things jump out to me early on….but we will save those observations for later in the review.

---
UpNourish at a Glance
Flavours: Peanut Butter & Creamy Chocolate.
---
Opinion
I've actually had my eye on this product for a while, like probably for the last year or so. Of note, there is another UpNourish brand that ironically also makes meal replacements, but is based out of India, so be sure you are in the right place to save yourself some trouble.
Unfortunately, UpNourish had been out of stock for awhile, but once I saw it was back, I made sure to get some. I honestly hope that this is not an issue that happens often.
The price was the first thing that caught me at only $28 per 15 serving bag. Not a bad deal, that puts the per serving price under $2! Also, they have a peanut butter flavor, not very common in this space. Look forward to me mixing that with the chocolate flavor later in the taste section!
I'm a bit worried about the small 150-160 calories, though. When having my meal replacement shakes I tend to prefer larger servings. Consequently, I think that it might push UpNourish much closer to their healthy snack claim more so than their complete meal claim.
What We Like
1. Affordable. Very reasonably priced even without discounts
2. Long Lasting. The best by date is two years away from the manufactured date
3. Generous return policy. Upnourish offers full refunds up to 60 days for opened product, and up to 180 days for unopened product.
4. Super smooth. Shakes very well, no blender needed.
What We Dislike
1. No subscription or bulk discounts. Plan on paying full price everytime unless its on sale.
2. They have multiple websites that all feel incomplete. Less than helpful FAQs, no company info, you can buy direct from one site, but not the other….its all over the place. Just use Amazon.
3. Not very filling. I was worried about this.
4. Flavors need more punch. They werent bad, just somewhat bland. Plan on adding extras.
5. Resealable bags are hard to reseal. Ended up just using bag clips.
Nutritional Breakdown
From a nutritional standpoint, the graphic below provides a brief summary of what you can expect with UpNourish.
UpNourish offers plant based meal replacement shakes, with very little sugar, very high in protein and enriched with probiotics. They also add adaptogens and digestive enzymes to further help you with your day.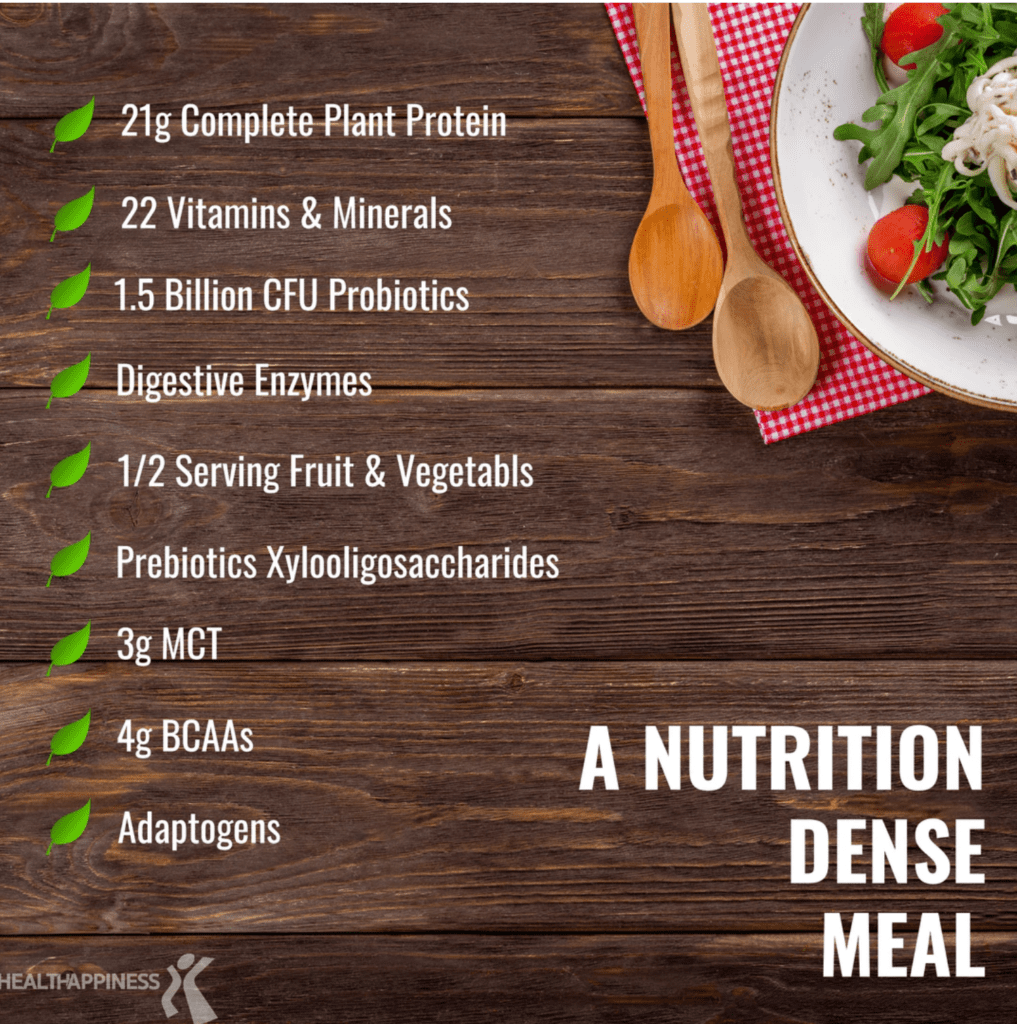 UpNourish Nutrition Overview
| | |
| --- | --- |
| Kcal/meal | 150 – 160 |
| Macros (C/P/F) | 19/52/29 |
| Vegan | Yes |
| Keto | Yes |
| Features | Gluten Free, Nut Free, Soy Free, Dairy Free, Low Carb |
| Non-GMO | Yes |
| Organic | No |
| Includes Probiotics | Yes |
| Artificial Sweeteners | No |
| Synthetic Additives | No |
| Contains All Micronutrients | Yes |
| Controversial Ingredients | Peanuts |
Ingredients (Chocolate): Vegzest complete protein blend (fava bean protein isolate, pea protein isolate, rice protein isolate, mung bean protein isolate), MCT oil powder, cocoa powder, natural sweetener and flavor blend (natural flavor, xanthan gum, Himalayan pink salt, stevia leaf extract monk fruit extract), vitamin and mineral blend, probiotics and prebiotics blend), super greens and fruits blend (alfalfa, broccoli, brussel sprouts, kale, spinach, black currant, blueberry, goji berry, raspberry), adaptogen blend (ginger root, maca root, panax ginseg root, reishi mushroom, turmeric root), digestive enzyme blend.
Carbohydrates
Based on 150kcal serving:
Total Carbs: 5g, 2% of DV.
Net Carbs: 3g, (Total Carbs – Dietary Fiber – Non-digestible Carbs)
Sugars: 0g.
Fiber: 2g, 8% of DV.
UpNourish is very low carb, and is considered a keto friendly shake by the company. Frankly I don't think it has enough good fats for that designation. Having good fat sources is essential for the best keto shakes. It also doesn't contain much fiber.
On the up side, it has 0g of sugar and instead uses sweeteners.
When it comes to sweeteners, Upnourish looks to StevioBliss….a proprietary blend of steviol glyosides extracted from the stevia leaf. These glyosides are the compounds that give it its sweet taste.
Protein
Per 150kcal serving:
Total Protein: 21g, 46% of DV.
Source: Pea protein, Rice protein, Fava protein & Mung bean protein
Four protein sources! Check out the graphic that outlines VegiZest. According to them, it has a PDCAAS score of 1 (maximum) which is equal to whey protein. If that's true, this means that its easily absorbable and provides you with all essential amino acids.
While this method has some shortcomings, there's no denying that you will get great protein from UpNourish drinks.
Fats
Per 150kcal serving:
Total Fats: 5g, 6% of DV.
Saturated Fats: 3.6g, 18% of DV.
MCT: 3g
Not much to see here. MCT oil powder provides 3g of the 5g fat per serving. This means that the shake will be lacking in omega-3 fatty acid content (essential for proper brain functioning). Luckily, you can always supplement omega-3, like with my favourite plant-based omega-3 product.
Besides omega-3, UpNourish is also lacking omega-6 and -9. Generally speaking, it falls a bit short providing you with quality fat sources.
Micronutrients
UpNourish has 22 micronutrients, most of which are 50% or better or your daily needs. On this end, it does a fantastic job
Similarly, UpNourish contains both a vitamin blend, as well as inclusion of many fruits and veggies such as brussels sprouts, spinach, kale & goji berries. My one worry about the superfood blend is that the quantities are not specified.
Why is this an issue? Because, each green might be in low quantities. Personally, I tend to use green powders to boost my green intake. You can check some of the best here.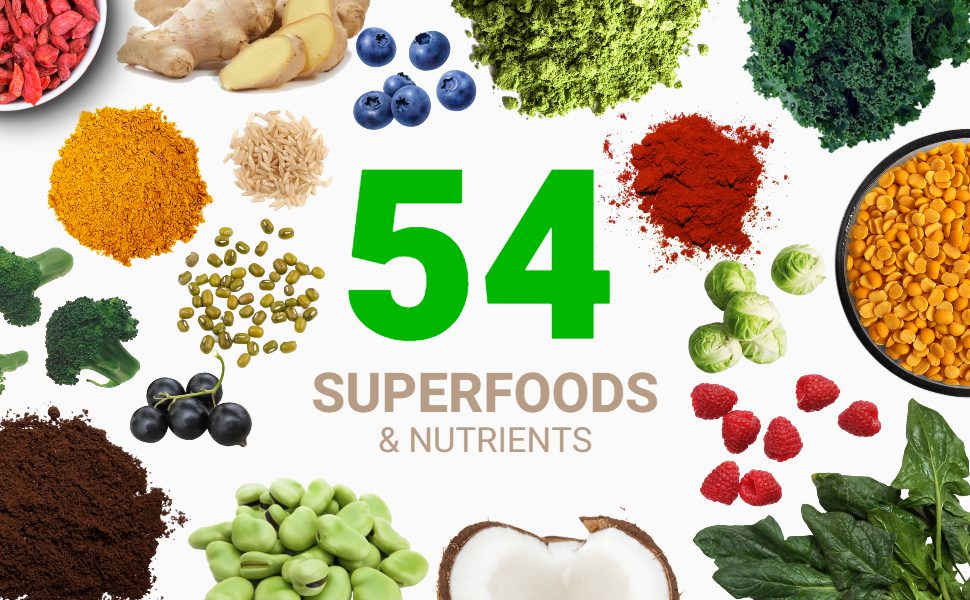 Allergens
The peanut butter flavor contains peanut flour.
Taste Test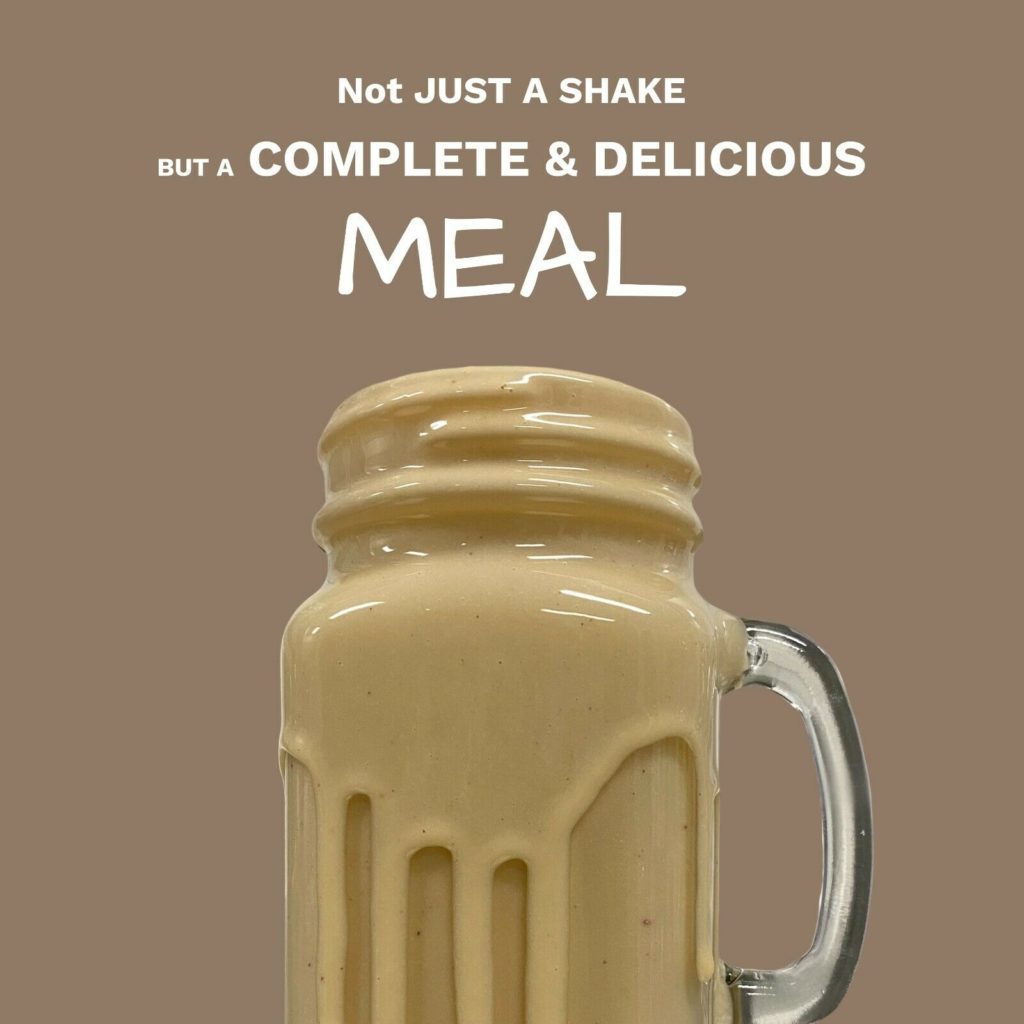 Best flavour
Both flavors combined
Taste
Meh, could be better
Texture
Very smooth
Satiety
Only like an hour
Easy to Clean
No issues
After
Thoughts
While only ok on its own, it can be made quite good with some creative additions.
First thing I notice is the scoop size, it's probably one of the smaller ones I've encountered.
As always we are going to put UpNourish through its paces by seeing how it mixes. I will also look at how it tastes and how long can you expect to not be hungry.
Peanut Butter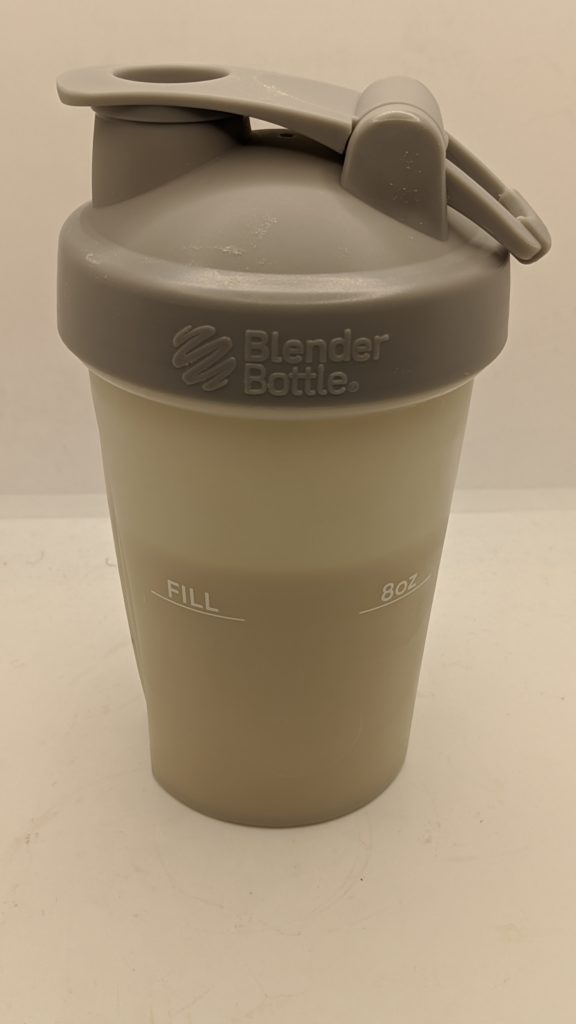 You can smell peanut butter, but it's definitely in powder format. Mixing it with 8oz (227ml) of water, it was really smooth, and had a somewhat muted smell. Taste wise, it was kind of underwhelming. It wasn't bad at all, just a bit bland. It does taste like peanut butter powder, but just barely. Guess I had higher hopes.
Chocolate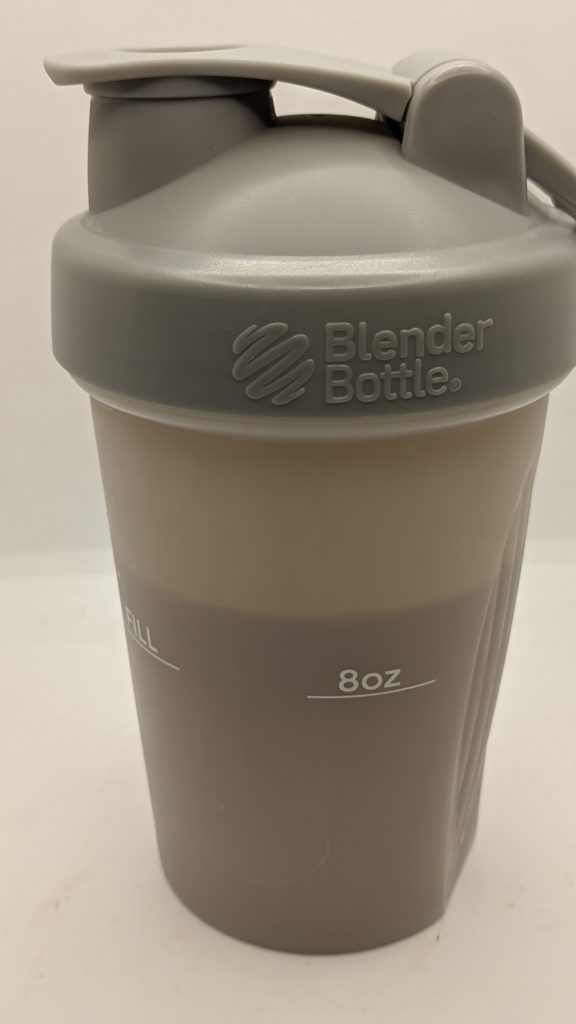 This one smells pretty good, like hot cocoa. It has a dark chocolate taste Similar to peanut butter, its just ok…better than the other flavor by a hair. I've had much better chocolate flavors.
Chocolate + Peanut Butter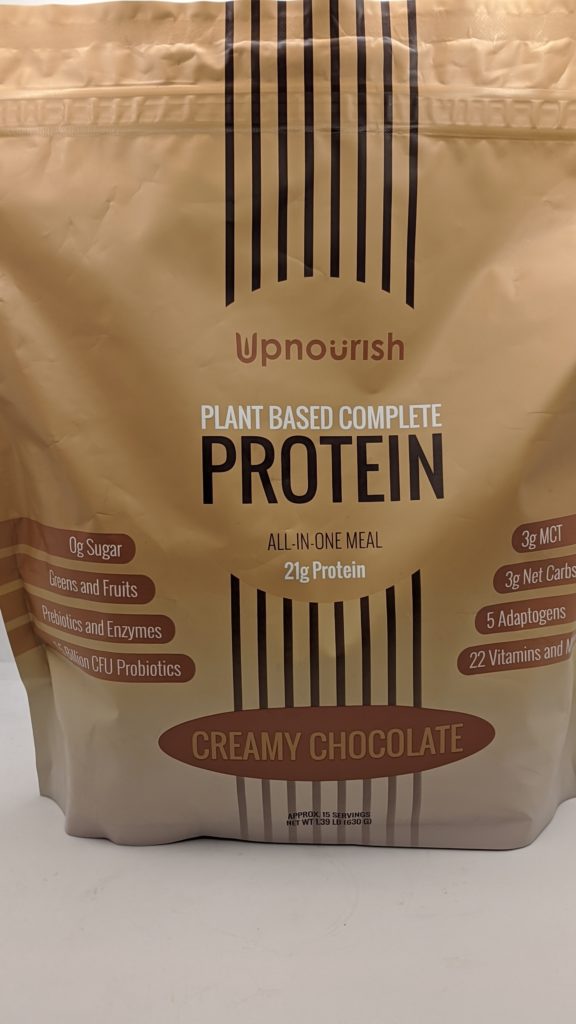 I was super looking forward to this at first, but after having each individually, my stance now is let's just get this over with. Surprisingly, this was solid. Better than each of them on their own.
Summary
Biggest takeaway here is that on their own, they are a 5 out of 10 at best. Combined, they are close to a 7 out of 10.
Also, hunger was an issue, as I drank one at 10a and was creeping off to the kitchen by 11a. To try to combat this, jazzing it up with milk, fruit and ice is a MUST.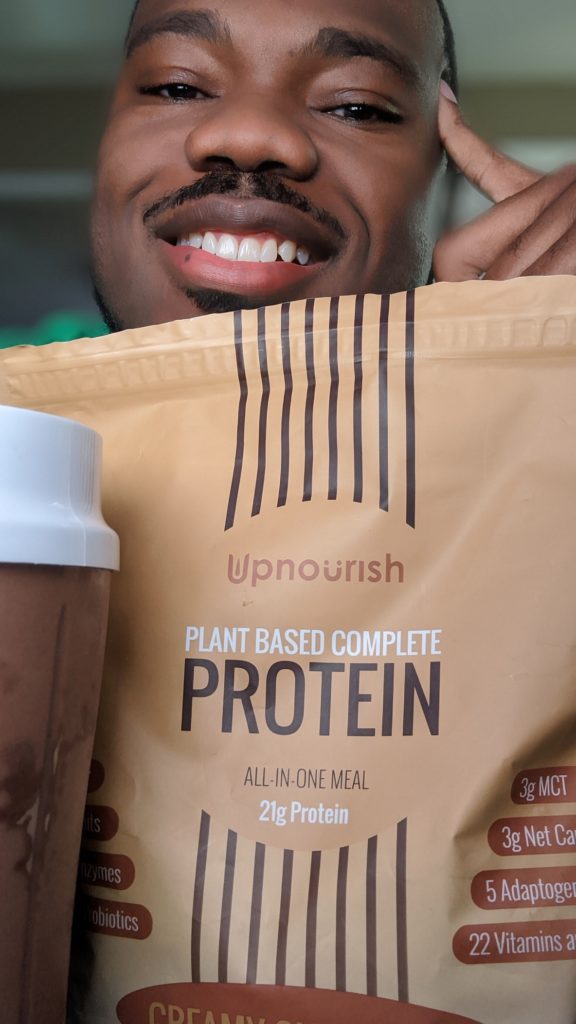 A Bit About UpNourish
UpNourish is manufactured by HealthHappiness Nutrition.  HealthHappiness is a vitamin and supplement company, headquartered in Allen, TX and incorporated in 2018.
We are passionate about helping you feel energized, positive, healthy and at your optimum nutrition levels so you can lead a happy, fulfilled life. 
Pricing & Shipping
Upnourish is $28 per bag, and can be purchased from Amazon, Ebay, Walmart or Upnourishbrand.com. Sadly, it is not available from their own website. We would think that buying directly from the manufacturer would provide you with the best prices.
At $28/bag, UpNourish shakes will cost you $1.87 per 150kcal serving. Definitely not among the cheapest meal replacement shakes.
Shipping is free.
No chart needed this time. There are no discounts to compare, but watch for sales.
UpNourish vs. The Competition
So we've gathered other plant based, lower calorie products to perform this review's comparisons.
LyfeFuel is an all-natural meal replacement that emphasizes quality nutrition over calorie counts. We reviewed LyfeFuel rather favorably…check it out here.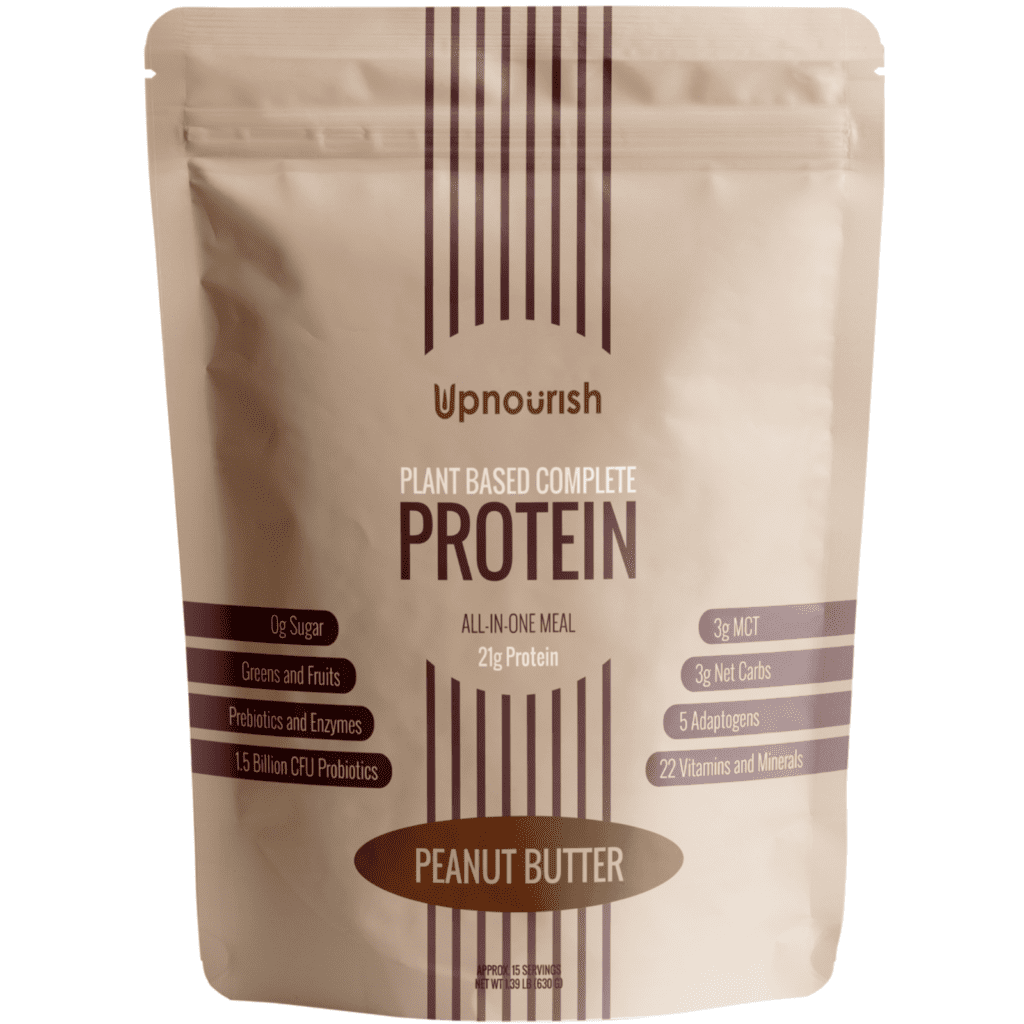 Also in the race is Ka'Chava which is one of our absolute faves. They've really left no stone unturned.
Head to Head
Category
UpNourish
LyfeFuel
Essentials
Ka'chava
serving price
$1.87
(USD)
$2.50
(USD)
$4.66
(USD)
kcal/serving
150
110
240
servings per bag
15
24
15
Packaging
Bag
Bag
Bag
Flavors
2
2
5
Protein (g)
21
18
25
Sugar (g)
0
3
6
Fiber (g)
2
1
4
Fats (g)
5
2
8
Carbs (g)
5
5
21
Vegan
Y
Y
Y
Certified
Organic
N
N
N
Micronutrient
22
27
26
Artificial Sweeteners
N
N
N
Synthetic Additives
N
N
N
GMO?
N
N
N
Protein Source
Fava/Pea/
Rice/Mung Bean
Pea &
Rice
Pea &
Rice
Availability
US
US
US
Other Products
None
Recovery Shake
Bars
UpNourish vs. LyfeFuel
Before we break this down, let us acknowledge that UpNourish was up against really stiff competition in this comparison.
It does compare favorably with LyfeFuel, with it having a bit more protein and less sugar than LyfeFuel. In addition, while UpNourish has fewer micronutrients than LyfeFuel, UpNourish provides more volume per nutrient with many being 50% of your daily recommendation per serving.
Having had both, I will say that LyfeFuel feels like a much more mature product, that is being improved upon. We cannot discount how important it is to have a rock-solid company backing up a product…which LyfeFuel definitely has.
UpNourish vs. Ka'chava
Ka'chava is always a tough comparison as its such high quality product. You really taste the difference between the two, if you've had them both. Not to mention Ka'chava has five flavors, all of which are excellent.
Now if carb counting is the game, this is a space where UpNourish shines, having only 25% of the amount found in Ka'chava per serving. Let's also not forget the value proposition. At nearly $5 per serving, it can be a bit much. For the price of one bag of Ka'chava ($70), you can get two bags of UpNourish and have enough left over to grab a shaker bottle.
Upnourish FAQ
Why is UpNourish Shake Unique?
UpNourish plant-based protein shake is the ONLY plant-based protein provide a complete amino acid profile with the highest protein quality, tested by third-party labs. In addition, UpNourish Shake is clean, natural and tasty


Who can be Benefit from UpNourish Plant-based Shake?
UpNourish Complete Protein Shake provides nutrition support to anyone who lives a vegan or vegetarian life style, is allergic to dairy or sensitive to lactose, or simply just want to enjoy plant nutrition.


What is a Complete Protein?
A complete protein is a protein contains all 9 essential amino acids (EAAs) with adequate amount. FAO-WHO have defined the requirements for each EAAs for different age group.

UpNourish Complete Protein Shake uses VegiZest complete protein blend of fava bean, mung Bean, pea and pice proteins. VegiZest is patent pending and third-party tested as complete and fully digestible. VegiZest protein has a PDCAAS value of 1.



---
Verdict – UpNourish Review
I'm honestly a bit torn after this UpNourish review. I mean, they have many of the nutritional bases covered, and it seems as if it would work well in a weight loss use case.
However, it feels as if the product lacks polish if that makes sense. I've had my eye on it for awhile, and there have been no new flavors, no improved formulas…hell there isn't even a subscription model, a standard in this scene.
The site(s) are super barebones, and honestly, I wouldn't feel too confident about their responsiveness should you encounter an issue. This is a big red flag, and I would rather buy from the competition, like Lyfefuel.
On the flipside, you do get a soy-free, low carb, vegan shake with a nice amount of protein for under $2 per serving…even cheaper than Soylent! That can't be overlooked, I just wish they'd really get in the game, instead of feeling like they are half in, half out.
Bottom Line: If losing weight on a budget is your goal, then this may work. However, my recommendation still lies with products like LyfeFuel or Ka'Chava.
UpNourish Complete
From $1.87/150kcal