Runtime Meal Review | Boost Your Game to the Next Level
The brand looking to feed all gamers and eSport professionals
Welcome to this Runtime Meal review (used to be Next Level Meal)! Learn everything there is about Runtime.gg's meal replacement designed to feed gamers during intense and prolonged gaming sessions.
Tackling gamers' unhealthy diets and snacking habits is a huge task. In order to accomplish this goal, Next Level Meal relies on isomaltulose for a more steady energy release and caffeine and green tea extract to boost your cognition, among other things. All this is nice and fancy. But how much of this is real? Let's find it out in this Next Level Meal review.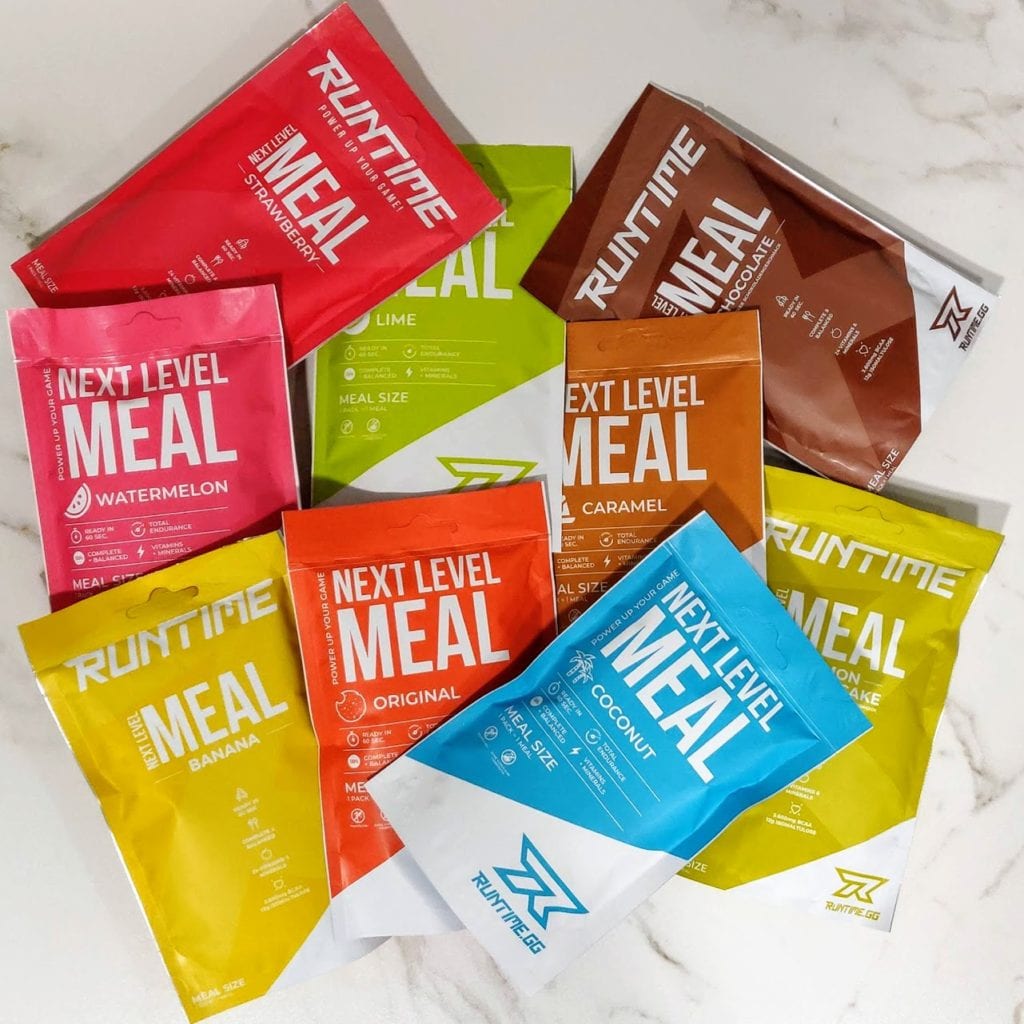 ---
Runtime Meal Review at a Glance
Flavours: Original, Strawberry, Chocolate, Coconut, Lime, Lemon Cheesecake, Banana, Coffee, Chai Latte, Wild Berries, Mango, Caramel and Cherry.
---
Opinion
Considering all the aspects, I must say that Runtime meal is a very attractive shake. Particularly, for those who are looking for taste over nutrition.
As a matter of fact, I think that most of Runtime's shortcomings are in the nutritional aspect. Despite the fact that it will offer a much healthier alternative to most fast food options; it might not appeal the more hardcore complete food users.
That being said, the flavour variety Runtime Meal offers is unparalleled and most of them are good to very good. This will be even more welcome in the US, where options like Runtime are more limited.
What I like
1. Flavour variety. Runtime meal is available in over 12 flavours and all of them are different to each other.
2. Taste. In all honesty, I enjoyed most of the flavours. Furthermore, some like Lemon Cheesecake really surprised me. There aren't many shakes like that one.
3. Now available for vegans. The original formula is still not suitable for vegans, but Runtime has developed a plant based shake, too.
4. Available in the US and EU. It has always been available in Europe, but Runtime now ships from the US, too. This makes is a good alternative to both Soylent and Huel.
5. Single serving and bulk bags.
6. Great starter packs. Seriously, some of the best in the business, and the best way to start with Runtime.
What I dislike
1. Nutritionally flawed. Sadly, I think that Runtime still has some work to do improving the nutritional aspect. More fibre would be a great starter point.
2. Short in some minerals. Quite surprisingly, considering that they add a synthetic mix of micronutrients, Runtime Meal falls short in calcium among others.
3. Vegan formula is more expensive.
4. Might fail to fill you up. Due to the thin nature of the shakes, I sometimes felt hungry after consuming them.
Improvements
1. Add more fibre and fix the micronutrients.
2. Improve the consistency of the shakes.
Nutritional Breakdown
Nutritionally, Runtime Meal shakes won't be the healthiest meal replacements you can buy; but they will sure beat almost any snack and fast food meal.
Why? Because, they will provide you with all the essential macro- (protein, fat, carbs) and micro-nutrients (vitamins and minerals) that you need. Thus, you will get a balanced and nutritious meal to fuel your gaming session.
Runtime Meal Nutrition Overview
| | |
| --- | --- |
| | Runtime Meal |
| Kcal/meal | 410 |
| Macros (C/F/P) | 61/19/20 |
| Vegan | No |
| Keto | No |
| Features | Vegetarian |
| Non-GMO | Yes |
| Organic | No |
| Includes Probiotics | No |
| Artificial Sweeteners | Yes |
| Synthetic Additives | Yes |
| Contains All Micronutrients | Yes |
| Controversial Ingredients | Maltodextrin, Isomaltulose |
Based on the original version. There's also a vegan version available in Europe.
Note: this section is based in the Original (whey based) version. The vegan version is slightly richer in fibre, and contains pea and rice protein isolate instead of whey.
Based on Original:
Oats, maltodextrin, whey protein concentrate, isomaltulose, sunflower oil powder (sunflower oil, glucose syrup, milk protein, separating agent silic acid), BCAA mix (L-leucin, L-isoleucin, L-valin, sunflower lecithin, vitamin and mineral premix, cinnamon flavour, beta carotene (for colour), sucralose.
Based on Original:
Oats, maltodextrin, rice protein, sunflower oil powder (sunflower oil, glucose syrup, modified starch), isomaltulose, pea protein,BCAA mix (L-leucin, L-isoleucin, L-valin, sunflower lecithin, vitamin and mineral premix, cinnamon flavour, beta carotene (for colour), sucralose.
Carbohydrates
Based on 410kcal serving:
Total Carbs: 61g, 23% of RI.
Sugars: 11g, 12% of RI.
Of which added: 3g.
Fibre: 1.8g, 9% of RI.
Runtime Meal uses 3 main sources of carbs:
Oats are a good source of complex carbohydrates with 66% starch, 17% protein, 7% fat and 11% fiber. One of the golden standards as far as carb sources go.
Maltodextrin is more like the black sheep of the family. Primarily, because it breaks down into glucose fairly efficiently and has a high glycemic index (rapid raise in blood glucose). However, given the balance and presence of other nutrients the overall GI of Next Level Meal is likely to be lower.
Isomaltulose. A sugar with low glycemic index, lower insulin reaction and a prolonged energy release (one of the concerns about high GI carbs). Thus, some of the ill effects of having too many sugars are lowered.
High in Sugars and Low in Fibre
While non of the Runtime Meal shakes offer above the recommended intake of sugars; they might be an issue for gamers used to sugary gaming drinks and sedentary lives. That said, isomaltulose might not act the same way, as mentioned above.
Personally, I think that the low fibre content is much bigger of an issue. With only 1.9g of fibre per serving, this is one of the meal replacements with the least amounts of this essential nutrient.
Protein
Per 410kcal serving:
Total Protein: 19g, 38% of RI.
Source: whey protein concentrate and milk protein.
Whey protein is the main source of protein in Runtime Meal drinks. These shakes not only contain a good amount of protein, but also have added 2.4g of branched chain amino acids (BCAA's). These are mostly used as sport performance boosters (they help with muscle growth); but, it is true that they are also beneficial for fatigue management and concentration enhancers.
Fats
Per 410kcal serving:
Total Fats: 9.2g, 13% of RI.
Saturated Fats: 1.6g, 8% of RI.
Omega-3s: ?.
As a complete meal, Runtime shakes should provide you with all essential fatty acids, including omega-3,-6 and -9. Despite having sunflower oil, which is rich in PUFA and MUFA (O-6 and O-9), there aren't any clear sources of omega-3 fatty acids in the ingredient list. This would be very important since they are essential for proper cognitive function, can help with eye illnesses and reduce risk of Alzheimer's.
Otherwise, it is great to see that Runtime shakes are low in saturated fatty acids.
Micronutrients
As observed in the nutritional label, Runtime Meal provides you 20% or more of most micronutrients. Nonetheless, surprisingly it comes short in some (should be at least 20%):
Calcium: 11% DV
Iron: 16% DV
Potassium 7% DV
A few others are just in the limits (18-19%). While some of this discrepancies can be partially explained by differences in the European guidelines vs US guidelines; it would be good to see them "fixed".
Allergens
Unfortunately, Next Level Meal contains Milk, and Gluten. Check the best gluten free shakes and dairy free shakes for allergen free options.
Tasting Test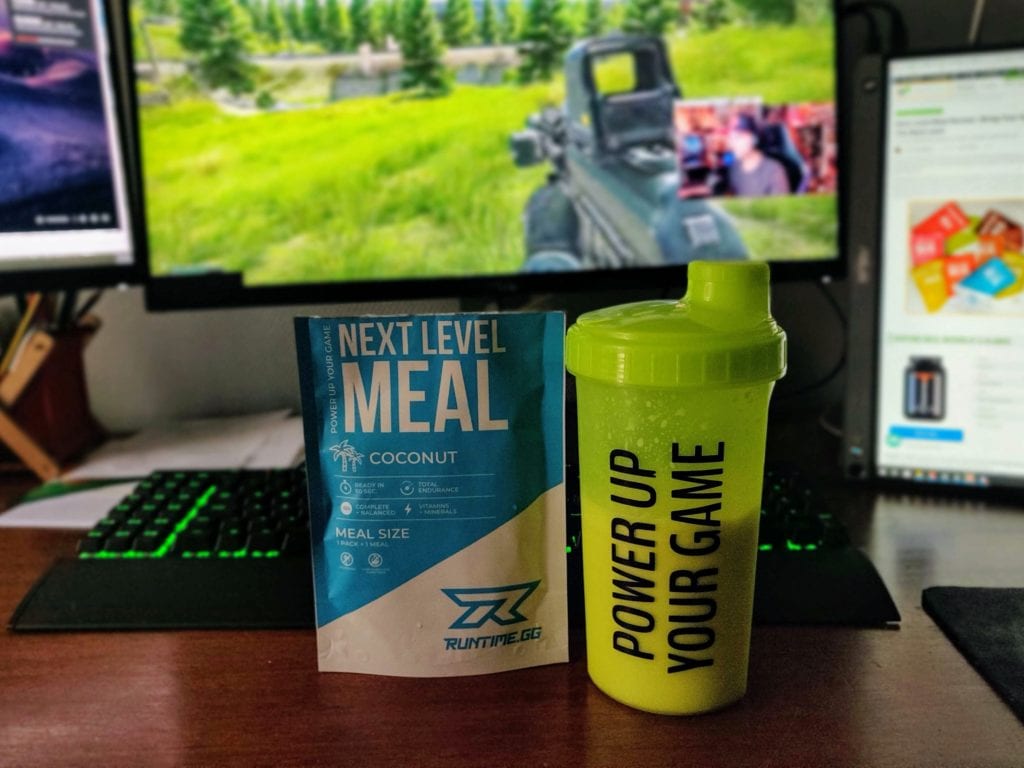 | | |
| --- | --- |
| Best flavour | Coconut or Lemon Cheesecake. |
| Taste | Runtime shakes' taste is their best attribute. Each shake is different and true to its name. Generally very pleasing. |
| Texture | Shakes are unusually thin and not very consistent. Easy to drink like water, but does not feel like drinking a meal. |
| Easy to Mix | Runtime Meals have no issues mixing. No lumps with the provided shakers. |
| Satiety | They leave you a little hungry and you might want to snack again in 2h. |
| Easy to Clean | You will be able to clean the shaker without any issues. |
| Afterthoughts | The shakes feel a little small and might cause some discomfort to few. However, for most will be a very enjoyable meal. |
Pro-tip: add a little plant-based milk to thicken the shake, and make it even more delicious.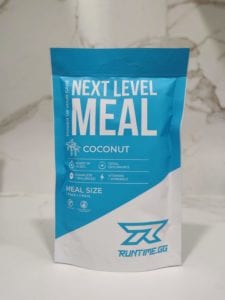 More about Runtime GG
Learn about Runtime GG, Review
The brand was launched in February of 2017 with the collaboration with nutritional expert Dr. Lutz Graumann and eSport persona Weldon Green. Unlike many other brands, they decided to focus mainly in gamers and the younger generation; both with the branding and marketing.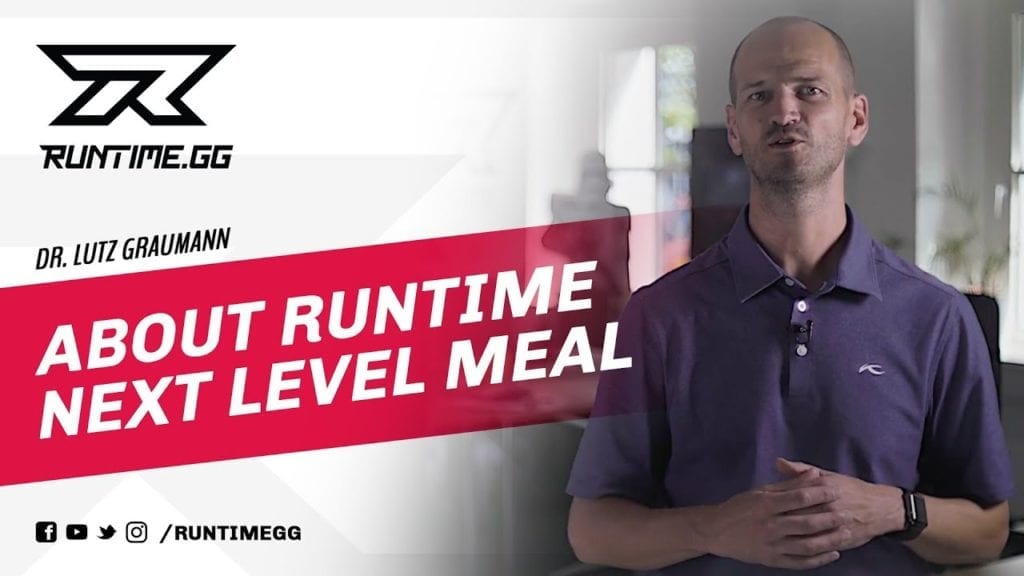 Since the launch of the original product, there have been multiple "balance updates", but all have kept the label "Made in Germany". This is, a top quality product optimized for gaming enthusiasts.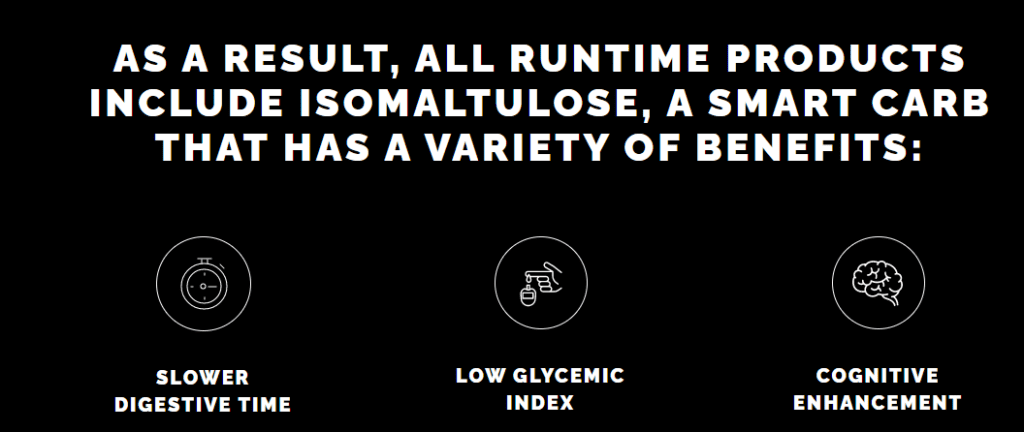 In fact, they also have a unique approach to nutrition; embracing isomaltulose as one of their primary energy sources. Ingredient, that is rarely used among other meal replacements.
Their mission: to create a food that is perfectly balanced to help you reach peak cognitive and physical performance.
Other Runtime GG Products
Nonetheless, Runtime doesn't only make the powder based meal. They also have a ready to drink formula (Liquid Meal), a snack bar and a performance energy drink (Runtime Drink).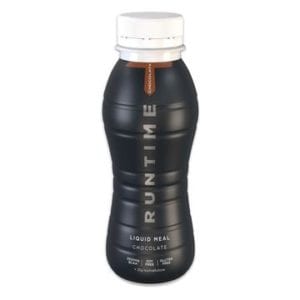 Liquid Meal
Meal Replacement
Ready to Drink
More convenient than the powder, smoother texture and equally nice taste
Available in Chocolate and Vanilla
Starts at €3.00/meal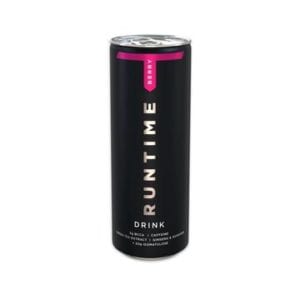 Runtime Drink
Performance drink
Gamer energy drink designed to increase focus and energy levels
120kcal per serving, added BCAAs, 80mg of caffeine per serving
Flavours available: Berry and Orange
Starts at €1.00/drink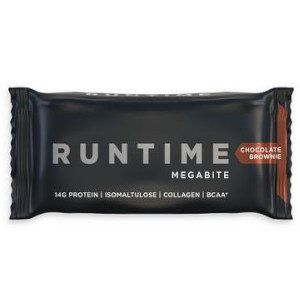 Megabite
Snack Bar
Available in one flavour: Chocolate Brownie
246kcal, 14g of protein and added BCAAS
Ideal to snack during your gaming sessions or eat after a workout
Starts at €1.80/bar
Currently, you might get some of the products with the old packaging. Despite having different packaging, the products will be the same.
Besides, I would say that the best way to start with runtime is by buying one of their starter packs. These are without a doubt some of the beset in the industry and will allow you to discover all their meal replacements at a more reasonable price.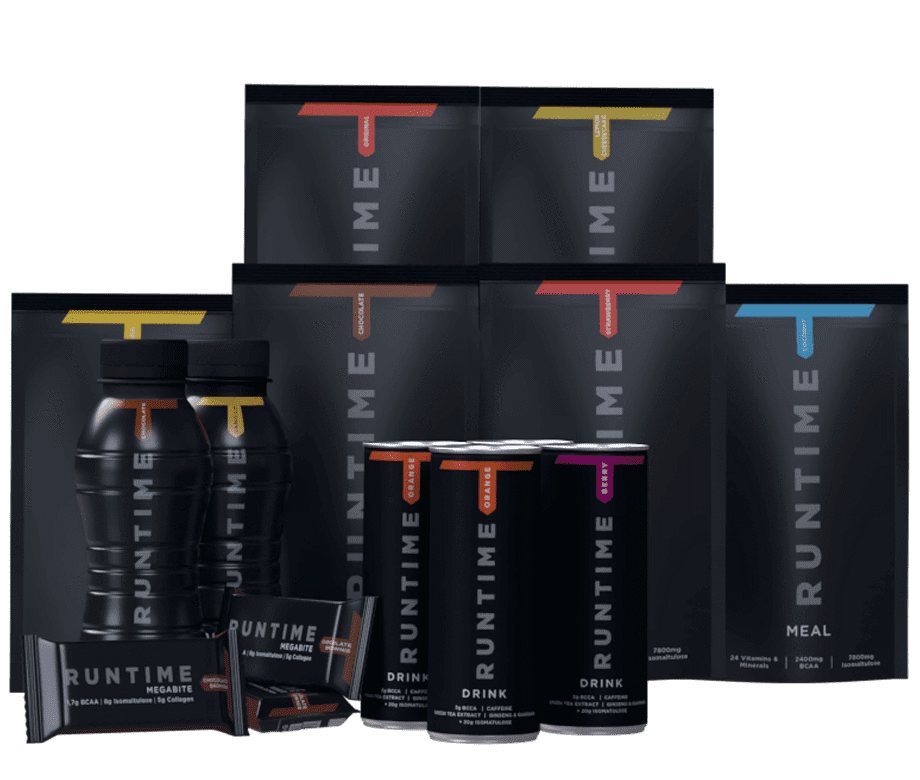 Pricing & Packaging
Let's start with the good news first. Since earlier in 2020, Runtime meals are now available in the US, as well as in Europe. Hopefully, this will make them a good Soylent alternative in the US, and increase the meal options there.
But before deciding anything we should look at the pricing for Runtime Meal:
| | | |
| --- | --- | --- |
| Price per 400kcal | EU (€) | US ($) |
| Expensive | 2.31 | 2.19 |
| Cheap | 169 | 1.97 |
Cheapest price is when you order the tub in subscription.
The original formula is available in a tub (which is cheaper) of 15 meals or as individual servings (7 meals). You can also use their 15% subscription to safe some more money.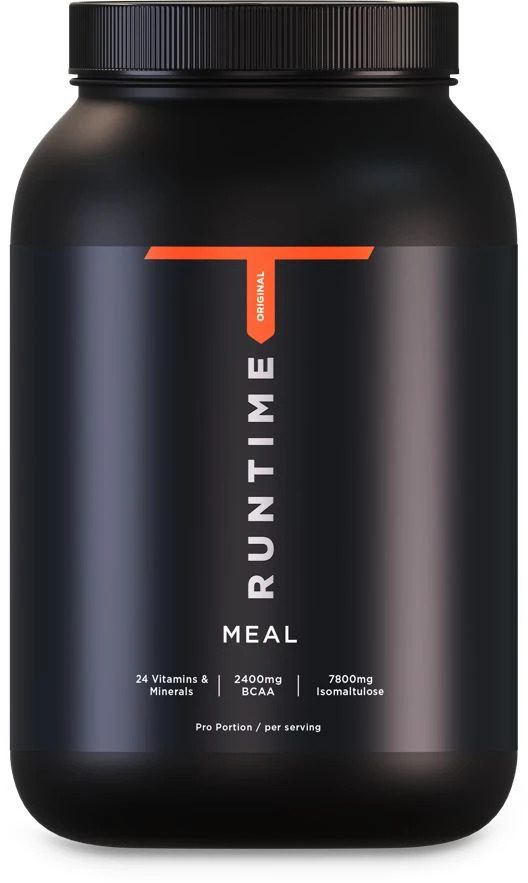 As far as the vegan one is concerned, you can only buy this in Europe currently in 12 meal tubs. Each meal (400kcal) will cost you €2.33.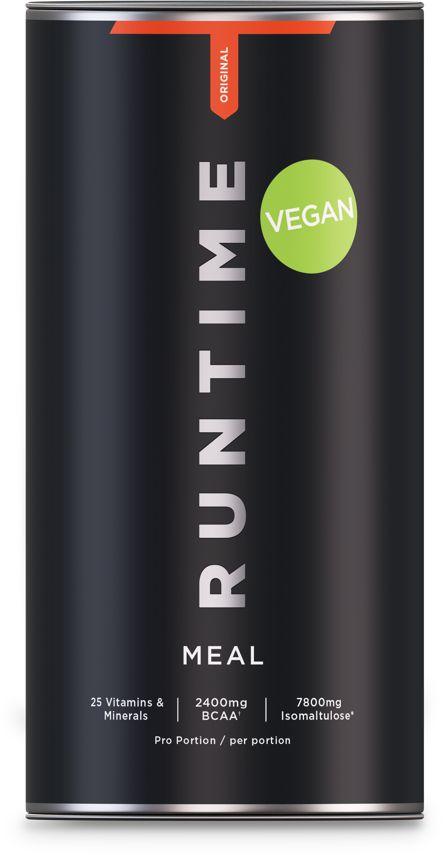 The Shaker
I would like to make a special mention to the shakers Runtime offers. Not because they are something out of the ordinary, but because they have the most unique and fun designs. You can almost make a side hobby collecting them all.

Runtime Meal vs
Truth be told, there's no meal replacement that solely focuses in gamers. Nonetheless, this doesn't mean that they are not good for them; quite the opposite, most meal replacements would be a huge nutritional boost. In Runtime's case, it competes against various companies; from the German YFood to the US staple, Soylent.
Let's see how Runtime Meal compares vs some of the best meal replacement shakes.
Overview
| | | | | |
| --- | --- | --- | --- | --- |
| | Runtime | Huel | Plenny Shake | YFood |
| kcal/serving | 410 | 400 | 400 | 400 |
| Macros (C/P/F) | 61/19/20 | 40/30/30 | 47/20/33 | 35/26/39 |
| Protein (g) | 19 | 30 | 20 | 26 |
| Sugar (g) | 11 | 1 | 3 | 15 |
| Fiber (g) | 1.9 | 7.0 | 8.2 | 6.9 |
| Fats (g) | 9.2 | 13.0 | 13.0 | 18.0 |
| Vegan | N* | Y | Y | N |
| Keto-friendly? | N | N | N | N |
| Organic | N | N | N | N |
| Real Food based | N | N | N | N |
| Artificial Sweeteners | Y | Y | Y | Y |
| Synthetic Additives | Y | Y | Y | Y |
| GMO | N | N | N | N |
Runtime also offers a vegan meal.
Many of theses brands offer more than one meal replacement products. For instance, there's Huel Black, a powder without artificial sweeteners. All of them, with the exception of YFood sell in both US and in Europe.
Runtime Meal Shake vs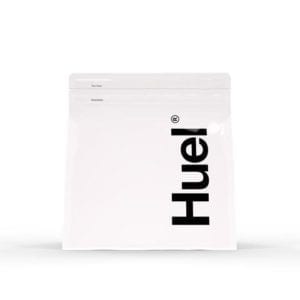 Huel is the most successful brand of all. Their star product is Huel Powder, but they also sell RTDs, bars and more. Unlike Runtime's, all Huel products are suitable for vegans. However, I think that Runtime meal's can be a great Huel alternative; since there are many more flavours available and they are generally better tasting. I definitely think that Runtime is a better option for the younger population.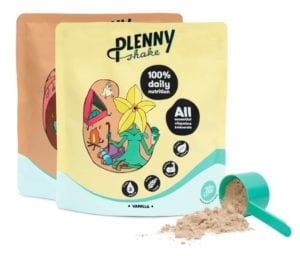 Jimmyjoy's most popular product is Plenny Shake; a powder that blends affordability and good taste. Consequently, it offers more competition to Runtime among the youth. Nutritionally, Plenny Shake is vegan, has more fibre than Runtime Meal, and less sugars. Albeit, the flavours are more plain and less exciting.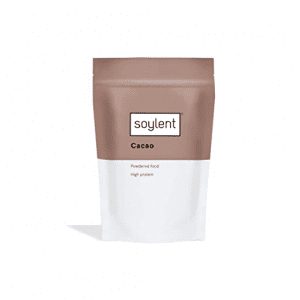 Last but not least, there's Soylent, the American powerhouse. In my opinion, Runtime Meal is a great Soylent alternative. They have similar strengths (taste), but Runtime's shakes are more exciting and they offer more flavours.
Besides these, there are many more shakes out there. For instance, I have not mentioned any keto shakes.
Runtime Meal FAQ
Is Runtime Meal available in the US?
Yes, Runtime recently entered the US market and is now available in the US.


Are Runtime shakes vegan?
No, the original formula is not suitable for vegans. However, Runtime has created a new vegan formula for their powder based meal replacement.


Is Runtime gluten free?
No, Runtime meals contain gluten.


What should I mix my Runtime meal with?
Usually adding water is the preferred method, since it doesn't change the nutritional output of the shakes. Nevertheless, you can add some milk for improved texture and taste.


What is Runtime Meal's shelf-life?
The product should be good for at least a year when stored in a dry, cool place, avoiding direct sunlight.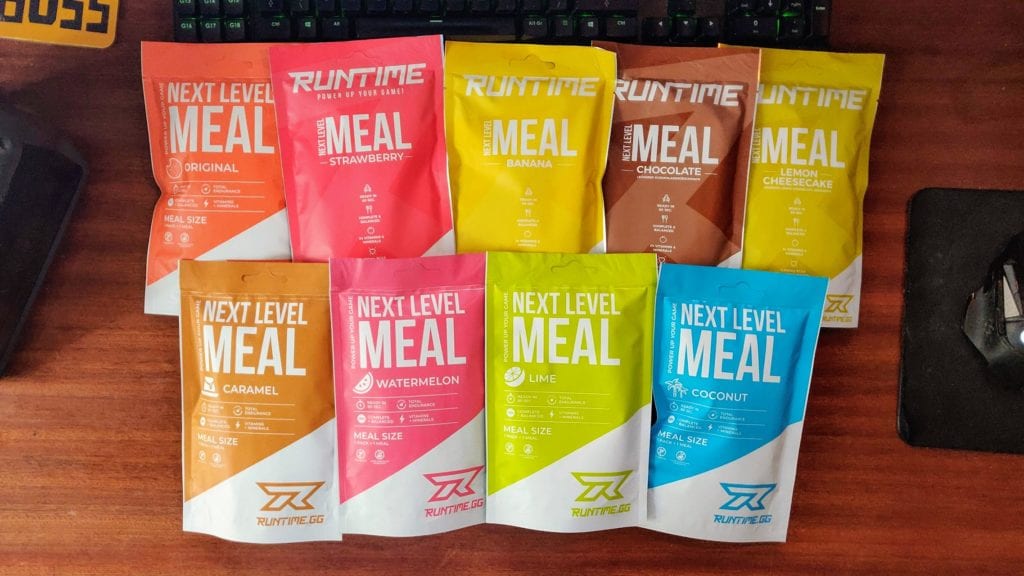 Verdict – Runtime Meal Review
Summarizing this Runtime Meal review, I must say that it can be a great alternative to the most popular brands.
I really enjoyed the flavour catalogue, many of which were positive surprises, such as the Lemon Cheesecake shake. In fact, I believe that Runtime Meal can be a very exciting shake to look forward to.
In particular, I think this is important for their target audience, the gamers; who enjoy more vibrant, sweet and exciting flavours. Plus, it will offer them a nutritionally more balanced meal than most fast food alternatives.
Personally, I prefer shakes that are a little higher in protein and contain more fibres. I often tend to look for nutrition over taste.
However, if this is not you, and you are looking for a tasty enjoyable meal, Runtime shakes might just be the ideal solution for you.
Pros
Great array of flavours, up to 12 to choose from
Some of the tasties shakes (Coconut, Lemon Cheescake...)
Added BCAAs
Available in US and Europe
Great starter packs
Cons
High in sugars (isomaltulose)
Nutritionally weaker than other powder alternatives
Doesn't fill you up much