Runtime Review. 1, 2, 3… Start!
Esports is the competitive side of gaming, sports-like tournaments and competitions where individuals or teams face each other to win a trophy ( or fame or money). Ok, cool; but what does eSports have to do with meal replacements? Well, gamers (especially professional ones) are notorious for their careless attitude towards food and their diets. Runtime targets these individuals and aims to support them with the best quick nutrition possible. Wholesome concept, but what is behind the curtain? Are their meal replacements actually good? Let's find out in this in-depth Runtime review.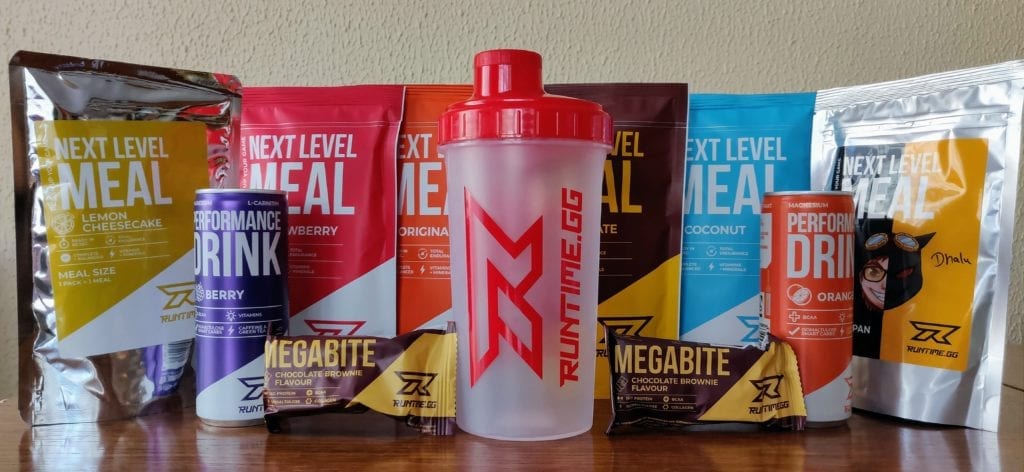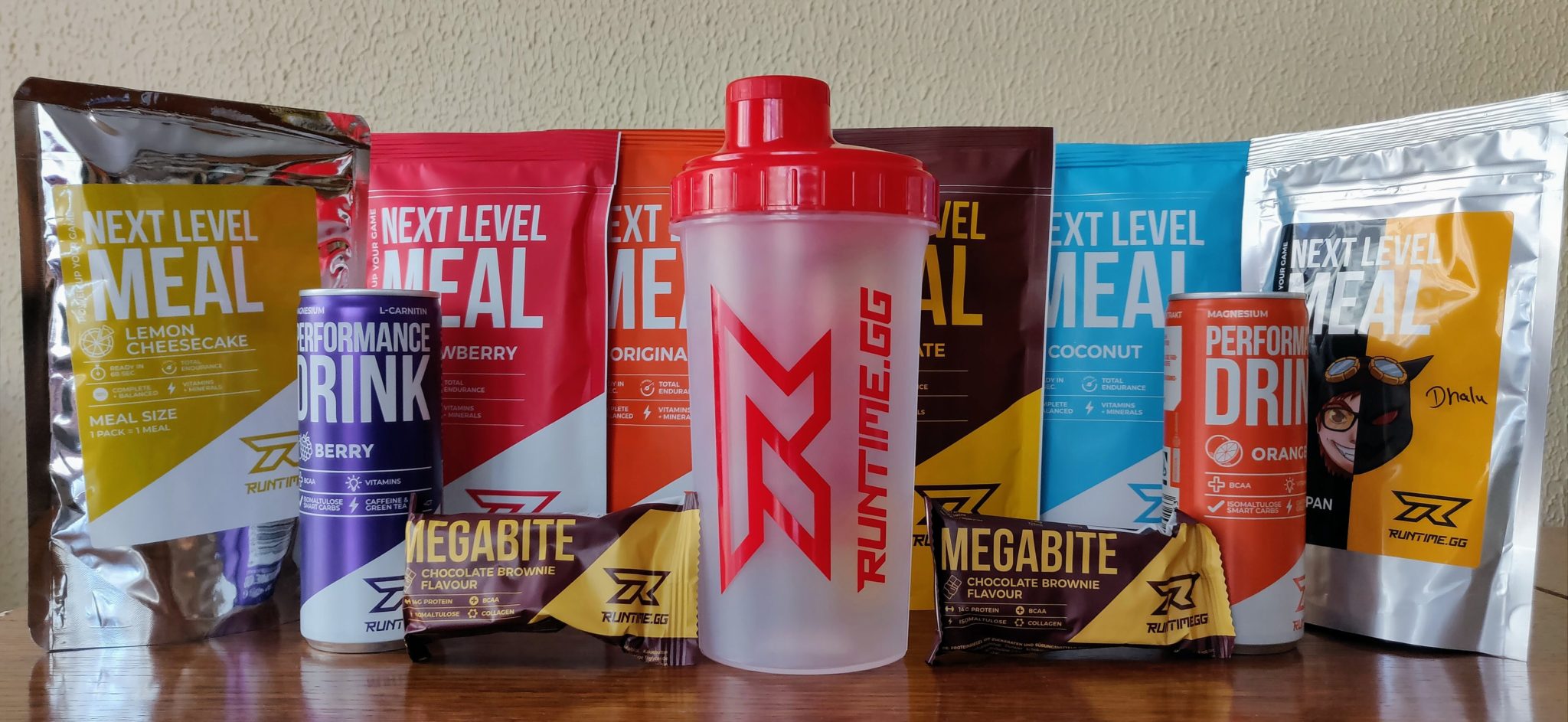 What We Like
Flavour Range.

Gamer focus.

15% Subscription

Evolving fast.
Product Range & Design


Free Shipping to EU after 40.

Starter Pack.
Social Media engagement.
There is a lot to like about Runtime. They are a cool company with solid meal replacements, a good flavour range and a starter pack under €30 to taste all their products. We are fond of their gamer-like design, with sharp edges and vibrant colours.
This gamer vibe is, especially, noticeable in their social media account. Their twitter (@runtime.gg) is a constant flow of gaming, computing related news and sponsorship with well-known people. They also have giveaways and promotions fairly often.
Shipping is free after €40 within the EU, thus you can get a lot value for the money. Price might seem more expensive than some of the American counterparts; however, this is because the servings are 50% bigger.
What We Dislike
Not much info on the FAQ.

Not much in-depth info (nutrition).

No vegan option.

Added sugars a little too high.
Megabite is not a true meal replacement, but a snack bar.
The FAQ section is a little thinner than the usual, with not too much info about the founders, the nutritional guidelines and shipping details.
In fact, we wish the nutritional labels where easier to access to and a bit more in depth. Besides, they have no vegan options as for now and there are no announcements for any new products yet. Sorry, you will have to wait.
What We Would Like to See
More info on website, FAQ better organised (they have recently improved it).
Another meal replacement, plant based.
Worldwide shipping.
If Runtime really wants to feed all the gamers and become the food of eSports, they will have to spread out. There is a lot of gamers in the USA, CAN, AUS and NZ -maybe not so many in NZ. They will also have to put an English version out to make the experience smoother (they just recently did!).
As far as products go, we would also like to see some other nutritional profiles, catered for vegan gamers.
What PRODUCTS does RUNTIME offer?
Runtime has been busy releasing products to satisfy its customers. Originally, they had a powder meal replacement (Next Level Meal) and a performance enhancing drink (not really a meal replacement, but a boost). Now they have Megabite, bars to, perhaps snack between your meals, and Truesight, a supplement to protect your eyesight from the monitor.

Next Meal Replacement
606kcal/meal

MR powder

Currently 6 flavours

€3.5/serving

Milk, Soy, Gluten, Egg
---
Liquid Meal
500kcal/meal

€2.66/400kcal

Chocolate

Milk
---
Megabite
246kcal/meal

€2.49/bar

Chocolate Brownie Flavour

Egg, Nuts, Sesame, Milk
---
Performance Drink
40kcal/100ml

€2.19/serving

250ml/serving

Orange and Berry

Includes Caffeine and BCAAs
---
OP Shot
Boost

€1.99/serving

Contains caffeine, tyrosine and green tea extract
Runtime Products Breakdown
One thing to note about Runtime products is their cost. They are not the cheapest in the market. Price is often a reflection of the quality of the prime ingredients, thus we should expect but the best from Runtime. However, other competitors deliver high quality meal replacements at a lower cost. Thus, this would be something to consider before doing your purchase.
On the other hand, the range of flavours offered by Runtime is superb. From chocolate to strawberry or marzipan. I am pretty sure you will find something you will like. Plus they have a starter pack option: one pouch of each Next Level Meal flavour (6 in total); 2 Megabite bars; one can of orange and one can of berry Performance Drink; and a custom shaker. All for under €30. Definitely the best choice if first time buyer.
Once you get yourself to know the products you can create your own custom boxes and personalize your order. Pretty good detail from Runtime.
Also worth mentioning the shaker range they offer. You can buy a shaker with a different design (a lot more cooler) than the stock one (on the image below). If you ever are in a need of a shaker, which tends to happen, I would recommend looking around.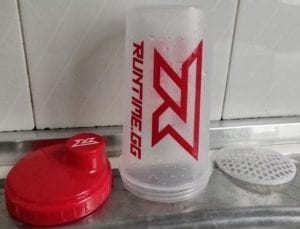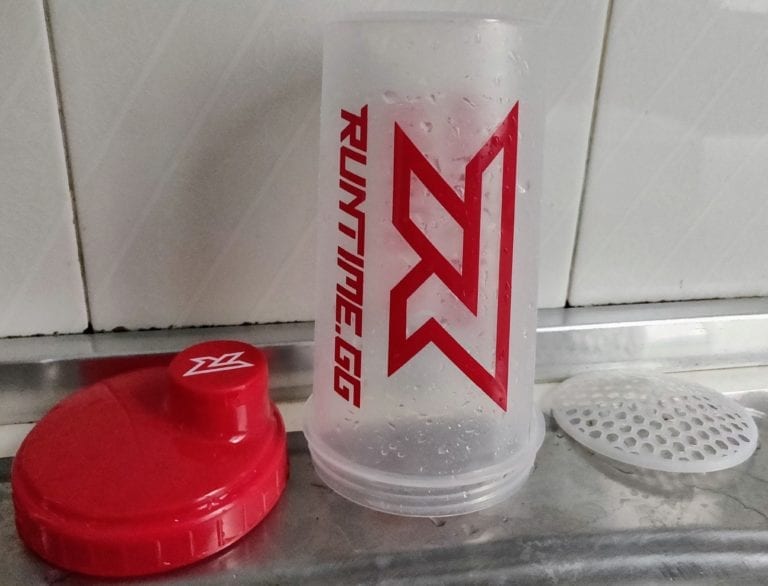 The two major flaws in their product offering are the lack of a real ready-to-drink meal replacement (us gamers can be really lazy and may not want to clean the shaker) and no product offering for vegans or keto users.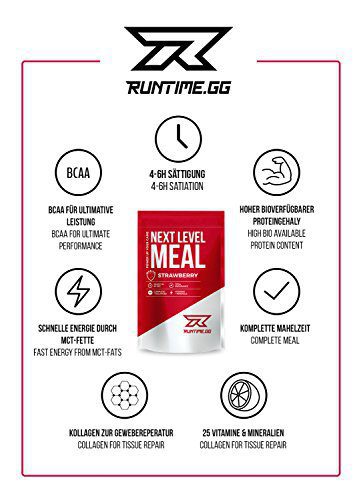 I am too lazy to write a summary and, perhaps, you would also be too lazy to read the whole section (understandable). So here are the bullet points:
Runtime products seem to have too many added sugars. However, it is m

ostly isomaltulose, a low GI slow release complex sugar.
Fats come mainly MCT powder mix. Ideally there would

be a mix of other oleic oils.

Runtime adds BCAAs to all its products and protein

is purely from milk sources. Thumbs up.

Runtime produces good products to supplement your diet but we would not recommend solely living out of them, since they might not satisfy your caloric needs.
Energy
The powder meal replacements are designed give 606 calories for each meal. With 3 meals consumed a day, it will total 1818 calories. This figure would be OK for people who do not tend to move around a lot -gamers, I guess- and females. However, for teenagers and active people this would come short. Hence, you would have to supplement it with some other food.
Carbs
My main problem with this product. Both Next Level Meal and the Megabite bar pack too many added sugars. They both go over the upper limit established by the USDA and ESFA. Thus, we would not recommend a diet solely consisting of Runtime products or we would try to consume products with lower sugar quantities in the other meals.
However, it is noteworthy to say that the main sugar source is Isomaltulose, a similar sugar to sucrose ("normal sugar") but slower to be digested. The effect? It has a lower glycemic index (GI of 32) slowing down the insulin response and glucose accumulation in the blood. It also prolongs the energy supply.
Funnily enough, it is also half as sweet as sucralose, hence most products contain sucralose (non- caloric sweetener) to enhance the sweetness.
Fats
Most of the fats in their products come from Medium Chain Triglyceride (MCT) powder. MCTs have been linked to positive effects in cholesterol control, cardiovascular disease prevention and lowering heart attack risks. While this powder mix might not cut the scrutiny a keto user would put it into (not that this product is keto friendly in any way), it is a good source of fats.
Another positive is that all products contain amounts of fat and saturated fat within the limits of the international food agencies (US, EU, AUS, WHO).
The Megabite bar also has some coconut oil and sunflower oil, however, we cannot know how much of the total fats this two constitute.
Protein
Milk is the main source of protein for all Runtime products. Milk is an excellent choice as a protein source – sorry, if you are a vegan-, as tends to be comprised of whey protein and casein. Both top quality sources for absorption and usage. Whey protein is absorbed faster, while casein is taken in a slower rate by our bodies.
Curiously, Next Level Meal, Megabite and even Performance Drink are boosted with BCAAs (L-leucine, L-Valine, L-isoleucine). Branched-Chain Amino Acids (BCAAs) are amino acids that the body cannot produce and hence, we can only get them through our diet. While, they are more popular with athletes due to multiple benefits in muscle growth and muscle breakdown; they are also beneficial to the liver protection and can help with fatigue and improving concentration.
Micronutrients
The only product containing any mineral mix of any sorts seems to be Next Level Meal. Weirdly enough, the bar does not seem to have any vitamins added to it. The mix in their powder product covers all the essential vitamins, but it is low in Calcium and Selenium. Calcium is well known for its role in bone development, muscle function and nerve signalling. It is the most abundant mineral in our bodies. So, it is important to consume enough of it. You can always drink a glass of milk (or tofu or soya drinks with added calcium).
Consuming 3 meals would only give you 39% of the recommended selenium. This mineral has a key role in metabolism and has multiple antioxidant properties. However, if you are supplementing your diet with other foods, it is likely that you will reach the recommended amount -too much can be damaging, so I would not worry too much.
Allergens
Nuts, Dairy, Gluten and eggs are present in Runtime products. So we are sorry if you are allergic to any of these. You will have to wait for them to develop a new product or try one of the other products reviewed on this website.
So, that was a rather harsh introduction. It was not meant to offend anybody, but rather be extra careful, since their target market is often abused. Wow, this has been a terrible start to the review. Runtime, show us what you got.
The brand was launched in February of 2017 with the collaboration with nutritional expert Dr. Lutz Graumann and eSport persona Weldon Green. They have since expanded to multiple stores in the bigger German cities, such as, Berlin, Hamburg, Munich and Cologne, as well as, in Austria, Vienna.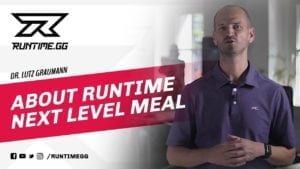 Since the launch of the original product, there have been multiple "balance updates", but all have kept the label "Made in Germany". This is, a top quality product optimized for gaming enthusiasts.
Customer Service and Return Policy
20% off subscription.
30 day renewal, pause anytime you want.
14 days cancellation period including delivery cost.
For anything else you can contact them in their "Contact Us" page or social media and you will promptly get an answer.
What else can I say? Subscription discount is among the top of the industry and the terms are conditions are pretty standard.
Something Runtime has been able to do more successfully than many of other competitors is engage with its customers in social media. Their twitter and instagram accounts are not only more active than other meal replacement brands, but also more fun.
Oh! There is one small issue. Only very recently they added an English version of their website. Thus, some of their staff might be not very comfortable with English. Although, we believe that this is very unlikely.
Runtime Perks and interesting facts
1- Giveaways.
Runtime offers multiple giveaways via their social media, mainly Twitter and Facebook. Giveaways include Runtime products, PC accessories or other gaming platforms. Interestingly, most of their following is German. Do not feel afraid or left out to talk to them in English though.
2- Partnerships and Sponsorships.
As part of their marketing, Runtime is doing a lot of backing in the eSport market. They have partnered with multiple personalities, events (like gamescon) and eSport teams.
For instance, they currenlty offer a limited edition BIG box (BIG is a German CS:GO brand) with:
8 BIG branded Next Level Meals (Chocolate and Banana flavours).
9 BIG Stickers with players signature and BIG logo.
2 Megabite.
1 BIG SHAKER.
1 BIG voucher card for Runtime-shop.
1 BIG metal pin.
It all comes at €50. Pretty cool deal, to be honest.
3- Videos, podcasts and other media.
If you are lucky enough to understand German, you will have access to tons of content that Runtime provides, including CS:GO podcasts, Youtube videos and coverage from events etc. For those like us, which sadly do not speak German, we will just have to hope (pray) that they release English content soon.
4- Custom Shakers.
Yes, Runtime offers an interesting variety of shaker designs. The shaker itself might not be the sturdiest or the most complex, but it certainly does the job. The designs come in different colours and different images printed in the bottle. This is definitely something very cool we hope to see more off. Click on the image to check them out.
Does Runtime ship to the US?
Yes, Runtime can be purchased from the United States.


Is Runtime Next Level Meal vegan?
Next Level Meal is not a vegan shake, since it contains milk-based products. OP shot and Performance Drink, however, are suitable for vegans.


Is Next Level Meal gluten-free?
No, the powder base shake from Runtime is largely based on oats that contain gluten.


I'm diabetic. Can I buy from Runtime?
Yes, but I would advise checking with your doctor or physician first.


I am not a gamer, can I consume Next Level Meal?
Of course. Runtime offers fine products that can fit almost anybody. 1,800kcal a day is what 3 Next Level Meal servings will give you. That is enough for most people. Their nutritional values are valid for the majority of the population, as well.
Do not be afraid to try them, you will not regret it.


So, time to collect our thoughts.
Who is Runtime for?
Runtime aims to cater all gamers. As such, much of the merchandising, brand image, social media interactions, partnerships and so on are focused on that market. We like the style of their products, but we understand they might be too niche for some people.
However, the products are good for most people and the price is competitive, plus so are the flavour range. We advise to look beyond the brand image and try them if you think you might like the flavour or the nutrition suits you (~1800kcal for 3 servings).
Does it taste good?
The flavours are OK. The Next Level Meal shakes offer 6 different variations. The taste can be a bit flat and oaty. Taste wise is a middle of the pack brand. More in depth discussion about the taste here.
Will I get all the nutrients I need?
In the case of Runtime's powder products yes. 3 servings will "only" give you 1,800kcal. You might have to supplement this with extra calories if you are a very active person. Megabite, however, does not come with any vitamins and minerals; hence, it is not a good meal replacement.
I want to buy it. How much will it cost me?
Without subscription, it can be more expensive than one would think. €3.5 per meal is above average for meal replacement shakes that are not already made (RTD or bars). 15% subscription is definitely a big plus, and brings the meal under €3. I think this is a better price tag for this product. The bars are more reasonably priced, but still to expensive considering they are more like snack bars. Similarly, we think Performance Drink is a little overpriced, considering energy boosts like Redbull and Monsters are usually cheaper and bring more.
Wait a moment, is it perfect?
If you have read the whole review or have a quick read through, you might have guessed that we do not think so. Runtime is a great company, which is fastly evolving and that it could do great things in the future. They already offer tons of flavours, a good product (Next Level Meal) and have very clear idea of to whom they want to sell. Bravo. However, I think nutriton needs a bit of fine tuning, that the overall prices could be lower and that they need to expand their product range.
Verdict
Runtime is a gamer, eSport focused company with cool design and an interesting range of products. While their website and the information have room to improve, they have good quality products and we would definitely recommend them..
Furthermore, they are very rapidly advancing and expanding. They are increadibly active in social media and offer multiple giveaways (in true gaming industry fashion). Their subscription is one of the best and we expect to see improvements in their product range. However, remember to use them as part of a balanced diet and not as your only source of food.
Congratulations! You made it until the end. For extra credits, please let us know what you think about Runtime or how we can improve the review in the comments section down below. Or visit Runtime: