Abnormal vs the Best Meal Replacement Shakes
Disclaimer: This is a sponsored article. However, all opinions expressed here are mine.
No long ago, I published the Abnormal review; where I had a look to one of the most innovative meal replacement brands. In fact, Abnormal is the only company that provides you with personalized complete meals.
So what is this exactly? As mentioned, you can find out more in the review, but in short, they offer a service that tailors complete meals to your needs. You can fill in a short questionnaire, and depending the answers they will tweak the ingredients, quantities and even add extra nutrients!
Thus, on paper this can seem like the recipe to get the healthies meal replacement for yourself. But is this the case? How do Abnormal shakes compare to the best shakes in the market?
I will try to answer this, in this article.
What Are the Best Meal Replacement Shakes?
This on it's own can depend on many factors, like location or dietary preferences (keto, vegan, low carb…). However, as Abnormal is located in the UK, I will mainly focus on the best meal shakes in the UK.
It must be said, that the UK customers are very lucky, since they have the most offering available anywhere in the world. I have personally tried over a hundred of these shakes, and most of them are good or really good.
However, when compiling the candidates to compare Abnormal shakes into; I have taken the following criteria:
It needs to be popular.
It needs to have a great meal replacement shake that I personally like.
I will consider only nutritionally complete meals.
Both vegan and whey based meals are going to be considered.
As such, this is the shortlist:
Complete 360 Meal. Arguably my favourite shake in the UK, a great combination of good taste, great nutrition and affordable pricing.
Huel Original and Black. Huel is the best selling brand in the world, and it is for a reason. Their meal replacement shakes are great, and they also offer a plethora of other complete food options.
YFood. The king of taste.
Let's check Abnormal vs other shakes at a glance:
| | | | | |
| --- | --- | --- | --- | --- |
| Category | Abnormal | Huel | C360 | YFood |
| serving price (£) | 2.00 | 1.68 | 1.39 | 1.76 |
| Macros (C/P/F) | 46/34/20* | 40/30/30 | 45/30/25 | 35/26/39 |
| kcal/serving | 350 | 400 | 400 | 400 |
| Packaging | 1 meal | 15 meals | 5, 20, 40 meals | 15 meals |
| Protein (g) | 30 | 30 | 30 | 26 |
| Sugar (g) | 2 | 1 | 1 | 15 |
| Fiber (g) | 10 | 7 | 10 | 7 |
| Fats (g) | 11 | 13 | 11 | 18 |
| Vegan | N* | Y | Y | N |
| Organic | N | N | N | N |
| Micronutrients | 26 | 26 | 26 | 26 |
| Artificial Sweeteners | Y | Y | Y | Y |
| Synthetic Additives | Y | Y | Y | Y |
| GMO | N | N | N | N |
| Protein Source | Whey | Pea/Rice | Pea/ Rice/Hemp | Milk |
What Makes Abnormal Different?
Before starting with this comparison, it's perhaps beneficial to understand what makes Abnormal different from the other complete food companies.
To start with, Abnormal still offers complete nutrition or complete food meals. This is, each meal covers all the nutritional needs your body might have from protein to vitamins and minerals.
However, most brands offer some generic formula based on European/British nutritional guidelines and/or their own experts inputs. This is where Abnormal differs; as they offer a meal that "varies from person to person, depending on a wide range of touchpoints including your specific lifestyle, diet, habits, intolerances and so on."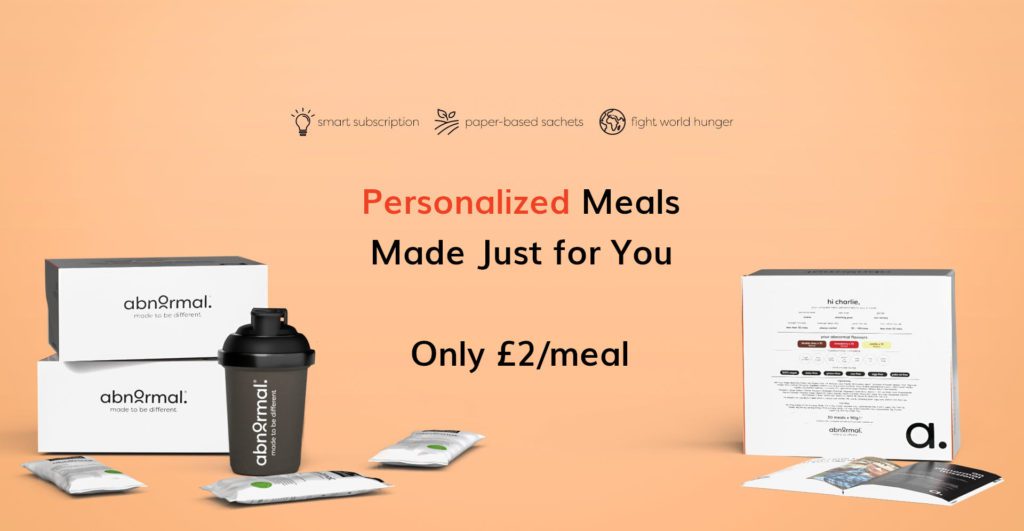 What do I mean by this? Well, you can opt for vegan shakes, or specify what allergies you have so they don't include these allergens on your shake. Furthermore, they will adapt the calories per serving depending your diet goals; or add extra vitamin D, if you don't spend much time outside.
With this, you don't have to worry about finding the right meal for you; the right meal for you it's created and delivered by Abnormal. Every month you will get 30 meals at your doorstep and you don't have to worry about anything else.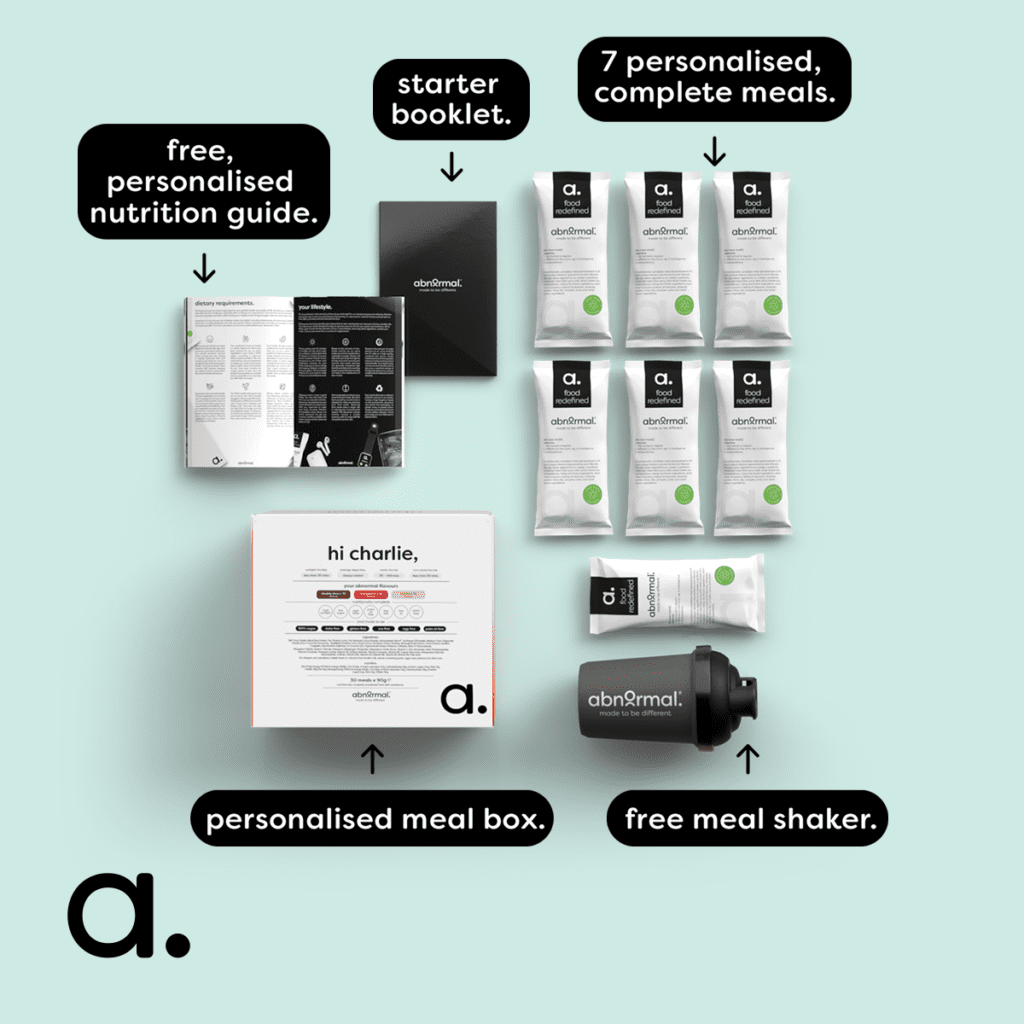 How Does It Work?
Fill in a 3 minute questionnaire.
Choose the flavours for your meals
Enjoy a 30 meal delivery each month.
What if you don't need the meal that month? You can easily pause your subscription or delay it until you need it.
Or what if your dietary requirements or lifestyle has changed? Well, fill in the questionnaire and the meals will be adapted to your new needs.
Simple, isn't it?

What CAN Abnormal Do?
Help you achieve a balance lifestyle
Adapt the meals to your nutritional needs
Offer you vegan and vegetarian shakes
Provide with a easy and convenient healthy meal
Give you high protein meals, low in sugar and high in fibre
Allows you to choose the flavours for each meal
Environmentally friendly meal: paper-based recyclable sachets
What CAN'T Abnormal Do?
Abnormal does not do very big servings (above 350kcal) so some people might need 2 servings
For now, there's no keto or low carb option
Besides the personalized meals, currently they don't offer any other support to help you with diet goals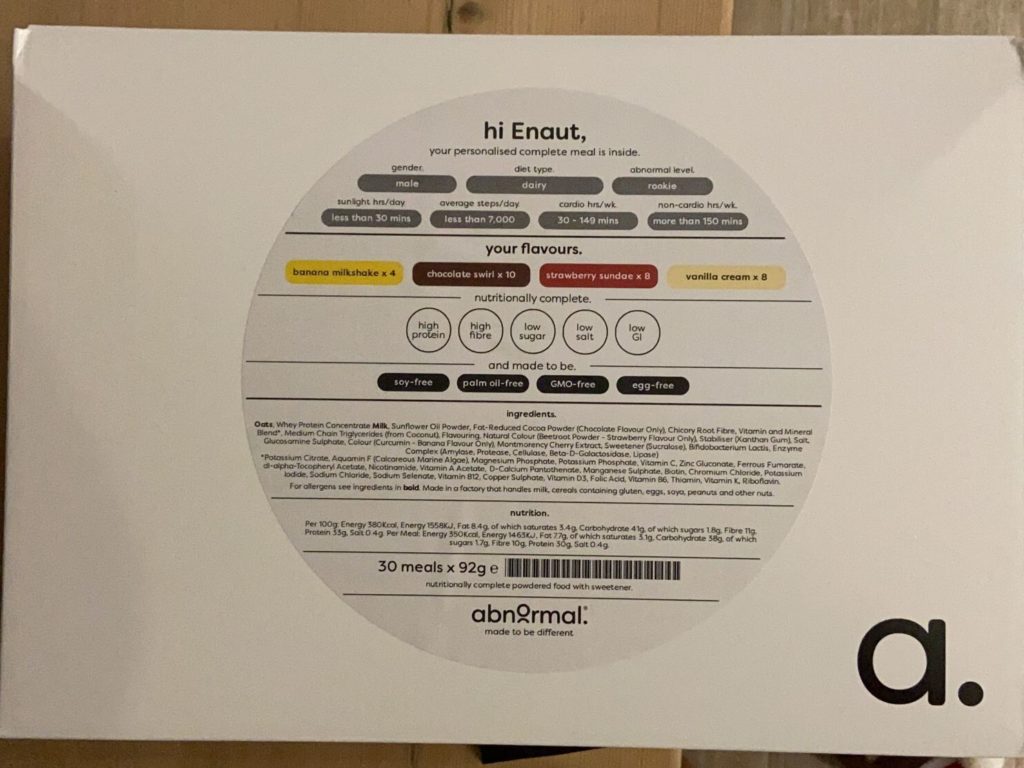 ---
Abnormal vs Complete 360 Meal
First, let's compare the two products that come from the same parent company. Abnormal is an off-brand of TheProteinWorks, the prestigious UK nutritional supplement manufacturer that produces Complete 360 Meal. Because of this, even if the branding and the product are different, the ingredients (sourcing) will be the same.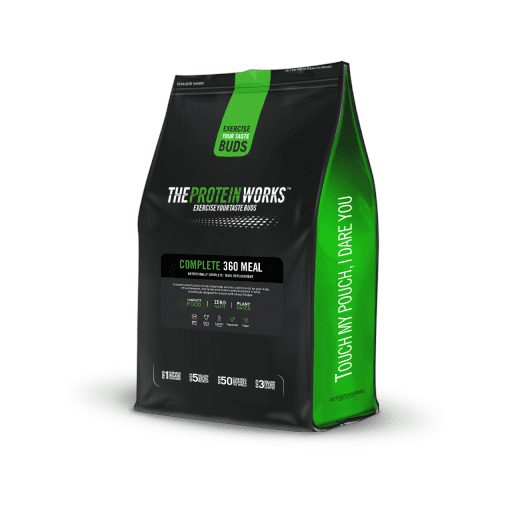 Ingredients
Both shakes are offered in whey based and vegan versions; however, I've only displayed the vegan ingredients:
Abnormal*:
Oats, Pea Protein Isolate, Fat-Reduced Cocoa Powder (Chocolate Flavour Only), Chicory Root Fibre, Sunflower Oil Powder, Vitamin and Mineral Blend*, Medium Chain Triglycerides (from Coconut), Flavouring, Natural Colour (Beetroot Powder – Strawberry Flavour Only), Stabiliser (Xanthan Gum), Salt, Glucosamine Sulphate, Colour (Curcumin – Banana Flavour Only), Panax Ginseng, Montmorency Cherry Extract, Ashwagandha Extract, Sweetener (Sucralose), Coenzyme Q10, Bifidobacterium Lactis, Enzyme Complex (Amylase, Protease, Cellulase, Beta-D-Galactosidase, Lipase)
* Potassium Citrate, Aquamin F (Calcareous Marine Algae), Magnesium Phosphate, Potassium Phosphate, Vitamin C, Zinc Gluconate, Ferrous Fumarate, dl-alpha-Tocopheryl Acetate, Nicotinamide, Vitamin A Acetate, D-Calcium Pantothenate, Manganese Sulphate, Biotin, Chromium Chloride, Potassium Iodide, Sodium Chloride, Sodium Selenate, Vitamin B12, Copper Sulphate, Vitamin D3, Folic Acid, Vitamin B6, Thiamin, Vitamin K, Riboflavin
Complete 360 Meal Vegan:
Oats, Protein Blend (Pea Protein Isolate, Brown Rice Protein, Hemp Protein), Flaxseed Powder, Fat Reduced Cocoa Powder, Avocado Oil Powder, Flavouring, TPW™ Vitamin & Mineral Blend (Tricalcium Phosphate, Potassium Citrate, Sodium Chloride, Potassium Dihydrogen Phosphate, Magnesium Oxide Heavy, Vitamin C, Zinc Gluconate, Ferric Pyrophosphate, Vitamin E Acetate, Potassium Iodide, Vitamin B3, Sodium Selenite, Vitamin A Acetate, Vitamin B5, Copper Gluconate, Manganese Sulphate Monohydrate, D-Biotin, Vitamin B12, Vitamin D2, Vitamin B6, Vitamin B1, Vitamin B2, Folic Acid), MCT Powder, Stabiliser, Ashwagandha Extract, Sweetener, Bifidobacterium Lactis.
There are two major takeaways here:
Abnormal adds extra ingredients depending your needs. For instance, they added cherry extract and coenzyme Q10 to help with my diet deficiencies.
Complete 360 Meal has a custom blend of protein for the vegan version that includes pea, rice and hemp protein. Personally, I think that this is a better blend than the Abnormal's shakes.
On top of that it's worth mentioning that Abnormal's protein source is likely to change depending your dietary preferences.
Nutrition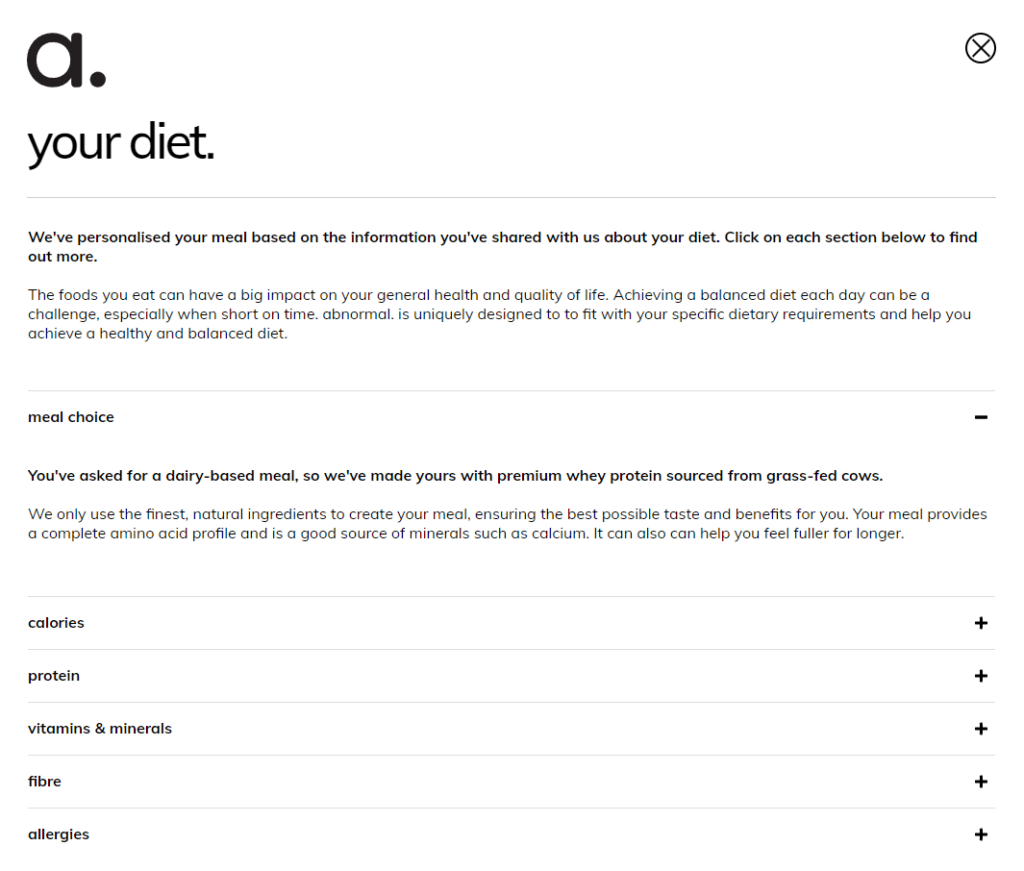 Regarding overall nutrition, both offer a fairly similar output. Complete 360 Meal is high in protein (30g per 400kcal), high in fibre and low in sugar. It provides all the micronutrients (vitamins and minerals), as well as, all the essential nutrients, like omega-3.
Similarly, Abnormal shakes are generally high in protein, even though they will adapt, depending the answers in your questionnaire. In my case, my shakes had 30g per 350kcal! This is, even higher in protein.
Both contain artificial sweeteners and use synthetic vitamins and minerals to boost the nutrient intake.
Flavours & Taste
Abnormal:
Caramel Latte, Banana Milkshake, Chocolate Swirl, Strawberry Sundae, and Vanilla Cream.
Complete 360 Meal:
Banana Smooth, Choc Mint Brownie, Cookies and Cream, Double Milk Chocolate, Strawberries N' Cream Classic, and Vanilla Creme.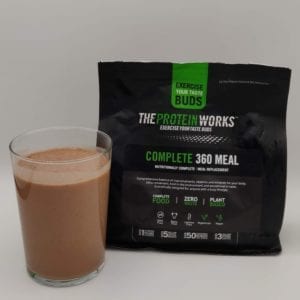 The flavour profile for both is oaty with artificial flavouring on top. However, having tried both I think Abnormal has a less sweet and more natural profile.
Personally, I enjoy the thicker texture and the stronger flavours that C360 Meal offers. Plus, I think that the Cookies and Cream is a lovely shake, and my favourite of the bunch.
Value for Money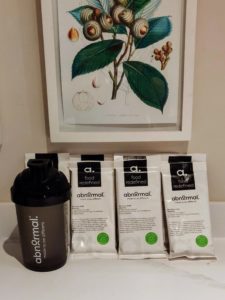 When it comes to the value is hard to judge.
On one hand, Abnormal offers you personalized meals that you can change every time you get a new delivery. They do this for just £2/meal. You get a new box of 30 every month and you don't have to worry about it (unless you want to change something).
On the other hand, C360 is one of the best value for money propositions in the UK. A 400kcal meal can cost you as little as £1, with the right discounts. While usually it will be slightly more expensive, I think it's more affordable and it slowly adds up.
If you don't need the personalized nutrition (and the future diet/nutrition perks and help) that Abnormal will provide you, C360 Meal is a bargain.
---
Abnormal vs Huel
Without a doubt, Huel is the most popular meal replacement brand in the world. Yet, they keep a strong hold of their home country, the UK, with incredibly competitive prices, excellent customer support and fast shipping.
However, they key to their success has always been their meal replacement powders. Their approach is "nutrition first, taste a close second"; and they offer plant-based, high protein meals with a focus on providing you with everything you need.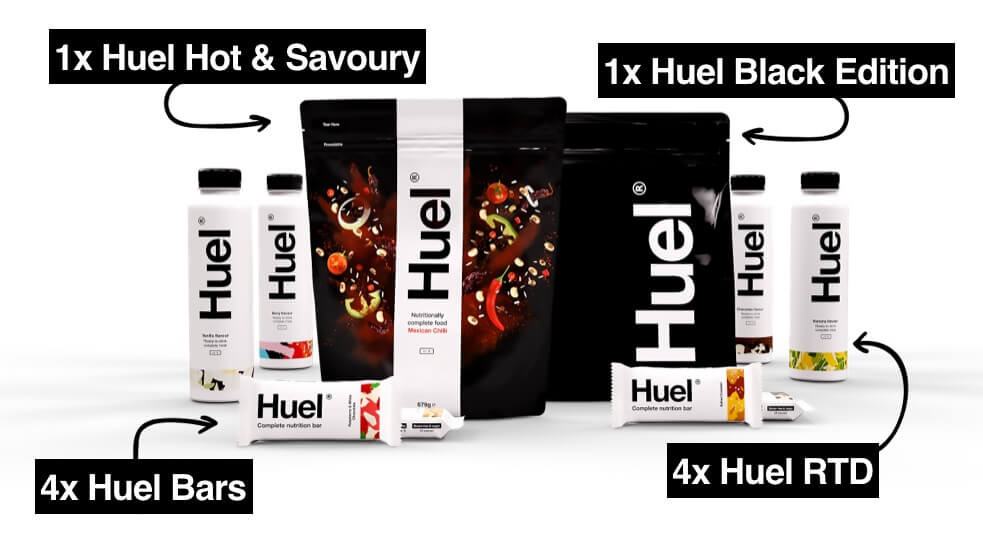 Besides the powder, they also offer a plethora of other complete food products, namely:
Ready to Drink shakes
Bars
Hot & Savoury meals
As well as, their snack range "Complete Protein" powders and bars.
Ingredients
When it comes to powder, Huel offers 2 different versions: Huel Black and Huel White (Original).
The first is a gluten-free, ultra high protein shake with no artificial sweeteners. The second, is their original formula, still with tons of protein, but it has more carbs and uses artificial ingredients.
Nutrition
All Huel products are plant-based. Their protein powder of choice tends to be pea protein, with a little of brown rice protein to offer a complete amino acid profile.
On the other hand, with Abnormal you can choose between pea+rice or soy protein isolate. Personally, I do enjoy the soy protein isolate, due to its higher absorbability.
While Huel does focus on nutrition, it will not add specific touches (like extra vitamin C, ashwaghanda, collagen for joints). Their formula is more generic and adapted for the general public. Thus, I do like the fact that Abnormal includes extras that adapt to your nutritional needs.
That said, you won't find a low-carb formula like Huel Black (only 20% of energy from carbs) on Abnormal.
Flavours & Taste
Abnormal:
Caramel Latte, Banana Milkshake, Chocolate Swirl, Strawberry Sundae, and Vanilla Cream.
Huel Black:
Unflavored, Vanilla, Chocolate, Coffee Caramel, Peanut Butter, Banana, Salted Caramel, and Strawberries & Cream.
Huel Original:
Vanilla, Banana, Salted Caramel, Chocolate, Berry, Coffee, Mint Chocolate, Original, and Unflavoured & Unsweetened.
This is an area Huel has been notoriously bad for few years. However, with the latest update they have put more emphasis on improving this aspect. Both their shakes are significantly smoother than their predecesors, however, they still contain a gritty, oaty flavour.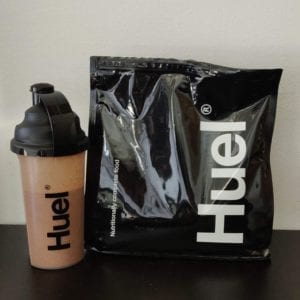 When it comes to taste, I think Huel is Oats first, taste second. Arguably, Black is slightly different, where I feel the extra pea protein comes to play and adds another tone to the shake.
That said, I think that generally, Abnormal's shakes are more pleasant. I think that Banana, Chocolate and Vanilla are better, whereas is not as clear with the Strawberry flavour. Also, Huel's Salted Caramel is pretty enjoyable.
Value for Money
As far as pricing is concerned, it's hard to beat Huel. Both their powders are great value for money, even if Huel Black is slightly more expensive. Because you need to buy 2 bags of 15 meals (minimum order), trying out Huel and the flavours they offer can be harder.
Instead, Abnormal offers single serving pouches, in which you can choose the flavours. So you can opt for 15 Chocolate, 10 Vanilla and 5 Banana if you choose to do so (30 meals per subscription).
Once again, I think Abnormal works best for people who are willing to pay a little extra to have the personalized meals. Plus, I think it's also better for those that are going to make a more sporadic use (once a day) of the powders.
---
Abnormal vs YFood Powder
On a different note, YFood is a German meal replacement manufaturer. Their specialty used to be ready to drink meal replacements, but they now also offer powder based alternatives.
Interestingly, YFood only offers vegetarian powder meals (unlike the previous two). Plus, generally speaking, they don't focus as much in nutrition, but rather in taste.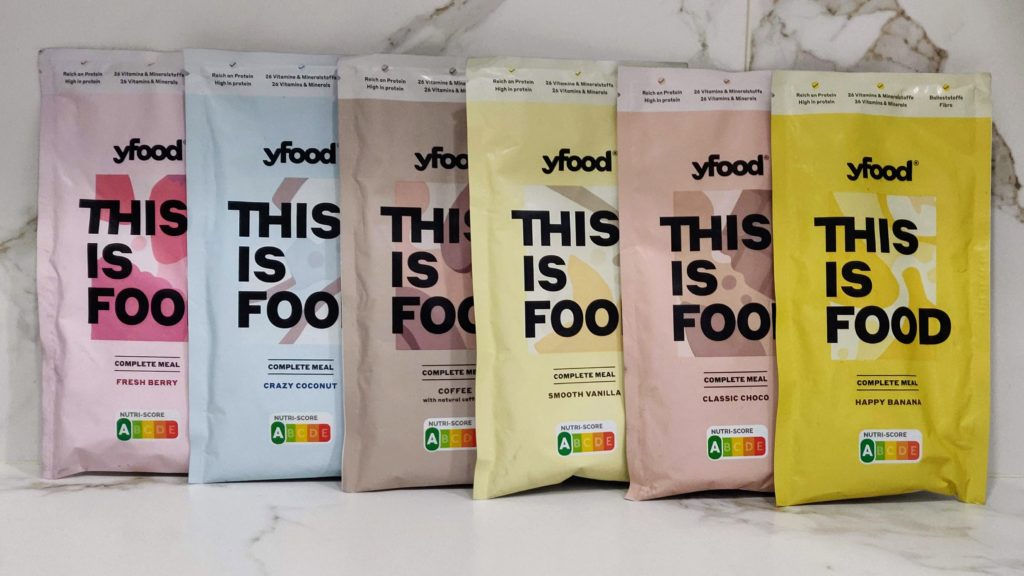 Ingredients
While both offer a complete meal, YFood contains more processed ingredients and has 0 probiotics or extra ingredients. This is, they will offer you just with the dietary requirements, but will not have other nutritious aids like digestive enzymes, antioxidants etc.
Nutrition
It is clear to me that this is the most unequal comparison, so far. YFood's ingredient list is limited and contains multiple processed ingredients (less nutritious).
Furthermore, the mix is high in naturally occurring sugars (from milk) and each 400kcal contains 15g of sugar!
In my opinion, the use of complex carbs (oats) is preferred, and I tend to like shakes with low sugar. Abnormal also adds extra ingredients and regulates the vitamins and minerals to your needs, which is great.
Flavours & Taste
Abnormal:
Caramel Latte, Banana Milkshake, Chocolate Swirl, Strawberry Sundae, and Vanilla Cream.
YFood:
Classic Choco, Apple Cinnamon, Lemon Cheesecake, Salted Caramel, Heavenly Hazelnut, Smooth Vanilla, Fresh Berry, Happy Banana, Coffee, and Crazy Coconut.
On the contrary to the previous section, this is where YFood shines. Not only it has tons of flavour in offer, but I must admit that most of them are truly delicious. They are like super tasty milkshakes. Chocolate, Coconut, and Coffee are my guilty treats.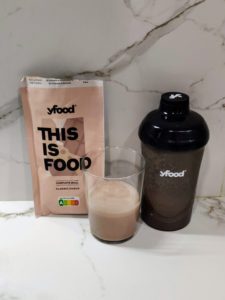 That said, I think that for long term use, Abnormal's more subtle flavours might be better (harder to get bored of). Plus, I think the Vanilla is just better.
Value for Money
YFood is slightly more expensive than the other competitors, and nutritionally I think it offers less. However, it is still cheaper per calorie than Abnormal. Similar to Abnormal and Huel, YFood offers a subscription method.
Even then, I would value the nutritional output of Abnormal shakes higher, and I believe they can be more helpful achieving your weight goals.
---
Conclusion – Abnormal vs the Best Meal Shakes
I hope that I have brought some insight into Abnormal and how it compares to the best meal replacement shakes. It is interesting to see a new concept arise in the complete food world, and I think many will be surprised by the convenience factor and how simple the whole experience is.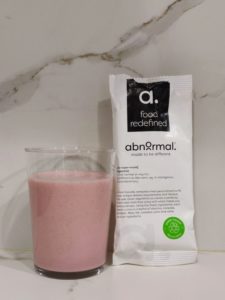 In fact, I'm often caught up with work and thinking about my meals and eating healthy in a regular basis becomes a chore. With Abnormal shakes, you can forget about it, and make sure that you have the right meal for you every time.
As such, I think that it does fairly well against giants like Huel, and other established shakes. I definitely think that there's a target audience that will benefit from this simple system. No need to learn about nutrition, having to look at ingredients or anything.
However, I would like to see more support within the website. For instance, they could provide you with personalized diet tips (around your Abnormal meal) or even fitness guidelines.
Ultimately, I think Abnormal shakes are great, but you should consider what your priorities are (taste, nutrition, budget) and choose accordingly.