Ep-2: The Best European Vegan Shake
The European meal replacement market is like the sunday market in your town; where all the vendors fight to sell you the same products. Instead of having less sellers the next Sunday, because some just did not make enough sales, every week there is more and more vendors. All Meal replacement sellers with fancy new products, shinny objects and wicked tongues to lure you into buying their product.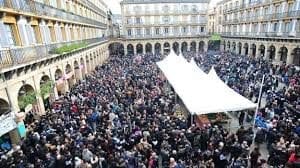 This time I had venture into the Vegan alley. They alley that keeps growing and growing, and even big successful vendors like Jimmyjoy are moving into; since they claim to sell the best, most environmentally friendly products in the Vegan alley.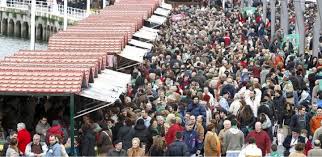 However, which products are truly the best? Who sells the best vegan meal replacement among them all?
The Ultimate Vegan Shake battle: Huel vs Pulve
Huel is the biggest merchant in the alley. He is the fattest, the richest and has the biggest stand among all vendors. From the center of the market controls all contenders, never giving them a choice; with the power of nutrition and knowledge, many claim thier products are the best.
The ilustrious judge and critic Sir Enaut Latestfuels is in town today. He is curious about the products sold in Vegan Shake alley. In fact, there are many contenders to Huel's spot as top merchant of Vegan Shake Alley; like Queal Vegan, Feed., Saturo, Nutberg, Ambronite… All vendors of great vegan shakes.
"I challenge Huel for the title of Best Vegan Shake in EU!" Everyone is confused, Sir Latestfuels is amused. "Who is the fool to challenge Huel?" A skinny vendor appears from the shadows. Everyone recognizes him, but no one knows much about him. "I am Pulve; and I claim to have a better vegan shake than Huel!"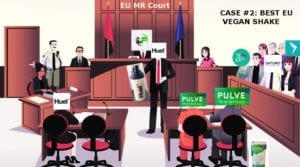 The duel is on. The judge, Sir Enaut Latestfuels.
The Defendant: Huel – The European Flagship
Products: Huel Powder V2.3 (standard, gluten free and professional), Huel Granola, Huel Bars v2.0, Flavour boosts.

Nutritional Profile: Vegan.
Allergens: Gluten*.
Price with subscription: €1.58/400kcal.
Price without subscription: €1.71/400kcal.
From: UK.
Ships to: World*.
Huel is one of the biggest brands of the world, which delivers a nutritionally exceptional product at a very reasonable price. A great shake for beginners and seasoned customers, alike.
---
The Contender: Pulve – A Hidden Gem
Products: Pulve Vanilla.
Nutritional Profile: Vegan.
Allergens: Gluten, Lupin.
Price with subscription: €1.48/400kcal.
Price without subscription: €1.59/400kcal.
From: NED.
Ships to: World.
Pulve is a small European brand that has a nutritionally very well rounded product, from European non-GMO ingredients and deliverd in a biodegradable pouch. Eco-friendly, affordable, super healthy and good tasting.
---
Round One: Product Prize. Pulve surprises everybody 1-0
The judge puts both contenders in front of each other. They both hold their products tightly. The crowd has gathered to see the face-off.
"First and foremost, you must tell me what the cost of buying your product is. Lure me with awesome prices and deals!" states Sir Latestfuels.
Huel goes first. He is full of confidence: "Each Huel (powder) meal can cost as little as €1.93 with our 10% subscription! And only, €2.14 per 500kcal meal without subscription. That is a bargain for the best shake in the market!" There is a roar in the crowd. Not all agree with the statement, but the price is certainly competitive.
The judge lifts the arm and asks for silence. He looks at the skinny vendor sitting opposite to the big man Huel. He expect to see fear in his face. Instead, Pulve has a smirk. "Eh… I think that is too expensive. I charge €1.99/500kcal to those who are not subscribed and offered a 7% subscription discount for those who want my product regularly. You can buy it for as little as €1.85 per 500kcal meal." He says quietly, gaining confidence as he speaks. At first there is silence. Then there is cheers and Vivas.
Everyone knows it, the judge has given the first point to the contender. Perhaps, this is going to be more interesting than what tehy expected.
Round Two: Product Variety. Huel bounces back 1-1
"Silence! It is time for the second part of this duel. Show me your different products! What do you offer gentlemen?" The judge is amused by the competition.
"Oh, Sir Latestfuels! Have a look at my 3 vegan powder meal replacements: one is the standard version, one is gluten free, and I have one especifically for certified athletes to use. That is not all! I also offer a granola based breakfast option and a meal replacement bar!"  Huel shows the shinny stall with all the magnificent products. "They are all vegan". There is a round of applause.
Everyone turns to Pulve, who stands quietly in front of his tiny stand. "I only offer one product. I have dedicated my life to perfect the formula of my powder meal replacement. I aimed to create the best shake ever." Pulve tries to show confidence, but everyone knows he has lost this point. Huel's size has proven to be too much.
Round Three: Nutritional value. The crowd is split, both are exceptional 2-2
"So, the best shake ever? Show us what your vegan shake is made of, Pulve" Sir Latestfuels says curiously. There is silence and expectation in the crowd.
"Pulve meal replacements are sourced manufactured with non-GMO ingredients available in the EU. Thus, the shakes contain no soy. Each shake offers 500kcal with a 24P/46C/30F energy split. 27g of protein per serving from my custom pea and lupine protein blend, to ensure a well rounded amino acid profile. 15.7% of the calories each serving come from monounsaturated fatty acids (MUFA) and 8.1% from polyunsaturated fatty acids(PUFA); just within the parameters the World Health Organisation (WHO) states! The omega 3/6 ratio is 1/1.25, within the ideal range! And the saturated fats are really low, just 2.2g! My main carbohydrate source are oats and each shake only offers with 1.3g of sugars. Plus every shake offers at least 25% of the micros your body needs". Pulve's speech has gone in crescendo. Everyone is surprised. The formula is good, really good.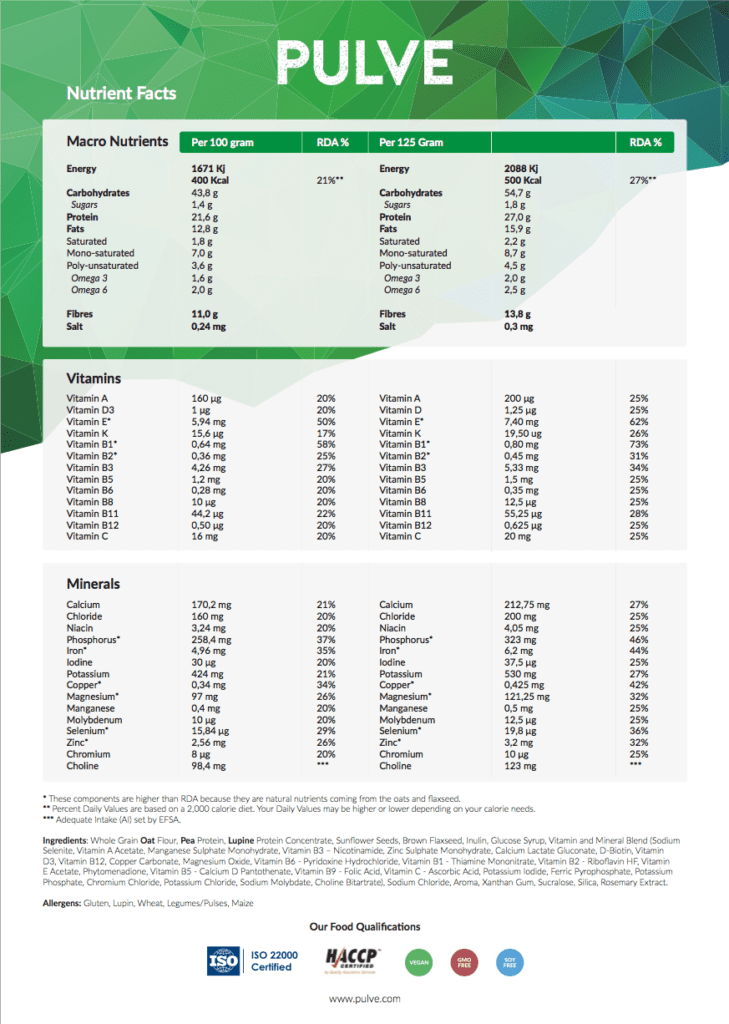 Even Huel does not seem as comfortable anymore. He has pages and pages boosting the knowledge about his formula, but he recognises Pulve's genious. "Impressive, indeed. Let me show you how the best vegan shake really looks like". Huel stops, takes a breather and starts chanting the recipie that has won him so many duels.
"I also offer 500kcal per serving, with a super balaced 38C/31P/31F energy split. My formula includes even more protein per serving, 36.5g, with a custom blend that includes, rice, pea, oats and flaxseed for a well rounded amino acid profile. Besides flaxseed and sunflower oil, Huel also has some medium chain triglycerides for rapid energy. While my MUFAs and PUFAs do not follow the guidelines, theres is plenty of omega-3 in Huel in a 1/1 ratio with omega-6! Regarding to carbs, most of them come from oats and as such, there is only 1.25g of sugar per serving!" Huel finishes confidently. He expects a big ovation, but instead he gets a half hearted applause.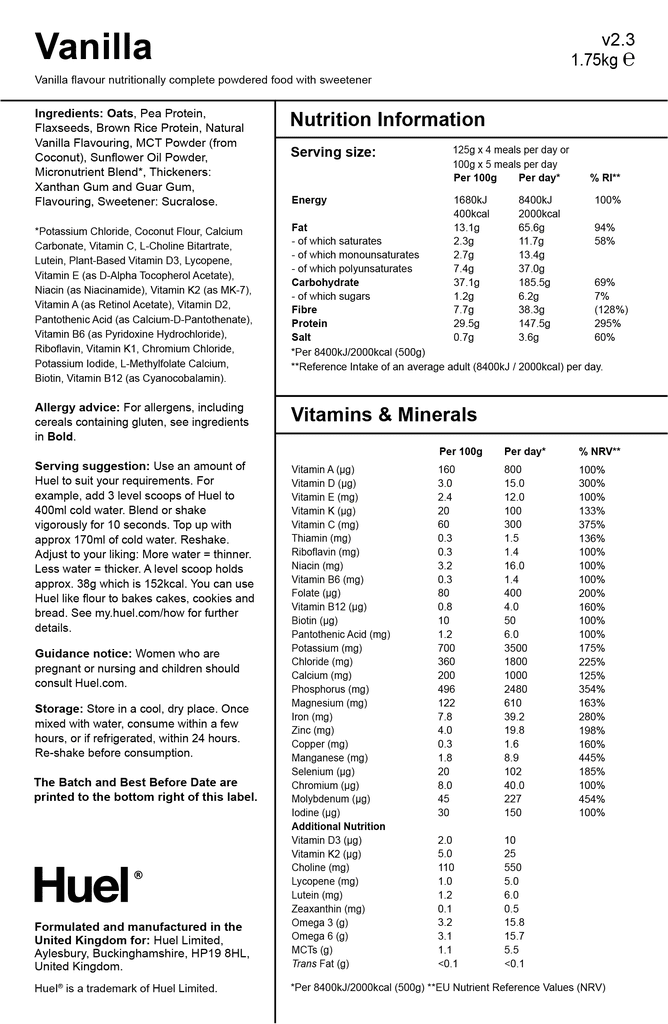 The room is divided. Both formula's are impressive. For some Huel has too much protein, and they prefer the Pulve fatty acid profile. Those who are more active cannot decide. 27g per 500kcal is impressive, but they might need more protein. They like Huel because of that.
Round four: The flavours and the taste. Huel offers the wider range 3-2
The tension is palpable. Everybody expected Huel to win easily, particulartly in the nutrition department. That is Huel's strength after all.
Sir Latestfuels breaks the silence. "Let's move on. You both have an excellent product. Let's taste it! Show me the different flavours you have. Show me the best!"
Pulve takes the lead this time. "Sorry, I only have one flavour, Vanilla. However, I am sure you will love the taste." Gives to try to few other vendors and the judge. Sir Enaut Latestfuels nods "This is certainly impressive. The vanilla taste is strong, there is a nice sweetness to it. It is easy to drink, it has a nice consistency. The seeds give a nice touch to the texture. However, I am disappointed to see you have no other flavours".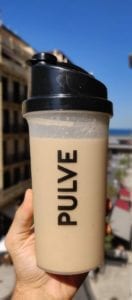 Huel jump to the opportunity. "Try the different flavours I have: Berry, Vanilla, Original Vanilla, Unflavoured and Unsweetened, and Coffee! Not enough, why not add one of Huel's 11 flavourings? Moccha, Banana, Caramel, Strawberry… They are all fantastic!" It has the attention of the attendants. And the palates. Huel tastes good, too. Not all flavours are as natural as Pulve's Vanilla, and the flavourings do not seems as high quality as the premixed options. But Huel has a nice granny texture. With good consistency that reminds you you are eating something. Strong Vanilla taste and sweetness.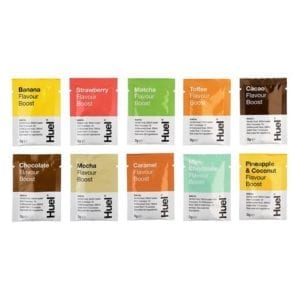 "I am impressed with how both taste. I really enjoy them. I do recognise Huel's strength regarding the options, though". The judge has spoken, Pulve stares down in defeat. No time to give up yet.
Round five: Customer Service and Community. Huel 4-2
Huel notices the swing in momentum. He wants to carry the victory home. "Exactly, buy my products! You will be supported by the Big Huel team and the excellent customer service we offer. A refund policy of up to 30 days if the product is unopened! Plus, you will be able to join the huge community of Huelers, which will whole heartedly welcome you and help you with any issues"
Sir Latestfuel nods. That does sound like a good customer experience. Looks at Pulve.
"I cannot offer what Huel can. He is just too powerful and has too many allies. But I promise I will give my best to every customer. A very personalised treatment, only a small time vendor like me can offer. No big corporate treatment. You will not be just another number, but a precious buyer". Pulve's speech is good and it has good heart. However, it is not enough to win the crowd.
Round 6: Availability, Shipping Costs. Pulve 4-3
"You both are excellent brands with great products. However, how far are you willing to travel to deliver your vegan shakes?" The judge, Sir Latestfuels is ready to give the veredict, but there is few points to clarify before.
Full of confidence and ready to win the contest Huel goes first: "Huel delivers all around the world. Not only that but we offer free shipping after €54 in Europe and free shipping after only $25 to the US!". The other vendors approve. Very few can match such an offer.
To the surprise of everyone, Pulve does not look beaten. "That is impressive Huel. However, I offer free shipping in few European countries, with no minumum offer! Plus, I will deliver worldwide for free in orders above 72 meals, which is about €133!" Everyone is astonished. Free worldwide shipping? How is that possible. There is no other vendor doing anything like it. They look at Huel.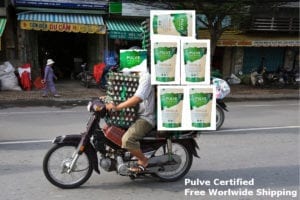 "My worlwide shipping cost according to the size of the package and the country, but I cannot do lower than $50. Pulve that is impressive". Even Huel admits that the free worldwide shipping is out of this world.
The judge is amused. He smiles. The vendors are silent. There is plenty of respect towards the two vegan shake sellers that are dueling each other.
Final Round: Packaging and eco-friendliness. Pulve 4-4
"I have one last ace card" claims Pulve. The crowd cannot believe it. What will this be? "My products come in biodegradable pouches. I believe in zero-waste and bio sustainable economies, that is why I use ingredients from Europe only".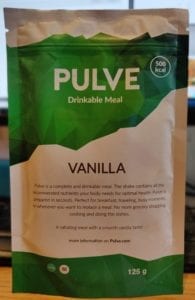 "Biodegradable pouches. That is quite an acomplishment. What about you Huel?" Sir Enaut Latestfuels is impressed. So are the rest of the meal replacement vendors.
"We are working on biodegradable pouches and improving our packaging. We have a minimum waste policy too. The impact of having Huel shakes is minimum. Let me show you". Takes a picture and shows to the crowd gathered there.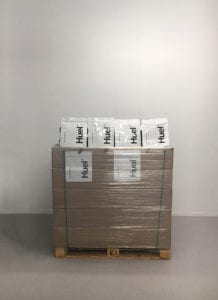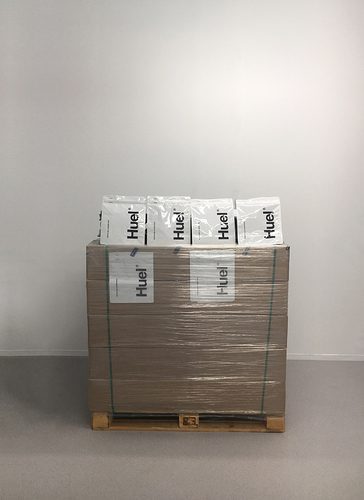 No one is particularly impressed. The biodegradable pouch was a great ace in the hole.
Coronation: The judge is undecided. Both are increadible.
All the vendors from Vegan alley are speachless. The duel was tough. They will have to improve their products if they want to get to this level. They cannot decide who was the victor. It is very even. They look at the judge looking for answers.
Sir Latesfuels feels everyone staring at him. He has a monumental task of deciding who has the best vegan meal replacement shake. Huel or Pulve.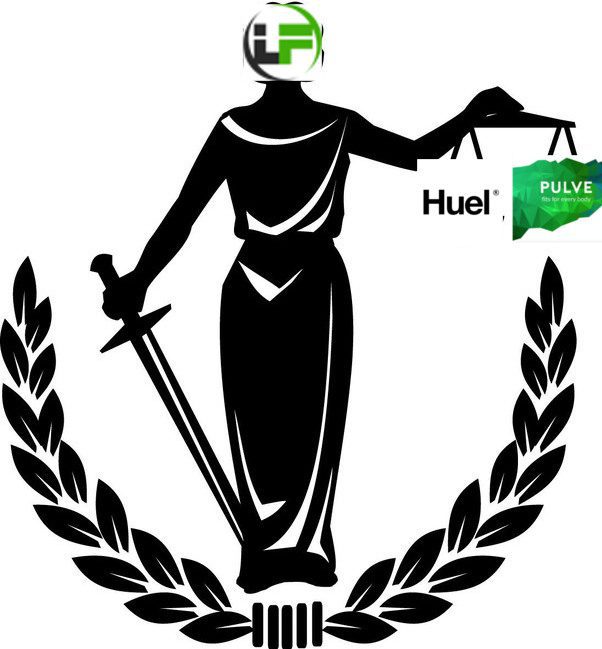 "I can truly not estate that there is a clear winner here. Both shakes are magnificent. Huel stands out for the range, flavour options, protein content and customer support. Pulve has a product better fitted for the general population, with a great fatty acid profile, very good tasting shake, a great packaging system and increadible shipping terms worldwide." Latestfuels makes a stop. The atmosphere is tense.
"Sight, I would love to say it is a tie, but we cannot have a tie. Thus, I will give my subjective opinion. Pulve is the better shake, while Huel has more options. Pulve has the best vegan shake in Vegan Alley". The crowd is silent. The mood is tense. Some clap, some show disagreement. The judgement does not please everyone. However, both Huel's and Pulve's products do.
The vendors go back to their stands. This is a duel that they will remember for a long time.
Now it is for the customers of vegan shakes to decide. Pulve or Huel?
Vote with your wallets or leave a comment. Which one is your favourite?
---
Short version:
Overall Winner: 2-2 Huel has more options, Pulve the better product
Huel has more products than Pulve (which only has one) and also comes in more flavours. Pulve offers free shipping worldwide in orders above 72 meals (€133) and free shipping to central EU countries. Huel's shipping is faster and low free shipping threshold in the US ($25) and EU (€54) Nutritionally both are fairly similar, but Pulve has a "better" MUFA:PUFA balance.

Nutritional profile, especially fatty acid balance (MUFA>PUFA>SFA)

Smaller support structure.
Protein content (overall nutrition).

US free shipping after $25.

Quantity of products and quality.
Pre-mix is better than flavour boosts.

No free worldwide shipping.
| | | |
| --- | --- | --- |
| | Huel | Pulve |
| From | UK | NED |
| Ships to | World | World |
| Nutrition | Vegan | Vegan, NG |
| Allergens | Gluten* | Gluten, Lupin |
| Products | 5 | 1 |
| Price w/ subscription (€) | 1.58/400kcal | 1.48/400kcal |
| Price w/out subscription (€) | 1.71/400kcal | 1.59/400kcal |
Product + Price: Huel
| | | | |
| --- | --- | --- | --- |
| Huel | Lowest price(€) | Pulve | Lowest price(€) |
| Powder v2.3 | 1.58/400kcal | Vanilla | 1.48/400kcal |
| Gluten free v2.3 | 1.76/400kcal | – | – |
| Professional v2.3 | 1.67/400kcal | – | – |
| Huel Bar v2.0 | 2.25/bar | – | – |
| Granola v1.1 | 1.43/bottle | – | – |
Nutrition: Pulve
Main Ingredients (Powder):
| | | |
| --- | --- | --- |
| | Huel v2.3 | Pulve |
| Fats | Sunflower, Flaxseed, MCT powder (coconut) | Sunflower seed, flaxseed |
| Protein | Pea, rice protein | Pea, lupine protein |
| Carbs | Oats | Oats |
Sweetener:
Huel uses sucralose.
Pulve uses glucose syrup but no artificial sweeteners.
Origin of ingredients:
Huel: Non-GMO.
Pulve: Non-GMO, from Europe
Nutritional Breakdown: Pulve
| | | |
| --- | --- | --- |
| per 100g | Huel v2.3 | Pulve |
| Energy (C/P/F) | 38/31/31 | 46/24/30 |
| Energy (kCal) | 400 | 400 |
| Fats (g) | 13.1 | 12.8 |
| Saturated (g) | 2.3 | 1.8 |
| Monounsaturated (g) | 2.7 | 7.0 |
| Polyunsaturated (g) | 7.4 | 3.6 |
| Omega-3 (g) | 3.1 | 1.6 |
| Omega-6 (g) | 3.1 | 2.0 |
| Carbs (g) | 37.1 | 43.8 |
| Sugars (g) | 1.3 | 1.4 |
| Fiber (g) | 7.7 | 11.0 |
| Protein (g) | 29.5 | 21.6 |
| Salt (g) | 0.7 | 0.24 |
Shipping Costs: Pulve
| | | |
| --- | --- | --- |
| | Huel | Pulve |
| EU | Free above €54 | Free or €5.95 |
| US | Free above $25 | Free above $153.75 |
| Rest | $60+ | Free above $153.75 |
Flavours: Huel
| | |
| --- | --- |
| Huel v2.3 | Pulve |
| Berry | Vanilla |
| Coffee | |
| Original | |
| Unflavoured | |
| Vanilla | |
| Flavour Boosts (11) | |
Taste: Draw
Huel 9/10. The different flavours offer more variety than Pulve, but the vanilla one is almost as good. Huel is a little more granny, even if Pulve has seeds. The Vanilla taste is fairly strong, too.
Pulve 9.1/10. Quite an strong Vanilla flavour with a sweet aftertaste. Good consistency and a smooth texture, but it has some seeds. This does not make drinking more difficult, but  in fact, more enjoyable in my opinion. A great shake to have.
Final thoughts:
I favour Pulve's shake over Huel's because it has a better fatty acid profile, while packing 27g/500kcal, which should be plenty sedentary people (and semi-active). Huel could benefit those who are looking for extra protein. Pulve's shipping deal's are great and the overall price is lower than Huel, even if the quality of products is similar. However, Huel has a wider array of products that fit more needs (gluten free), as well as, more flavours, so people do not get bored. Their customer service is great and response time lower.
Both deserve to be the best vegan shake in EU, but I will give it to Pulve (subjective bias).
Please, let me know which shake you liked best!