Queal Athletic at a glance
Flavours: Awesome Apple Pie, Cool Chocolate, Funky Forest Fruit, Super Strawberry, Smooth Vanilla, Banana Mania and Chocolate Hazelnut Happiness.

Summary
Who is Queal Athletic for?
Are you a sportive person, active, enjoy weightlifting or struggle finding protein sources in your diet? Then, Queal Athletic is the ideal food replacement for you. It provides you with 766kcal and 60g of protein per shake, one of the highest in the market.
So, how is the taste?
Increadibly delicious, in any of the flavours provided. Our personal favourite, Crazy Chocolate Peanut, but if you are more of a fruity person, we would recommend you the Strawberry or the Banana Mania flavours.
High in protein, but what about the rest of the nutritional values?
Queal Athletic is still a beautifully balanced shake, with plenty of complex carbs, low in sugars and saturated fats, contains all the essential fatty acids you need; and provides with the right amount of vitamins and minerals. Just make sure to consume a fat free yogurt or a late in the morning to make up for the calcium deficiency!
What is the cost per meal?
€2.5 or £2.33 per meal, plus shipping costs. You can buy it through the queal website and you will have it in your house within 2-5 days.
Wow this product is exactly what I need!
Then get the 30-day subscription to enjoy up to 10% discount and safe the inconvenience of having to order it regularly.
Where is the catch?
There is no catch. However, Queal Athletic is not for everyone, too protein rich for most people and slightly too low in carbs for our understanding. We wish the product mixed better, to avoid the small lumps. Otherwise, it is quite good, indeed.
Do we recommend it?
If you are looking to up your caloric intake and benefit from high protein diet: yes, absolutely! If it is too high in calories, make sure you check the rest of Queal products.
---

LatestFuels Recommended brand. Read about Queal!
---
Delivery, Unboxing and Packaging
Queal Athletic arrived within two days of making the order. The shipping costs to the UK were €3.03, which is the equivalent of £2.6 or $3.27. Note that delivery rates change depending on which European country you live on; and there is a flat rate of $25 for the US in orders above $57 (after the recent Queal US changes). Queal also ships to Canada, but you will be more than likely taxed in customs.
If you are a first time buyer, you will be gifted with a practical shaker and an intro booklet. In fact, if you are a first time buyer I would recommend you going for the Taste Tester (€56/$49) that will allow you to try all the different flavours.
Queal Athletic comes in a light green color, with the logo and the flavour at the front, and the instructions and nutritional breakdown at the back, both in English and in Dutch. The bags are sturdy and food-safe. They have a very practical easy-open at the top and the resealable velcro-like zip.
Even though at first glance, I found the pouches to be quite practical, I realised that they are not as much as I thought. Why? The contain 3 meals of 766kcal, which is meant to be enough for one day. However, I very rarely consume all my calories from meal replacements alone, thus the pretence does not work. On top of that, the bags are slightly too big to be carrying them around at ease. Thus, I would rather see bigger, bags out of Queal, with 10 meals or so per bag. This way, they could cut some unnecessary waste.
Who is Queal Athletic for then? In short, for active people looking to boost their protein intake to extreme levels and need the extra calories to fight fatigue and muscle loss. However, let's check the nutritional breakdown to get more in-depth info.
Macronutrients per serving (g)
Protein(g)
Carbs(g)
Fiber(g)
Fats(g)
% of Energy from each macronutrient
Carbs 40%
Prot 27%
Fats 33%
% of Recommended Intake per serving
RI based on 2,000kcal
RI based on 2,500kcal
Energy
766kcal per serving is the highest Queal offers for their meal replacement shakes. 3 servings of Queal Athletic will provide you with 2,300kcal, as well as, the daily recommended amount of all macros and micros.
The protein content was lowered in the recent Queal v5.0 update, in favour of more fats, while the carbohydrate content was just slightly lowered. As such, Queal Athletic sits now in the higher range of the acceptable macronutrient range for fats (20-35%) and below the lowest point for carbohydrates (45-65%).
This does not mean Queal Athletic is not balanced or good for you. In fact, other very succesful meal replacement powders like Huel use very similar macronutrient splits. Despite this, I would personally like to see more carbohydrates and less fats.
Carbohydrates
Let's talk about carbs in Queal Athletic, then. Queal Athletic provides 223g of carbs per 3 servings and 63.3g of sugar. Why so much sugar? This is because Queal has recently changed to isomaltulose, a carbohydrate classified as sugar, that behaves like a complex carbohydrates. What does this mean? It means that isomaltulose has lower effect in your blood glucose than normal sugars (glycemic index of 32).
As well as isomaltulose, more maltodextrin was incorporated to the formula. Maltodextrin, contrarily to isomaltulose, has a high GI (85) even if it is a complex carbohydrate, and thus has a bigger insulin response. Why is this important? Because high sugar diets, via continuous stress in the insulin response are some of the causes of obesity and diabetes. The overall GI of Queal is around 50, which is considered medium.
Queal Athletic also contains oat flour, great source of complex carbohydrates and fibre. In fact, there are 13.2g of fiber per serving.
Fats
Total Fats: 27.2g, 38.9% of RI.
Saturated Fats: 3.5g, 17.5% of RI.
MUFA: 8.5g, 18.5% of total energy.
PUFA: 9.6g, 9.3% of total energy.
Omega-3 (ALA): 2.5g.
Fats are often seen as the bad boys, due to their high caloric input and negative health effects of saturated and trans fats. However, fats are essential to keep your body temperature, provide long term energy source and coat your tissues, among other things; they are ESSENTIAL! Monounsaturated fats and polyunsaturated fats are necessary to keep your cholesterol in check and ensure the right processing of some vitamins.
So how does Queal Athletic help you getting the right fats? Yes. It is virtually free of trans fats (0.1g/100g), thankfully, and it is also far from the upper limit for saturated fats. Furthermore, you can be sure you are getting your daily omega-3 and omega-6 intake, since there is 2.5g of omega-3 fatty acids per meal (in form of alpha linolenic acid).
However, I personally favour higher carbohydrate diets, particularly around sport events and when I am really active. Although, fats can be used as source of energy, I feel better when more energy come from carbohydrates. As personal preference, I would like to see a lower fat content.
Protein
Higher protein content is the main selling point and difference of Queal Athletic over the other variations and its competitors. One may ask what is too much protein? Some will say, there's never enough protein, others will claim the body can only absorb 20g per hour and many will say 0.8g per kg of bodyweight. According to ESFA and USDA, between 10% to 35% of the kcal consumed during the day should come from protein in a balanced diet.
Queal Athletic provides up to 50g of protein per serving, for a total of 150 g. Based on a diet of 2,300kcal, that would be 29% of the energy coming from protein. That's a lot of protein; for a person 80kg heavy, it would mean 1.87g of protein per kg of bodyweight. The truth is that high protein diets have not been studied as thoroughly and they have not been linked to any major disease, unless paired with inadequate intake of the other two major macros. For those concerned about kidney damage, there is very little evidence of overworking kidney issues with long-term high protein diets.
Therefore, if you are looking to reinforce your diet with extra protein, to help with recovery, protein synthesis and sport performance, we would recommend you looking at Queal Athletic. For people with more sedentary lifestyles, Queal Athletic may have too much protein, and you should be looking at the Standard variation.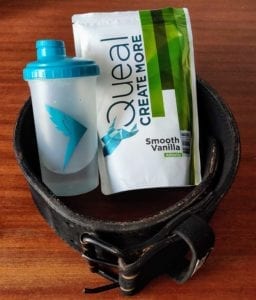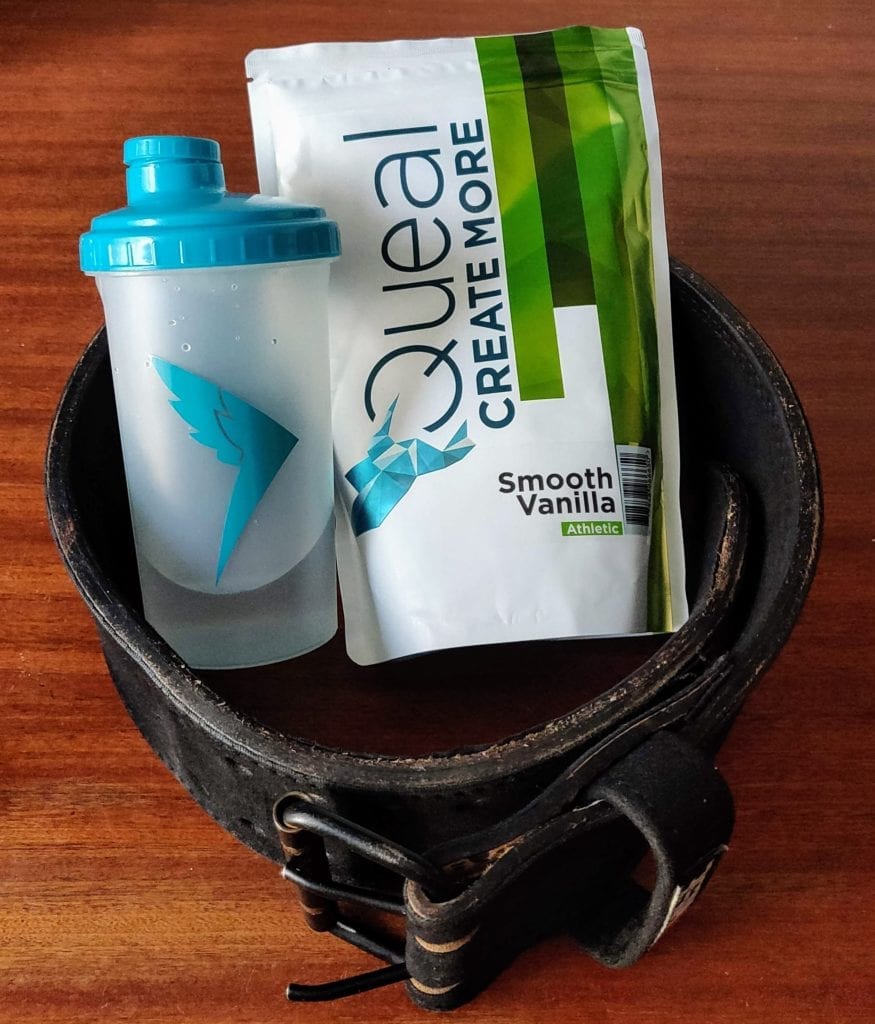 An example of how much protein you can get with Queal Athletic by Queal CEO Floris
Examine.com recommends between 1.4 and 2.2g per kg per day for very active adults. They recommend 1.8 to 2.6g per kg per day for muscle gain; and even 3.3kg to possibly minimise fat gain.

In the article by strongerbyscience.com, they found out that the average intake of top athletes was 1.5g per kg per day (which is a bit lower than the recommendation above). The article also gives a recommended minimum for athletes of 120g per day, which Queal Athletic provides (at 2,300kcal per day, which is probably less calories than you will consume).

Assuming that Sports Sam also weighs 80kg and it is fairly active; the total need for calories per day would be ~3,100kcal.

If all of that is consumed from Queal Athletic 5.0 (again, most use Queal only for 1 or 2 meals, but this is just to show what it would also mean on average), you would have exactly 200g of protein, or 2.5g of protein per kg per day.
Reminder that, Queal uses 82% whey protein concentrate; ideal source of protein since it provides with branched-chain amino acids, as well as, other essential amino acids. However, this makes it not vegan friendly -They have now launched a vegan alternative for Queal enthusiasts! If you are looking for a vegan shake high in protein I would recommend looking at Pulve.
Micronutrients
Macronutrients still need to be complemented by a balanced set of vitamins and minerals, which many people lack, due to poor consumption of fruits, vegetables and dairy. Queal Athletic is loaded with a custom mix of micronutrients, in order to ensure at least 33% of each micronutrient per serving. For instance 33% of vitamin A, vitamin B, vitamin B12, vitamin C and minerals, such as, iron, iodine, chromium, potassium are packed each meal.
One of the strengths of Queal Athletic is the low sodium content. In a society where salt is more and more prominent, and nearly every adult consumes over the RDA (6g of salt or 2,300mg of sodium), each serving of Athletic shakes provides with 1.3g of salt. We should all be more conscious about this to reduce risk of CVD in the future.
Allergens
Queal Steady shakes use whey protein as source of protein. Thus, the Steady Athletic version has 4% lactose. Other allergens include Gluten (from Oats), Soy (Soy flour and oil) and may contain traces of Egg.
Nutrition in short
"Please, give me quick summary of Queal Athletic's nutritional breakdown".
Queal Athletic is a very well balanced meal replacement, high in protein, and low in both carbs and high in fats. The reason why I would especially recommend to those who are more active. Or if you are looking to supplement your diet with extra protein, but you struggle to find good protein foods.
"When I eat, I am often more concerned of how it tastes that what the nutrition is". That is a fair statement, and let us assure you, Queal Athletic tastes pretty damn good.
Queal Athletic has a fairly thick consistency, such as, a smoothie or a blend with oats. I find it pleasant and helpful with the satiating the feeling of eating and hunger. Some may find slightly powdery, but increasing the amount of liquid should fix that. With the addition of isomaltulose and maltodextrin the shakes have become less powdery and oaty than the previous iterations.
As I reported on my week on Queal, I think Queal's strengths are the sweet flavours and particularty the chocolate flavours (Hazelnut Happiness and Cool Chocolate). Awesome Apple Pie is also great in my opinion, followed by the Strawberry flavour. The Vanilla shake is a little mild for my taste and the Forest Fruit does not taste much like it. Banana mania, as the name suggests, is for banana shake enthusiast (not me).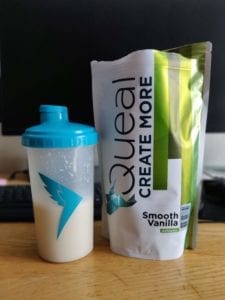 To sum up, Queal Athletic offers a very delicious meal, plenty of choices to choose from, with a thick consistency, pleasant and easy to drink; and leaves you with a nice aftertaste. You might feel slightly hungry after finishing your meal shake, but after 5 minutes this feeling should be quenched and should remain so for few hours. I would recommend using 30% milk (or more for tastier shakes).
Excellent nutritional supplement or quick meal for athletes and active people alike. No sacrifices are made in taste, nutritional balance or overall meal experience. We happily recommend this product and praise for its quality.
However, it might be too rich in calories for a lot of you. It is also not suitable for vegan or keto users and contains eggs, gluten and soy. If that is the case, you can check for alternatives in our other reviews.
---
Other alternatives
We have been mentioning other Queal Products continuously during this review. Before, going into further detail, let us say that Queal offers an increadible range of top quality products and flavours.
Their meal replacement shakes are only powder based  (release a ready-to-drink soon, please!), Queal Steady line. It comes in 4 variations: Standard (700kcal), Agile (600kcal), Athletic (766kcal) and Vegan (700kcal). All this variations are very similar to Queal Steady Atheltic and the main variation is the kcal content (and how macros/micros are adjusted to that).
They also offer a meal replacement bar, GO bar and a nootropic supplement, Flow.