Why Buying Queal From The US Is Still Worth It
Playing devil's advocate to state how has the move benefited US Quealers
Queal recently made an announcement stating they were moving out from their Idaho warehouse, effectively ceasing all operations from the US. This does not mean that the US Quealers will not be able to buy Queal no more, but that they will now have to pay for the shipping. Goodbye, over $30 free shipping! You will be missed.
As a consequence, US customers will have to pay $25 for shipping from the EU in orders above $57 (more if it is below that). This is off-putting for many customers, who looked at Queal as a good alternative to Soylent (or Jimmyjoy) because of its competitive price.
In the outrage, many have already stated that they will not be buying Queal any more. To hell with Queal! How they could betray us (US?) like that? And so on. I am here to play devil's advocate and explain why I think buying Queal from the EU is still worth it for US customers.
The context
Queal used to deliver its product in bulk and store it in the Idaho warehouse, that then would distribute the bags to all the US. As such, they were able to offer free shipping on orders above $30, certainly one of the best deals out there. 400kcal of Queal Standard would cost you about $1.55!
However, this did come with some limitations. US customers could only access the standard variation. Queal's inventory is a lot larger, including; Queal Athletic, Queal Agile, Queal Vegan, GOBar and Flow (nootropic supplement).
The Reason behind the move
In yesterday's post Queal stated that they did not make enough sales to make the US operation profitable. Paperwork to make the products ready to sale; the shipping of the bulk; the logistics and management required; warehouse costs and even the shipping cost within the US proved to be too complicated and expensive.
On top of that, while they were continuously developing new formula's and products in Europe, Queal US was lagging behind.
However, let's not kid ourselves, ultimately was matter of money. In this country, you gotta make the money first.
The Consequences
The good: Because the product will be shipped from the EU, US customers will now be able to access the full range of products with the last formula.
The bad: Shipping will cost $25 in orders above $57. It will be more expensive than that below $57. Thus, each product will cost you more. On top of that, the delivery times are estimated to be between 5-10 days.
And the ugly: A timely retreat is a victory, but this retreat does mean that US Queal is not happening for a while. I do not know when they will be ready to make the jump again. It will be harder to make the jump and even harder to establish in the US once they make it back.
How much more expensive has Queal become?
Ordering 8 bags of standard now (to meet $57) costs $90 or $11.25 per bag or $2.13 per 400kcal (note this will go down the more bags you order)
Before 8 bags cost $65 or $8.17 per bag or $1.55 per 400kcal.
This is 138% the price it was before for the minumum order to reach $57.
However, the price difference will go down the more bags you order in a single order. E.g for standard now:
10 bags= $106.66 = $10.6/bag= $2.02/400kcal 30 meals.
20 bags= $188.33 = $9.41/bag= $1.79/400kcal 60 meal.
30 bags= $269.99 = $8.99/bag= $1.71/400kcal 90 meals.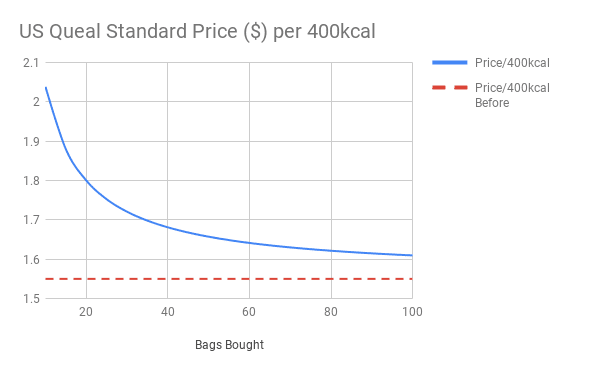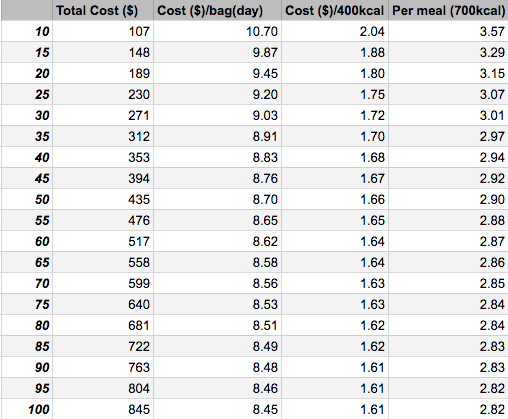 How does Queal compare vs its competitors?
I will use the main brands Soylent (Powder), Huel, Jimmyjoy (Plenny Shake).
So, I agree things are looking grim. I am not making a very good case for Queal.
However, at 20 bags the price is "only" 16% more expensive, $1.8 vs $1.55. This price is also fairly competent, since it is cheaper than Huel ($1.89) and Soylent ($1.82). Only Plenny Shake is cheaper ($1.43).
Yes, every little bit matters and at the end of the month adds up: 30 bags now would be $271; whereas, 30 before was $244. All I'm saying is that when compared with the competition Queal still holds.
Especially if you consider that Queal Standard offers more flavour and tastes better than Soylent (and better nutrition?). I like Queal's taste over Huel's too. But Huel's products are top notch.
The comeback:
Why being able to access the full range is worth the price increase.
So point number 1 in my argument is that, actually, having access to the full range of Queal products is a win, even at the cost of more expensive products.
Before, I make my point I will agree that in the ideal world, the customer should not have to pay extra for this feature and that Queal should manufacture and distribute its products from the US. This, however, it is not likely and feasible now or in the near future. For that reason, I think the addition of the rest of the products its a net gain, but a cost.
Let's see what Queal brings to the US table now.
Queal Athletic
Meal Replacement
Powder
767kcal/meal
31P/41C/25F % of Energy from
21.1g of sugars/3.5g of Saturated Fats per serving
No subscription (10 bags): $2.75
With subscription (10 bags): $2.56
Dairy, Gluten, Soy, Egg*
---
Queal Agile
Meal Replacement
Powder
600kcal/meal
29P/48C/23F % of Energy from
6.9g of sugars/3.2g of Saturated Fats per serving
No subscription (10 bags): $2.62
With subscription (10 bags): $2.43
Dairy, Gluten, Soy, Egg*
---
Queal Vegan
Meal Replacement
Powder
700kcal/meal
19P/48C/33F % of Energy from
23g of sugars/3g of Saturated Fats per serving
No subscription (10 bags): $2.15
With subscription (10 bags): $2
Soy, Gluten
---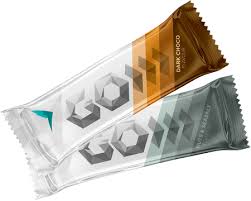 Queal GOBar
Meal Replacement
Bar
385kcal/meal
33P/39C/28F % of Energy from
3.6g of sugars/5g of Saturated Fats per serving
No subscription (20 bars): $2.93
With subscription (10 bags): $2.72
Dairy, Soy, Peanuts, Sesame
---
Queal Flow
Nootropic
Powder
0kcal/meal
No subscription (30 serv): $2.59
With subscription (3serv): $2.41
Guarana
New Queal Products vs the market.
Queal Athletic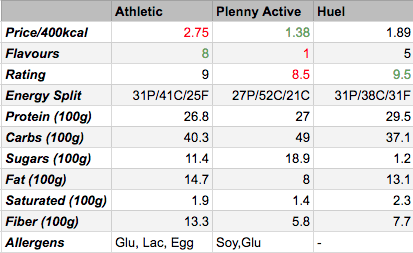 When comparing Queal Athletic with other European imports, main competitors for "sport" meal replacements, such as Plenny Active and Huel, numbers do not seem very pretty. However, numbers do not tell everything.
Queal Athletic is superior in taste, flavour fidelity and flavour options to Plenny Active. On top of that, its main source of protein is whey protein, as opposed to Plenny's soy protein. Some, such as, myself, prefer it that way (subjective). While, perhaps that is not enough to pay double the price, I consider $12.4 for 2,500kcal still an OK deal.
Huel is a tough one to break. Huel is perhaps the best meal replacement in the market. While the taste and flavour options (without the flavourings) may not be up to Queal Athletic's; the nutritional value and quality is top notch.
Regarding to US sport meal replacement, JouleFuel costs $2.4 per 400kcal, but you need to add olive oil afterwards. It contains 25.6g of protein per 100g and the energy split is 23P/42C/35F. It also only comes in a single flavour.
Queal Agile
Queal Agile's nutrition is based around a 1,800kcal diet. Thus, both macros and micros are adjusted to fit that restriction. In the US, most shakes are based around 2,000kcal diet; thus, all the nutrients are optimised for the recommended guidelines of a 2,000kcal diet.
As such, Queal Agile offers a strong proposition at $2.69 per 400kcal ($11.8/day), for those who just do not need as much. All in 8 delicious flavours, and Queal quality.
Queal Vegan
Queal Vegan is perhaps the weakest product in this line-up and can be consider slightly "inferior" to Huel, Plenny Shake and Soylent Drink. An argument can be made for local companies like Soylent Powder, Grubsub, Biolent, Ka'chava, Tudo, Ample and Superbodyfuel (all vegan); but all these have either less flavour range or are more expensive (maybe premium).
Therefore, it is still a product that comes in 3 flavours, gives 700kcal per meal with a total cost of $11.3 a day. Handy, reasonable and good tasting.
GOBars
These are one of the best meal replacement bars out there. Currently, better than Twennybar, Soylent Bar (sorry, no longer exist, my bad) and Huel has not brought his bar to the US yet.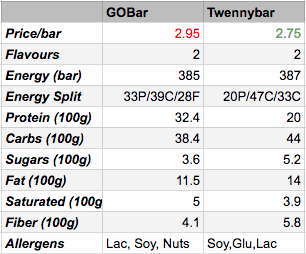 Slightly more expensive, but has considerably more protein, from whey and less sugars (although none has too much). Both have relatively high saturated fats, and as such, are not ideal to be solely lived from; but rather as an occasional option. Twennybar comes in chocolate and vanilla options, whereas GOBar offers dark chocolate and nuts&seasalt (salty).
Anyhow, GO bars are great, even though $3 might be too expensive for a $400kcal meal.
Flow
I will not talk much about Flow, since I have not been able to try it yet. I must say that it is probably a great booster though.
Why Queal is better than its competitors? (subjective)
I must say I will always be a little bit biased towards Queal, since it was the first meal replacement I have ever tried. However, they have since only given me reasons to strengthen this bias. Are they perfect? No. Are there better companies out there? Yes, probably Huel and others in their specific niches (Sated, Ketochow in keto; Ample in organic premium; Holfood, Biolent in Canada; Jimmyjoy in budget shakes…).
Queal, however, has great strengths.
Flavour range, flavour fidelity and taste. Better than most in the market.
Shakes tend to be nice to drink and have the X-factor (excitement due to taste and experience).
They are nutritionally solid and usually come with good amount of protein.
They use whey protein in non-vegan products.
Range of products that meet quality criteria and are able to cater for different needs.
Let's put everything into perspective.
US Quealers have gain access to 4 extra products; Athletic (sport), Agile (light), Vegan, GOBar(bar) and Flow (nootropic). Of those, Athletic is a top 2/3 sport meal replacement available in the US; Queal Agile is quite unique based on the 1,800kcal diet; Vegan is a good product, while not the best; GObars are very likely the best meal replacement bars; and Flow is a good nootropic that goes well with other Queal products.
On top of that, you will be able to get the Instant Oats from the release (soon); Queal's new product for those looking for a more "chewable" meal. Furthermore, any future formula improvements and new products (Queal RTD hype) will be available instantly.
Conclusion
Does it suck? Yes, it does (sorry for the language). A 138% increase is fairly considerable, but the prices do go down fairly quickly. At 15 bags, you will be competing with Huel, and at 20 bags, Queal standard is already cheaper. So it is not THAT bad. It is not "go f yourself, Queal bad".
On the bright side, now there is access to products that are still among the best in the market in their niches, and come with all the quality Queal offers.
And let's be honest. A big mac still costs more than Queal Standard does. Or a subway. Or the sandwich of choice in Wallmart. At $2.02 (the most expensive it gets), it is still a cheap meal. Quick, quality meal.